Pain-free A-Gon eagerly anticipating Classic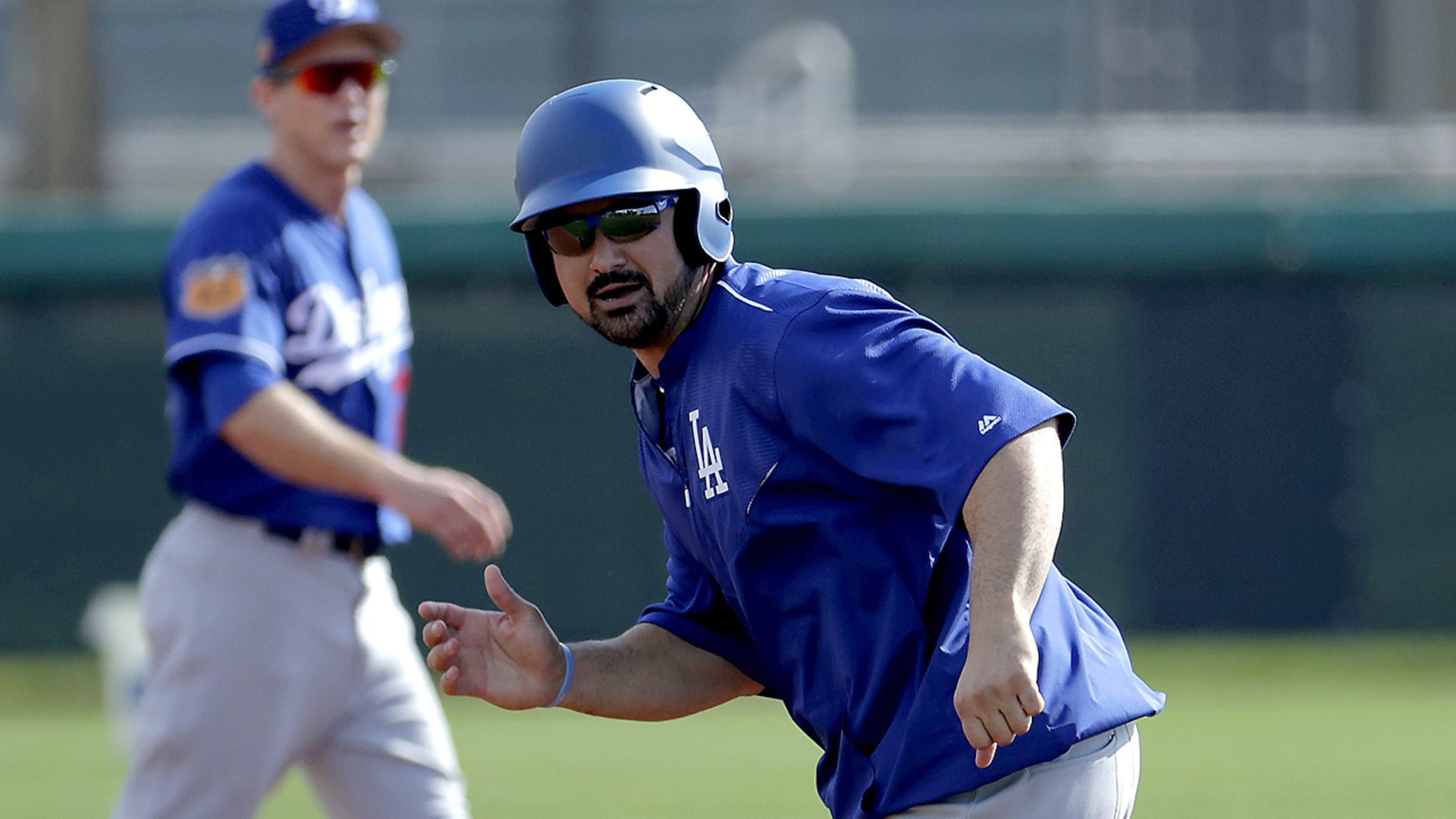 Adrian Gonzalez expects to play for Team Mexico once he is cleared by Dodgers physicians. (AP) (Matt York/AP)
GLENDALE, Ariz. -- Adrian Gonzalez told MLB.com that his right elbow is now free of pain early Thursday morning before the team worked out on the back fields of Camelback Ranch.That assessment was corroborated shortly thereafter by Dodgers manager Dave Roberts.Not only is that good news for the Dodgers, it's
GLENDALE, Ariz. -- Adrian Gonzalez told MLB.com that his right elbow is now free of pain early Thursday morning before the team worked out on the back fields of Camelback Ranch.
That assessment was corroborated shortly thereafter by Dodgers manager Dave Roberts.
Not only is that good news for the Dodgers, it's great news for Team Mexico, which hosts Pool D in the first round of the upcoming World Baseball Classic next month in Guadalajara, Mexico.
A-Gon said he intends to play if cleared by Dodgers physicians when Mexico opens against Italy on March 9 at the brand-new Estadio Charros de Jalisco. Puerto Rico and Venezuela are the other two teams in the bracket. And that medical clearance seems to be a formality at this point.
"I'm planning to play," said the lefty-swinging first baseman, whose older brother, Edgar, is managing the team. "I'm hoping for it. We've taken all the right precautions. I've got to get cleared by the doctors, so we'll see."
Standing by his locker in the Dodgers' clubhouse, Gonzalez had an electronic stimulation unit attached by a patch to the inside of the elbow. His program right now includes strengthening legs and core, cardio conditioning and treatment.
• Spring Training:Information | Tickets | Schedule | Gear
Asked about any lingering pain from the tendinitis that has plagued him since this past offseason, Gonzalez said: "I'm fine. It feels great."
Aside from the aerobic and lower body work, Gonzalez has yet to swing the bat this spring. But there's no rush, Roberts said, even with Team Mexico slated to gather at the Padres' camp in nearby Peoria, Ariz., on March 6. Mexico plays exhibition games against the Padres on March 7 and the D-backs on March 8 before heading to Guadalajara.
Roberts isn't worried about the 34-year-old Gonzalez, who has missed 20 games total the past four seasons and hasn't played fewer than 156 games in any of the past 11 seasons. He has a lifetime slash line of .290/.362/.492, with 308 homers, 1,324 RBIs and a .854 OPS playing for the Padres, Red Sox and Dodgers.
"He's moving around the lower half and doing all that, but the swinging the bat, the catching the baseball, we're still holding him back from that," Roberts said. "As I understand it, he's pain-free. We're just trying to take it a little slow for Adrian.
"As far as the Classic, that's kind of his target, and so a few days before that, I'm sure we'll get him swinging the bat, making sure he's a full go from our guys. But I know he's excited about it."
:: 2017 World Baseball Classic ::
The Dodgers, then, don't have any qualms about Gonzalez playing in the Classic and being away from the team for possibly as long as two weeks?
"Yeah, if our medical staff gives him clearance, then I'm all for it," Roberts said.
There have been three previous World Baseball Classics, and the Gonzalez brothers have played together in all of them. But this one would be special for Adrian for several reasons.
It's the first time he'd be playing for his now-retired brother, who at 38, is four years older. And if Mexico is one of the two teams to ascend out of the Guadalajara bracket, the next rounds are in San Diego and Los Angeles.
The brothers are of Mexican heritage, but they were born and grew up in San Diego, where they played together for two years with the Padres. The younger Gonzalez played five of his most formative seasons from 2006-10 at Petco Park.
Dodger Stadium is home for the second time to this year's championship round from March 20-22. Gonzalez has been playing for the Dodgers since the Red Sox sent him to Los Angeles in a blockbuster Aug. 25, 2012, trade.
"It doesn't change how much you want to win, just because it's in L.A. or San Diego," Gonzalez said. "You just keep advancing, and we're fortunate that it's in San Diego and L.A. If we get there, it will be a lot of fun."
Mexico might have its best roster, replete with players who have Major League experience or are currently playing in Japan. On the main roster is new Dodgers teammate Sergio Romo, and fellow Dodger Julio Urias is listed in the designated pitcher pool.
"You see our roster -- I don't have to explain it," Gonzalez said. "Our pitching's going to be great. We have some good hitters, guys with experience."
Jorge De La Rosa, Yovani Gallardo, Vidal Nuno, Oliver Perez, Noel Salas and Joakim Soria are all pitchers who have had solid careers in the Majors. Left fielder Khris Davis hit 42 homers and knocked in 102 runs last season for the A's.
In the first three Classics, Mexico has not advanced beyond the second round. In 2013, the team was eliminated in the first. This could be Mexico's time.
"I think we're going to be very good, very competitive," Gonzalez said. "We have a tough group that can get by. I'm looking forward to it."