Artist's portraits bring Negro Leaguers to life
Historian Jay Caldwell's premise was both simple and daunting: To add depth and clarity to the lives of Negro Leaguers. Thus began a four-year quest to produce a series of color portraits of some of baseball's most famous and least known players.
In collaboration with artist Graig Kreindler -- yes, he's named for former Yankees third baseman Graig Nettles -- their work has resulted in a stunning series of portraits originally unveiled in February at the Negro Leagues Baseball Museum in Kansas City.
Kreindler's work is part of the Museum's centennial celebration and the launch of a Major League Baseball website devoted to the Negro Leagues.
As MLB prepares to celebrate the 100th anniversary of the Negro Leagues on Sunday, Kreindler and Caldwell discussed the project via Zoom on Thursday. Kreindler spoke from his Brooklyn home, Caldwell from his outside Seattle.
Q: How did this project begin?
Caldwell: It started with doing an art display at the Negro Leagues Baseball Museum in 2013 in conjunction with Major League Baseball's All-Star Game. After that, I continued to collect artwork.
That led me to start thinking about the Negro Leagues -- an area of baseball at that time I knew very little about. And I was thinking that the Negro Leagues were always pictured in black and white and that there were very few photos compared to the Major Leagues.
So I had the idea of trying to bring them to life by painting them in color, and try to educate people about their historical importance.
I contacted the Negro Leagues Museum and suggested that we put on an exhibition. They loved the idea. And then I just had to find an artist who was willing to help me with the vision and get it completed on time.
We wanted to make them real people. Unfortunately, they were consigned to the shadows. They weren't really well known in their time outside of the Black communities and the baseball experts.
And there are very few pictures of them compared to, you know, Babe Ruth and Lou Gehrig. I wouldn't be surprised if Babe Ruth and Lou Gehrig alone have more pictures of them than all the Negro League players in history. It's really pretty remarkable. And so we just wanted to bring these guys to life, make them feel like people and tell a little about their life, both as a baseball player, but also in the larger context of their era.
Kreindler: Jay approached me and just kind of wanted me to paint, I think, 15 or 20 Negro Leaguers. Famous last words. He got into talks with [museum president] Bob Kendrick, 20 portraits became 50 and then 75, 150, and 230 was the final number.
I think, like a lot of baseball fans, I knew very little about the Negro Leagues. I knew a little bit about Josh Gibson and Satchel Paige and others. I knew a little bit more from the Ken Burns series, but this was a real opportunity to give myself a real education. So it was extra special to try and bring these men and women to life and kind of show people that they actually existed in real time. They all have unique stories.
---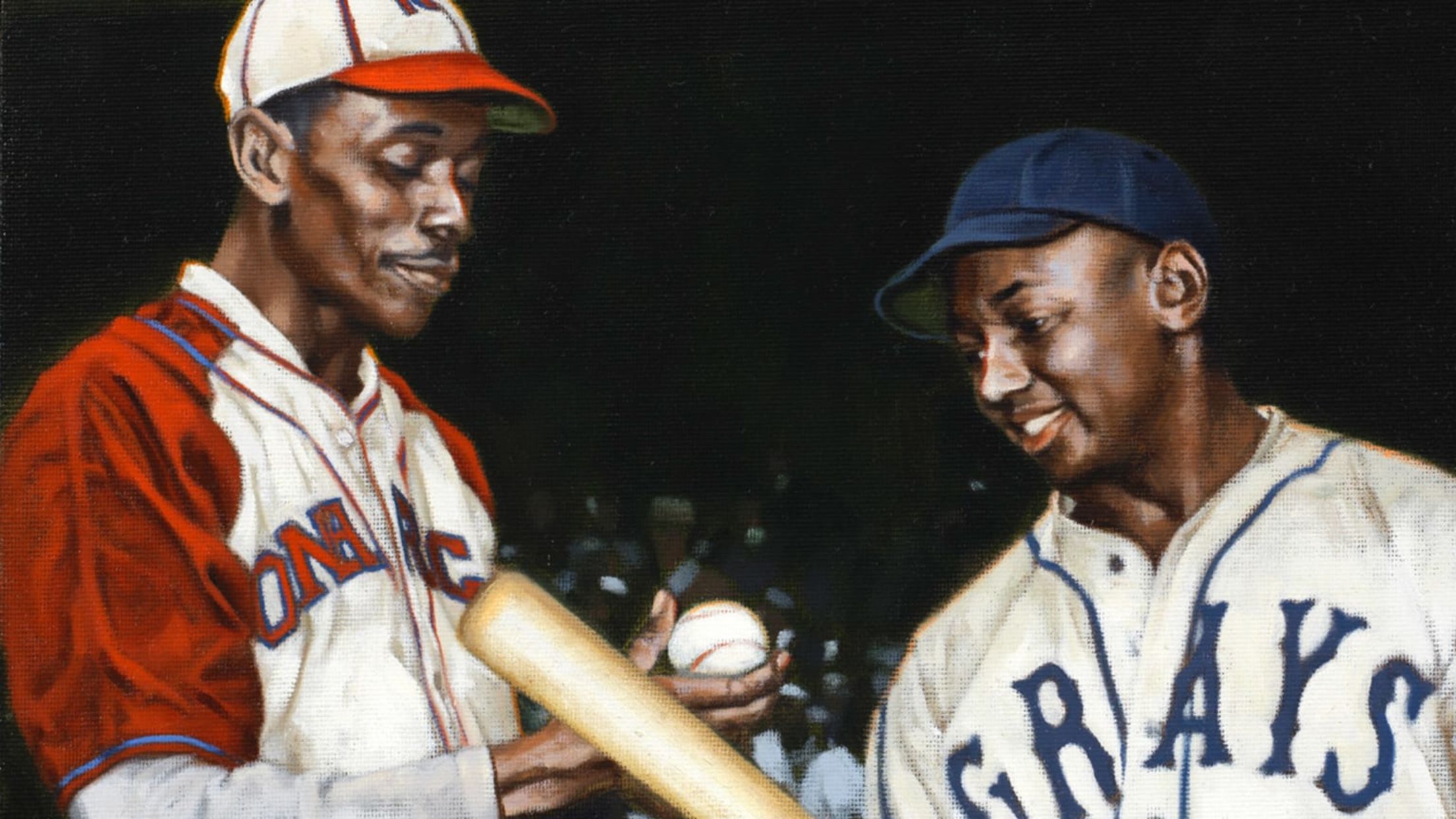 ---
Jay, how did you meet Graig?
Caldwell: In 2013, I met [artist] Monty Sheldon through an exhibit called Artballs [in New Orleans]. Monty and I became good friends, and in 2017 he introduced me to Graig Kreindler. He showed me some of his artwork, and it was jaw-dropping good.
[Graig] and I started talking about this project, and he wanted to be all in. One of the things I remember about him saying at the time was that he really liked the concept of bringing these players to life through color.
He likes painting people he doesn't paint all the time. He's probably done 20 paintings of Babe Ruth and 30 paintings of Mickey Mantle and so forth. He'd never done one of Bill Monroe.
Graig, baseball has long been a part of your work, right?
Kreindler: Yes, very much. So I started when I was very little and discovered my father's baseball cards and drawing from photos, drawing his heroes, drawing some of my heroes.
I went to college to the School of Visual Arts in Manhattan and was going to be a book cover illustrator, and then kind of, like randomly did an assignment of illustrating a baseball game, and something just really clicked and I fell in love with it, and that's what I've been doing ever since.
What was the biggest challenge of this project?
Kreindler: I guess we know more about baseball and its history than any other sport. It's been so well documented, especially visually, but that really kind of applies to just the white league. The Negro Leagues and the Latin American leagues had less newspaper coverage. Some of the African American papers published only once a week.
So there are a lot fewer images to draw from, and there are fewer bits of information. So trying to come up with specific visual facts about what a uniform looked like and what the ballparks looked like was a lot harder than the stuff that I normally do.
So where did you start? How did you do it?
Kreindler: I looked a lot of places -- online, message boards, photo archives. I'm very friendly with a lot of memorabilia collectors, baseball card collectors and there are a few of them who specialize in the Negro Leagues.
Jay, as the project got going, what was your role?
Caldwell: My primary role was selecting the players we wanted to do. I don't remember how many we originally chose, but it eventually grew to about 280. And I also chose the uniforms.
One of the other things we were trying to communicate visually was that these players played all over the world. They not only played in the multiple Negro Leagues, but they played in Cuba and the Dominican Republic and Venezuela and Panama and Puerto Rico. And we wanted a wide variety of uniforms, and we wanted to try to capture all that.
---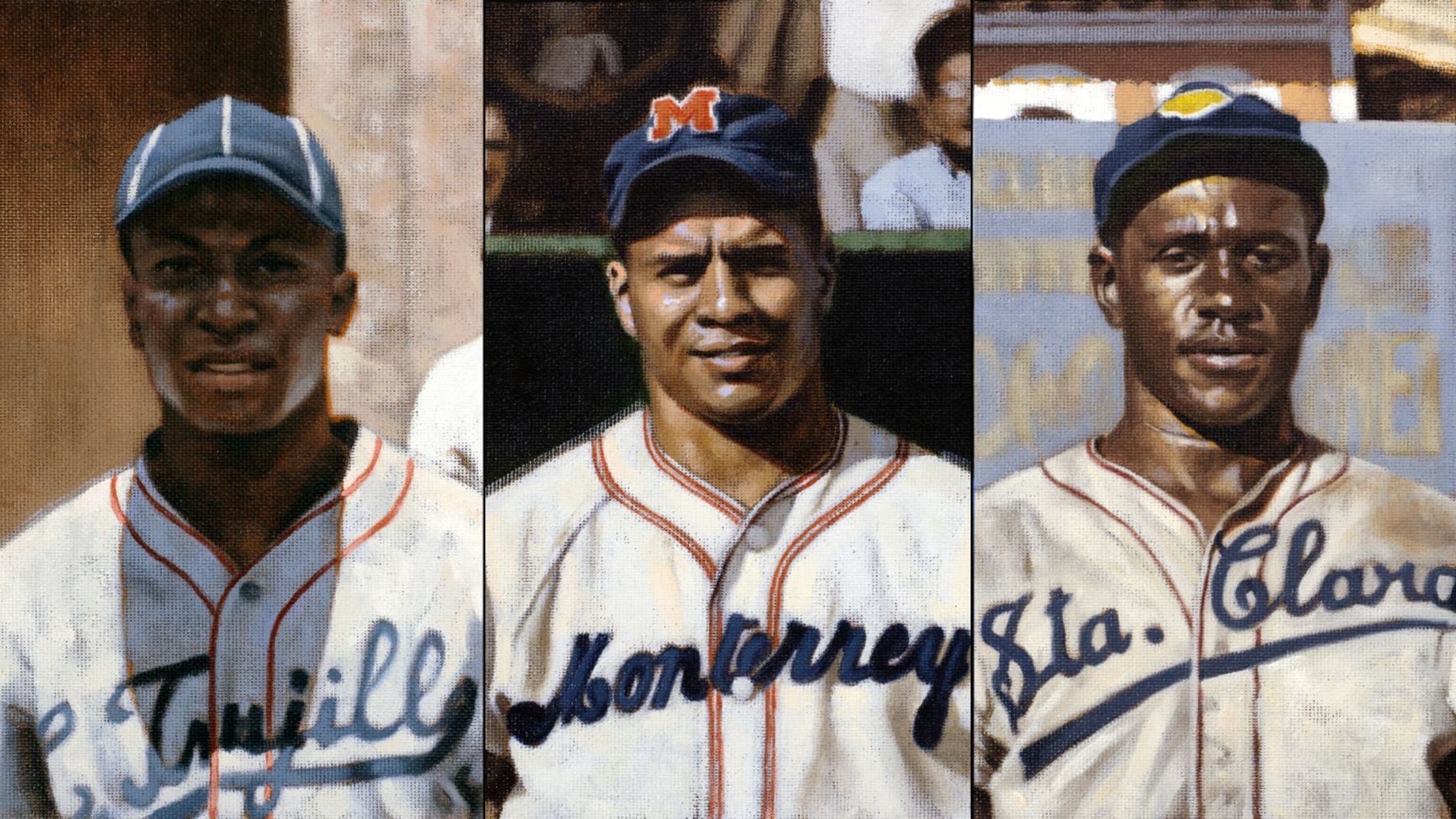 ---
How did you guys decide who to include?
Caldwell: We came up with that based on popularity, I would say. Although we wanted to convey a historical perspective, we knew that a key to that was showing some of the key players early on. And so in the first batch of players, I believe we had individual paintings of Cool Papa Bell, Rube Foster, Josh Gibson, Satchel Paige.
What was the inspiration of having multiple portraits of certain players?
Caldwell: That grew out of a lot of feedback we were getting. We quickly realized that just one picture of Satchel Paige in a Monarchs uniform wasn't going to satisfy everybody. So we went back and tried to find as many photos of Satchel as we could spanning his career and how he evolved. We did the same with Josh Gibson, Cool Papa Bell, Robinson, Rube Foster. It made a great display when they're on exhibit at the Negro Leagues Baseball Museum.
---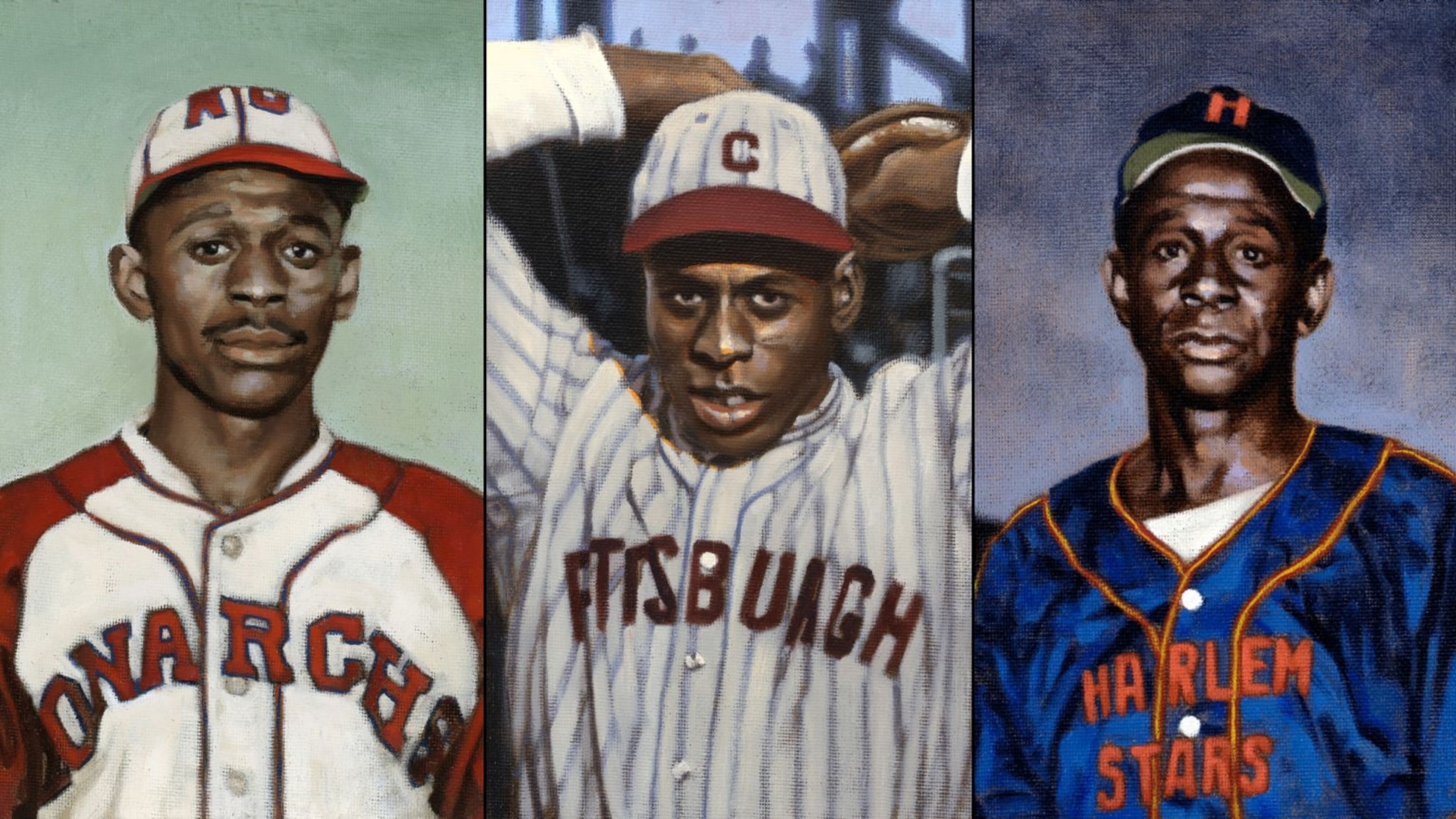 ---
Why did so many Negro Leaguers play winter ball in Cuba, the Dominican Republic and other places? Was it simply money?
Kreindler: They were treated like kings in these countries, and they got to have kind of a socioeconomic lifestyle for a few months that they probably didn't have at home. Seeing images of Gibson and Paige in those uniforms, it's just kind of like a peek into a different life during that time, if that makes sense.
What was your reaction in seeing how the portraits moved people at the unveiling in Kansas City in February?
Caldwell: People would come up and tell us how wonderful the experience was and how they finally were able to really relate to these players as human beings as opposed to legends. And I think it was just overpowering seeing all of those portraits together on three walls.
Kreindler: It was just so overwhelming seeing older men and women talking to each other, even sometimes talking to youngsters, and gesturing to a painting and you can tell that they're telling the person a story about that player. It was really cool.
All in all, it seems the project couldn't have turned out better.
Caldwell: It was just a great experience for the last three years. It's really filled up my time, and I've loved every minute.
Kreindler: I just want to say just how grateful I am. This project was so special. And the fact that Jay wanted me take this journey with him. That I got to meet Bob Kendrick. This is a life/career highlight.
Just kind of creating like a window into the past. I want that from these portraits. But at the same time, I also want them to hopefully inspire people to want to learn more and to make sure that these men and women are not swept under the rug. They're important to the history of the game, to the overall tapestry.