Joyce not in Indians' Opening Day plans
Outfielder was a non-roster invitee after signing deal last month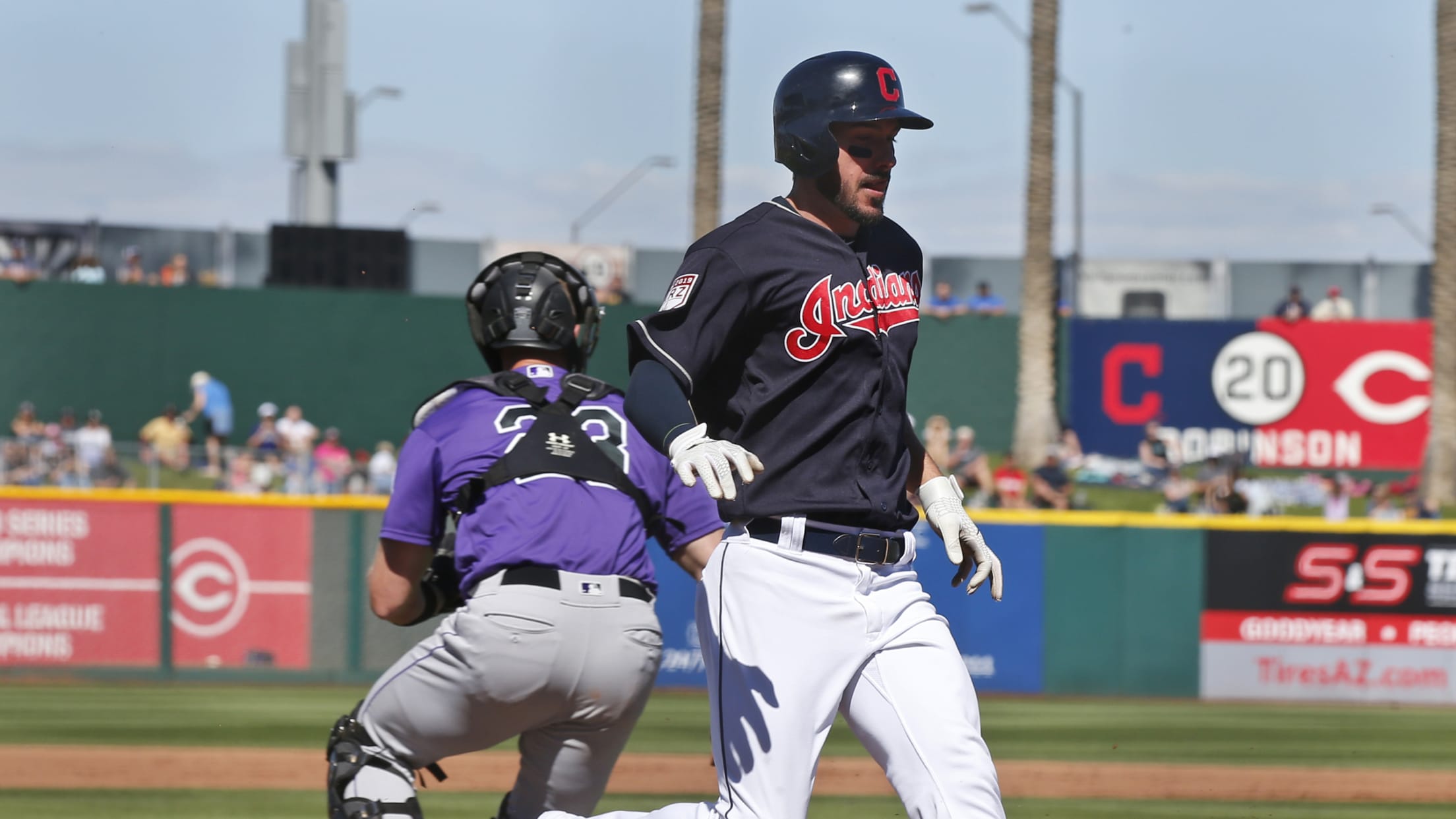 SURPRISE, Ariz. -- The Indians have not quite figured out who will be starting in the corner outfield spots on Opening Day, but they have eliminated one candidate. Prior to Friday's 5-2 loss to the Rangers at Surprise Stadium, Indians manager Terry Francona said that Matt Joyce had been informed
SURPRISE, Ariz. -- The Indians have not quite figured out who will be starting in the corner outfield spots on Opening Day, but they have eliminated one candidate.
Prior to Friday's 5-2 loss to the Rangers at Surprise Stadium, Indians manager Terry Francona said that Matt Joyce had been informed that he will not break camp with the Tribe next weekend. The Indians had signed Joyce to a Minor League deal on Feb. 9 that came with a non-roster invitation to Spring Training.
"We wanted to do it early enough where maybe his agent could talk to some other teams," Francona said. "Then we'll see what happens from there."
Joyce spent 2018 in Oakland and battled through two stints on the injured list with a back injury. His last complete game was July 1 before making brief appearances across 20 contests in September. The Indians needed some depth in the outfield, along with a veteran presence, and Joyce was an option that could have checked both of those boxes. But in 27 at-bats, the 34-year-old recorded five hits (.185) with just three RBIs and struck out seven times.
"When we talk about evaluating guys, it can be difficult," Francona said earlier this spring. "I mean even by his own admission, he said many times, 'Hey, I've been off since June. I didn't realize how hard it is.' He's admitting it's been a little difficult."
The remaining options for the corner-outfield spots are Greg Allen, Jake Bauers, Tyler Naquin, Jordan Luplow, Brandon Barnes and Trayce Thompson. The club's No. 19 prospect, outfielder Oscar Mercado, is also one of the 45 players remaining at big league camp after the Indians made their third round of roster moves on Friday.
Carrasco works long fourth
In his second start of the spring, Carlos Carrasco allowed three runs on five hits over 4 2/3 innings. After cruising through his first three frames, Carrasco ran into some trouble in the fourth, giving up back-to-back singles to put runners on first and second with one out. Asdrubal Cabrera then singled in a run, Elvis Andrus scored on a sacrifice fly and Will Calhoun knocked in another run on a single.
Although it may not have been a scoreless outing, both Carrasco and Francona are pleased that he was able to work through a long inning.
"I thought it was good because it gave me something to work on, trying to figure out how to get out of the inning," Carrasco said. "I think it was good, so I can take that from today -- what I did wrong [and] what I did good -- for my next start. Sometimes every pitcher wants to throw three or four innings of zero [runs], but I'm glad that happened because I work on what's going on."
"I thought he's throwing the ball good," Francona said. "I mean, shoot, it was kind of nice to see him have a long inning because I think after the third inning he was at 28 pitches. We wanted to make sure we get some of our bullpen guys to pitch, so it's OK to see a guy pitch out of the stretch and have to do some things."
Countdown to final roster moves
Francona said that he took Friday morning's meeting with his team to discuss the inevitable moves that will take place in the coming days to trim the Spring Training roster from 45 to 25 before the team leaves Goodyear next weekend.
"I said, 'I know anxiety builds as numbers get smaller and we get closer to leaving. … We know. We've been through it over and over. We understand it, so we'll do the best we can to be conscientious about it and talk about -- just we know the closer you get it gets harder.'"
The Indians have named Brad Hand the closer, Leonys Martin the starter in center, Jason Kipnis at second, José Ramírez at third and the starting rotation still remains intact from last season, but the rest of the starters have yet to be determined.
Up next
The Indians will travel to Tempe on Saturday to play the Angels at Tempe Diablo Stadium at 4:10 p.m. ET. Cleveland right-hander Mike Clevinger is scheduled to start opposite righty Trevor Cahill.