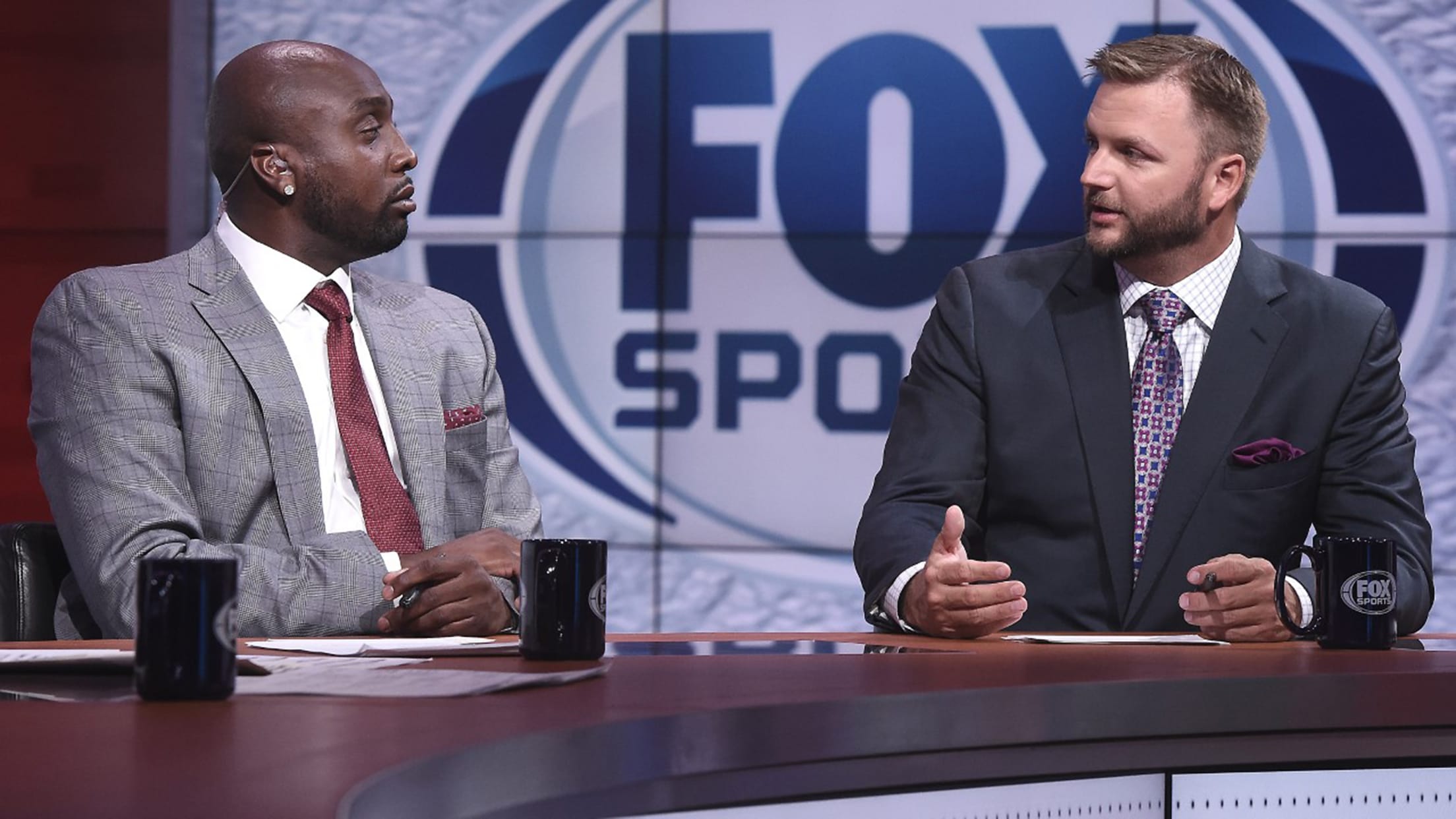 Scroll
From Day 1, the D-Train was made for TV
MIAMI -- From the moment he first stepped on a big league mound, Dontrelle Willis had a made-for-television appeal. You saw it in his smile, and in his style.
With his high leg kick and quirky delivery, the D-Train seemingly was all arms and legs coming after hitters. And people noticed. They tuned in. They packed stadiums. And many, especially young players and fans, imitated him, either by shifting their caps to the side or wearing their socks high.
The D-Train was showman over a playing career that spanned nine seasons, from 2003-11. He was perhaps the biggest spark on the Marlins' World Series title team in 2003, when he emerged seemingly out of nowhere and became an overnight sensation.
You couldn't draw up a better rookie season if you tried. Willis was an All-Star, then a champion, and he completed the trifecta with the National League Rookie of the Year Award.
D-Train Mania captured not only the imagination of South Florida but the baseball world in general, and he became one of the young faces of the sport.
But Willis' prime as a player lasted just five seasons, from 2003-'07, when he went 68-54 with a 3.78 ERA in 162 starts.
His career spiraled downward from 2008, when he began three injury-plagued years with the Tigers, followed by one-year stints with the D-backs and Reds. He retired in 2015.
Willis has resurfaced in recent years as a television analyst for Fox Sports 1, bringing the same passion he had as a pitcher to the broadcast studio.
"I think he's a star," Fox Sports host and play-by-play announcer Kevin Burkhardt said. "Dontrelle is at the point now where he can do it all. He's so good at what he's seeing from everything, especially from the pitching perspective, obviously. He's relatable to everybody. He's funny. It's a great dynamic."
The TV version of Dontrelle Willis is vintage D-Train -- upbeat, informative and entertaining.
"I enjoy it," Willis said. "The goosebumps are the same on every show, like I'm getting ready to pitch. So the excitement is there. The energy is there. It's truly just like playing."
Willis has been a fixture on the FS1 MLB Whiparound show, and this year he was part of the network's playoff coverage.
"It took me about two years to where, on air, I felt comfortable in retaining the information and giving it to the people on air," Willis said. "Like a player, I was on the postseason roster!"
The goosebumps are the same on every show, like I'm getting ready to pitch. So the excitement is there. The energy is there. It's truly just like playing.

Dontrelle Willis
Watching Willis explaining the game is refreshing and rekindles memories of how terrific he was as a player.
"I always tell him, 'Man, if you would have grown up in the social media age, you would have been unbelievable now,'" said former MLB outfielder Juan Pierre, Willis' teammate with the Marlins from 2003-05 and still one of his closest friends. "He would have been probably twice as big."
The D-Train leaves the station
Willis' MLB career started with a big splash. As a 21-year-old in 2003, he went 14-6 with a 3.30 ERA in 27 starts, and his enthusiasm was contagious.
"He had that energy and spark," Pierre said. "When he was pitching or not pitching, he was on the bench, rooting for his teammates. He wasn't back in the clubhouse eating and stuff like that."
The '03 Marlins had a young pitching staff, with Josh Beckett and Brad Penny, and a lineup that featured Ivan "Pudge" Rodriguez and Mike Lowell. Yet it wasn't until after a pair of rookies -- Willis and Miguel Cabrera, then a 20-year-old -- were promoted midseason that the club took off.
"I think Dontrelle meant a whole lot," said Jack McKeon, then a 72-year-old manager who guided the young Marlins to an improbable title. "He and Cabrera, both. I thought they sparked us. They gave us a lot more energy, plus they performed well, and contributed."
After the 2007 season, at the Winter Meetings, the Marlins packaged Willis and Cabrera and dealt them to the Tigers for headliner prospects Cameron Maybin and Andrew Miller, along with Burke Badenhop, Dallas Trahern, Mike Rabelo and Eulogio De La Cruz.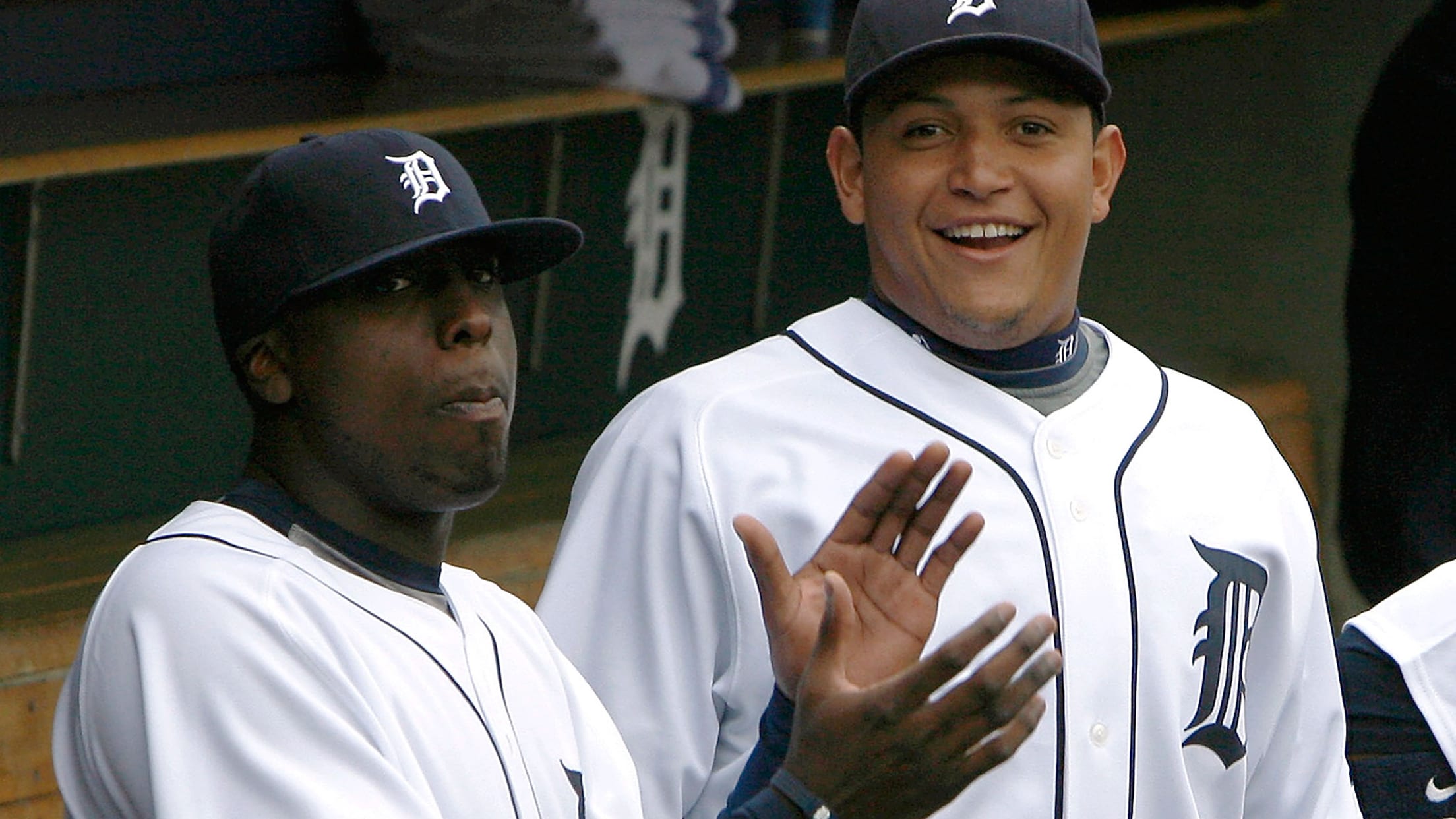 It was one of the biggest blockbuster trades in years, but unfortunately for the Marlins, it didn't generate much of a return. Although Badenhop was a steady reliever, neither Miller nor Maybin achieved much success in Miami. Their careers blossomed elsewhere.
Cabrera, a former American League Most Valuable Player Award winner, still gets a thrill watching Willis on TV.
"Miguel is one of my biggest fans," Willis said. "He's going to be a Hall of Famer, first ballot. ... I was blessed to play with him for a long time. He cracks up seeing me in a suit.
"I get probably, no lie, probably texts 10 times a week when I'm on air during the show. By some of the best players, you name them. People wanting to call in."
And the Emmy goes to ...
Those who are too young or don't remember Willis in his prime are now witnessing the same upbeat personality and strong opinions the 37-year-old brought to his game in the telecasts.
"I think he's as appealing to the 17-year-old kid as he is to the 85-year-old woman," Burkhardt said. "I really do. That's a hard thing to do, but I kind of think that's the beauty of him."
Though his burgeoning broadcasting career is still young, Willis already has received one of the industry's highest honors. In 2017, Fox Sports won the prestigious Emmy Award for Outstanding Studio Show, and Willis was part of the programming.
"It's surreal," Willis said. "People come to my house. They don't even care about the World Series ring. They're like, 'You have an Emmy?' It's surreal. It's totally surreal."
I think he's as appealing to the 17-year-old kid as he is to the 85-year-old woman. I really do. That's a hard thing to do, but I kind of think that's the beauty of him.

Kevin Burkhardt
After receiving his Emmy, Willis sent a photo of it to Pierre.
"He's proud of that thing, too," Pierre said. "He texted me with it. I said, 'What is that?' I don't know how the Emmy trophy looks. I'm a sports guy.
"He was like, 'P, I got an Emmy!'
"I'm like, 'Wow, that's big! He's proud of it because he knows the work that he puts into it. He's not going to show up, and say, 'Ah, I'm Dontrelle. I'm just going to freelance.' He studies."
From player to pundit
Willis last pitched in the big leagues in 2011, for the Reds, and finished his nine-season career with a 72-69 record and 4.17 ERA.
After '11, Willis made several comeback attempts, pitching in the Minor Leagues from 2012-14. In 2015 he signed a Minor League contract with the Brewers, but he was dealing with some injuries. Unable to compete at a level with which he was comfortable, the D-Train announced that his days as a pitcher were over.
Baseball had been such a big part of his life since he was 4 years old, and now, at the age of 33, he wondered, "What's next?"
It didn't take long for him to get an answer.
On a golf course, of all places, Willis was encouraged to give broadcasting a shot. Playing a round with a couple of his buddies -- former players Aaron Boone and Jerry Hairston Jr., both of whom had made the transition -- Willis was encouraged to give television a try.
"They were like, 'Hey, you should be going on TV, man,'" Willis said. "'You have great energy. They need more people who are young, you're African American.'"
Boone, now the Yankees manager, was working at ESPN, Hairston as a Dodgers TV analyst.
"Living out in Arizona, we're basically neighbors," Boone said. "His daughters played with my daughter. Those conversations come up, and obviously, he's kind of a natural. To see his career take off on that side has been fun to watch. You can tell he has a real passion for it. It's been a way for him to stay in the game that he's loved."
For many former players, television is an opportunity to stay connected to the game.
"Dontrelle found something that he loved, like I did," Boone said. "I got out of the game and went right into broadcasting. It kept me in the game I love. It kept me working. I'm just happy he's doing as well as he is."
Willis bounced the idea off Pierre as well.
To see his career take off on that side has been fun to watch. You can tell he has a real passion for it. It's been a way for him to stay in the game that he's loved.

Aaron Boone
"Dontrelle had the personality for it," Pierre said. "I told him, 'Give it a shot. If it doesn't work out, at least you'll see if you liked it.'"
At first Willis brushed it off, but before long he was auditioning with -- and hired by -- FS1.
"Timing is everything," he said. "Sometimes the powers that be are good to you. You don't see it initially in front of your face."
Willis the analyst has also become Willis the reporter. Prior to the 2019 season, he broke the news that veteran outfielder Adam Jones had signed as a free agent with the D-backs.
Breaking news has brought some good-natured ribbing from his friends.
"I tease him, like, 'You're media now,'" Pierre said. "When we talk, I'll be like, 'Bro, this is off the record now. Don't be going on TV telling all this stuff now. I don't want you to be on the air saying, Juan Pierre told me …' I tease him with that."
Willis brought the same passion he did to pitching to broadcasting. He was willing to work and, above all, he didn't want to let down those who believed in him.
"I think initially, when he first started, he was just trying to survive," Burkhardt said. "I could tell he was getting comfortable later in his first year, because you started to see that smile more, and that laugh. It became normal on the shows, and easy."
One of the highest compliments Willis received early in his broadcasting career came from Eric Karros, his FS1 colleague.
"He said, 'I respect you. I see the way you work. I see the way your energy is,'" Willis said. "'It makes sense about how people think about you in the game. I see the way you go about your work here.'
"I was like, 'Thank you, man!' That's always stuck with me. That's the highest honor I've ever gotten on TV, thus far."
Burkhardt and Chris Myers, two widely respected and established television personalities, each went to bat for Willis, and they continue to assist in his broadcast development.
"Kevin Burkhardt and Chris Myers are titans in the game, as far as being polished," Willis said. "Those two men, I owe my whole broadcasting career to. They stuck their necks out for me. They told the higher-ups that I should be on the postseason [TV crew], which is a very big deal."
Back to the beginning
Willis grew up in Alameda, Calif., and attended Encinal High School, which has a rich baseball history. Hall of Famer Willie Stargell attended Encinal; the field is named after him. Former All-Star and MVP Jimmy Rollins is another prominent alum.
The Cubs selected Willis in the eighth round of the 2000 MLB Draft, and he signed for $200,000.
On March 27, 2002, the Cubs and Marlins made a mega-trade. Matt Clement and Antonio Alfonseca were sent to Chicago in exchange for Willis, Julián Tavárez, José Cueto and Ryan Jorgensen.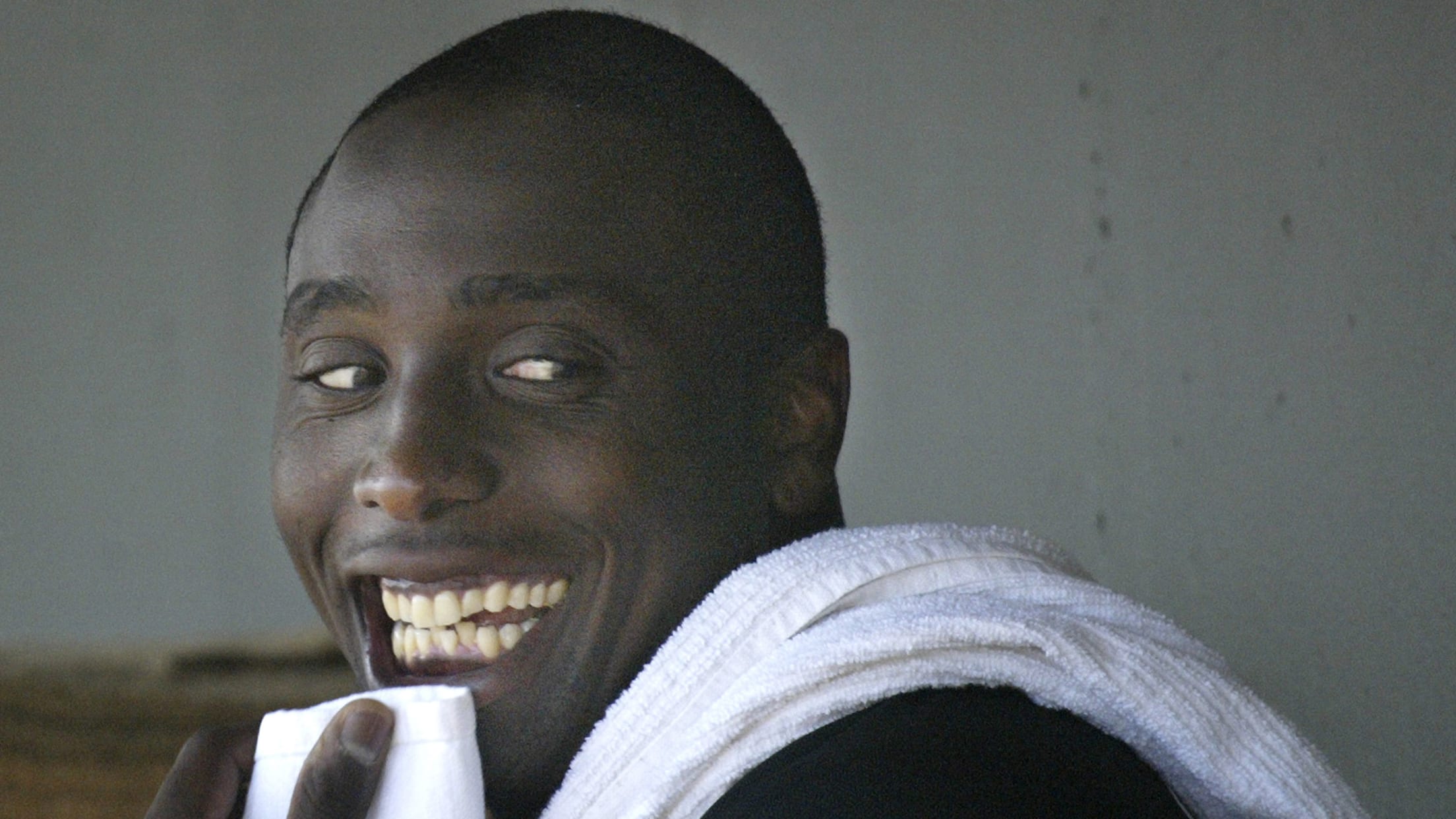 Willis dominated in the Minor Leagues in 2002, combining for a 12-2 record and 1.83 ERA at two Class A levels. The following year he was at big league camp, where he connected immediately with Pierre.
"He was considered an upper-level prospect for us, so we invited him to Major League Spring Training, and that particular offseason we made the trade with Colorado and brought over Juan Pierre," said president of baseball operations Michael Hill, then the assistant general manager. "They connected immediately in Spring Training. You saw Juan Pierre there early, and you saw Dontrelle Willis there early.
"Juan took him under his wing. His work ethic rubbed off on him, and he always wanted to work. He was always trying to get better. Had a tremendous Spring Training. Played with energy."
Pierre introduced a work ethic not seen before in Marlins camp. He regularly was at the Roger Dean Chevrolet Stadium complex by 6 a.m., a good three hours before players usually take the field. To keep up with his close friend, Willis started arriving at the park early, too. The two stayed at the team hotel and shared rides to the field.
"I'm like, be at the lobby at 5:45 a.m.," Pierre said. "I think one time, I actually left him. After that, he was there early. Maybe he was running out with shoes halfway on, but he never missed another morning after that.
"Dontrelle would laugh and say he still had toothpaste in his mouth, trying to get ready because he knew what time I was ready."
That work ethic inspired his strong rookie season.
Willis was a sensation from the moment he made his MLB debut with the Marlins on May 9, 2003, in a no-decision against the Rockies at home.
Two days after Willis made his debut, McKeon replaced Jeff Torborg as the Marlins' manager. McKeon inherited an underachieving 16-22 club that rebounded and finished 91-71, claiming the National League Wild Card berth.
"Dontrelle is a people person," McKeon said. "He was fan-friendly. He went out of his way to sign autographs, to do interviews. He was very easy to work with, and he enjoyed people. It's unique. You don't see that many guys who have that kind of rapport with his fans."
The underdog Marlins took care of business in the NL Division Series, dispatching the Giants in four games, and went to the distance to edge the Cubs in seven games in the NL Championship Series before upending the Yankees in six games in the World Series.
Willis, who had worn down at the end of the regular season, pitched mostly out of the bullpen in the playoffs, appearing in seven games and making two starts, with an overall 8.53 ERA. But in terms of the entire season, he certainly was a catalyst.
"He was a big part of it, because I think the success he was having on the mound pushed the other guys," Hill said. "That was part of what good teams do. They push each other, they challenge each other. It was easy to do, because his personality was so infectious. His passion for the game was so obvious. He had that big smile. When he stepped on the field, you knew he was stepping on the field to win."
Willis' best individual season was 2005, when he set a franchise record for wins, going 22-10 with a 2.63 ERA. He finished second to Chris Carpenter of the Cardinals in the NL Cy Young Award voting.
His passion for the game was so obvious. He had that big smile. When he stepped on the field, you knew he was stepping on the field to win.

Michael Hill
The trade that sent Willis and Cabrera to the Tigers marked one of the toughest days in franchise history.
"It's a part of the business," Hill said. "At the time we were playing in a football stadium, and we had the lowest attendance in the game. You couldn't afford to carry the two players in that deal. Both were deeper into arbitration, Miguel and Dontrelle."
The fact that Willis was a Rookie of the Year, a 22-game winner and one of the top starters in the NL for years meant his salary was about to skyrocket. The same was true for Cabrera, by then an All-Star.
"It was a point where you get your marching orders," Hill said. "You can't make it all fit, as much as you would love to."
After leaving the Marlins, Willis appeared in just 40 games, winning four, but having endured so many highs and lows gives him a better perspective in his post-playing career job as an analyst.
"It's been a blast," he said. "Your perspective definitely changes from being on the field and actually critiquing people off the field. It's been a whirlwind, and I've been very blessed to work with some of the best people, and learn under their wing. I haven't enjoyed doing something this much in a very, very long time. It's fun."
Whether Willis continues as an analyst or returns to the game in another capacity could be up to him.
"I think he could do whatever he wants to do," Burkhardt said. "I think the fact that he worked his way onto our postseason crew is a big deal.
"He certainly could be a great coach or a great front-office guy. He would be an excellent teacher. I think right now, the beauty of him is, whatever you tell him -- 'Let's do this' or 'Try this' -- I think he's all in."
credits:
Joe Frisaro has covered the Marlins for MLB.com since 2002.