Few question marks left for Marlins' roster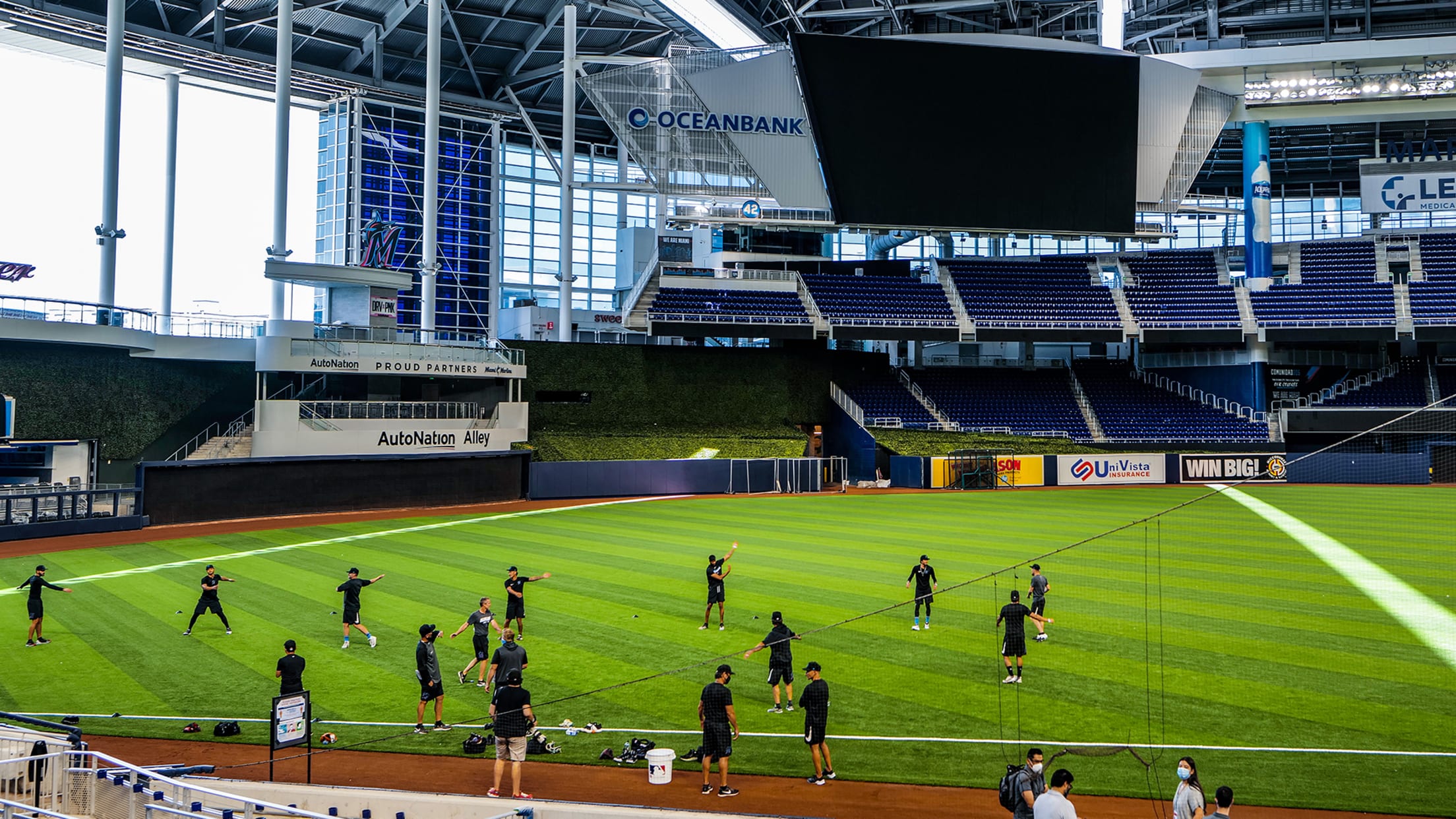 MIAMI -- With less than three weeks to games starting, the Marlins have a pretty good idea of how their Opening Day roster will look. Most of the position and pitching battles were settled in March before Spring Training was cancelled, leaving only a few unanswered questions. Of course, with
MIAMI -- With less than three weeks to games starting, the Marlins have a pretty good idea of how their Opening Day roster will look.
Most of the position and pitching battles were settled in March before Spring Training was cancelled, leaving only a few unanswered questions.
Of course, with the coronavirus pandemic still an issue, the Marlins -- like all clubs -- will deal with some level of uncertainty.
Four Miami players have tested positive for COVID-19, and the club acknowledges there are daily challenges to coexist with the virus.
In terms of making baseball decisions, the Marlins' roster is close to being set.
"We were down to the last couple of guys when we left spring," manager Don Mattingly said on Sunday. "Obviously, you've got to come back and see who is healthy and who's not."
The outfield and bullpen were the positions that had some questions before.
The Marlins project Corey Dickerson to be in left field and Jonathan Villar in center, but right is unclear. Harold Ramirez, Matt Joyce, Lewis Brinson and Garrett Cooper are starting candidates. Monte Harrison (Miami's No. 9 prospect) also could win an outfield spot.
Otherwise, the rest of the everyday lineup appears pretty secure: Jorge Alfaro (catcher), Jesús Aguilar (first base), Isan Díaz (second base), Brian Anderson (third base) and Miguel Rojas (shortstop).
Third baseman Brian Anderson taking grounders. Rest of projected starting infield also doing drills. Miguel Rojas at short, Isan Díaz at second and Jesus Aguilar at first #Marlins pic.twitter.com/ltq2WFHByO

— Joe Frisaro (@JoeFrisaro) July 5, 2020
The rotation is shaping up, in no particular order, as Sandy Alcantara, Caleb Smith, José Ureña, Pablo López and Jordan Yamamoto. Elieser Hernandez, Robert Dugger and Nick Neidert (No. 10 prospect) are long-relief, spot-starter candidates.
The bullpen clearly is the most in flux. Brandon Kintzler projects to close. Ryne Stanek, Adam Conley, Yimi García and Drew Steckenrider are likely locks to make it, health permitting. Right-hander Sterling Sharp and southpaw Stephen Tarpley are strong possibilities.
Veteran Nick Vincent, who spent last year with the Giants and Phillies, agreed to terms recently. He, veteran Brad Boxberger and left-hander Alex Vesia (No. 27 prospect) are non-roster invitees who could make it, but if they do, they'd have to be added to the 40-man roster.
"There's a few decisions to make, but not a lot," Mattingly said.
During these unprecedented times, about the only certainty is there will be uncertainty.
"It's not baseball as usual," Mattingly said. "Let's accept that, right off the bat. Let's walk in the door knowing that it's not baseball as usual.
"We're not running this like we would a normal Spring Training. It's trying to go right into game speed. I wouldn't say, game mode, because we're not in that kind of shape yet."
How the workouts have been structured are different than in the spring because the whole team isn't practicing together. More than a dozen prospects are working out at the Roger Dean Chevrolet Stadium complex in Jupiter, Fla.
The big league staff and the projected big league roster are training at Marlins Park. In each of the first three days, there have been two groups, in the morning and in the afternoon.
"Our guys are all here every day," Mattingly said. "They're in different groups to get our work in, to maximize what they can do. So there is kind of a method to the madness of who is here in the morning and who is here in the afternoon."