Marlins Arizona Fall League updates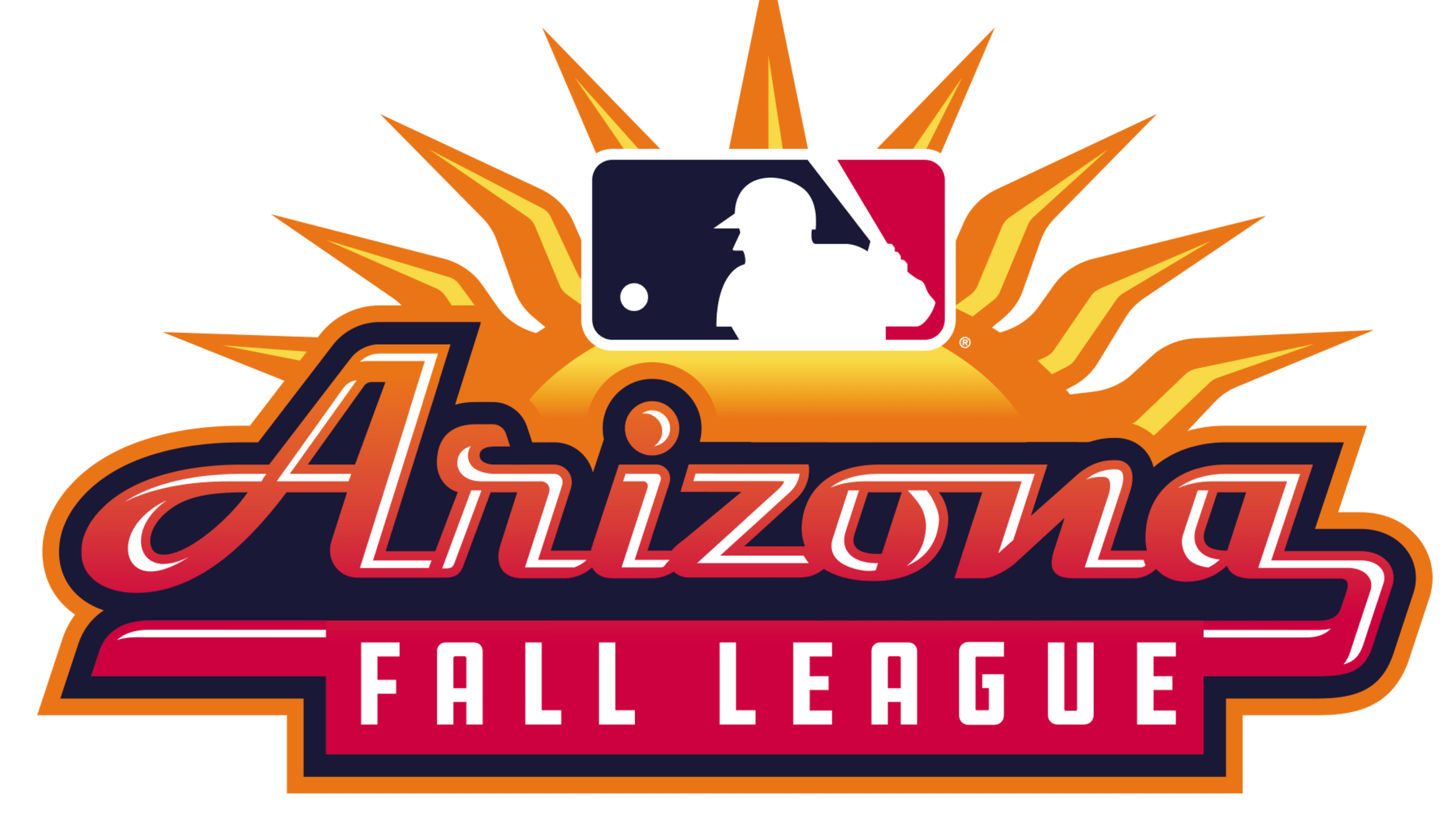 Seven Marlins prospects are playing for the Salt River Rafters in the 2019 Arizona Fall League: Shortstop Jose Devers (No. 10), right-hander Nick Neidert (No. 11), outfielder Victor Victor Mesa (No. 13), outfielder Jerar Encarnacion (No. 17), right-hander Vincenzo Aiello, right-hander C.J. Carter and left-hander Alex Vesia.
Top prospects headline Marlins' offseason camp
Sanchez (No. 1), Cabrera (No. 6) among invitees for strength and conditioning workouts at Marlins Park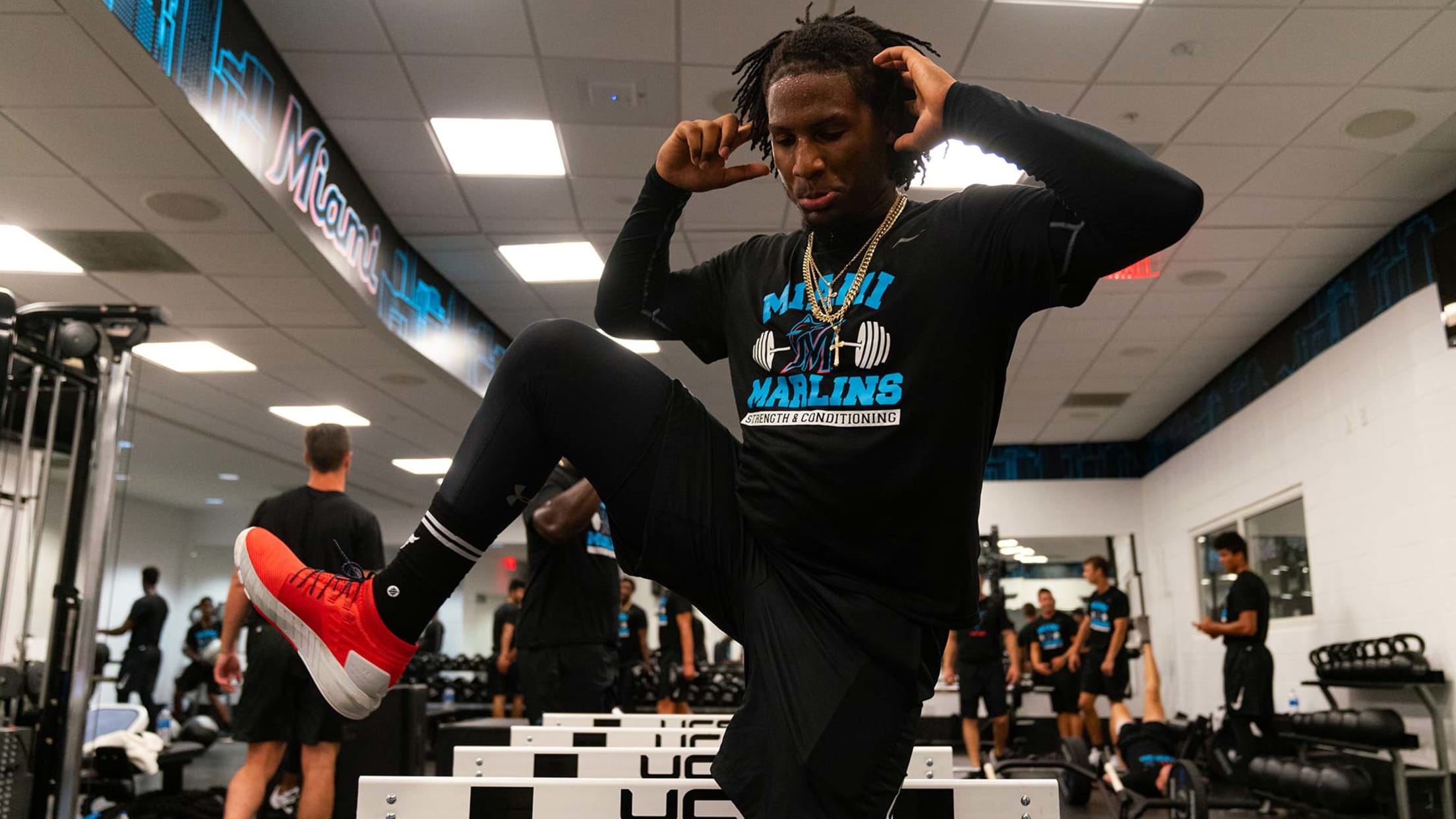 MIAMI -- For most affiliates, the Minor League season ended in late August or early September, but for more than a dozen Marlins prospects, their offseason will kick in this weekend. That's because they are participating in Miami's Minor League strength and conditioning camp at Marlins Park. On Thursday afternoon,
Marlins' Neidert named AFL Pitcher of the Week
Miami's No. 11 prospect went 2-0 with 1.00 ERA over nine innings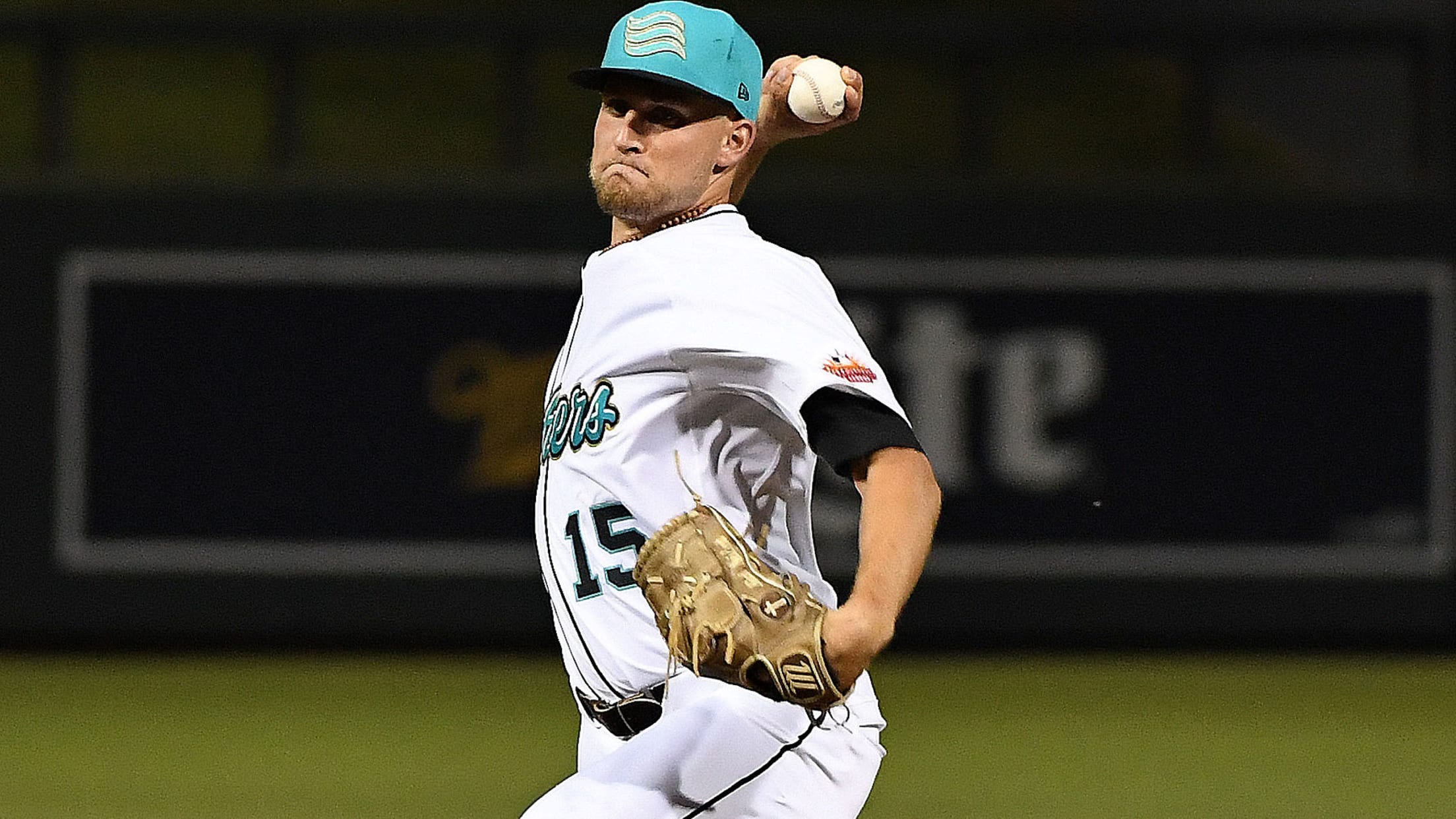 PHOENIX -- Nick Neidert finished his 2019 campaign strong and has continued to throw well over the first two weeks of the Arizona Fall League season. Neidert was particularly strong in the second week of Fall League action, leading to him being named the league's Pitcher of the Week for
Dugger ready to 'come back strong next year'
Rookie right-hander chased after seven runs in final start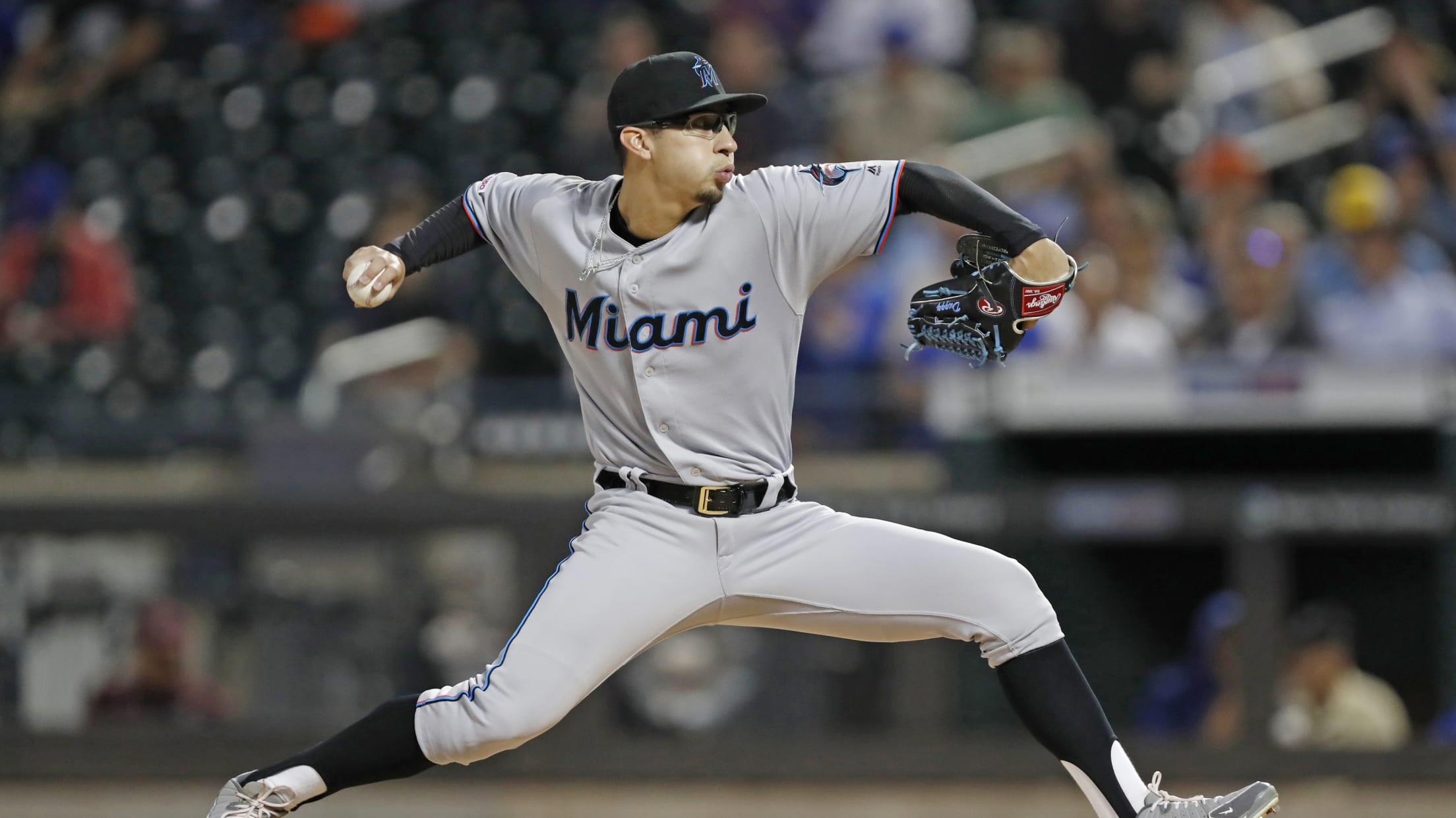 NEW YORK – Rookie right-hander Robert Dugger pitched his last game of the season on Wednesday night, and it turned out to be one to forget as the Mets pounded the Marlins, 10-3, at Citi Field. Dugger pitched two innings and allowed seven runs -- six earned. He was in
Marlins salute Minor League Award winners
Sánchez, Guzman, Garrett among honorees welcomed at Marlins Park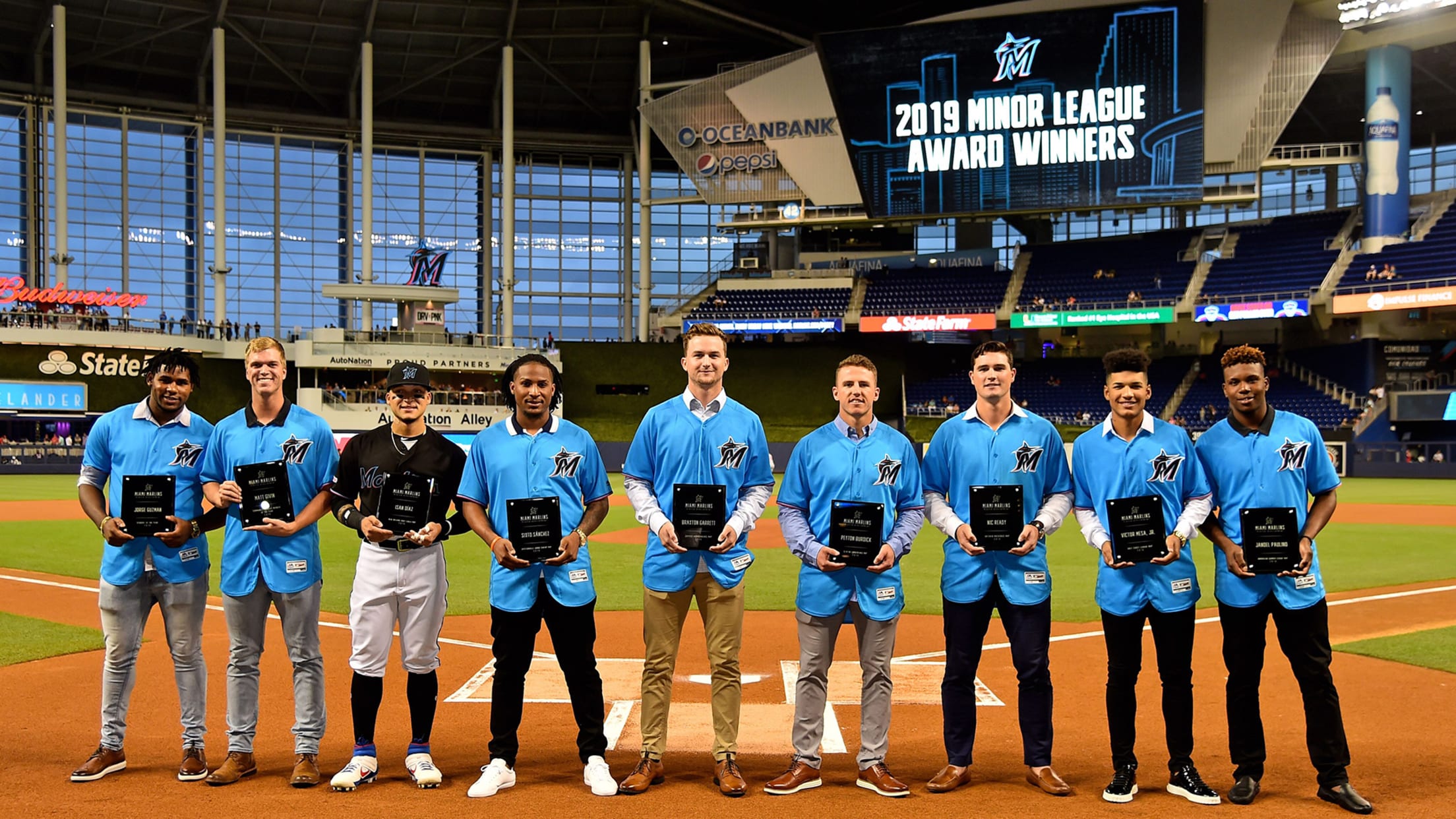 MIAMI -- A few weeks ago, Sixto Sanchez, Jorge Guzman and Braxton Garrett were part of a promising pitching staff at Double-A Jacksonville. Each is among the Marlins' top prospects, each has a chance to make the leap to the big leagues in 2020 and each was recognized on Friday
Pipeline names Marlins Prospects of the Year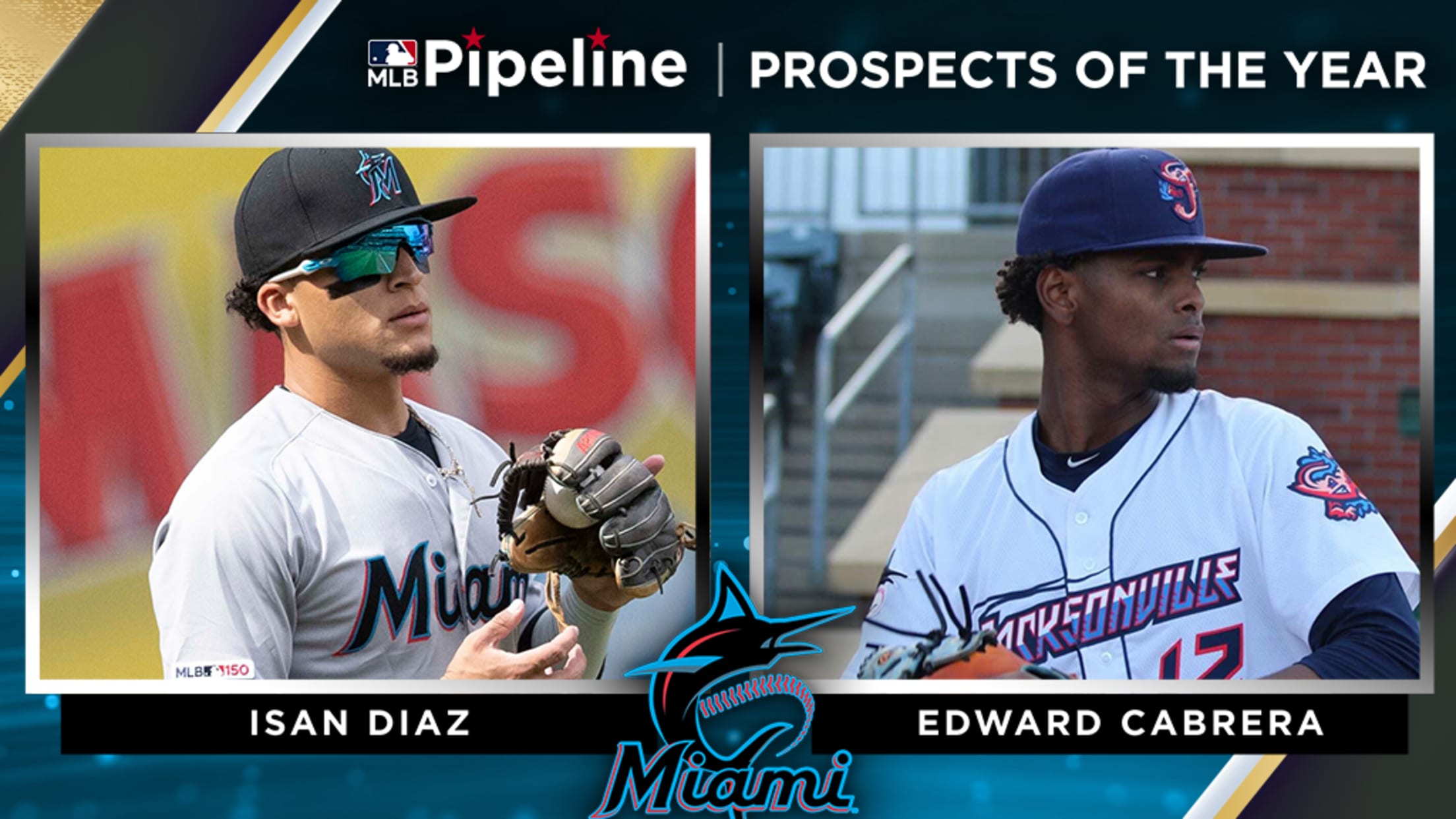 Not since 2013, when Christian Yelich, Marcell Ozuna and Jose Fernandez each made their Major League debuts, has the Marlins organization been this stacked with potentially high-end prospects. With six players on MLB Pipeline's Top 100 list, Miami now has one of the best farm systems in baseball. Based on
Neidert looks to make up for lost time in AFL
Top prospect, now healthy, could compete for Miami rotation spot
SCOTTSDALE, Ariz. -- If not for a left meniscus injury, Nick Neidert would have been in line for a big league promotion in June, and if not then, certainly in September. But the 2019 regular season didn't go as expected for Neidert, the Marlins' No. 11 prospect, per MLB Pipeline.
Learning continues for four Marlins prospects
Position players Harrison, Sanchez, Chisholm and Diaz invited to instructional league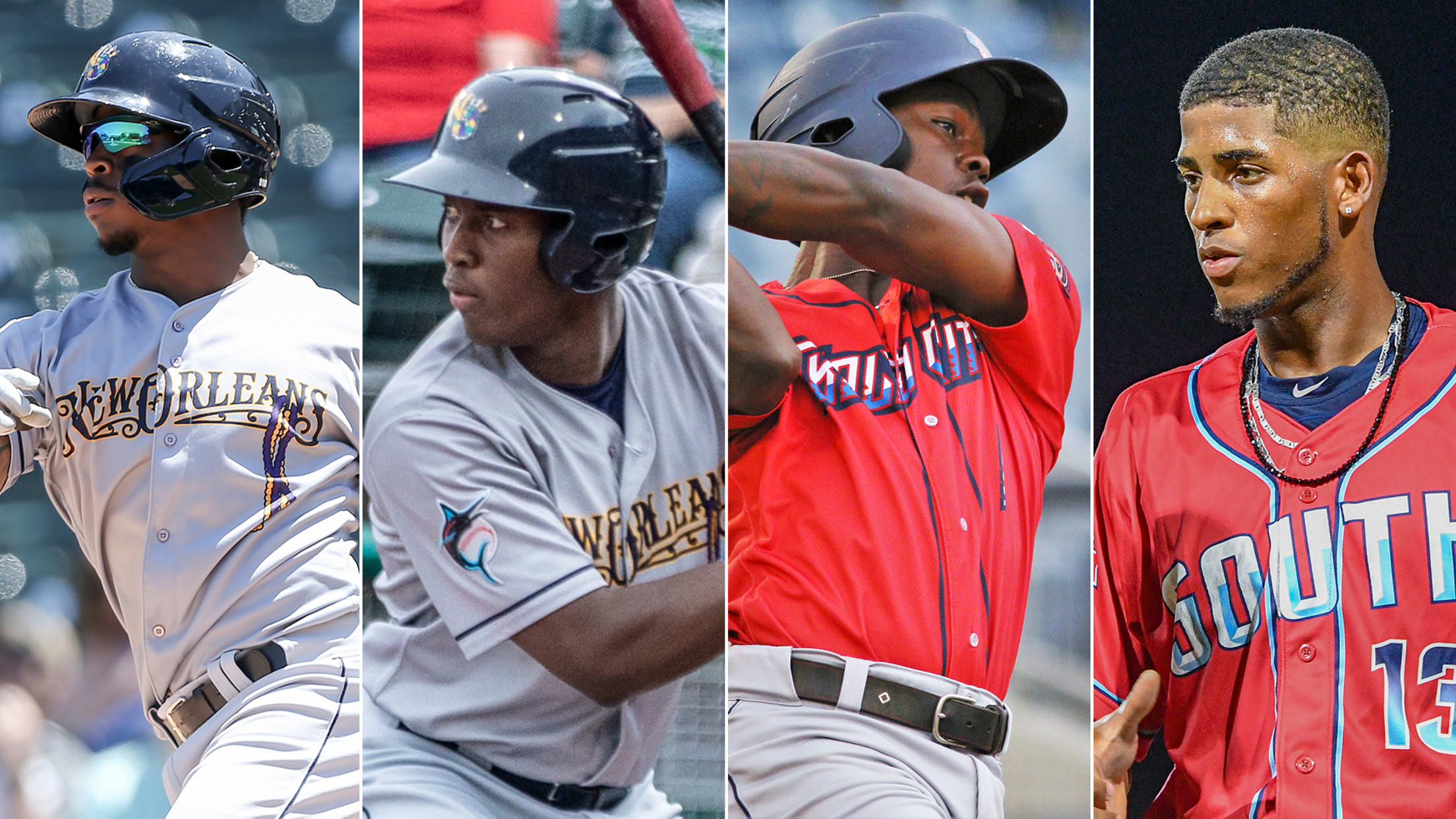 MIAMI -- Many of the Marlins' prospects who are close to being big league ready are still refining their skills this month in the annual instructional league. Each September and early October, the Marlins invite about 40 prospects to get additional instruction at their Roger Dean Chevrolet Stadium complex in
Chisholm, Lewis pitch in for Bahamas relief
Anderson, Alcantara, Rojas, Walker receive Writers' Awards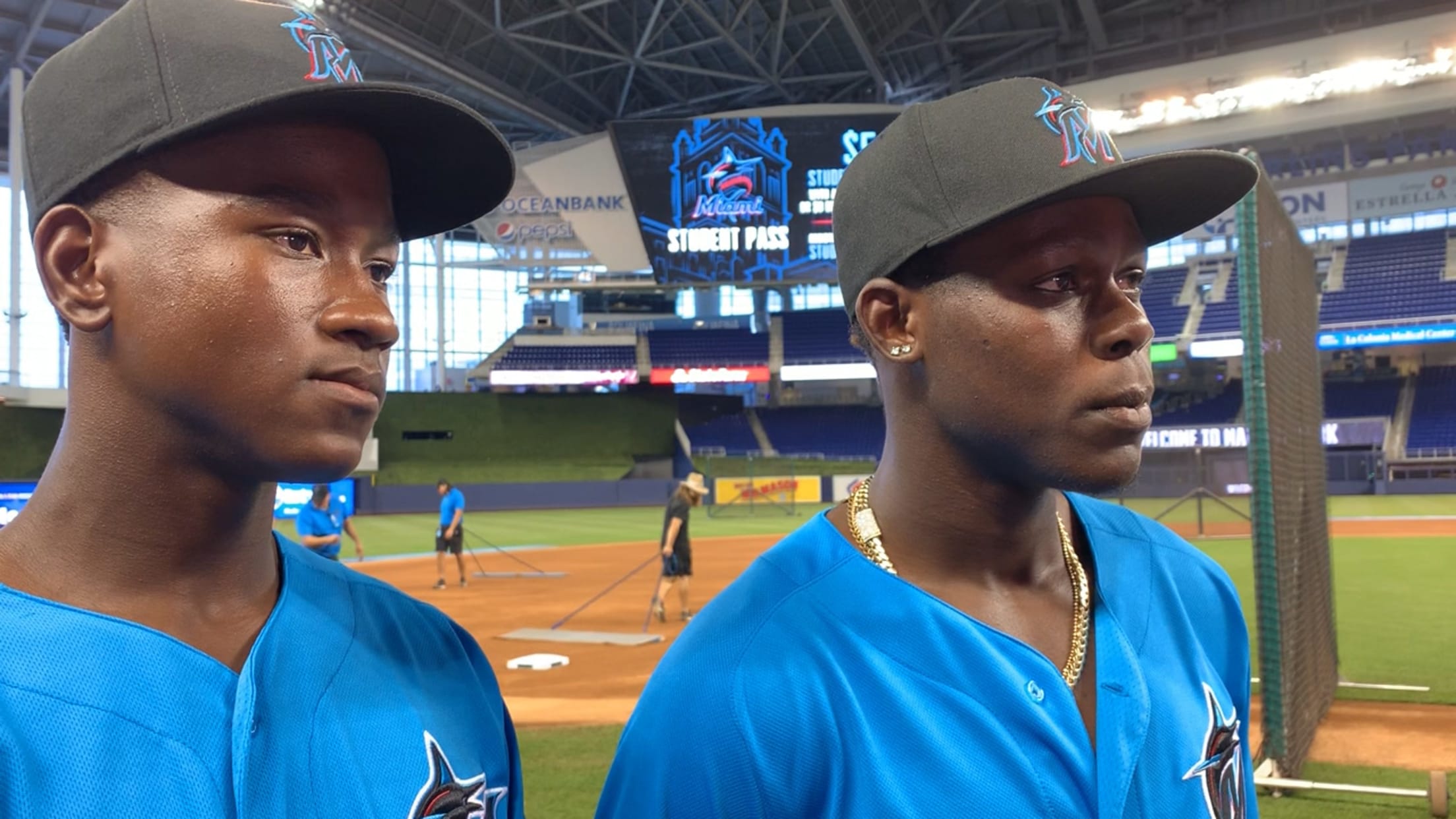 MIAMI -- Hurricane Dorian didn't make landfall in South Florida, but the powerful storm did inflict major damage to the Bahamas, home to three Miami prospects. Two of them -- shortstops Jazz Chisholm (Miami's No. 4 prospect) and Ian Lewis -- were at Marlins Park on Tuesday for batting practice
Rookies Ramirez, Dugger reel in walk-off win
Outfielder slugs winning homer in 12th, while pitcher goes seven innings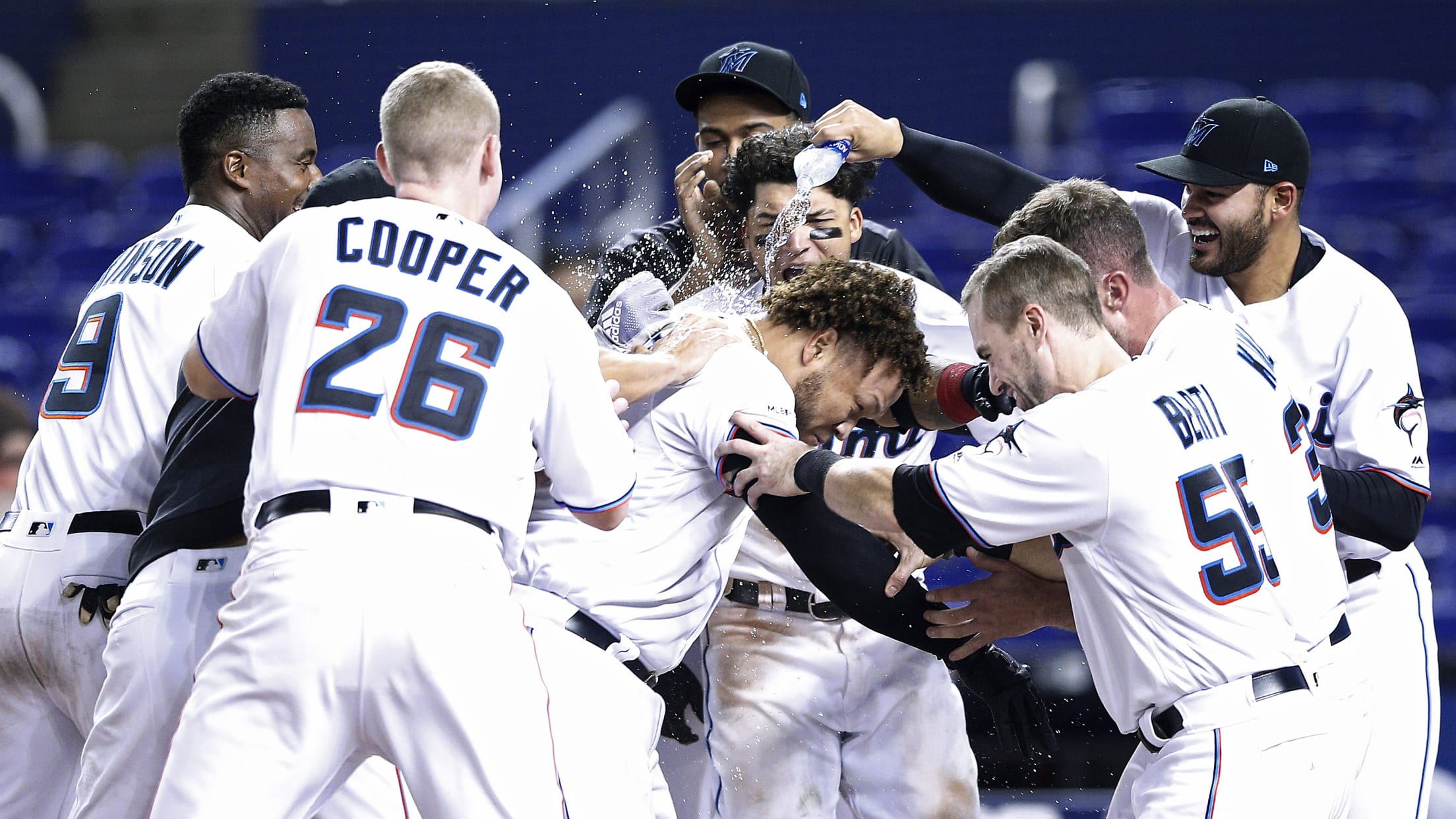 MIAMI -- Down the stretch, the Marlins are looking to see which prospects take advantage of opportunities. On Thursday night, a couple of rookies made strong impressions. From the pitching side, Robert Dugger impressed over seven innings in his second big league start. But the game ultimately was decided by
Sixto, Guzman unlikely to receive callups
Flamethrowing prospects have already exceeded innings thresholds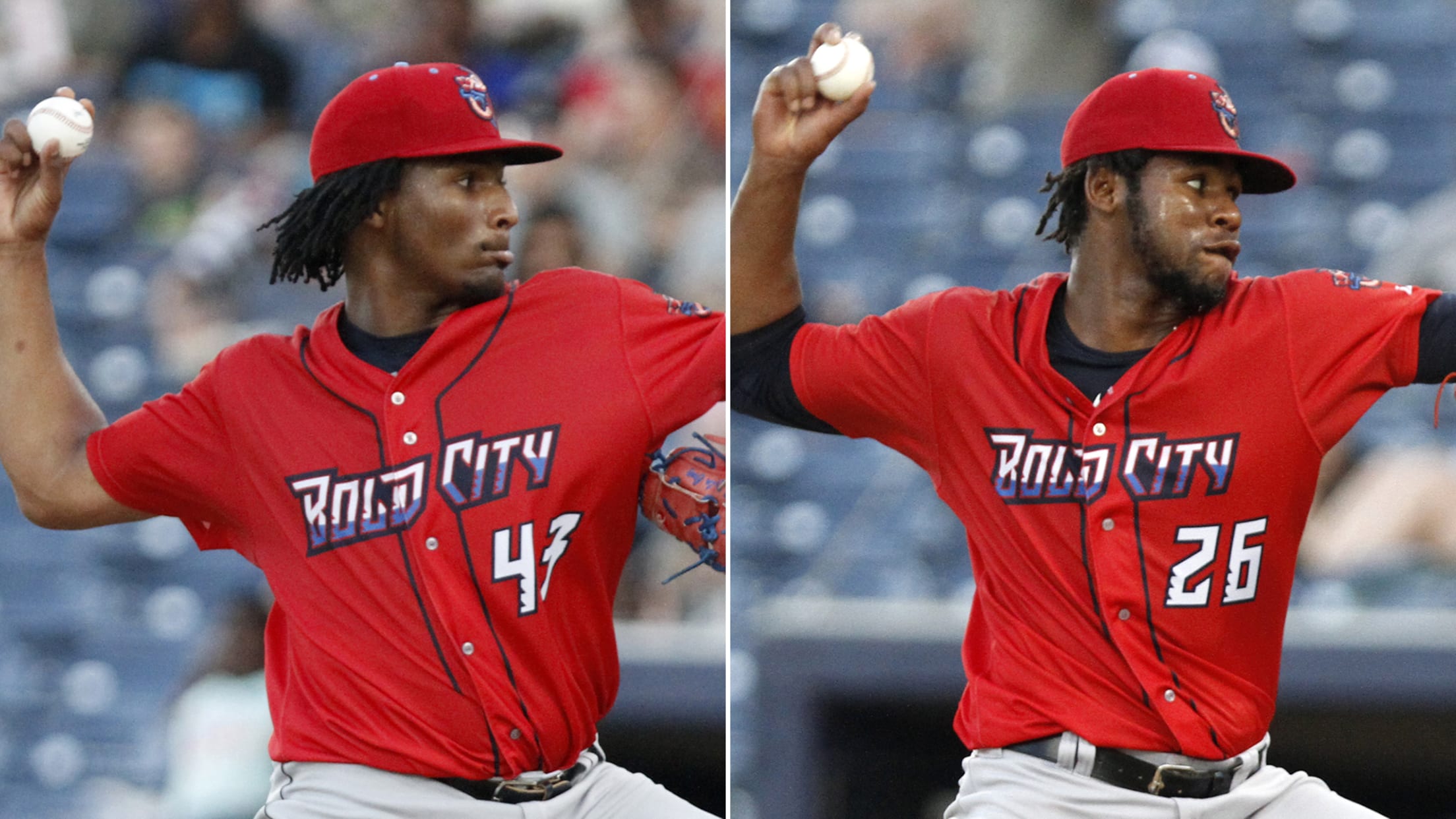 MIAMI -- Hard-throwing Sixto Sanchez's first season in the Marlins' organization is winding down, and the 21-year-old right-hander has lived up to expectations. Sanchez, Miami's top-ranked prospect (24th on MLB Pipeline's Top 100 list), has been a standout in Double-A Jacksonville's rotation, going 8-4 with a 2.53 ERA in 18
Rookie Yamamoto (forearm strain) placed on IL
Prospect Dugger to start Thursday in finale vs. Reds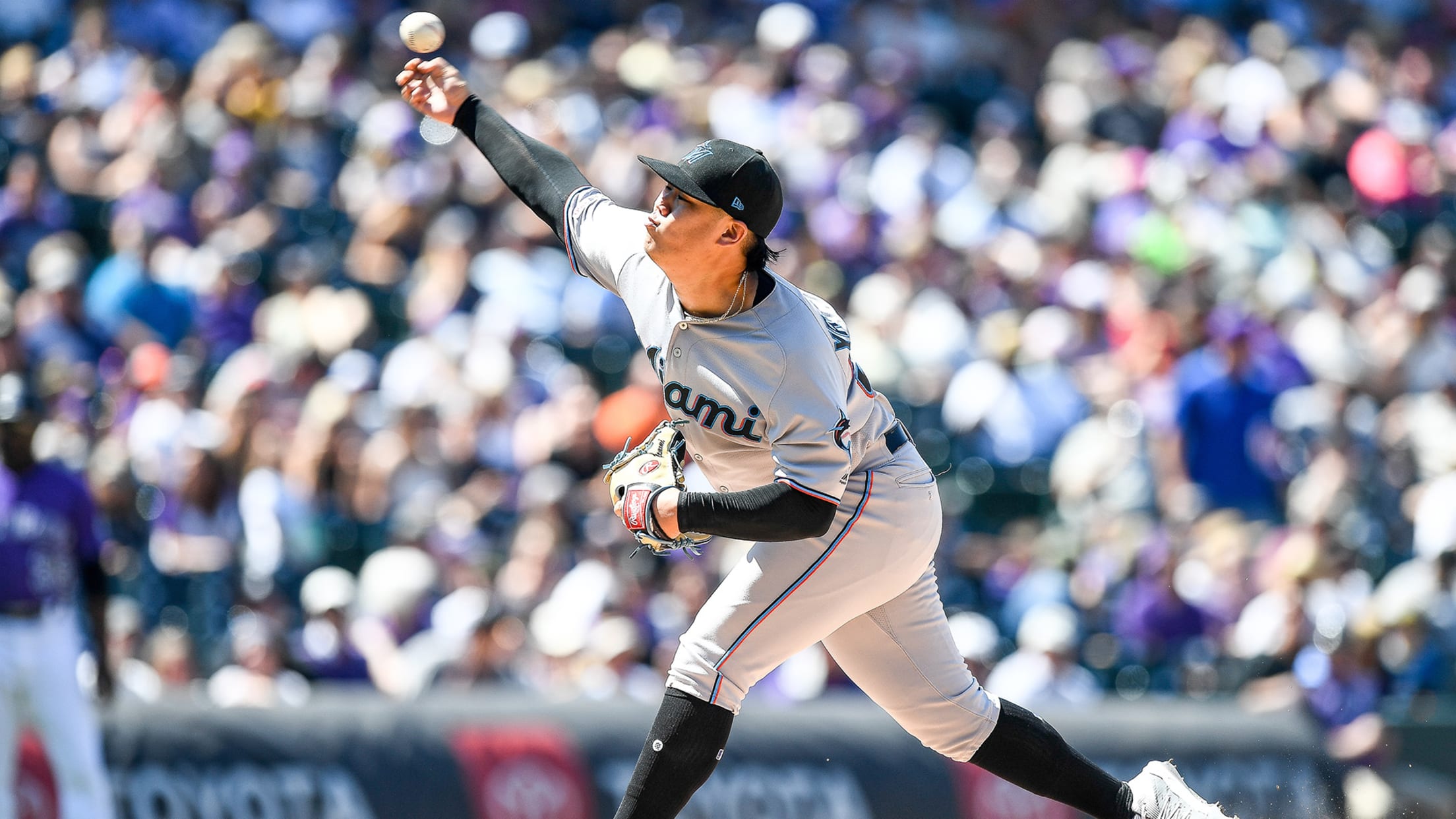 MIAMI -- The Marlins rotation took a hit on Wednesday with the team placing rookie Jordan Yamamoto on the 10-day injured list due to a right forearm strain. Miami's No. 24 prospect according to MLB Pipeline, Robert Dugger, who was expected to be a September callup, has been recalled from
Updates on Neidert, Devers, Lopez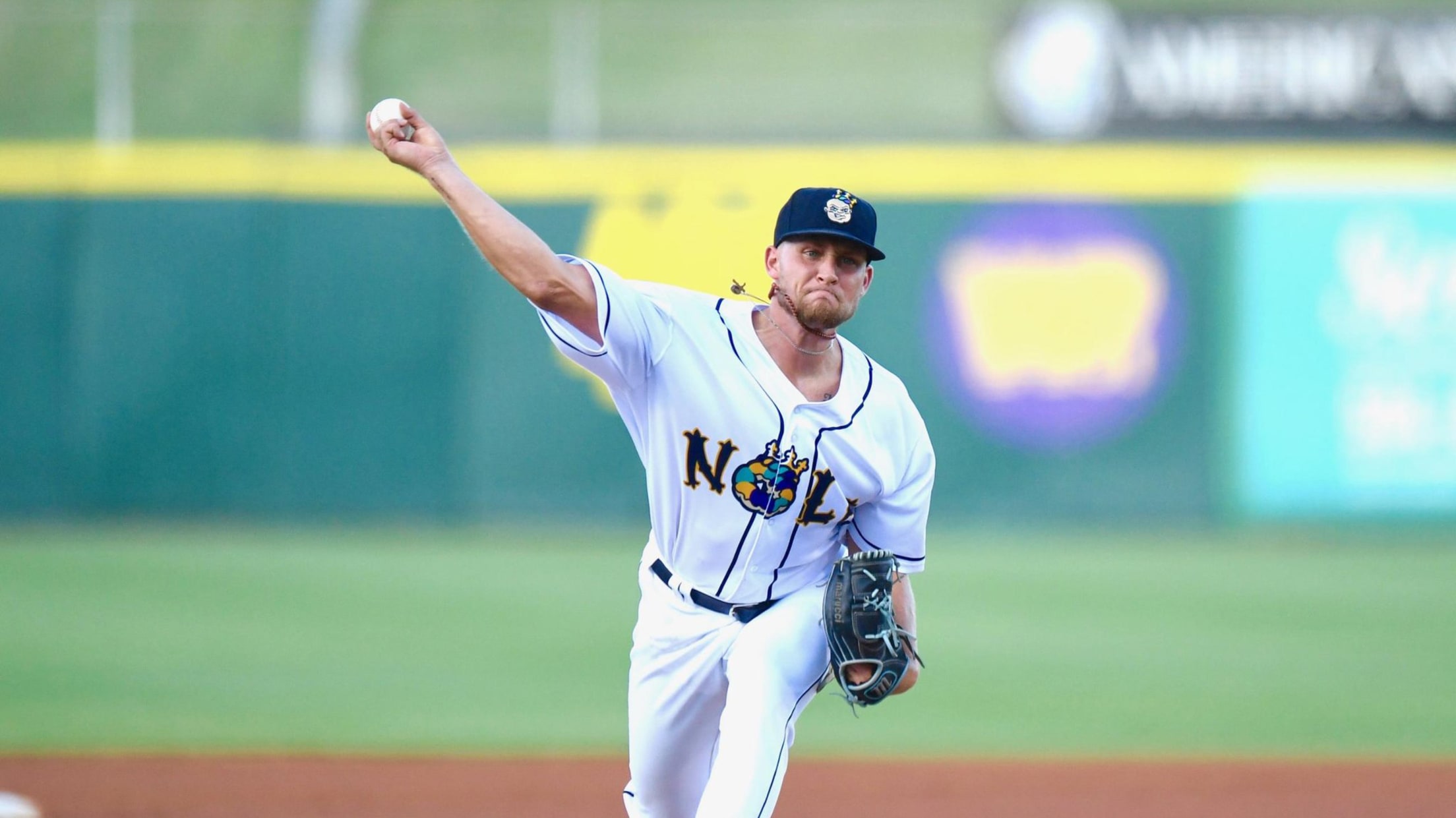 ATLANTA -- At the start of the season, Nick Neidert was the Marlins' top pitching prospect, according to MLB Pipeline. But right knee surgery sidelined him for about three months. Now recovered, the 22-year-old right-hander is showing flashes of why he is one of the Marlins' top overall prospects. Neidert
Isan Diaz homers off deGrom for 1st MLB hit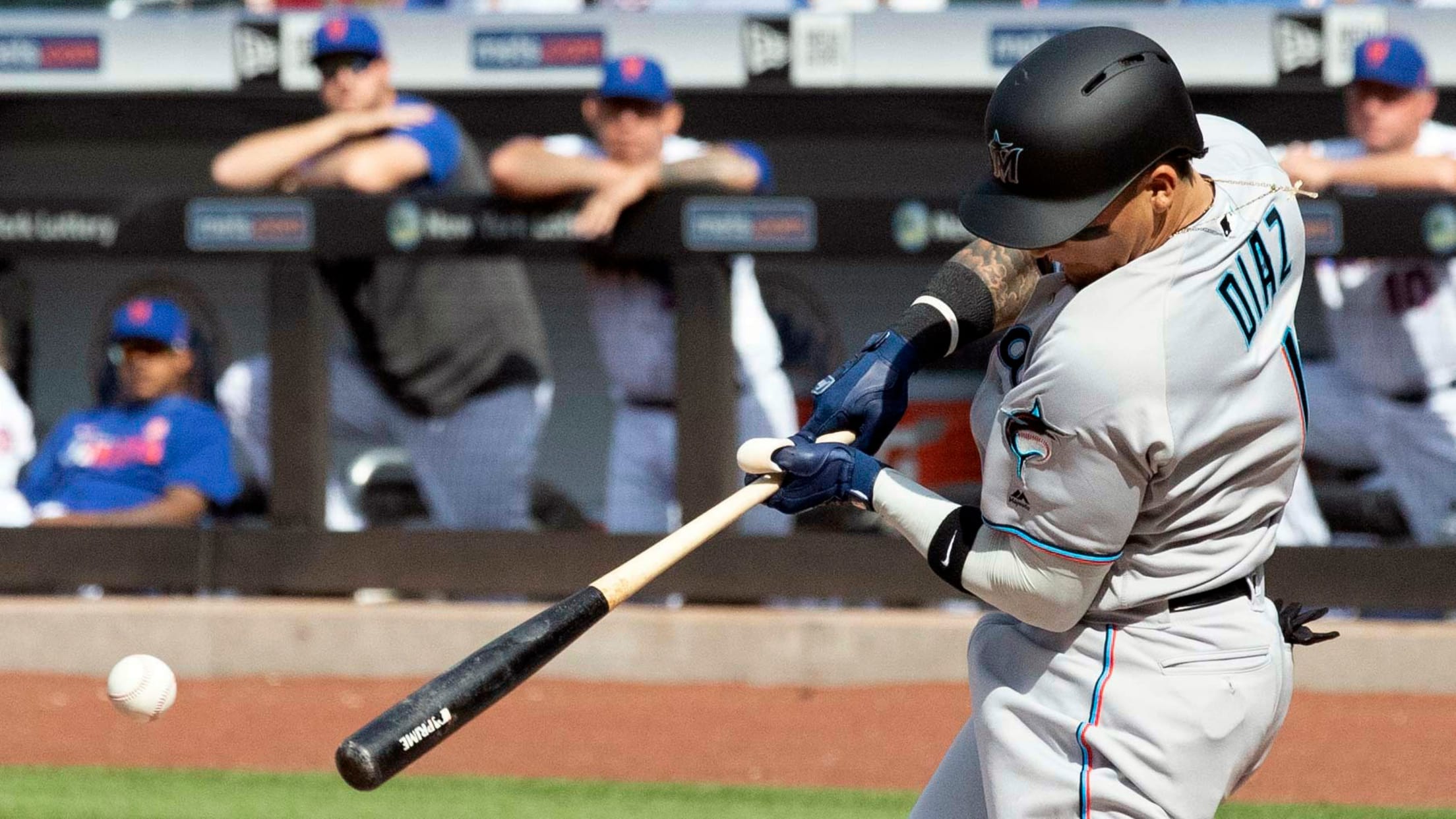 NEW YORK -- Marlins prospect Isan Diaz's highly anticipated debut provided plenty of excitement. Yes, the Marlins hardly had any answers for Mets ace Jacob deGrom during their 6-2 loss in Game 1 of a doubleheader on Monday afternoon at Citi Field. • Box score However, it didn't take away
Dugger 'speechless' ahead of debut in Game 1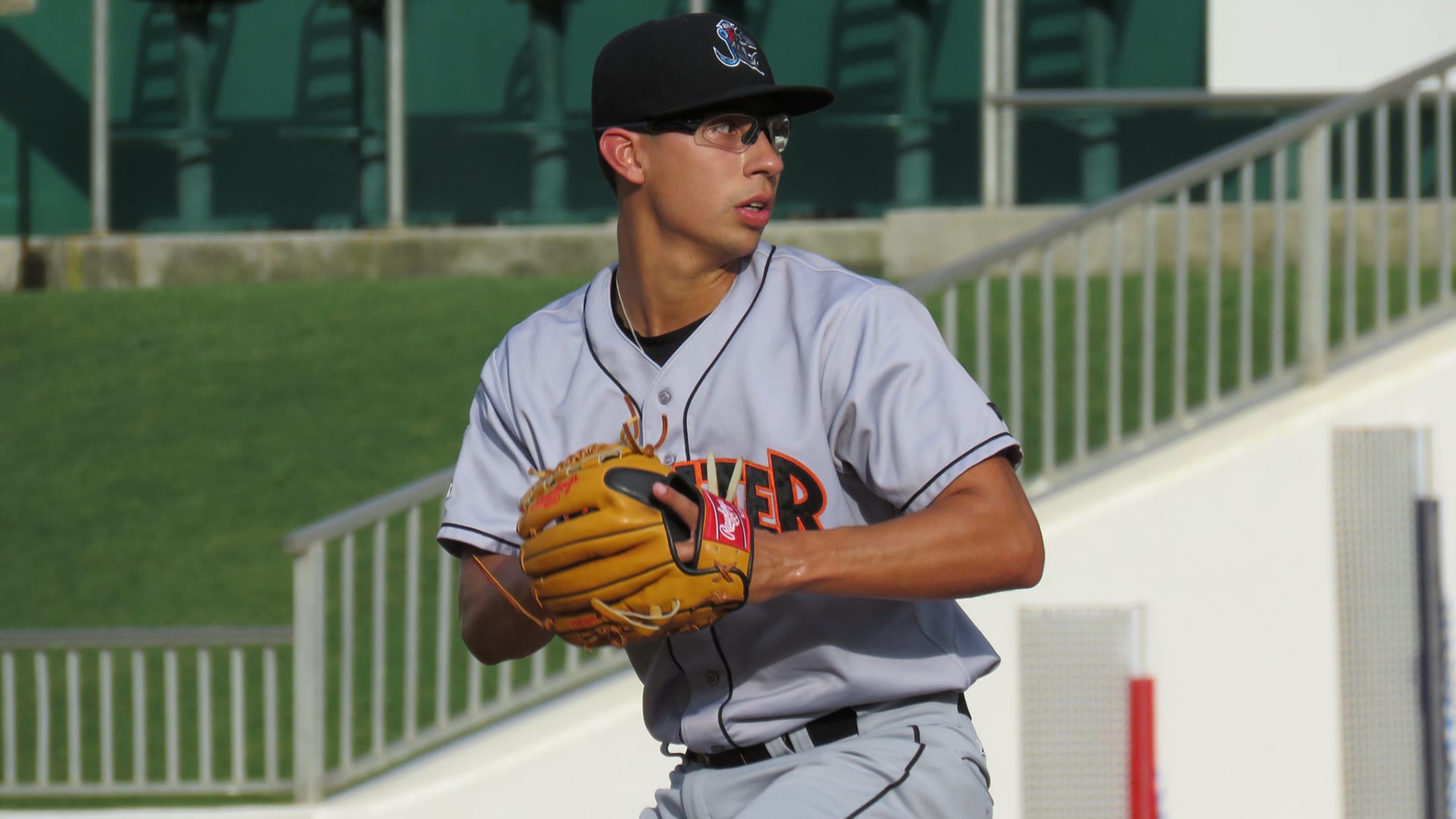 It took Robert Dugger a minute to get his wits about him on Sunday morning. Turning around to face the media in the Marlins' clubhouse for the first time, the 24-year-old's eyes were wide with excitement. "I'm just speechless," he finally confessed. "There's a bunch of thoughts going through my
Prospects Isan Diaz, Lewis Brinson called up
Neil Walker and Cesar Puello placed on 10-day injured list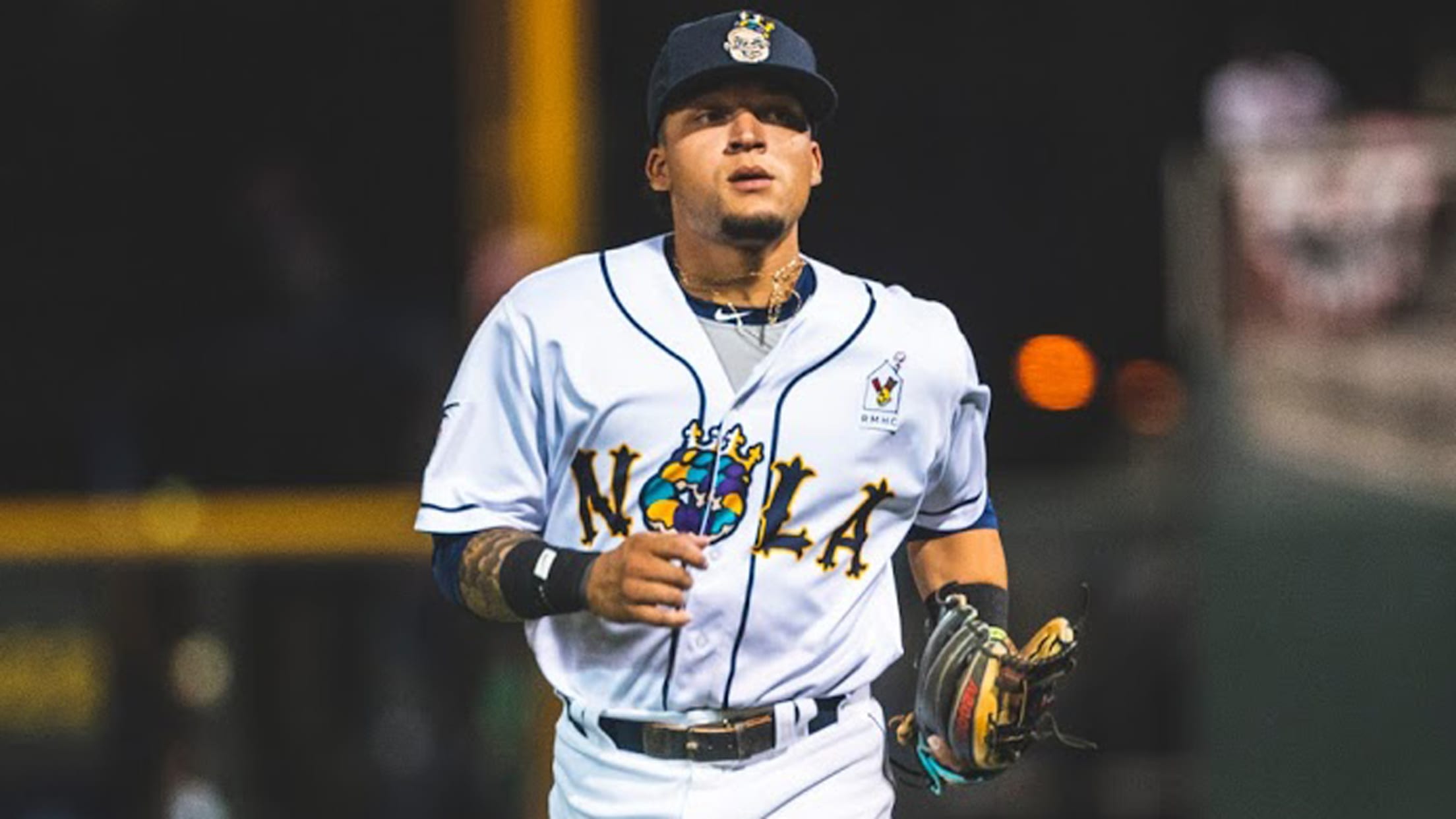 NEW YORK -- Prior to Monday's doubleheader, the Marlins recalled second baseman Isan Diaz and outfielder Lewis Brinson from Triple-A New Orleans, while placing infielder Neil Walker (right sprained index finger) and outfielder César Puello (left hip flexor strain) on the 10-day injured list. Both Diaz and Brinson, who came
Inbox: What's reasoning behind Deadline deals?
Beat reporter Joe Frisaro answers questions from Marlins fans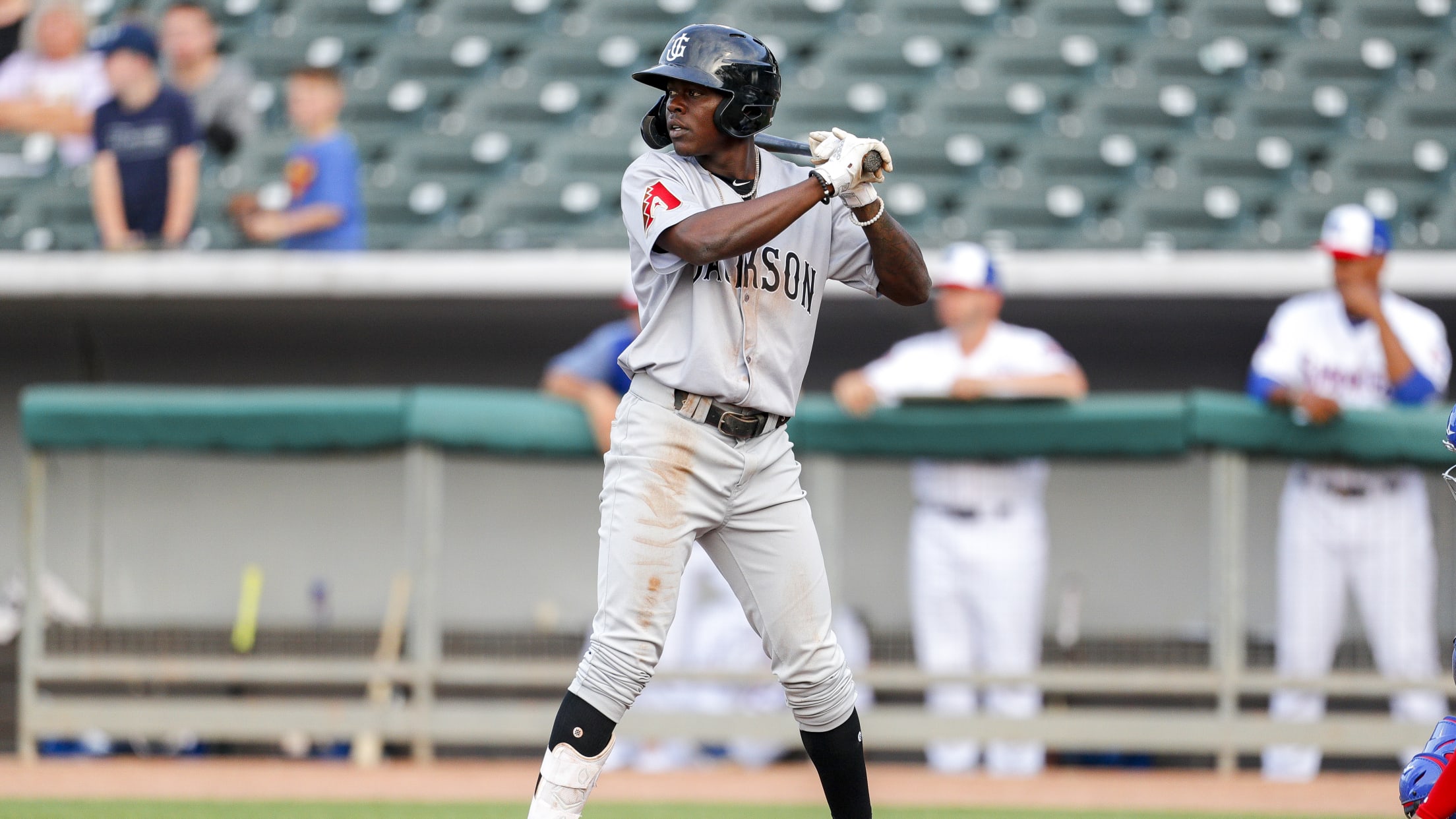 Yes, we had a surplus of pitching. But why trade Zac Gallen, a front-end starting pitcher for a shortstop -- Jazz Chisholm -- who strikes out 34 percent of the time? He looks a lot like Lewis Brinson 2.0. -- @NateKidd33 My first reaction to the deal was this was
Gallen leads shutout with 7 two-hit innings
Rookie right-hander records multiple career highs en route to first win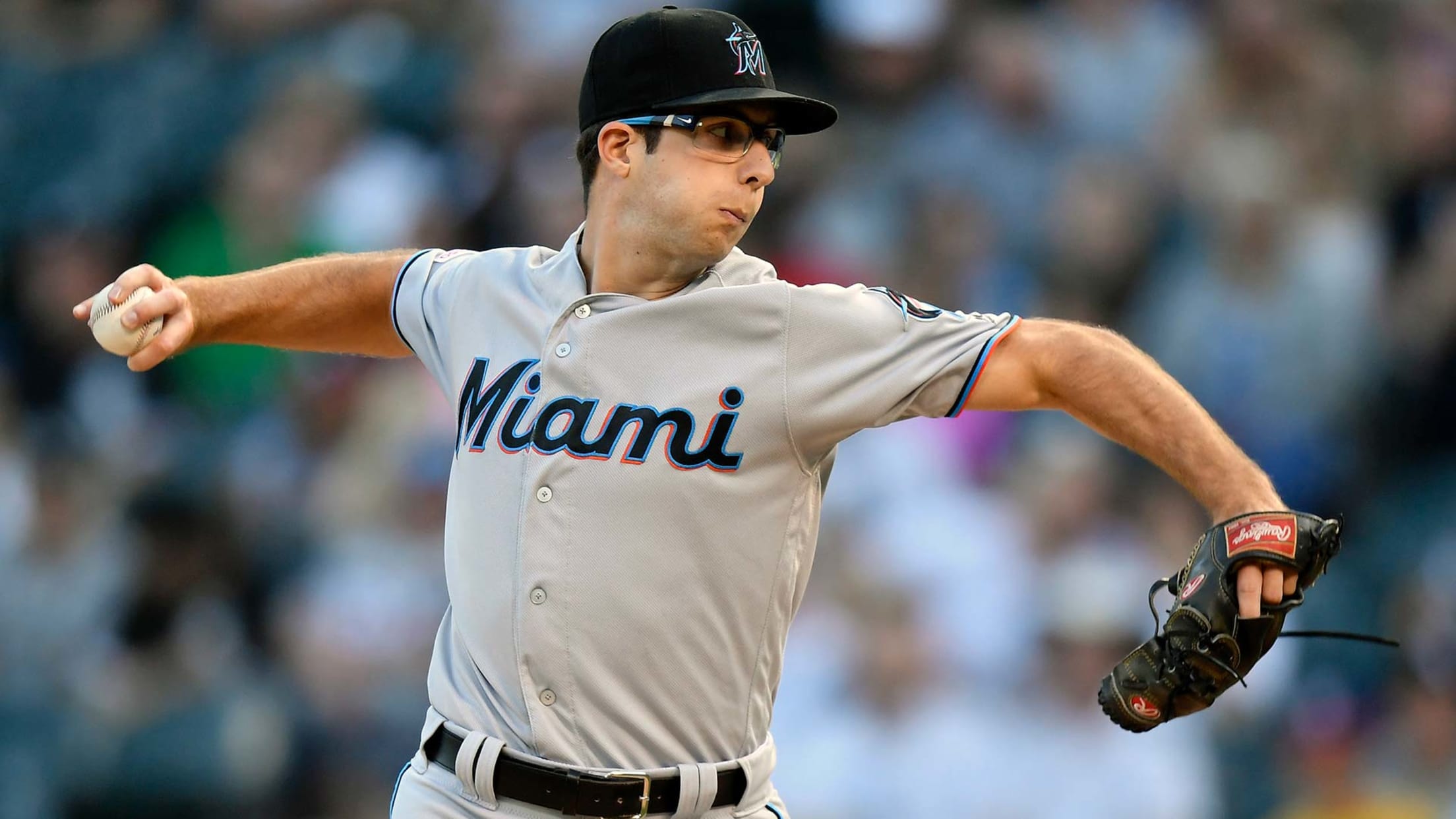 CHICAGO -- Zac Gallen ventured into uncharted territory in his MLB career on Wednesday night, and took a big step forward in staking a claim to be a rotation regular with the Marlins. The rookie right-hander established big league highs for innings (seven) and strikeouts (nine), as well as a
Marlins not rushing top prospect Sanchez
Hill: 'It's a special arm. You keep him healthy and you keep building'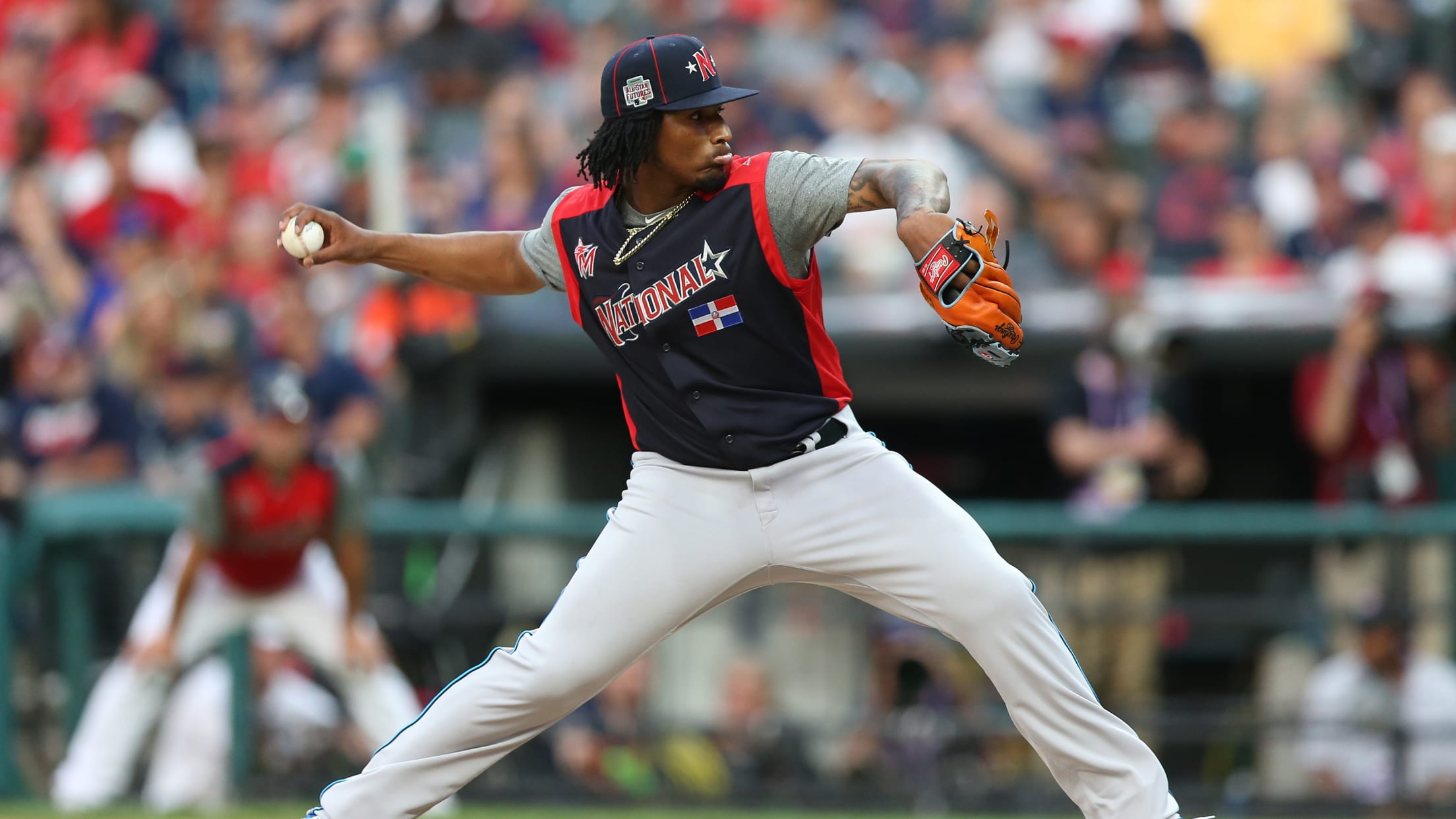 CHICAGO -- Sixto Sanchez has found a comfort zone at Double-A Jacksonville, and the Marlins remain in no hurry to rush the development of their top prospect. On Tuesday, Sanchez made his 13th start of the season for the Jumbo Shrimp, and 15th overall counting two earlier in the year
Yamamoto's undefeated streak comes to an end
Marlins rookie views first big test as a learning experience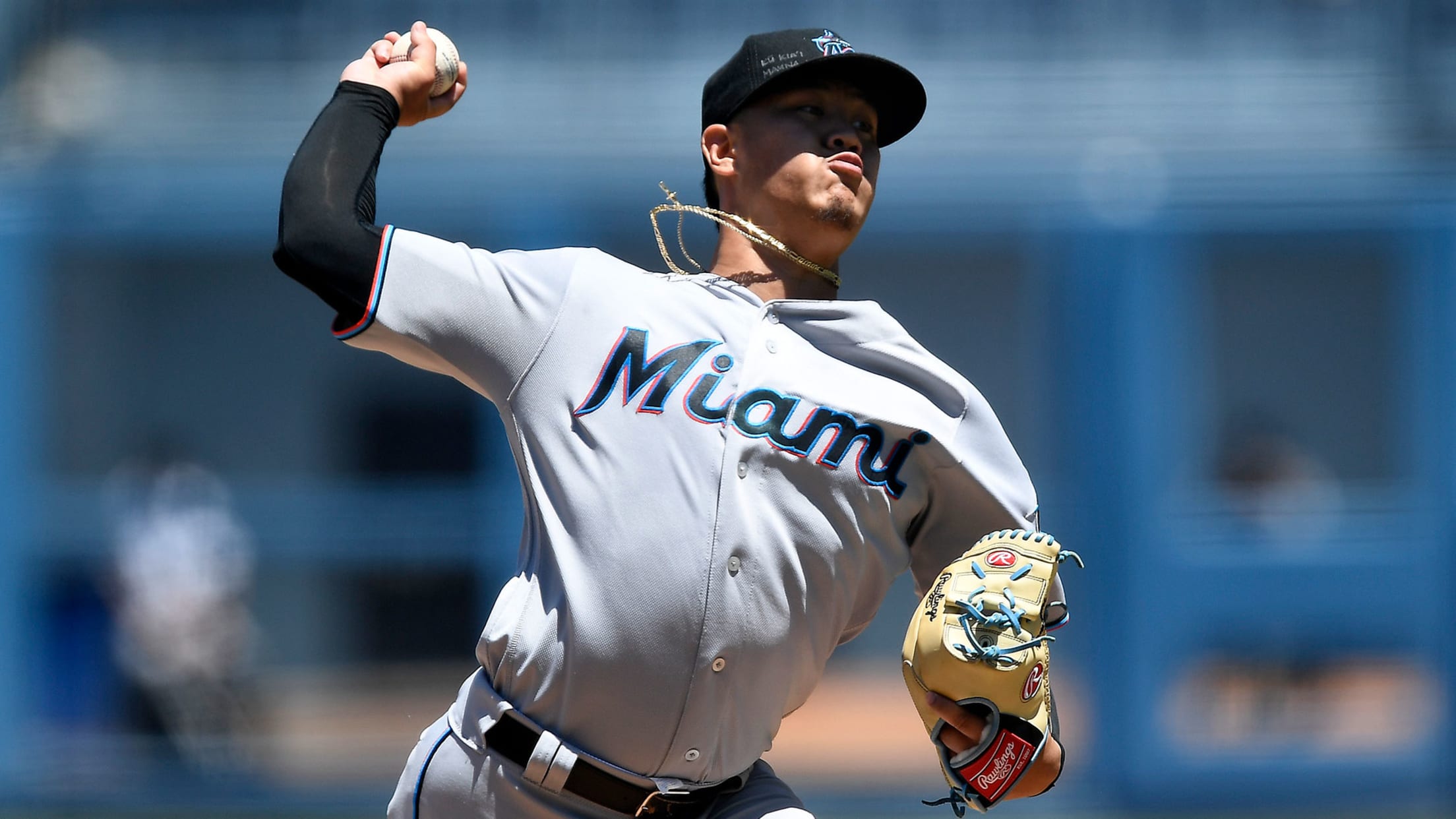 LOS ANGELES -- Rookie seasons are marked with all kinds of firsts. For Jordan Yamamoto, his outing on Sunday at Dodger Stadium included some less-desirable ones. In his seventh Major League start, Yamamoto was charged with five runs en route to his first loss as the Marlins dropped the series
Bleday debuts as Stewart just misses no-hitter
No. 4 overall pick in 2019 Draft hits third and goes 1-for-4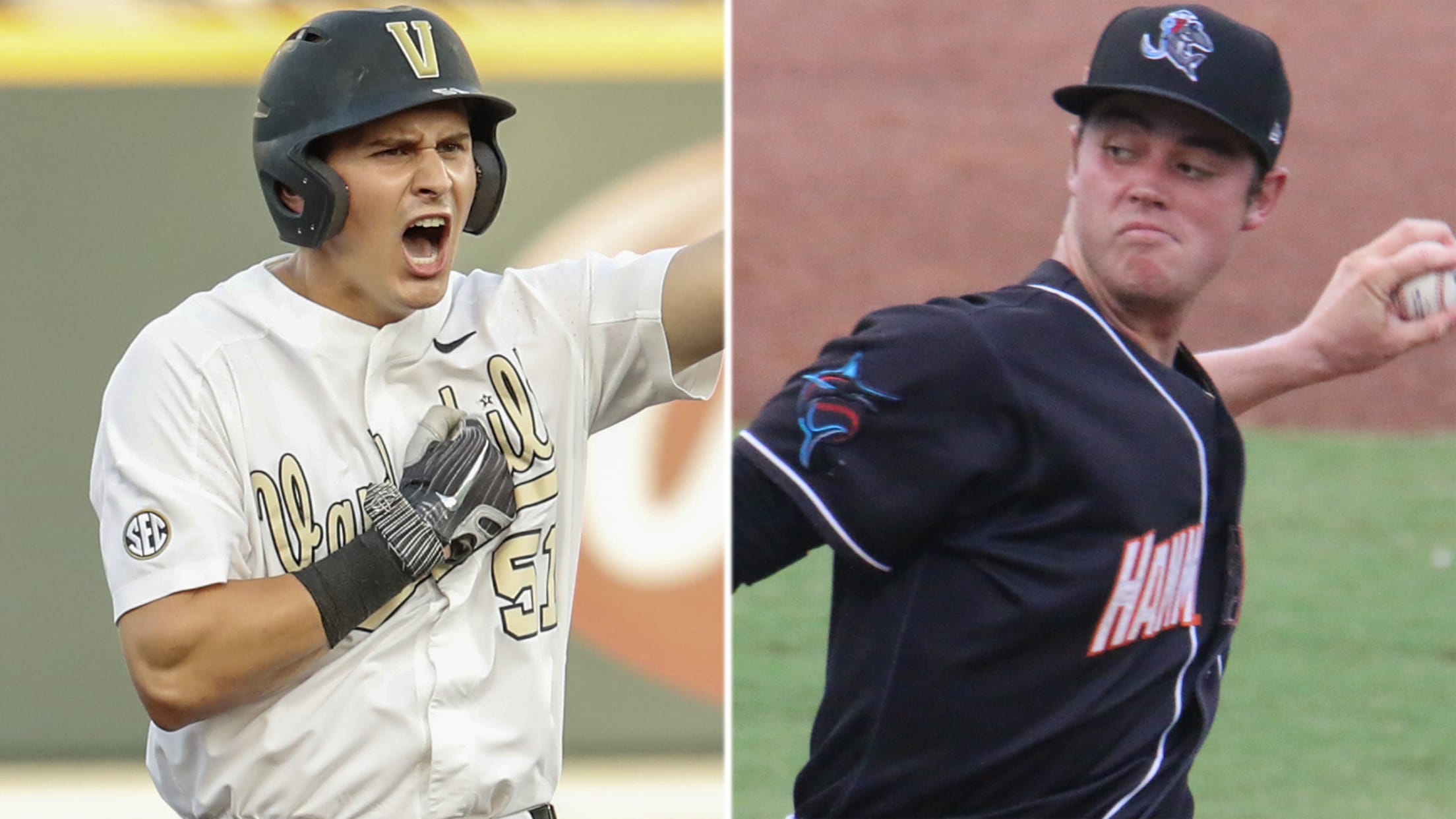 JUPITER, Fla. -- On Saturday, the Marlins and Class A Advanced Jupiter promoted the professional debut of outfielder JJ Bleday, but the night belonged to left-handed pitching prospect Will Stewart. Bleday had a single in four at-bats, and Stewart had a no-hitter intact for 8 2/3 innings before allowing a
Marlins No. 2 prospect out following wrist surgery
Triple-A outfielder Harrison expected to miss 4-6 weeks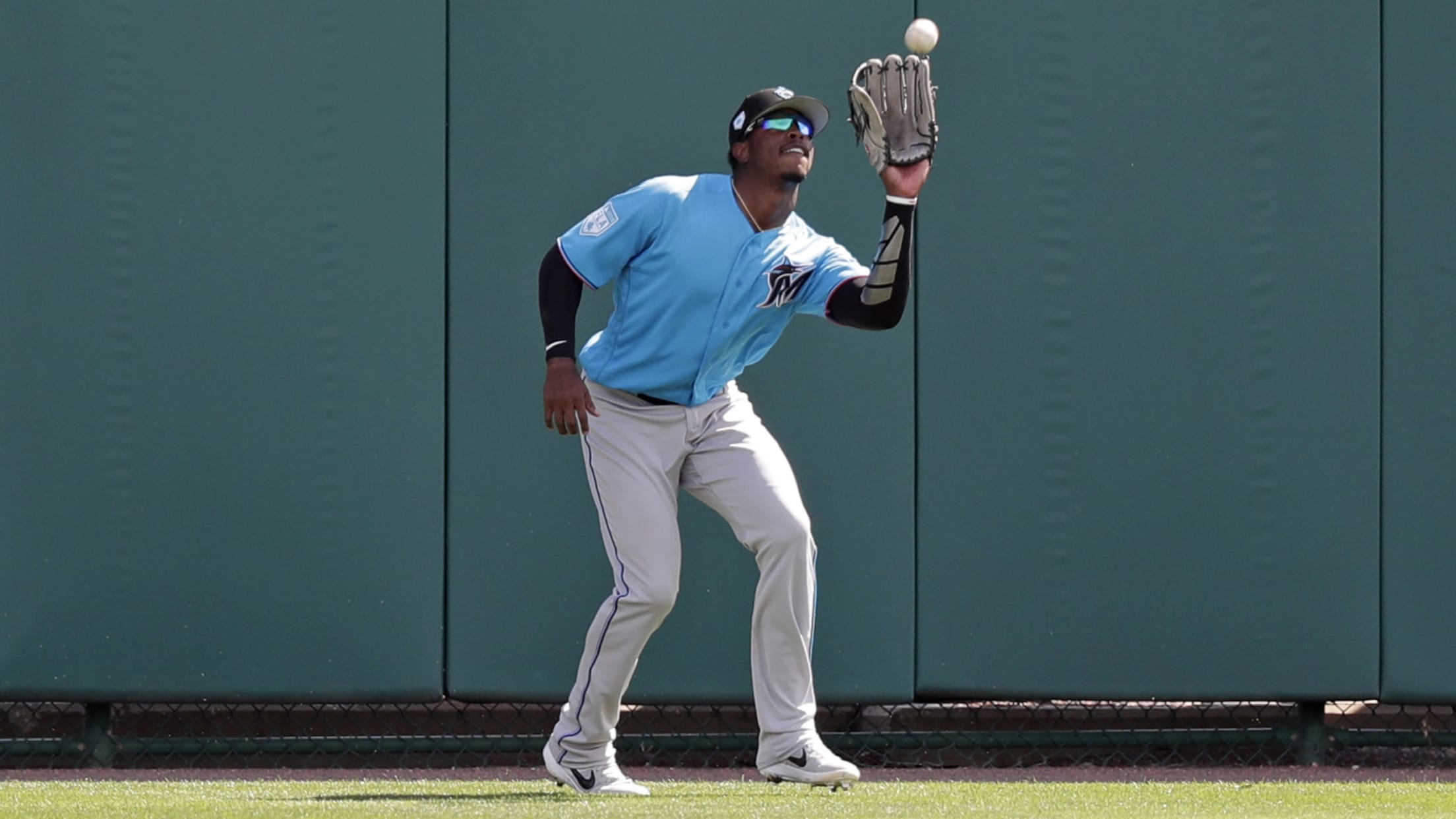 LOS ANGELES -- Marlins No. 2 prospect Monte Harrison underwent surgery on his right wrist during the All-Star break, the club announced on Friday. The Triple-A New Orleans outfielder is expected to miss 4-6 weeks. The 23-year-old is batting .284/.372/.479 with nine home runs for the Baby Cakes. He's ranked
Diaz making strides with bat at Triple-A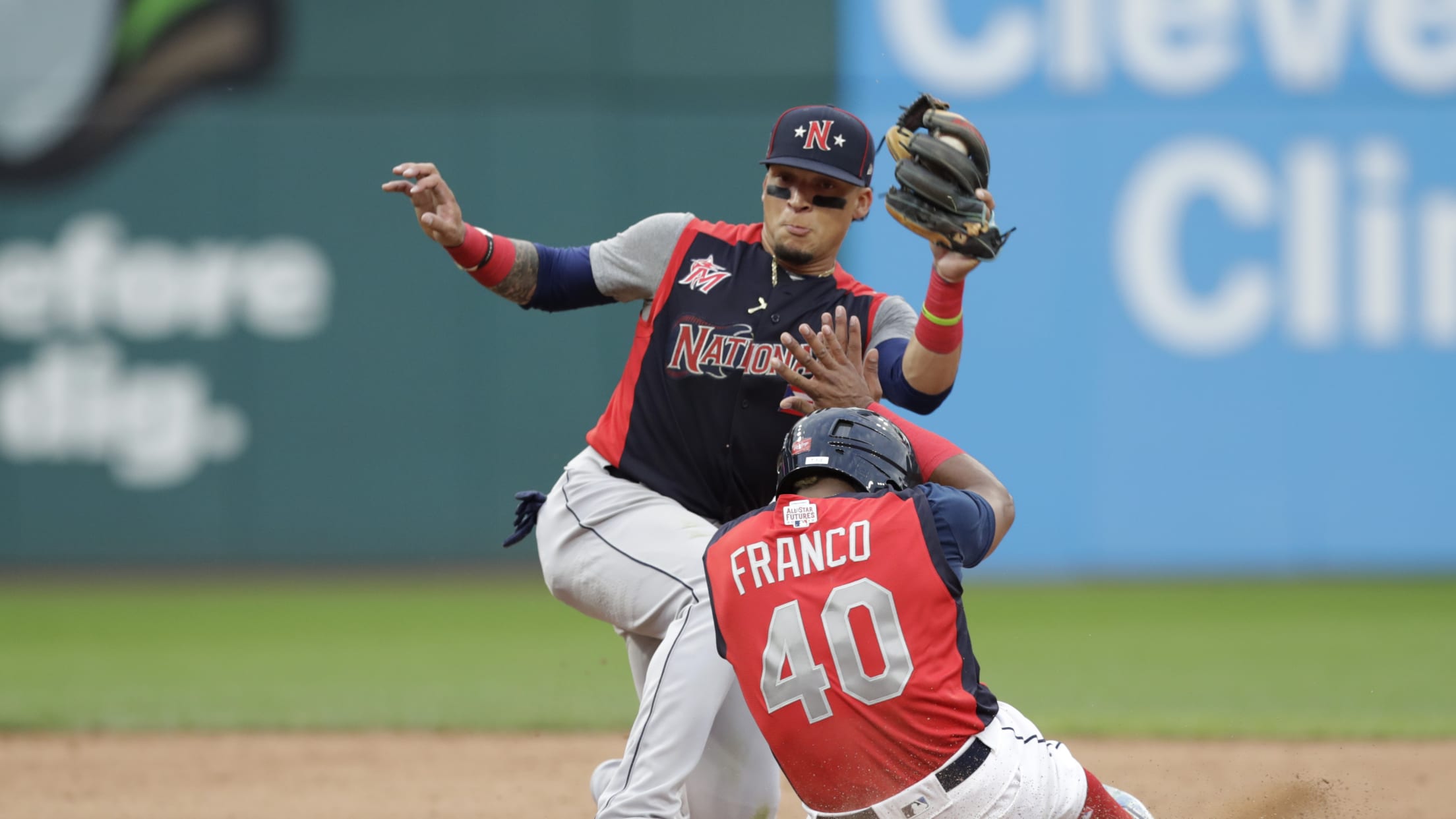 MIAMI – For Isan Diaz, it's a matter of when he will be promoted to the big leagues this season. Ranked by MLB Pipeline as the Marlins' No. 6 prospect, Diaz continues to make strides at Triple-A New Orleans. The left-handed-hitting second baseman has 22 home runs and 61 RBIs.
Mesa brothers making steady progress in Minors
Siblings 'talk every day,' grateful for teams' proximity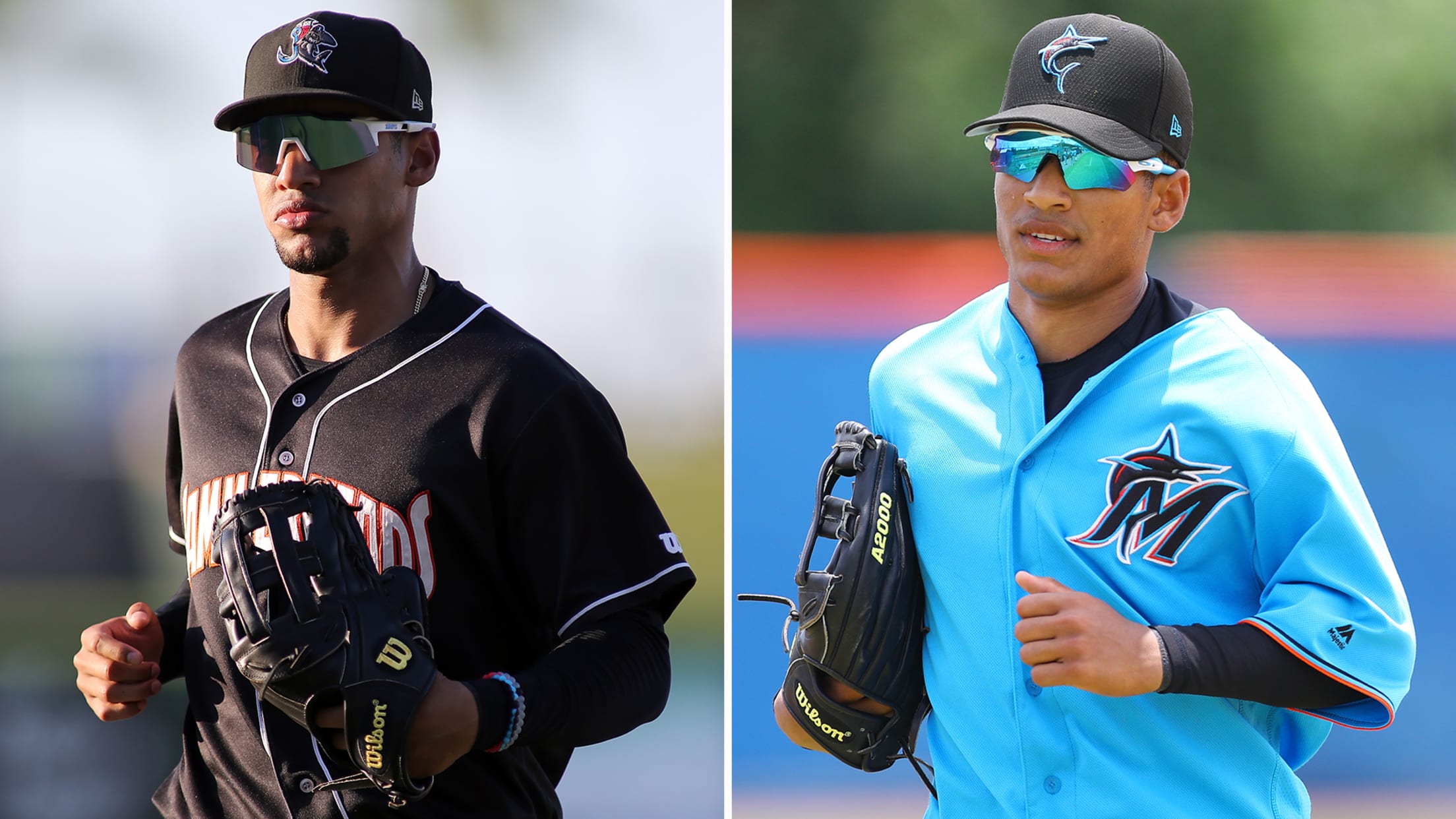 JUPITER, Fla. -- The youngest player on the Marlins' Rookie-level Gulf Coast League roster, outfielder Victor Mesa Jr. already is establishing himself hitting second in the lineup. Mesa Jr. usually has an at-bat or two by the time his older brother, Victor Victor Mesa, arrives at the Roger Dean Chevrolet
Top prospects Salas, Lewis, Misner visit Miami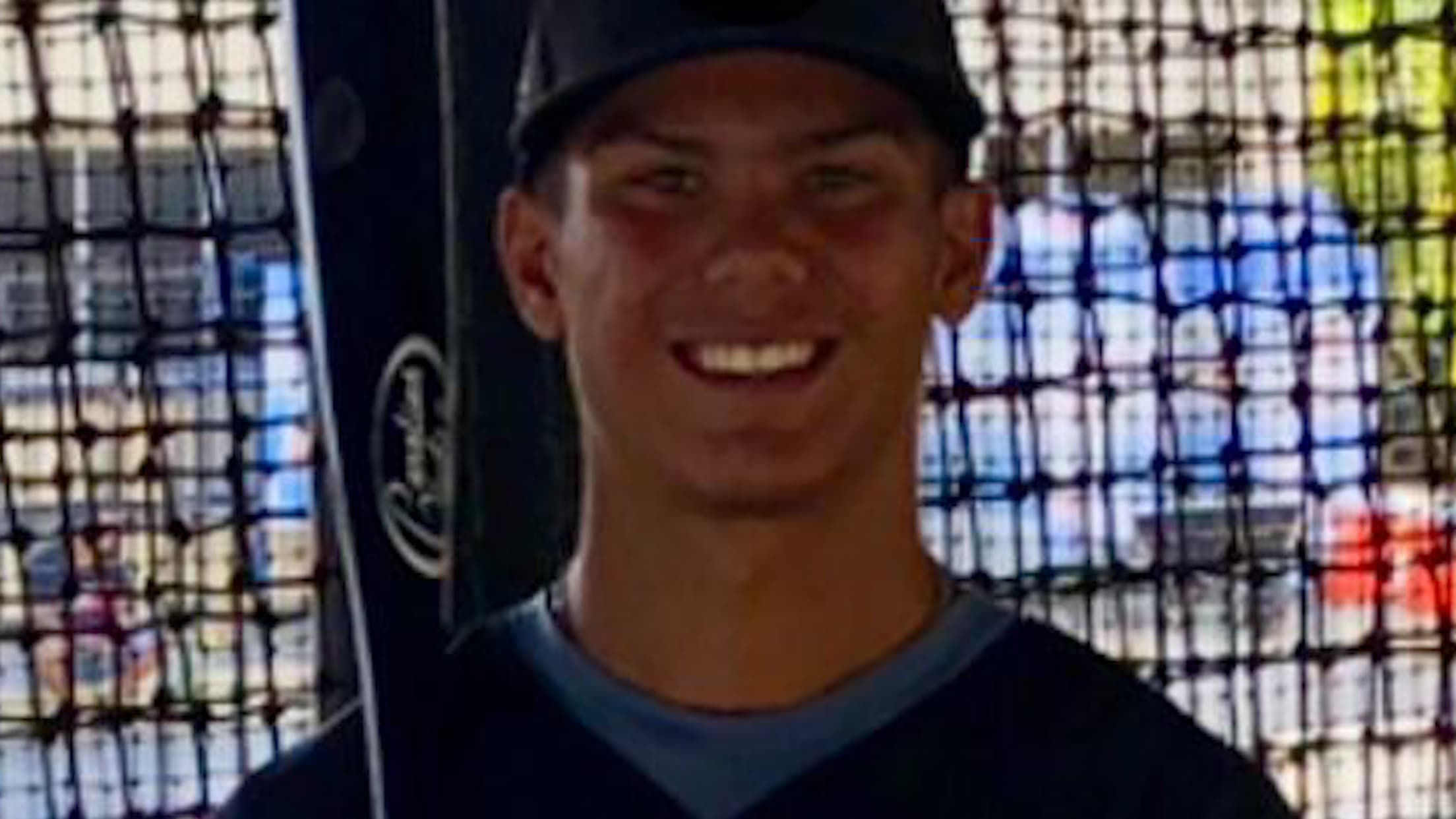 MIAMI -- Miguel Rojas was seeing double on Saturday afternoon at Marlins Park, as two of the Marlins' top international signings took the field wearing his No. 19. Jose Salas Jr. from Venezuela and Ian Lewis from the Bahamas each wore No. 19, reflecting the year of their international signing