Sixto sighting: RHP prepares for Double-A debut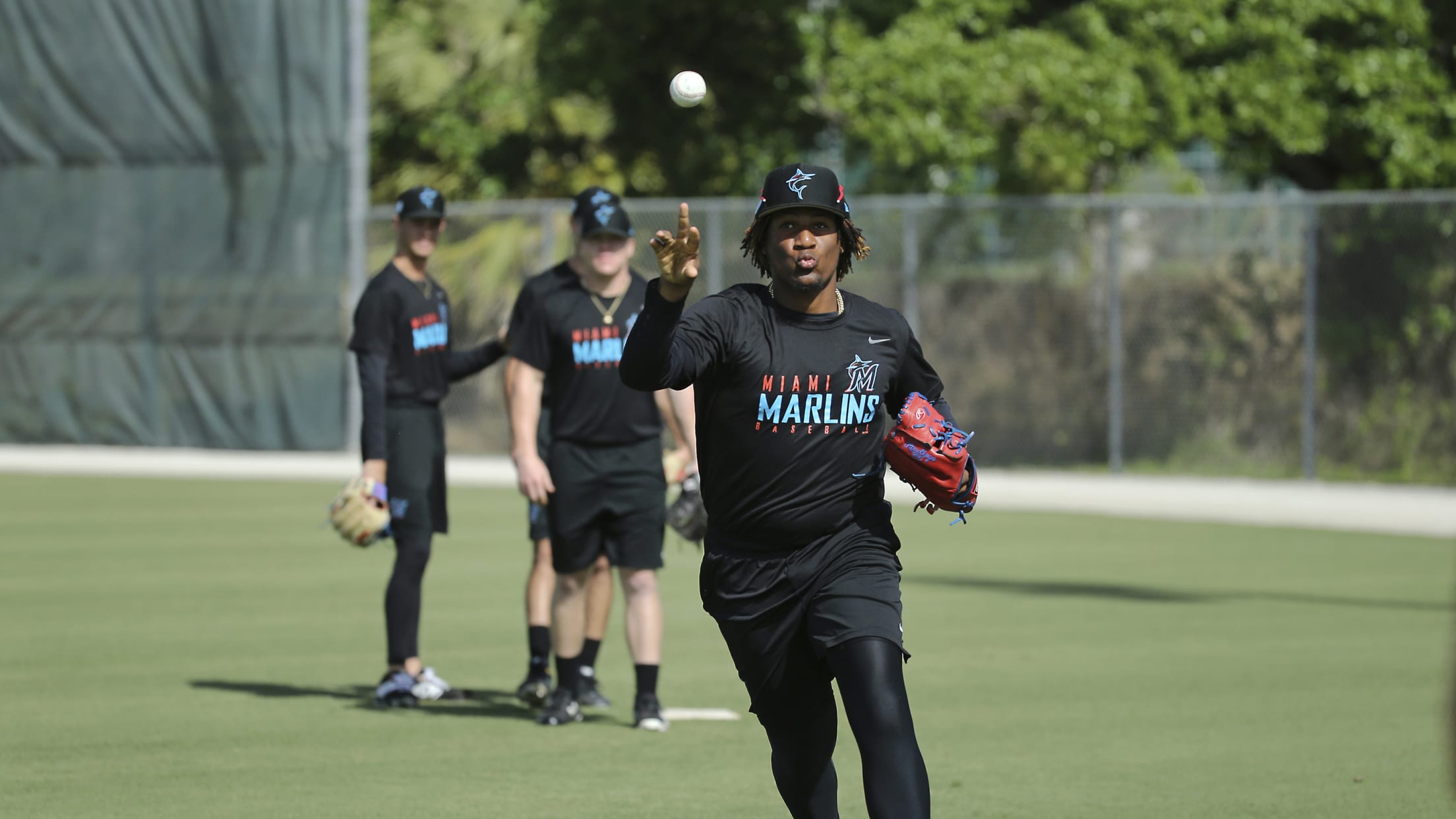 JUPITER, Fla. -- With little fanfare on a back field Thursday morning, Marlins top prospect Sixto Sanchez took a giant step forward in getting ready to make his Double-A debut. The 20-year-old right-hander, ranked No. 26 on MLB Pipeline's Top 100 list, threw two scoreless innings in an intrasquad scrimmage
Sixto set to join Jumbo Shrimp
Marlins' top prospect scheduled to make Double-A debut in May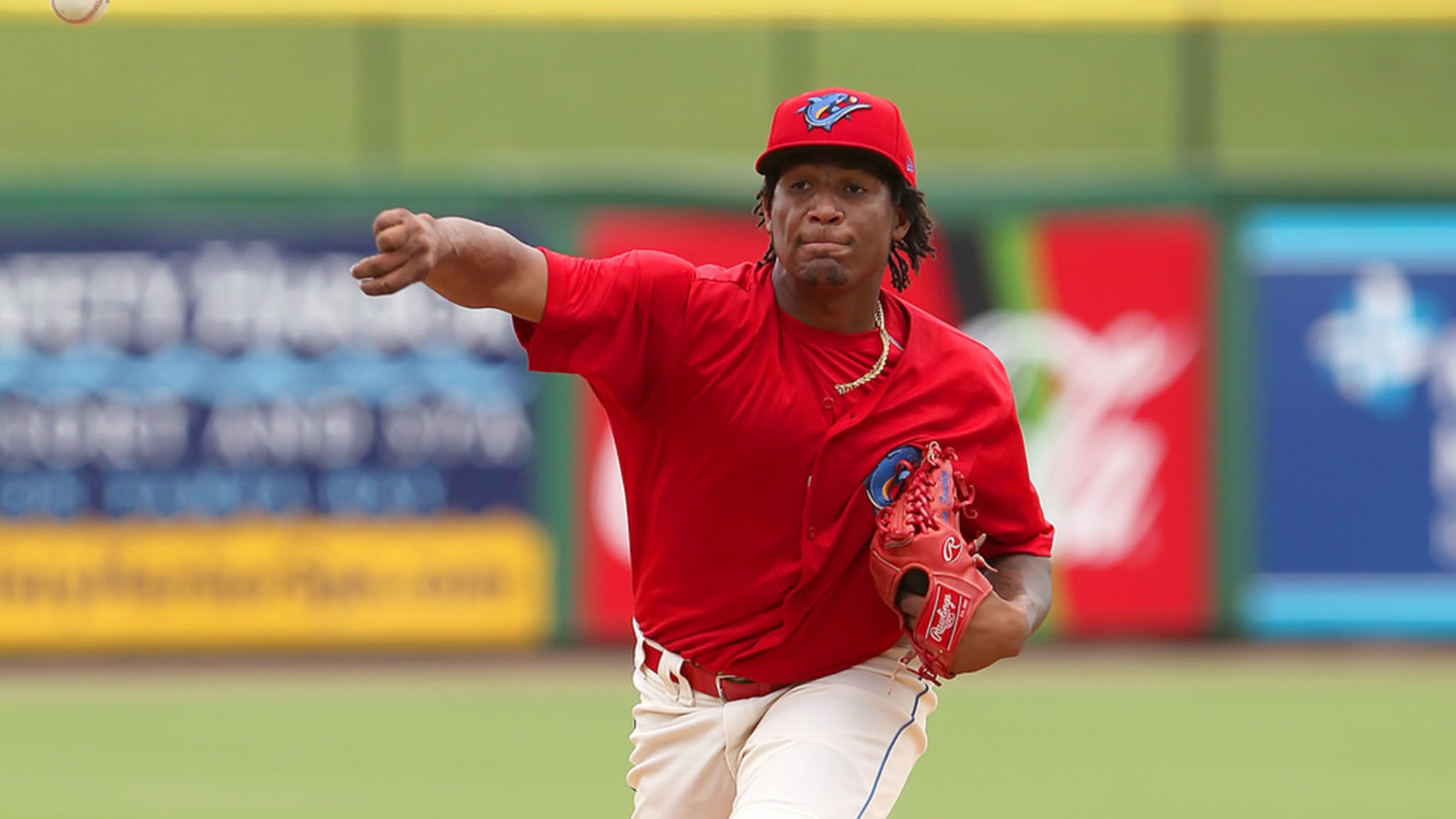 MIAMI -- Before making his Double-A debut, the Marlins intend to have top prospect Sixto Sanchez throw one more bullpen session. By reworking his schedule, the right-hander is now tentatively set to join the Jacksonville Jumbo Shrimp rotation and start on May 2 at Mississippi. Initially, Sanchez was lined up
What drought? Dean keys Marlins' power show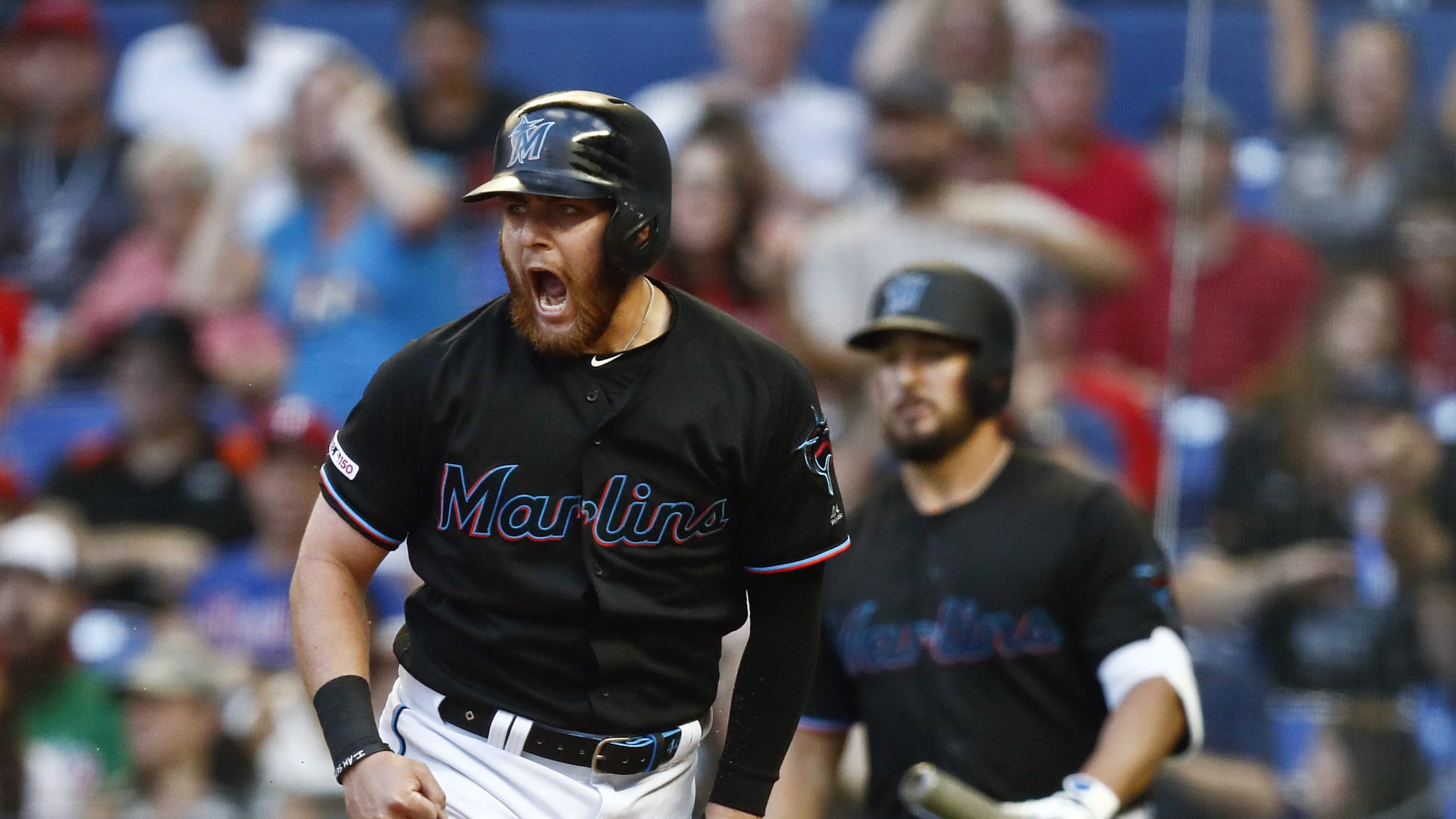 MIAMI -- Producing any runs, let alone belting home runs, has been hard to come by for the Marlins. But in the third inning on Saturday night, a bunch of pent-up offensive frustration was unleashed against a right-hander who had entered the game sporting a 0.75 ERA. Brian Anderson, Neil
Dean recalled from Triple-A; O'Brien optioned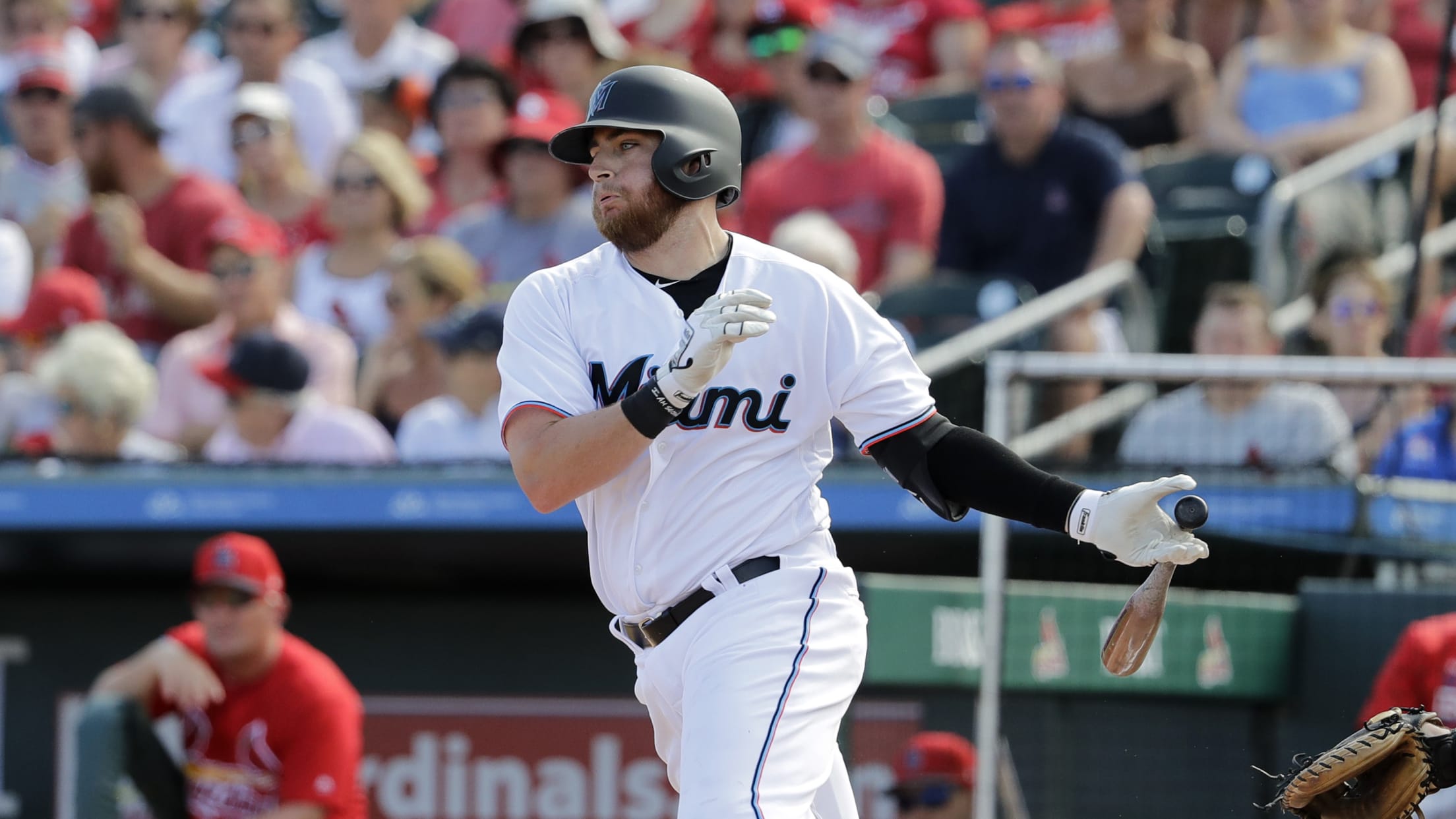 MIAMI -- Ranked last in the National League in runs scored, the Marlins on Friday decided to shuffle up their roster a bit. The club recalled Austin Dean from Triple-A New Orleans and optioned Peter O'Brien to Triple-A. Dean, ranked by MLB Pipeline as Miami's No. 26 prospect, will get
These 5 prospects might decide NL East race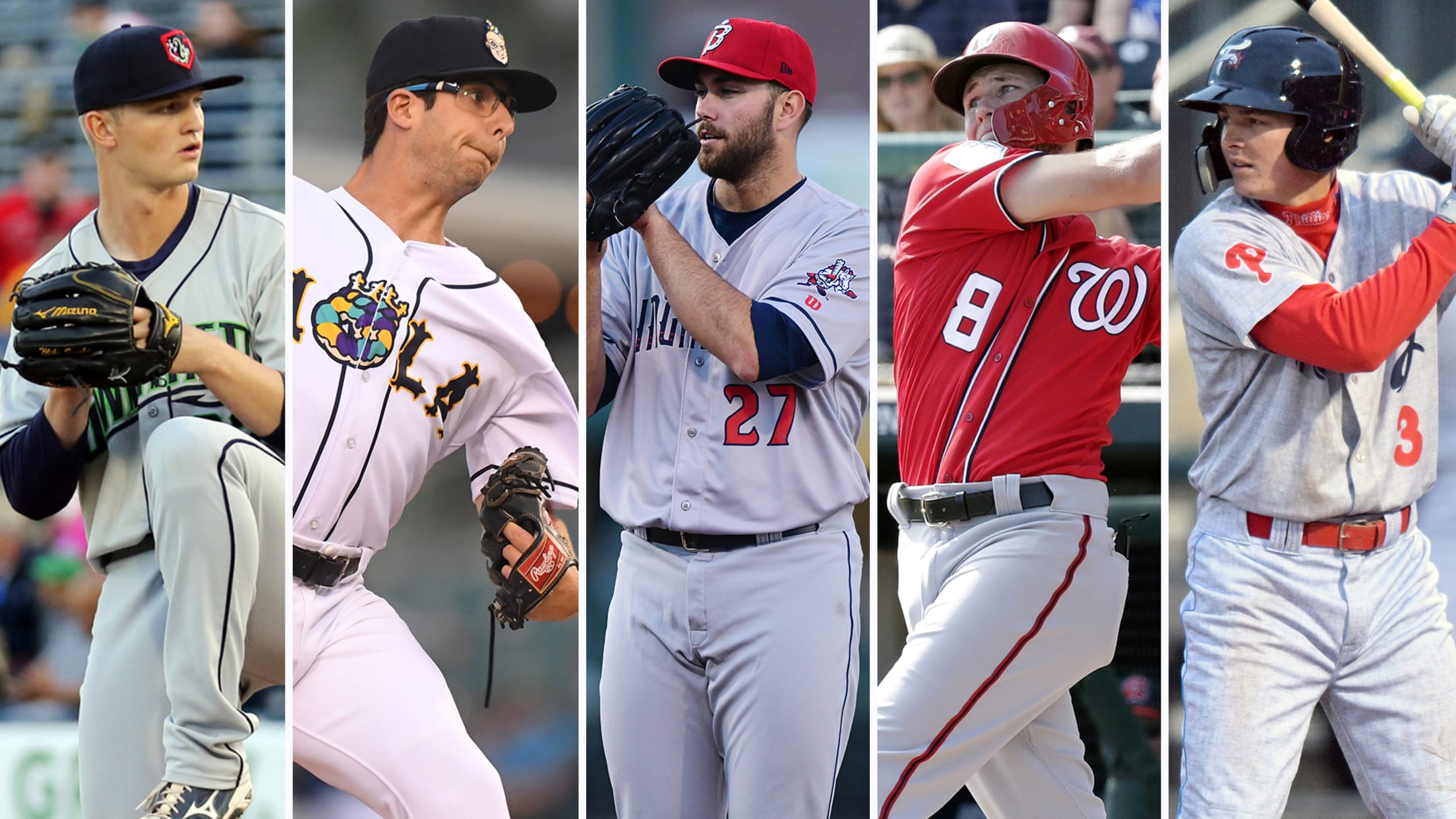 Pete Alonso is bashing tape-measure home runs almost nightly in New York. Victor Robles is wreaking havoc in Washington. In Atlanta and Miami, Kyle Wright and Sandy Alcantara are grooving. Rookies rule in the NL East, with some of the game's top prospects finally getting regular chances to contribute. And
Sixto slated for Double-A debut on April 26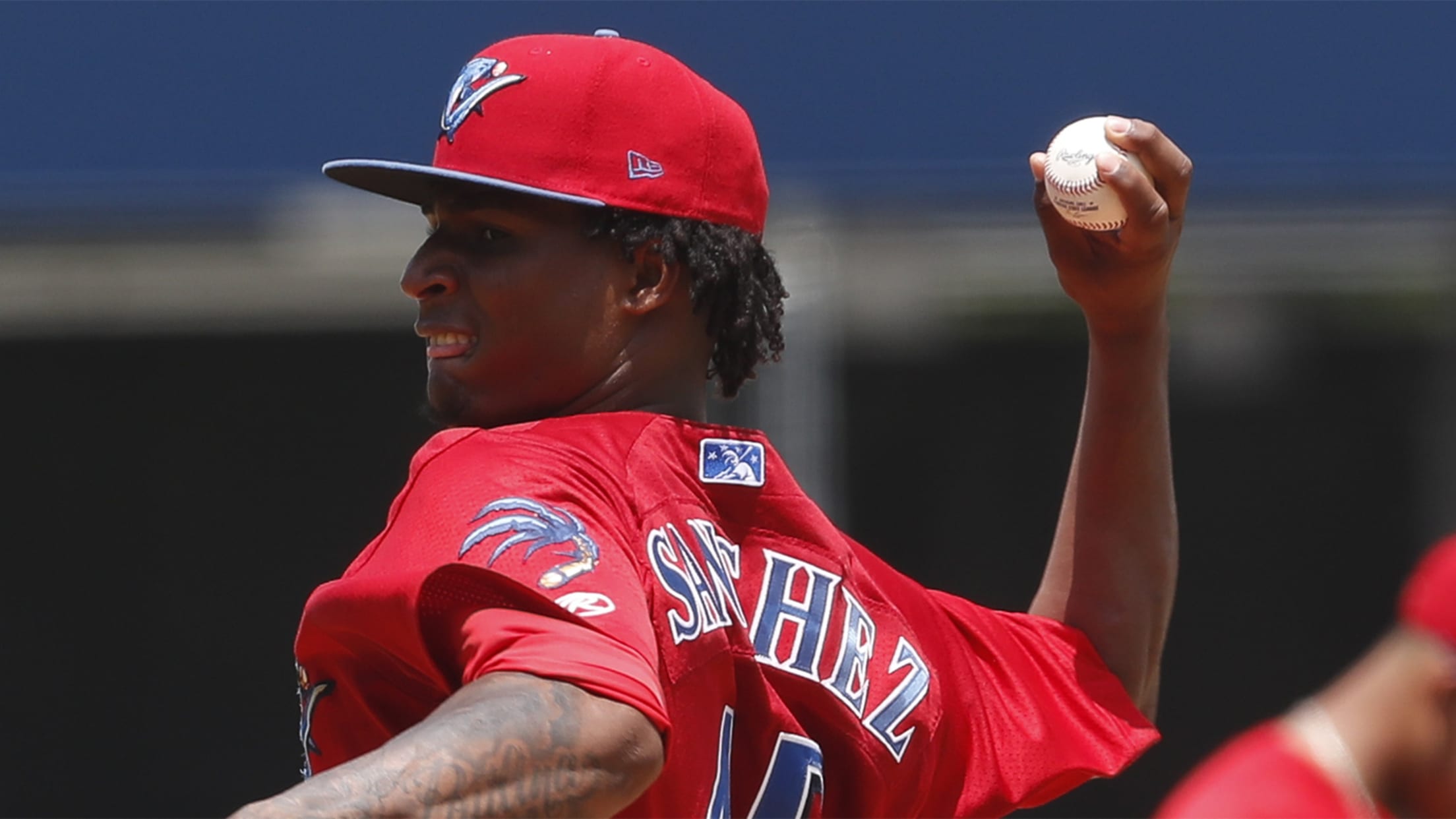 ATLANTA -- Double-A Jacksonville Jumbo Shrimp fans may want to circle the date. On April 26, Marlins top prospect Sixto Sanchez, a hard-throwing right-hander, is targeted to make his debut with the club. Sanchez, ranked by MLB Pipeline as the No. 27 overall prospect, is fine physically. But the Marlins
Starting spots for Marlins' Top 30 prospects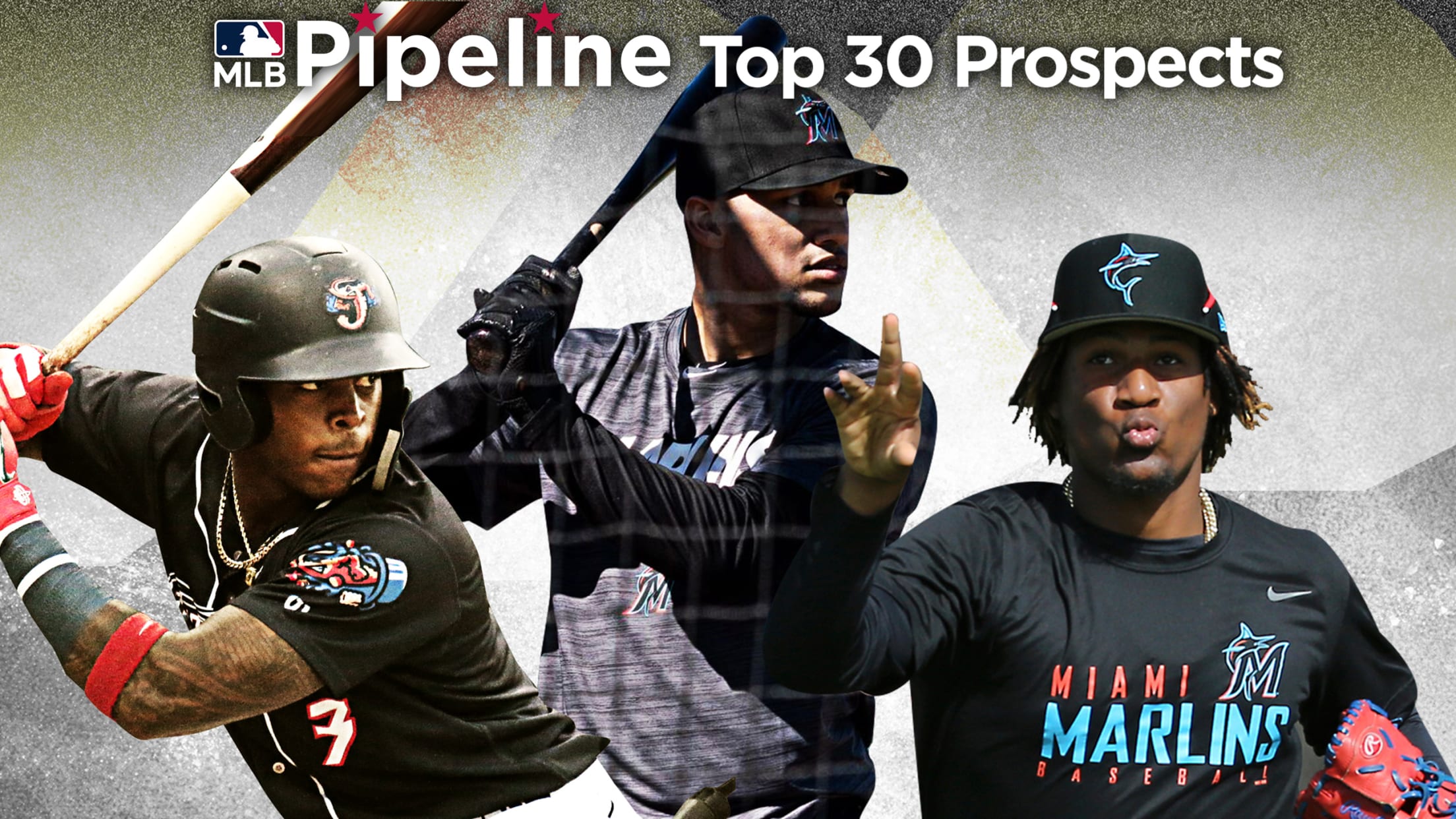 With the 2019 Minor League Baseball season getting underway, here's a look at where the Marlins' Top 30 prospects are starting the year. We also identify the prospect who just missed the Top 30 list, a player who didn't make the big league Opening Day roster but should make an
Future is now: Miami bets big on rebuild
Marlins counting on young talent to produce in 2019 and beyond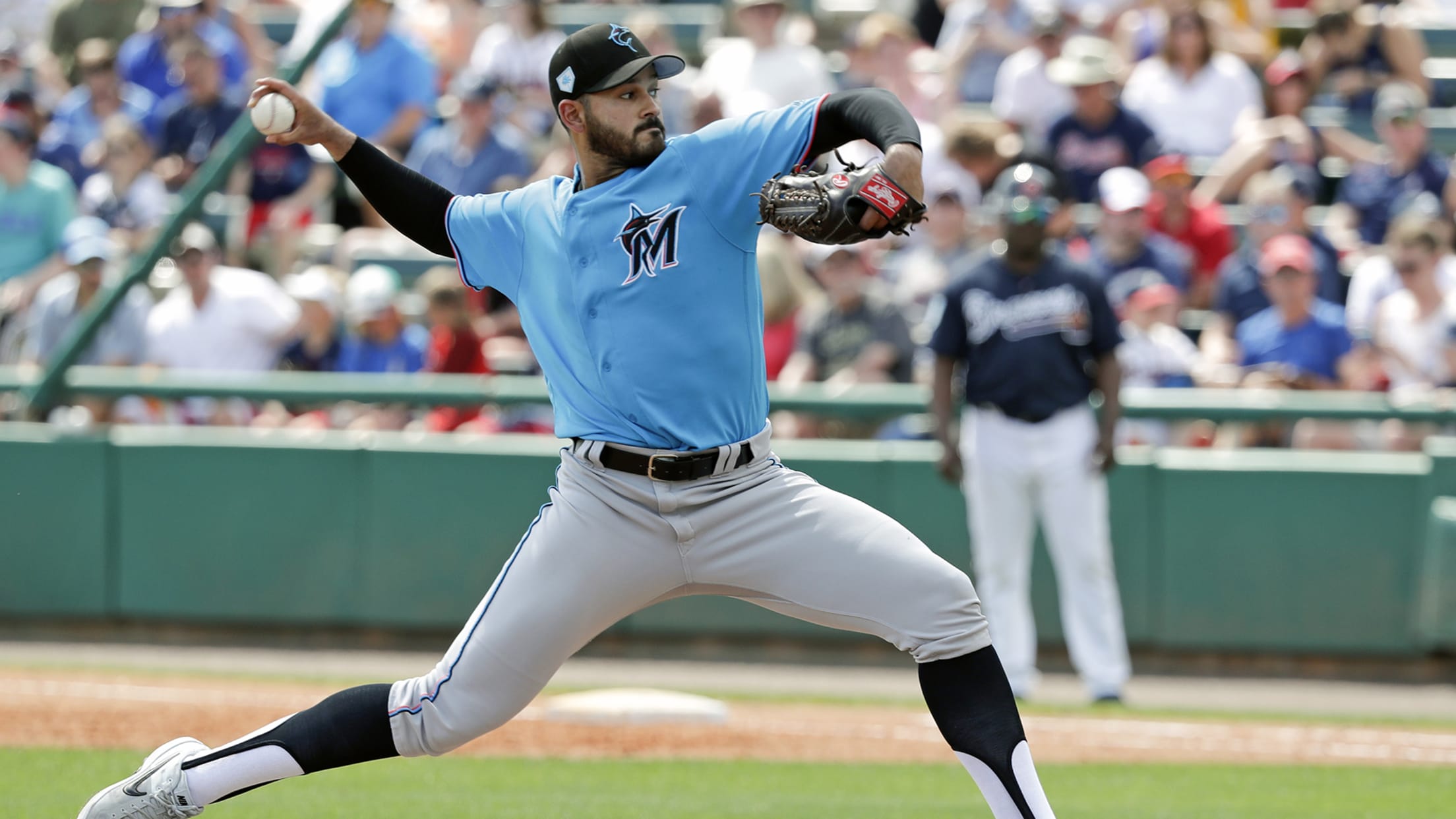 JUPITER, Fla. -- In the second year of their rebuilding plan, Marlins ownership is dug in for the long run. They're showing plenty of patience as they go about trying to build a championship-caliber organization from the bottom up. As they get set to open the season on Thursday at
Sweat the technique: Banfield demos skills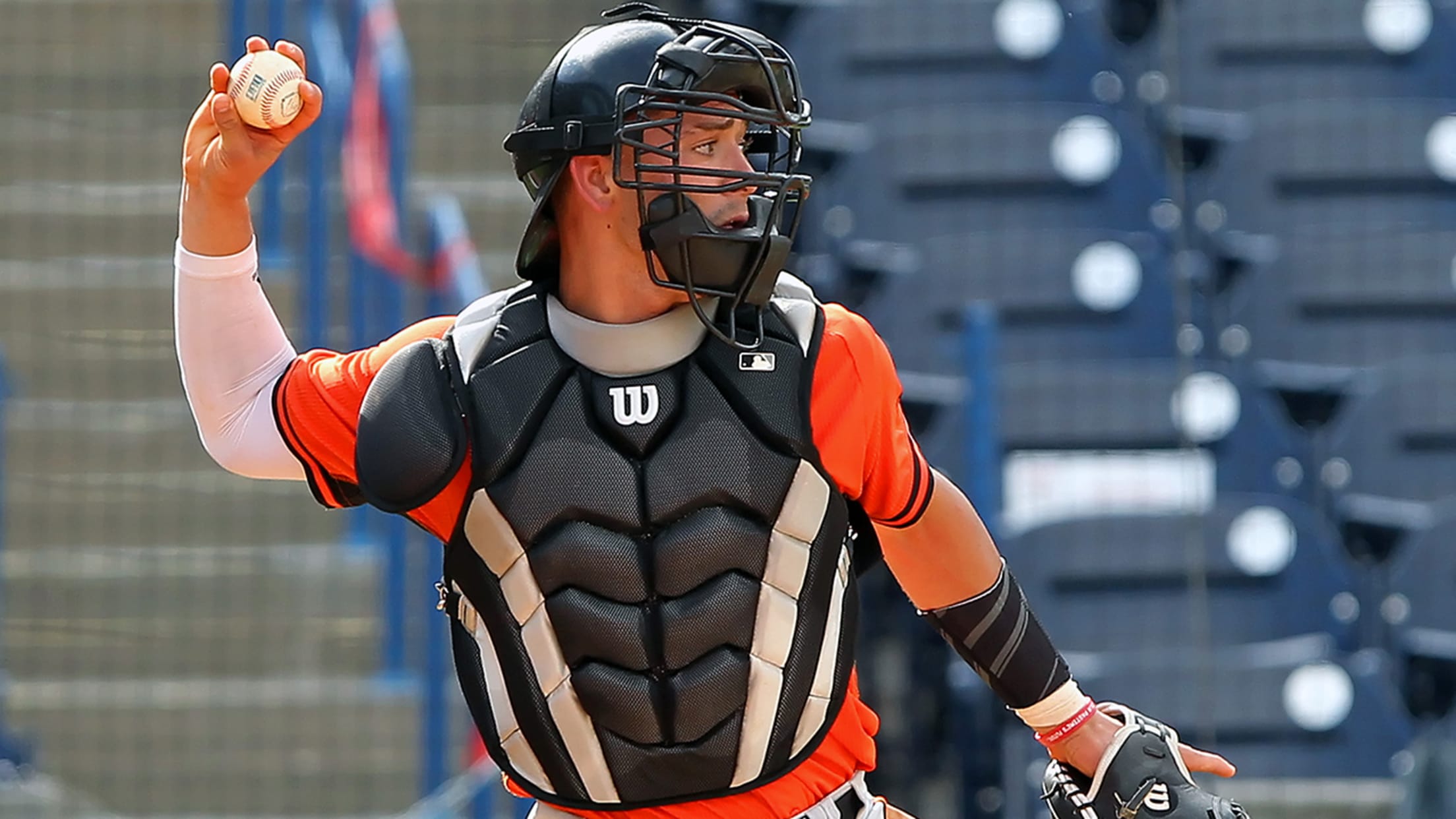 JUPITER, Fla. -- The Marlins made Will Banfield a supplemental second-round pick last June and paid him a $1.8 million bonus, more than double the assigned value for the 69th overall choice, in large part because of his defensive prowess. Banfield didn't begin catching until high school but quickly became
Marlins improved system, now eye development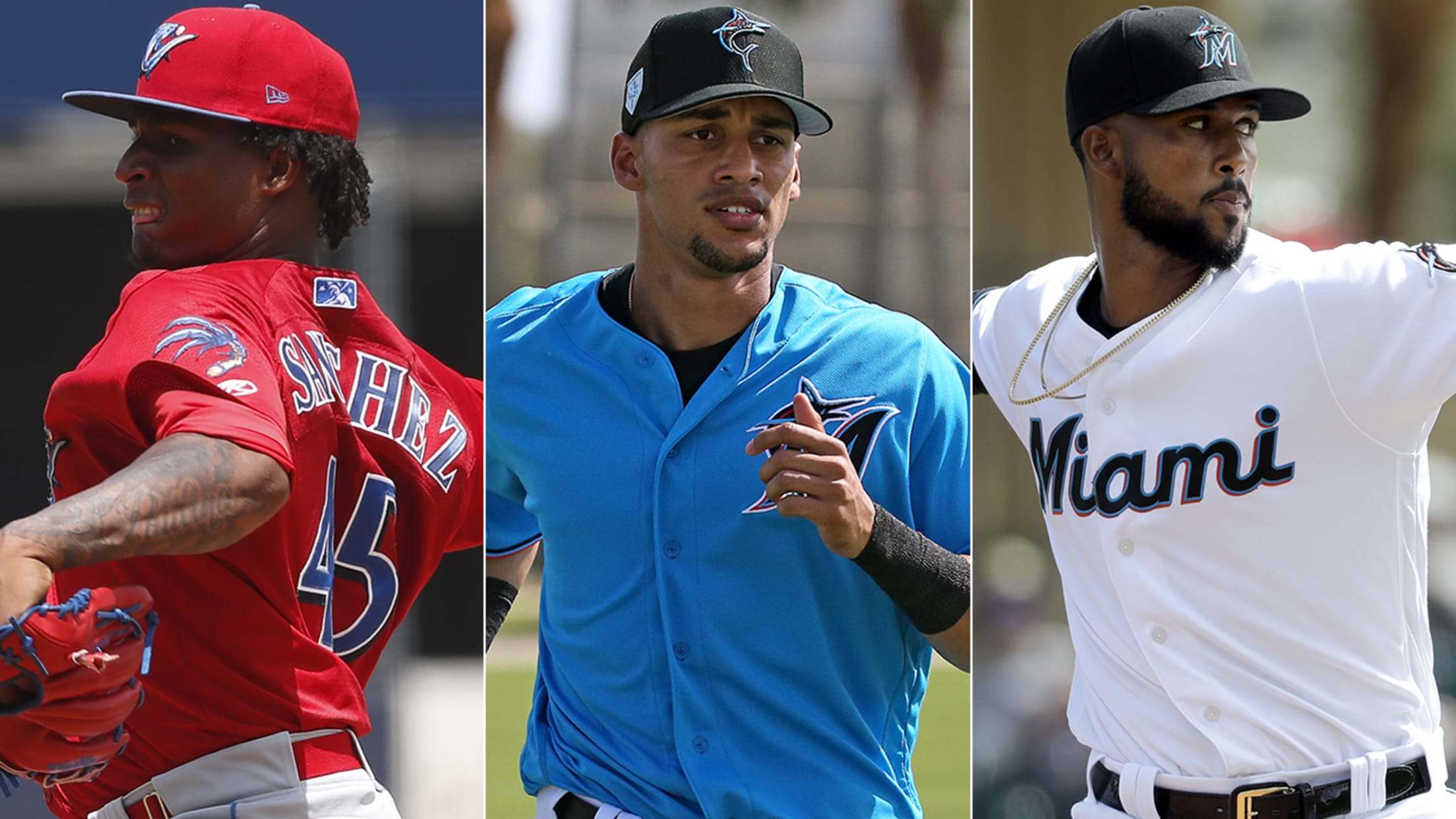 JUPITER, Fla. -- Change has been a constant in the Marlins farm system since an ownership group led by Bruce Sherman and Derek Jeter took over the franchise in October 2017. The Marlins traded the six best position players from their 2017 club -- Giancarlo Stanton, Marcell Ozuna, Christian Yelich,
Quijada optioned as Marlins refine bullpen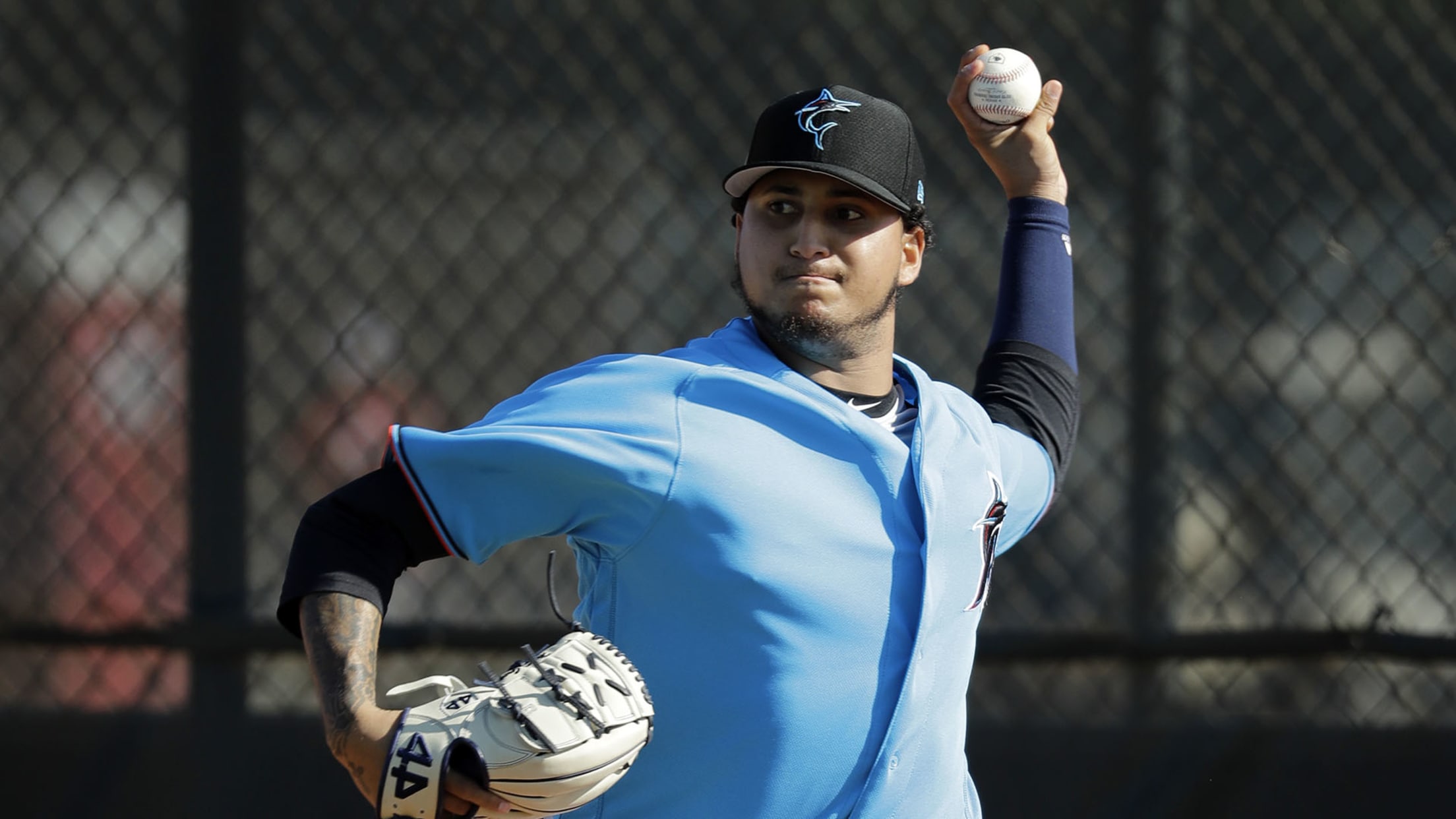 JUPITER, Fla. -- The first month of Spring Training allowed the Marlins' big league staff to see firsthand what prospect Jose Quijada displayed last year in the Minor Leagues. The 23-year-old left-handed reliever impressed in limited Grapefruit League action, striking out six in 3 2/3 innings. But still in need
Top prospects some of Marlins' latest cuts
Harrison, Diaz head to Triple-A; five others sent to Minor League camp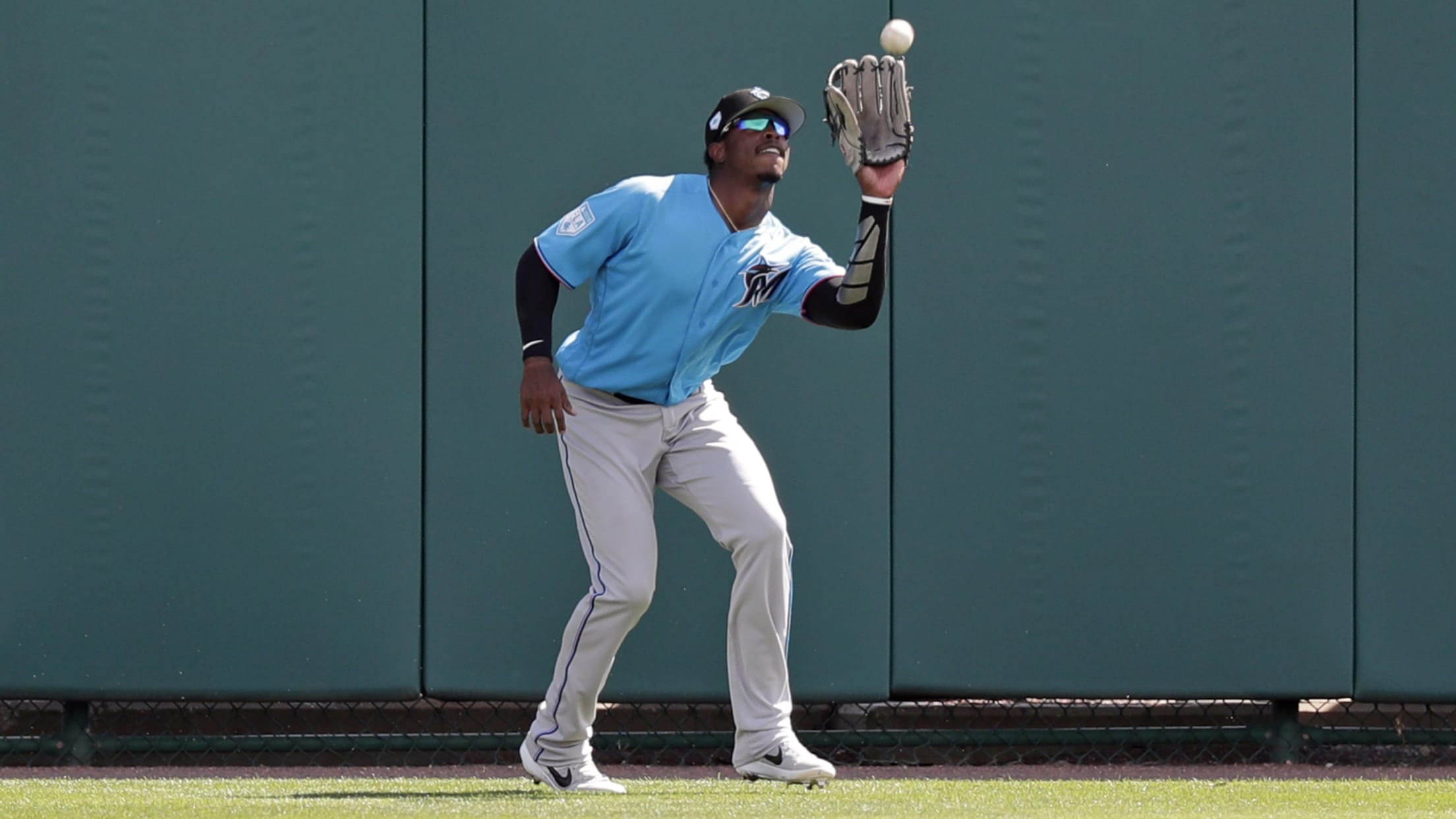 JUPITER, Fla. -- The Marlins made several roster moves Tuesday morning, including the reassignment of outfielder Monte Harrison -- their No. 3 prospect according to MLB Pipeline -- to Triple-A New Orleans. Infielder Isan Diaz, the team's No. 7 prospect, left-handed pitcher Jose Quijada and right-hander Jeff Brigham were also
Marlins' bright future set to enter spotlight
Sanchez, Stewart and Mesa brothers highlight prospects in Minor League camp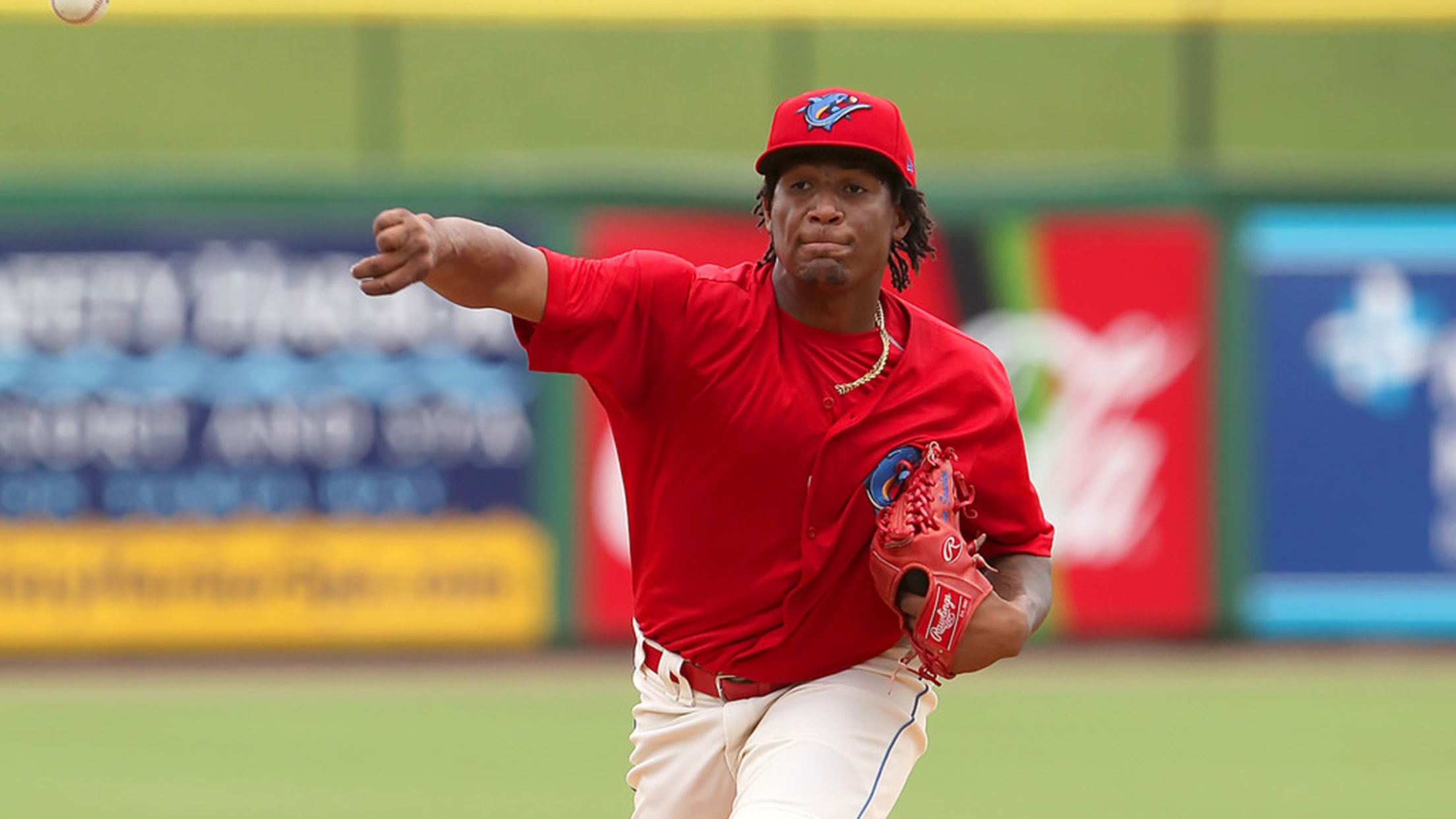 JUPITER, Fla. -- A focus on the future is set to begin for the Marlins on the back fields at the Roger Dean Chevrolet Stadium complex. Tuesday marks the opening of Minor League camp, with players from all the organization's affiliates participating in drills. Sixto Sanchez, the Marlins' top prospect,
Holloway maxes out at 98 mph in debut
Returning from Tommy John surgery, No. 14 prospect records four outs
WEST PALM BEACH, Fla. -- Game time Thursday couldn't come fast enough for Marlins prospect Jordan Holloway. In his first big league camp, the 22-year-old right-hander was ready to take the mound the moment he woke up. Adding to the adrenaline rush was the fact his parents, Brian and Linda,
Top prospect Mesa exits with leg injury
Outfielder day to day with right hamstring strain, will visit doctor on Monday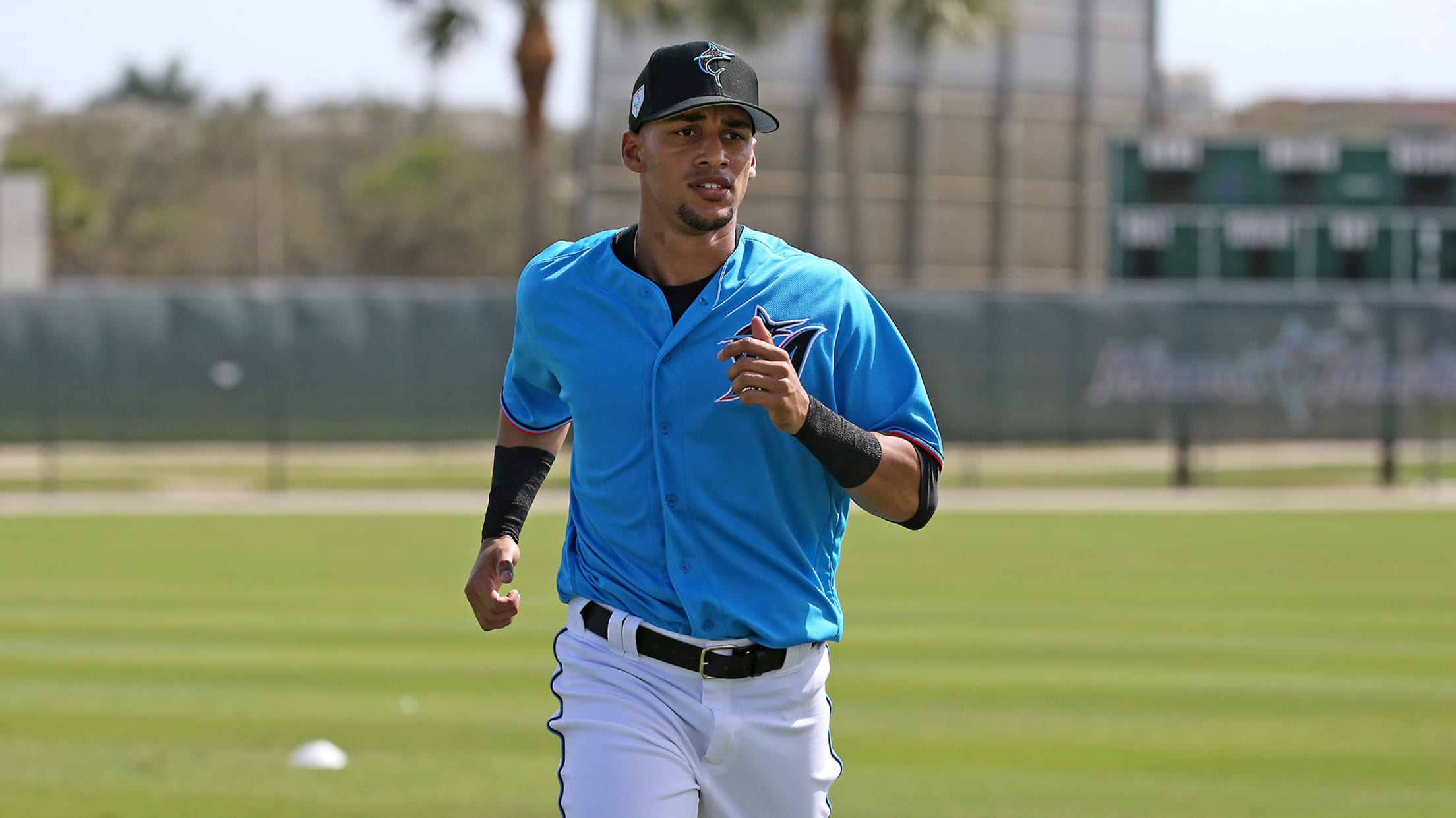 BRADENTON, Fla. -- Marlins prospect Victor Victor Mesa sustained a right hamstring strain while beating out a double play in the sixth inning of Miami's 10-6 walk-off loss to the Pirates on Sunday afternoon at LECOM Park. Mesa, the Marlins' No. 2 prospect (No. 99 overall) per MLB Pipeline, is
Top prospect Sixto part of package for Realmuto
Marlins acquire Sanchez, C Alfaro, LHP Stewart, int'l money from Phils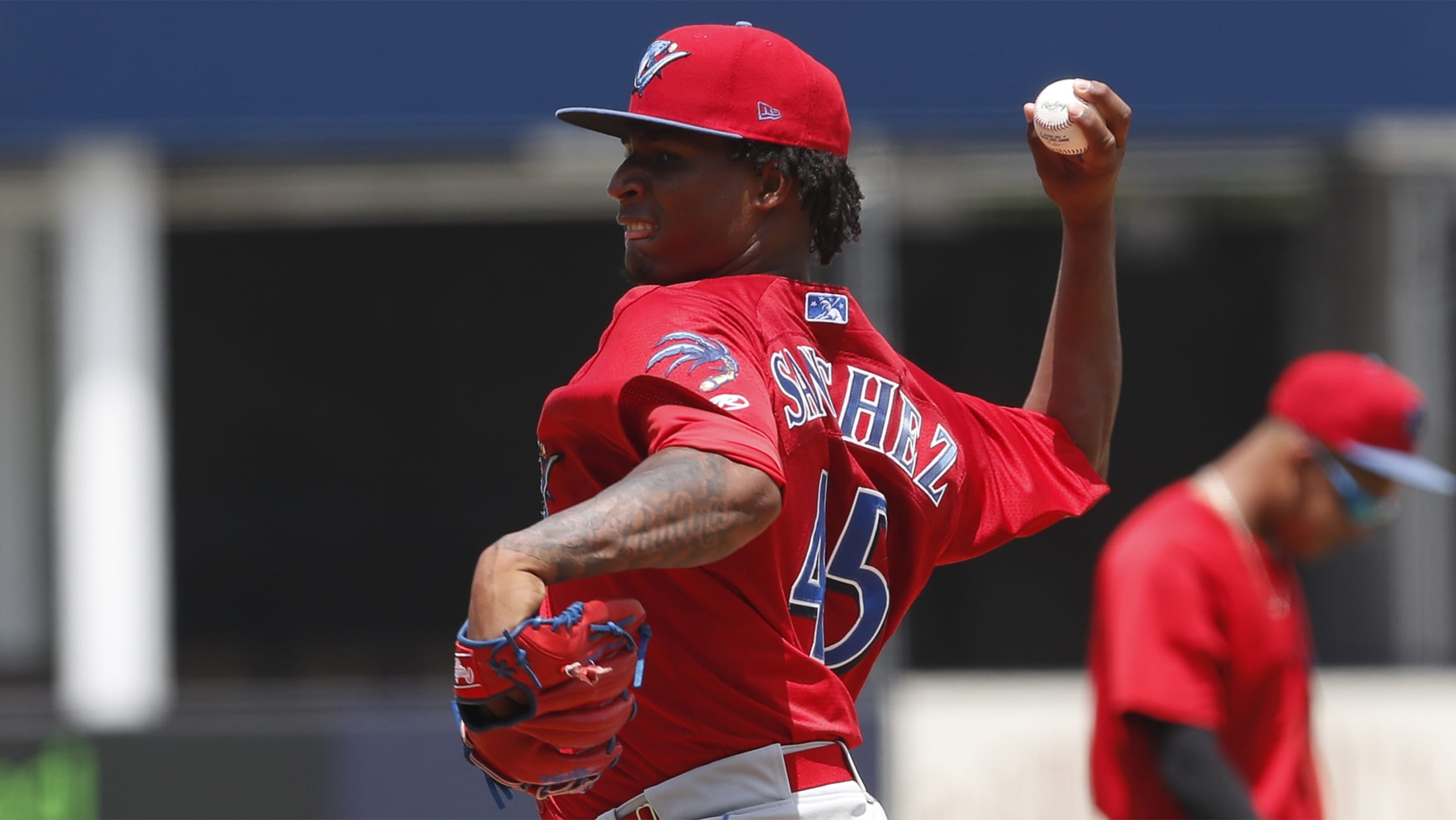 MIAMI -- After months of exploring countless trade scenarios with more than a dozen teams, the Marlins' best fit for All-Star catcher J.T. Realmuto turned out to be the division-rival Phillies.On Thursday, the clubs announced a deal that sent Realmuto to Philadelphia for catcher Jorge Alfaro, pitching prospect Sixto Sanchez,
Inbox: Will Walker signing affect Castro's future?
Beat reporter Joe Frisaro answers questions from Marlins fans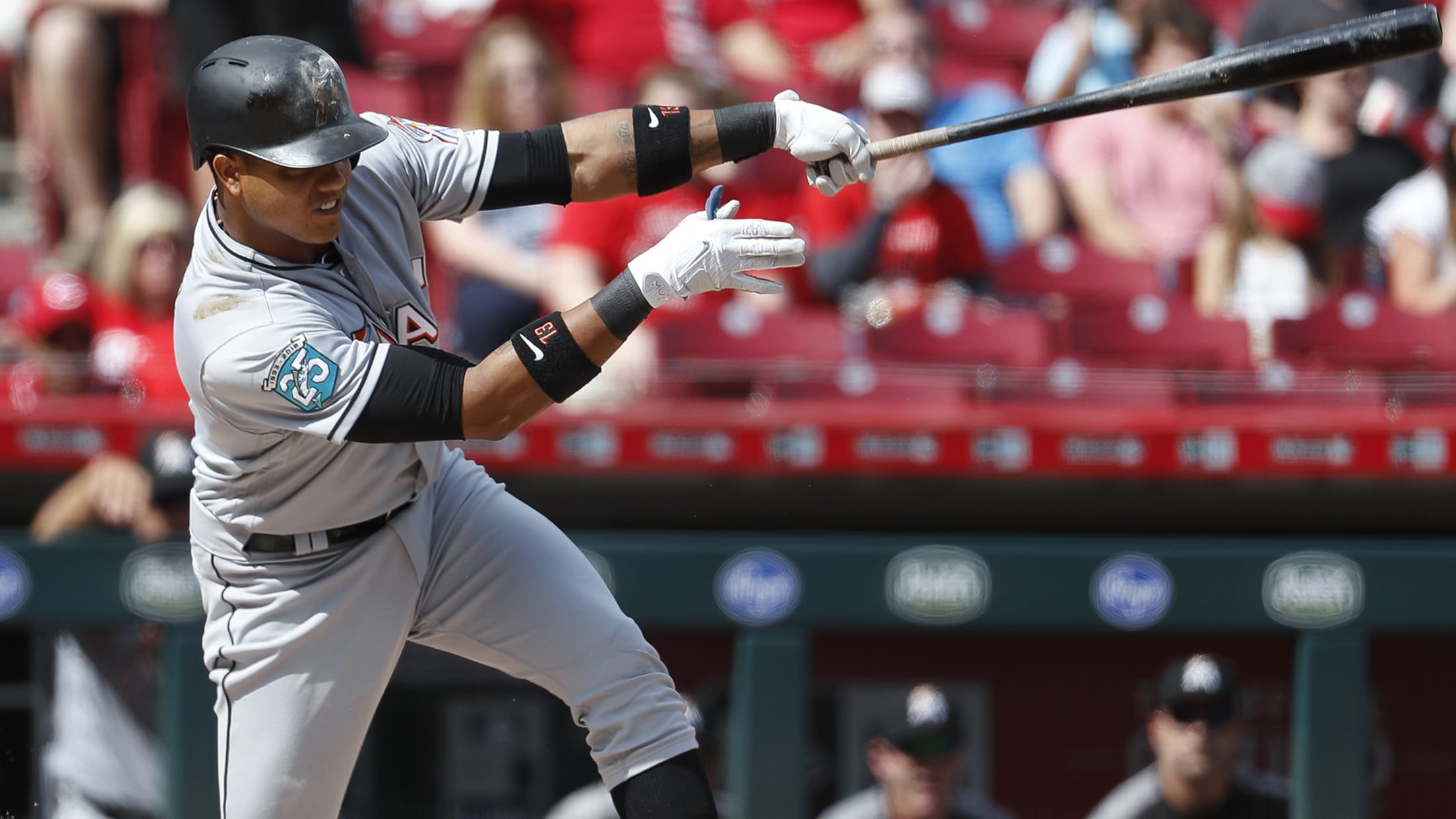 What is Starlin Castro's future with the Marlins now that Neil Walker has been signed? -- @Athletics89, via TwitterNothing really changes for Castro, at least for the first half of 2019. The four-time All-Star is expected to be the Marlins' everyday second baseman. But Walker is there to fill in
Around the Horn: Outfield spots up for grabs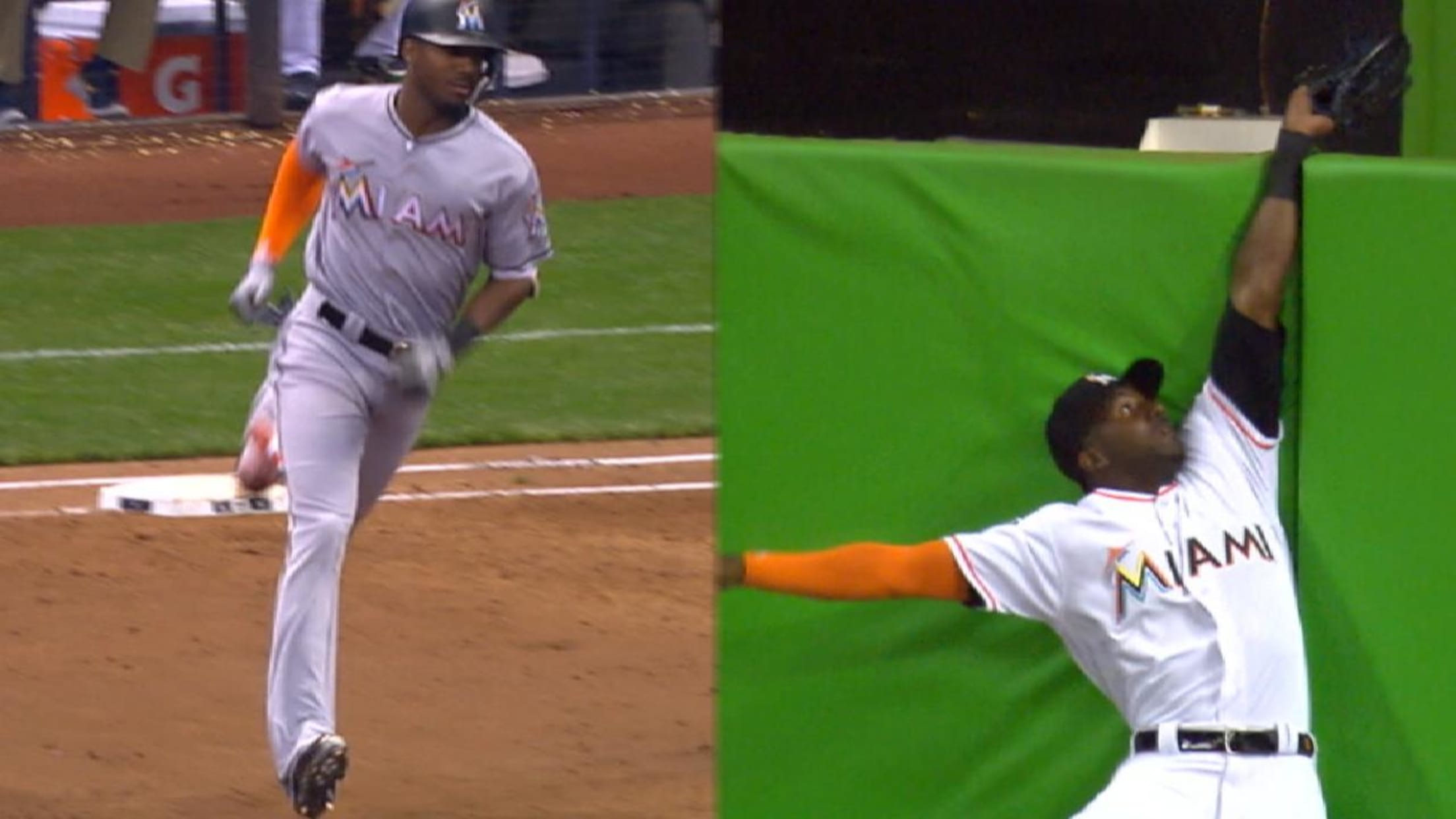 Marlins pitchers and catchers start Spring Training with their first workouts on Feb. 13, and position players follow on Feb. 18. With Spring Training a little more than two weeks away, Marlins.com is going around the horn with a series of position-by-position breakdowns leading into camp. Up next: Outfield.MIAMI --
Marlins add prospect Neidert, 10 others as NRIs
Miami announces Spring Training broadcast schedule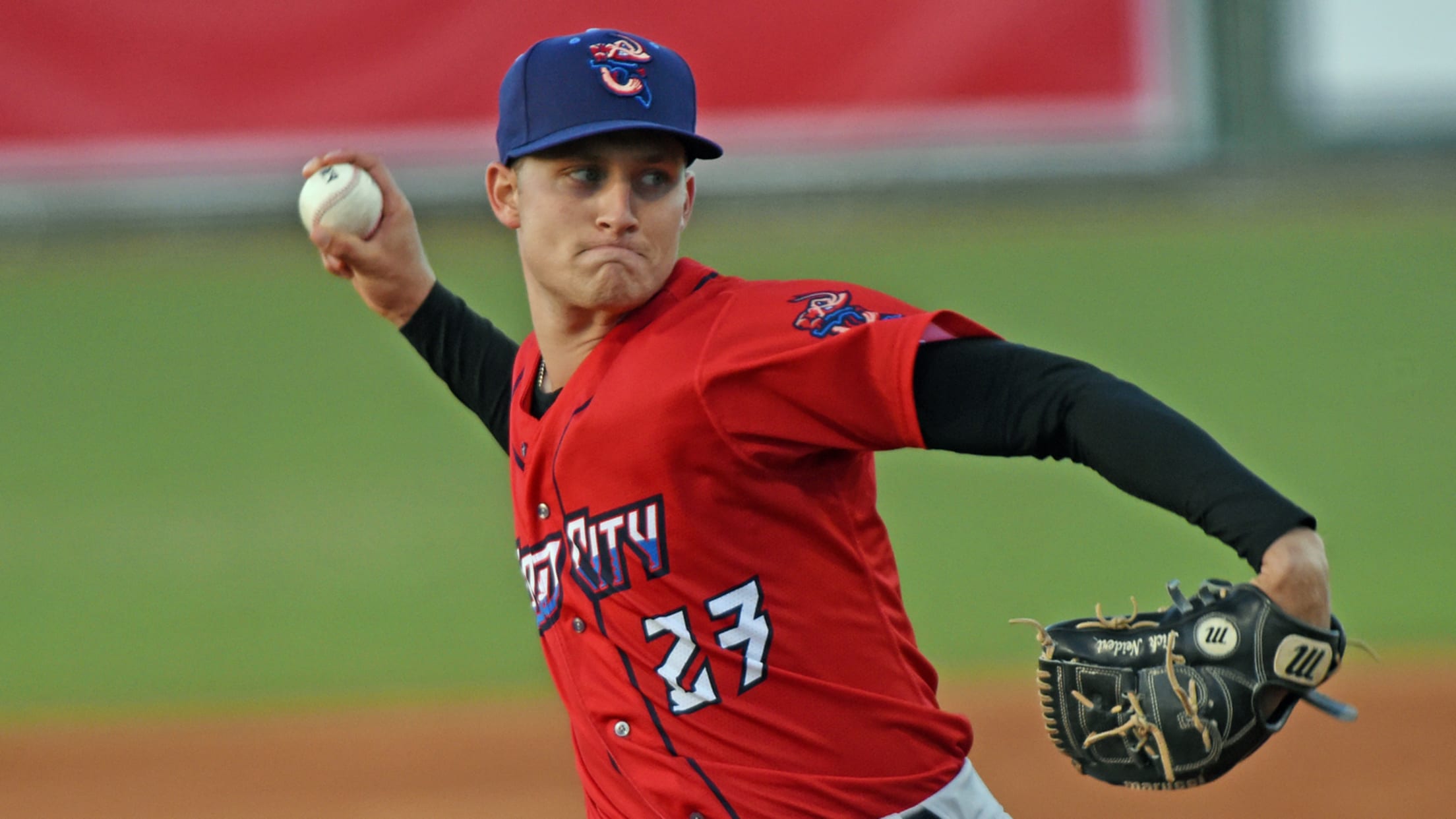 MIAMI -- Spring Training will provide the Marlins' coaching staff and front office with an opportunity to check out some of the organization's top prospects not currently on the 40-man roster.Right-handers Nick Neidert, Zac Gallen, Robert Dugger and Tommy Eveld are among 11 new non-roster invitees who will be with
Top prospect Mesa making strong impression
Nine Minor Leaguers taking part in three-day hitting camp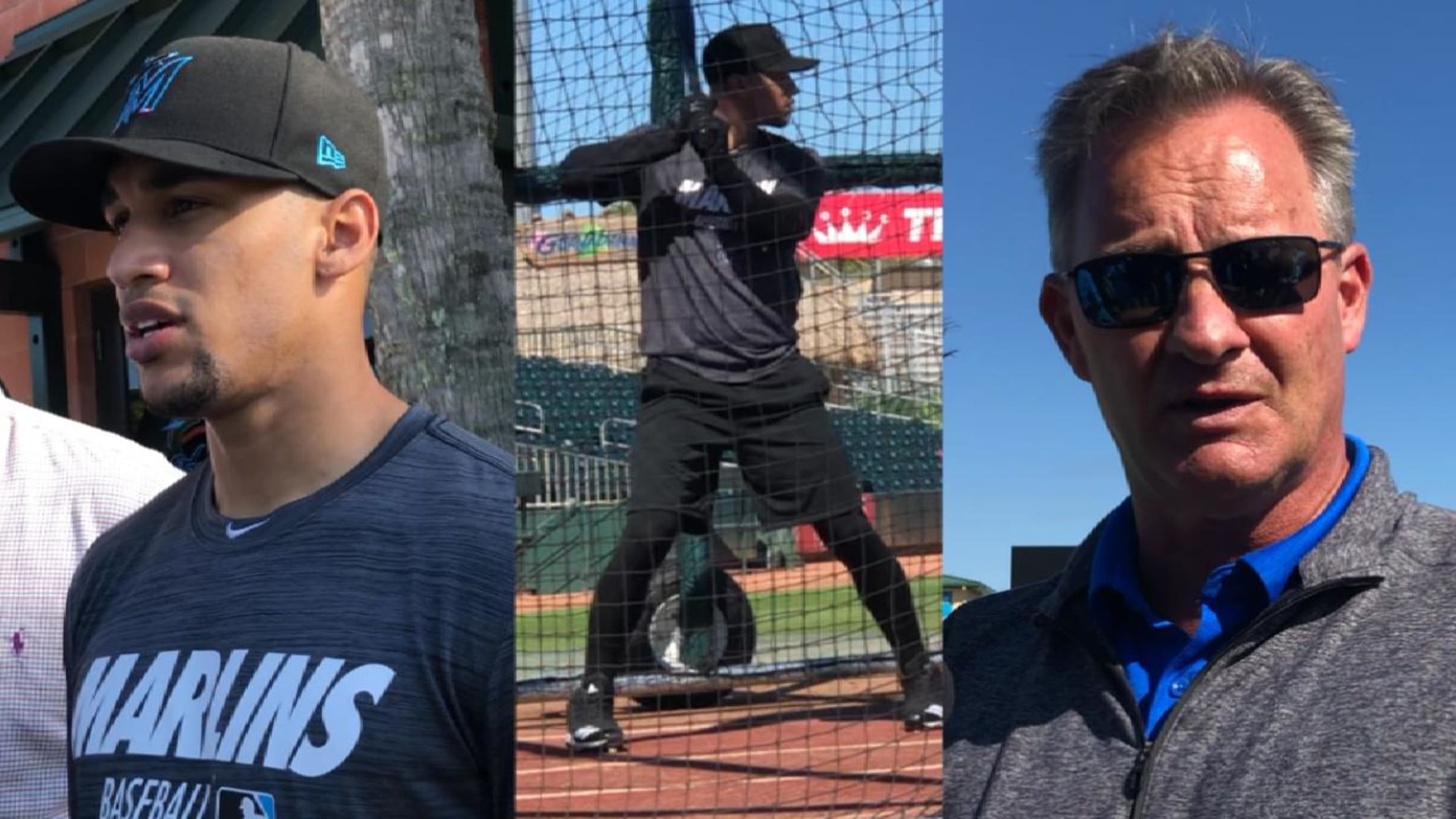 JUPITER, Fla. -- After months of training and conditioning, Marlins top prospect Victor Victor Mesa took some swings Monday on the main field at Roger Dean Chevrolet Stadium. The 22-year-old outfielder from Cuba made a strong first impression.Mesa was one of nine hitting prospects invited to a three-day camp, which
Inbox: Does Guzman project as closer or starter?
Beat reporter Joe Frisaro answers questions from Marlins fans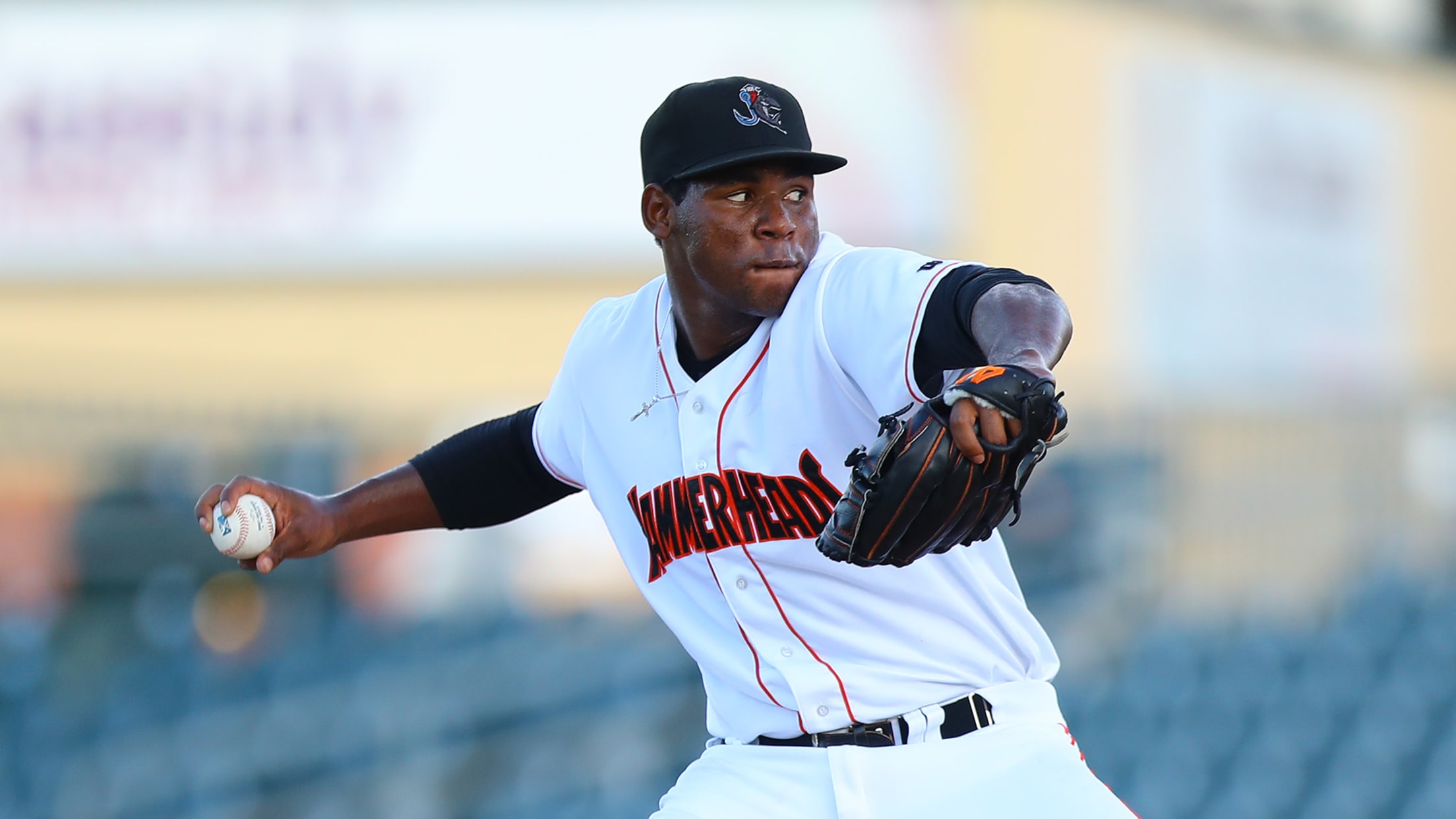 Do you think Jorge Guzman can be a future closer for the Marlins? Or do you prefer him to be a starter? -- @antonioadolfo6That's an easy one. Of course, the preference is for Guzman to be a starter. But if he isn't able to command his fastball to both sides
Marlins grooming prospect Diaz as 2B of future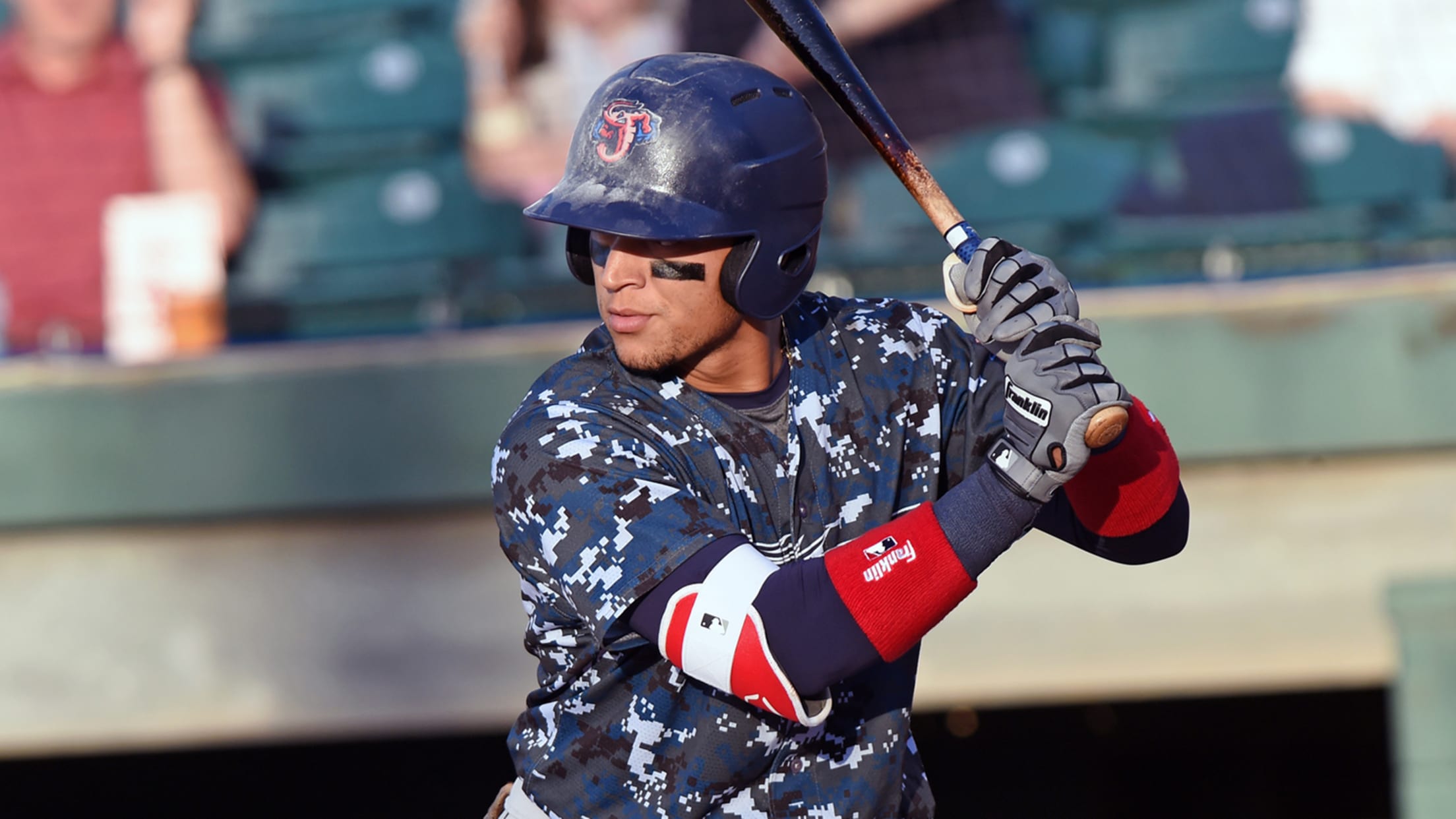 MIAMI -- It's no mystery the Marlins are in the market for an impactful left-handed hitter, and the organization just might have a secret weapon lurking in its farm system.Second baseman Isan Diaz made big strides at the Double-A and Triple-A levels in 2018, and he wrapped up his year
Inbox: When will Mesa arrive on scene?
Beat reporter Joe Frisaro answers questions from Marlins fans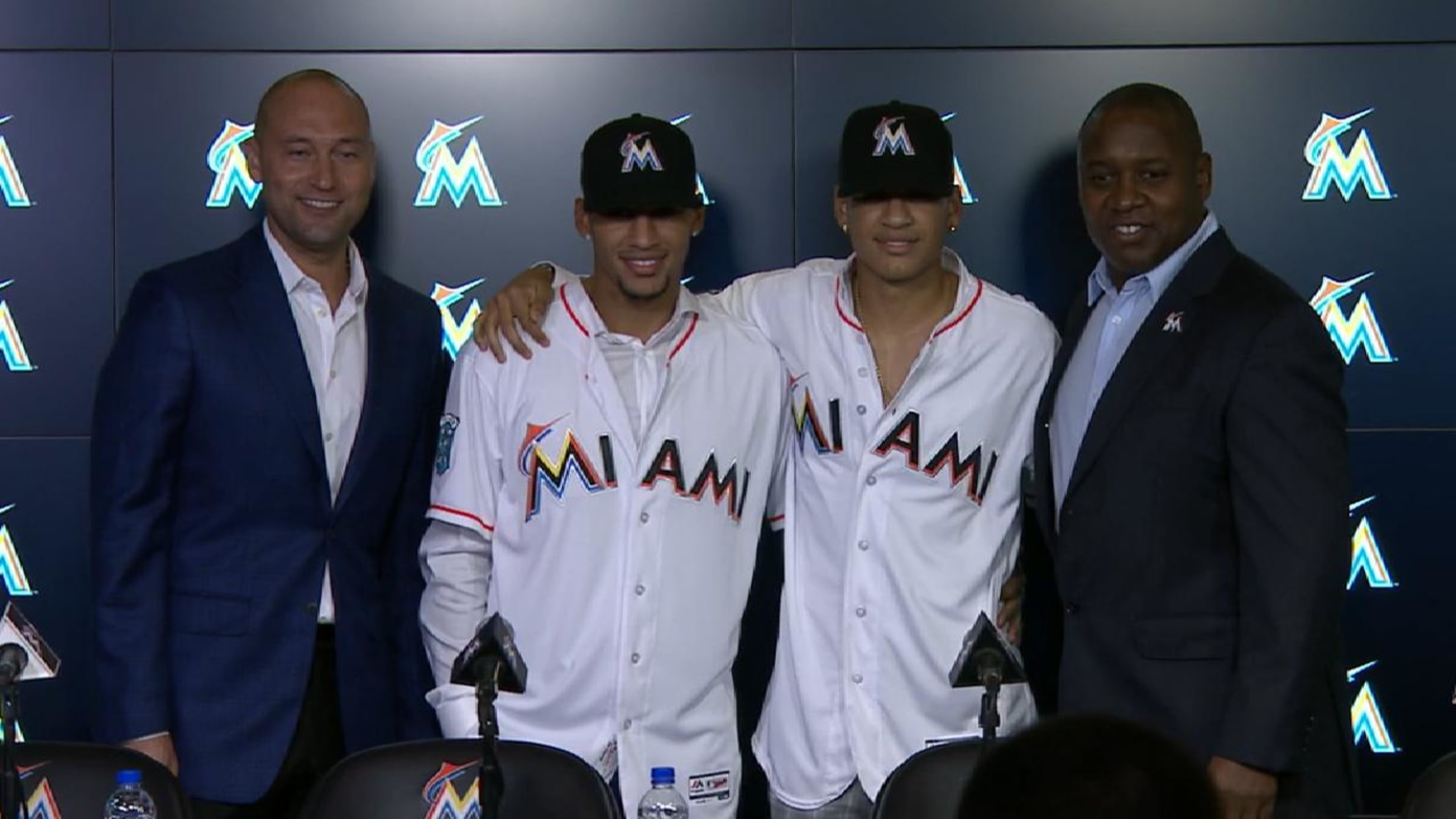 Last year, the Marlins' rotation was made up mainly of right-handers. Wei-Yin Chen was the only left-handed starter most of the time. Do you envision the Marlins pursuing a left-handed starter in free agency? Who would be a potential candidate? -- @Havana_CasinoYou raise an interesting point. Chen indeed is the
Marlins select RHP Ferrell in Rule 5 Draft
Miami loses outfield prospect Lee in Triple-A phase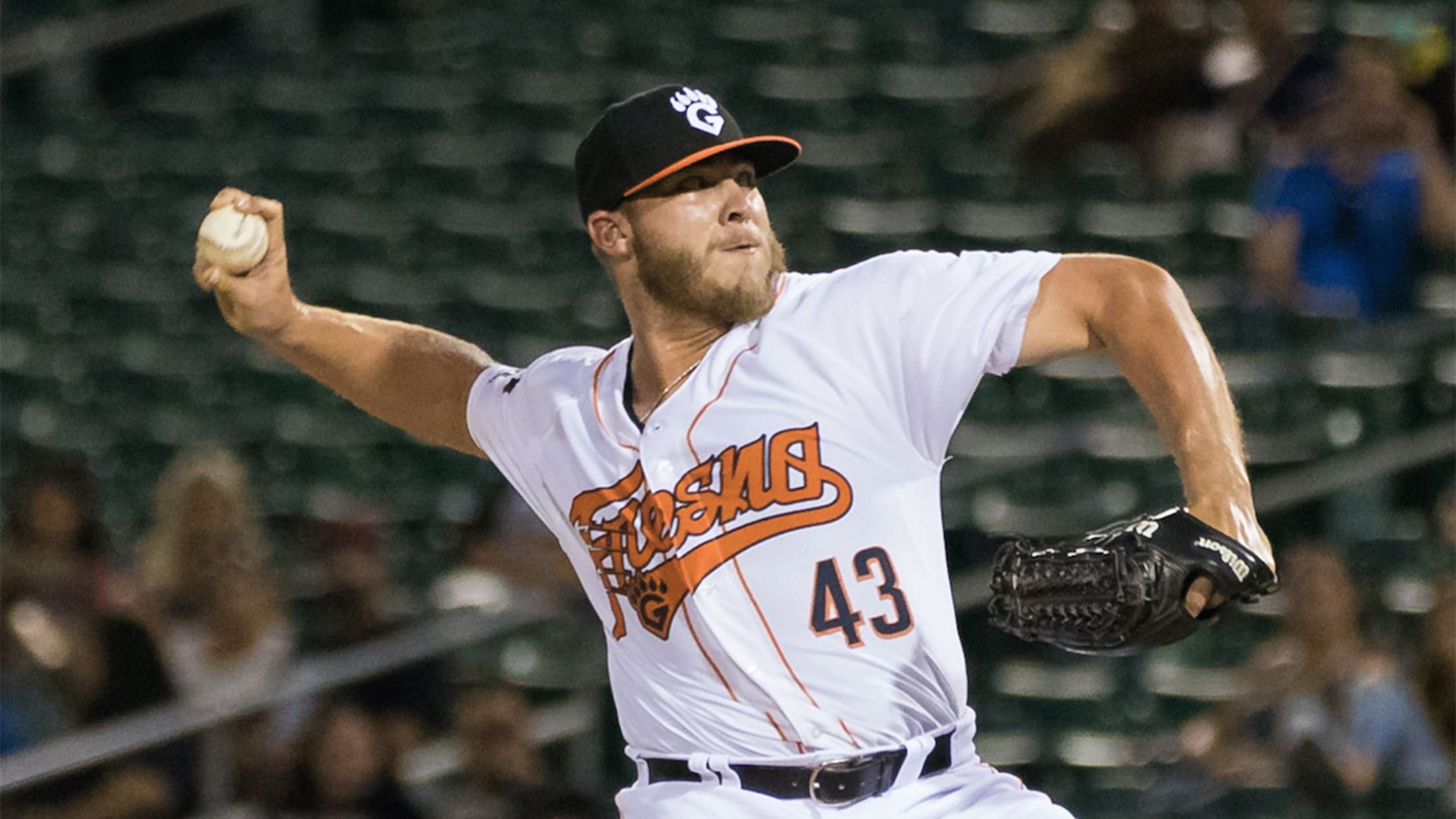 LAS VEGAS -- Utilizing all avenues to acquire new talent, the Marlins selected right-hander Riley Ferrell from the Astros in the Major League phase of the Rule 5 Draft on Thursday.The Rule 5 Draft is the last order of business at the Winter Meetings, which wrapped up with Miami not
Marlins round out roster by adding 7 players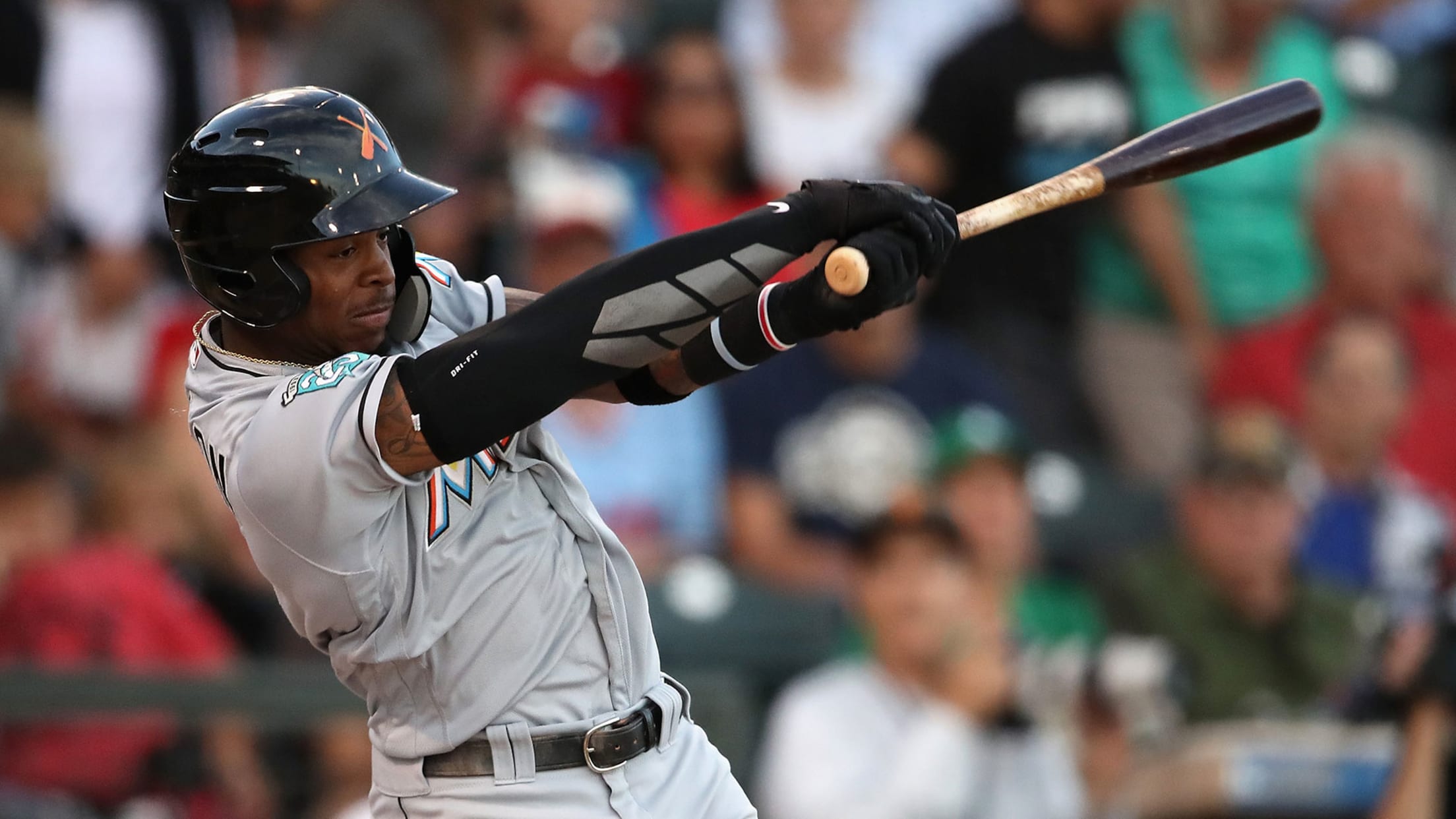 MIAMI -- A year ago, the Marlins overhauled their roster, trading core and All-Star players for coveted prospects. More than 30 new players were brought into the system through trades that dated back to June 2017.On Tuesday, three of those top-ranked Minor Leaguers moved closer to reaching the big leagues.