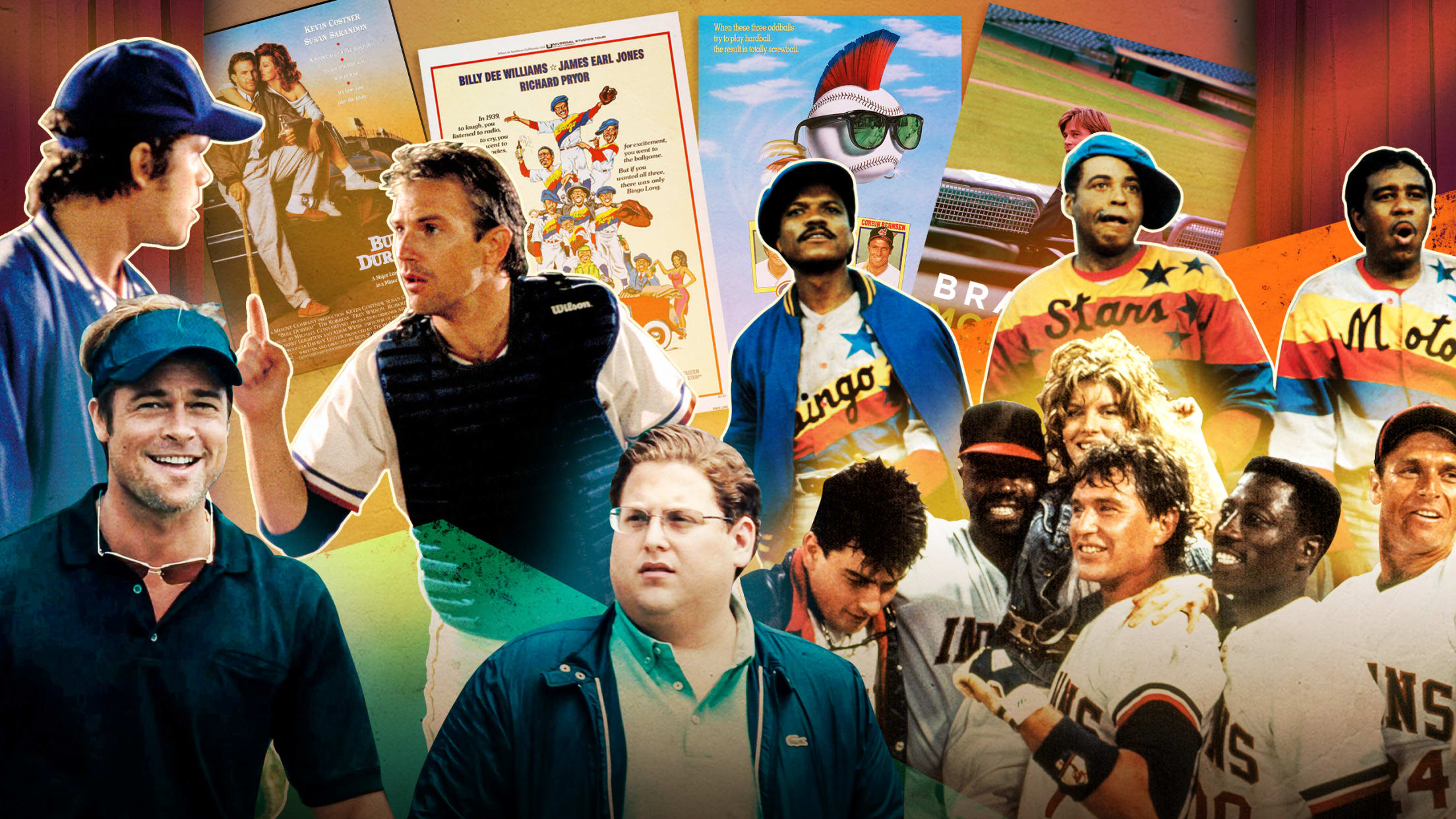 Scroll
Which baseball film has the best ensemble? 
Rogers Hornsby's decision to spend his baseball-less winters staring out the window and waiting for spring may have made sense in the 1930s, but it doesn't quite hold up these days. For us 21st-century citizens, we can get through the coldest months curled up on the couch, watching an endless stream of baseball movies until the very minute pitchers and catchers report.
But just which are the ones worthy of our time and devotion? Over the next two weeks, MLB.com's best and brightest will come together for some open-ended and spirited debates over the most iconic baseball films in celluloid history. Today, we continue our movie roundtable series with the four movies best known for their ensemble casts: "Major League," "Bull Durham," "Moneyball," and "The Bingo Long Traveling All-Stars and Motor Kings."
Our panelists: Ian Browne, Christina DeNicola, Alyson Footer, Bill Ladson, Scott Merkin, Mark Sheldon, Todd Zolecki
Previous movie roundtables:
• Best endings
• Best baseball movies based on true stories
• Let the kids play! Best baseball movies featuring children
---
Alyson Footer, moderator/editor: The category we're discussing today is Best Ensemble and the movies are: "Major League," "Bull Durham," "Moneyball" and "The Bingo Long Traveling All-Stars and Motor Kings." Let's start with a basic question: which of these has the best ensemble?
Scott Merkin, White Sox beat reporter: I think "Major League."
Mark Sheldon, Reds beat reporter: I don't think the cast can get much better than "Bull Durham."
Ian Browne, Red Sox beat reporter: I'm going "Bull Durham," for sure.
Bill Ladson, national reporter: Without a doubt, "Major League." That's when Wesley Snipes received his recognition.
Christina DeNicola, Marlins beat reporter: If we're talking an ensemble, I say "Major League" because there is a wide range of characters seeing screentime, and that's not the case with every movie in this category. "Moneyball" is the Brad Pitt/Jonah Hill show.
Todd Zolecki, Phillies beat reporter: "Bull Durham" has an A-list cast. Tim Robbins, Susan Sarandon and Kevin Costner. Each are huge stars.
Sheldon: "Bull Durham" has the three actors, but the background people are magnificent. The manager was fantastic.
Footer: I'm partial to "Major League," but "The Bingo Long and the Traveling All-Stars & Motor Kings" is going to give the others a run for their money in terms of the strongest ensemble cast. Billy Dee Williams, James Earl Jones, Richard Pryor ... and ... get this – as the credits rolled, I saw that one of the producers of the movie is none other than Mr. Motown, Berry Gordy. Strong.
Ladson: I tried to give this movie a second chance because of all the stories Bob Kendrick – president of the Negro League Baseball Museum – told me about the Negro Leagues. But I just couldn't get into the movie. I didn't fall asleep, but the storyline wasn't good. I think Kendrick could have written a better story. Yes, it was a great ensemble cast. To me there wasn't enough Richard Pryor. He was funny as always.
Zolecki: This is a great cast, and it's one of those movies that had me geeking out and checking out IMDb to see if I knew some of the other actors in the movie. Like, yes, that is Tony Burton, who was Rocky's and Apollo Creed's trainer in all those "Rocky" movies. Ted Ross was in "The Whiz" with Michael Jackson and Diana Ross. He won a Tony Award, too. Stan Shaw has been acting forever. Leon Wagner is a former big leaguer. He's on the team.
Footer: I think what puts "Major League" over the edge for me is Bob Uecker. We interviewed the director of the movie, David Ward, the night before Cleveland hosted Game 1 of the World Series in 2016. He said he molded a lot of the characters after real-life people in the game. When it came to the Uecker character, he molded it after ... Uecker. That was the only person he wanted playing that role.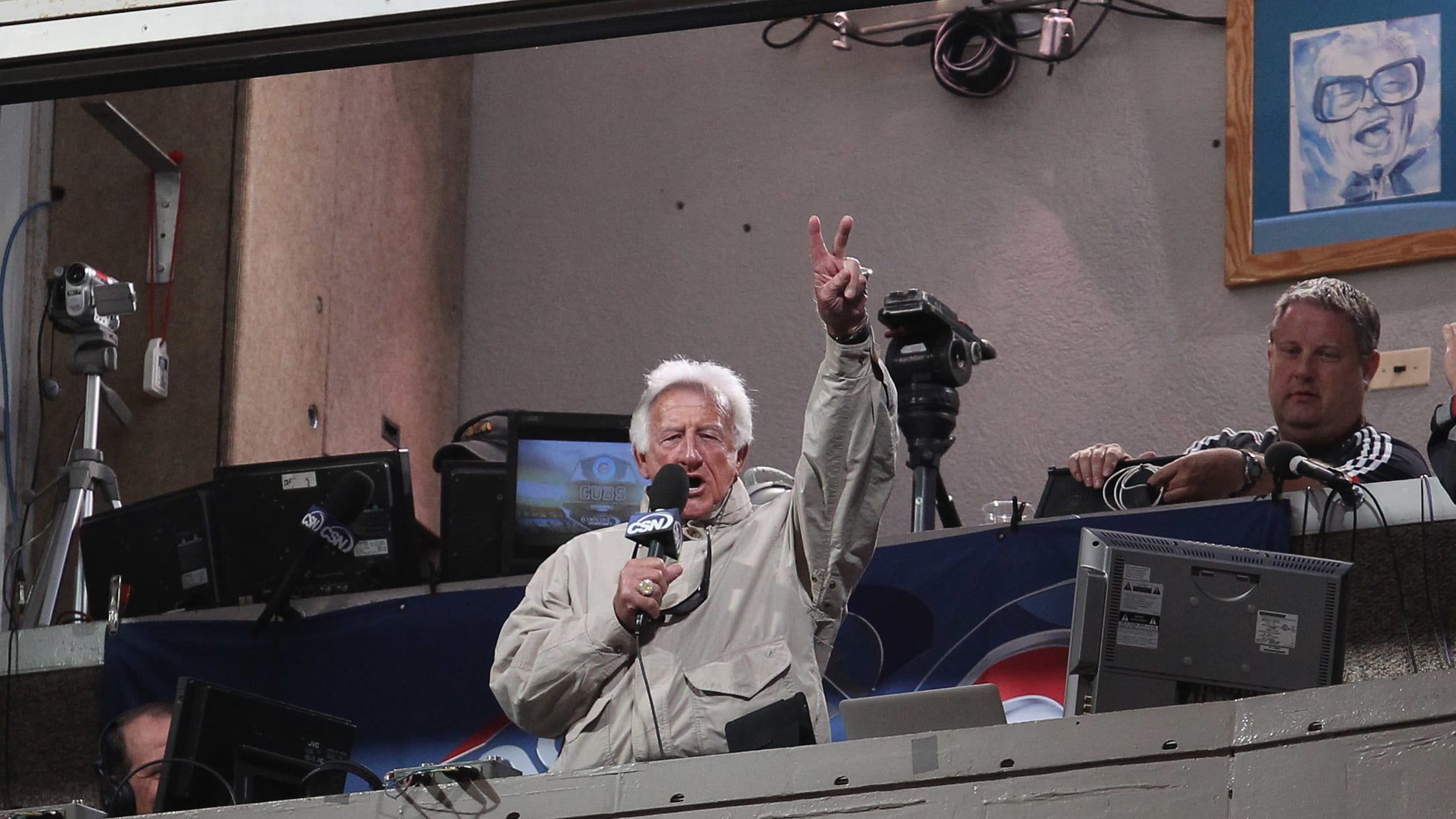 Merkin: How can you forget about Bob Uecker, as I did?!! Anything with Uecker is inherently better. He was great in that movie. He's great in everything.
Browne: Oh, Uecker is the best part of the whole movie.
DeNicola: Juuuuuust a bit outside.
Browne: I also love Uecker's mock outrage at how so many close pitches are being called balls.
Zolecki: You think about iconic lines in sports movies, and Uecker owns several of them.
Browne: "Ball eight."
Sheldon: "Major League" certainly has elements that we -- as baseball scribes -- can agree aren't very realistic. But for comedy, it's right on point.
Merkin: For sure, Mark. In terms of believability, I don't think "Major League" wins there.
Browne: I can't think of a baseball movie that has ever portrayed the media realistically. That's my random thought of the day.
Ladson: I first saw "Major League" when I was on the plane back to my former home, Los Angeles. At first glance, I thought it was boring. But after Wesley Snipes became famous a few years later, I watched it again and I thought it was funny because of Bob Uecker and the rest of the cast.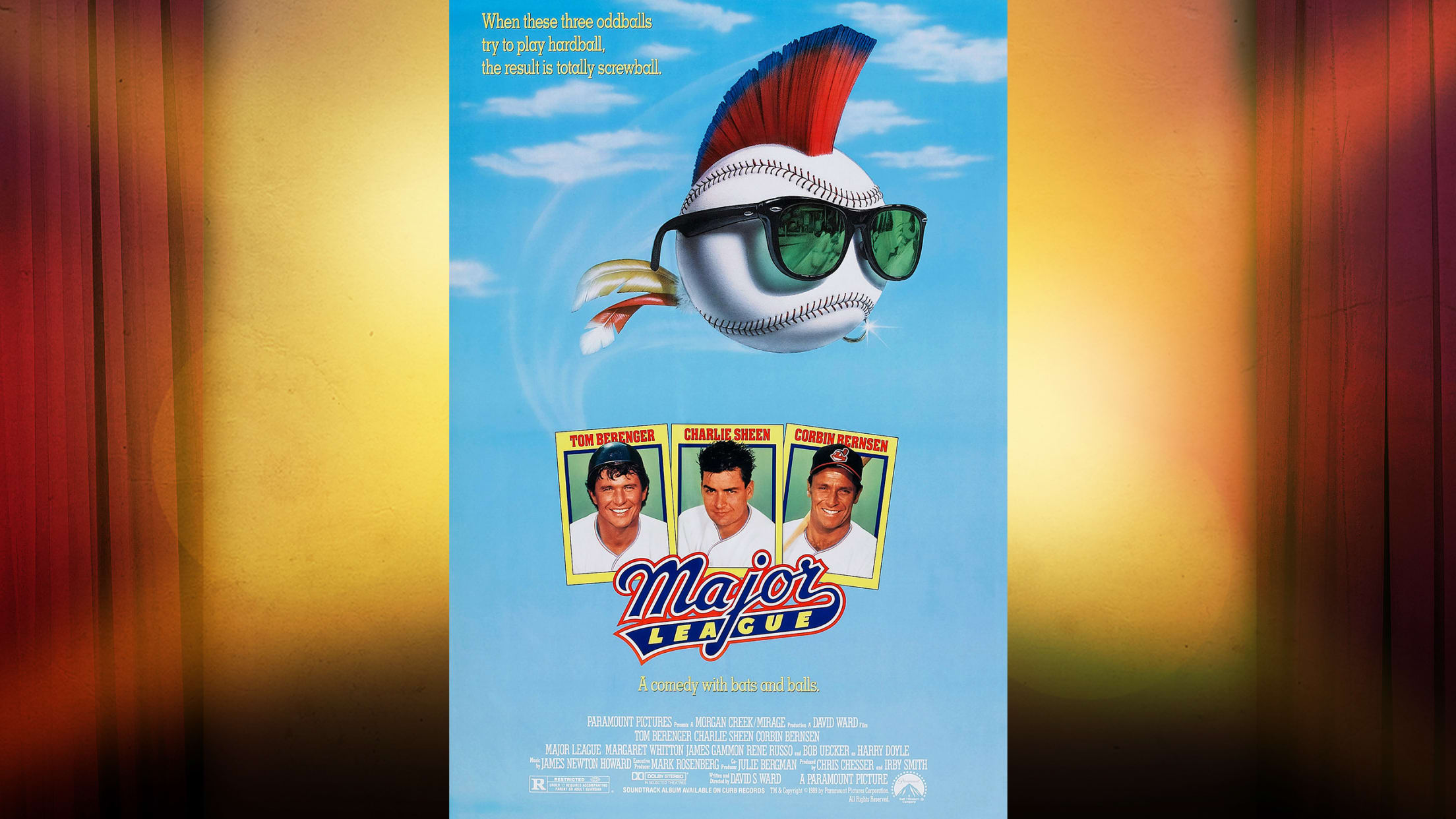 DeNicola: It's funny going back to the film and seeing how similar the "Ted Lasso" premise follows it.
Footer: While we're on the topic of casting, we should note one of our very own was a part of the "Major League" cast...
Zolecki: Yes! I was an extra and I actually appear in the movie for a split second.
They shot the stadium scenes at old County Stadium in Milwaukee. My dad, brother and I went to the ballpark one night for hours and hours of shooting. Then my dad and I went back a few days later for another few scenes.
I'm in the scene where the bus rolls back into the ballpark and the manager tells Charlie Sheen he's not pitching that night. The camera pans down and I'm holding an "Indian Fever" sign.
Merkin: That's tremendous!
Browne: That's amazing. Where do we go from here?
Zolecki: I wish I got an IMDb credit, but alas ...
But we saw the movie in the theater. I was probably in the seventh grade at the time. I nearly jumped out of my seat when I saw myself. "There I am! There I am!"
Browne: Let me say that "Major League" is by far the funniest of these three movies. But not the best.
Footer: "Major League" is my favorite baseball movie of all of them. I still feel that way, even if my experience in baseball prevents me from ever truly believing that a team of rag-tag has-beens could ever win a division title. I still love it. I guess it has that timeless classic appeal.
Browne: I feel the way about "Bull Durham" that you do about "Major League." "Bull Durham" will never be topped for me. It has the TOTAL package.
Sheldon: Watch the Lollygaggers scene in the shower from "Bull Durham" and it doesn't get much funnier.
Footer: In our first roundtable, I made a comment that Wilford Brimley ("The Natural") should pretty much be every movie's first choice to play the manager. But James Gammon as Lou Brown was brilliant. Maybe what I meant to say was every baseball manager cast should have a gruff voice and grade-80 mustache?
DeNicola: Oh, definitely. And when I checked his IMDb, he had a recurring role on the TV drama "Homefront" (1991) as a Cleveland Indians coach!
Browne: I was thinking the same thing after the other roundtable. When I watched "Major League" again, I forgot how good Brown was. He was the amazing crusty-dog, salty skipper. Perfect for the team he was managing.
Merkin: His voice sold it for me.
Sheldon: In terms of movie managers, I have to give actor Trey Wilson from "Bull Durham" the nod over Lou Brown. He died shortly after the movie was finished too.
Footer: It seems like "Bull Durham" is the one movie that everyone universally loves. Am I overstating that?
Browne: I've never met anyone that didn't love "Bull Durham." I don't think you are overstating.
Merkin: I like "Bull Durham." Not sure I love it. I don't stop to rewatch it every time it's on, but it's very well done.
Browne: Come on, Merk! The mound visits! Crash and Nuke fighting over which pitch to throw! Never gets old. So fun.
Sheldon: I think "Bull Durham" shows baseball in a non-glamorous light and that's a great thing. You see the game, behind the scenes ... warts and all.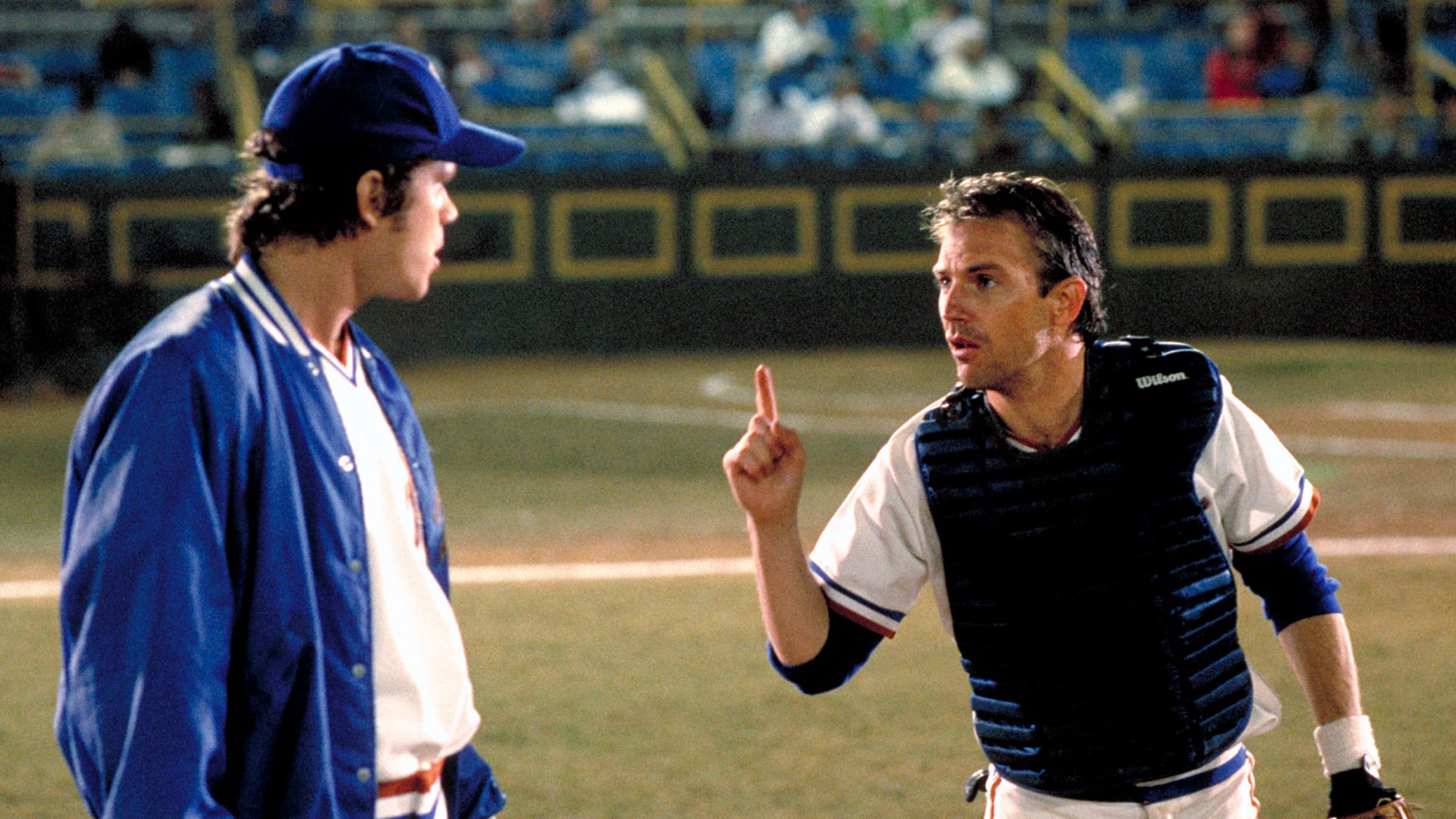 Merkin: My favorite scene is when Costner puts Robbins in his place and tells the hitter which pitch is coming. You gotta believe that's happened many times before, especially in the Minors.
Browne: Let me say that the baseball scenes in "Bull Durham" are the most realistic and here is the reason why: Grady Little … yes, that Grady Little .. was the lead baseball consultant for the movie. At the time the movie was made, Grady was managing the Durham Bulls. Much of the baseball on-field and clubhouse stuff feels and looks more realistic than it does in other baseball movies.
For example, when players get cut, "Bull Durham" has it spot on. "This is the toughest conversation any manager has to have." Meanwhile, "Major League" is putting slips of paper on people's lockers.
Footer: I loved Costner bringing back the "never 'mess' with a winning streak" line at the Field of Dreams game last year. In his press conference he was asked if he thought MLB should host a second game at the FOD site and he threw that line in. Solid move.
Merkin: You can truly see Kevin Costner's love for baseball. That was pretty evident in Dyersville last year as well.
Sheldon: I love some of the extended moments for characters. Crash had some incredible speeches, namely the winning streak but others as well.
Zolecki: "Bull Durham" is great because I think it's pretty authentic in how it portrays baseball life and how they think, act, etc. I love when the batboy says, "Get a hit, Crash." And Costner replies, "Shut up." I can totally see a baseball player saying that.
DeNicola: "Bull Durham" is a baseball film that references Emily Dickinson and plays Edith Piaf's "La Vie En Rose." That's a double yes in my book.
Footer: If there's one thing I've learned while researching these movies for our roundtable series, it's that Costner is far from the only actor to have appeared in multiple baseball movies. That brings me to "Bingo Long." The storyline was fun, and I loved the nod it gave to the Negro Leagues.
But I have to say the most delightful element for me was seeing a young(er) James Earl Jones. He was around 45 when this was filmed, and his character, Leon Carter, was gregarious, expressive, loud and funny. For those of us of a certain age, we equate Jones with serious characters in baseball movies (The Sandlot, Field of Dreams), so this was really fun to watch.
Browne: I completely agree that James Earl Jones absolutely stole this movie. He was a stud. I loved the cast. I loved the premise. I loved the free-wheeling style of play, the infielder going through his leg to start a double play, the one-handed home run, twirling from one side of the batters' box to the other before crushing the ball. It was like watching the Harlem Globetrotters play baseball.
Zolecki: It is funny to think that this was the first of Jones' three baseball movies. He and Costner just love being in baseball movies, I guess. It was the first of two baseball movies for Pryor, too, along with "Brewster's Millions."
DeNicola: Like Major League, this is a true ensemble. Billy Dee Williams and James Earl Jones had such great chemistry, and Richard Pryor was unsurprisingly a scene stealer! Tony Burton (aka Rocky's corner man) in center field? Ted Ross and Mabel King of The Wiz fame among the owners? It's quite the who's who.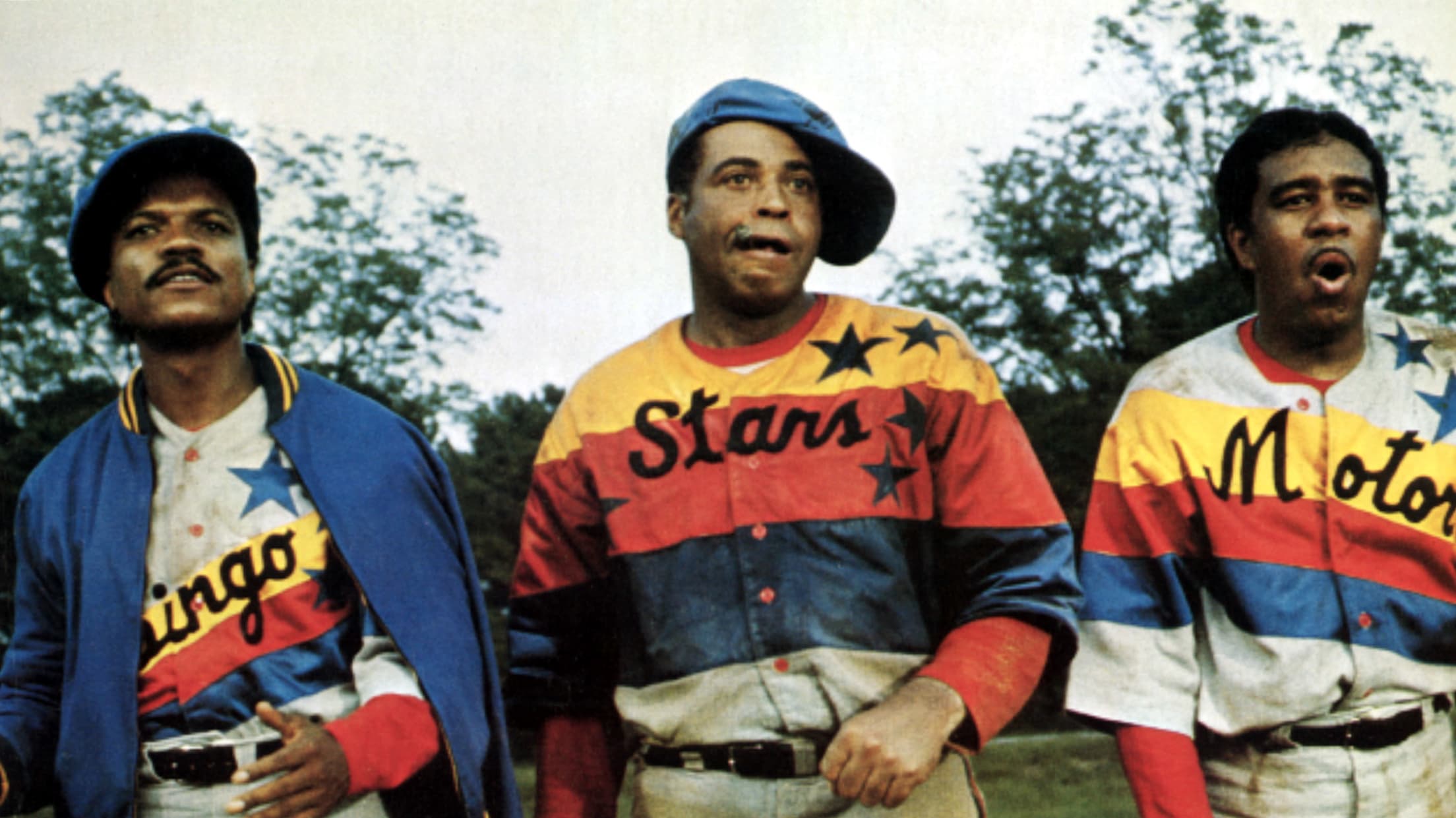 Ladson: Jones is a great actor. I thought he was better in "Coming to America," "Lion King" and the "Great White Hope." But he had a nice scene when he came out of the coffin and helped the Bingo Long All-Stars become a Negro League team.
DeNicola: I did some research on IMDb, and it turns out Steven Spielberg was interested in directing the film! Oh, and Berry Gordy not only produced the film, but he also wrote the catchy "The Bingo Long Song (Steal On Home)." Is it still stuck in my head? You bet!
Footer: I read that the title character, Bingo Long (played by Williams) was loosely based on Satchel Paige, adding to the terrific historic references in this film.
Ladson: When the game started, there was Bingo telling his defense to stay off the field, while he pitched to the James Earl Jones character – Leon Carter. Paige often did the same when he played in the Negro Leagues.
From a baseball history perspective, Leon Wagner and Emmett Ashford were in this film. Wagner was a big-time slugger for the Angels in the 1960s, while Ashford was the first African American to umpire a game.
Zolecki: This movie feels authentic, like, I bet this stuff happened during some of these barnstorming tours. Sure enough, the movie included Sam "Birmingham" Brison, who played for the Birmingham Black Barons and for years for the Indianapolis Clowns. He once said being in the movie was like doing his life story.
Footer: On to "Moneyball"…
I will say from a pure entertainment perspective, this was a good movie. Was it accurate and true-to-life? That's debatable. But if we're talking about casting more than the actual storyline, we can go in a lot of different directions.
Brad Pitt as Billy Beane was a good one. Phillip Seymour Hoffman as Art Howe was ... not. Not only was there no resemblance between the two (was Ed Harris not available?) they portrayed Art as the curmudgeonly contrarian to act as the foe to Beane. I understand that every good movie needs an antagonist, but as Howe has said publicly, this was not an accurate portrayal.
Browne: Hoffman doesn't exude the Art Howe I knew in any way, shape or form. Howe was soft-spoken and laid-back from what I remember. Hoffman casts him as an edgy, ornery skipper who liked to make waves with the front office. That said, Hoffman was excellent in his role if not a realistic portrayal. Make sense?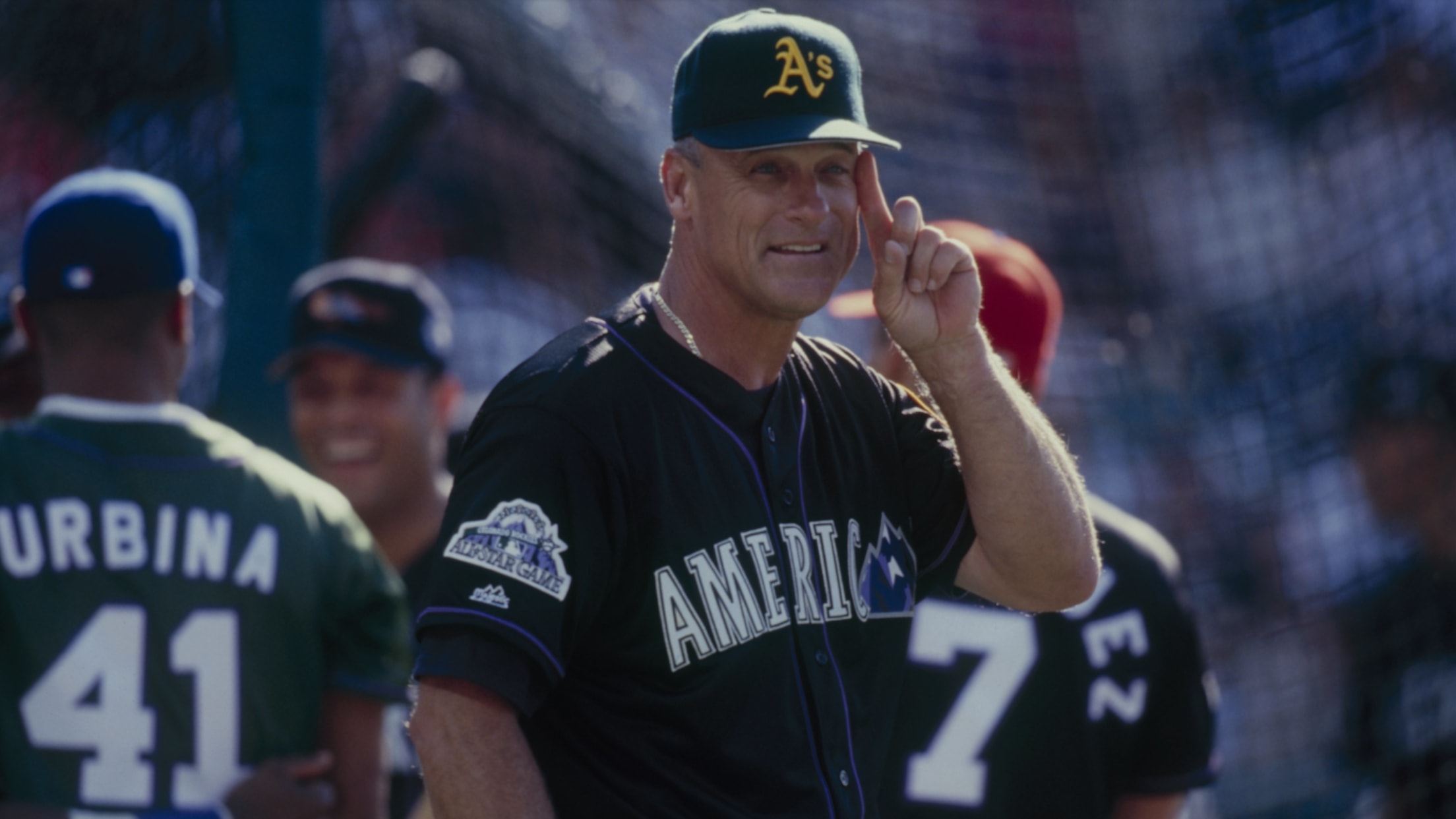 Ladson: The one thing I didn't like about "Moneyball" was that they made Howe seem like he didn't know the game of baseball.
Browne: Pitt, though, was absolutely spot on. I don't think you can biopic someone better than he did. Reminds me of Val Kilmer as Jim Morrison or Rami Malek as Freddie Mercury.
The Jonah Hill character is outstanding, too. I guess Paul DePodesta didn't authorize being portrayed at all in this movie, so Hill plays someone named Peter Brand, who is presumably very little like DePodesta from a personality standpoint, but likely thinks the same as far as analytics. Either way, this totally works. The character is hilarious. One of my favorites in the movie.
And I can't believe that Robin Wright – so amazing in "House of Cards" – is the actress playing Billy Beane's ex. Didn't even realize until I started doing research for this roundtable. This cast has DEEP depth.
Sheldon: Scott Hatteberg later played for the Reds. Originally, he was going to play himself before they changed directors. Someone named ... Chris Pratt ... got the role.
Pratt played Hatteberg nothing like he really was. I told Hatteberg at the next Winter Meetings that he would've played himself much better.
DeNicola: We got Chris Pratt during his "Parks and Rec" days before he became the big blockbuster star he is today.
I'm a very big awards season fan when it comes to movies, and "Moneyball" received a lot of love that year. This helped Jonah Hill be considered a "serious" actor. Pitt had gone more than two decades without an Oscar nom! And with a script by Steve Zaillian and Aaron Sorkin? They have nine combined Oscar nominations for a reason. I absolutely LOVED the way they shot some of the baseball scenes with the dark backdrop.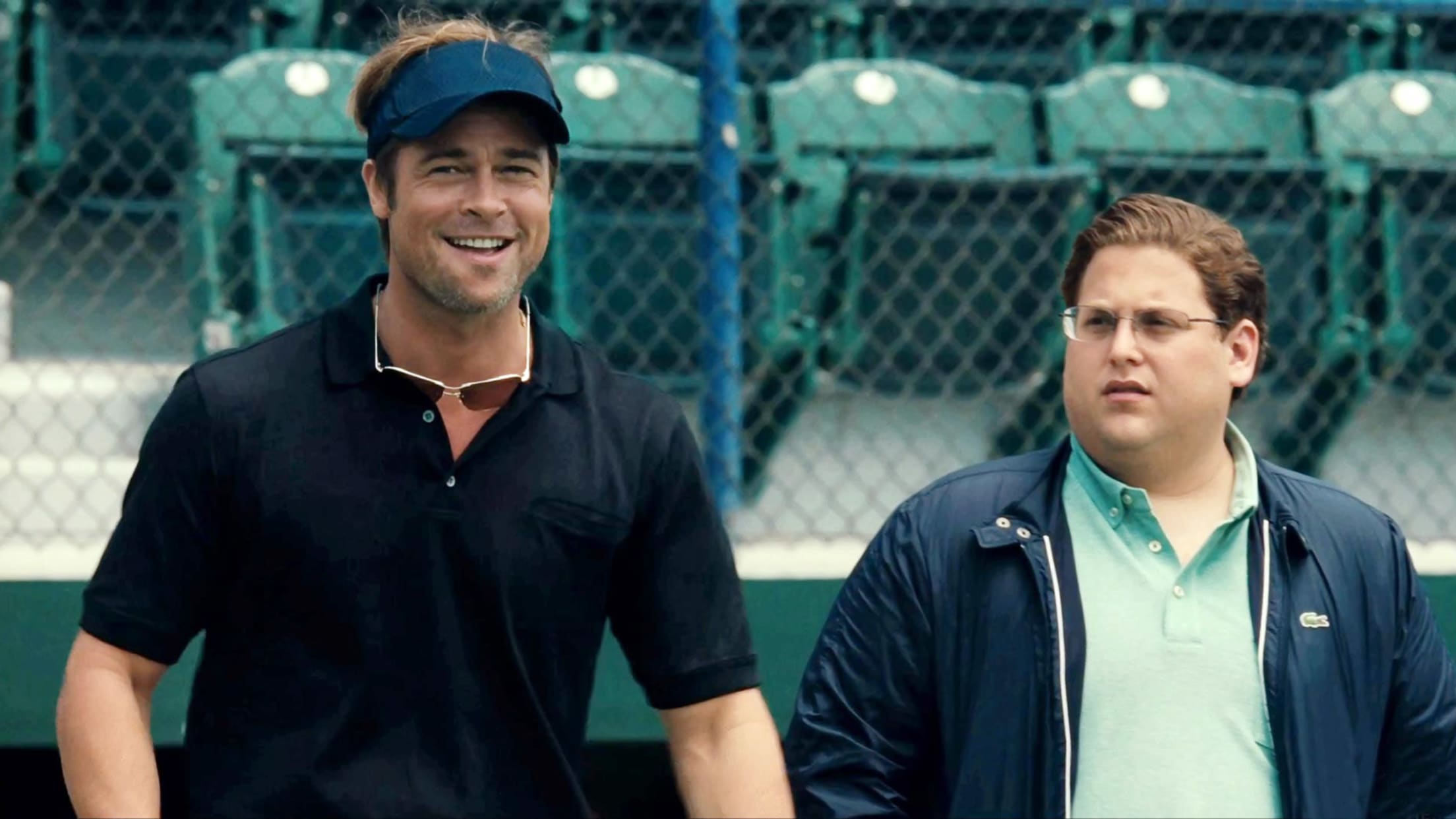 Sheldon: Fun fact: Reds GM Nick Krall was a batboy on that 2002 A's team. He can be seen celebrating early in the movie when they used archive footage.
Footer: They did a great job splicing actual footage from A's games with the acting in the movie.
Sheldon: I remember really enjoying that '02 A's team though. I covered the Twins then and was in Oakland when Miguel Tejada hit a walk-off homer against Eddie Guardado to extend the streak ... to 18, I think.
The A's also met the Twins in that ALDS and got knocked out. In real life, it was a day game. It was at night in the movie.
Browne: That day game/night game thing always bugged me. How hard would it have been to get that right?
Sheldon: Not as cool without the lights, I guess.
Browne: I love how you can see No. 27 David Ortiz, a Minnesota Twin, running onto the field to celebrate after the Twins beat the A's.
Sheldon: I think "Moneyball" is flawed, for sure, but still a good movie. I really connected with the feeling of melancholy, especially from Pitt. Am I good enough for this job? I miss my family, etc.
Zolecki: If you work in the industry, some things are difficult to get past: making trades with the Phillies and Tigers within a matter of seconds, Pitt flying to Cleveland and going to the ballpark to talk about a trade, etc. But I think Pitt and Hill are both very good. Chris Pratt is good. I would love to know why Robin Wright played Pitt's ex in the movie. It's a very minor role.
Browne: Love the scene between David Justice and Hatteberg: "What is your biggest fear?" Justice asked Hatteberg. "The ball being hit in my general direction." Hilarious.
Footer: There were several moments that did make me laugh out loud.
Zolecki: But the tug of war between old school vs. new school rings true, in my opinion. I think there's still a lot of angst there today.
Browne: I love the salty-dog scouts making their points to the new-age Beane and watching him cringe where at one point, he says, "la la la la la."
Merkin: I wonder how realistic the entire acquiring Rincon scene really is.
Sheldon: Throwing the names on the magnet board was great.
Browne: I keep meaning to ask Dave Dombrowski if he really had to pay for the A's soda machine.
Footer: Let's conclude with an around-the-horn rapid fire: Best character of all four movies?
Merkin: James Gammon as Lou Brown. But Bob Uecker gets like an emeritus award because he's great at everything.
Browne: I'd have to go with Crash Davis. Crash is the ultimate baseball lifer. Who wouldn't want to have a beer with that guy and talk ball and life?
Zolecki: I love Crash Davis because you can really feel how much he loves the game, respects the game and how much he cherished those 21 days in the big leagues.
Footer: I'm sticking with Jake Taylor (Tom Berenger's character in "Major League"), because that's what my 17-year-old self would want me to do. I also want it on record I saw "Major League" three times in the theater the week it was released.
Ladson: I agree with Ian on Crash, but Willie Mays Hayes is my favorite.
Sheldon: I have to go with Crash Davis as well. I'd drink beers and learn about baseball with him any day.
DeNicola: It's a toss-up between Jake Taylor and Crash Davis for me. As a huge Roy Kent fan on "Ted Lasso," I'm sensing a theme...
Footer: Past-their-prime has-beens FTW!
Think one of these titles is the best baseball movie of all time? Return to MLB.com later this Spring to cast your vote and you could find yourself in Hollywood at the 2022 MLB All-Star Game presented by Mastercard in Los Angeles!