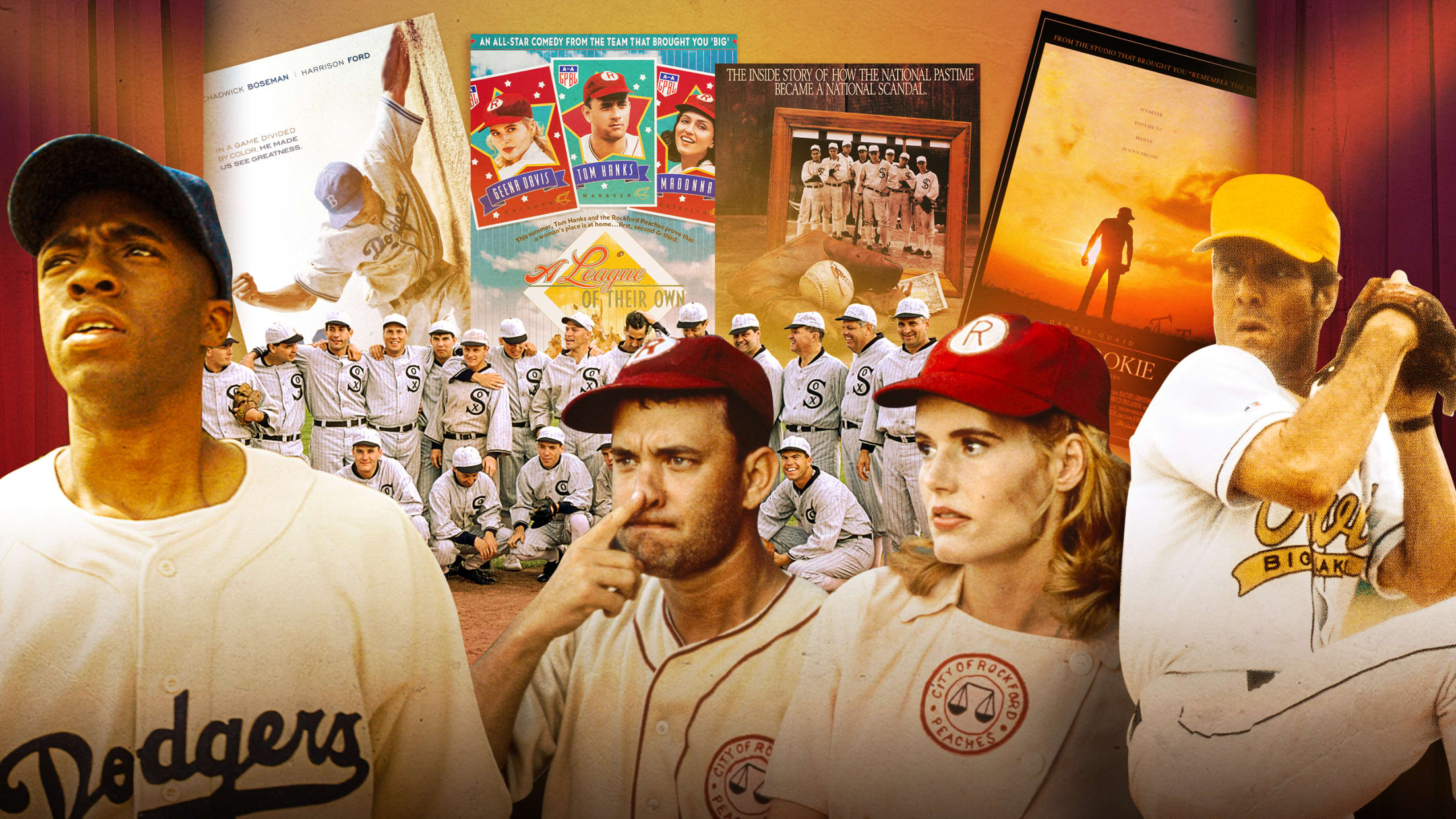 Scroll
Best baseball movies based on a true story
Among the dozens of movies that tell stories about baseball, some of the most beloved are those that were written for events that actually happened. "Based on a true story" films bring a slice of history back to life, and, if effective, make us think (and debate).
Today, we continue our movie roundtable series with four movies known for being true-to-life: "A League of Their Own," "42," "The Rookie" and "Eight Men Out." Our panelists -- Mark Bowman, Ian Browne, Christina DeNicola, Alyson Footer, Steve Gilbert and Bill Ladson -- conducted a spirited debate, diving into the nuances of each film.
A note on the selection process: All movies debated were placed into brackets, which brought forth a little bit of a conundrum, given the high volume of terrific baseball movies that could easily fall into more than one category. "Best Ensemble Cast" was probably the most wide-ranging; after all, it's fair to say 80 percent of all baseball movies had A-plus, A-list casts.
But we placed movies in only one bracket each, which is how "A League of Their Own" ended up in Based on a True Story and not Best Ensemble. Clearly, this classic fits almost every category -- because it is a nearly flawless film.
Previous movie roundtables:
• Best ensemble
• Best Hollywood ending
• Let the kids play! Best baseball movies featuring children
Alyson Footer, editor/moderator: Baseball movies draw a wide range of opinions. Some people, for example, love "Major League," some don't. Most love "Bull Durham," but not everyone. But it seems like everyone loves "A League of Their Own." Fair comment?
Ian Browne, Red Sox beat reporter: Oh my gosh. "A League of Their Own" is such a good movie. I watched it yesterday maybe for the first time since I saw it in the theater in 1992. I honestly forgot how good it was. Geena Davis is just spectacular in this. I love her sibling bond/rivalry with her sister.
Christina DeNicola, Marlins beat reporter: There may be no crying in baseball, but there's one thing for certain: You've got to be a robot if you're not teary-eyed by the end of it.
Footer: I fully boo-hoo every time, and I've seen it 30 times.
Steve Gilbert, D-backs beat reporter: I think "A League of Their Own" is one of the most, if not the most, underrated baseball movies.
Browne: Agree. I was thinking that as I re-watched. There are no flaws in that movie. Some baseball movies seem bound to go over the top with schmaltz. This really seemed so genuine.
Bill Ladson, MLB.com reporter: Prior to 1992, my all-time baseball movie was Pride of the Yankees because Gary Cooper did a great job playing Lou Gehrig. But then I saw "A League of their Own" -- Penny Marshall did one heck of a job directing the film. I thought Geena Davis was an actual baseball player. My favorite scene was Davis and Lori Petty colliding at the plate. I thought I was watching a real game. The song, "This Used to be My Playground," by Madonna, brought tears to my eyes because the lyrics reminded me so much of the time I played baseball in the Astoria Projects in Queens, New York.
DeNicola: That song for the closing credits, and with the actual ballplayers on the field?!
Gilbert: The best-ever line in a baseball movie comes from "A League of Their Own" and it's not the "no crying" one.
I think the scene when Dottie is leaving and she says to Jimmy Dugan that it just got to be too hard and he comes back with "It's supposed to be hard. If it were easy, everyone would do it. The hard is what makes it great." -- That spoke to me as someone who has been around the game for a long time.
Browne: Unlike most baseball movies, the ending leaves you really conflicted. Because you've become attached to Geena's character Dottie and her sister Kit, who is played wonderfully by Lori Petty, you don't want either team to lose the World Series. The play at the plate, where Kit rams into Dottie and the ball squirts free, is a perfect ending.
Deep down, you wonder if maybe Dottie purposely let it get away.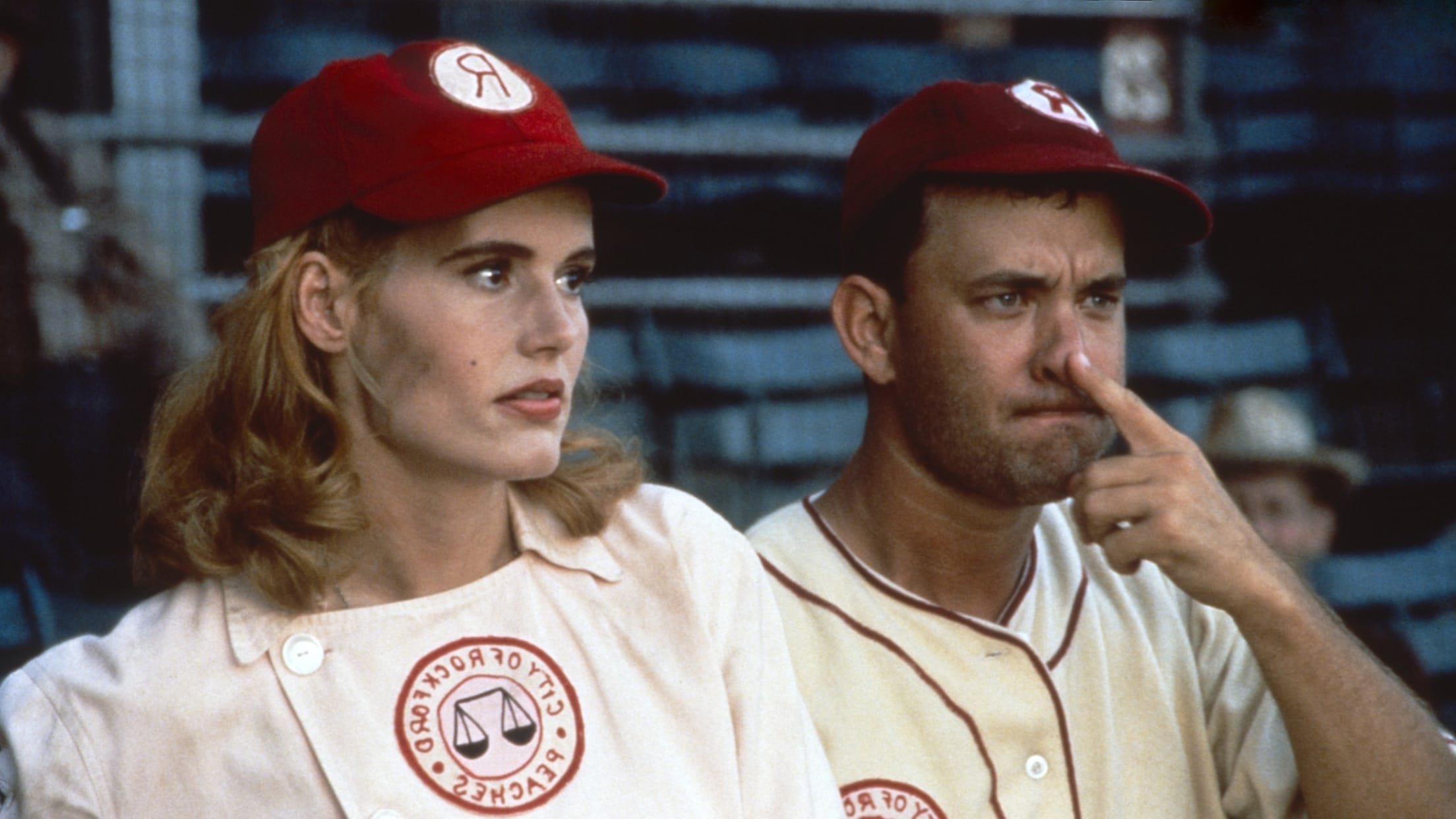 Footer: She definitely did.
DeNicola: There's still debate about whether she dropped it on purpose! When you can keep the people talking this many decades later, that's impressive.
Browne: Yeah, that's why I think it was so well done. There's ambiguity. Like, maybe she subconsciously dropped it!
Ladson: I think she didn't drop the ball on purpose.
Also, I loved the part when Lori Petty threw the rock after she was traded.
Mark Bowman, Braves beat reporter: "A League of Their Own" is one of those movies you stop to watch every time you find it while channel surfing. The comedy Jon Lovitz, Tom Hanks, Rosie O'Donnell and Madonna provide is tremendous. The movie provides a good feel what the women experienced while playing in this league. So, it successfully blends comedy and history.
Browne: Amazing to think that in 1992, Tom Hanks was well-established as mainly a great comedy actor. We go back and watch the movie now realizing he became one of the best actors of our lifetime, playing so many huge roles from "Forrest Gump" to "Philadelphia" to "Cast Away" to "Saving Private Ryan," and on and on. He was fantastic as Jimmy Dugan, basically falling asleep at the games after taking over the Rockford Peaches in the early scenes, and then falling in love with the team to the point that he bypasses a Triple-A job at the end of the movie so he can keep managing these women.
The arc of Jimmy's character -- from a lost booze-bag to someone who gets his life back together -- is really well done. And no line has ever stood up more than, "There's no crying in baseball!" Jimmy would not have been happy with what he saw in the 2003 Red Sox Game 7 ALCS clubhouse when giant men like David Ortiz were slumped over a couch sobbing.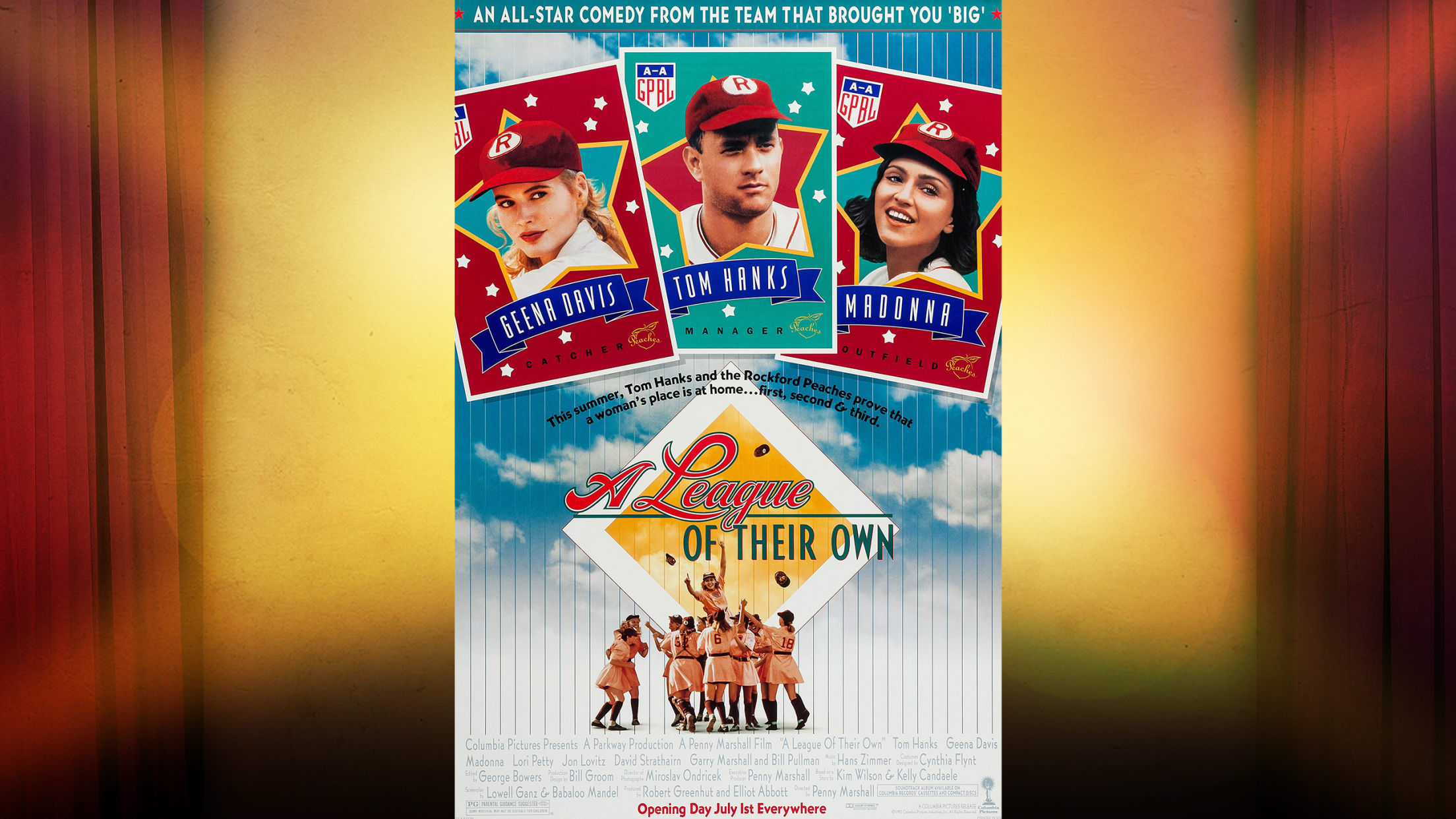 Bowman: I just don't know why Kit didn't intentionally walk her sister with first base open in the ninth inning of Game 7. Guess she was just setting up the chance to score the dramatic winning run in the bottom half.
Footer: Some of the real-life women who played in the AAGBPL have done a lot of interviews about the movie over the years, and I love that they all say it's pretty true to life. The only thing they've quibbled with was the way the chaperones were portrayed. Shirley Burkovich said the chaperones were among the most important people in the players' lives; a lot of them were barely out of their teen years and living away from home for the first time. Chaperones were hugely important, not nuisances. That's pretty much the only thing the real players took exception with.
DeNicola: So much of the film still resonates to this day. There's a line -- and I'm paraphrasing -- that Rosie O'Donnell's character says about how she was always a "weird girl, strange girl" just because she could play. It doesn't happen as much now, thankfully, but if you're a girl playing sports you're seen different. Happened to me.
Footer: The end scene, when they all pour into the Hall of Fame to see the exhibit for the first time, was so well done.
Gilbert: It brought it all together at the end. Seeing Stillwell, who lost his mom ... pretty touching.
Ladson: One of the best endings I ever saw.
Browne: This honestly might be the least-flawed of all baseball movies.
DeNicola: So well done! I had a chance to meet a few of the ballplayers at the 2015 All-Star Game. Still one of my favorite moments. I got chills.
Footer: Three members of the AAGPBL -- now in their 80s and 90s -- attend MLB's Trailblazer Series (a baseball tournament for girls ages 9-11) every year. They sit in the stands and literally watch these games from morning until the end of the day. Maybelle Blair (92 years old at the last tourney) brings her glove with her -- signed by Joe Torre -- and asks the kids to play catch. A few have taken her up on it. She still has a strong arm and pinpoint aim.
Let's move on to "The Rookie." I re-watched it recently, and while I was "meh" on the storyline as a whole, I did find myself getting a little emotional when Jim Morris got news of the callup to the big leagues, and when he got word in the 'pen to start warming up. During my years covering the Astros beat, there was nothing I loved more than covering guys when they got their first call to the big leagues. It never, ever gets old. I felt like the way they portrayed it in "The Rookie" was pretty close to how this stuff happens.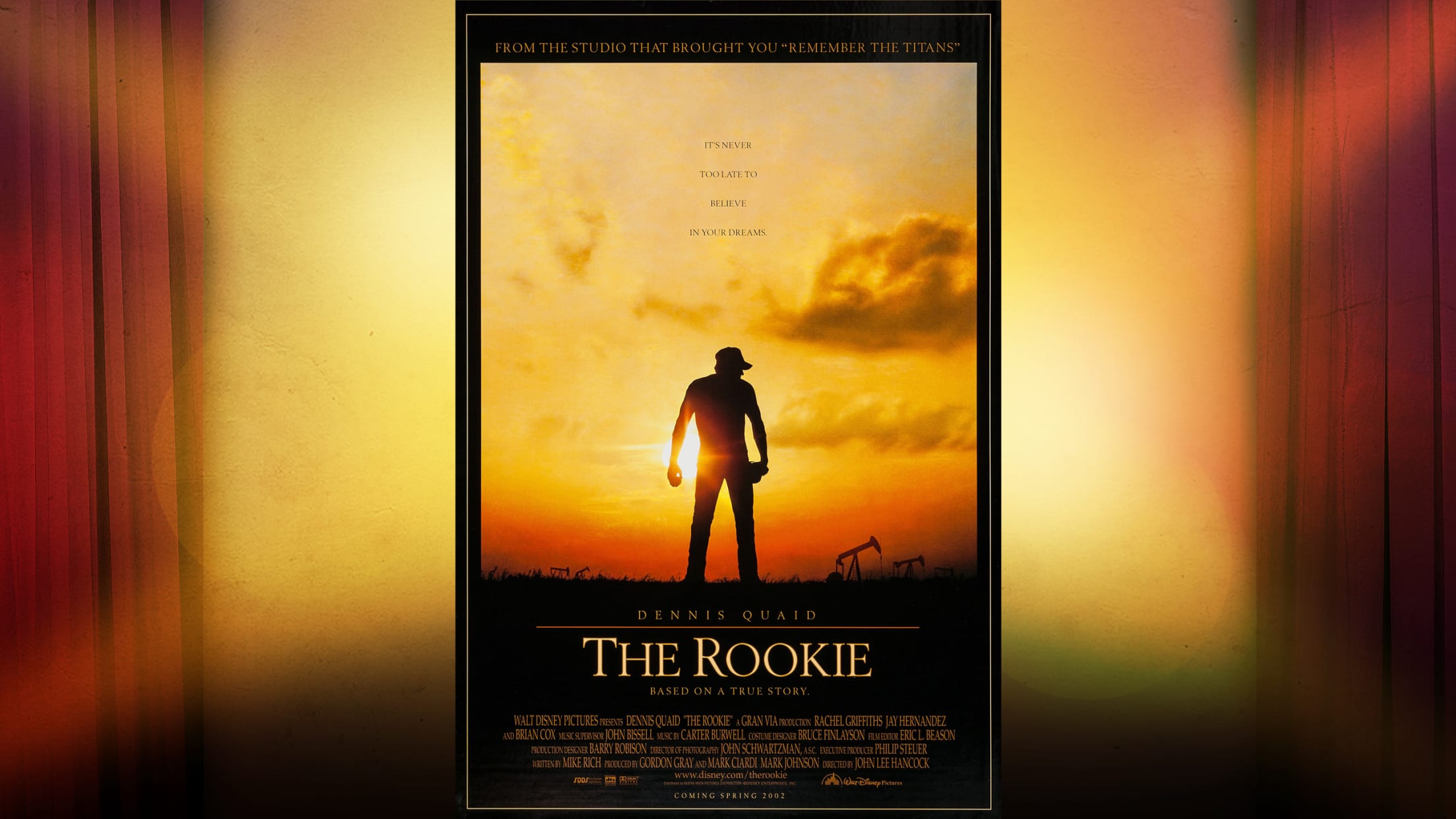 DeNicola: It was a great reminder the Rays have been finding pitchers out of nowhere for years!
Browne: Yes, "The Rookie" is not a great movie. But it's one of those that leaves you entertained as you sit in your seat. It is kind of like a "comfort food" type of movie.
Gilbert: It stayed pretty close to the actual story as well.
Ladson: I thought this was going to be a boring film, but I was impressed with the way Dennis Quaid played Jim Morris. Quaid's perseverance was convincing -- going from a chemistry teacher/high school baseball coach to having a cup of coffee with the Devil Rays. The confrontations that Morris had with his father were sad because the father moved the family too many times when Morris was a kid.
Browne: Dennis Quaid, to use a bad baseball cliché, knocks it out of the park as Jim Morris. Forget about the movie for just a second. What a great human-interest story, if probably turned up a few notches by Hollywood. Looking back, I'm surprised more wasn't made of the actual story when it happened in 1999. Must have been because MLB.com wasn't around yet!
Gilbert: It felt more like a family-relationship movie than a hardcore baseball movie, if that makes sense.
DeNicola: Exactly! The father/son dynamic, in particular. Quaid not wanting to become his father, and yet still wanting his approval. I've lived in Miami my whole life, so seeing the impact one person's accomplishments can have on a small town is truly remarkable and moving.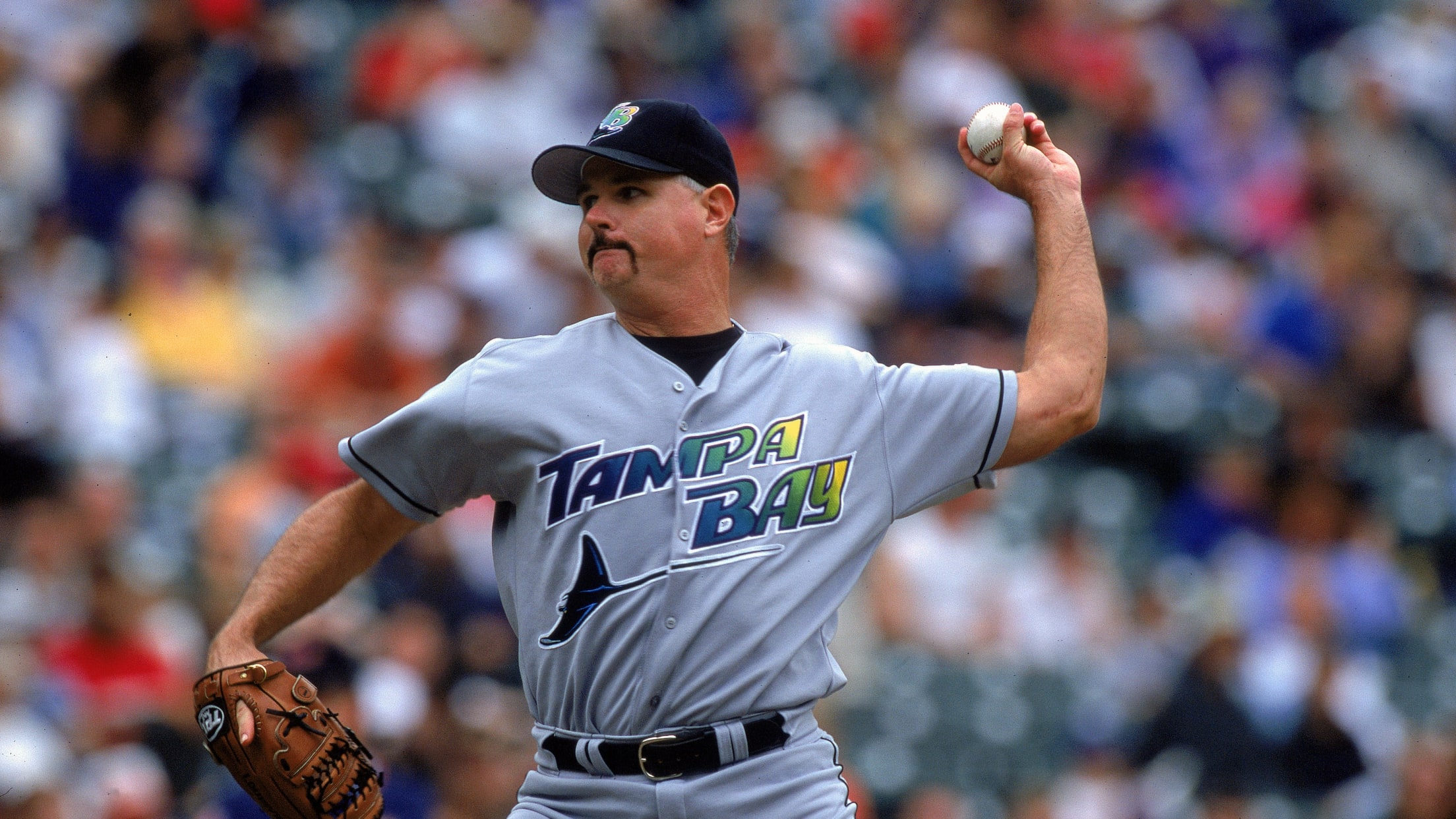 Browne: Baseball movies so often seem to come down to fathers and sons, right? No different here. Jim had a very icy relationship with his dad, who moved the family around a lot and had little interest in Jim's love for baseball. But Jim eventually realizes he was also being stubborn with his dad and took some accountability for the relationship not being what it should have been. Jim didn't know his dad was at his debut until he saw him out of the corner of his eye while he was talking with reporters. That is pretty touching when he gives his dad the ball. His dad said poignantly after missing so many games in Jim's youth, "I wasn't going to miss this one." And it was Brian Cox, the amazing lead character of Succession!
Ladson: I loved that part of the movie.
Footer: A nice father-son portrayal, and I believe we're 6-for-6 in roundtable movies in the category of unrealistic media portrayals.
Browne: Yes, but spoiler alert, that streak might end before this discussion is over!
Maybe it is over the top, but I liked the scene when Jim got out of his car at one of those speed trap spots on the road and fired the ball and thought it said '76'. Then for dramatic effect, when he turned his back, the bulbs on the original '7' fill out and become a 9.
DeNicola: I would love to know if that actually works.
Bowman: "The Rookie" was a story that might have seemed too good to be true for Disney before it actually happened. Love the story. But the movie itself just felt average. It's certainly not one I look forward to finding when looking for something to watch.
Footer: Next up: "42." I saw it twice in the theater in one week, but while I'd like to say it was because I was so moved by the movie (which I was), it was more because Chris Meloni played Leo Durocher, and I needed to see that more than once.
But "42" was really well-done, and the subject matter was a tough one, given the language and abuse that Jackie Robinson had to endure while he broke the color barrier. From everything we've read on this piece of our history, the movie seemed to jibe with reality.
Gilbert: Considering Rachel Robinson thought it accurately represented what went on, I think it's safe to say you're right about it being realistic.
DeNicola: Revisiting "42" for the first time since Chadwick Boseman's death was very emotional. He was such a great actor, and from all reports, an even better person.
Browne: I loved the movie. I actually got to go to a private screening with the Red Sox in 2013 at a theater in Fort Myers. I remember Jackie Bradley Jr. being blown away and really impacted by the movie.
Ladson: I saw the Jackie Robinson story, which starred Jackie Robinson, and Chadwick Boseman was better playing Robinson in "42." This is the movie where Boseman made a name for himself, and what a job he did. I loved the way he showed his emotions while facing racism, especially when he was facing Ben Chapman of the Phillies. Boseman broke his bat and nearly had a nervous breakdown.
I also loved Harrison Ford as Branch Rickey. I thought I was going to love the Pee Wee Reese character, the person people said helped Robinson the most in real life, but I ended up loving the Eddie Stanky character more. I liked the confrontation between Stanky and Chapman. Stanky was always defending Robinson and challenged Chapman to a fight for all the racist language Chapman used against Robinson.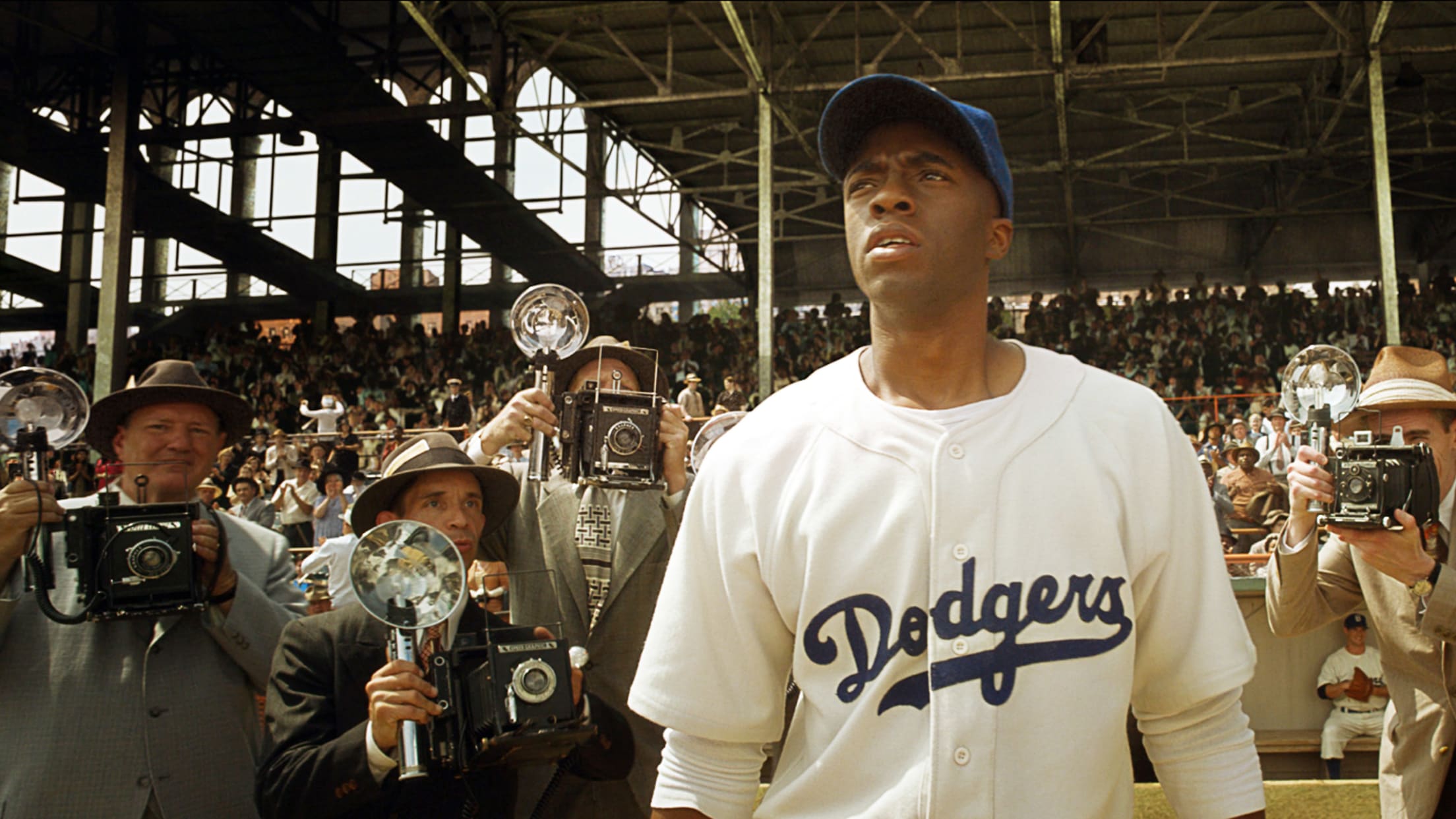 Browne: Two words: Harrison Ford. He is a dominant force as Branch Rickey throughout the entire movie. Nearly every line catches your attention. "I want someone who has the courage not to fight back!" That's powerful stuff. I just loved him in this movie. Never could have pictured him in such a role when I saw "Raiders of the Lost Ark" when I was like 10.
Bowman: I do want to believe Branch Rickey was exactly how he was portrayed by Ford.
Browne: The Durocher character was so outstanding that I'm bummed he was suspended for the 1947 season. I would have loved to see him manage the whole season. Durocher would have destroyed Ben Chapman and that would have been amazing.
Gilbert: The scenes with the Phillies manager are really hard to watch, but it really slaps you in the face with what Robinson had to face. You think you have an understanding of it, but you see those scenes and you're reminded of just how horrific it truly was.
Footer: Former lefty reliever C.J. Nitkowski played the pitcher during the horrible scene with Chapman and C.J. said later he was just counting the minutes until that day of shooting was over. It was terrible for everyone.
DeNicola: Got to show some love to André Holland as well, who was superb in Moonlight and did a nice job as Wendell Smith.
Bowman: "42" is one of the best sports films you will ever find. One of the best compliments I can give is that I didn't want to see it end. I wanted to continue to follow a story I know pretty well. But that's because Boseman, Ford and so many others gave you reason to believe you truly were a part of that great journey.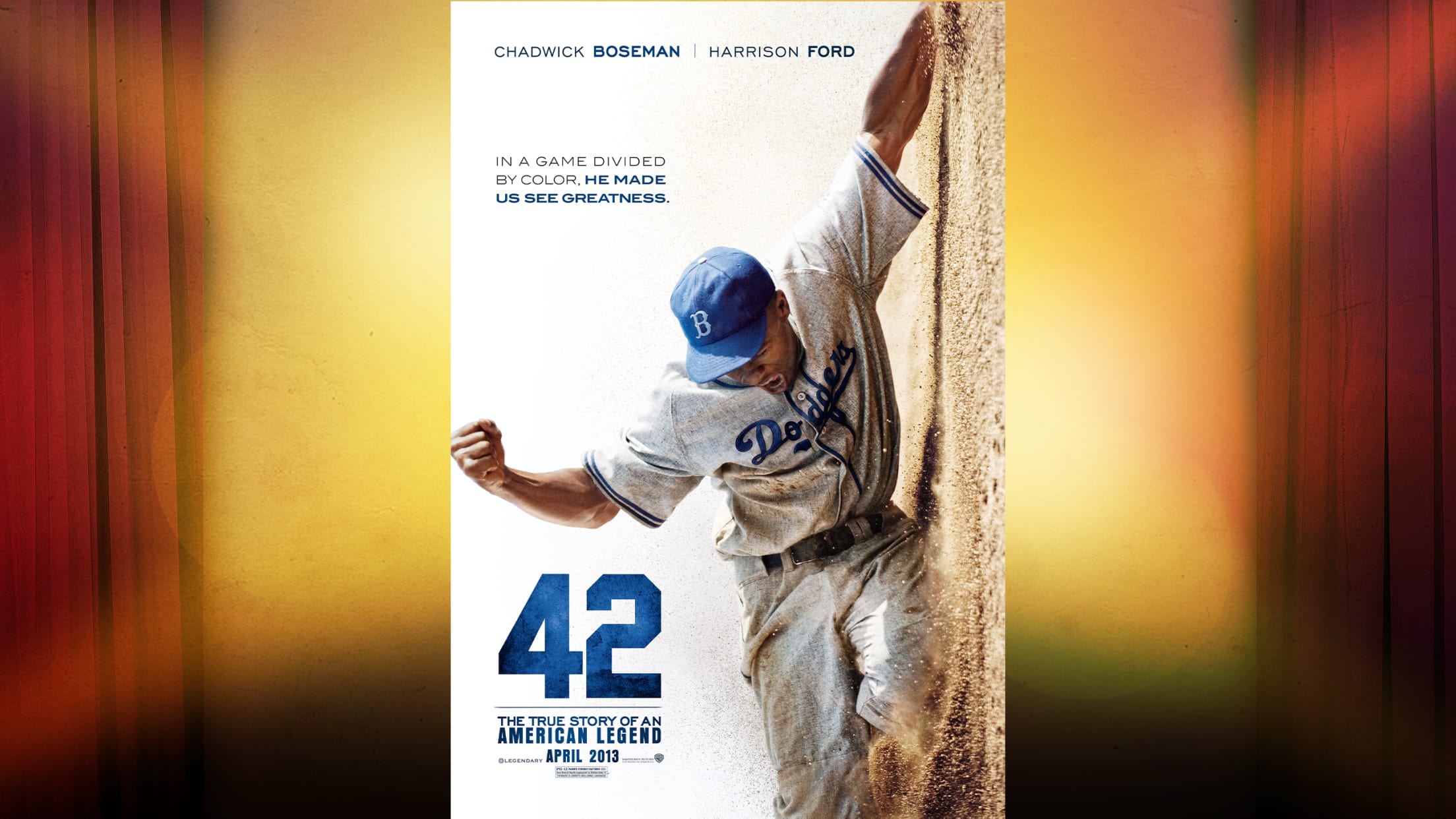 Browne: I agree that Boseman was amazing as Jackie Robinson. So much so that it hit me like a truck when I heard about his death. I think he did a great job of not romanticizing the character. Even though others thought he was a hero, Boseman's performance shows what an internal struggle this all was for Jackie.
Footer: Another tear-jerking moment for me was the very end when they showed all the photos of real-life Jackie and Rachel Robinson.
Gilbert: When you see Jackie with the grey hair. It hits you the toll this took on him physically.
Browne: I noted in a previous roundtable how the media is never portrayed accurately or well in baseball movies. This might be an exception. I loved Wendell Smith -- played by André Holland -- in this movie. "I'm going to be your Boswell," he tells Jackie early in the movie. All the scenes with him are great. He tells Jackie he needs to "slow things down" with the media, just like he does when he is playing.
Ladson: I wished the movie went past 1947. I wanted more. I wished they showed Jackie Robinson's entire baseball career.
Browne: I thought the sportswriter character -- the sportswriter Holland was cast to play -- comes off as very believable for that era.
Ladson: But he had to do his work in the stands. I hated it.
Gilbert: His character was great. I think it showed that racism wasn't just a baseball issue, but how it impacted others as well. I mean, Wendell couldn't sit in the press box. It's so hard to understand how that's even possible.
A good reminder that Jackie paved the way not just for baseball players of color, but from all walks of life.
Bowman: Yeah, I thought Holland was great. Wendell Smith played a significant role in this journey. He influenced the thoughts of countless individuals from the time Jackie signed with Brooklyn.
DeNicola: And he warned Jackie about the types of questions he would get as soon as he stepped on the field for Spring Training that first day!
Browne: It was just such a nice thing that at least one baseball movie decided not to make a sportswriter look like a bumbling idiot! In fact, quite the opposite.
Footer: "42" is a movie that needs to be shown in every classroom of every school in America.
DeNicola: Absolutely. Heck, to everyone in America.
Bowman: I loved the scene when they were in Cincinnati and Pee Wee Reese stands with Jackie before the game starts. Loved hearing him say something like, "Maybe we can all wear 42 tomorrow so that they won't be able to tell us apart."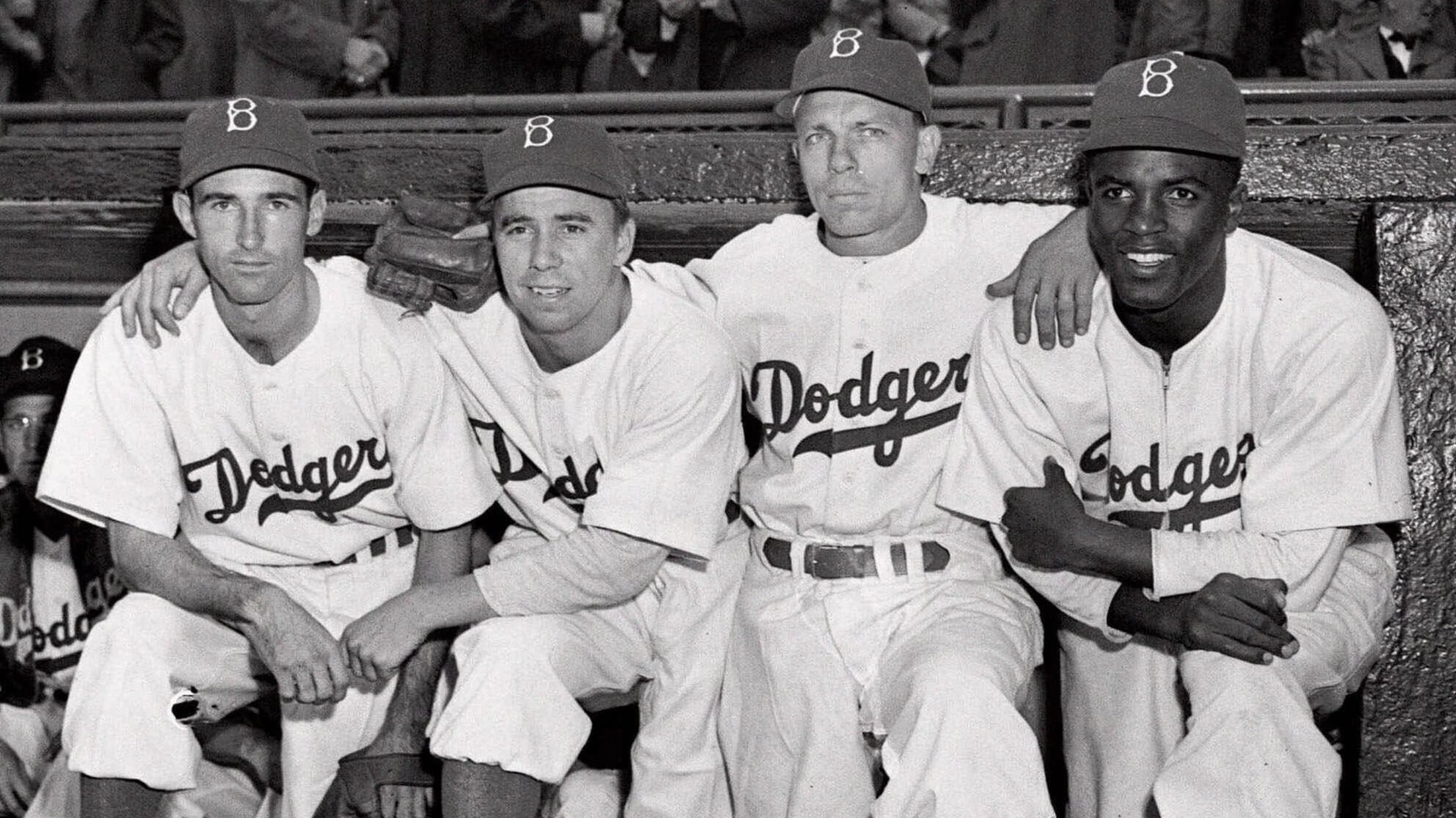 Footer: And look at what we do now every April 15 ...
Browne: Prophetic!
Ladson: A lot of historians say that pat on the back was fake. I hear a lot more about Gil Hodges' role with Jackie Robinson.
DeNicola: I suppose with any "based on a true story," we have to accept some creative licenses will be made for the sake of cinema.
Browne: I would have liked one highlight from the 1947 World Series. That's my only baseball critique. They played the Yankees, right? That's pretty huge.
Footer: Let's move on to "Eight Men Out." Guilty pleasure for me (see what I did there). I love the cast. John Cusack is one of the great actors of our time.
Gilbert: I fell in love with the Buck Weaver character. When Buck plays with the kids on the street and his scene with Kid Gleason before Game 1 and talking about playing the game for free. I felt for Buck at the end.
Browne: By far, one of the most serious baseball movies I've ever seen. Not a lot of frills or comedy. Just one, big, fat scandal. A little bit of the beauty of the movie is what we still don't know to this day. How involved was Joe Jackson in the scandal? Is he mostly as innocent as the movie makes him seem? Eddie Cicotte was very happy to be on the take, but even he had mixed feelings when he won Game 7 to keep his team alive in the series, demanding to his manager that he wanted to pitch that game.
DeNicola: This was probably my least favorite of these films, but mainly because it didn't deal with an underdog. What was it about the late 1980s and baseball films?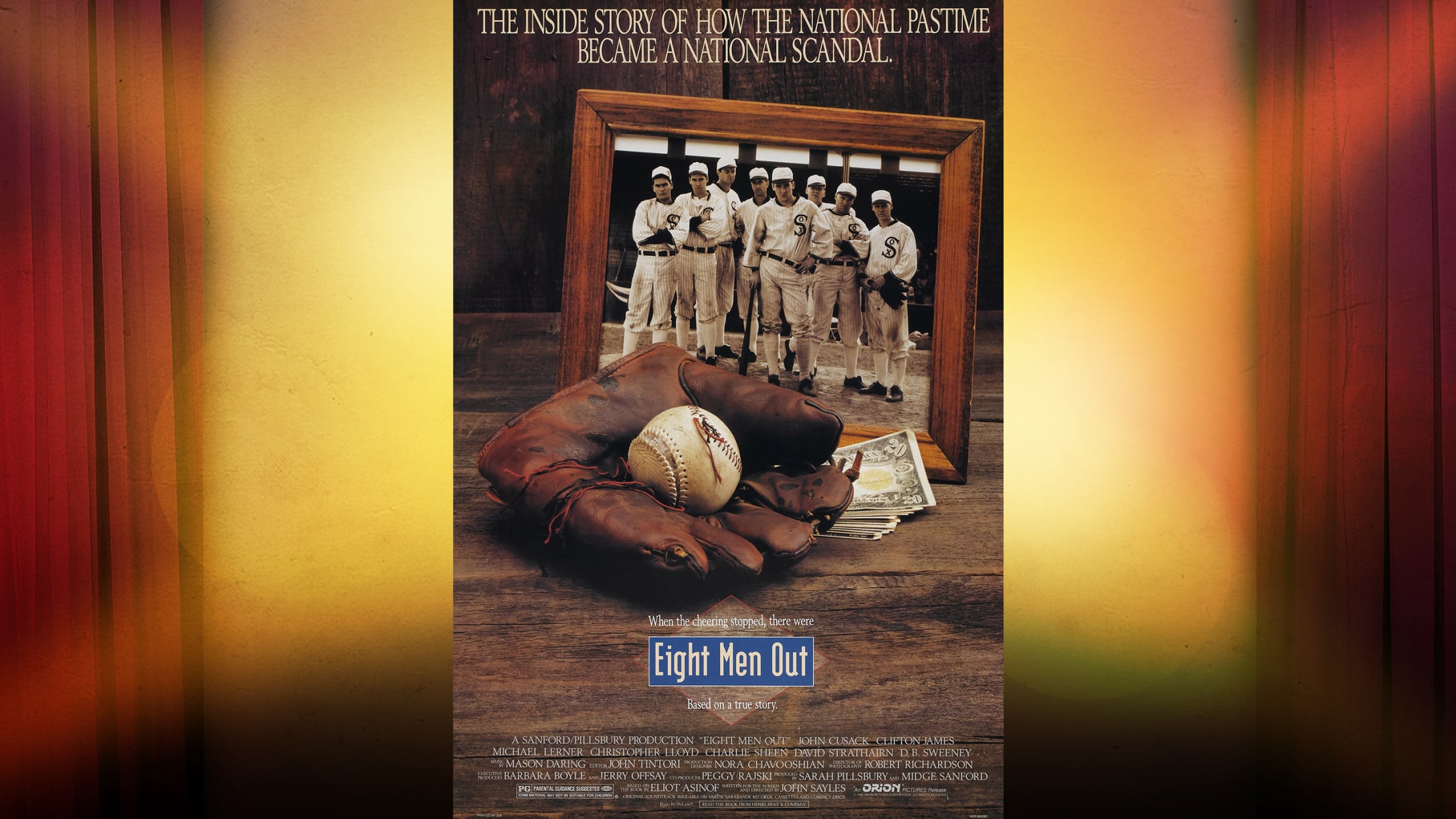 Browne: I agree that it wasn't a wildly entertaining movie to watch. But to me, that doesn't detract from it being an important movie.
Ladson: It's always interesting to see how baseball was played back in the early 20th century. While I feel bad for Buck Weaver and Shoeless Joe Jackson, the movie made me feel sad for Charles Comiskey, the owner. He was expecting to win the 1919 World Series and was furious that he didn't get the big prize. It's sad the White Sox decided to fix the series because they didn't like the way they were getting paid by the owner. John Cusack was outstanding as Weaver and he convinced me that he was innocent and never should have been suspended.
Gilbert: At least they got Shoeless Joe hitting from the left side (properly), unlike Field of Dreams. I agree, Bill. I felt worse for Buck than I did for Shoeless Joe.
Browne: John Cusack does a great job as Buck Weaver. He certainly acts as if he had nothing to do with the fix, and it is believable by how he played in the series, yet he was ultimately banned from baseball. The movie just gives you a lot to think about.
I think Buck just had a much stronger personality than Joe. At least if you believe their portrayals in the movie. Joe seemed like kind of a weak character. He just loved to hit and was great at baseball. Maybe not a lot going on between the ears though?
Ladson: Weaver wasn't able to prove his innocence.
Browne: How about the scene with Lefty "0 and 3 in the World Series" Williams when the gambler asks him if he likes his wife? Lefty confirms that he does, and the gambler tells him she will be dead if the White Sox win Game 8. No pressure, right?
Bowman: Count me among the many who have long been intrigued by Shoeless Joe Jackson. I thought the movie did a good job of stoking the debate about how much Jackson had to do with the fix. His play and production certainly didn't indicate he was throwing the series. But he was part of the conversation and didn't inform the team. Still feel bad for a guy who may not have realized what he was getting into.
Gilbert: I want to know if Landis was really swatting flies when the owners were trying to hire him.
Footer: I do think it's an important film to have been made, even if it's not award-worthy. When you see the actual games being thrown, you realize how disgusting it is.
Browne: Yes, it's really nauseating.
And the book and subsequent movie really brought this to the forefront and educated people about an important if very sad baseball scandal.
Gilbert: It really helped humanize the people involved.
DeNicola: Absolutely, and that's what you usually want to see in a film. You want the viewer to sympathize or feel bad for the characters because there are areas of gray. David Strathairn as Eddie is a perfect example.
Bowman: Yeah, it was a very important part of the game's history. Maybe gambling had affected previous World Series. But we haven't heard of any other similar fixes over the past 100 years.
Footer: Let's conclude with this: It's a Saturday afternoon, and you're on your way out to run errands. You do one last scroll through the cable guide and "this" movie has just started.
Rank from 1-4 -- with one the most likely -- which are you going to watch, and blow off running those errands?
Browne: "A League of their Own," "42," "Eight Men Out," "The Rookie."
DeNicola: "A League of Their Own," "42," "The Rookie," "Eight Men Out."
"A League of Their Own" is one of my favorites -- regardless of baseball or sports -- of all time.
Ladson: "A League of their Own," "42," "Eight Men Out" and "The Rookie."
Bowman: All I know is that Charlie Sheen came a long way from "Eight Men Out" to "Major League."
Footer: From throwing the World Series, all the way to the California Penal League.
Gilbert: "Eight Men Out," "42," "A League of Their Own," "The Rookie."
Bowman: "42," "A League of Their Own," "Eight Men Out," "The Rookie."
Think one of these titles is the best baseball movie of all time? Return to MLB.com later this spring to cast your vote and you could find yourself in Hollywood at the 2022 MLB All-Star Game presented by Mastercard in Los Angeles!