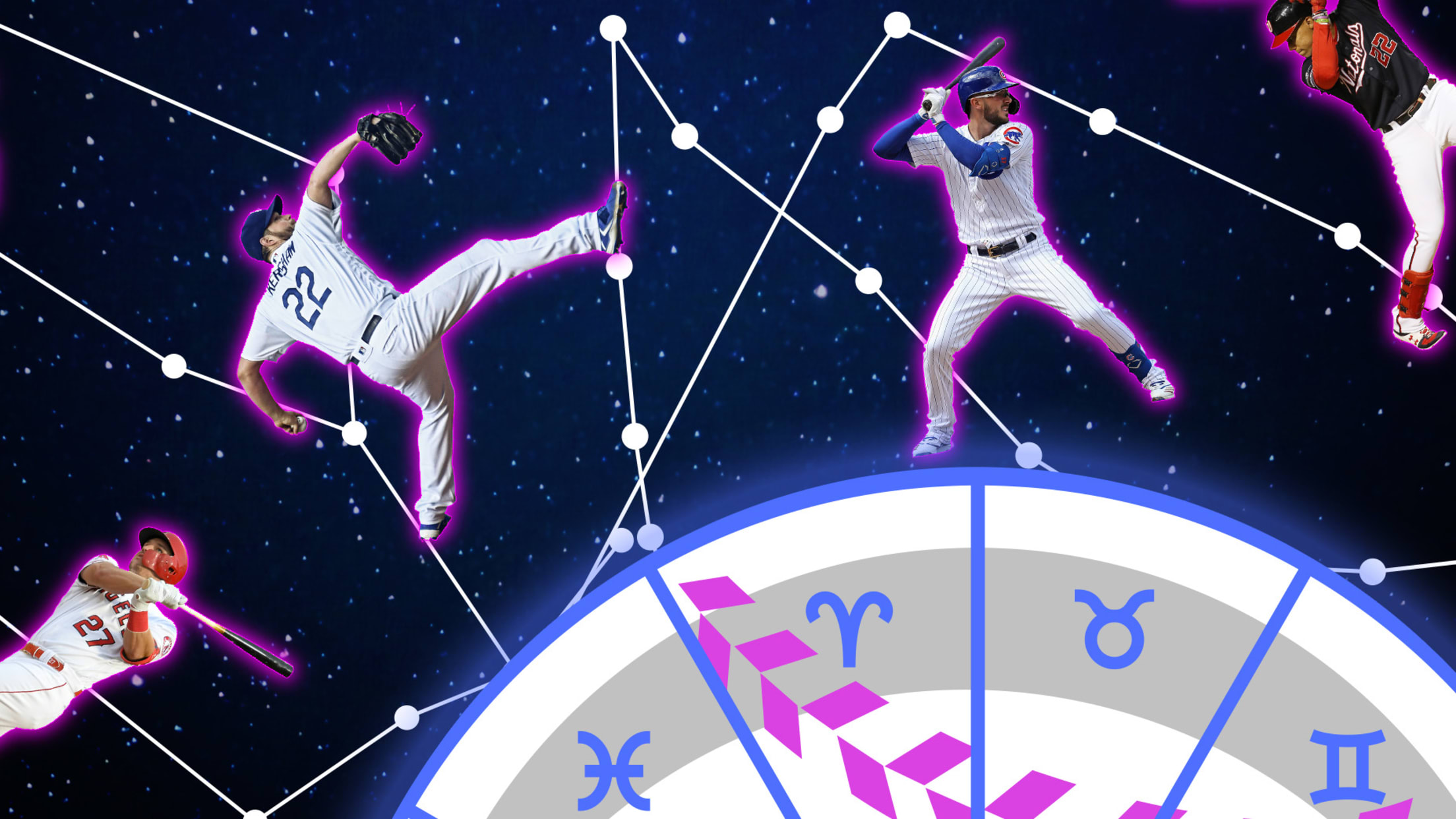 Scroll
October success not in the stars for Kershaw?
When we talk about stars in baseball, we're usually talking about players like Mookie Betts, Juan Soto or Mike Trout.
But not today. Today we're tilting our heads back and looking up at the actual stars. We're letting the cosmos tell us its secrets; we're going to let a host of heavenly bodies whisper in our ears. That's right: We're about to get astrological.
The astrology boom is huge – just pick a sharp-looking app like The Pattern or Co-Star or follow an astrologer on Instagram to see what the stars have to tell you about yourself.
"The big difference between now and other time periods is that now astrology is made accessible to everyone through books, the internet, and primarily social media," Rebecca Gordon told MLB.com in an email. Gordon is the astrologer for Harper's Magazine and has run the My Path Astrology School for budding astrologers for the past 13 years. "When Instagram happened, the interest appeared to rise exponentially, though that may just be because so many more people suddenly had access to it."
So, what can the stars tell us about our favorite players and teams?
According to Gordon, quite a lot. Both the sport and the practice rely on math and statistics.
"People oversimplify it and assume that [astrology] is general and only zodiac sign-based," Gordon wrote. "In fact, casting an astrological chart involves logarithms and advanced geometry skills are needed to actually do this work properly. Also many people do not know that as an astrologer, my job is really to be able to look at a lot of numbers, spot patterns and make predictions based on the data shown. This is essentially how astrological predictions are made."
We collected the astrological data of the league's active players and asked Gordon to share her insights about what we found out.
Like in the general population, zodiac signs are pretty evenly distributed among Major League players. But the most common sign (by a slim margin) is Virgo. Virgos, according to Gordon, "are known for efficiency and detail." In case you're wondering if players like Max Muncy and Paul Goldschmidt will have good seasons, "Virgo is an earth sign and in 2020, most of the outer planets (Uranus, Saturn, and Pluto) will also be in the fellow earth signs of Taurus and Capricorn. This will give Virgos extra stabilizing support this year, especially in areas of travel and media." That bodes well for another Virgo, David Price, who's had some recent experiences with travel and media.
Many people do not know that as an astrologer, my job is really to be able to look at a lot of numbers, spot patterns and make predictions based on the data shown.

Rebecca Gordon
But look out, Mike Moustakas and Noah Syndergaard: "The times to watch out for would be when there are retrograde planets in the career sector … Virgo players may not have their natural courage then, so look to dates May 13 – June 25 where extra effort must be taken."
What about zodiac sign distribution when it comes to position? Again, the margins are slim here, but not as slim as in the league overall. Second basemen are 14.7% Leos, catchers are 12.9% Aquariuses and the shortstop top spot is split – 13.2% Cancers and Virgos, each. Curiously, only one Aries -- a sign known for confidence or perhaps recklessness – plays games at short. (That astrological anomaly is the Brewers' Ronnie Rodríguez.)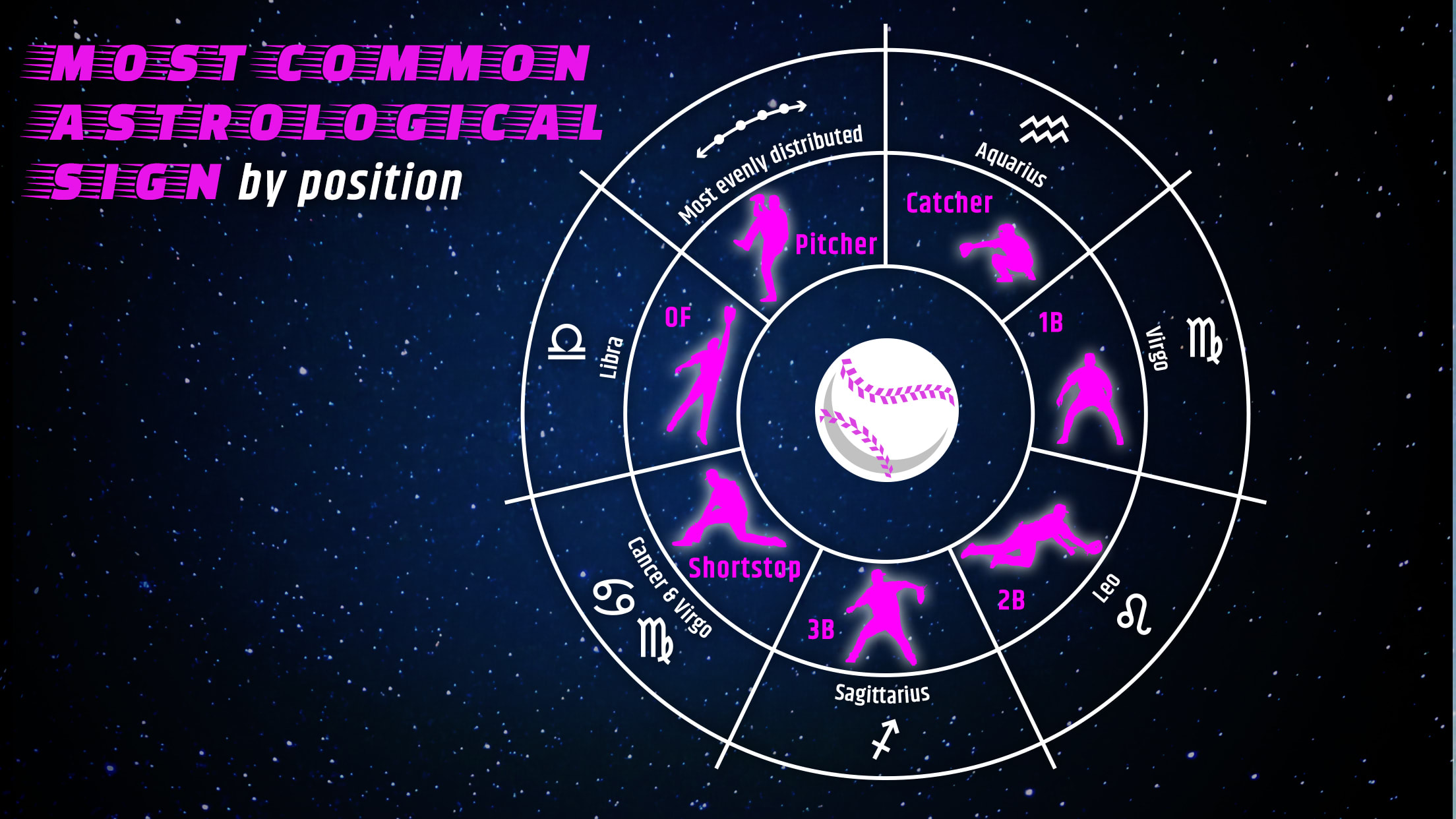 Now that that's out of the way, it's time to answer the question you really came for: Do the positions of the stars affect a player's performance? Our case study here will be Clayton Kershaw, specifically his infamously bad luck in the postseason. Kershaw, for those drawing their own charts, is a Pisces and was born on March 19, 1988.
"Players can … be most successful when they are not going through a challenging astrological transit like Pluto or Neptune on one of their planets. These transits can give a feeling of being 'under an influence.' … Kershaw was actually under some extremely hard transits in his postseason lulls," Gordon wrote. "The heavy planet of Saturn and Pluto were directly on his natal Mars making him question everything and not focus as well."
But if the Dodgers make a deep run this year, expect the ace left-hander to do a little better.
Kershaw was actually under some extremely hard transits in his postseason lulls. The heavy planet of Saturn and Pluto were directly on his natal Mars making him question everything and not focus as well.

Rebecca Gordon
"This year will be much better than last for Kershaw as last year the planet of restriction, Saturn, was transiting his planet of action – Mars, which is at 17 degrees of Capricorn. Now this year the opposite will be happening," Gordon explained. "Jupiter, the planet of expansion and good luck, will be going over his Mars at 17 Capricorn in the sky. These lucky opportunities and bouts of ease will happen three times, each with a 10-day glow on each side: Feb. 19, Sept. 6, Sept. 19. I do not see any struggles for him as the challenges of the last two years have finally come to an end."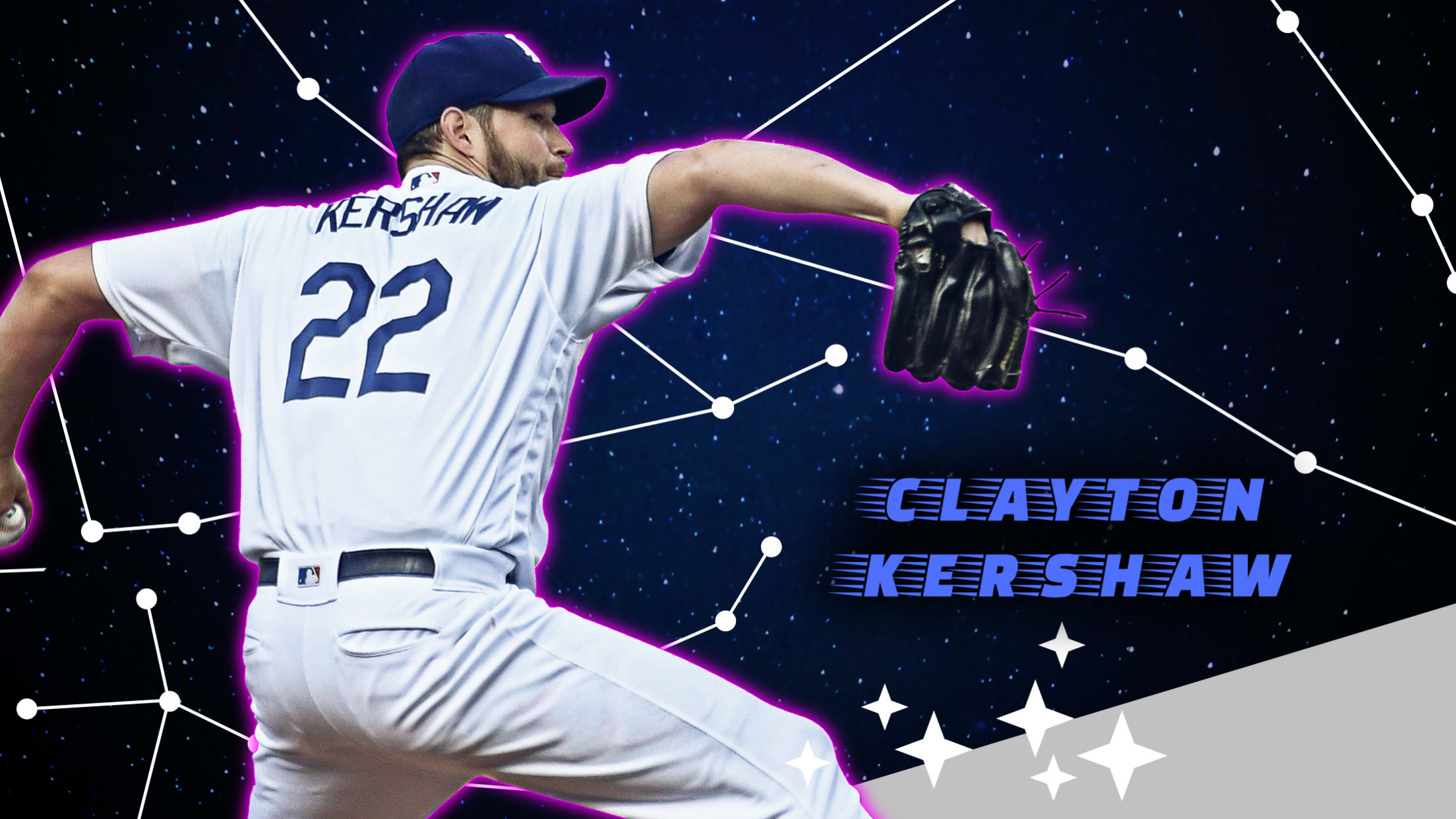 Hold on, though … will the Dodgers even win the NL West? The D-backs have a good number of Capricorns, and that might prove auspicious. "I would just add that Arizona … will likely have one of their better years," said Gordon, "… while Jupiter (planet of luck) will be moving through the sign of Capricorn in the skies in its once every 12 years cycle, Capricorns will experience some of their greatest wins."
(Of course, this could also apply to Kris Bryant, Dallas Keuchel, or any number of MLB's notable Capricorns.)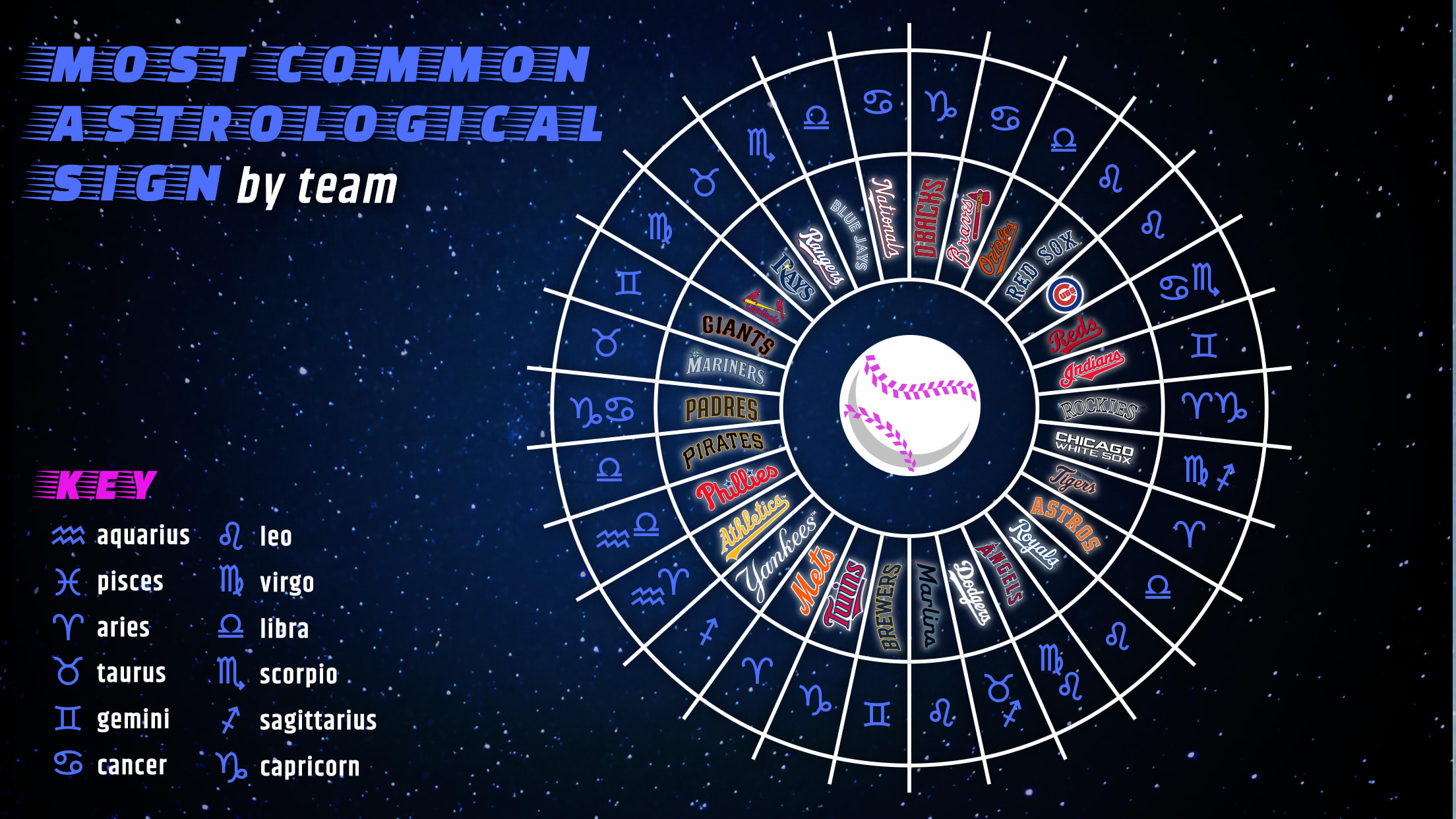 Let's talk about chemistry. Even if you've never tried to see how astrologically compatible you are with your crush (and come on, you have), you understand the importance of getting along. Perhaps nowhere is this more clearly reflected than between pitchers and catchers. Max Scherzer (Leo) and Kurt Suzuki (Libra) rode their successful combination all the way to a World Series title.
"A classic fire and air combo," Gordon wrote. "Max is the fire and Kurt brings the air. They know how to make magic happen."
But Twins starter José Berríos and catcher Mitch Garver might need to pay attention to the heavens.
"José is a Gemini -- known for quickness and skill -- and Mitch is a Capricorn, who is regarded more for durability and constitution. They have quite different natures, so to work well together, some adjustments may be necessary," Gordon said.
At long last, it's horoscope time. Gordon read the stars to determine Soto and Trout's futures, and here's what they can expect:
"Soto [born Oct. 25, 1998] is a Scorpio with his planet of action, Mars, in Virgo. This gives him the true Scorpio sharpness, combined with the precision and efficiency of Virgo. His greatest attribute is his pure undiluted focus [on] whatever he is doing. This can also become a hindrance if he fails to see the bigger picture ... His Solar Eclipse also is in his sector of vocation and this sets the whole year. Soto will be primed to learn new skills and engage in [new] sorts of contracts. July and August will shine for Juan, especially around media and his public image."
It's hard to imagine a month that doesn't shine for Soto, but July and August make sense – All-Star Week is July 8-14, and the Nats might be on top of the division in August.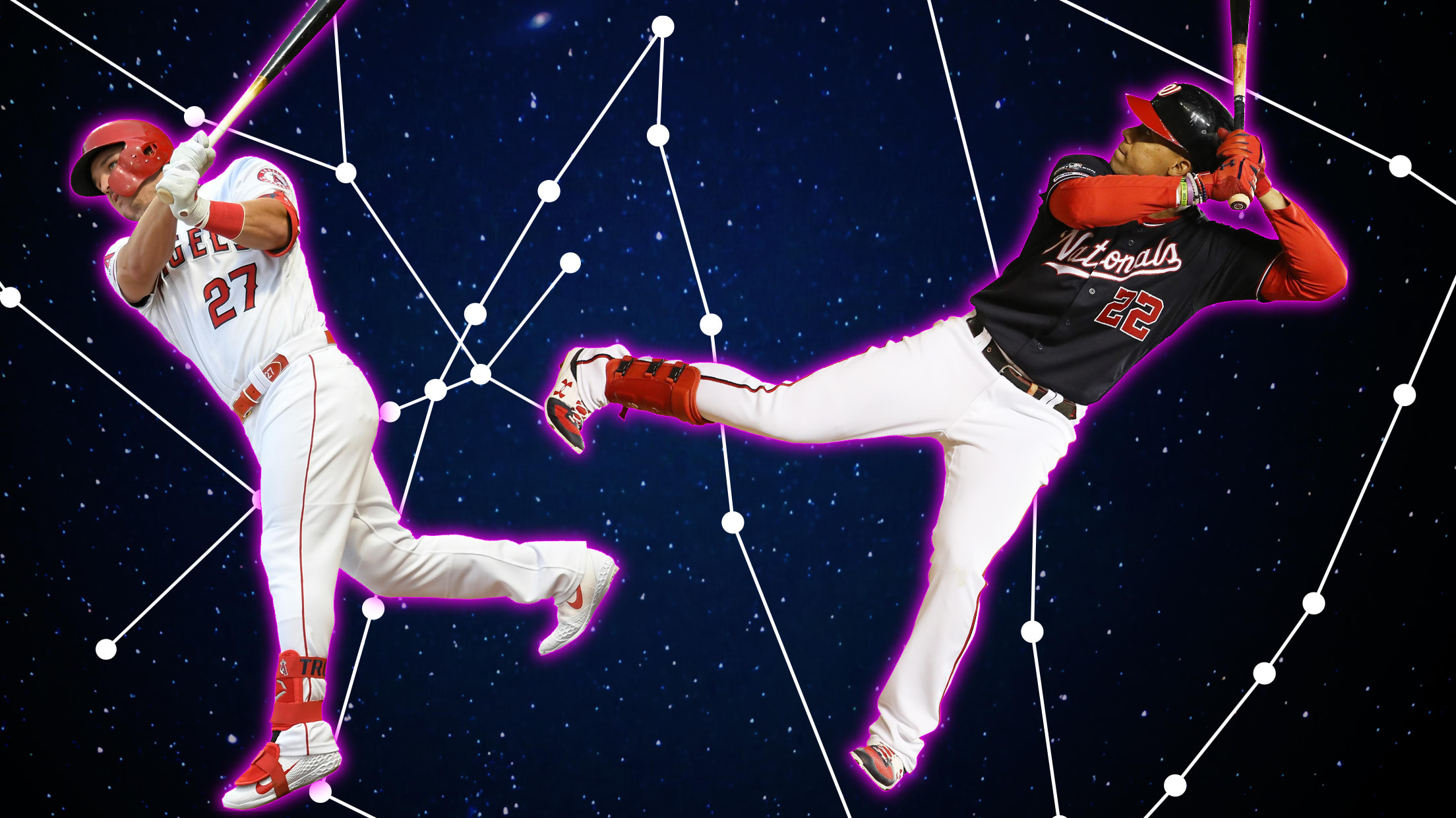 Let's see what's in store for Trout:
"Mike Trout is a Leo Sun who also has Mars in Virgo. This means that he is [also] most skilled in precision and efficiency … Trout has a Leo Sun near the planet Jupiter, also in Leo. This gives Mike a sense of showmanship and comfort in the spotlight. The Sun-Mars combination of Leo-Virgo shows leadership, though Mike needs to always make sure to keep an ear and eye open to the thoughts and feelings of others who surround him. Mike is naturally resilient, though this year he will have to take extra measures to stay healthy as eclipses move through the health sector. A new diet and exercise regimen may be essential to go even further."