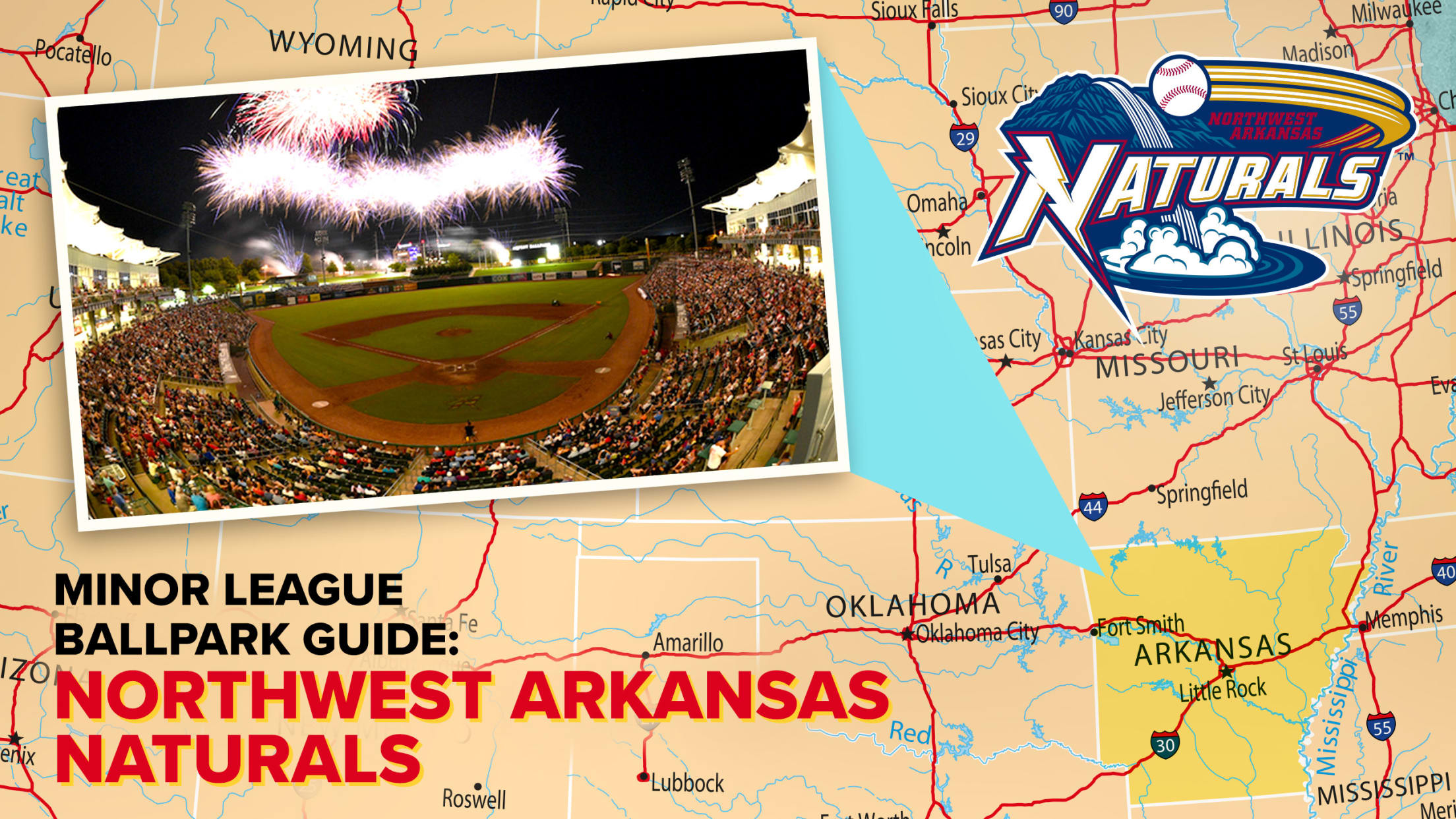 Scroll
Explore Northwest Arkansas's Arvest Ballpark
Welcome to Arvest Ballpark, located in Springdale and home to the Northwest Arkansas Naturals. Root for future Royal-ty amid a spacious and airy atmosphere amenable to sasquatches and chickens alike.
Northwest Arkansas Naturals (Double-A affiliate of the Kansas City Royals since 2008)
Established: 2008
League: Texas League
Ballpark: Arvest Ballpark (opened 2008)
Championships: 2010, 2021
Notable alumni: Bobby Witt, Jr., Whit Merrifield, Wil Myers, Jake Odorizzi, Will Smith, Salvador Perez, Mike Moustakas, Eric Hosmer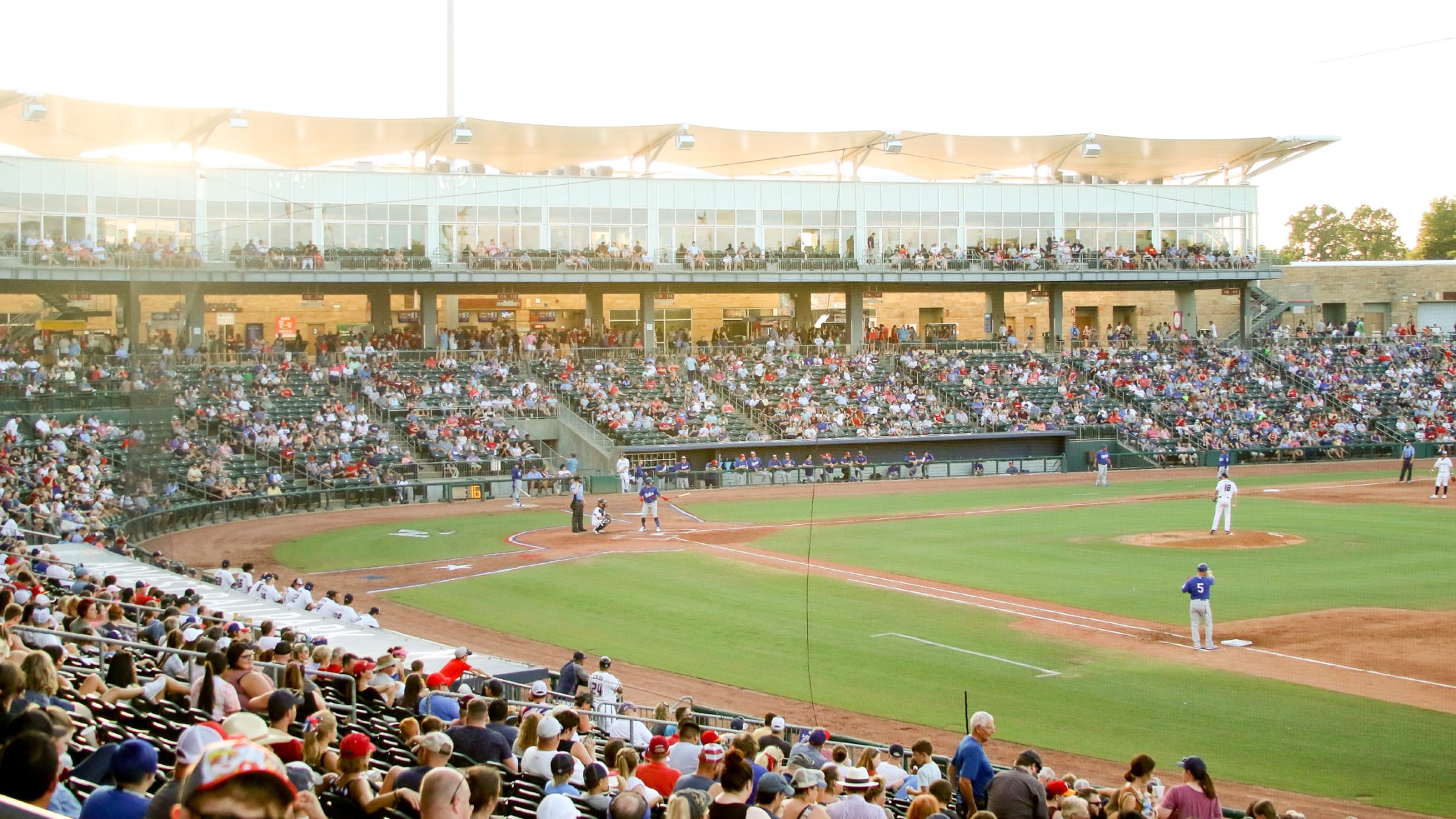 The Northwest Arkansas Naturals are based in Springdale, the fourth-largest city in Arkansas. Springdale's population has nearly tripled since 1990, with the 2008 arrival of the Naturals indicative of the area's growth. The Naturals are the first Minor League team to call Springdale home, though the neighboring communities of Fayetteville and Bentonville hosted professional teams in the 1930s. Bentonville is now best known as the home of Walmart's headquarters, while Tyson Foods is based out of Springdale.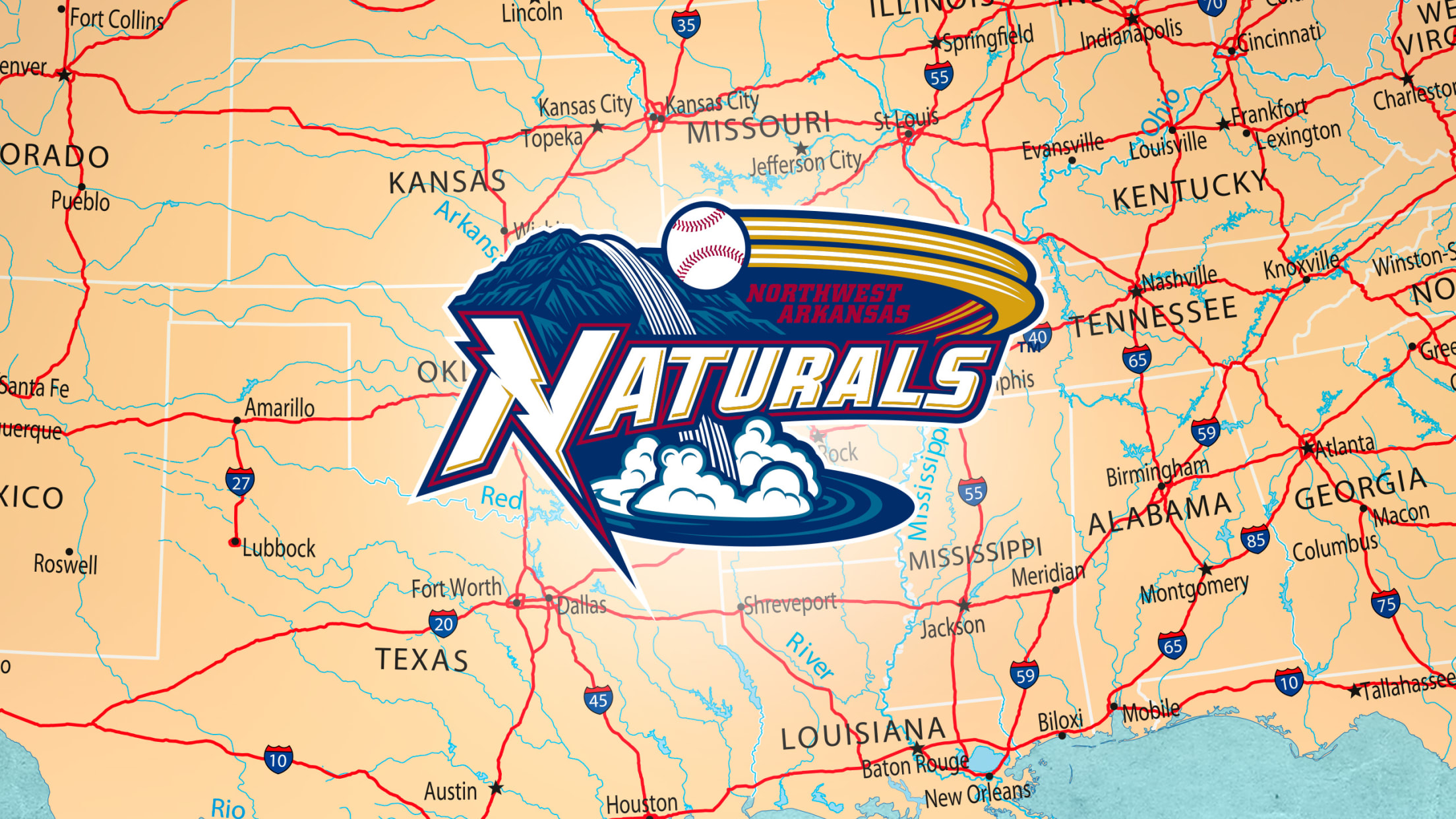 The Naturals arrived in Springdale upon relocating from Wichita, Kan., where the team was known as the Wranglers. The Naturals have been affiliated with the Kansas City Royals since their inaugural 2008 season, continuing a partnership that began in Wichita in 1995. The Naturals' moniker is primarily a reference to Arkansas' "Natural State" nickname, but there is a secondary connection. The Naturals are owned by Rich Entertainment group, which also owns the Buffalo Bisons. Portions of the 1984 baseball movie "The Natural" were shot at Buffalo's War Memorial Stadium, and the film's resulting success was a boon to the Bisons franchise.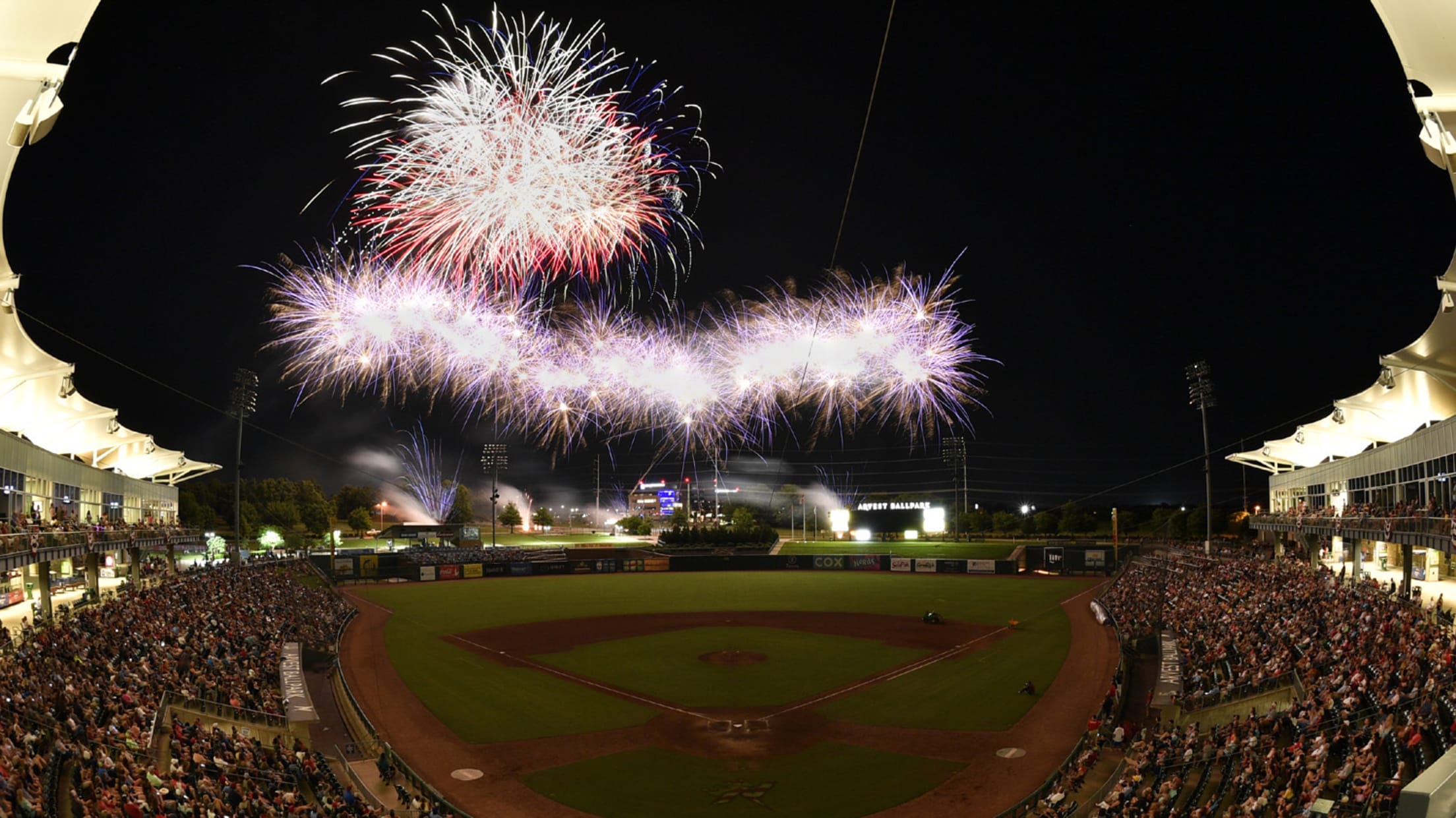 Arvest Ballpark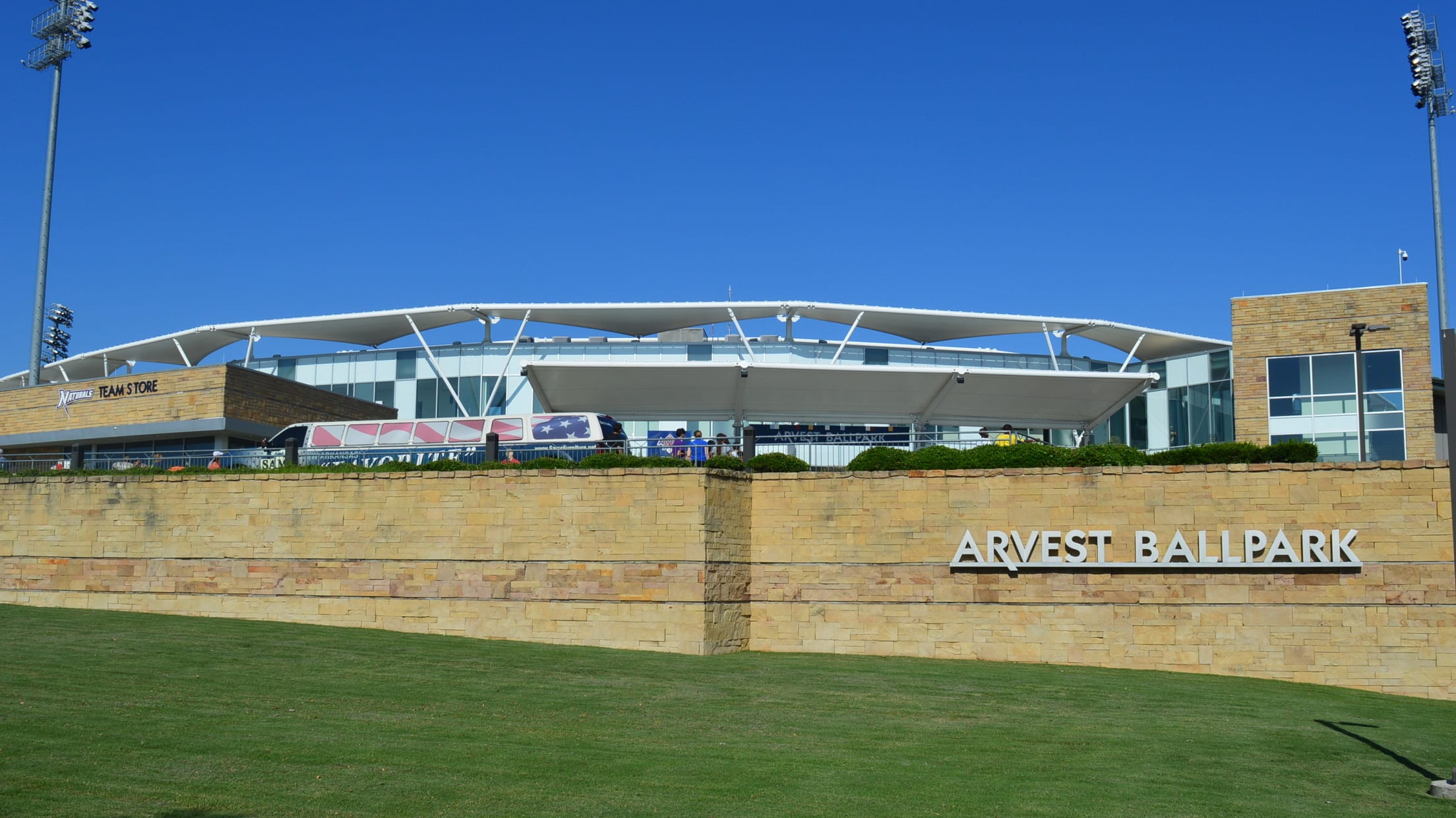 Arvest Ballpark, owned by the city of Springdale, was built on what had been farmland. The ballpark was viewed as an anchor that could spur further development, but the economy went south soon after it opened and this development initially failed to materialize. The city continued to build up infrastructure, however, which helped to belatedly spur the growth that had long been sought. Arvest Ballpark's neighbors now include several large medical facilities, apartment complexes and a community college, with more development on the way.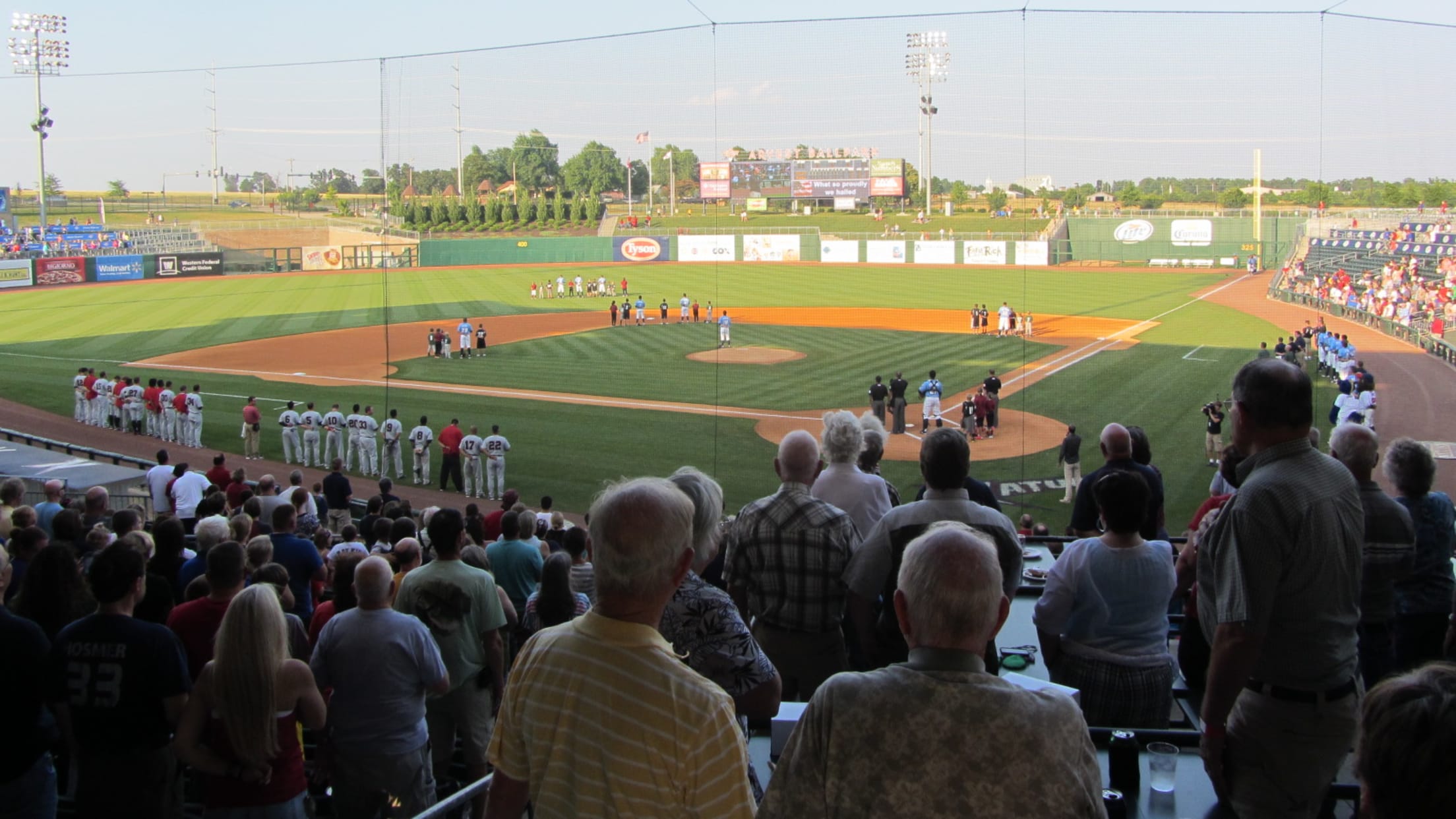 Arvest Ballpark has a large footprint, built upon an approximately 40-acre site. Arriving fans, having likely traveled along I-49 en route to the facility, will find ample parking and plenty of room to move both outside and within. The upper level, comprised largely of suites, provides cover for much of the home-plate side of the 360-degree concourse. The seating bowl in front of the concourse, comprised of over 5,000 fixed seats, extends from the right-field corner to well down the third-base line.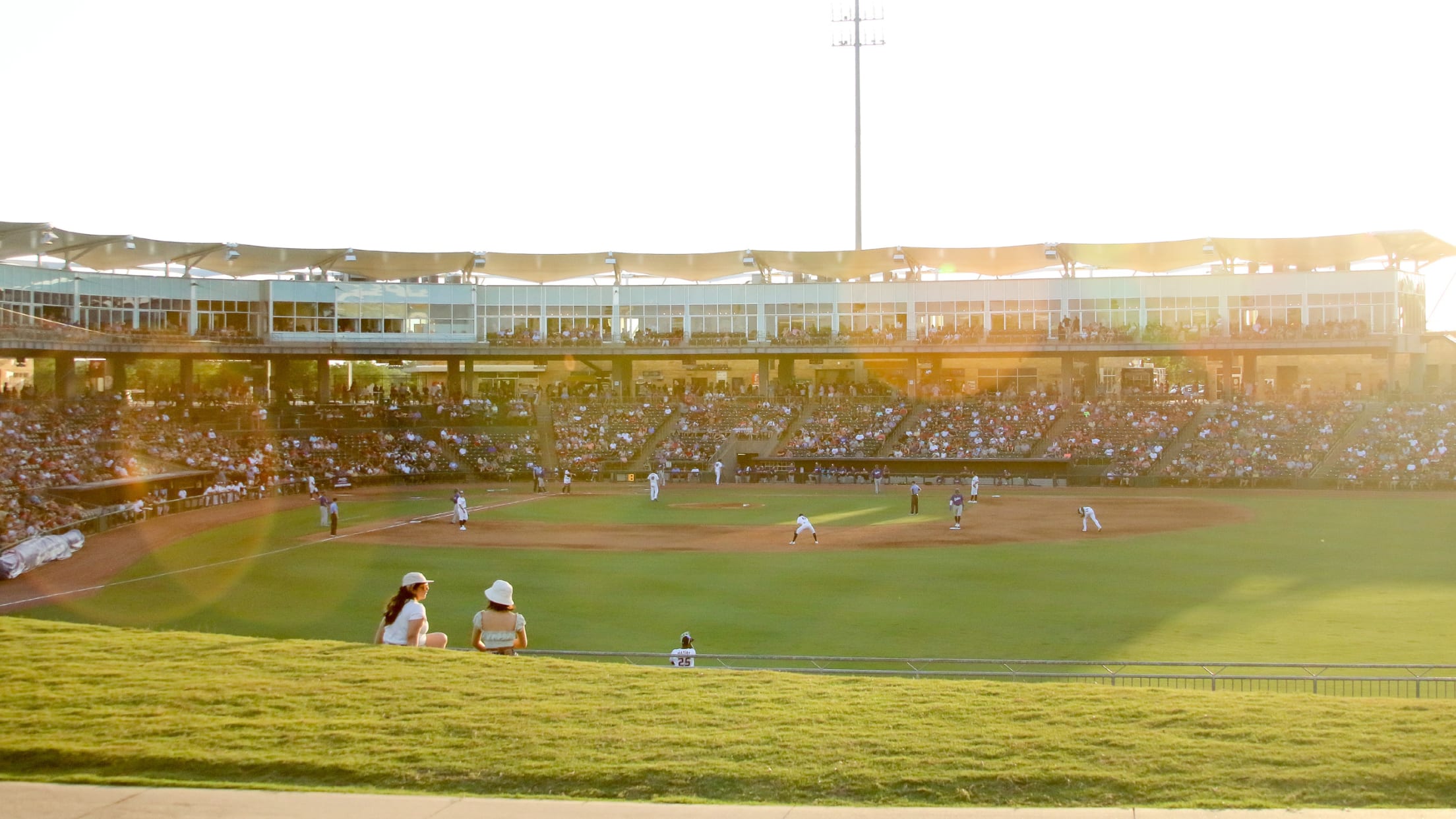 In addition to the fixed seats, Arvest Ballpark has two lawn seating areas. The one in right field is particularly large, while another is situated in the left-field corner. A sprawling kids area is located behind the left-field lawn, featuring a miniature train, numerous inflatables, a miniature golf course and "Little Arvest Ballpark."
When it comes to representing Northwest Arkansas's team, young fans may be more partial to the Naturals' "Growlin' Chickens" alternate identity. The name is an homage to the importance of the poultry industry in the area (largely via Tyson Foods) and the entire state. As for why these chickens are growlin', the team explains that "All chickens can make a growling noise, usually when disturbed or to protect their nest. The Growlin' Chickens will likely let out this warning sound as we defend our home 'nest' at Arvest Ballpark with ferocity." Noted!
Concessions
Of course, Arvest Ballpark has "the basics" (hot dogs, hamburgers, chicken sandwiches, fries, popcorn, peanuts, etc.) Beyond that, the region's affinity for low and slow cooking is showcased in various barbecue-based items. And, despite Springdale's approximately 1,200 mile distance from the City of Brotherly Love, Philly Cheesesteaks are a popular item as well.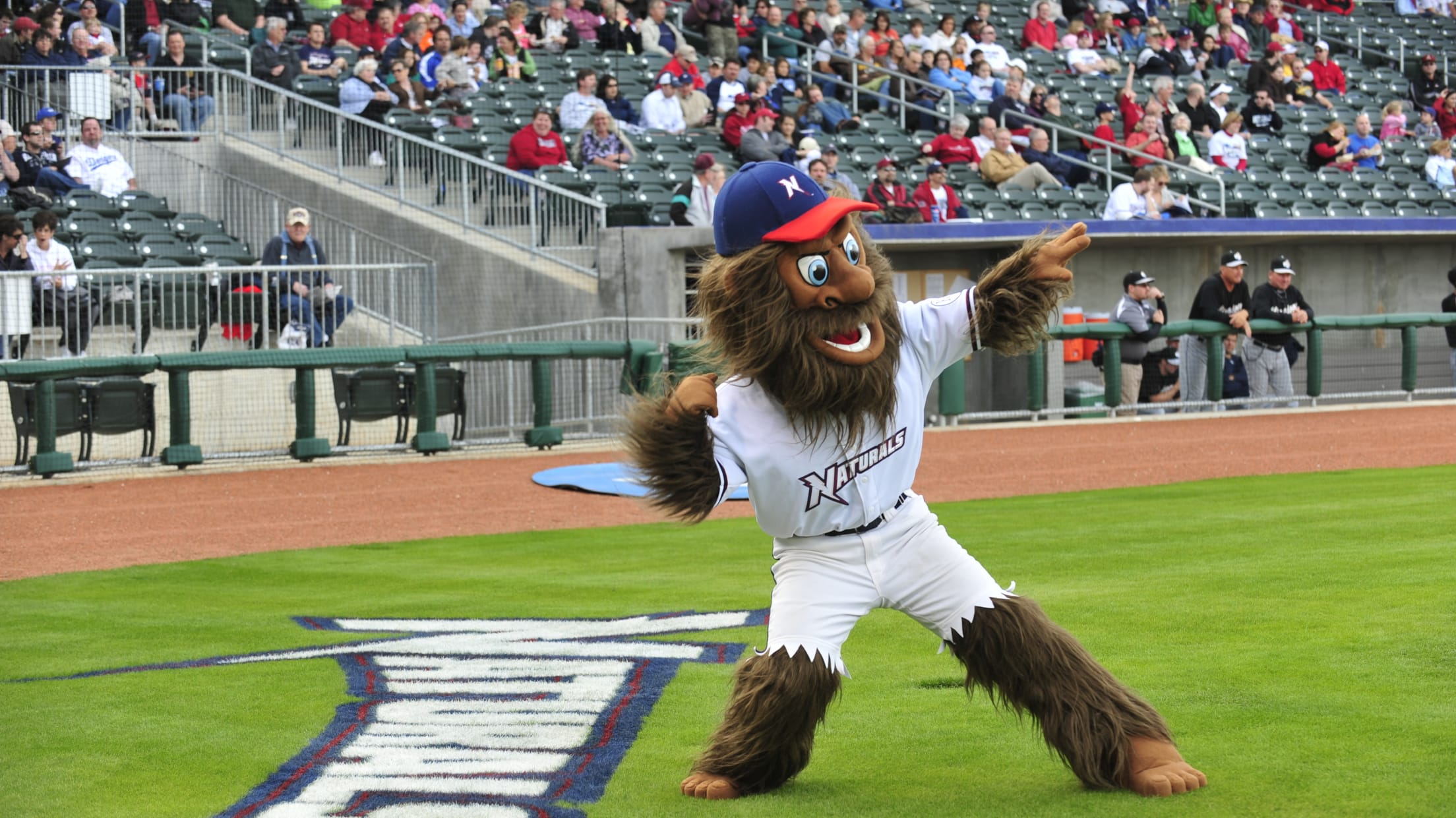 Mascot
The entirety of Arvest Ballpark is in the "Strike" zone, as that's the name of the sasquatch who serves as the team's mascot. After a lifetime of solitude in the Ozark Mountains, Strike came out of hiding in order to bring joy to Naturals fans on a nightly basis. He might be the only mascot whose uniform pants are slashed off at the knee, a forward-thinking fashion choice that showcases his furry and muscular lower legs.
Strike is joined at the ballpark by his friend, Sinker the lake creature. The two met in a most unusual way, as Strike was out fishing one day and Sinker tugged on his line. The two soon discovered they had a mutual love of Arkansas-based Double-A Texas League baseball, and Sinker became a regular at Arvest Ballpark.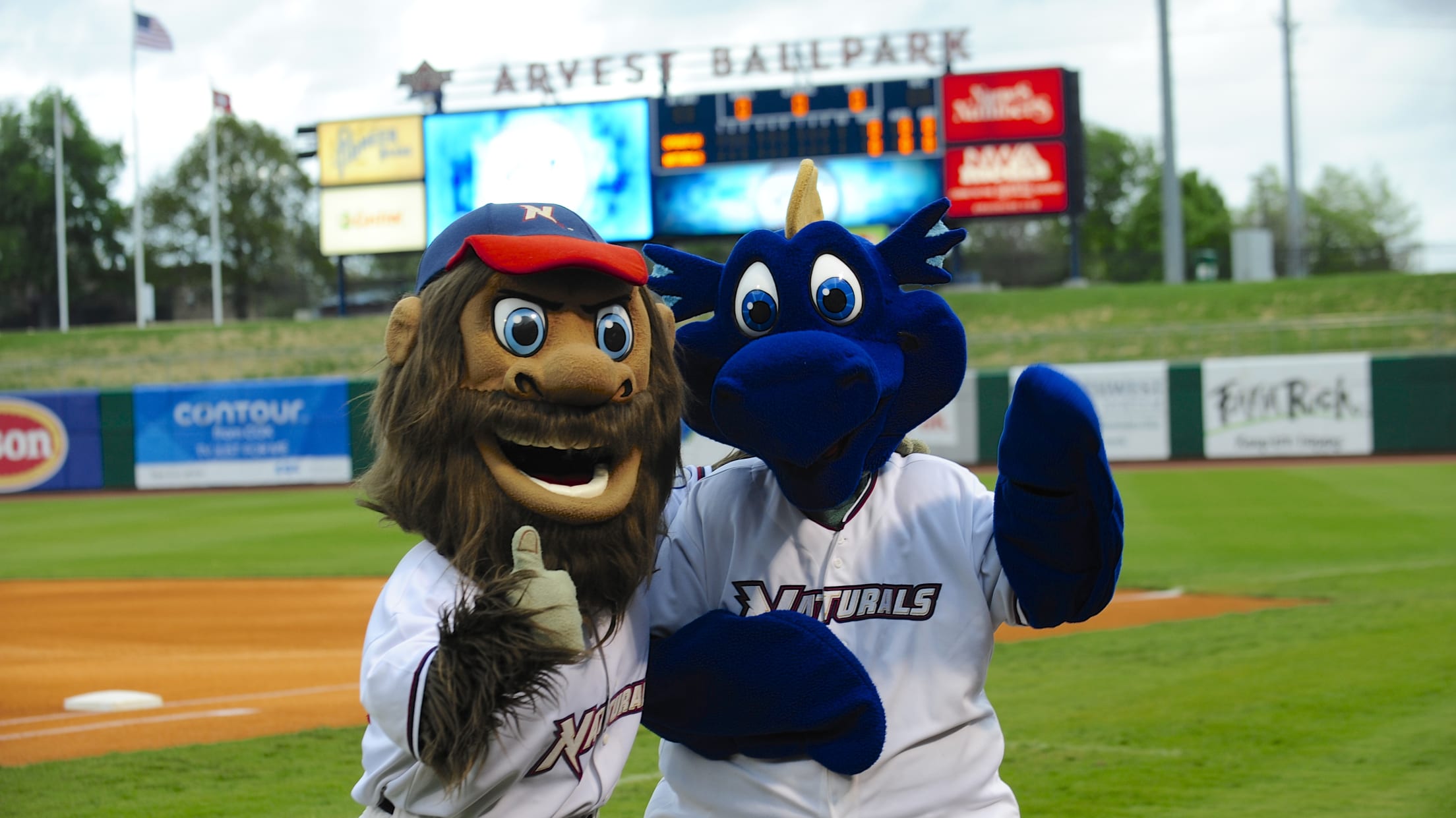 Local Attractions
Explore the many shops and restaurants of downtown Springdale, which retains an intimate charm. If ephemera and bric-a-brac is your thing, then spend an hour or three at the Monterrey Flea Market. To learn more about the larger area, visit the Shiloh Museum of Ozark History. It "serves the public by preserving and providing resources for finding meaning, enjoyment and inspiration." Civil War buffs will want to visit two nearby battle sites: Pea Ridge National Military Park and Prairie Grove Battlefield State Park. Trips back in time can also be obtained by taking a ride on one of Arkansas and Missouri Railroad's antique passenger trains.
Before it was a global behemoth reshaping the retail landscape in its image, Walmart was simply Walton's 5&10 in downtown Bentonville, Ark. That original store is now home to The Walmart Museum, now undergoing renovations and scheduled to reopen in 2024.
Food and Drink
If it's ballpark proximity you're looking for, then it's a quick drive to state route 412. There, you'll find at least four restaurants with "Grill" in the name (RibCrib BBQ and Grill, JJ's Grill, Marketplace Grill, Sunset Grill and more). Wright's Barbecue, located about three miles from the ballpark, is a local favorite, as is Susan's. There, you can start your day with a hearty chicken fried chicken breakfast. Speaking of chicken (and it's hard not to in Springdale), check out AQ Chicken House. They've been serving up fried chicken (and plenty else) since 1947.
Downtown Springdale offers a diverse array of dining options, with plenty of Mexican options. Downtown, you'll also find Social Project Brewing Co. as well as Black Apple (a cider taproom).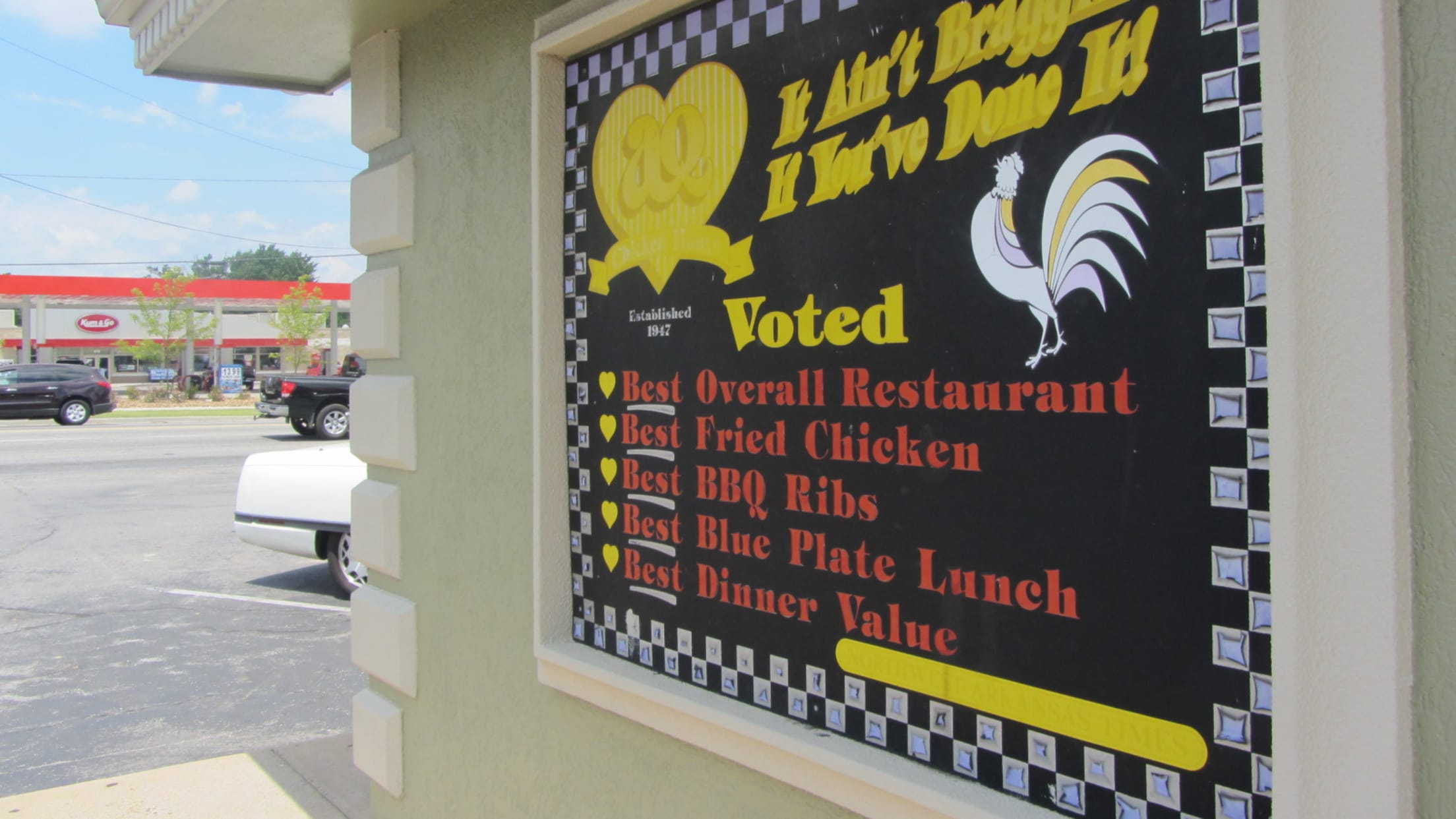 Lodging
Many of Springdale's hotels are located close to Arvest Ballpark, clustered near the intersection of I-49 and U.S. Highway 412. Options range the gamut from budget motels to higher-end chains.
Moving On
The Naturals are one of two teams in the state of Arkansas, along with the Little Rock-based Arkansas Travelers. Closer options include the Oklahoma City Dodgers and Tulsa Drillers, and from there one can head north to see the Wichita Wind Surge or south toward the Frisco Roughriders. The Springfield (Missouri) Cardinals are comparatively nearby as well. All of these teams, save for the Triple-A OKC Dodgers, are part of the Texas League.
The Road to Kansas City