Explore Columbia's Segra Park 
Welcome to Segra Park, a luminescent environment located on the grounds of a former mental hospital. When the hometown Columbia Fireflies take the field, it's glow time.
Columbia Fireflies (Single-A affiliate of the Kansas City Royals since 2021)
Established: 2016
League: Carolina League (South Atlantic League 2016-20)
Ballpark: Segra Park (opened 2016 as Spirit Communications Park)
Championships: None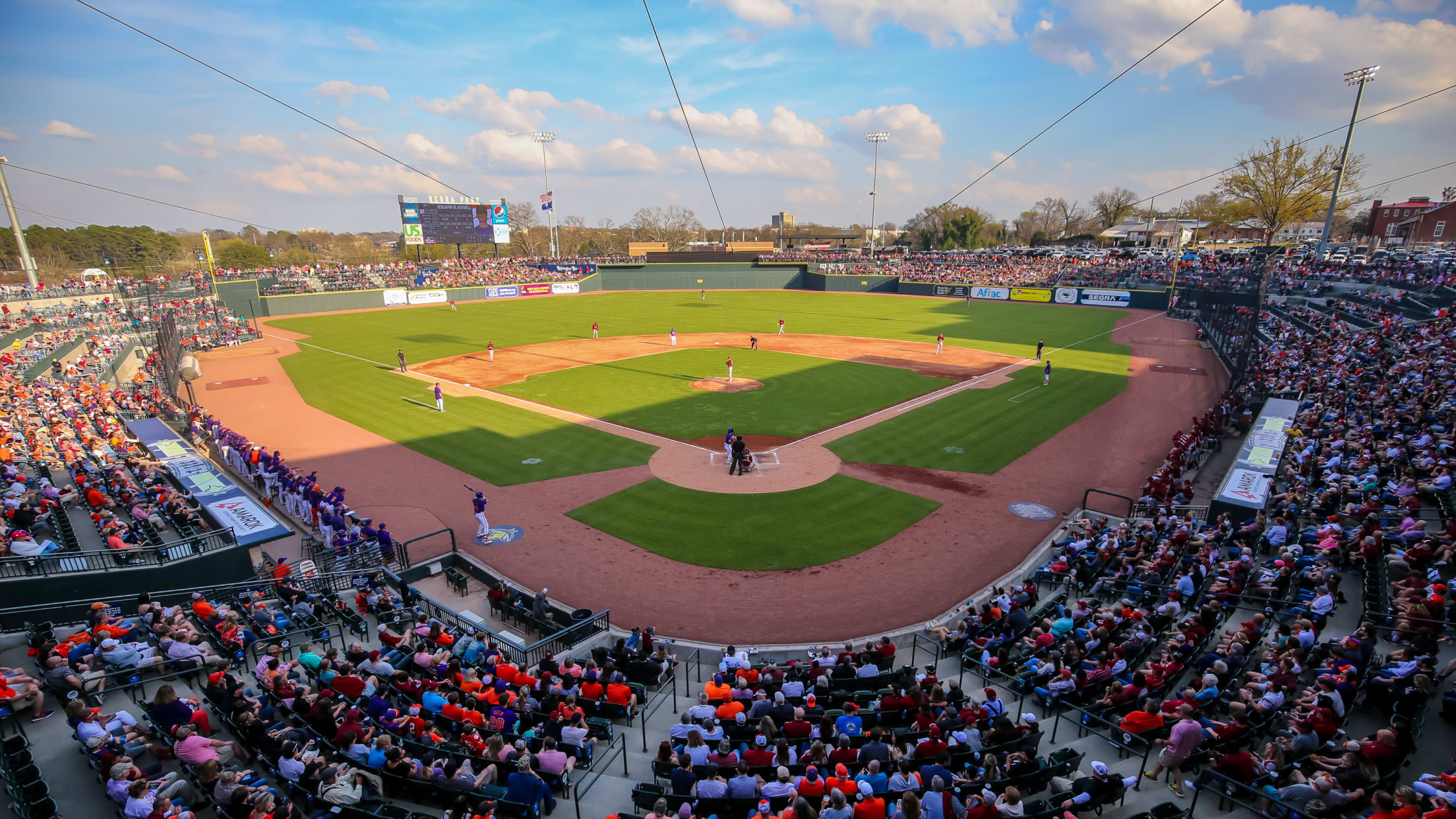 Columbia, the capital of South Carolina, has professional baseball roots that date back to the 1892 Columbia Senators. That 19th-century entity played in the South Atlantic League, the start of a long association between the city and a league bearing that name. Columbia went on to field teams such as the Skyscrapers, Gamecocks, Comers, Reds and Gems, all in various iterations of the SAL. In 1983, following a 20-year absence, SAL baseball returned in the form of the Columbia Mets. This team changed its name to the Capital City Bombers in 1993 and relocated to Greenville, S.C., following the 2004 campaign.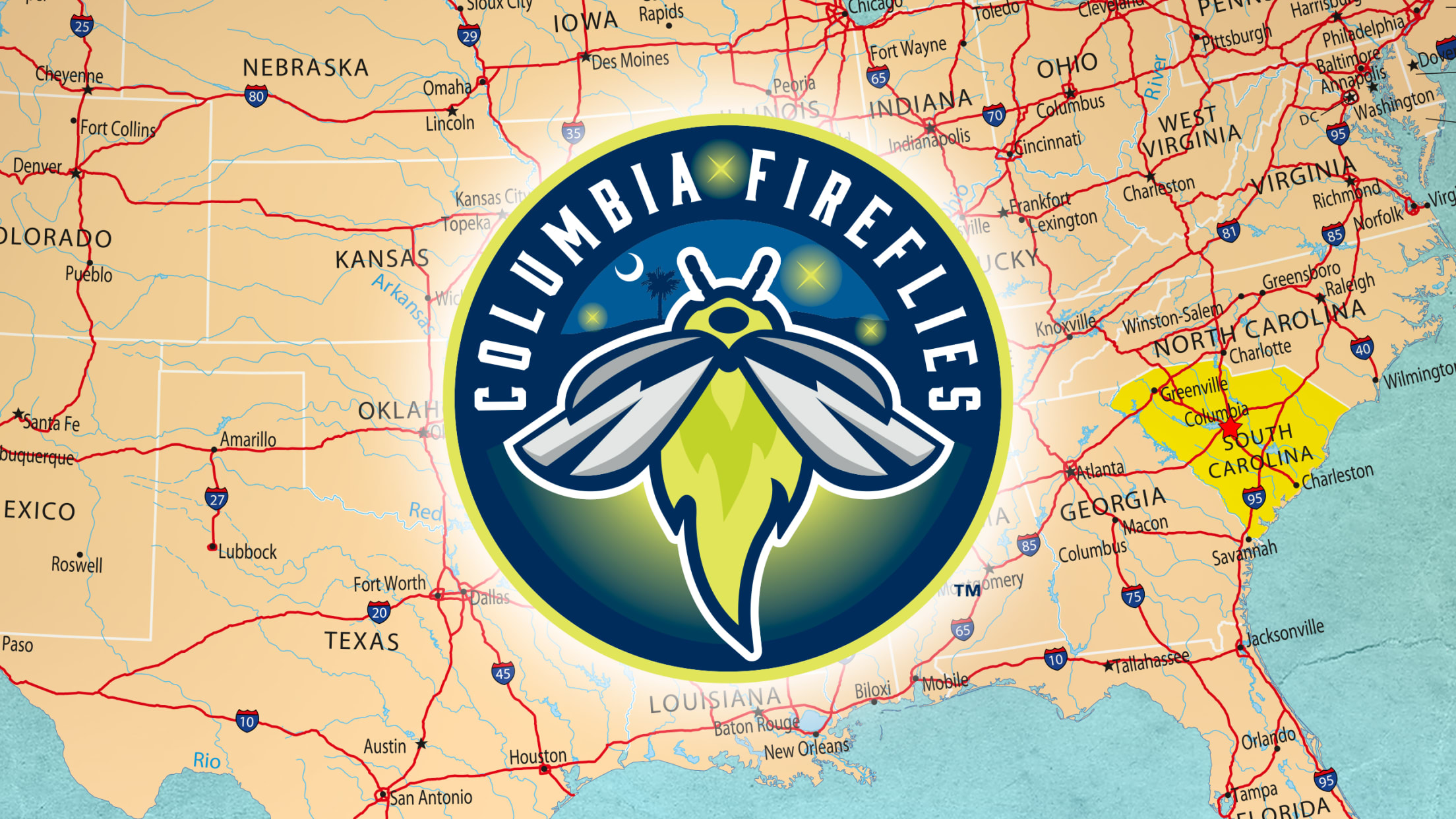 The Fireflies, who relocated from Savannah, Ga., debuted in 2016 in conjunction with the opening of Segra Park. They were a Class-A SAL Mets affiliate through 2020, switching to the Kansas City Royals in 2021. 2022 marks the team's first season in the Single-A Carolina League, which was referred to as the Low-A East in 2021. The Fireflies name is a reference to the fireflies at nearby Congaree National Park, who are renowned for their synchronous displays of luminosity. Keeping with the theme, the team's uniforms feature glow-in-the-dark elements. The Fireflies have yet to achieve on-field synchronicity, however, as the franchise enters 2022 still in search of its first winning season. Brighter days are ahead.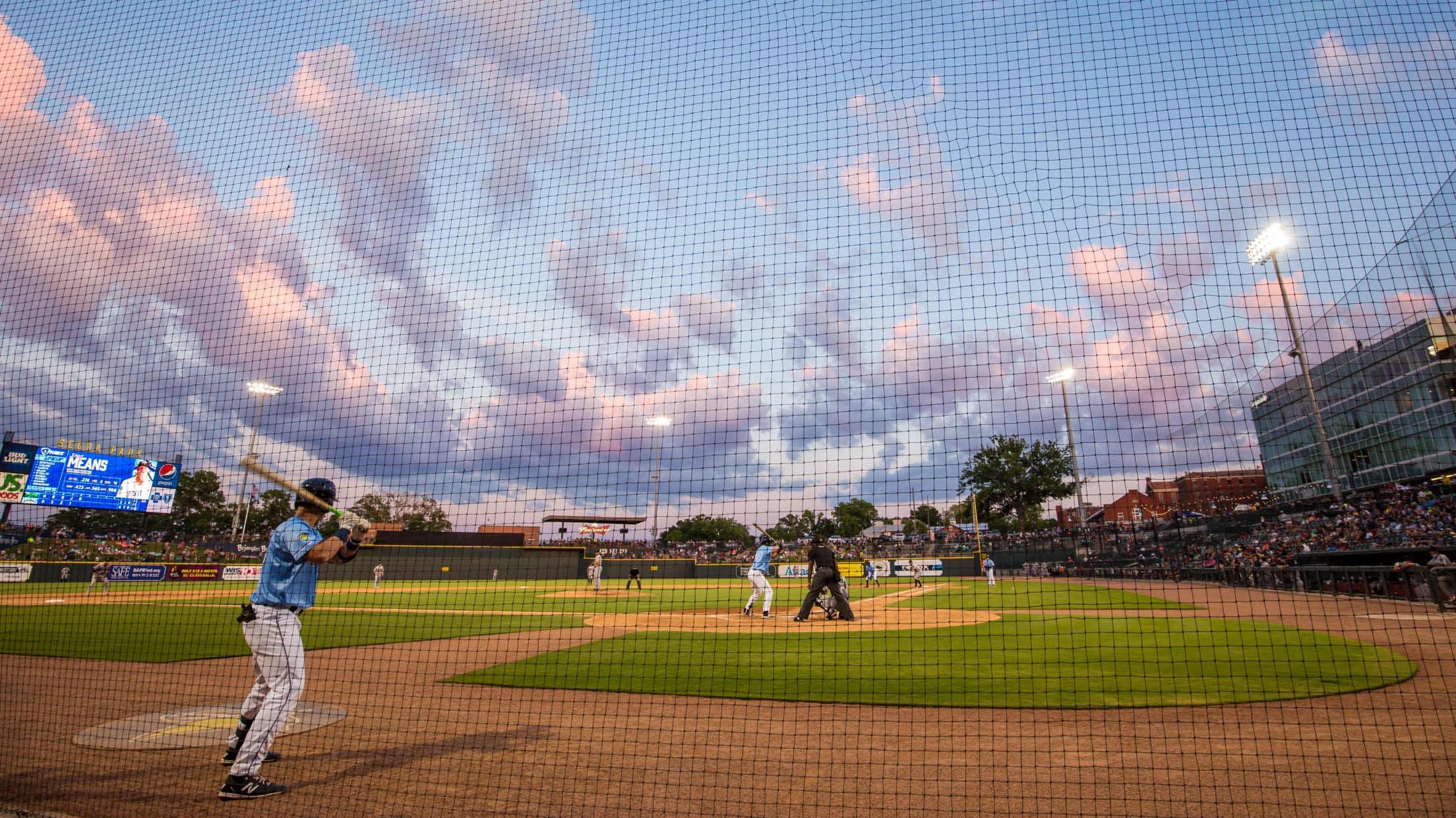 Segra Park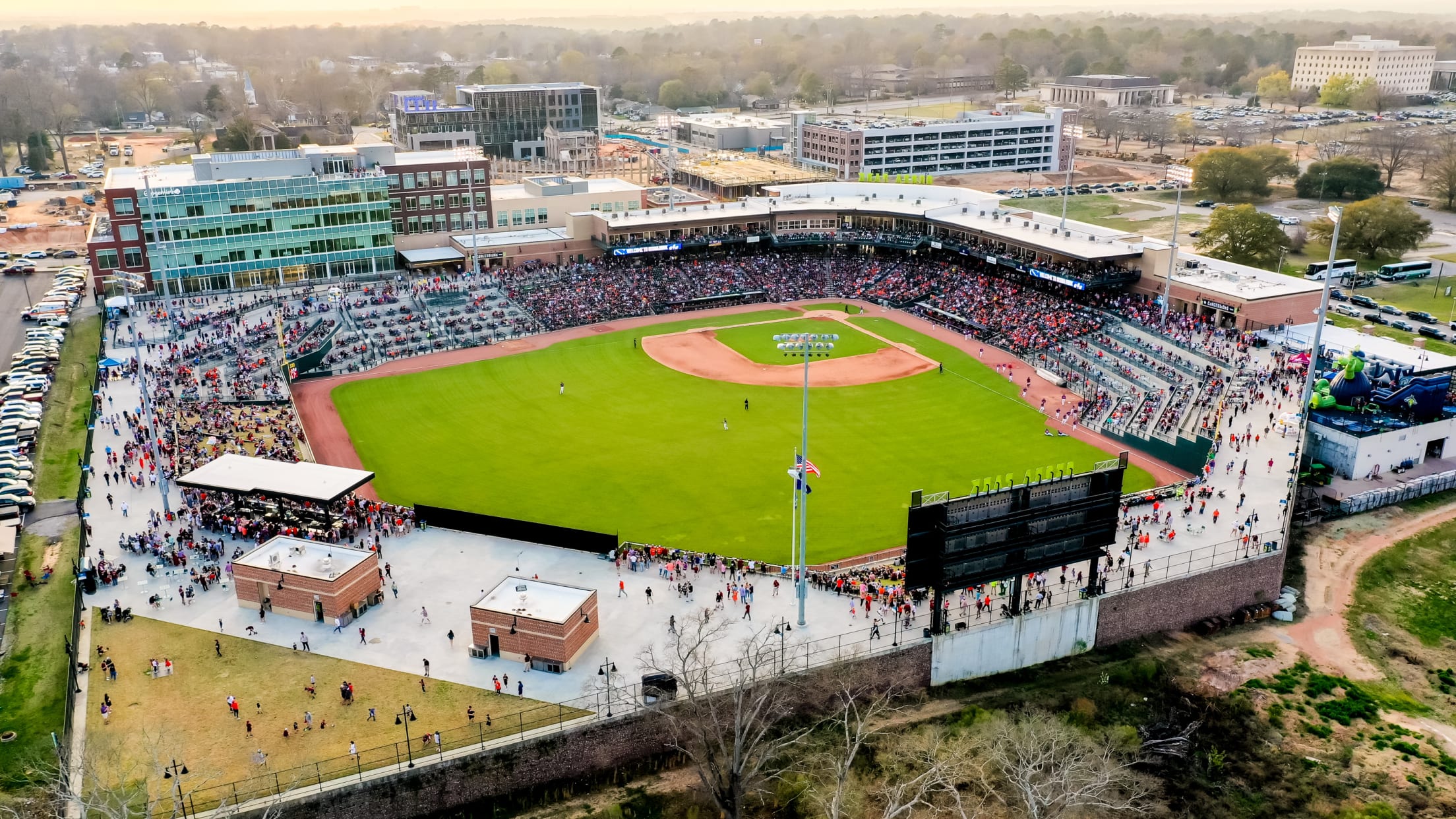 Minor League Baseball's return to Columbia in 2016 was made possible by the construction of a new baseball stadium. Segra Park, originally called Spirit Communications Park, is located on the grounds of what used to be South Carolina's state mental hospital. The ballpark is the literal and figurative centerpiece of what was initially called the Commons at Bull Street development project, dedicated to converting the hospital's sprawling campus into a mixed-use area featuring residential areas, office buildings and retail and culinary establishments.
The entire area is now referred to as the BullStreet District, named for the thoroughfare that runs along its southern border. From this portion of Bull Street, it is a short drive to I-277, I-126 and the South Carolina State House. The mental hospital's Babcock Building, a massive interconnected brick structure, looms beyond Segra Park's right field. It will soon begin its second act as The Babcock, a fully-restored 208-unit luxury apartment building. The Babcock joins other recent additions to the area, including but not limited to two parking garages, a Starbucks, an REI store, a 25-acre park and myriad other mixed-use residential/retail endeavors. Much more is yet to come.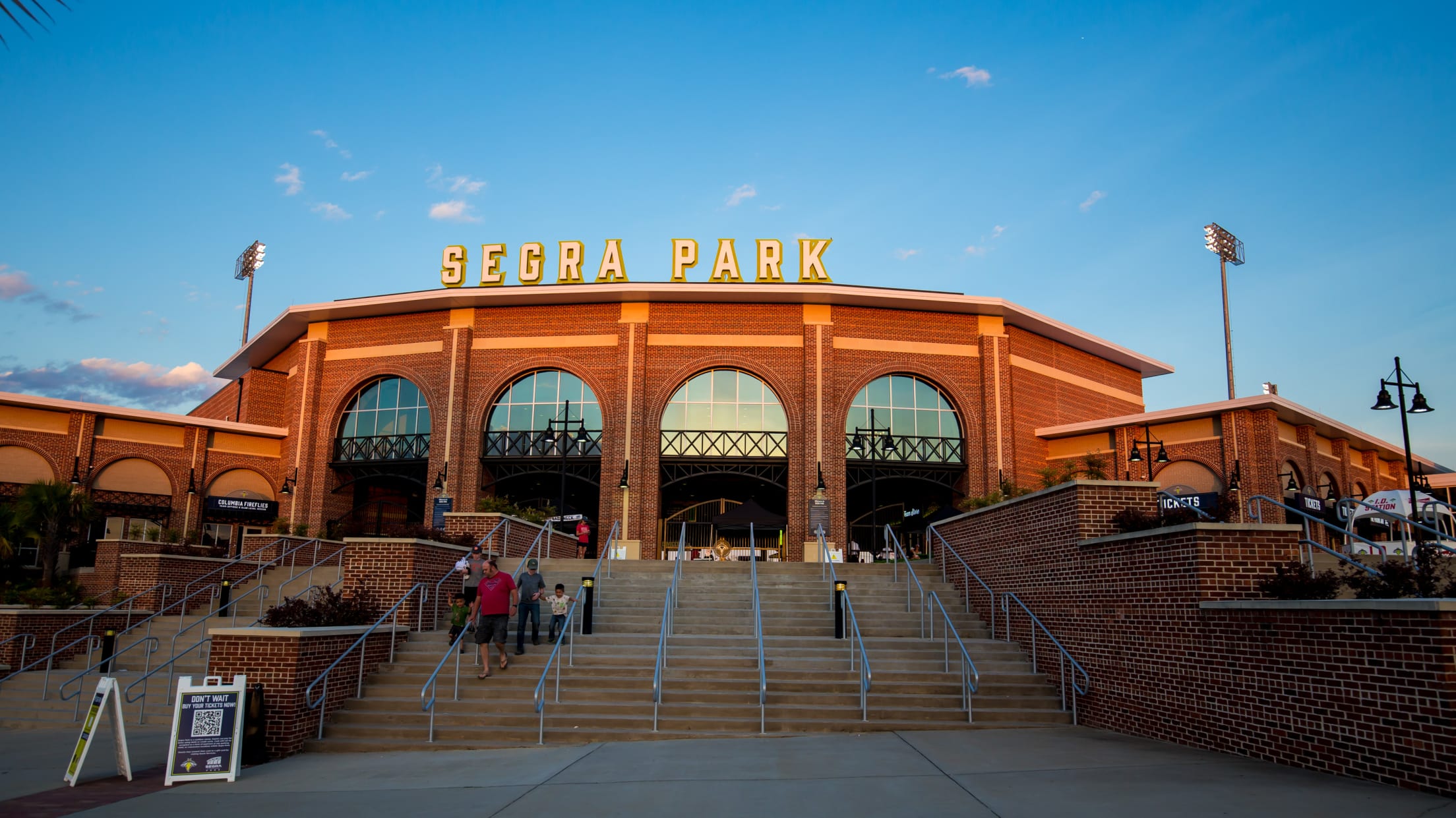 Segra Park has a stately brick exterior, aesthetically in line with the preexisting mental hospital structures. A wide staircase leads to the main entrance, featuring arched entranceways located underneath half-circle-shaped second-floor windows. The interior is spacious and airy, featuring a wide 360-degree concourse that wraps around a seating bowl filled with a variety of unique ticket options. (Segra Park is also a public park, open 365 days a year. The concourse, 1/3rd of a mile long, doubles as a walking/running loop for local residents.)
A large area down the left-field line is filled with Bullpen Boxes, capable of seating groups of four. The Home Run Porch is located beyond the left-field wall, while On-Deck seats provide up-close field level views. Sloped berm seating, in both right- and left- field, is available for just $5 per ticket. The Budweiser Bowtie Bar, located in right-center field, is a popular social area that often attracts a younger crowd.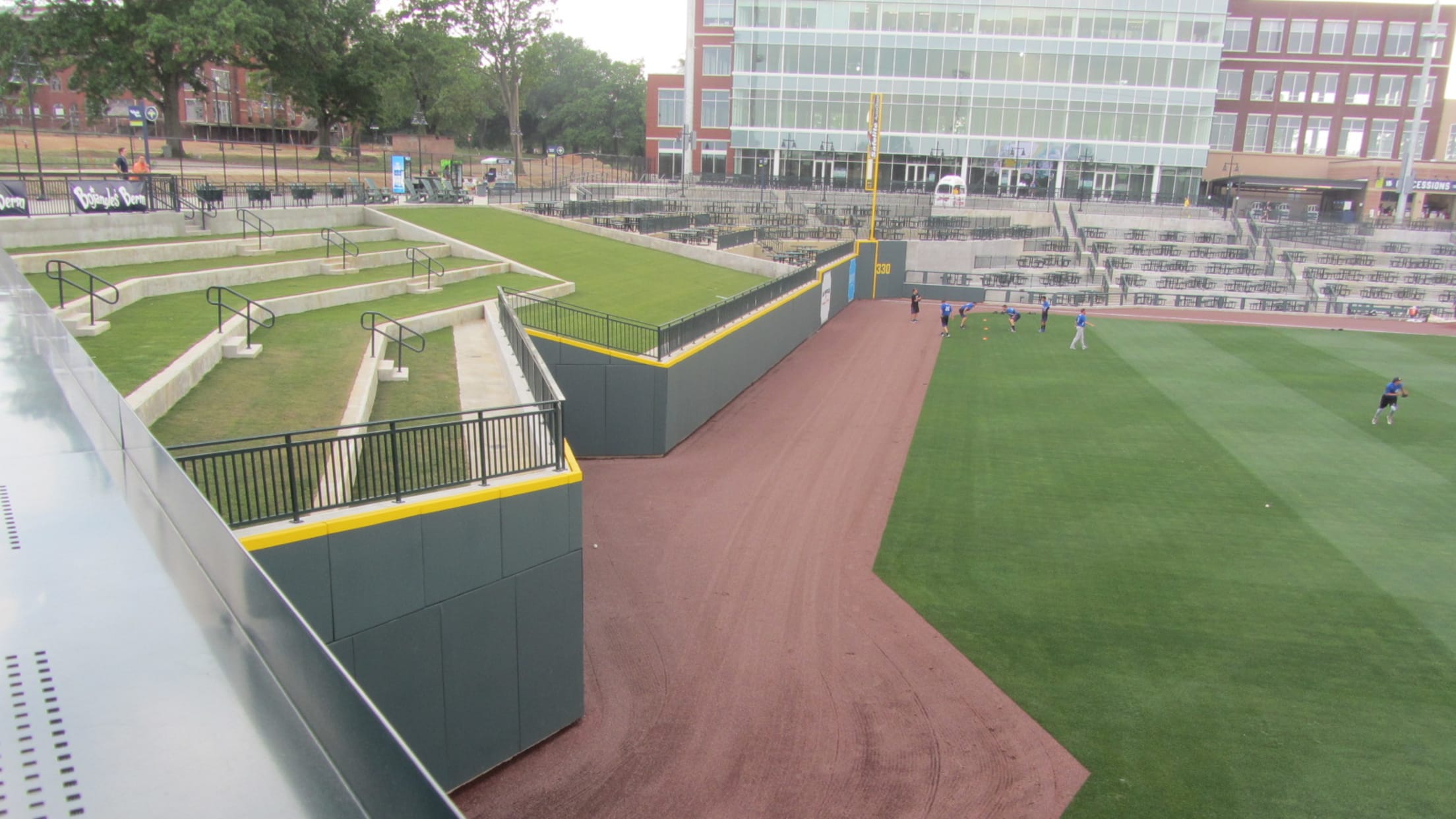 The myriad views on offer are, to some extent, the result of Segra Park's unique layout. The left field side of the ballpark is situated 17 feet lower than the right field side and a level playing field had to be constructed atop this gently sloping piece of land. As for manmade eccentricities, the outfield wall is cantilevered on both sides of the center field batter's eye. This makes for quirky power alley dimensions and unique vantage points for fans in the outfield seating areas.
A luminescent vibe prevails throughout Segra Park, keeping with the Fireflies' overall branding. Team uniforms have glow-in-the-dark elements, and this unique aesthetic extends to concourse signage as well as the exterior of "The Mason Jar" team store.
Concessions
Segra Park has four concession stands within the main concourse, as well as multiple specialty carts. Some of the most unique options can be found at the Low-N-Slow BBQ cart, featuring pulled pork, brisket and an array of specialty sauces. Other standouts include Juanathan's Street Tacos and The Philly Cart (which, of course, sells cheesesteaks).
Mascot
Mason, a blue-furred honorary firefly, possesses one of the most unique mascot origin stories in all of Minor League Baseball. Late one night, this member of the "Whatsit Family" wandered through Congaree National Park and encountered a large group of synchronized fireflies. He found comfort in the fireflies' warm glow; they, in turn, adopted him and named him Mason (because "so many of them had found a home in Mason jars"). When Segra Park opened in 2016, Mason wandered in from the forest in order to "help bring the joy he found with the fireflies to the entire Midlands region."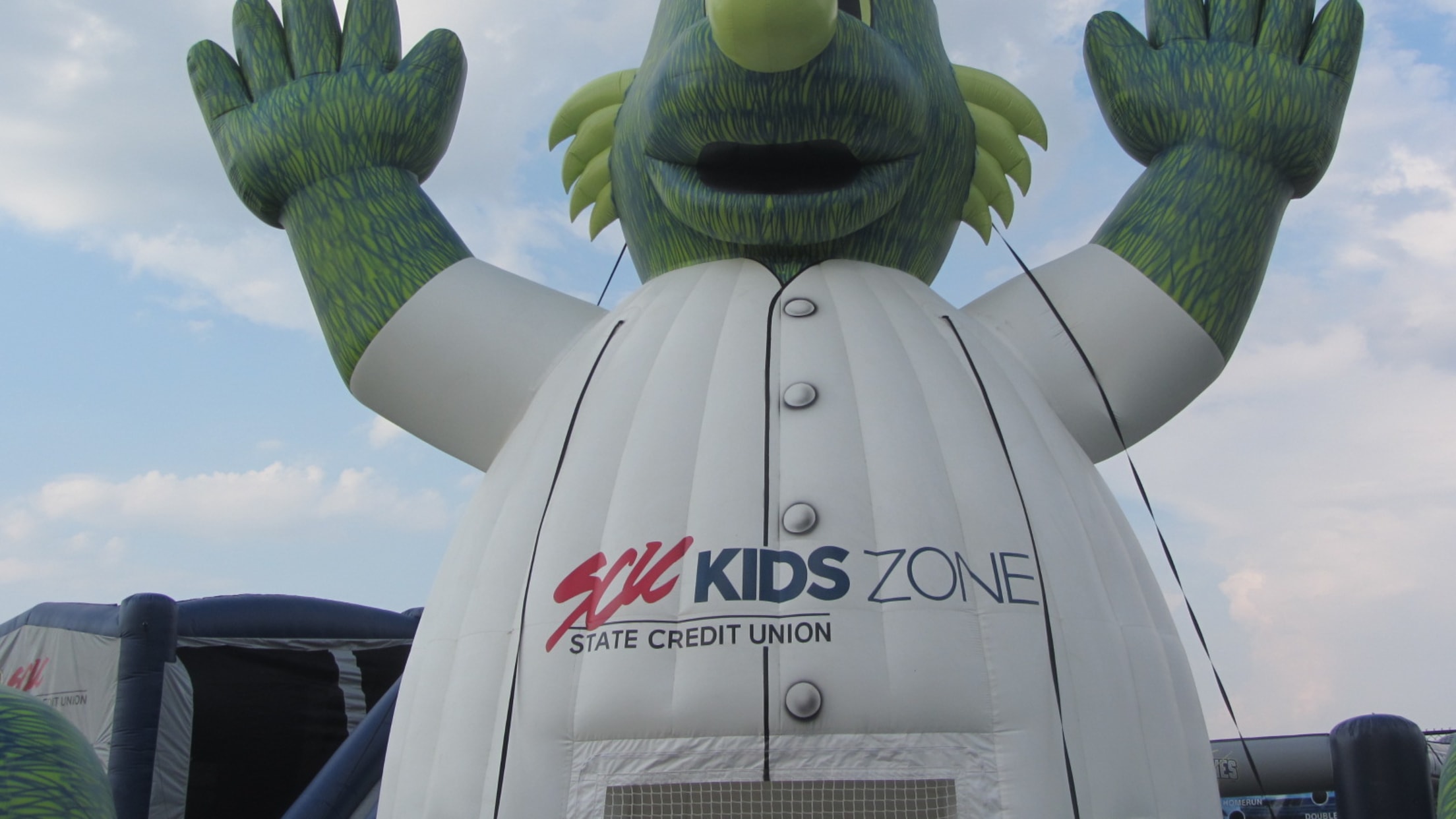 Where to Stay
Headed to the stadium and looking for a hotel nearby? Your Wyndham is waiting. As the Official Hotel of Minor League Baseball, Wyndham Hotels & Resorts welcomes baseball fans with a portfolio of 24 trusted brands. Find Hotels by Wyndham closest to the ballpark below and book now at wyndhamhotels.com.
• Days Inn by Wyndham Columbia NE Fort Jackson
• Super 8 by Wyndham Columbia
• Ramada Limited Columbia
• Microtel Inn & Suites by Wyndham Columbia/At Fort Jackson
• Wyndham Garden Columbia/Ft. Jackson
Local Attractions
A trip to see the Fireflies at Segra Park could, if you're lucky, also include seeing the fireflies at Congaree National Park. The fireflies are in high demand, and the park holds a lottery to determine who will be able to visit during the select evenings in which the opportunity is available. Congaree National Park is well worth visiting regardless, as it boasts "astonishing diversity" as well as "the largest intact expanse of old growth bottomland hardwood forest remaining in the southeastern United States." For further outdoor fun and adventure, visit the renowned aquatic paradise that is Lake Murray.
Want to follow a bill as it winds its way toward law? The South Carolina State House is open to the public and guided tours are available. In the State House, go on a scavenger hunt for six hidden bronze stars; each star marks a spot where cannons hit the building during Sherman's Civil War "March to the Sea." The Woodrow Wilson Family Home, where Woodrow Wilson lived as a child, now houses The Museum of the Reconstruction Era. For more historical exploration, visit the University of South Carolina's historic Horseshoe (named after the shape of its original campus).
Food and Drink
In due time, there should be a plethora of dining options in the BullStreet District proper. An Iron Hill Brewery is slated to open in late 2022, and more restaurants are sure to follow. Regardless, Columbia has gained a reputation as an exemplary culinary city and there is much to explore. The Vista neighborhood, a formerly industrial area located along the banks of the Congaree River, is a great place to start. Historic Five Points is another section of the city with plenty to choose from. Fans of the silver ball should make sure to visit that neighborhood's Bang Back Pinball Lounge.
Check out historic Cottontown, across from the BullStreet District, for great coffeeshops and restaurants. The Main Street District's many options include The Whig, a (literally) underground locale that slings one of the best burgers in the city. West Columbia is home to D's Wing's, the Black Rooster, Café Strudel and more. If you're in town for the weekend, visit the open-air Soda City Market on Saturday morning. (Columbia is nicknamed "The Soda City" because its name is commonly abbreviated to "Cola".)
Columbia has a growing brewery scene as well. Hunter-Gatherer Brewery has a particularly interesting location, as it is situated in a historic airplane hangar.
Of course, this is a region where barbecue abounds. South Carolina barbecue specifically, often focused on pork slathered in a mustard-based "Carolina Gold" sauce. The Southern Belly BBQ has three locations in the area, while The War Mouth is a popular upscale establishment. Those who prefer old-fashioned family-run operations should make time to visit Hite's. These, and dozens of other establishments, await your business.
Moving On
Columbia is in the center of South Carolina, as one would expect from a state's a capital city. Head to the coast to see the Myrtle Beach Pelicans and Charleston RiverDogs, or drive northwest to visit the Greenville Drive. The Augusta GreenJackets, located in North Augusta, S.C., are the closest team to the Fireflies (an approximately 70-minute drive via I-20 West).
More broadly speaking, a "Carolinas" ballpark road trip is always a good idea. North Carolina is home to 10 Minor League teams as well as a plethora of summer-collegiate and independent entities.
The Road to Kansas City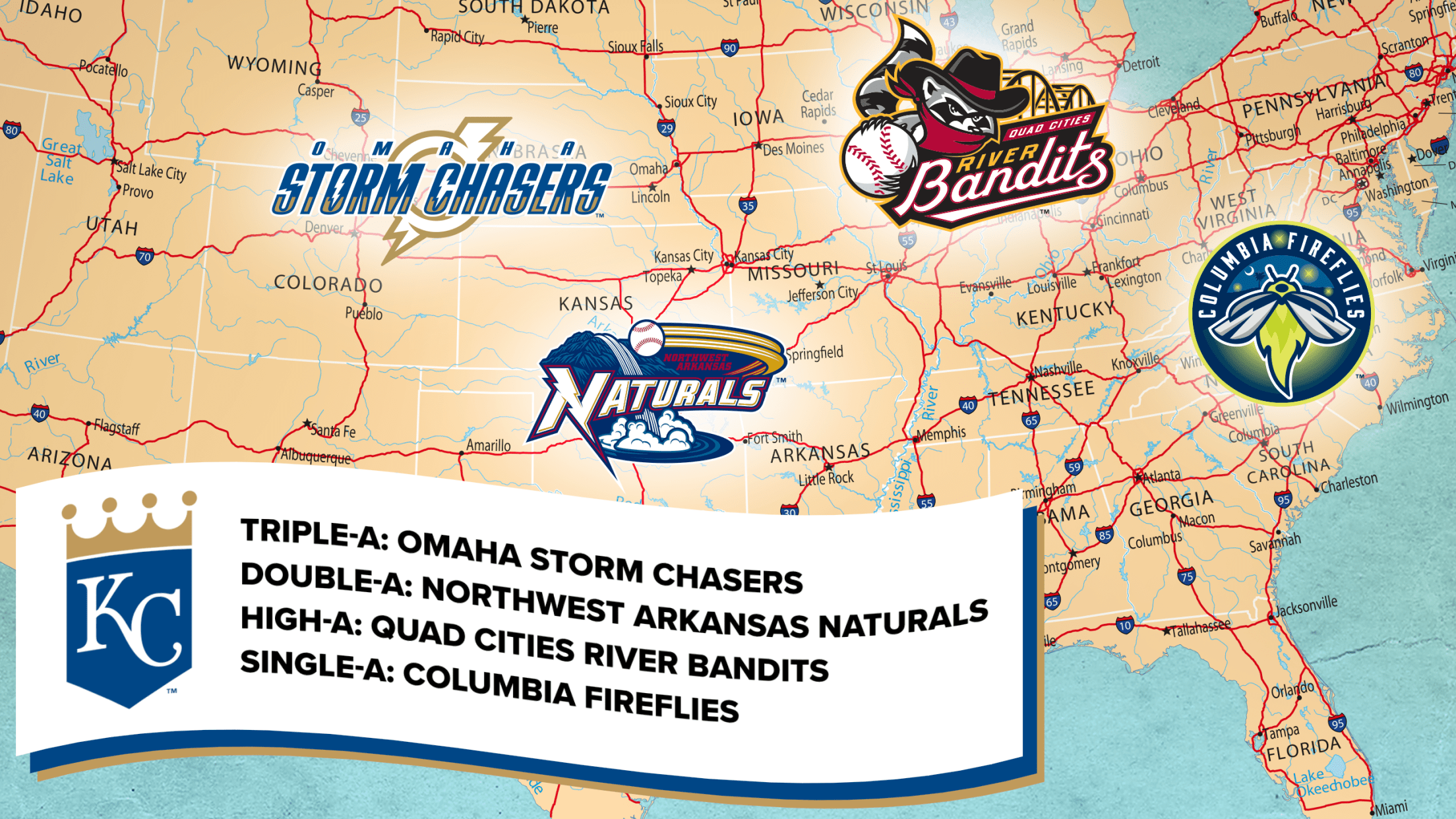 credits:
Benjamin Hill, who covers the business and culture of Minor League Baseball, has visited 182 Minor League ballparks.