Explore Aberdeen's Ripken Stadium 
Welcome to Ripken Stadium, perhaps the most crab-tastic location in Minor League Baseball. The IronBirds play here, a Baltimore Orioles affiliate owned by the Iron Man himself.
Aberdeen IronBirds (High-A affiliate of the Baltimore Orioles since 2002)
Established: 2002
League: South Atlantic League
Ballpark: Leidos Field at Ripken Stadium (opened 2002)
Championships: None
Notable Alumni: Manny Machado, Trey Mancini, Nick Markakis, Zack Britton, Jack Graham (2013 player, current general manager)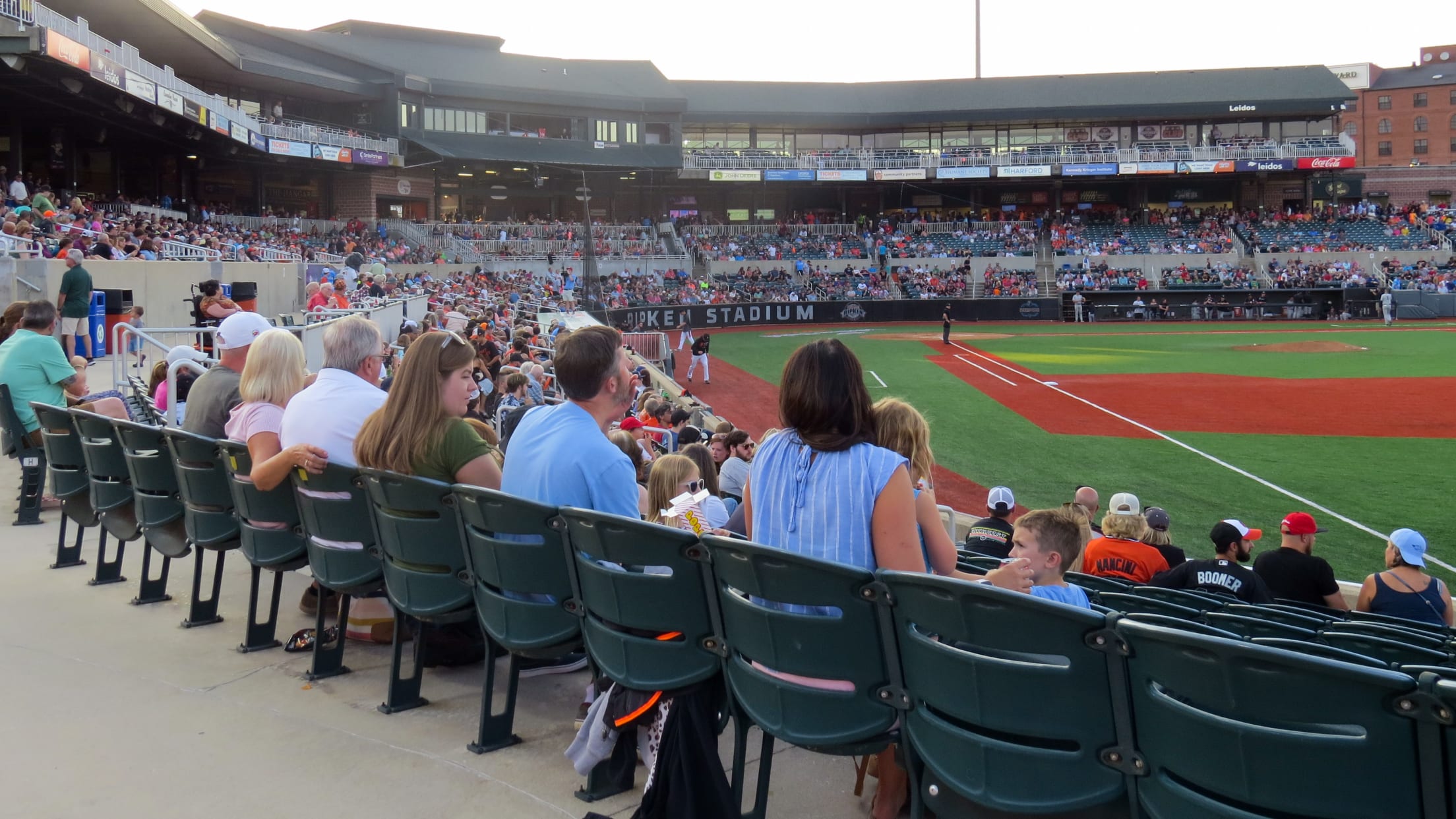 Aberdeen, Md., is a small city of approximately 16,000 people situated alongside the north end of the Chesapeake Bay. Don't let Aberdeen's comparatively small footprint fool you, as it is approximately 30 miles northeast of Baltimore and part of a larger metropolitan area comprised of nearly 3,000,000 residents. This makes it a great location for a Minor League Baseball team, particularly a Baltimore Orioles affiliate, and, even more particularly, a Baltimore Orioles affiliate owned by the organization's most celebrated family and located in that family's hometown.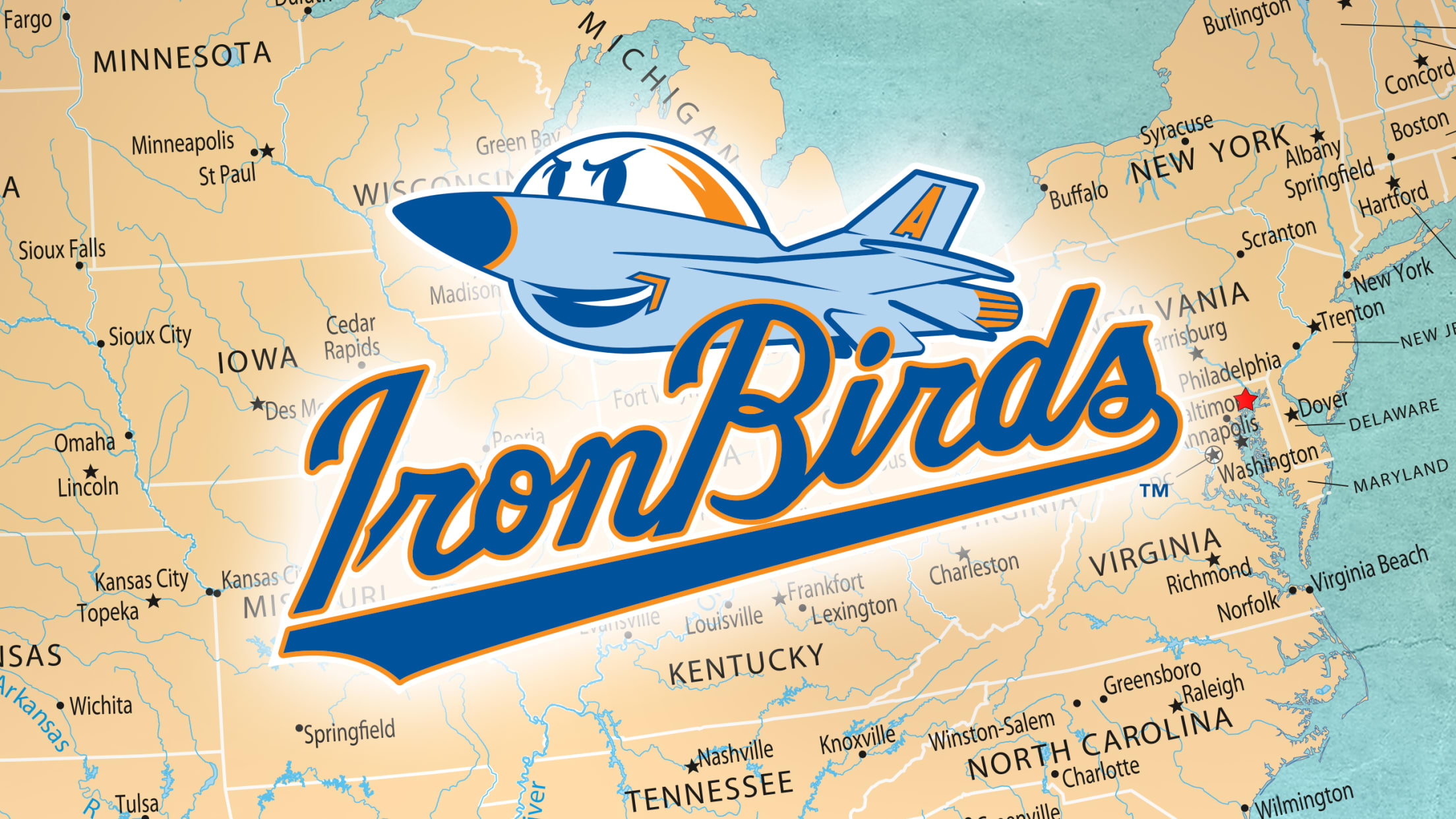 The IronBirds debuted in Aberdeen in 2002, having relocated from Utica, New York. The team is owned by Cal Ripken, Jr. and his brother, Bill, who grew up in Aberdeen. The IronBirds' moniker is a reference to Cal's "Iron Man" nickname as well as the team's Orioles affiliation. Their arrival, which coincided with the construction of aptly named Ripken Stadium, marked the first time that the city of Aberdeen had its own Minor League Baseball team. The IronBirds competed in the Class A Short-Season New York-Penn League from their inception through 2020. In 2021, as part of a larger reorganization of Minor League Baseball, they transferred to the South Atlantic League.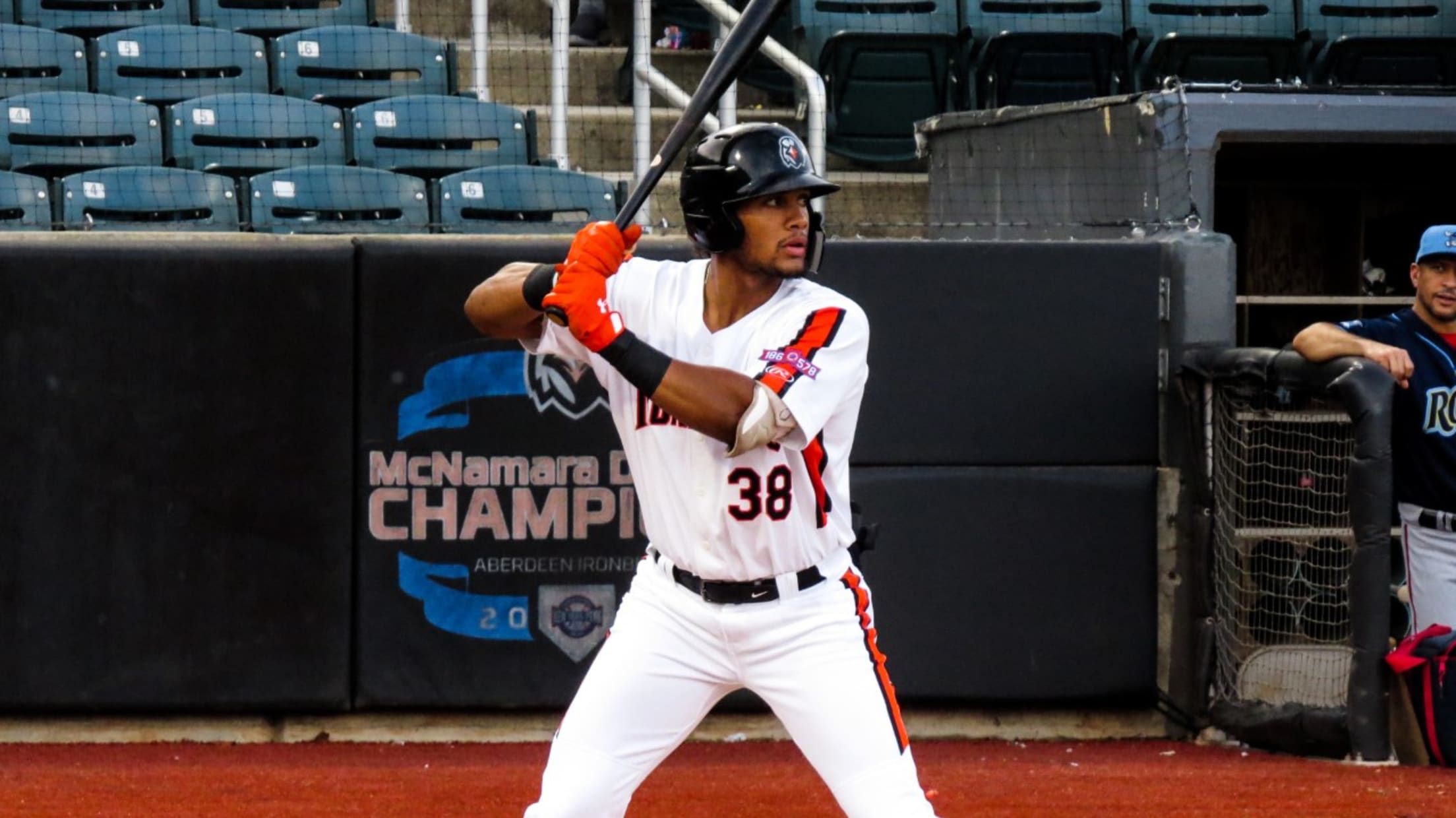 Leidos Field at Ripken Stadium
Ballpark Location (via Google Maps)
Aberdeen IronBirds Schedule
Aberdeen IronBirds Roster
873 Long Drive
Aberdeen, MD 21001
(410) 297-9292
Capacity: 4,000
Dimensions: left field, 310 feet; center field, 400 feet; right field, 310 feet
Park factors (2021-22)
100 = league average
Runs: 90 | Homers: 75 | Hits: 93
South Atlantic League environment: 5.00 runs per team per game (fifth-highest among 11 full-season leagues)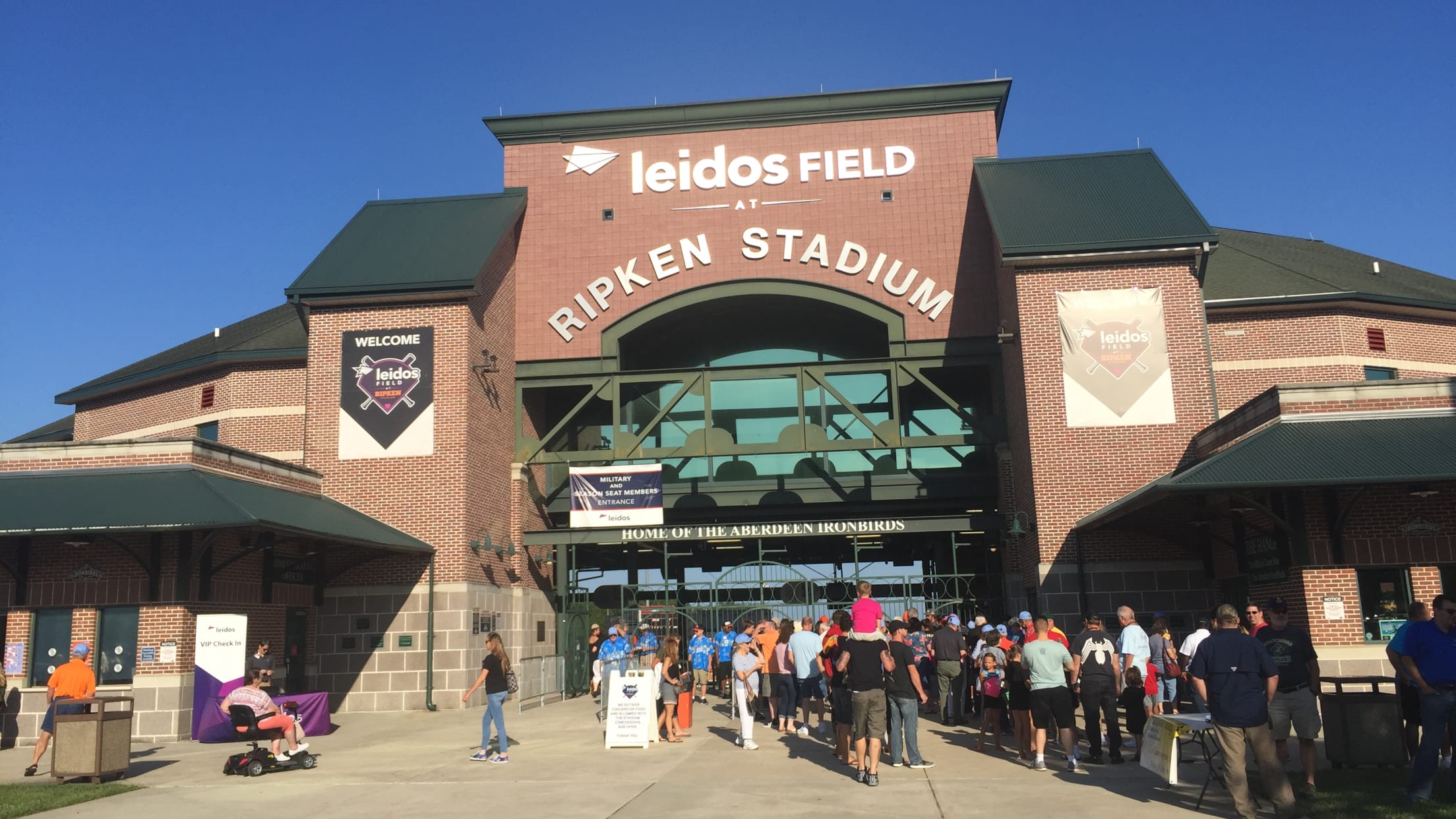 On any given day, more people see Ripken Stadium than just about any other Minor League facility. A portion of the ballpark is visible to those driving past on I-95, one of the busiest highways in America. After exiting that behemoth of an interstate, it's a short drive on state route 22 to the ballpark (full name: Leidos Field at Ripken Stadium). Its address, 873 Long Drive, is a nod to the numbers worn by Cal Jr. (8), Cal Sr. (7) and Bill (3) Ripken.
The IronBirds' home is part of a larger complex. The Ripken Experience Aberdeen, located across the street, hosts youth baseball tournaments on fields that are scaled-down replicas of classic Major League ballparks. As for Ripken Stadium, it exudes a classic feel as a result of its brick exterior and arched entranceway. Inside, one finds a spacious facility with a wide upper concourse and a bisected seating bowl that stretches from foul pole to foul pole. Group and picnic areas are concentrated in the left- and right-field corners; the latter is also home to an open-air bar and lounge.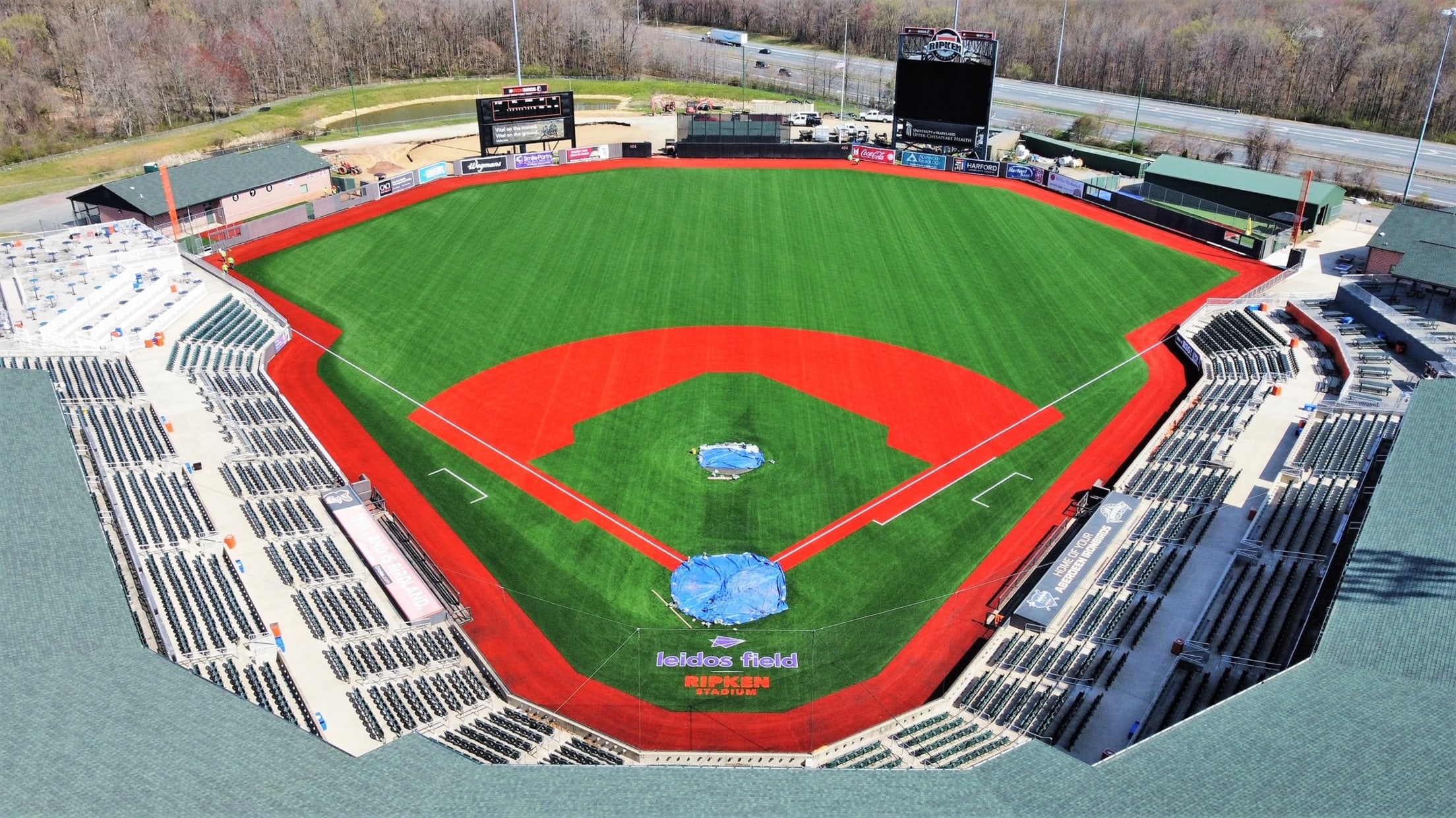 Bushels of steamed crabs, and other crab-based concession items, are available on a nightly basis and as a result the smell of Old Bay seasoning permeates the air. The din of I-95, which runs alongside the right-field side of the ballpark, is quickly subsumed by the sounds of baseball. The view beyond the outfield is comparatively bucolic, comprised largely of a canopy of trees.
Prior to the 2021 season, a brand-new artificial turf playing surface was installed at Ripken Stadium, in addition to LED lighting that provides a cornucopia of color in the wake of energizing on-field moments.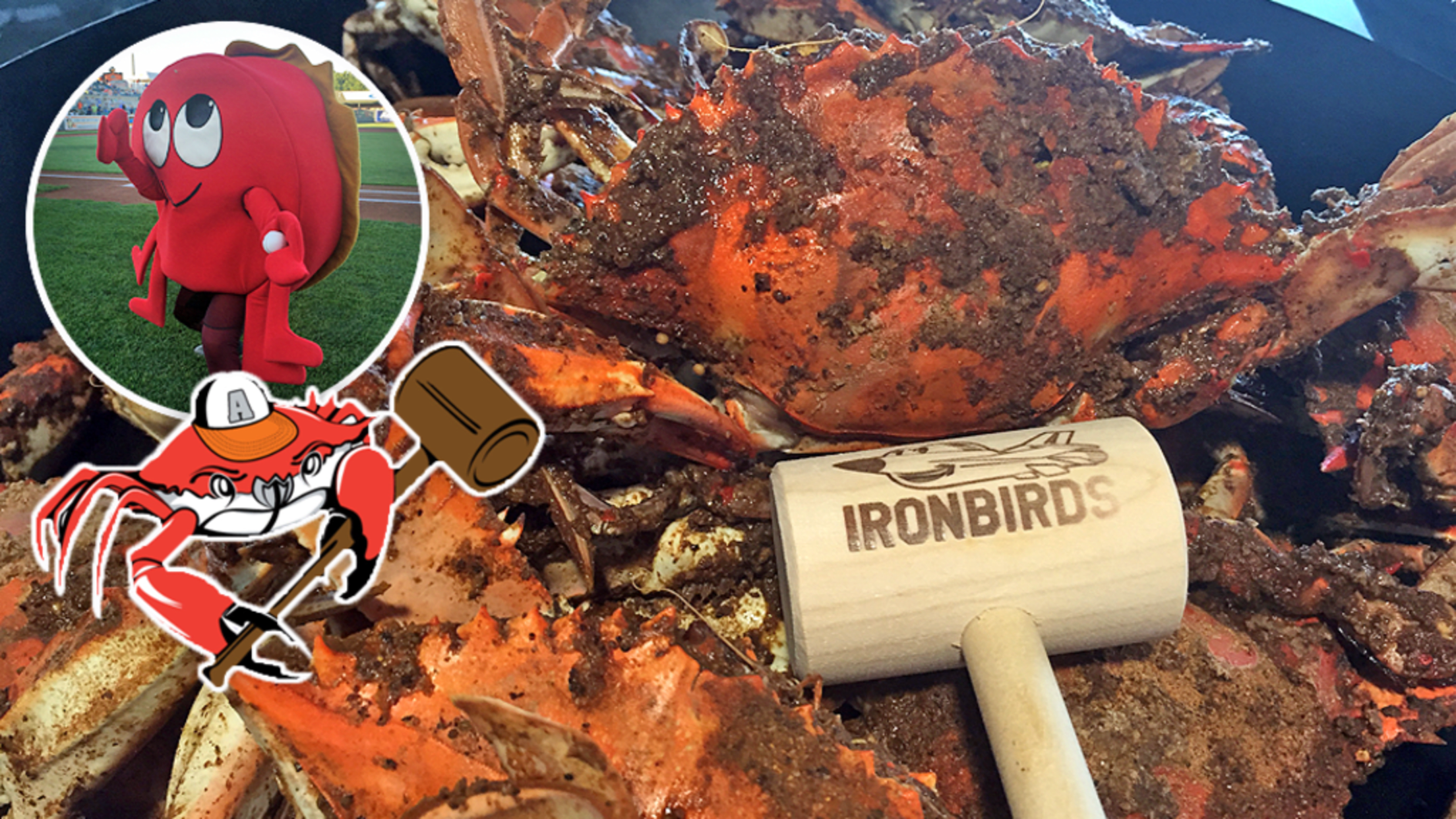 Concessions
As befits a Maryland team playing in close proximity to the Chesapeake Bay, the IronBirds put a heavy emphasis on crab. They even have an official crab partner in the form of Jimmy's Famous Seafood, a Baltimore-based institution known for their "world famous colossal crab cakes." Steamed crabs are available by the bushelful on any night of the season, but true crustacean champions will want to visit Ripken Stadium during one of the IronBirds' "Crab Feast" nights. What could be better than sitting at a newspaper-covered picnic table, using a team-logo bedecked mallet to crack open some crabs while watching a baseball game? It all comes to a head -- or claw -- when the team assumes its "Steamed Crabs" alternate identity, which the IronBirds have done on an annual basis dating back to 2017.
Ripken Stadium is also home to a wide array of ballpark staples, which should please the crab-agnostic and crab-adverse alike. Those of drinking age should keep an eye out for team beer Long Drive Blonde, concocted by local AleCraft Brewery.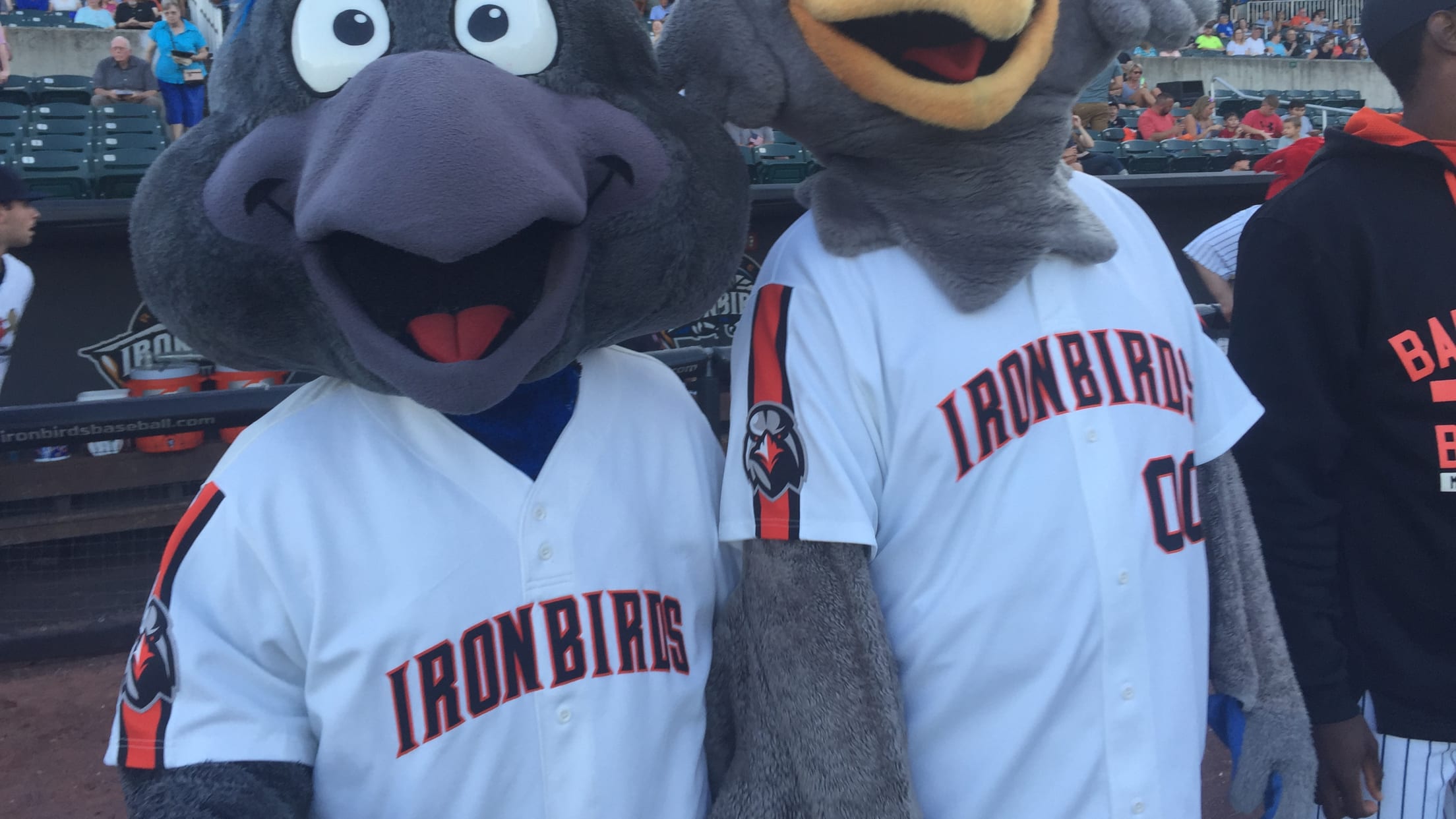 Mascots
Ferrous and Ripcord are a couple of high-flying, hard-partying gray birds who always energize the ballpark experience. The former's name is a synonym for iron. The latter has more panache than Tom Cruise in a bomber jacket. On Steamed Crabs Night, Ferrous and Ripcord are joined by their crustacean buddy Kalvin the Krab. Thus far, no one has been able to crush Kalvin with a mallet. In fact, even trying to do so is prohibited.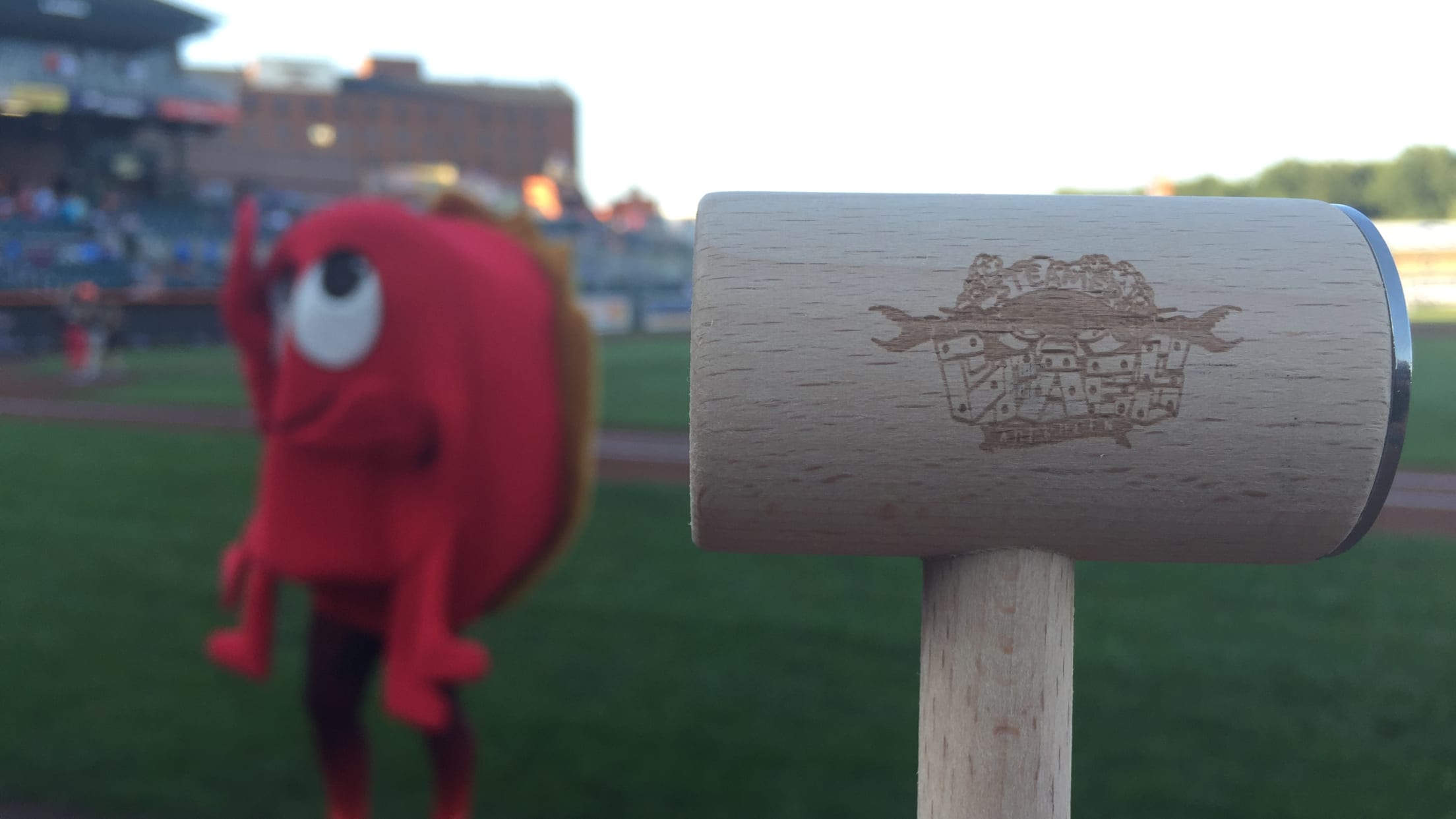 Where to Stay
Headed to the stadium and looking for a hotel nearby? Your Wyndham is waiting. As the Official Hotel of Minor League Baseball, Wyndham Hotels & Resorts welcomes baseball fans with a portfolio of 24 trusted brands. Find Hotels by Wyndham closest to the ballpark below and book now at wyndhamhotels.com.
• Super 8 by Wyndham Havre De Grace Aberdeen Area
• Days Inn by Wyndham Aberdeen
• Travelodge by Wyndham Aberdeen
• La Quinta Inn & Suites by Wyndham Aberdeen-APG
• Wingate by Wyndham Bel Air I-95 Exit 77A / APG Area
Local Attractions
Learn about the history of Aberdeen at the Aberdeen Historical Museum, whose mission is to "collect, preserve, and share historical archives and artifacts that tell the story of the greater Aberdeen area." The nearby town of Havre de Grace offers plenty to explore. The Havre de Grace Maritime Museum, located where the Susquehanna River meets the Chesapeake Bay, is part of the town's historic Concorde Point Heritage area. And did you know? Havre de Grace is the "decoy capital of the world." The Havre de Grace Decoy Museum explores their evolution from crude waterfowl hunting mechanisms to legitimate pieces of art.
Of course, there is plenty to explore all along the Chesapeake Bay. Baltimore and its many cultural attractions are a short drive to the southwest. Philadelphia is approximately 75 miles to the northeast, while the Amish Country experiences of Lancaster, Penn., are approximately 42 miles to the north.
Food and Drink
All-American Steakhouse, located on Churchville Road just off of Long Drive, features Ripken family IronBirds jerseys hanging in its sports theater. Aberdeen is also home to a location of Chap's Pit Beef, serving up Baltimore-style BBQ. The pit beef sandwich - roast beef roasted over a charcoal flame - is of course the most popular item. Santini's Italian Cuisine has a wide-ranging menu, highlighted by thin-crust New York-style pizza.
It should go without saying that there are many seafood restaurants in the Aberdeen region. One popular favorite is Woody's Crab House, located in the directionally specific town of North East, Md. (To get to North East from Aberdeen, simply head northeast.) Havre de Grace, located in between the two, is also a celebrated seafood hotspot.
Moving On
If you're a Baltimore Orioles fan, then consider a road trip incorporating every team in the organization. The IronBirds are the northernmost team in the system, just 35 miles away from Camden Yards. Moving south from there, one finds the Double-A Bowie Baysox, Single-A Delmarva Shorebirds and Triple-A Norfolk Tides. The Wilmington Blue Rocks are also nearby, and from there one can move northeast to the Jersey Shore BlueClaws or northwest to the Reading Fightin Phils and Harrisburg Senators.
The Road to Baltimore
Orioles farmhands don't have to travel far as they work their way up the system. As detailed above, the Baltimore system includes three teams in Maryland and one in Virginia. Proximity rules the day.
Single-A: Delmarva Shorebirds
High-A: Aberdeen IronBirds
Double-A: Bowie Baysox
Triple-A: Norfolk Tides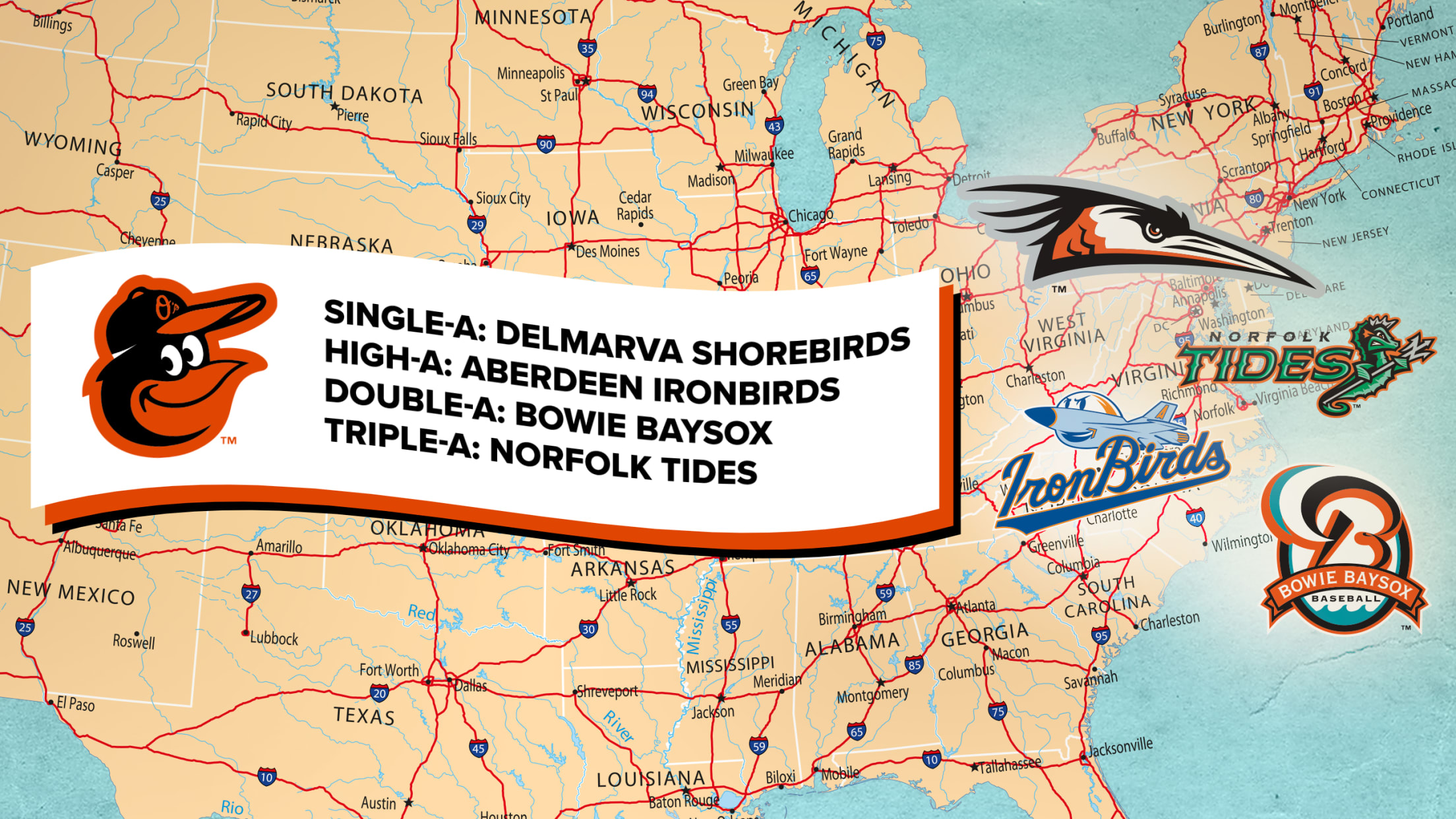 credits:
Benjamin Hill, who covers the business and culture of Minor League Baseball, has visited 182 Minor League ballparks.