Explore Norfolk's Harbor Park
Welcome to Harbor Park, nestled right against the Elizabeth River in Norfolk's downtown area. Catch the next generation of Orioles, take in the views of the shipyard beyond the outfield fence and keep an eye on some of the biggest and best video boards in Minor League Baseball.
Norfolk Tides (Triple-A affiliate of the Baltimore Orioles since 2007)
Established: 1961
League: International League (since 1969)
Ballpark: Harbor Park
Championships: 1965, 1972, 1975, 1982, 1983, 1985
Notable Alumni: Dwight Gooden, Darryl Strawberry, David Wright, Jose Reyes, Matt Wieters, Jake Arrieta, Trey Mancini, Adley Rutschman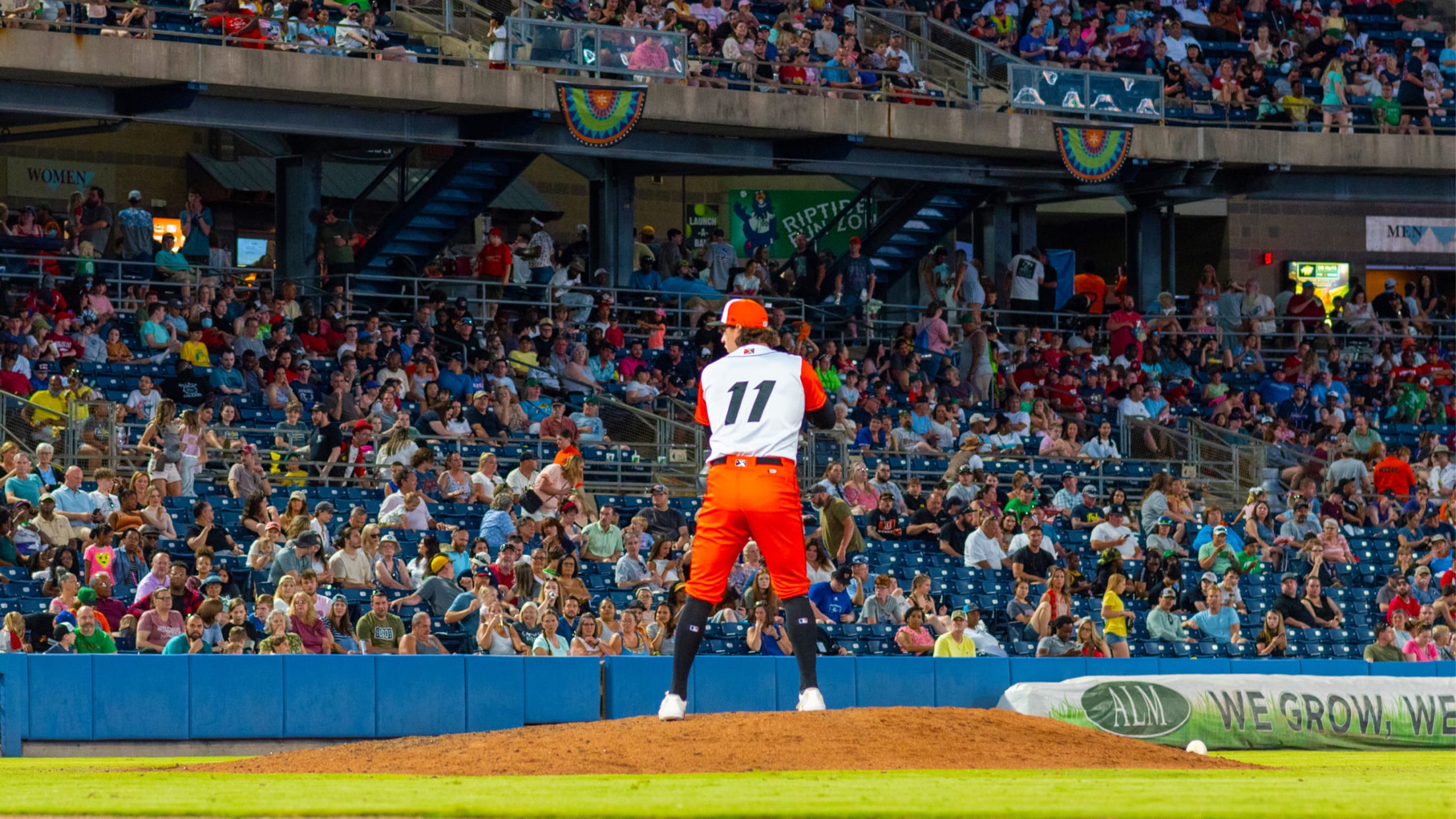 Tides general manager Joe Gregory has a familiar story.
During his time growing up in northeast Ohio, his family would often take summer trips to the east and spend some of the warmer weeks of the year in the Hampton Roads region of southeast Virginia, aka the area covering Norfolk, Virginia Beach and Newport News. It's where the Chesapeake Bay meets the Atlantic Ocean meets the James, Elizabeth and Nansemond flow into one another, to name a few. That's a lot of coastline. A lot of opportunities to soak up the sun, crack open some crabs and -- in one case -- take in some of the best baseball the Minor Leagues has to offer
Gregory's first Minor League Baseball came in Norfolk (back when the club played at Metropolitan Memorial Park), and he claims he was the only kid in Youngstown, Ohio, wearing a Tides cap. It's a feeling he hasn't forgotten in the decades since, especially now as he steers the ship.
"We have a saying here," Gregory said. "'Every day could be someone's first game at Harbor Park.' We try to take that into consideration. There are people from all parts of the country coming in. … We have our die-hards, but we definitely have those vacationers and those transient people who we want to make sure have a good time and pick up some Tides gear while they're here."
Harbor Park
Ballpark Location (via Google Maps)
Norfolk Tides Schedule
Norfolk Tides Roster
150 Park Avenue
Norfolk, VA 23510
(757) 622-2222
Capacity: 11,856
Dimensions: left field, 333 feet; center field, 410 feet; right field, 318 feet
Park factors (2021-22)
100 = league average
Runs: 96 | Homers: 91 | Hits: 94
International League environment: 4.89 runs per team per game (seventh-highest among 11 full-season leagues)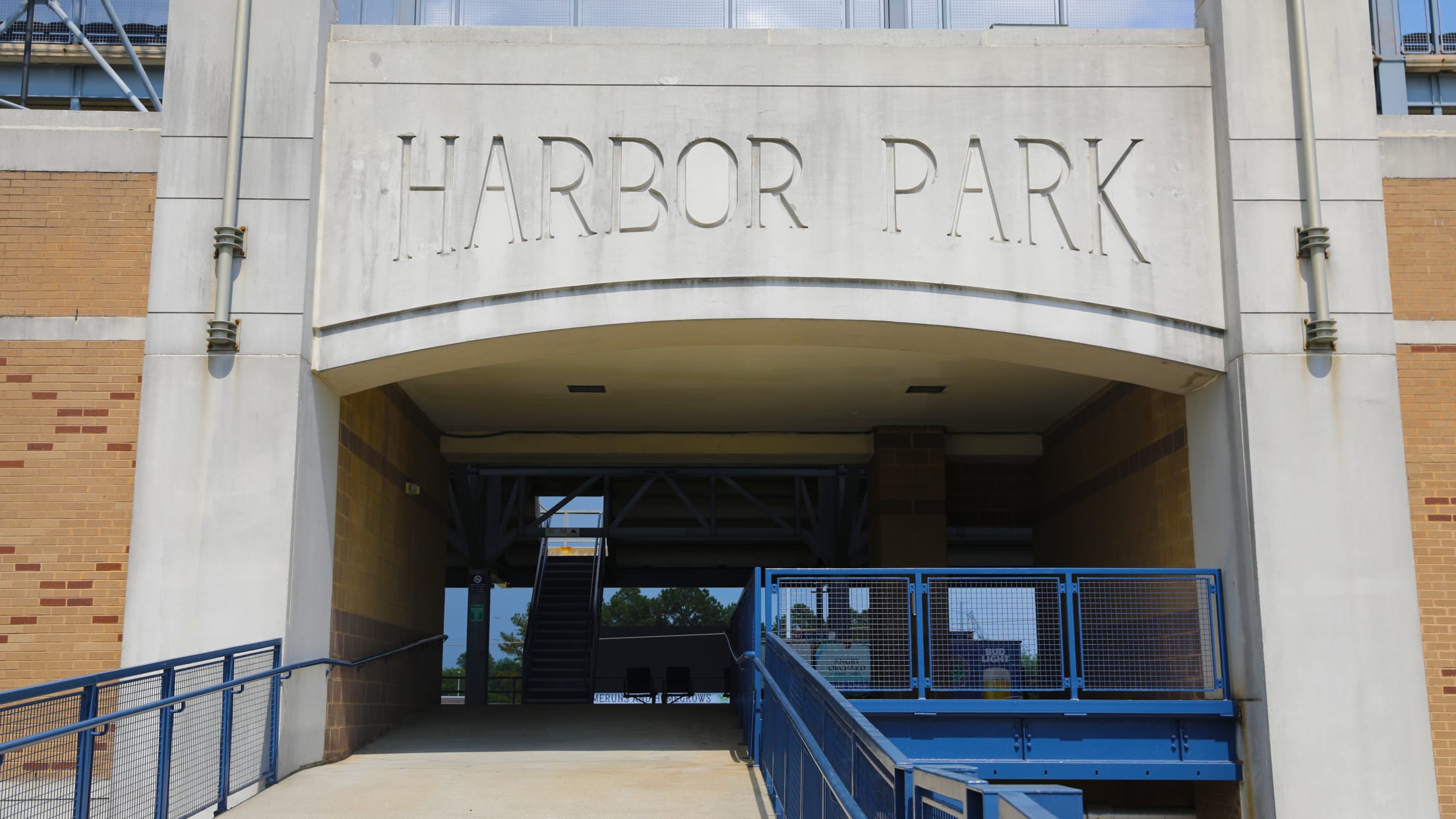 It isn't hard to see why Gregory and so many others have fallen for Norfolk baseball over the years, especially at Harbor Park. The Tides' current stadium saw play for the first time in 1993 -- one year after Camden Yards opened its doors and revolutionized ballpark design as we know it. The two parks (that of the parent club and Triple-A affiliate) share some similarities, most notably the open concourses and downtown placements.
The diamond at Harbor Park faces southeast and looks directly onto the Elizabeth River, leading to cool nautical views from almost any seat in the stadium. Norfolk is home to the US Navy's Atlantic fleet, and the area is considered the biggest naval base in the world. As such, shipyards are common sights in the region and help form the Tides' outfield backdrop. It has also helped contribute to Norfolk's claim as a Caffeine Capital since so many coffee and tea brands are imported onto Hampton Roads shores. That's how you may have heard of Norfolk's internet-famous Coffee promotional rebrand.
That look toward the river has improved another notch this year with the addition of two new video boards. The right-field board is the second-biggest in all of Minor League Baseball at 114 feet long and 32 feet high, while the left-field board checks in at 60x24. When combined, the 5,088 square feet give Norfolk the most video display space in the Minors. It's a clear and crisp display too, giving the team fresh chances to enhance fan entertainment and provide HD-quality instant replays for folks waiting to watch the latest feats of Gunnar Henderson and Jordan Westburg one more time.
If you're looking for a specific spot to target for a ticket, Gregory recommends anywhere in Row Y at the top of the concourse, where seats tend to offer a little more legroom, or the right-field party deck, a prime spot for a potential home run in front of you and a tasty beverage behind.
There might not be a better time to take in a game in Norfolk. The Orioles have pivoted from skipping top prospects over Triple-A (as they did with Manny Machado) to giving them actual development time in the International League. Adley Rutschman, Grayson Rodriguez and DL Hall highlighted the Tides' roster in the first half of 2022, while Henderson and Westburg have brought plenty of prospect prominence following their arrivals in June. The buzz is getting more palpable by the day near the bay.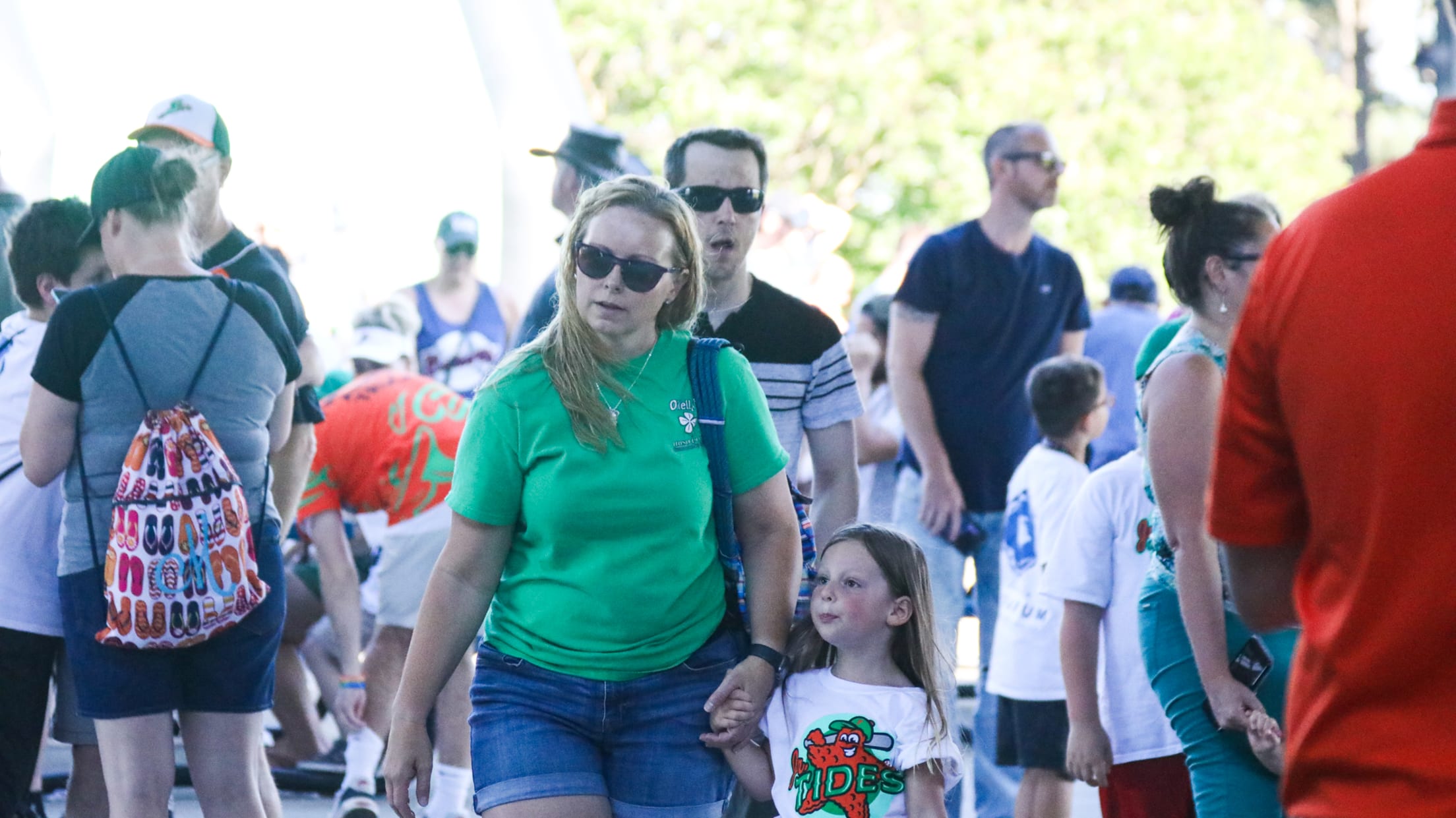 Concessions
Beyond the traditional ballpark staples, Gregory recommends the Harbor Park barbeque, which is smoked on site. Boathouse BBQ down the left-field line is often a favorite. The Hits at the Park restaurant in right provides an indoor change of pace for eating too. For those looking for a local flavor in their alcoholic drinks, try the locally famous Orange Crush, made from orange juice, vodka, orange liqueur and lemon-lime soda.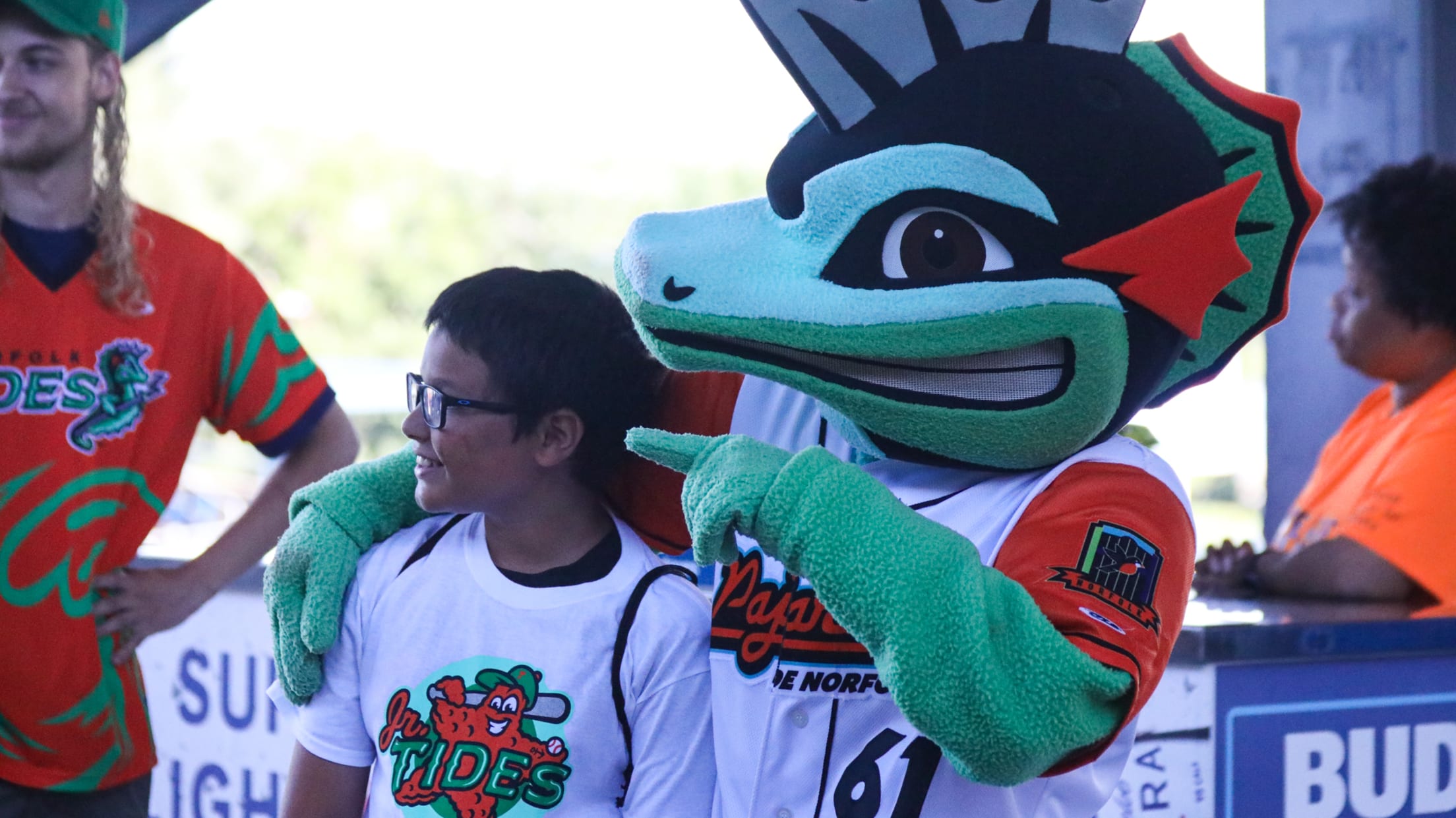 Mascots
Longtime Tides fans will recognize Rip Tide, a blue furry being with a baseball for a nose who has been with the club since March 1993. Twenty-three years later, he was joined by the green seahorse Triton, who symbolized the club's move toward an even more nautical motif in 2016. Triton is often seen sporting a No. 61 Norfolk jersey in a nod to the club's first season as the Tides in 1961.
Where to Stay
Headed to the stadium and looking for a hotel nearby? Your Wyndham is waiting. As the Official Hotel of Minor League Baseball, Wyndham Hotels & Resorts welcomes baseball fans with a portfolio of 24 trusted brands. Find Hotels by Wyndham closest to the ballpark below and book now at wyndhamhotels.com.
• Howard Johnson by Wyndham Virginia Beach
• Wyndham Garden Norfolk Downtown
• Wingate by Wyndham Chesapeake
• La Quinta Inn & Suites by Wyndham Norfolk Airport
• La Quinta Inn by Wyndham Norfolk Virginia Beach
Local Attractions
The entire Hampton Roads region is already a vacationer's paradise. Those who prefer the sun and sand should frequent Virginia Beach to the east. Those who love history will enjoy Jamestown, Williamsburg and Yorktown to the north. Norfolk itself boasts the Chrysler Museum of Art, just a 10-minute drive from Harbor Park, and there are harbor cruise tours near the naval base. Coming soon: the HeadWaters Resort & Casino is expected to open in 2024, mere feet beyond left field at the home of the Tides.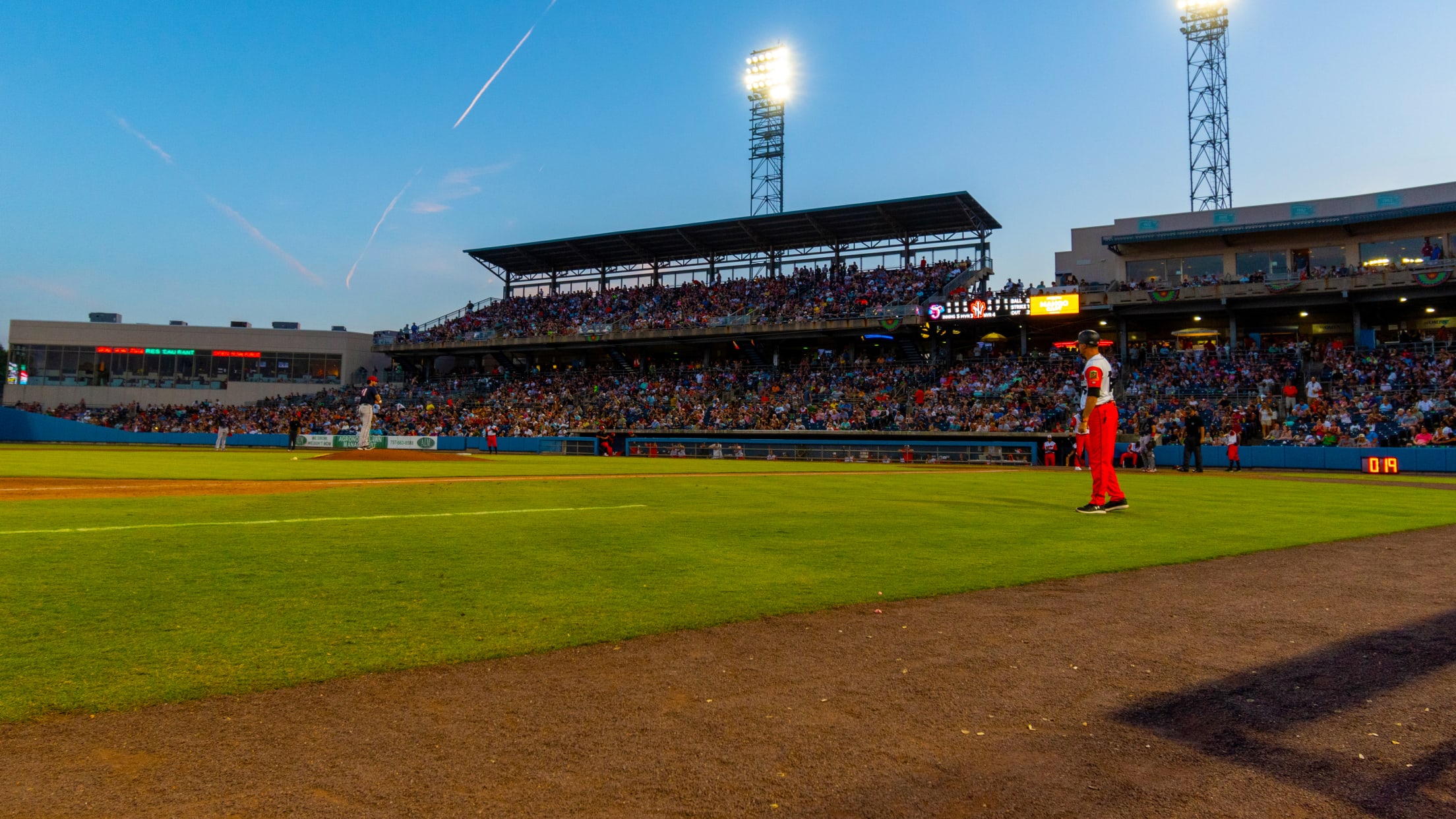 Food and Drink
Norfolk is known, as is any good bayside area, for its seafood, and the entire downtown area is filled with options for fish and crab lovers. The Waterside District is especially popular for visitors. If you're looking for something a little off the beaten trail, try Doumar's -- a barbeque joint famous for its ice cream. The place even makes its own waffle cones using what it claims is the world's first cone machine, and that helped get it featured on Guy Fieri's Diners, Drive-Ins and Dives.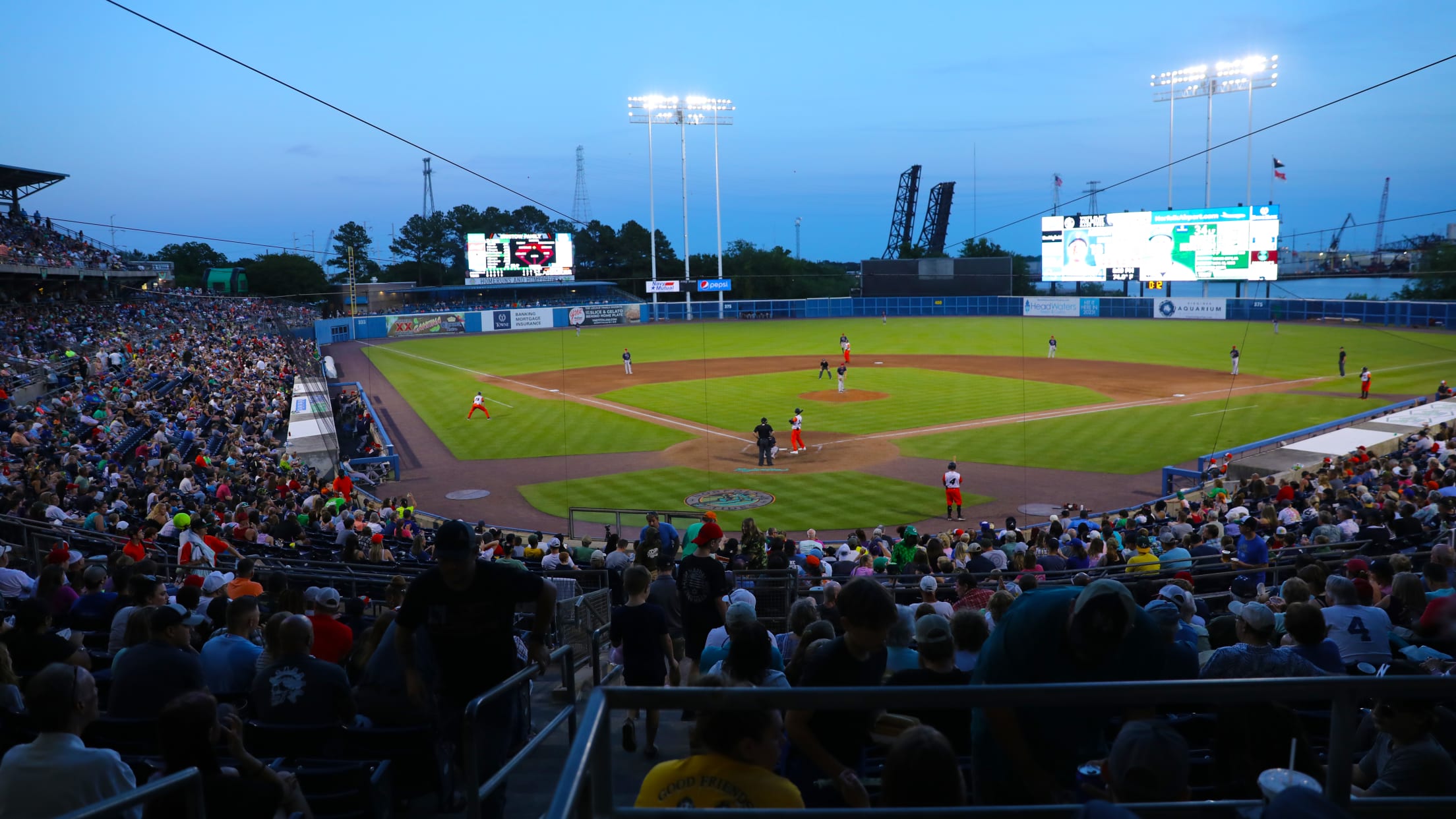 Moving On
There's the potential for an all-Orioles-affiliate road trip here. (See below.) But if you're looking to see something in a different hue than orange and black, consider making stops at Richmond, Lynchburg, Salem or Fredericksburg in the state of Virginia. Durham, Carolina (Zebulon) and Down East (Kinston) are all within a three-hour drive south of the North Carolina border too.
The Road to Baltimore
The Orioles boast one of the most tightly packed farm systems in baseball. Norfolk is the farthest south of the organization's four full-season affiliates, but Delmarva, Aberdeen and Bowie are all within a five-hour drive in nearby Maryland. Perhaps ironically, the Single-A Shorebirds are the closest to the Tides, just 2 ½ hours north on the Delmarva peninsula, accessible via the Chesapeake Bay Bridge-Tunnel.
Single-A: Delmarva Shorebirds
High-A: Aberdeen IronBirds
Double-A: Bowie Baysox
Triple-A: Norfolk Tides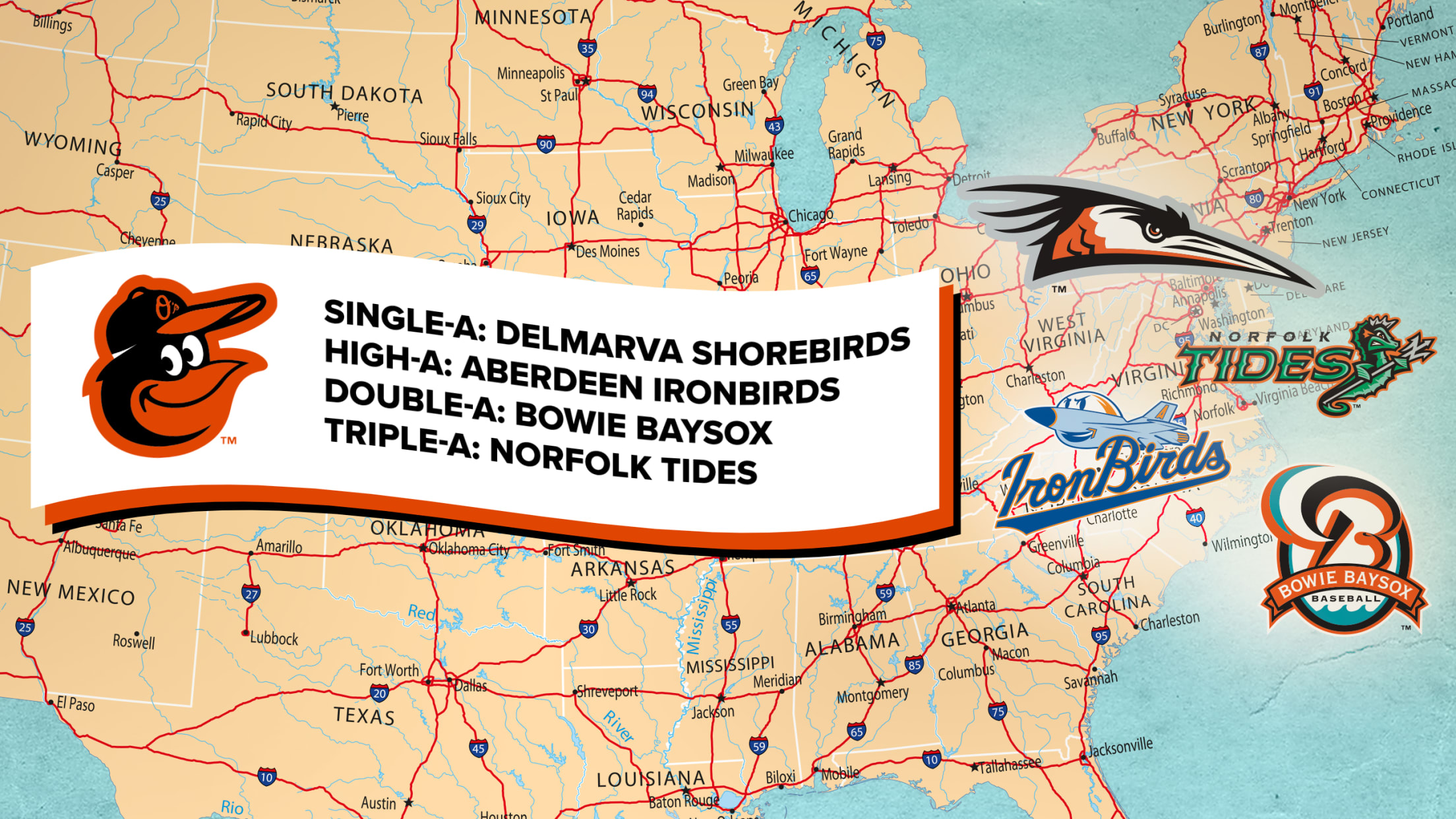 credits:
Sam Dykstra is a reporter for MiLB.com and MLB.com. Follow and interact with him on Twitter: @SamDykstraMiLB.