Explore Appleton's Fox Cities Stadium 
Welcome to Appleton's Fox Cities Stadium, home of the Wisconsin Timber Rattlers. At this ballpark, fans tailgate before the game, socialize with a friendly bipedal snake and, if they're lucky, catch their dinner after it's been shot out of a Bratzooka.
Wisconsin Timber Rattlers (Affiliate of the Milwaukee Brewers since 2009)
Established: 1958 (as the Fox Cities Foxes)
League: Midwest League (since 1962)
Ballpark: Neuroscience Group Field at Fox Cities Stadium (opened 1995)
Championships: 1960 (in the Three-I League), 1964, 1966-67, 1969, 1978, 1982-84, 2012
Notable Alumni: David Ortiz, Alex Rodriguez, Raul Ibanez, Pat Gillick, Earl Weaver (manager), Goose Gossage, Harold Baines, Tom Gordon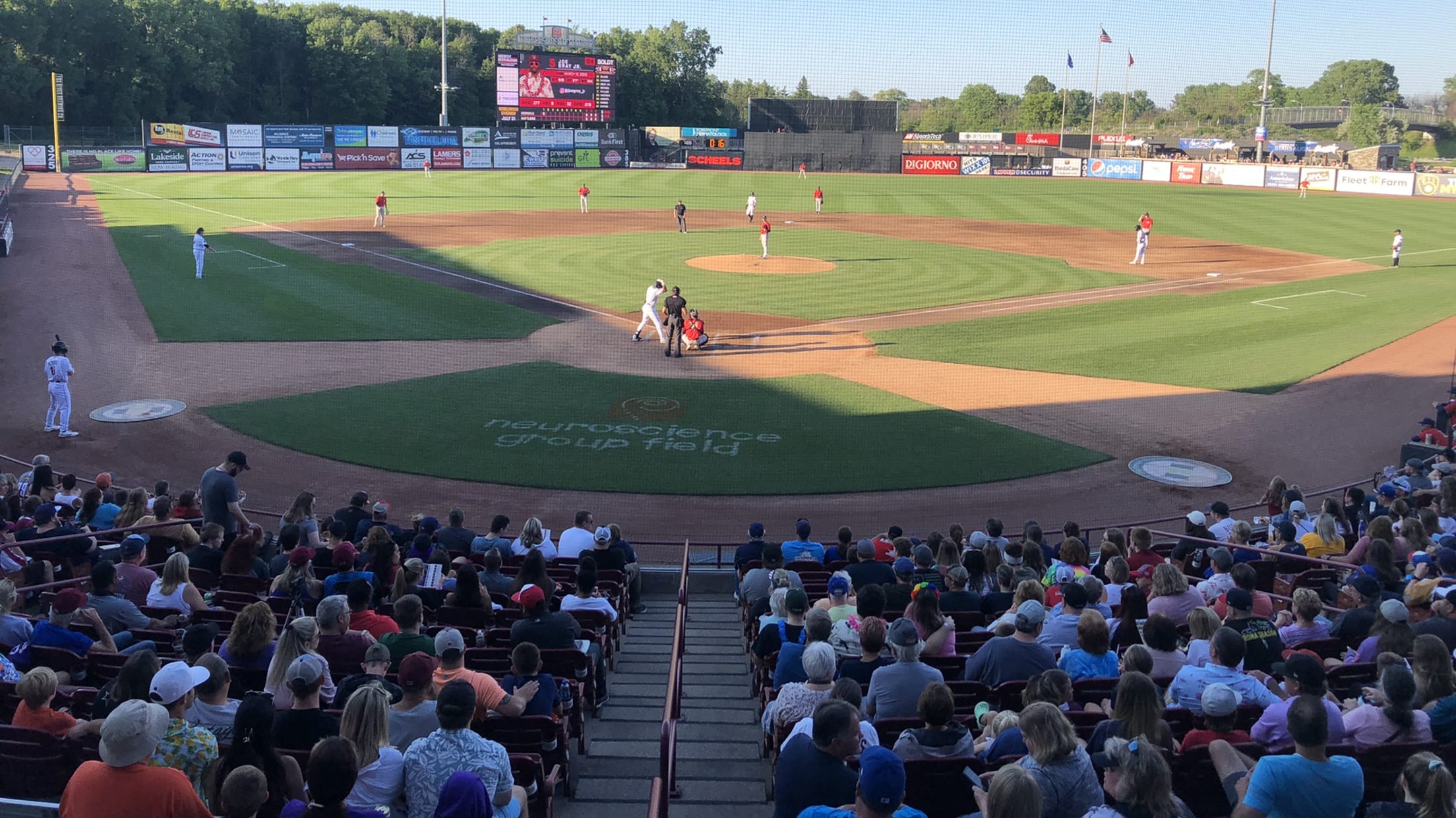 The team name includes an entire state and the ballpark is technically located in Grand Chute, but the Wisconsin Timber Rattlers are Appleton's team. The franchise has operated continuously since 1958, when the Fox Cities Foxes debuted in the Three-I League. The Foxes shifted to the Midwest League in 1962, where they have remained ever since (in 2021, the Midwest League shifted classification from Single-A to High-A).
From 1958 through 1994 the Foxes played at Appleton's Goodland Field, which is still in existence as a sports complex named Nienhaus Field. In 1995, in conjunction with the move to their current ballpark, the Foxes rebranded as the Timber Rattlers. Their affiliation with the in-state Milwaukee Brewers began in 2009, following partnerships with Seattle, Kansas City, the Chicago White Sox, Baltimore and the Washington Senators. The Timber Rattlers, long owned by the non-profit Appleton Baseball Club, were purchased in 2021 by an ownership group that includes longtime team president Rob Zerjav.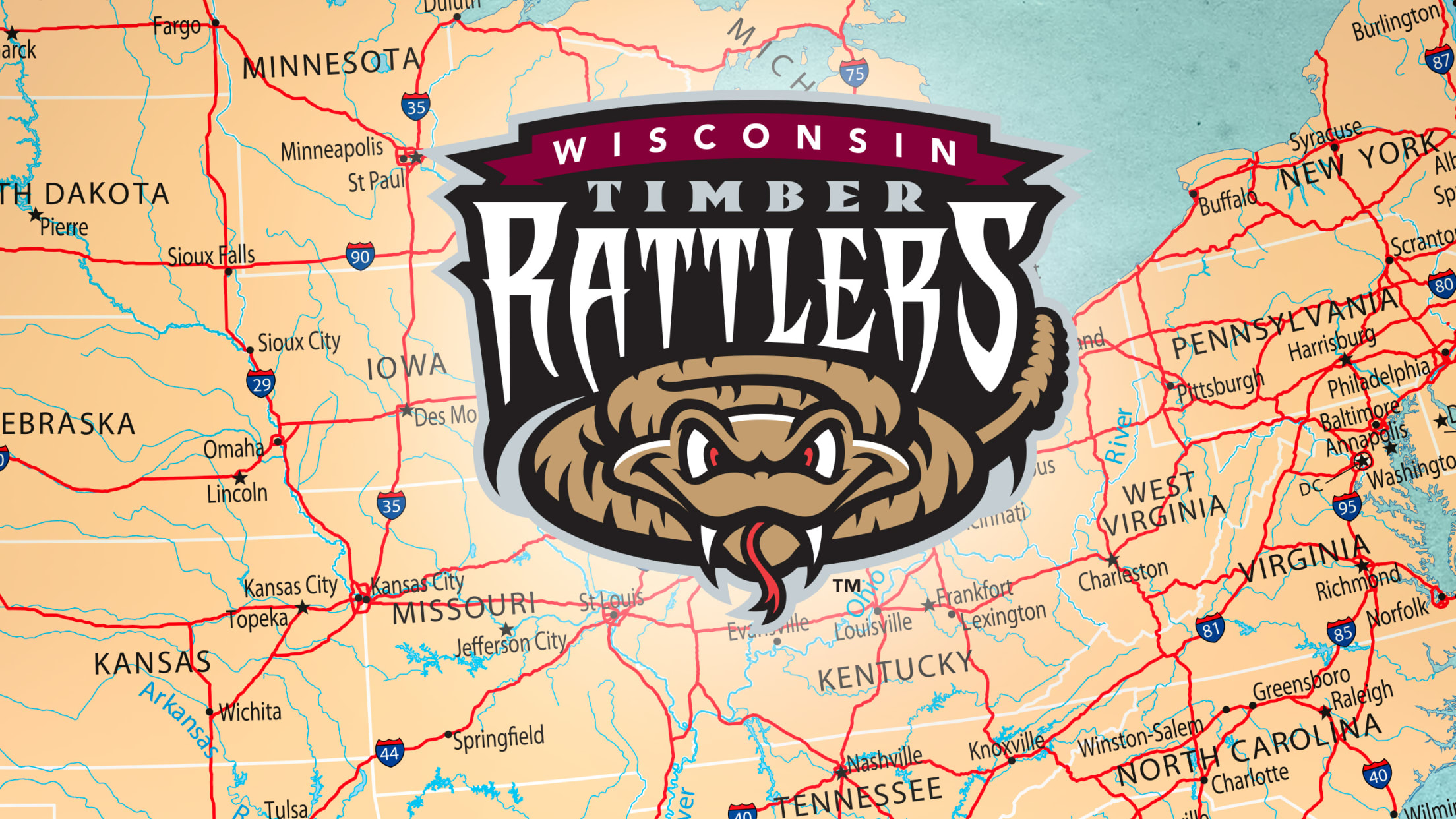 Neuroscience Group Field at Fox Cities Stadium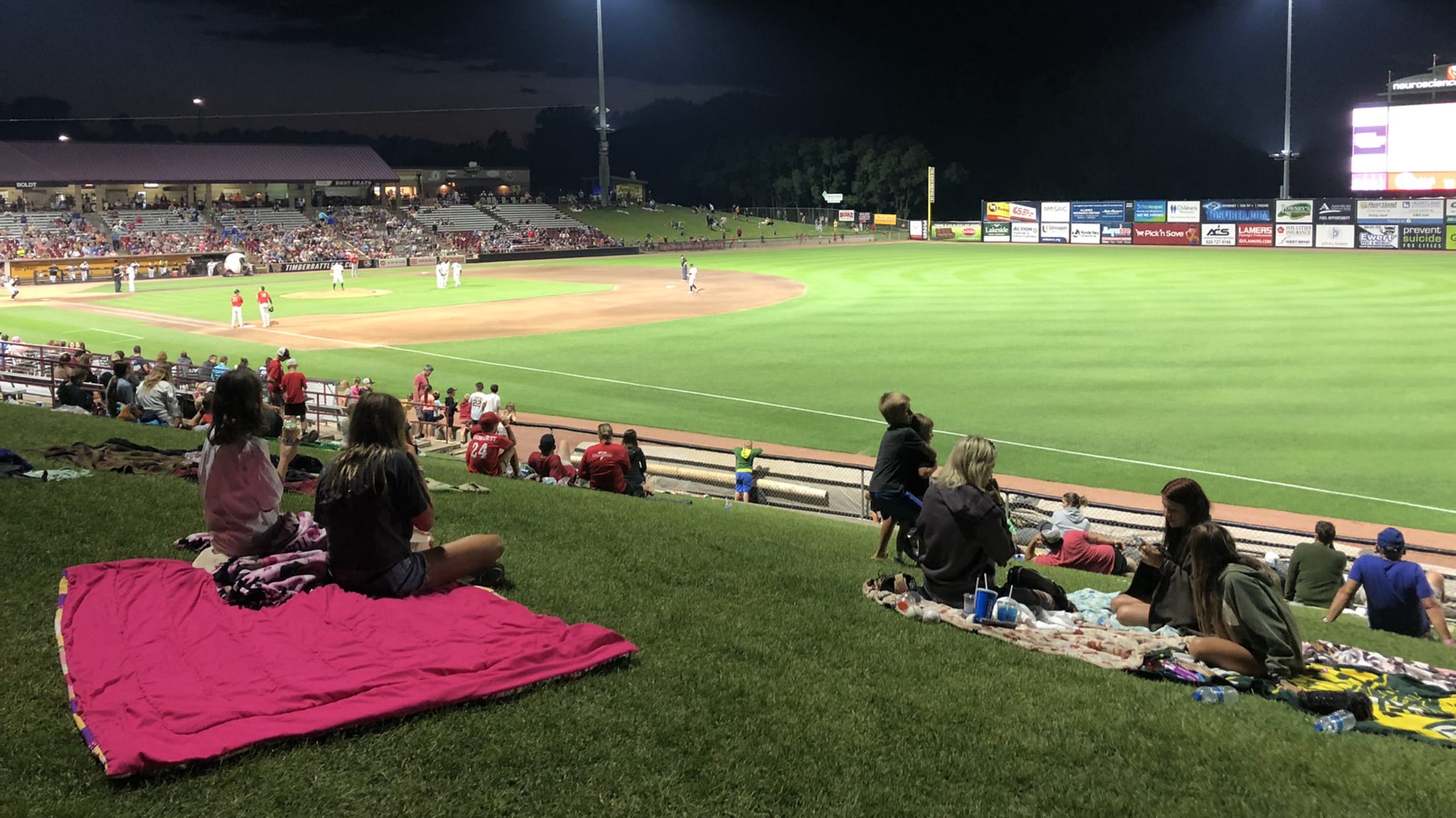 Fox Cities Stadium is conveniently if not scenically located. The steady traffic of I-41 hums beyond the outfield wall; on the other side of the ballpark lies a very large parking lot. This is perhaps more important in Wisconsin, as the state's tailgating culture most definitely extends to Minor League Baseball. If the weather's nice, and especially if it's a weekend, expect to find a scene filled with grills, lawn chairs and lawn games (even if the lawn in question is paved with asphalt).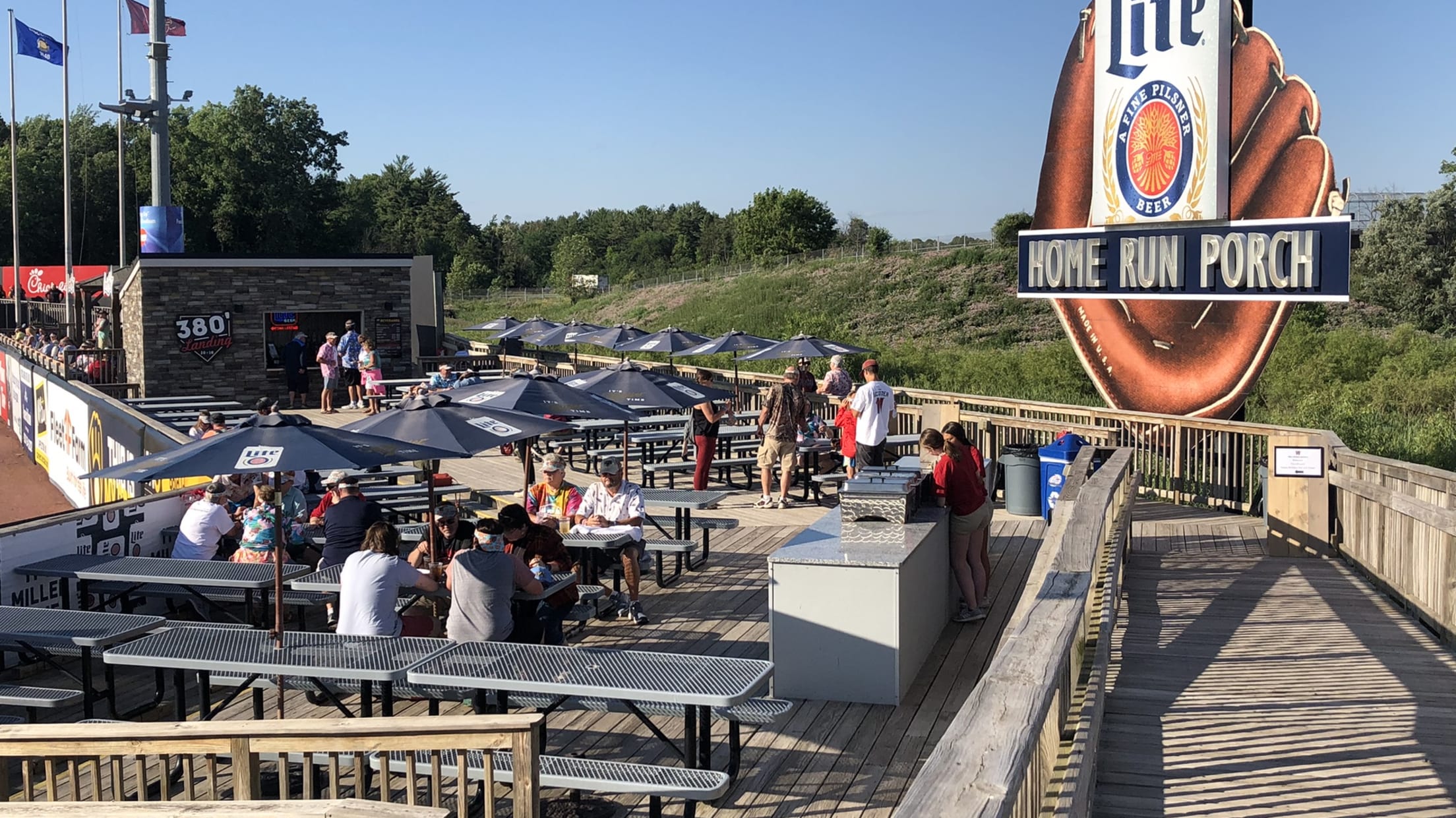 On the inside, Fox Cities Stadium is open and expansive. The concourse encompasses the majority of the facility, from the left field foul pole to a party deck in right-center field. Spacious - and abnormally steep - berm areas are located in both the right and left field corners. Behind the former is a sprawling Kid's Zone, featuring a playground and sandbox (or, as the team calls it, a "beach area"). The right field Home Run Porch is home to a full bar, The 380 Landing, whose name references its distance from home plate.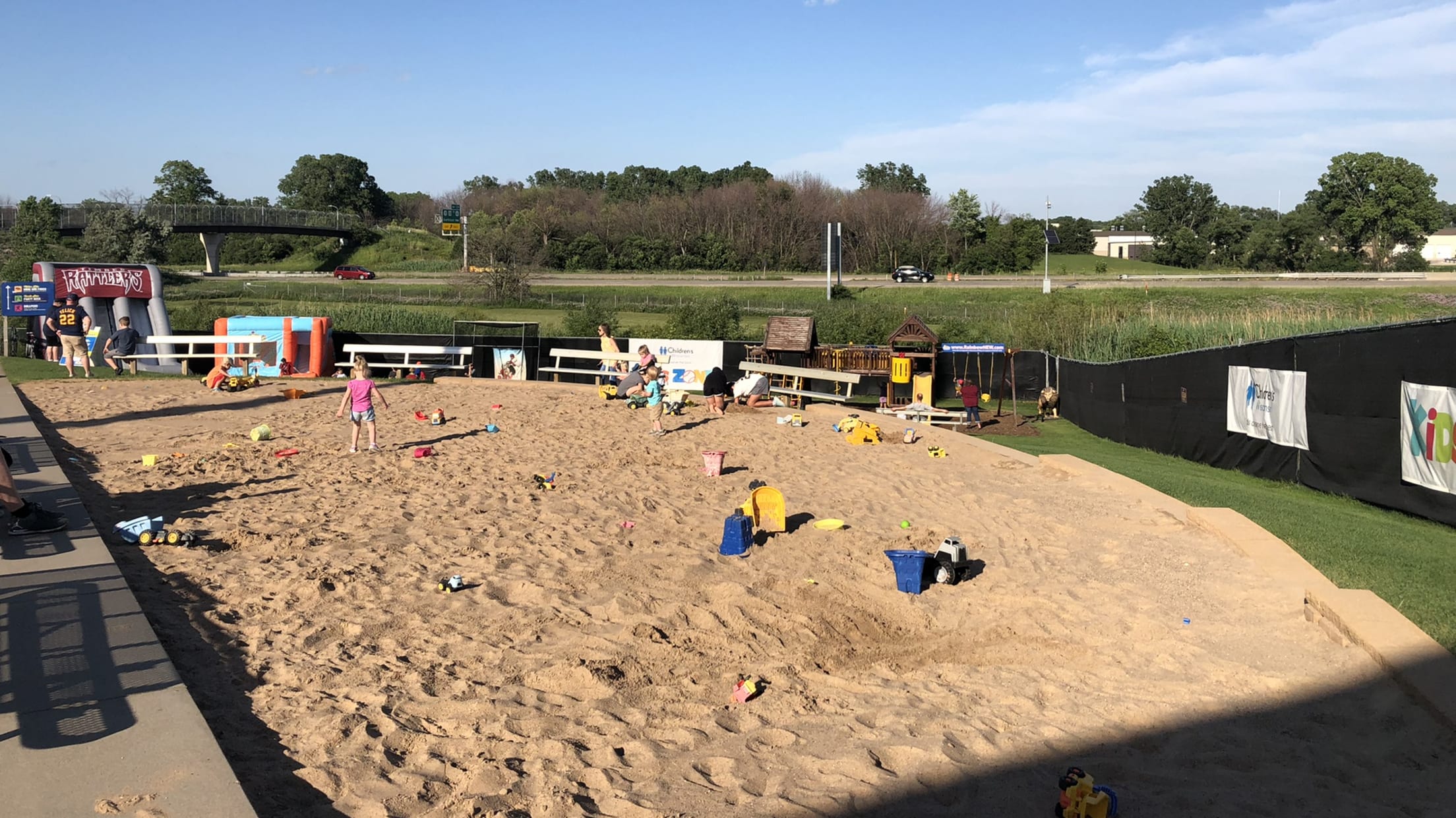 One of the newest additions to Fox Cities Stadium is Brews on Third, a beer garden located at the end of the third base concourse. The area is filled with jumbo-sized games such as Jenga and Connect 4, as well as a foosball table. There is also a small performance stage for pre and postgame concerts. The Leinie Legends Lodge, a partnership with Leinenkugels beer, is on the first base side of the concourse and possesses a cozy, tavern-like feel.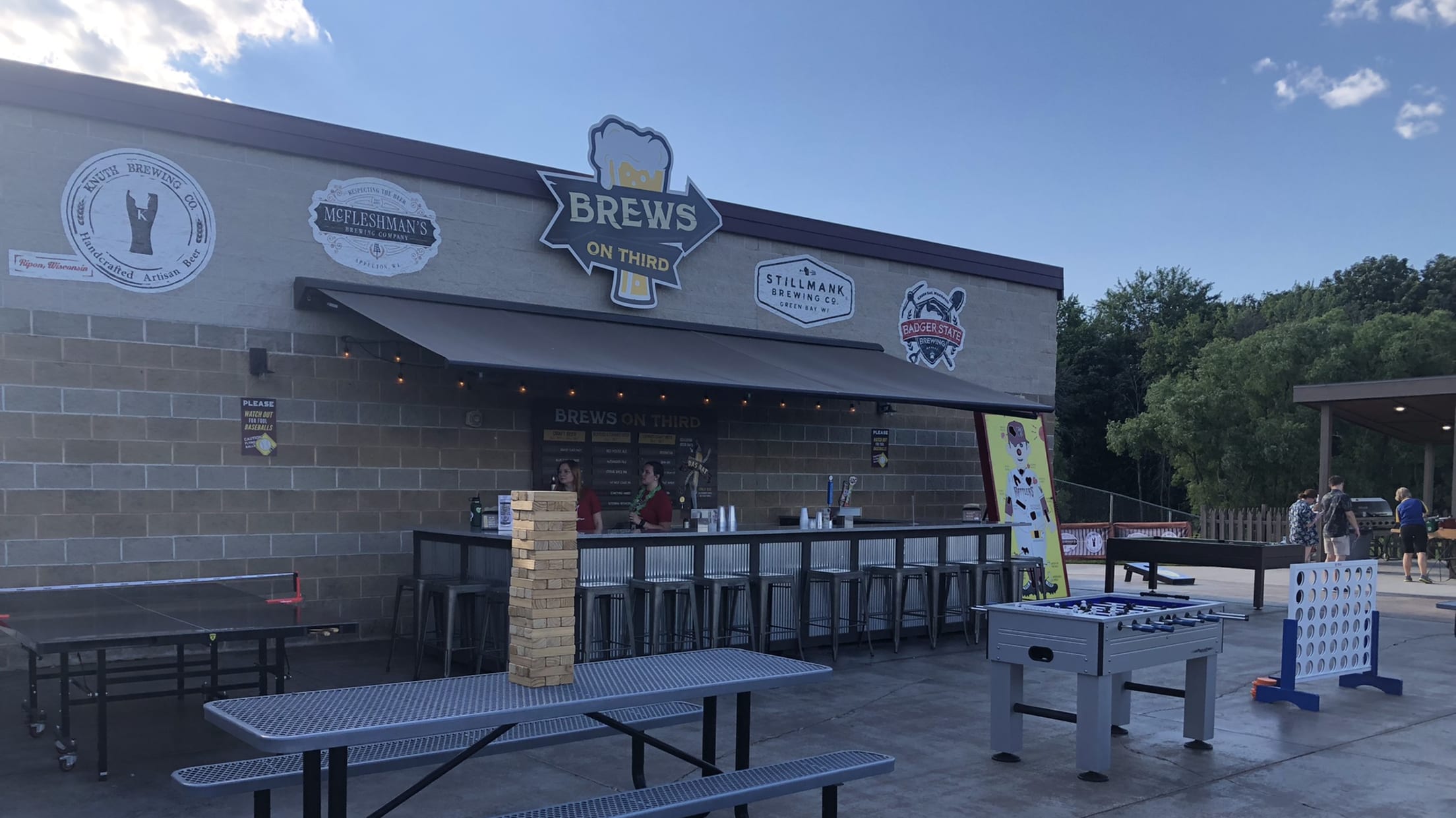 All of the above features and amenities ring a seating bowl bookended by berm areas. Take your pick between comfort and economy, as the lower half of the bowl is comprised of seats and the upper half bleachers. No matter where you are, expect to be immersed in an atmosphere that is totally "Wisconsin." German sausages are shot into the stands via a Bratzooka, and the team also has a "Brats" alternate identity. The Timber Rattlers additionally suit up as the Udder Tuggers for a weekend each season, paying tribute to the local dairy industry.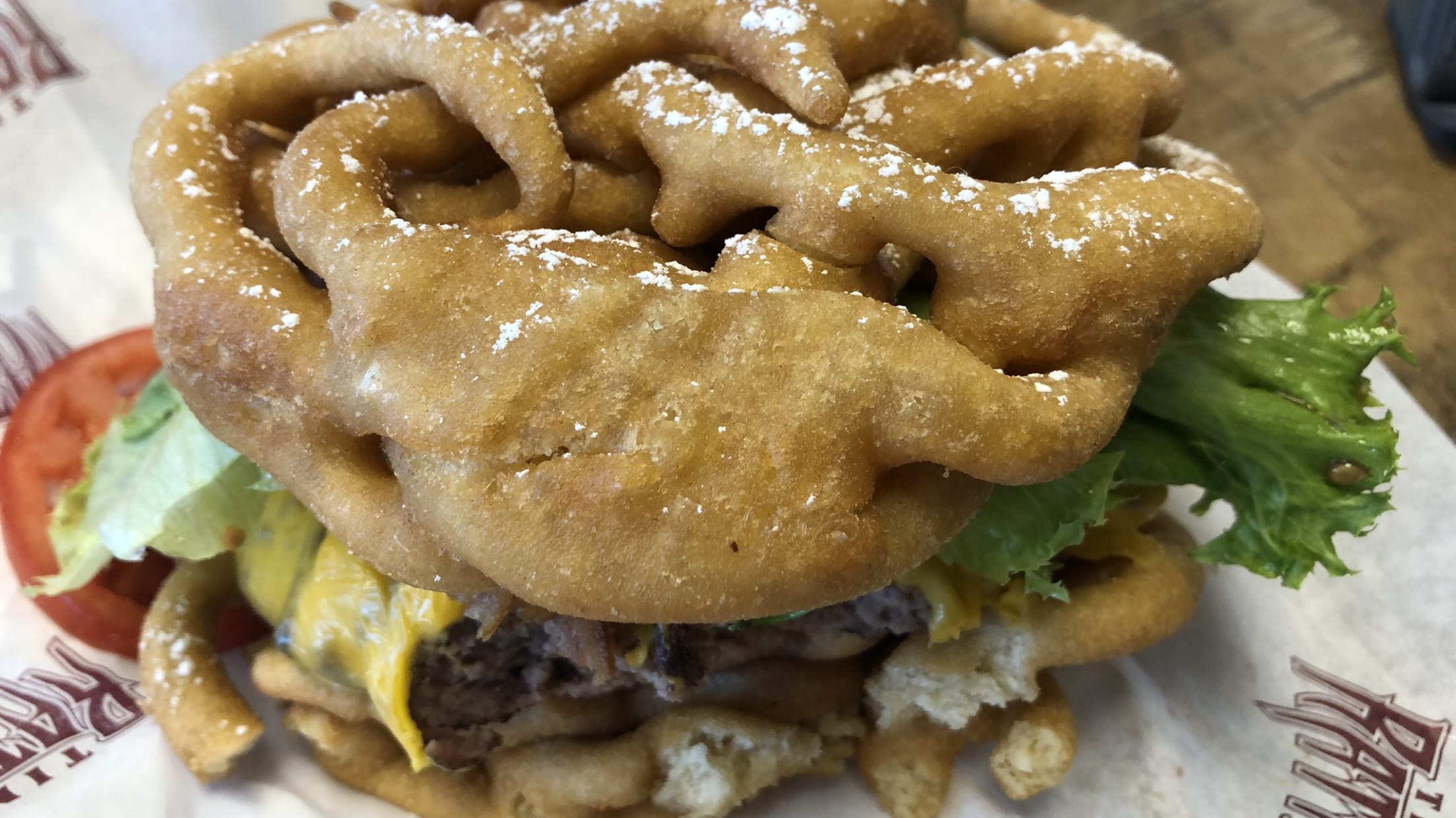 Concessions
---
Fox Cities Stadium is ringed with concession stands and kiosks. The brats and hot dogs on offer are courtesy of Cher-Make, and gluten-free buns are available. Visit Class "A" Nachos for a portion of such served in a batting helmet. Specialty items include, but are far from limited to, Jalapeño Popper Grilled Cheese, Buffalo Chicken Egg Rolls and the Big Mother Funnel Burger. There's plenty of local craft beer on tap to wash it all down.
Mascots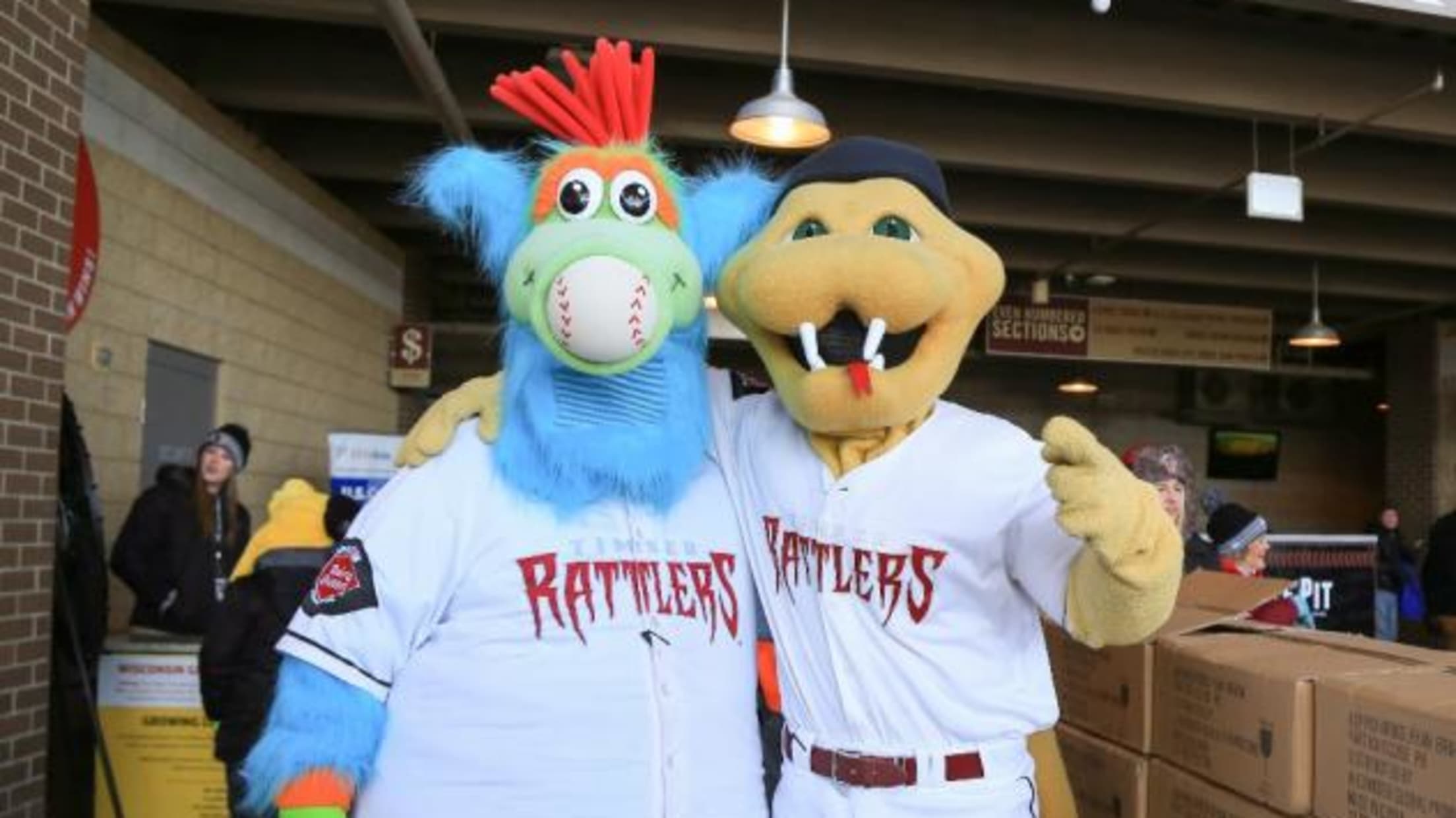 He may be a venomous snake capable of inflicting great harm, but do not fret. Fang is as friendly a two-legged snake as one could ever hope to find, the rare cold-blooded creature that only exudes warmth. In 2013 Fang was joined at Fox Cities Stadium by Whiffer, a big, blue baseball-nosed creature of indeterminate origin.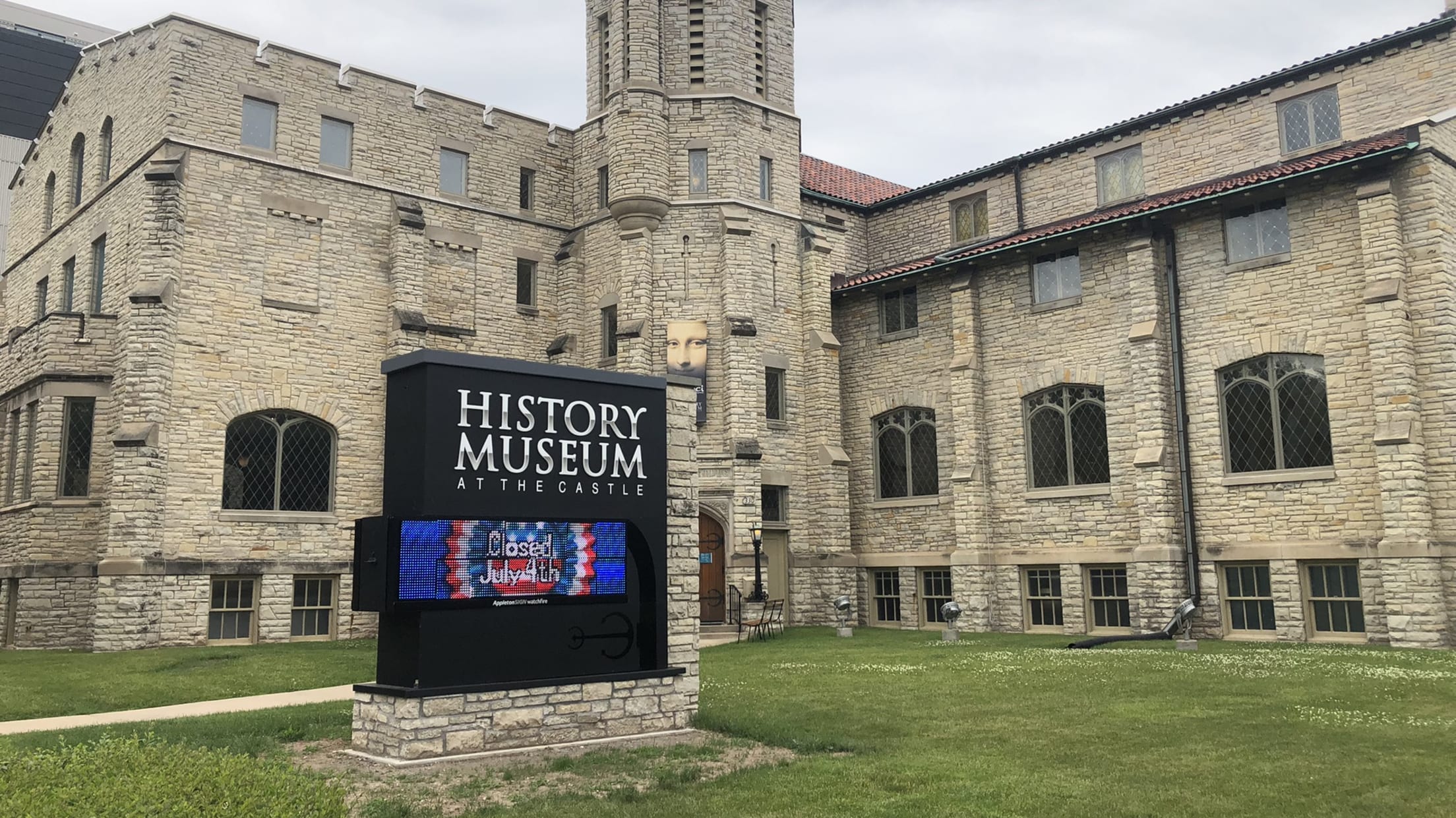 Where to Stay
Headed to the stadium and looking for a hotel nearby? Your Wyndham is waiting. As the Official Hotel of Minor League Baseball, Wyndham Hotels & Resorts welcomes baseball fans with a portfolio of 24 trusted brands. Find Hotels by Wyndham closest to the ballpark below and book now at wyndhamhotels.com.
• Microtel Inn & Suites by Wyndham Appleton
• Baymont by Wyndham Appleton
• La Quinta Inn & Suites by Wyndham Appleton College Avenue
• AmericInn by Wyndham Appleton Airport
• Travelodge by Wyndham Appleton
Local Attractions
Though he eventually made his escape, Harry Houdini grew up in Appleton. The History Museum at the Castle, located in a former Masonic temple, features an interactive exhibit dedicated to Houdini's life and times. There is also a permanent local history display as well as rotating exhibits.
From 1909-14 and again through portions of the '40s and '50s, Appleton fielded a team named the Papermakers. This was a reference to Appleton's paper-making primacy, a major part of the Fox River city's growth and development. The Atlas Science Center, formerly known as the Paper Discovery Center, is located in what had been the Atlas Paper Mill. A visit there illuminates the region's history, while showing what it takes to one day gain induction into the pulpy powerhouse that is the Paper Industry International Hall of Fame.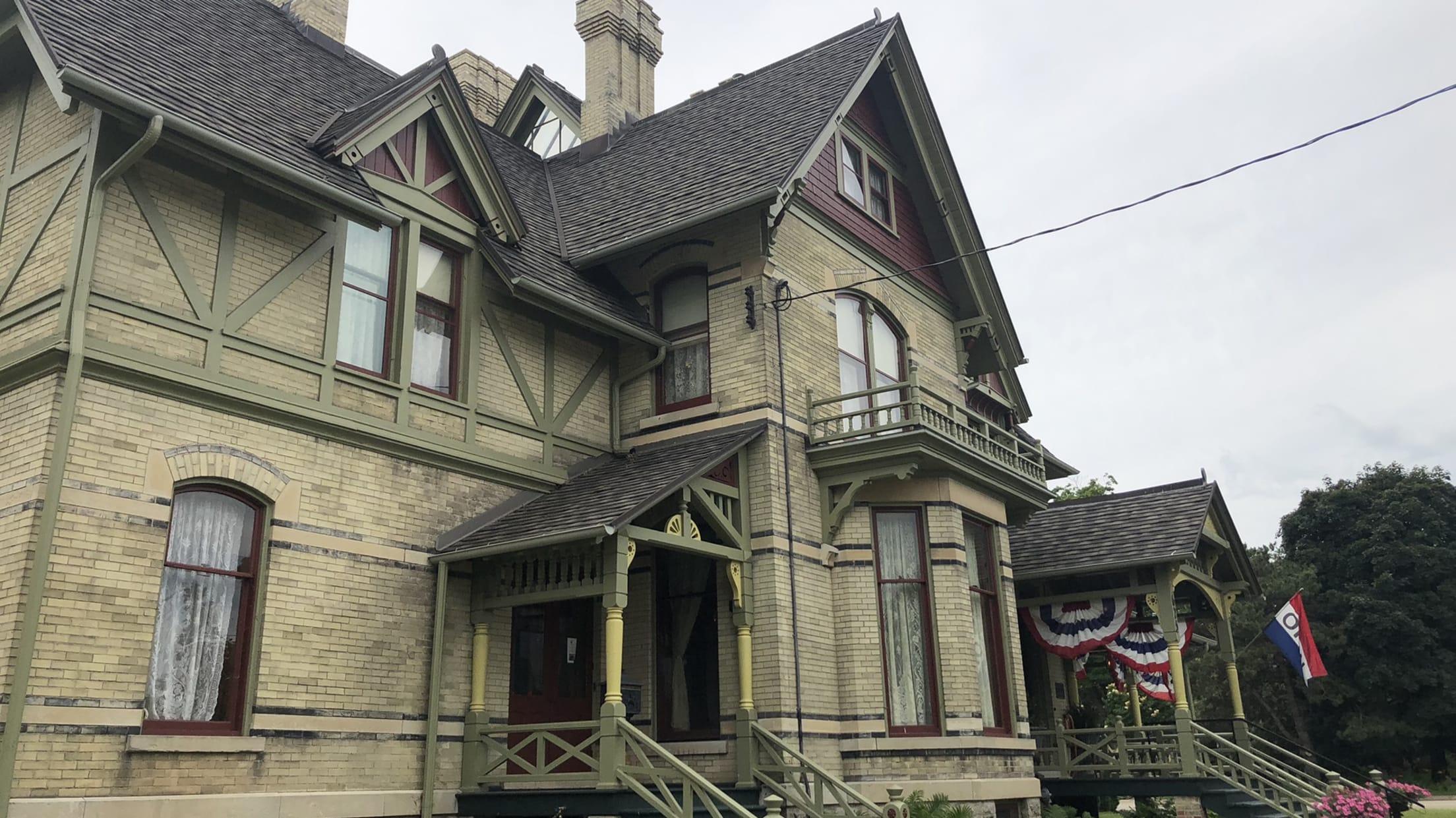 Appleton's Fox River location and need for paper industry power made it a pioneer in the field of hydro-electricity. The Hearthstone Historic House Museum is located in what was the first private home in the nation to be powered by hydro-electricity. The house is filled with period-specific furniture and decorations, offering a vivid glimpse of what life was like for progressively-minded rich folk of the late-19th century. Make sure to visit the basement and take a ride on the velocipede.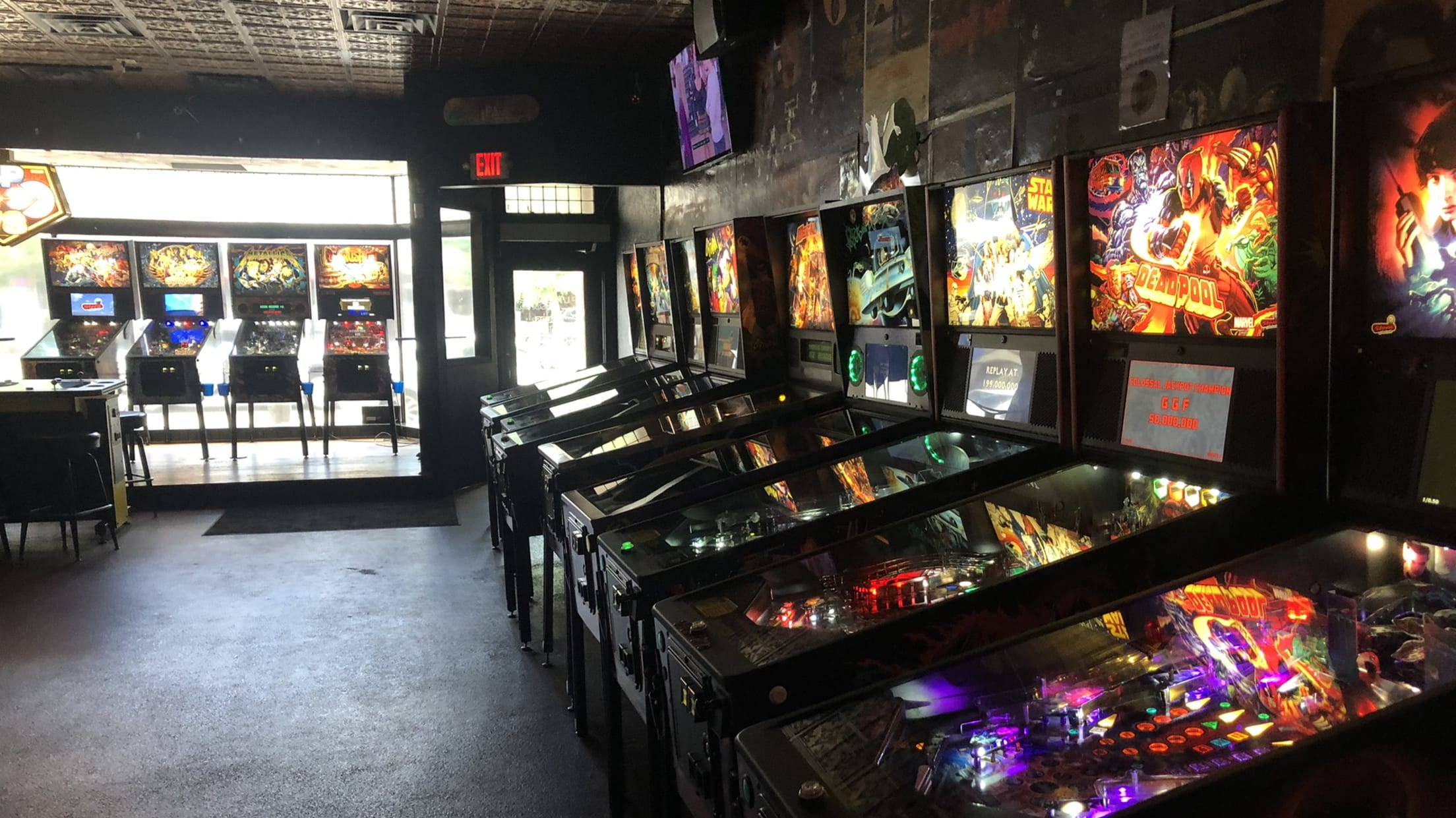 Food and Drink
If you're in town on a Saturday, make sure to check out the Appleton Farmers Market on College Avenue. It's as much street fair as it is market, filled with offerings from local food trucks and artists as well as live music. College Avenue, home to the campus of Lawrence University, is filled with bars and restaurants. Visit the Appleton Brewery for hearty, regionally-specific bar food and, of course, beer that's made on site. Player 2 Arcade Bar is a great place to wile away the hours. The front room is primarily filled with pinball machines, with classic video games in the back.
The Jerk Joint is another standout, featuring a wide-ranging menu of Trinidadian soul food. The Cozzy Corner (pronounced "cozy") offers hearty barbecue meat plates as well as "southern specialties" such as frog legs, catfish and chicken and waffles. The Long Cheng Marketplace has Thai and Vietnamese restaurants, vendors and groceries, all under one roof.
Moving On
From a Minor League Baseball perspective, the Timber Rattlers are fairly isolated. The closest team to them, and the only other team in the state of Wisconsin, is the Beloit Snappers (who play a literal stone's throw from Illinois). The St. Paul Saints and parent Minnesota Twins are located approximately four hours away. The Fon du Lac Dock Spiders, who are owned and operated by the Timber Rattlers, are a nearby Northwoods League summer-collegiate team. That league has teams scattered all over the region, including Lake Shore, Green Bay and Madison.
The Road to Milwaukee
The Timber Rattlers are the only Wisconsin entity within an otherwise spread-out Milwaukee farm system. It starts in North Carolina and also includes stops in Mississippi and Tennessee.
Single-A: Carolina Mudcats
High-A: Wisconsin Timber Rattlers
Double-A: Biloxi Shuckers
Triple-A: Nashville Sounds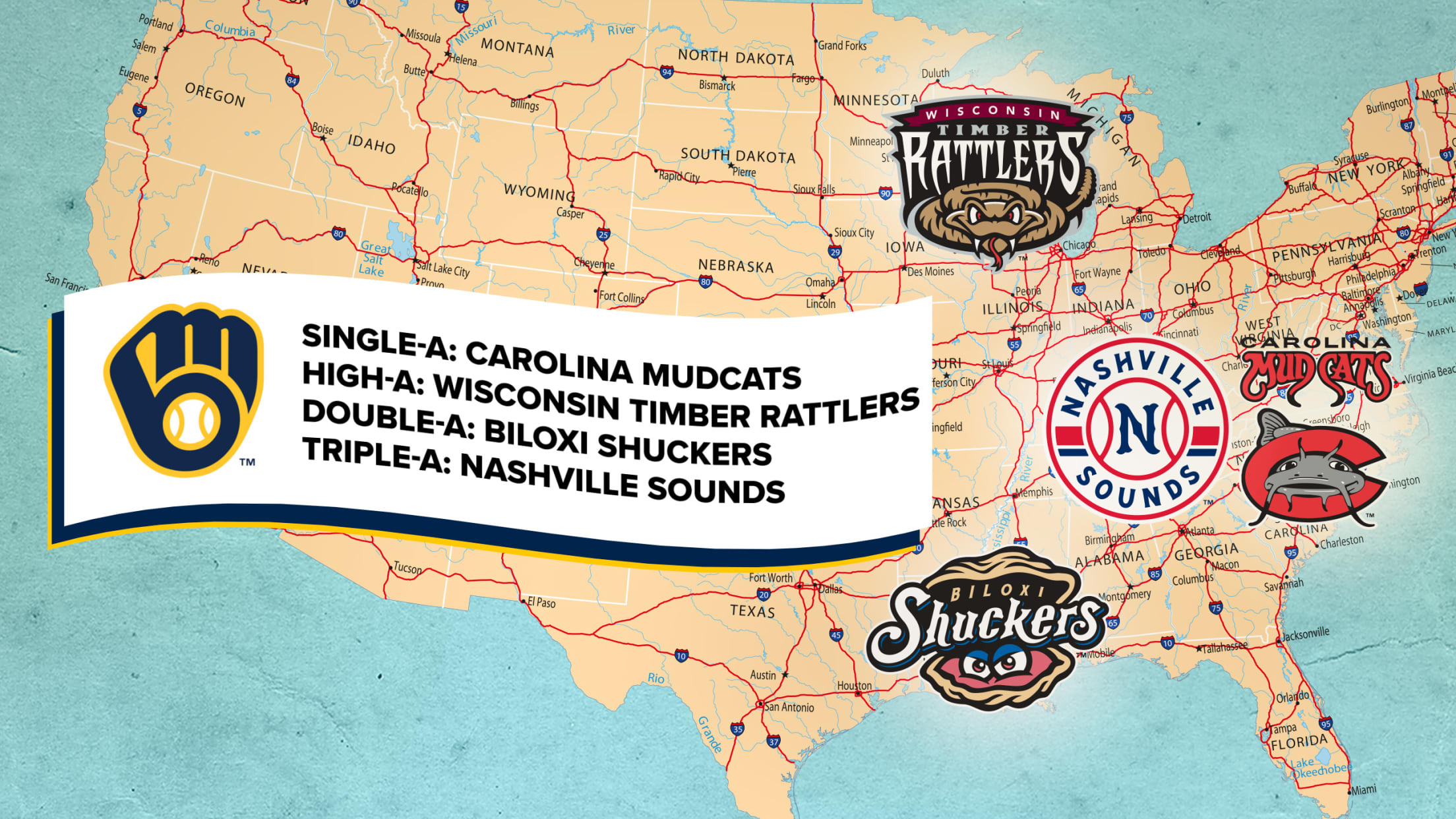 credits:
Benjamin Hill, who covers the business and culture of Minor League Baseball, has visited 185 Minor League ballparks.