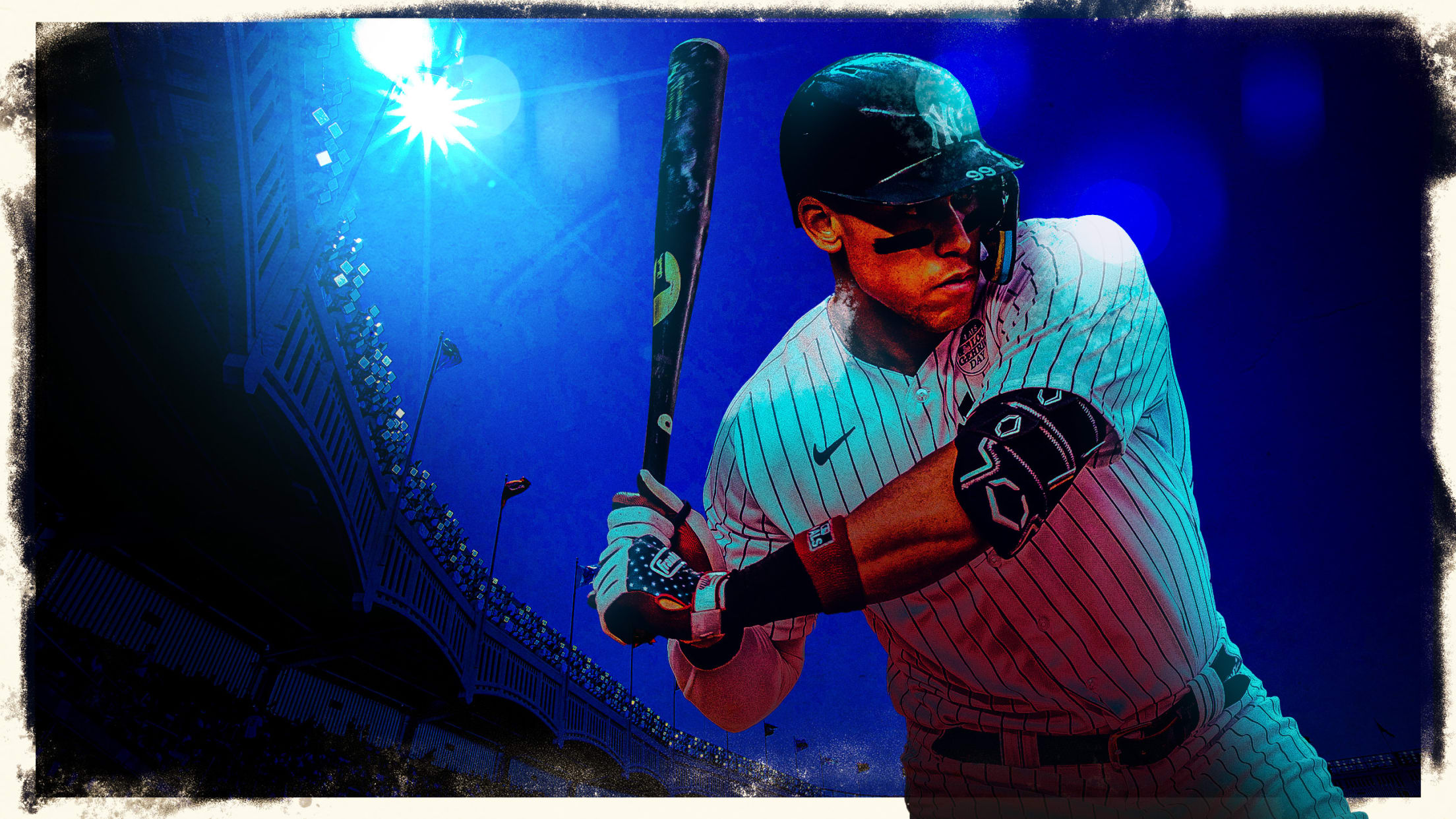 Scroll
Here's how the Yanks landed Judge in '13 Draft
Aaron Judge, the new AL home run king with 62, has become one of the biggest names in Major League Baseball, though his road to stardom was a long and winding one.
From his time as a marginal prospect in high school to his selection by the Yankees in the first round of the 2013 Draft, Judge went through plenty of ups before emerging as the superstar you see today.
MLB.com spoke with more than two dozen people who witnessed Judge's journey through the Draft process. They shared their memories of the Linden, Calif., native and his ascent through the amateur ranks.
(Note: A version of this story first ran in 2018. Although many of the people interviewed for this story currently have different titles -- in some cases, with different organizations -- the titles listed below represent their jobs during the period they are discussing.)
CHAPTER 1: SCHOOL DAZE
A six-foot freshman is guaranteed to catch the eye of any high school baseball coach, so when Judge started at Linden High School as a ninth grader, he joined the junior varsity team. He had obvious physical tools, but the teenage version of Judge was not yet the fierce hitter we now see in the Majors.
Joe Piombo Jr., Linden High School assistant coach (2005-14): He was talented as a freshman, but to be honest, he was kind of soft. By his junior year, he had the size, the skill set and the work ethic; he's always been a kid that's going to outwork anybody on the field.
Don Lyle, Guardians area scout (2002-present): The first people who even knew about Aaron were me and a friend of mine named Howard Bowens, who worked for the Major League Baseball Scouting Bureau at the time. He called me one day and said, "Hey, do you know this guy named Judge?"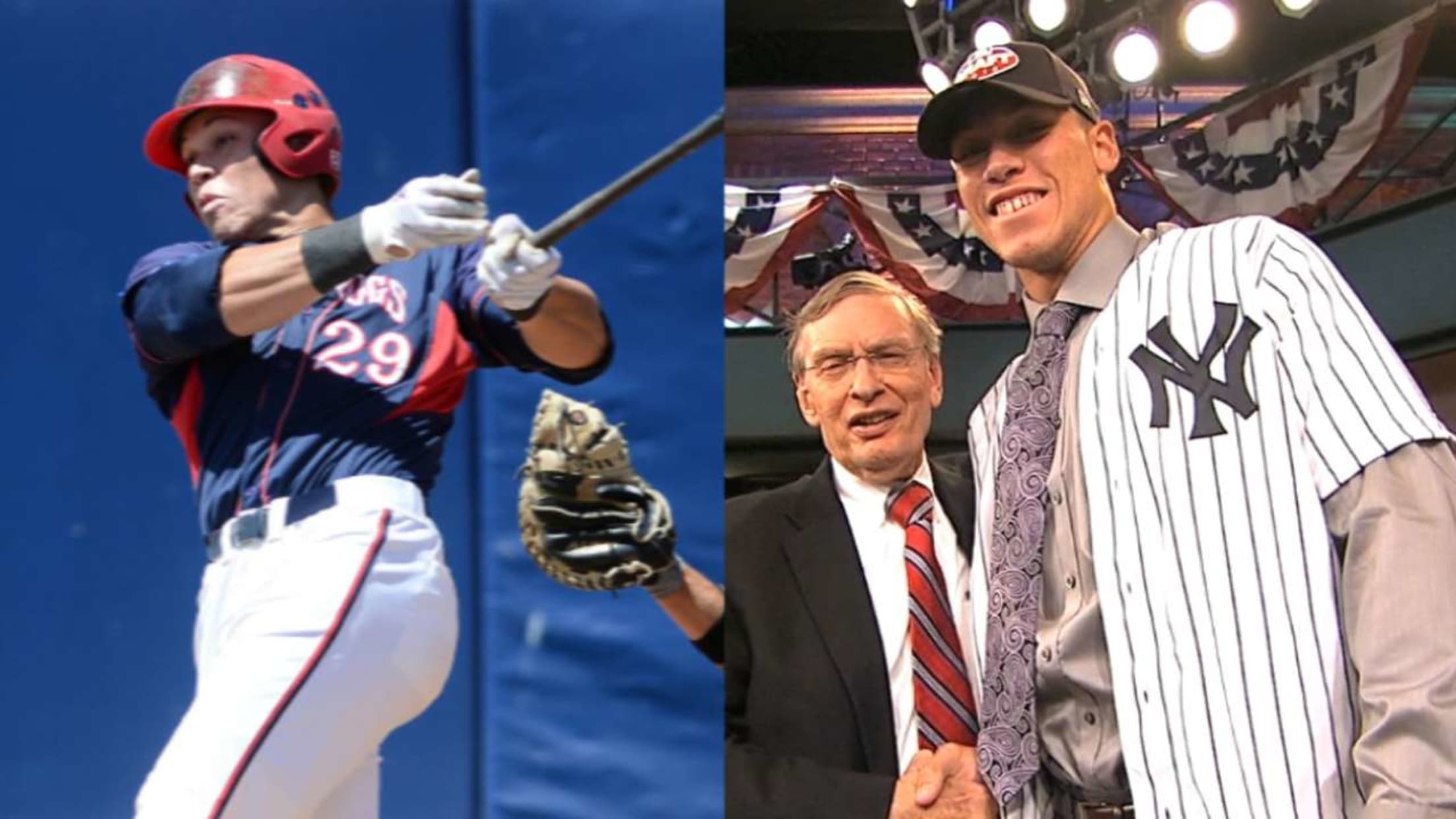 Aaron Judge: It was all new to me. Coming from a small town, I was like, "Scouts from pro baseball want to talk to me?"
Tim McIntosh, Yankees area scout (2001-03, '10-12): My ex-wife grew up in Linden. Everybody knows everybody. Somebody said, "There's a big kid playing and you've got go look at him." My cousin coached [Judge] in basketball and said, "He's kind of passive; he's soft. He's the kind of guy that if he knocks you over, he'd let the play go down the court and help the guy up."
Kendall Carter, Yankees national cross-checker (2007-13): Tim McIntosh kept telling me, "I want you to come out and see this guy. I don't know what to think of him; he's huge."
Even with the rawness in his game, Judge's athletic talent was undeniable. Despite missing much of his junior year with an elbow injury he suffered during a basketball game, Judge became a three-sport star at Linden, catching the eye of scouts as he moved toward his senior year.
Matt Curtis, Fresno State assistant coach (2000-10): Donnie [Lyle] was a big advocate for Aaron, who had slipped through the cracks because of his injury [during his] junior year. Donnie kept saying, "You need to look at this kid." We wound up recruiting him to Fresno.
Aaron Judge: Once I committed to Fresno, I was solely focused on baseball. All the way through high school, I was playing three sports and just enjoying it; I wasn't too serious about any of them. To be honest, I would get tired of the sports. Once it got near the end of football, I'd say, "I can't wait for basketball season to get here; I'm tired of getting hit every day." Then once it got to the end of basketball, it was, "I'm tired of running up and down the court; when does baseball start?" Then when baseball was deep in the season, I would start getting excited for football again. It was a cycle. I think that helps me now, because it's still fresh for me; I'm not worn out from playing 8-and-under travel ball when I was a kid.
Jermaine Clark, Athletics area scout (2008-17): [Judge] came to a pre-Draft workout at the [Oakland] Coliseum. All of our scouts and player development people kept asking me, "What college does he go to?" He was putting balls up in the suite area as a 17- or 18-year-old kid.
Damon Oppenheimer, Yankees vice president of domestic amateur scouting: We recognized that there was future big, raw power; we had future-plus-power numbers on him there. In our mind, we thought, "This guy's got potential, but college is probably going to be the best route for him."
The Athletics selected Judge with their pick in the 31st round of the 2010 Draft, perhaps hoping the opportunity to play less than 90 miles from home would persuade him to skip college and turn pro.
Matt Curtis, Fresno State coach: The power was the last thing to come; he never had a big power surge in high school. With Aaron on the professional side, it was more projection than performance.
Damon Oppenheimer, Yankees: You get to a point where sometimes it's a local guy, sometimes it's somebody you're taking just a wild shot that maybe this guy will all of a sudden want to go play for the right amount of money. My guess is [the A's] had a pretty good feeling he was going to go to college.
Judge was honored to be drafted by Oakland, but he turned down the chance to sign -- not to mention recruitment by several football schools -- to attend Fresno State on a baseball scholarship.
Aaron Judge: When you get the opportunity like that, getting drafted -- especially by Oakland, a California team, pretty close to home -- it was tempting. At the time, I just didn't think I was ready or mature enough mentally or physically to start pro ball.
He transformed overnight. He went from being a gangly, 'This is not pretty' kid to, 'Oh my God, did I miss on this guy.'

Tim McIntosh, Yankees area scout (2001-03, '10-12)
Jermaine Clark, Athletics: He was a 31st-round high school kid with a scholarship to a powerhouse college program whose parents graduated from that college. When you factor in everything that was in play, there was no way we were going to sign him.
CHAPTER 2: FEELING OUT FRESNO
Judge went to Fresno State in the fall of 2010, playing center field on a team that featured future draftees Daniel Muno, Tyler Linehan, Justin Haley, Taylor Garrison and Cody Kendall, all of whom would be drafted in the first 10 rounds. Also on the team was Jordan Ribera, who led the NCAA with 27 home runs that season.
Kendall Carter, Yankees: I don't want to say he was uncoordinated, but [in high school] he was almost like a newborn giraffe. The difference between his senior year in high school and his freshman year of college was a huge jump in the way he moved around.
Tim McIntosh, Yankees: He transformed overnight. He went from being a gangly, "This is not pretty" kid to, "Oh my God, did I miss on this guy."
Keith Snider, Giants area scout (2006-present): He was a completely different guy. It looked like he put on at least 15-20 pounds from his senior year into his freshman year, and his swing got nice and short to the ball. It was night and day.
CHAPTER 3: THE TURNING POINT
Judge would earn All-Western Athletic Conference honors in each of his first two years at Fresno State, though he hit only six home runs in that span. Following Judge's sophomore year, he headed east to play for the Brewster Whitecaps in the famed Cape Cod Baseball League, which features many of the country's top collegiate players.
Aaron Judge: The biggest thing for me was getting a chance to face some of the best college players in the game. Whenever you face better competition, you always rise to the occasion. I enjoyed every bit of that summer.
John Altobelli, Brewster manager (2012-14): We'd watch him take batting practice, and it looked like he was hitting Pro V1 golf balls out of the ballpark.
John Schiffner, Chatham Anglers manager (1993-2017): The Cape Cod League is the great equalizer. If you can perform there and hit .250, .260 or anything above that for the length of the season, you've shown you can hit the best college pitching in the country.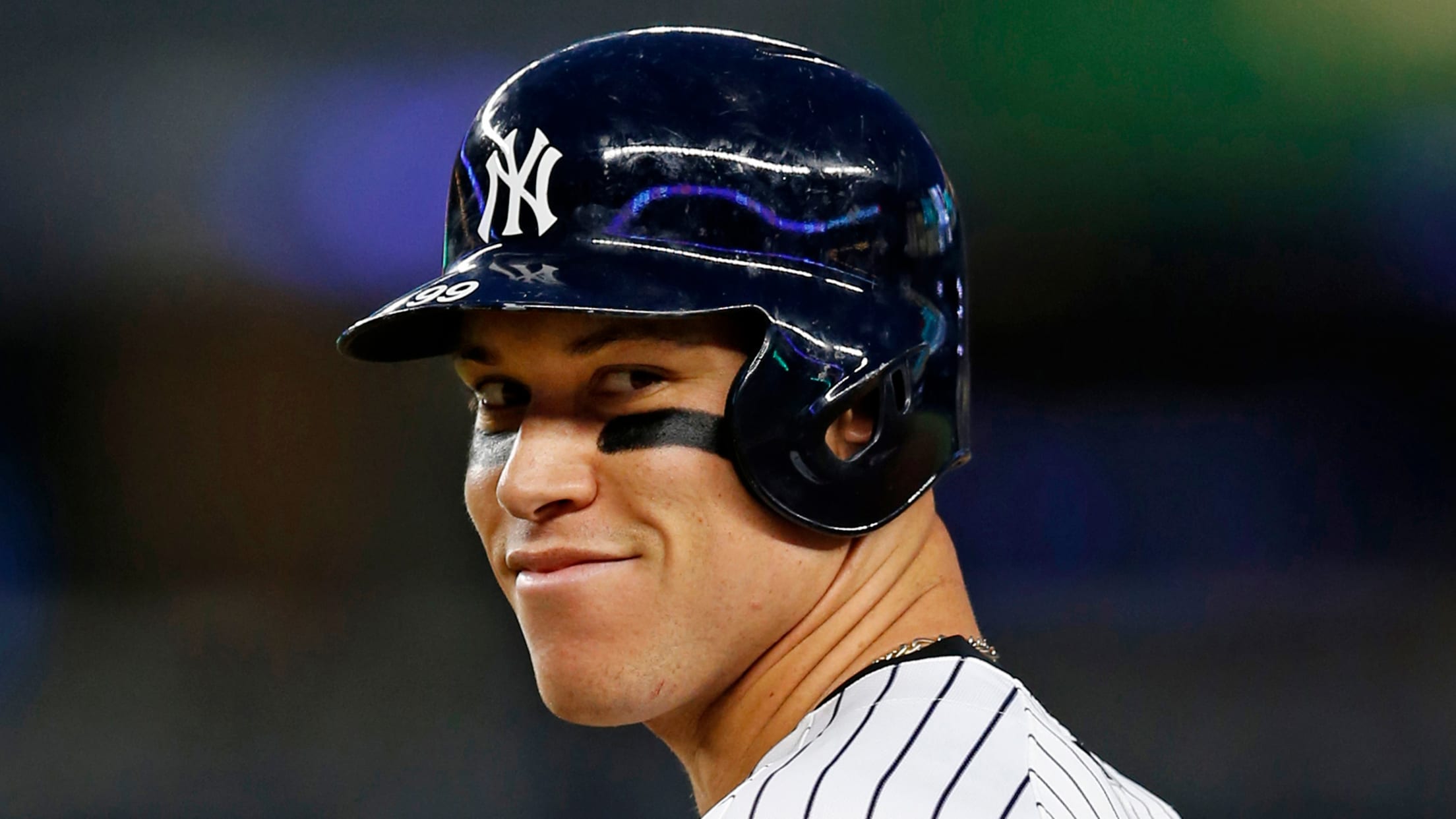 Matt Hyde, Yankees area scout (2005-present): John Schiffner called me up and said, "We just played against Brewster, and they've got a kid who is the biggest player I've ever seen on a baseball field. He's got power, but he also stole a base against us and he's an incredible athlete."
Brad Grant, Cleveland director of amateur scouting (2007-17): Some of our scouts started to put some really high grades on him during the course of that summer.
Ryon Healy, Brewster first baseman (2012): The guy gave me a concussion; I hit a home run and he hit me on the helmet congratulating me. He didn't know his own strength, and I didn't know his own strength, either. I legitimately got mad at him because it really hurt. To this day, we'll joke about it.
Judge played 32 games in the Cape that summer, hitting .270 (27-for-100) with five home runs, 16 RBIs and 33 strikeouts. Other players, including Healy, Sean Manaea, Eric Jagielo and Phil Ervin, had much better summers statistically, but Judge opened as many eyes as anybody in the league.
Damon Oppenheimer, Yankees: I get my first oral report from Matt Hyde. He tells me, "Hey Damon, when you're up here, make sure you spend some time seeing Aaron Judge. He's really made progress, he's got big power, he's swinging the bat well, and he plays center field." Brian Barber, our national crosschecker, submitted a report, and it's got 80 raw power, 65 arm, 50 run, a future 55 hitter and future 70 power. That gets him up high on our follow board. When we see sevens and eights, it's like diamonds: [Bryce] Harper, [Mike] Trout, A-Rod [Alex Rodriguez] kind of guys.
John Altobelli, Brewster: Teams would stop what they were doing to watch him take batting practice.
Ray Montgomery, D-backs scouting director (2011-14): He hit a line drive at the shortstop, who thought he had a chance to make a play if he could jump a little higher; then the ball ends up hitting the fence on a line. That actually happened. It was one of those rare things you see and you go, "That's not supposed to happen."
Teams would stop what they were doing to watch him take batting practice.

John Altobelli, Brewster manager (2012-14)
Matt Hyde, Yankees: It seems like the good ones always have a legendary story in the Cape League. That's Aaron's story.
John Altobelli, Brewster: He hit one ball to left field that the left fielder actually came in on, but the ball went over the scoreboard in left field, it had so much backspin on it. He had some legendary shots, that's for sure.
Rob Metzler, Rays assistant director of amateur scouting (2012-15): Looking back at it, people say, "Oh, it was so obvious" or "Remember the summer Aaron Judge was up here? It was the most amazing thing ever. He hit balls to the moon." What did he hit, five home runs up there that summer?
CHAPTER 4: MEETING THE MONSTER
The Cape Cod Baseball League plays its games on local high school fields, leaving scouts to imagine what players might look like in big league ballparks. But one day each summer, the entire league heads about 70 miles to the northwest, taking over Fenway Park for a team-by-team workout session.
Aaron Judge: It was kind of a blur. They had us on such a tight time schedule, so I really don't remember that much of it. They told us, "You only have this amount of time for BP, and we have so many guys to go through, so after you hit it, get back in there and get ready for the next one, because the next one is coming." We kind of rushed through it so we could get all the guys through, but I enjoyed it. My first time getting to hit BP on a Major League field, taking infield and outfield there; it was all-around a great experience.
John Altobelli, Brewster: Pretty sure I threw BP to him that day. The effortless swing that he had; a lot of guys were going max effort, grunting as they tried to hit them over the [Green] Monster so they could have something to talk about. The ease of his swing, the way the [hits] sounded -- especially with no fans in the stadium -- it was a different sound than everyone else.
Matt Hyde, Yankees: You look at that and you go, "That would look really good in our road grays in this ballpark."
Aaron Judge: [Playing in the Yankees-Red Sox rivalry] never really crossed my mind. I thought it would be pretty cool to play here in an actual game one day, but I didn't know that day would actually come so soon.
CHAPTER 5: JUNIOR MINT
Judge's solid summer on the Cape gave him some momentum heading into his junior year at Fresno State. He would hit .369 with a 1.116 OPS in 56 games, belting 12 home runs after hitting only six over his first two college seasons. He was named first-team All-Mountain West.
Damon Oppenheimer, Yankees: You'd go to watch Aaron take batting practice in college, and sometimes he would not hit a home run, because he was working on something in his swing and was just hitting line drives. Some people probably doubted that there was going to be some huge, raw power there, because they'd go watch him and he wasn't hitting the ball out of the park.
Brian Barber, Yankees: One day in batting practice, he didn't hit a single home run. What he did was probably hit about 10 line drives that didn't get more than 20 feet in the air and still hit the wall. We didn't have a machine there doing exit velocities, but it had to be one after another that were at least 115 mph.
Damon Oppenheimer, Yankees: I saw him at Stanford, and he had a tremendous day. I remember it well. He hit five missiles that day and made a good play in the outfield. We ended up having nine different scouts see him and put reports in on him that all said "first round."
Billy Eppler, Yankees assistant general manager (2012-15): There was a "Wow" factor, even at that time. The thing that gave you the most confidence walking out of those games was how well [Judge] moved. Not just the run speed, but just how agile he was for that kind of size.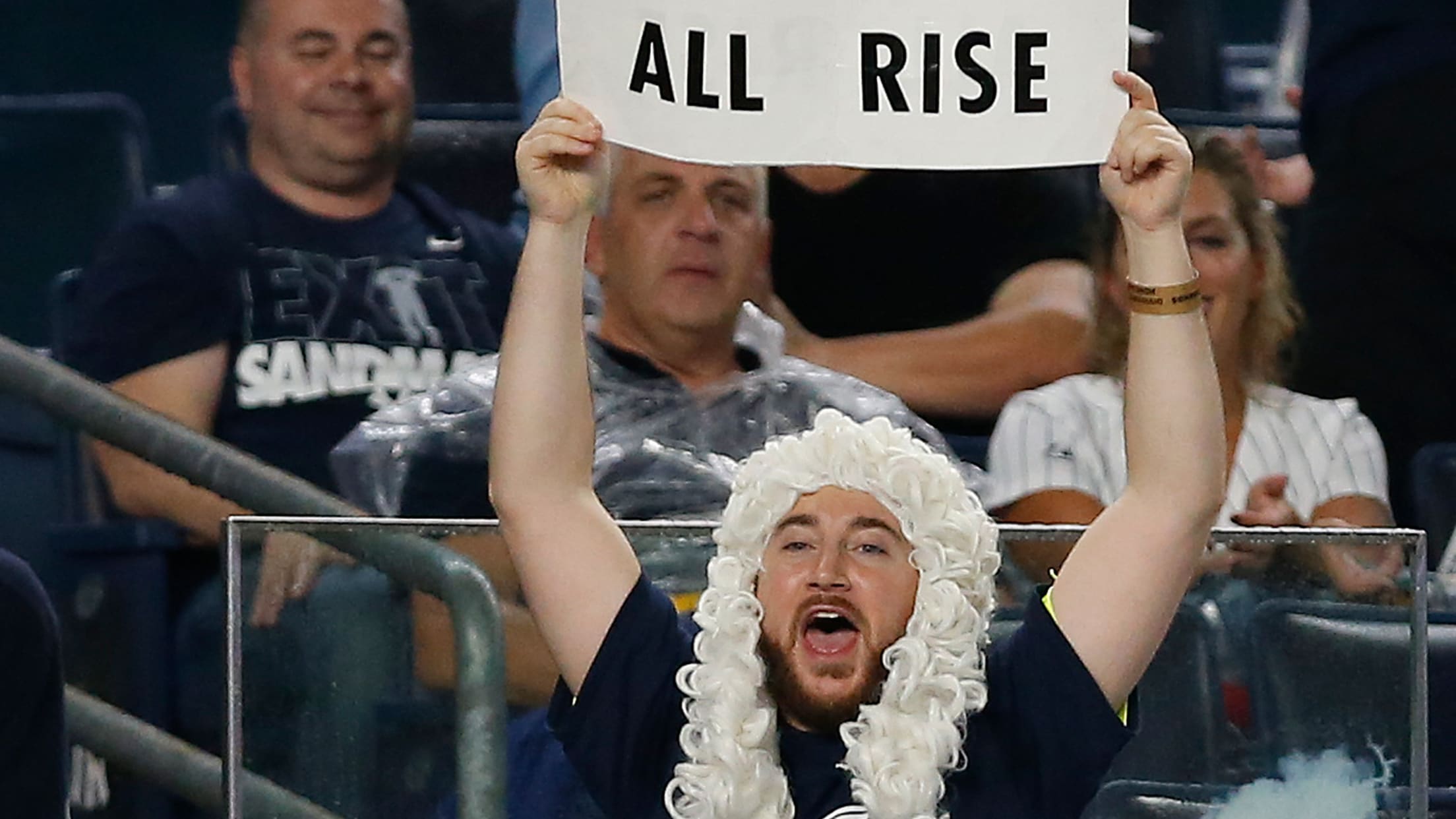 Don Lyle, Guardians: My mind was already set that this guy was going to be special, but trying to sell it to the industry was mighty hard. This was before Statcast™, so we weren't measuring stuff the way we can now. A lot of people were at the Fresno-Reno game to see [Braden] Shipley, but I was there to see Aaron. He hit a ball past third base that was only two feet off the ground, and it didn't bounce until it was past the bag. I turned to the other scouts and said, "That is the hardest ball I've ever seen hit in my life." I couldn't put the numbers on it, but if you have never seen a tornado before and you drive through it, the next time you see a tornado, you'll know what it looks like. That's how I felt with Aaron. I couldn't tell you what 119 mph looked like off the bat back then, but I knew it was the hardest ball I'd ever seen hit.
Aaron Judge: It's an exciting time, but it's stressful, too. Especially in college, where you're worried about academics, classwork, making sure you're on time for practice. Then you've got meetings with scouts; after practice, can you meet at a Starbucks to do this? You have different tests you're taking. It's just overwhelming. You've got 30 questionnaires to fill out; they want to know everything about you. They want to know your dog's name.
CHAPTER 6: SIZE MATTERS
Judge had done his part to impress a number of scouts, but some teams remained skeptical of his pro prospects. After all, successful position players with Judge's body type were few and far between. Why would he be the exception rather than the rule?
Jim Hendry, Yankees special assignment scout (2012-present): [Judge] obviously doesn't fit the normal mold. There aren't a lot of people in history [who were] 6-foot-7 or 6-foot-8 that became outstanding Major League hitters. Whether it was Frank Howard, Dave Winfield or Richie Sexson, the common denominator for me is when you're that big, you're going to have some issues with certain parts of the strike zone. Do you have the athleticism and the makeup to overcome that?
Brian Barber, Yankees: I don't like comparing somebody I'm seeing as an amateur to somebody that's played in the big leagues, but when you get a guy that's so big, you try to rack your brain to think of who in the big leagues has played at this size. At the time, it was Giancarlo Stanton and nobody else.
CHAPTER 7: MAKEUP ARTIST
In an age where professional athletes have countless distractions to deal with away from the field, a player's mental makeup and mindset can be as important as the physical tools they take between the white lines. With that in mind, the Yankees sent Chad Bohling, the team's director of mental conditioning, to meet with Judge as they contemplated using a first-round pick on him.
Damon Oppenheimer, Yankees: Chad goes in there and comes back with, "I'm all in." He raved about the guy's makeup; the way he is, he's going to fit in as a teammate and be a hard worker. Chad doesn't know much about the ability of the player, but he said his makeup is going to allow him to exceed whatever tools he has. That makes you feel good.
Brian Cashman, Yankees senior vice president, general manager (1998-present): Damon definitely factors in Chad Bohling's opinions. They weigh heavily, whether it's "He stays on the board" or "Push him down the ranks and elevate other people."
Aaron Judge: It felt like any other old meeting; like any other time I met a scout. That's how it was in my mind; I really didn't see it as "Hey, they sent one of their bigger guys out here; maybe this might mean something." It was a little different than the usual meetings. He wanted to get to know me; like, "How's your family, how do you enjoy it here in school, what makes you tick?"
Kendall Carter, Yankees: Mike Batesole, the coach at Fresno State, he's tough on his players; for him to compliment a player is pretty rare. Before the 2011 WAC tournament, I was sitting down the line with a group of scouts, and Batesole was sitting there. I remember he said Aaron Judge was the best makeup guy he's ever had. That really stuck with me. I know the coach, and coming from him, that was a huge compliment.
CHAPTER 8: FEELING A DRAFT
The Yankees were excited about the prospect of selecting Judge in the Draft, but other teams -- including the D-backs and Padres -- also had him high on their Draft boards in the weeks leading up to the big day. Cleveland area scout Don Lyle may have been Judge's biggest champion, but the team was not considering him at No. 5 and didn't have another pick until the third round.
Don Lyle, Guardians: Kevin Towers [then the D-backs' GM] was at the game one day with Jim Hendry for the Yankees. Nobody else was in the stadium but us three. I walked down and asked Batesole if I could say something to Aaron. I told him, "I've been telling you for the last three years, to hit the ball as hard as you can dead-center and let everything take care of itself. Today, I want you to hit the ball out of the park. Don't try to hit it to right field. Hit it out of the ballpark in BP, and let these two people see your power." He had the most massive BP I've ever seen. I called Brad [Grant] and said, "Are you sure we don't want to come back and see this guy one more time? He's hitting balls I've never seen before."
Brad Grant, Guardians: Our picks didn't line up. And the Yankees actually had our [No. 32] pick, which they got [as compensation] for [when we signed] Nick Swisher.
Brian Cashman, Yankees: There were nothing but green lights coming from Damon's end. What was overwhelming in his mind is that the [amateur] scouting assessment and the makeup assessments that come from our mental-skills side, too, that this is someone that if you're going to bet on somebody's competitive nature, ability to compete and find a way, this was one of the unique people to do it with.
The Yankees had three first-round picks (Nos. 26, 32, 33) in the Draft, but they were not the only team with multiple selections in the first round. The Marlins (Nos. 6, 35), Royals (Nos. 8, 34), Pirates (Nos. 9, 14) D-backs (Nos. 15, 36), Cardinals (Nos. 19, 28), Tigers (Nos. 20, 39, Rays (Nos. 21, 29), Orioles (Nos. 22, 37), Rangers (Nos. 23, 30) and Reds (Nos. 27, 38) had two picks apiece.
Ray Montgomery, D-backs: I don't think there's anybody that's put on a bigger display of just pure, raw power at any one of our pre-Draft workouts [at Salt River Fields] while I was there. Certainly not at that stadium -- and we're talking about the [Paul] Goldschmidts and every Major League player I've seen play there. He was hitting balls over the batter's eye in straightaway center field, and it was just like, "Man!" When you see it in the Cape, it's the Cape. You see it at Fenway, you start to compare it to the guys who have played at Fenway. When you see it in your own Spring Training facility, it just solidifies what you're hoping.
Aaron Judge: The ones I saw the most interest from were a lot of West Coast teams for the most part; Arizona, San Diego. I went to a couple of their pre-Draft workouts, so I kind of thought those were some of the teams that might show some interest and potentially draft me. The Yankees were the last ones on my mind, because I really didn't talk to them that much. I had a meeting with one of their mental conditioning guys, but other than that, there wasn't much contact.
CHAPTER 9: THE BIG NIGHT
Judge was one of the potential draftees invited to attend the Draft in person at the MLB Network studios in Secaucus, N.J. He made the trip with his parents, Wayne and Patty, who were with him as he waited to find out which team would take him.
Aaron Judge: I was nervous. I couldn't sleep. It was cool getting a chance to tour New York City; I had a chance to come to Yankee Stadium, sit right here in this dugout and look out [and think] "Wow, this is an amazing place to play at some point." I never thought it would be so soon.
Despite Don Lyle's belief that Judge had the tools to become a big-time Major League player, Cleveland never considered him with the No. 5 pick, selecting another outfielder -- Clint Frazier -- in that spot.
Brad Grant, Guardians: Don Lyle was the one who saw something really special in there. Don scouted for 30-something years, and this was a player that he stood up and said, "This guy has a chance to be really, really special."
Damon Oppenheimer, Yankees: I knew Donnie Lyle loved him. But they picked way up top, and I was under the impression he wasn't going to be in their plans. Other than that, it wasn't like I had a bunch of teams that seemed like they'd be in on Judge.
Harold Reynolds, MLB Network analyst (2009-present): A lot of people thought [Judge] would probably be [like] Chris Carter -- he'd hit .200 and maybe give you 40 homers.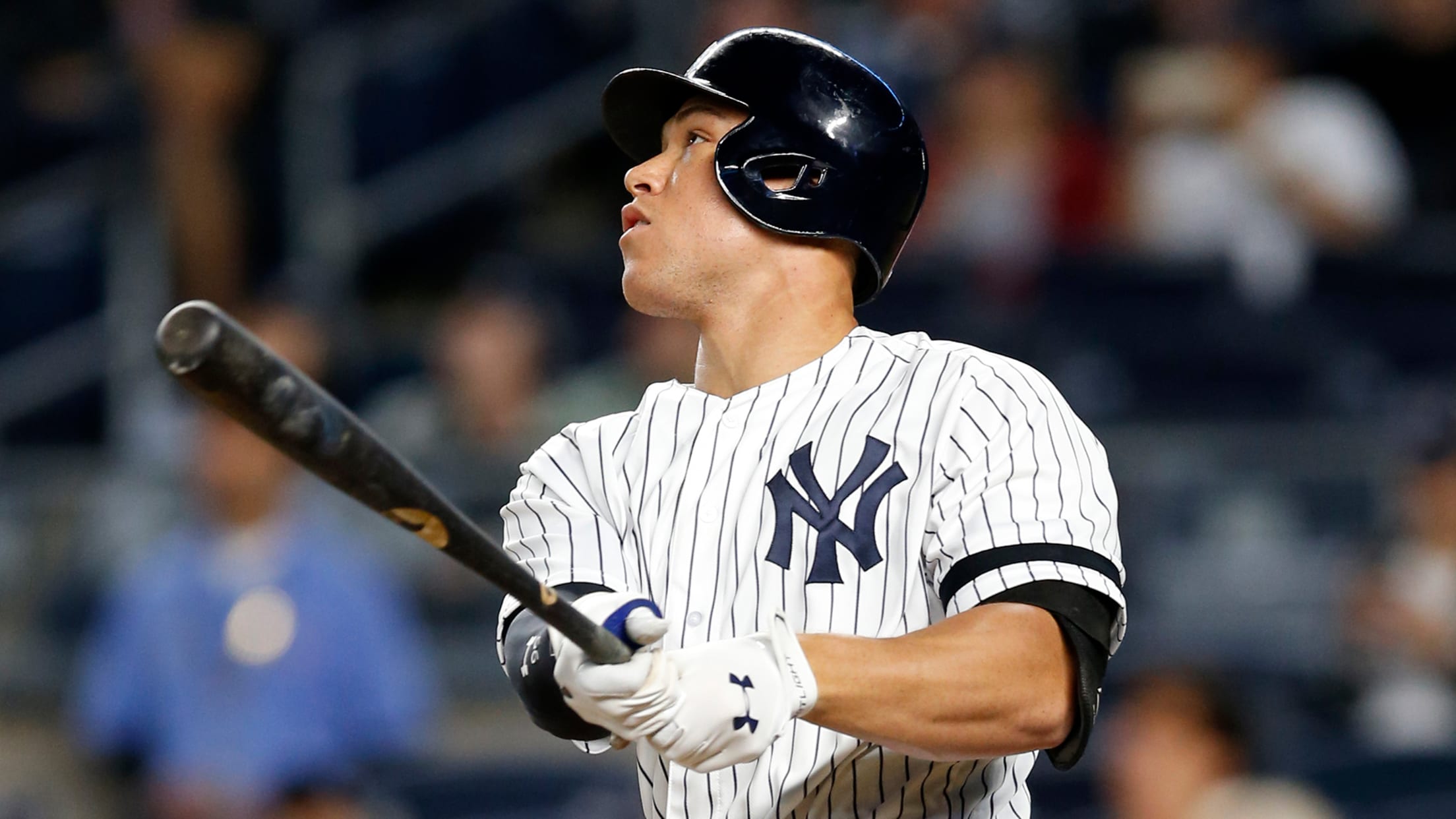 One by one, players went off the board. The D-backs, a team that scouted Judge heavily, selected right-hander Braden Shipley at No. 15. When it was the Yankees' turn at No. 26, they drafted Notre Dame third baseman Eric Jagielo, giving five teams -- the Reds, Cardinals, Rays, Rangers and Braves -- the opportunity to take Judge before New York picked again.
Damon Oppenheimer, Yankees: We did our recon and the work that our scouts do. We thought we could get [Judge] where we got him. There was some risk in taking Jagielo over Judge, but we felt that was the move.
Jim Hendry, Yankees: I don't think any of us thought [Judge] would go before 20, but after 20, all bets are off. Jagielo would have gone the next pick to Cincinnati.
Billy Eppler, Yankees: Damon slid the magnet on the board and said, "This is the guy we're taking next if he's there."
The Yankees weren't the only team holding their breath with regard to Judge. The D-backs were convinced they would get the slugger at No. 36. Even Judge seemed to believe he was headed to Arizona.
Ray Montgomery, D-backs: I thought that [Judge] and [No. 2 pick Kris] Bryant were probably the only two guys that had that 40-home-run potential. I was handicapping it strongly that [Judge] was going to be a D-back.
Jim Hendry, Yankees: That just goes to prove that Damon runs his department and carries himself in a way that, as a general manager, you'd want him to. Why would you ever show your cards to somebody else that you might have interest?
Brian Barber, Yankees: We were nervous. We had three picks, and we spent months leading up to it with scenario after scenario after scenario of how we could maximize those picks. Those minutes leading up to it, the 20 minutes between 26 and 32, the heart rate was definitely elevated.
When the Yankees' turn came around at No. 32, they made Judge the second of their three first-round picks.
Aaron Judge: Usually, you get a call from your agent ahead of time saying, "We just spoke to this team, and we think they're going to take you with this pick." I didn't hear anything. The funny thing is, moments before that pick, I actually almost got up and went to the bathroom. I kind of had an idea of where I was going to go, so I figured I'd go to the bathroom here in the next couple picks, then come back and hopefully get drafted. Right before I stood up to go to the bathroom, they said, "With the 32nd pick, the Yankees take Aaron Judge." It took me by surprise.
Kendall Carter, Yankees: I'm a West Coast guy; I had him higher on my list than where we took him, to be honest with you. I was surprised he was there.
Ray Montgomery, D-backs: We were lined up to take him with our next pick there, but it just kind of fell the Yankees' way with the picks that they had. Those guys with the Yankees have done such a good job with the Draft in recent years. You look back and think, "If I'd have just flipped [the 15 and 36 picks], took that guy first and took the other guy behind him." I think everybody would love to have a couple mulligans; you look back at some things three or four years later and you might do it differently.
Jim Hendry, Yankees: A lot of people had a hand in liking [Judge], but Damon is the guy that deserves the ultimate credit, because he pulls the trigger. Everybody is smart now, but if they were that confident in what he was going to become, he would have been in the top five or 10 picks in the country.
Picks No. 26-32, 2013 Draft
No. 26: Eric Jagielo, 3B, Yankees
No. 27: Phillip Ervin, OF, Reds
No. 28: Rob Kaminsky, LHP, Cardinals
No. 29: Ryne Stanek, RHP, Rays
No. 30: Travis Demeritte, 3B, Rangers
No. 31: Jason Hursh, RHP, Braves
No. 32: Aaron Judge, OF, Yankees
The only players taken ahead of Judge in the 2013 Draft to make an All-Star team up to this point are Kris Bryant (No. 2 overall to the Cubs), Austin Meadows (No. 9 overall to the Pirates) and Tim Anderson (No. 17 to the White Sox).
CHAPTER 10: LET'S GET IT STARTED
Five days after selecting Judge in the Draft, the Yankees were in Oakland to play the Athletics. Judge was invited to join the team, taking batting practice before the game on June 11.
Joe Girardi, Yankees manager (2008-17): The first thing that stood out the most was [Judge's] size. The second thing that stood out was how far he hit the ball. The third thing that stood out? How respectful he was. His personality, how mature he was; you had a feeling that this kid had a chance to be really, really special.
Billy Eppler, Yankees: We set up early hitting for him. At the end of early hitting, Girardi said, "Let's fold him in with the rest of the guys," so we put him in the last hitting group. The gates were open, and he was hitting balls where [Yoenis] Céspedes hit them, up into that first row of luxury boxes in dead-center field; I think he hit one off one of the windows up there. The crowd was kind of oohing and aahing and all that. That was a pretty cool moment for him.
Aaron Judge: The whole day, I was just trying to stay out of their way. I had Andy Pettitte, Mariano Rivera, Robinson Canó, CC Sabathia and all these guys that I've watched growing up; now I'm sitting here in the clubhouse with them and hitting BP with them. The cool thing about that clubhouse is we had so many great guys, they were going out of their way. They were coming up to me saying, "Hey Aaron, how are you doing? Andy Pettitte. Great to meet you." I was like, "Andy, I know who you are. You don't have to introduce yourself."
Five weeks after Judge was drafted, he signed with the Yankees, receiving an over-slot bonus of $1.8 million to officially begin his professional career.
Aaron Judge: I was excited, but I knew this was just the beginning. It's never guaranteed; even though you signed that contract and you're playing for a professional team, there's no guarantee you're ever going to make it to the Major Leagues.
Damon Oppenheimer, Yankees: You feel fortunate that you got a guy who had the talent that we saw, but also the makeup to maximize that talent. This is about him. It's great that we identified some things and did what we're supposed to do, but the bulk of the credit goes to Aaron Judge for what he's done to make those tools play. You just hope it continues, because he's still kind of in the infancy of his career.
credits:
Mark Feinsand is an executive reporter for MLB.com.