Visit Hartford's Dunkin' Park
Welcome to Dunkin' Park in Hartford, Connecticut. With unique dimensions and a lively atmosphere from night to night, the park is home to the Hartford Yard Goats, who have been a Minor League phenom since they came on the scene in 2016.
Hartford Yard Goats (Double-A affiliate of the Colorado Rockies since 2016)
Established: 2016
Ballpark: Dunkin' Park (opened 2017)
League: Eastern League
Notable Alumni: Kyle Freeland, Ryan McMahon, Germán Márquez, Tyler Matzek
Championships: None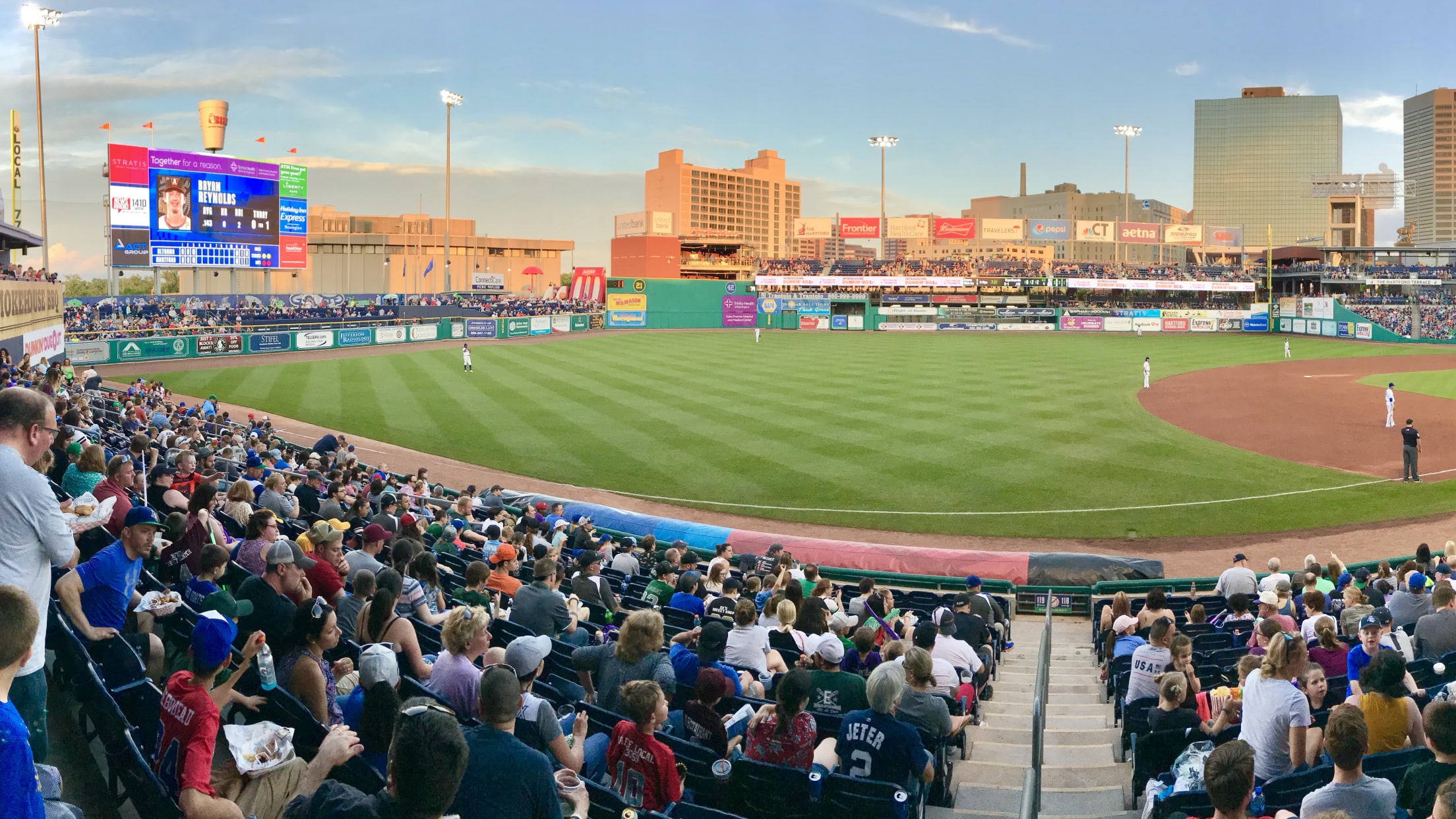 Connecticut's capital city is one of the historically important economic centers of the Northeast and one of the birthplaces of professional baseball. Yet from 1952-2015, it went without a Minor League Baseball team. Now it has one of the Minors' most widely known ones.
Hartford was home to the Hartford Dark Blues in the National Association (later the National League) from 1874-77, joining the first professional league during its fourth season and kicking off over 75 years of nearly uninterrupted pro ball in the city. From 1874-1952, Hartford hosted teams known as the Babies, Bluebirds, Cooperatives, Indians, Wooden Nutmegs, Senators, Laurels, Bees and Chiefs in various leagues and levels. The Laurels, Bees and Chiefs called the Eastern League home from 1938-52, but when the Chiefs decamped to Wilkes-Barre, Pa., for the 1953 season, Hartford was left without a pro team for 65 years. Nearby cities -- New Britain, New Haven, Norwich, Waterbury and West Haven -- hosted teams in the interim, but Hartford didn't have one to call its own.
That changed in 2016. The New Britain Rock Cats moved to Hartford – at least in name. The new-look Hartford Yard Goats actually spent that entire season on the road as their ballpark ran into construction delays, but by 2017, they had opened one of the Minor Leagues' modern gems. As a Colorado Rockies affiliate, the Yard Goats helped develop key contributors to their parent club's playoff teams in 2017-18, though the Goats themselves have yet to reach the postseason.
Dunkin' Park
Google Maps
Yard Goats Roster
Yard Goats Schedule
1214 Main Street
Hartford, CT 06103
(860) 246-4628
Capacity: 6,121 seats
Dimensions: Left field, 325 feet; Center field, 400 feet; Right field, 308 feet
Park factors (2021-22)
100 = league average
Runs: 100 | Homers: 101 | Hits: 104
Eastern League environment: 4.69 runs per team per game (10th-highest of 11 full-season leagues)
Fans had to wait a while longer than planned to enjoy Dunkin' Park, but based on the facility's short history, it's been more than worth it. Since the delays and controversies that pushed the stadium's opening date back a full season after originally envisioned, Dunkin' Park has captured a pile of awards, including becoming the first three-time winner of Ballpark Digest's honor as the best Double-A ballpark in the country.
Dunkin' Park is perched just north of downtown Hartford and within walking distance to tons of options for food, drink, lodging and entertainment. With clear and intimate sightlines throughout plus a wealth of unique in-park seating and concessions options, Hartford's park is one of the must-visit destinations in the Minor Leagues. The Yard Goats led the Eastern League in attendance in the two seasons before the coronavirus pandemic forced the cancellation of the 2020 campaign, then returned to lead the Eastern League in attendance in 2021.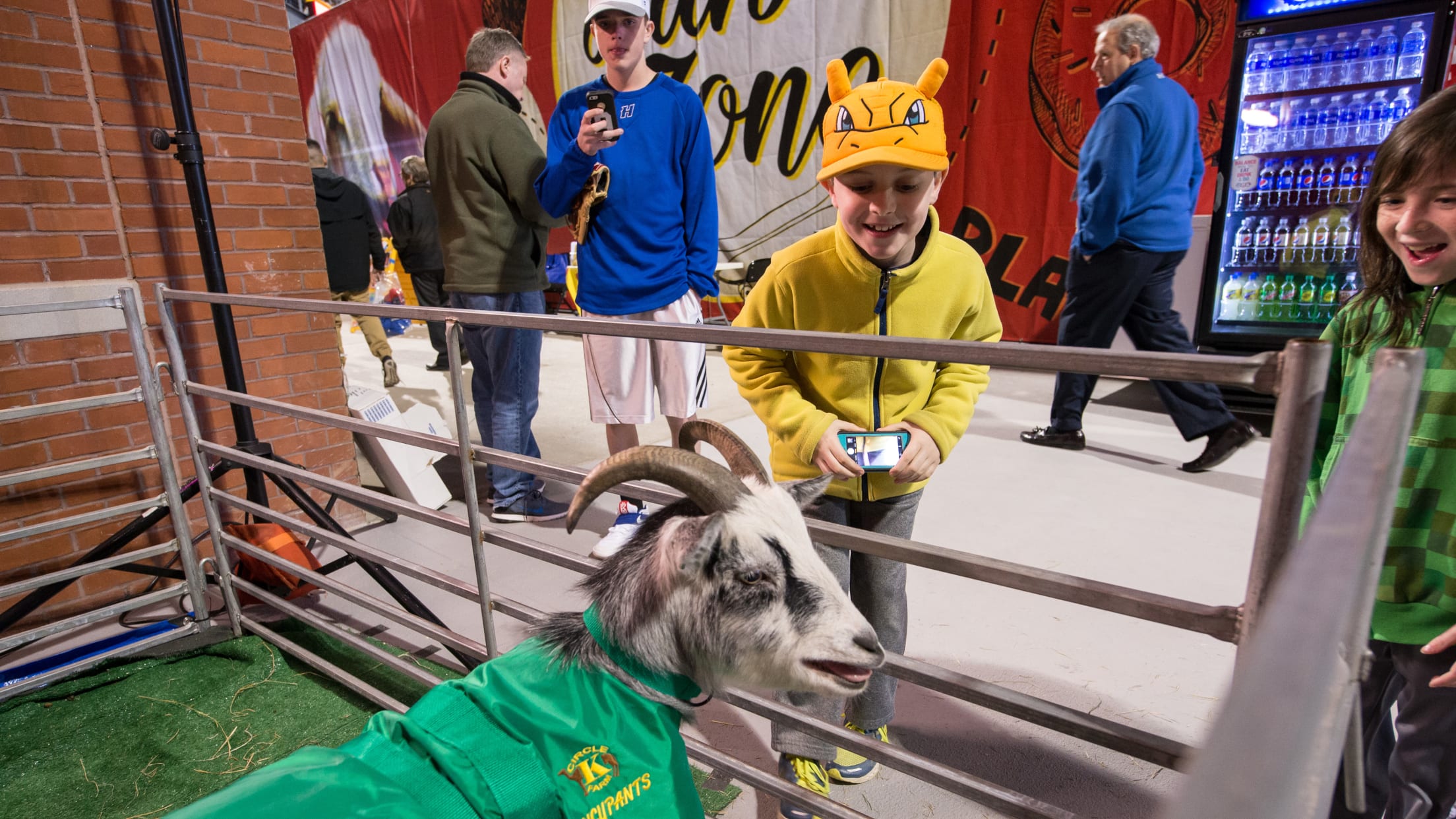 Upon entrance, fans are greeted by the Yard Goats' starting lineup in oversized baseball card form on the wall beyond the main gates down the right-field line. Spacious concourses packed with concessions and merchandise options await. Proceed straight ahead, down the first-base side to the area behind home plate while maybe making a stop at the YG Club on the second level behind the dish or checking out one of the field-level suites tucked in next to the dugouts. Then mosey over to the third-base side to take in the Hartford city skyline view. Continue around the left-field corner and into center to check out the live goats at every home game (baby goats are, of course, favorites), then head up top to the Budweiser Sky Bar serving beers from beyond the batter's eye.
Dunkin' Park was wedged into a modified city block footprint which led to a short porch in right field while also providing the team an opportunity to add an outfield second deck. Sections 124-128 are sandwiched around the home team's bullpen past the wall in right-center field while 224-230 stretch from center to the right-field corner at an elevated perch with fantastic views.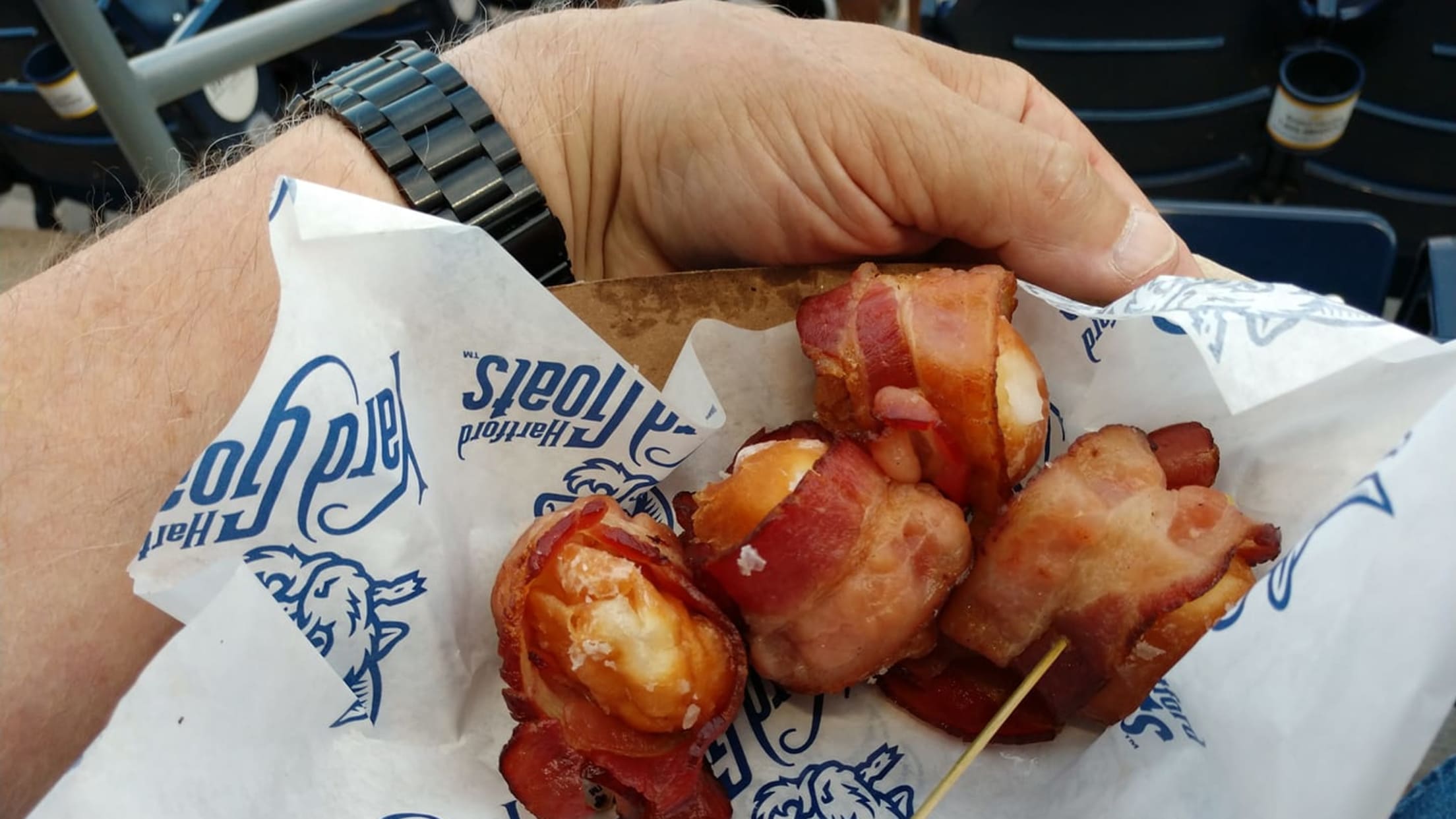 Concessions
Fans go to Dunkin' Park for the baseball, sure, but no one would begrudge an attendee who focused on the eats. In 2021, the Yard Goats embarked on one of the more unique concessions partnerships in the Minors with the Daym Drops Diner behind home plate, named for and created in part by YouTube food reviewer extraordinaire Daym Drops (given name Daymon Patterson). The critic and the club came up with items such as the bacon steak (a hefty slab of bacon candied, baked with sugars, grilled and served on a stick) and the hot dog trio (three hot dogs served with special toppings). Incorporating their wider community, the Yard Goats created the Hartford Neighborhood Flavors Cart, which sports rotating food options from area restaurants and vendors. The Goats also boast donut-centric items thanks to their partnership with Dunkin', including bacon-wrapped Munchkins.
Mascots
Another thing fans are sure to see when entering the main gates down the right-field line are Chompers and Chew Chew, the Yard Goats' wide-smiled and larger-than-life goat mascots. Inspired by the Yard Goats' logo and connection to the area's railroad history, both were named by local kids in a 2016 contest, Chompers' moniker makes reference to Hartford's logo sporting a goat chewing on a baseball bat and Chew Chew (think "choo-choo") as a nod to the "yard goat" term's origin in the rail industry.
Where to Stay
Headed to the stadium and looking for a hotel nearby? Your Wyndham is waiting. As the Official Hotel of Minor League Baseball, Wyndham Hotels & Resorts welcomes baseball fans with a portfolio of 24 trusted brands. Find Hotels by Wyndham closest to the ballpark below and book now at wyndhamhotels.com.
• Days Inn by Wyndham Windsor Locks / Bradley Intl Airport
• Ramada by Wyndham Windsor Locks
• Howard Johnson by Wyndham Rocky Hill
• La Quinta Inn & Suites by Wyndham Hartford - Bradley Airport
• Travelodge by Wyndham Vernon CT
Local Attractions
History fans feel right at home in Connecticut, especially those with a soft spot for literature. The Mark Twain House and Museum is located in the ornate Victorian Gothic house Twain and his family resided in from 1874-91. Twain loved the city, then one of the richest in the world. In 1868, he declared, "Of all the beautiful towns it has been my fortune to see, this is the chief." The Harriet Beecher Stowe Center, likewise located in the former Hartford home of the Uncle Tom's Cabin author, strives to "promote vibrant discussion of her life and work and inspire commitment to social justice and positive change."
Hartford's Wadsworth Atheneum Museum of Art was founded in 1842, opened two years later and is the oldest continuously operating public art museum in the country. The Connecticut Science Center is a nine-story museum that explores science with over 150 hands-on exhibits, a 3D theater and more. Bushnell Park is adjacent to the Connecticut state capitol grounds and home to the Bushnell Park Carousel, a restored merry-go-round from 1914.
Food and Drink
A Hartford standby that also boasts a location inside Dunkin' Donuts Park, Bear's Smokehouse is a local barbecue favorite. West Hartford Center serves as the home for dozens of restaurants that range from donuts to Mexican to sushi to kebabs and more. Hartford's brewery scene is a strong one from Hog River, between the ballpark and West Hartford, to the City Steam Brewery, just down the street from Dunkin' Donuts Park. Syps Grille slings burgers and sandwiches but also empanadillas, mofongo, plantains and more. Pigs Eye Pub is a local beer haven with pool tables and classic surroundings while Salute serves upscale Italian food. New Haven, a 40-minute drive away, is one of the country's pizza capitals with its own style and flair.
Moving On
Options abound throughout the Northeast for stops before or after a trip to Hartford. The Triple-A Worcester Red Sox and Double-A New Hampshire Fisher Cats and Portland Sea Dogs are the only teams farther northeast than the Goats, while more than a dozen other teams reside from just a few hours away to within a day's drive in New York, Pennsylvania, New Jersey, Maryland, Delaware and beyond.
The Road to Colorado
The Rockies' Minor League system is and has long been one of the most far-flung geographic groups in the game. Prospects move from Single-A Fresno to High-A Spokane, then across the country to Hartford before heading to the southwest for their final stop with Triple-A Albuquerque.