Visit Reno's Greater Nevada Field
Welcome to Greater Nevada Field, surrounded by mountains, rivers, trains and casinos. Get a hot dog inspired by the regional cuisine of the opposing team, and a photo with a mythical mascot who, somewhere along the way, lost the gift of speech.
Reno Aces (Triple-A affiliate of the Arizona Diamondbacks since 2009)
Established: 2009
Ballpark: Greater Nevada Field (opened in 2009)
League: Pacific Coast LeagueNotable alumni: Patrick Corbin, AJ Pollock, Didi Gregorius
Championships: 2012
Ballpark Guides for EVERY Minor League team »
Before the Aces arrived in 2009, Reno hadn't hosted a Minor League team since the California League Reno Silver Sox left town following the 1992 season. The return of affiliated baseball to the "Biggest Little City in the World" was precipitated by the construction of a new ballpark, Greater Nevada Field, to host the relocated Tucson Sidewinders of the Pacific Coast League.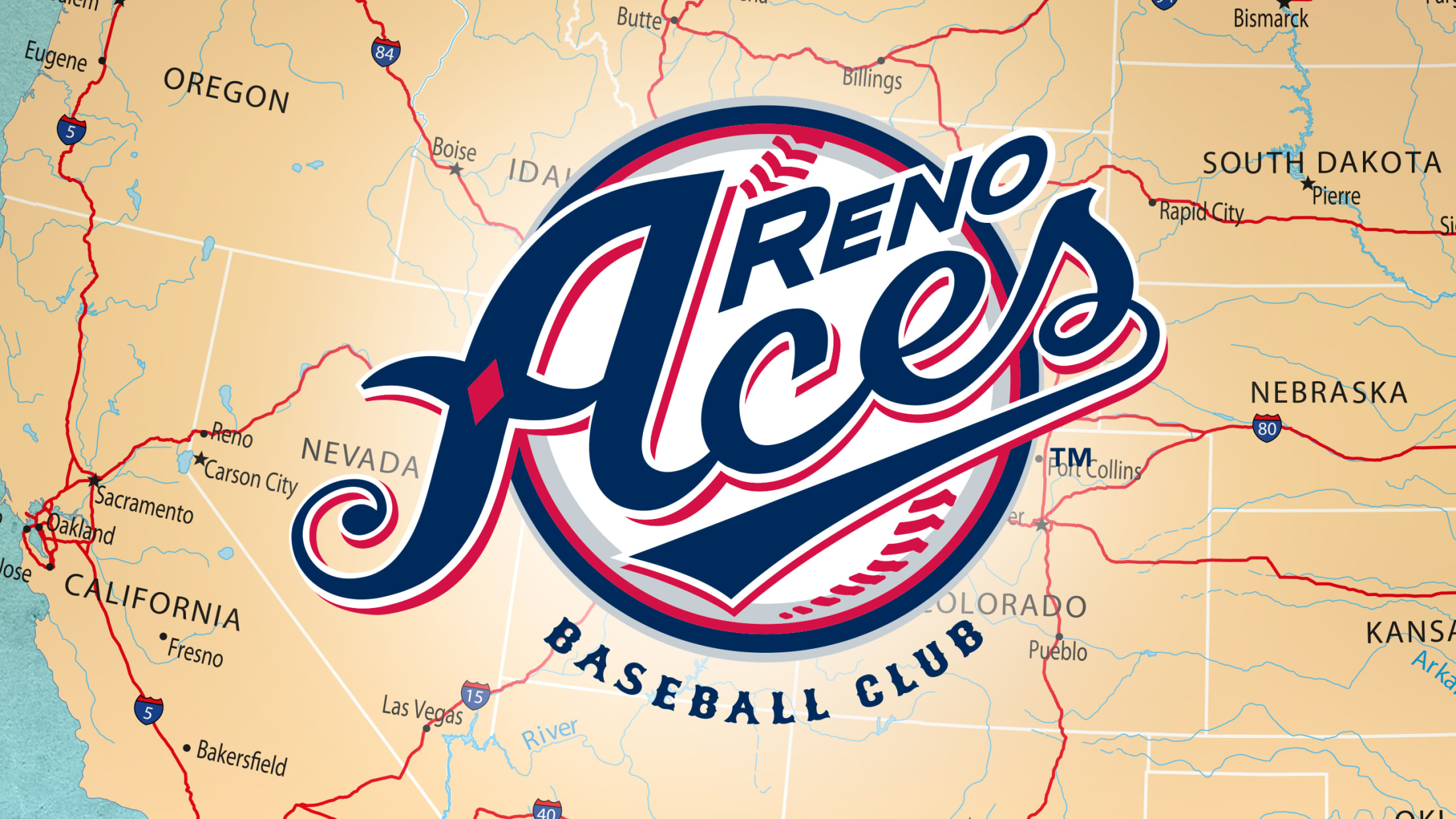 Greater Nevada Field is located a short walk from downtown Reno and its many casinos. The Aces' name and logo ties into this location, referencing the ace in a deck of cards. In a 2008 press release announcing the name, the team explained that "it also has meaning in baseball lingo -- a team's "ace" is its best pitcher." Whatever the rationale, the end result was a master class in brevity. The Reno Aces are tied with the Iowa Cubs for the shortest name in all of Minor League Baseball.
Greater Nevada Field
Google Maps
Aces' schedule
Aces' roster
250 Evans Avenue
Reno, Nevada, 89501
775-334-4700
Capacity: 9,000 (approximate)
Dimensions: left field, 339 feet; center field, 410 feet; right field, 340 feet
Park Factors (2021-22)
100 = league average
Runs: 108 | Homers: 99 | Hits: 106
Pacific Coast League environment: 5.77 runs per team per game (second-highest of 11 full-season leagues)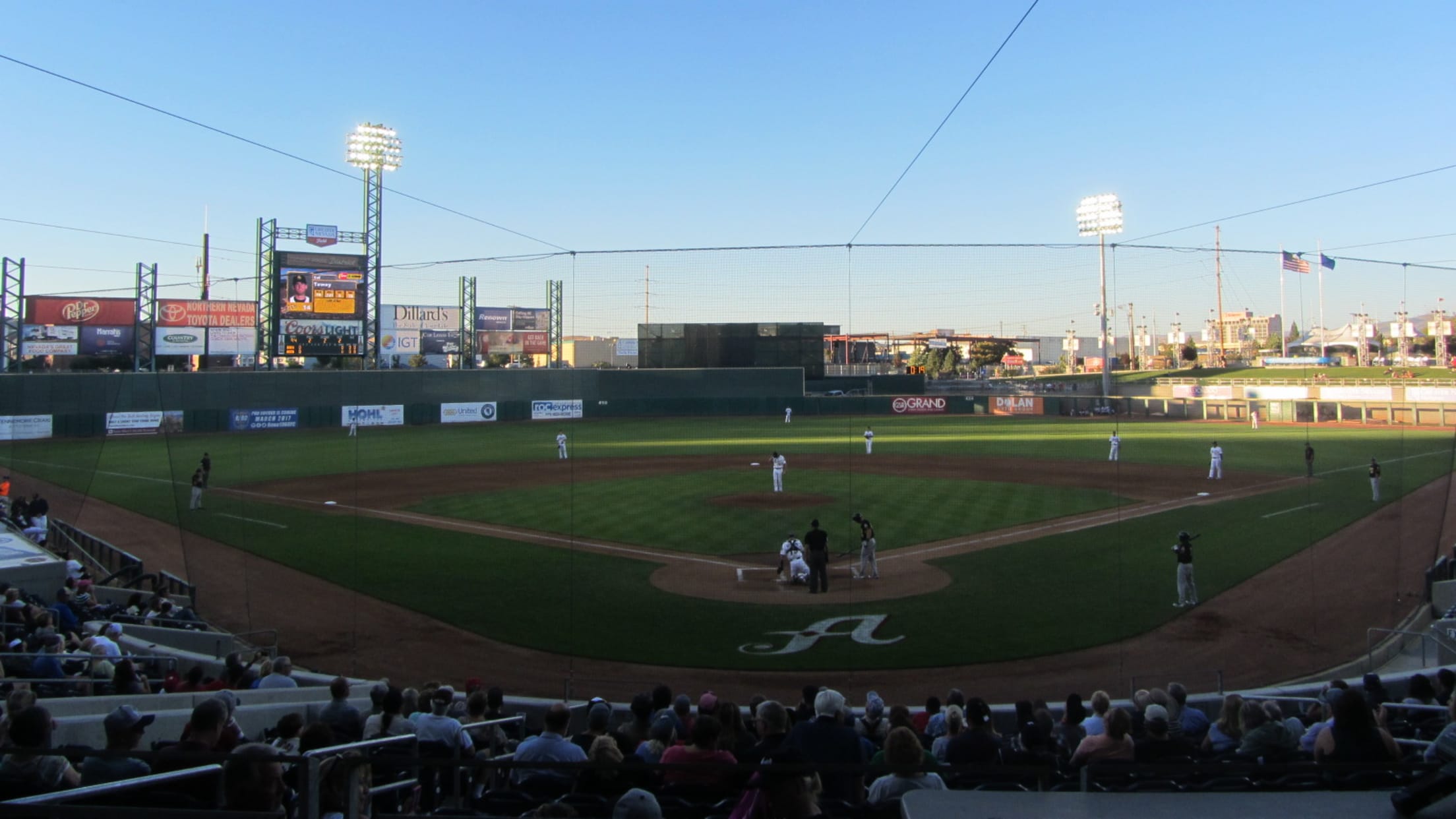 Greater Nevada Field boasts a variety of diverse views, contingent on where you happen to be standing in the ballpark. The Reno skyline looms beyond home plate and down the baselines, and it is in that direction that one will find Reno's casinos and nightlife.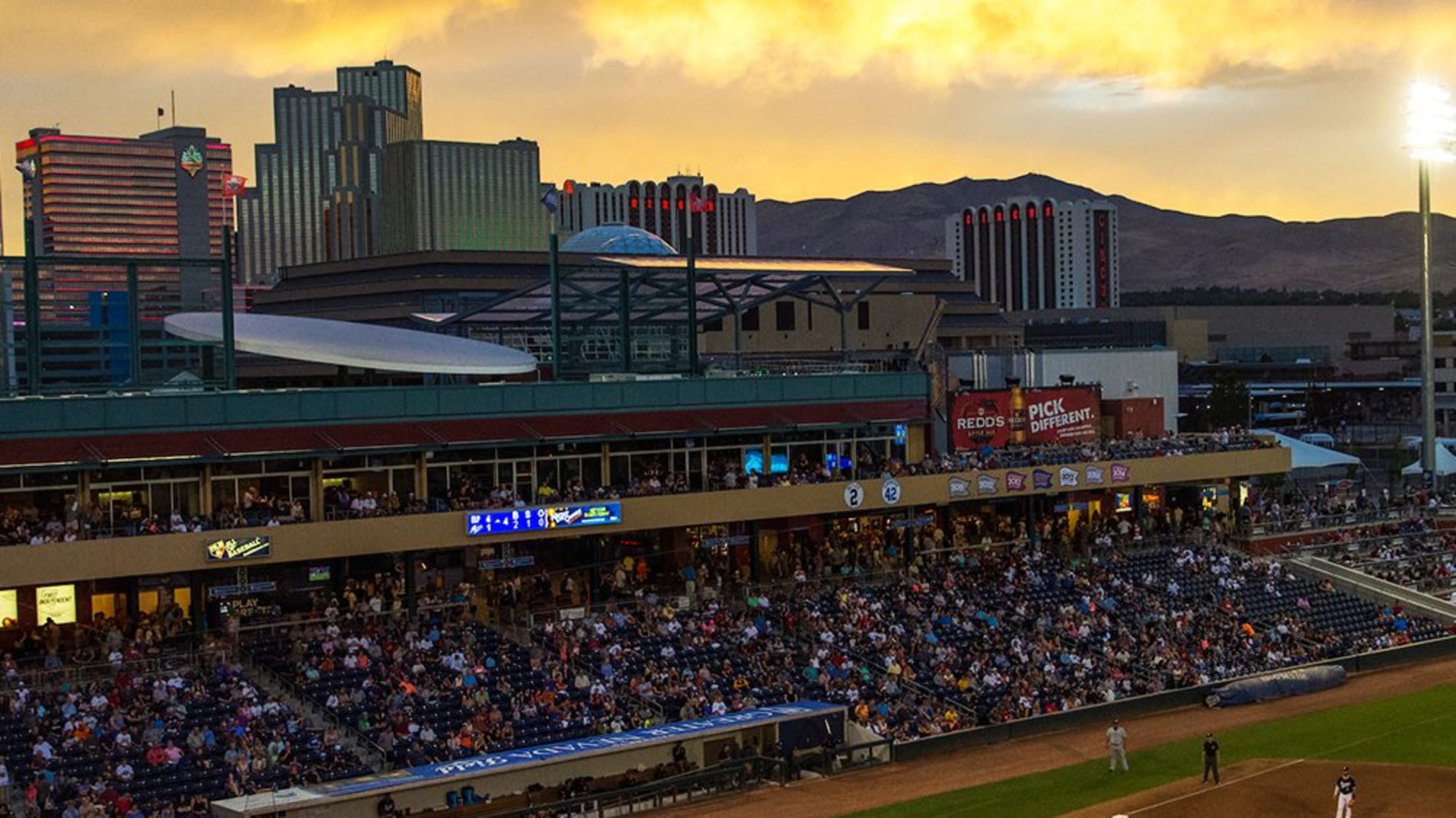 Train tracks are situated behind left field; Reno is a transit hub, and freight trains rumble past on a regular basis. The Truckee River, which flows in a northeasterly direction from Lake Tahoe to Pyramid Lake, is visible beyond right field.
Features
Greater Nevada Field is attached to the Freight House District, a multi-level social gathering space featuring views of snow-capped Mount Rose on the second floor. Within the ballpark itself, one can view myriad murals created by artists that are local to Reno. This includes a portrait of Theodore Judah, the mastermind behind the Transcontinental Railroad. This railroad led to Reno's founding in 1868, which occurred in conjunction with a train station being established there.
The seventh-inning stretch is a particularly memorable spectacle at Greater Nevada Field, thanks to a giant "talking" inflatable baseball that rises beyond the center field batter's eye. This baseball -- named Mr. Baseball, fittingly enough -- mouths the words to "Take Me Out to the Ball Game" before descending back into his lair.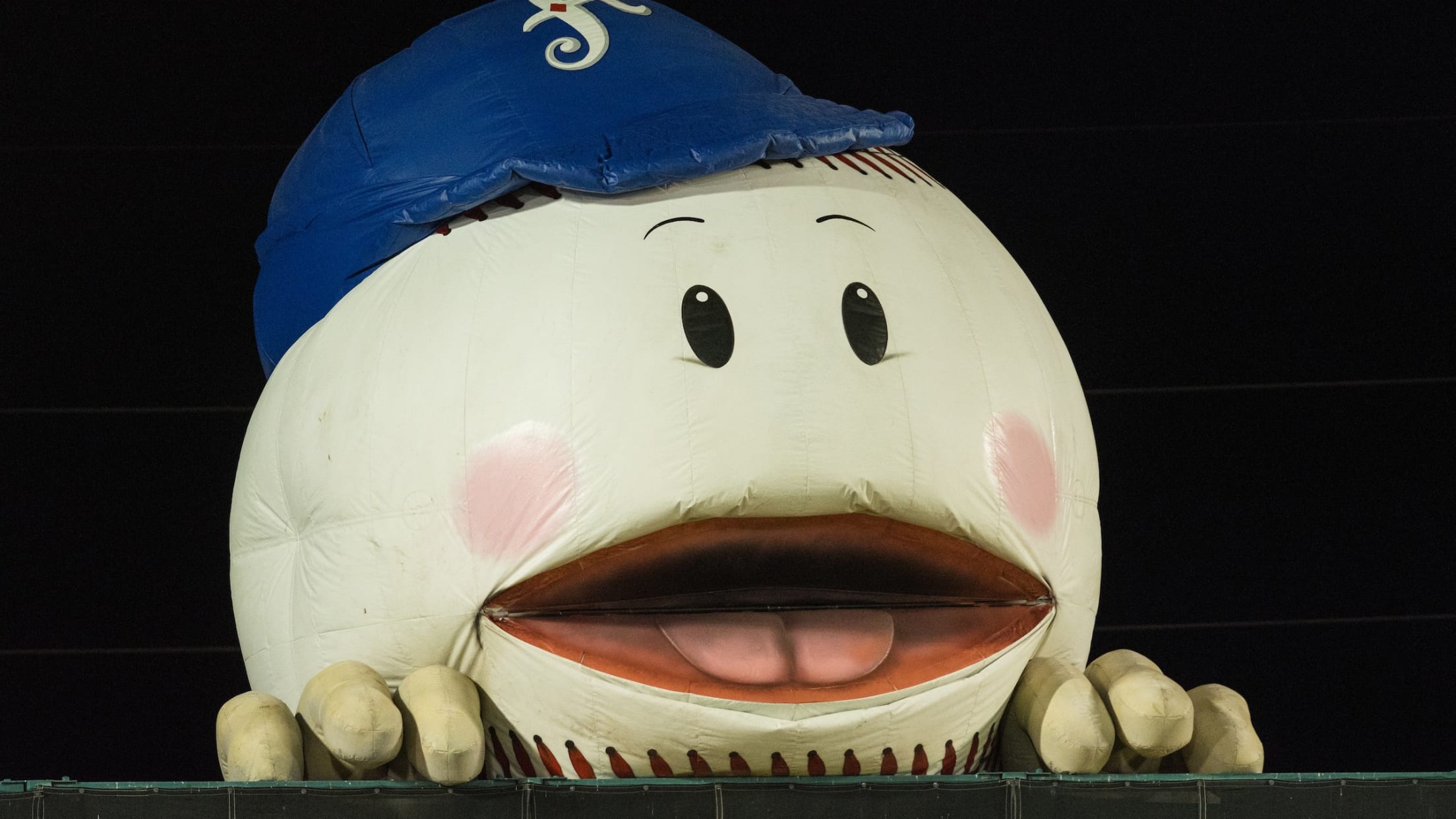 Concessions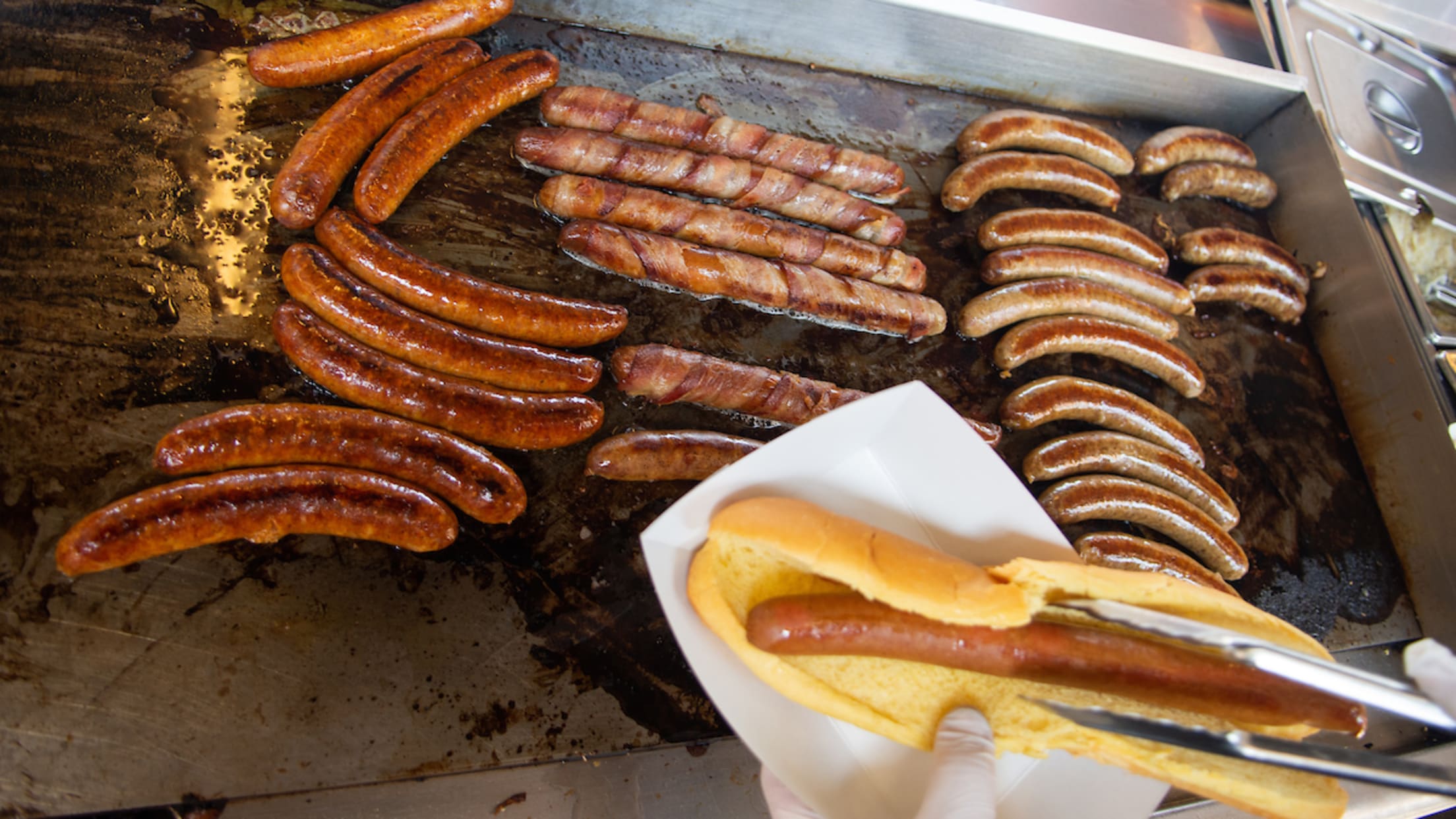 Greater Nevada Field's "Franx" stand features a variety of creative frankfurters, including the heartily portioned "Versus Dog." One half of the dog features the Reno topping of pulled pork and apple-vinegar cole slaw, with the other half featuring a topping that is a nod to the evening's visiting team. (Seafood toppings against the Tacoma Rainiers, for example, or green chiles when the Albuquerque Isotopes are in town.) Like many Minor League teams, the Reno Aces have recently implemented mobile ordering so that fans can have food delivered to their seats.
Mascot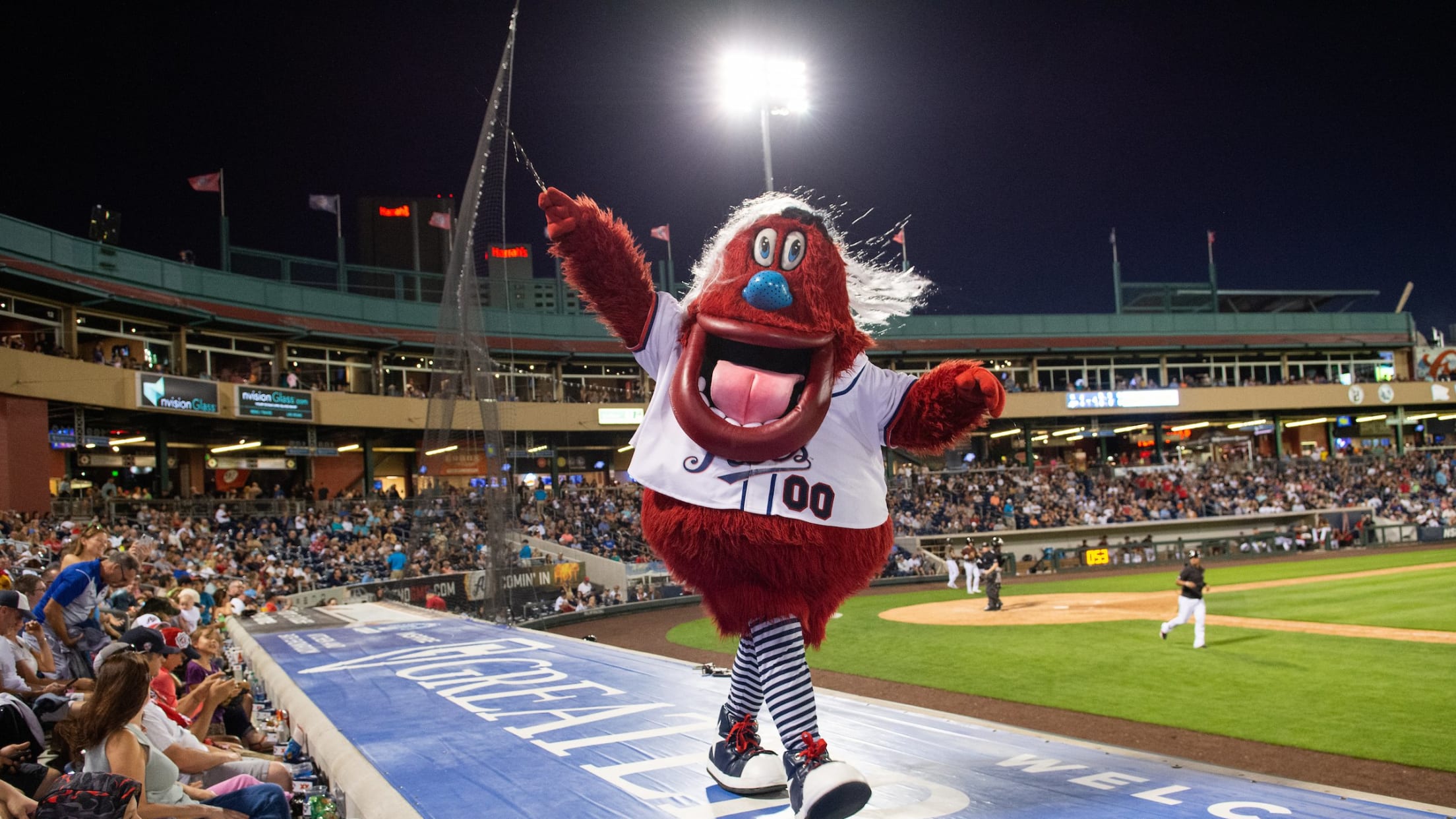 Mascots are weird, but the Aces' Archie is weirder than most. He's the "Sasquatch of the Sierra Mountains," a gigantic, red, furry beast with a perpetually open mouth that showcases his thick, curled tongue. In the early days of the Aces, Archie was blessed with the gift of speech and would converse with fans as he interacted with them. His ability to orally communicate has mysteriously vanished, keeping with Archie's overall sense of mystery. Nonetheless, he is always able to get his point across via emphatic, relentlessly energetic body language.
Where to Stay
Headed to the stadium and looking for a hotel nearby? Your Wyndham is waiting. As the Official Hotel of Minor League Baseball, Wyndham Hotels & Resorts welcomes baseball fans with a portfolio of 24 trusted brands. Find Hotels by Wyndham closest to the ballpark below and book now at wyndhamhotels.com.
• Travelodge by Wyndham Reno Downtown
• Club Lakeridge
• Eldorado Resort Casino, Trademark Collection by Wyndham
• Silver Legacy Resort Casino, Trademark Collection by Wyndham
• Circus Circus Reno, Trademark Collection by Wyndham
Local Attractions
Dude, let's go bowling ...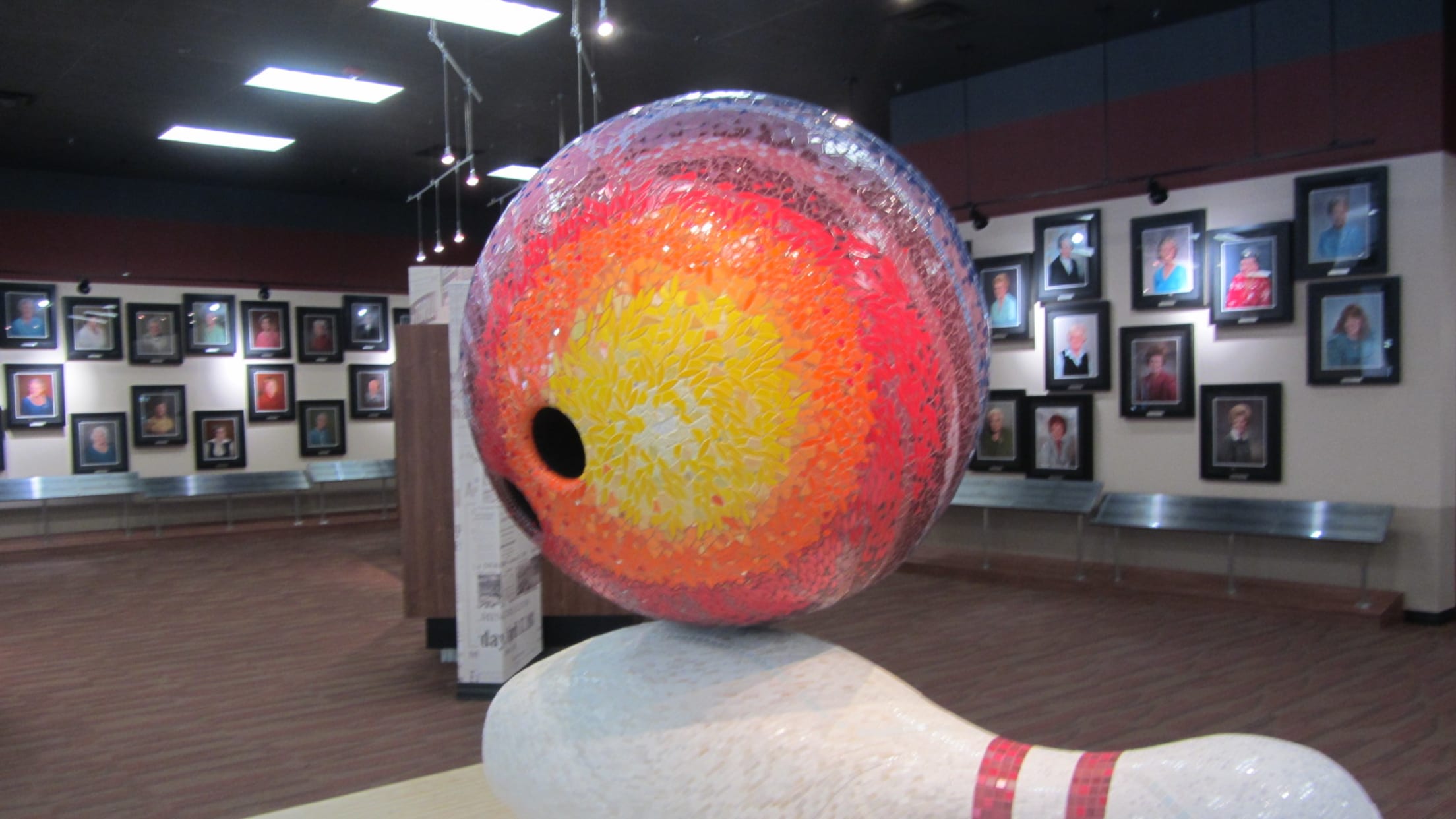 Reno is the proud home of the National Bowling Stadium, the so-called "Taj Mahal of Tenpins" which features 78 lanes and regularly hosts tournaments. It also includes a satellite location of the International Bowling Hall of Fame, featuring historical displays and homages to the sport's greatest competitors.
The National Automobile Museum, located on the banks of the Truckee River, boasts more than 200 classic cars on display. And speaking of the Truckee River, those looking for time in the great outdoors should budget time for the two-mile Truckee River Walk. Or better yet, go kayaking.
Vinyl fiends, and fans of physical media in general, should make a stop at Recycled Records. Three-thousand square feet of records, cassettes, CDs and DVDs await.
It goes without saying, of course, that the Reno area is home to a cornucopia of casinos and all their attendant food, entertainment and dining options. Gamblers, and the gambling-curious, can get lost amid downtown's around-the-clock cavalcade of table games and slot machines.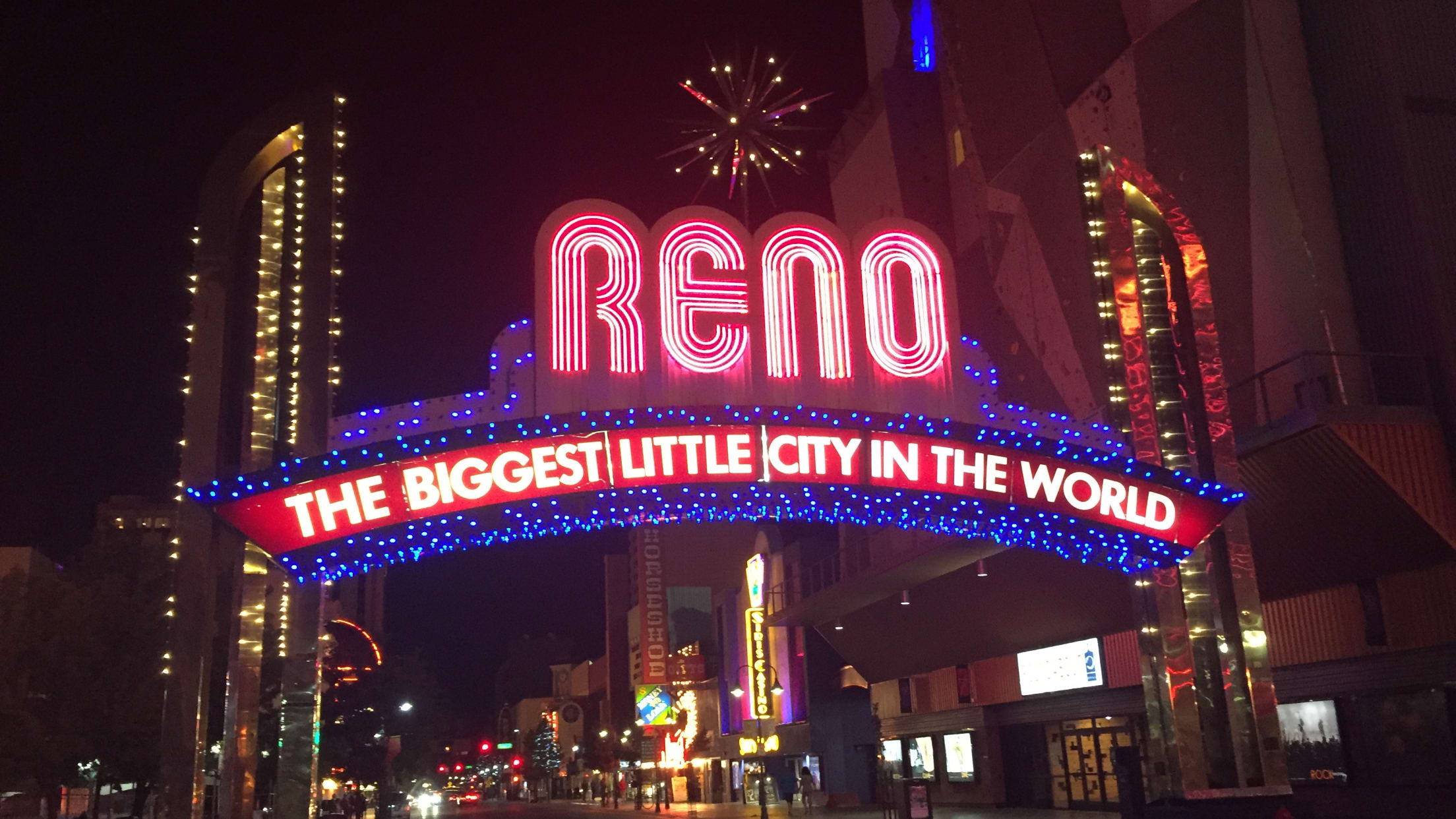 Local Dining
Peg's Glorified Ham 'N Eggs, which has four locations within Reno, is a breakfast institution. Ham and (especially) eggs are, not surprisingly, prevalent on the menu. Reno's Basque heritage is exemplified by Louie's Basque Corner, a family-style dining institution with a sprawling menu. Even more vintage is Casale's Halfway Club, offering traditional red sauce Italian fare within a location that has been operating continuously since 1937. It's Reno's oldest restaurant.
Moving on
The Reno Aces could be used as the starting, or ending, point of a five-team road that includes a quartet of California teams. The Sacramento River Cats are approximately 135 miles to the southwest of Reno. From there, one can continue traveling southward to see the Stockton Ports, Modesto Nuts, San Jose Giants and Fresno Grizzlies. Another option is to go straight from Reno to Las Vegas, home of the Las Vegas Aviators. The drive along Highway 95 is full of rugged scenery and gorgeous mountains, occasionally running through sparsely populated towns offering strange tourist attractions and even stranger places to spend the night. Who wouldn't want to stay at the World Famous Clown Hotel?
The Road to Phoenix
The Aces are located on the top rung of the D-backs' Minor League ladder, part of a sprawling system that goes from California to Oregon to Texas to Nevada to, finally, Phoenix's Chase Field. Click on the team name to read the corresponding Ballpark Guide:
Single-A: Visalia Rawhide (Visalia, Calif.)
High-A: Hillsboro Hops (Hillsboro, Ore.)
Double-A: Amarillo Sod Poodles (Amarillo, Texas)
Triple-A: Reno Aces (Reno, Nev.)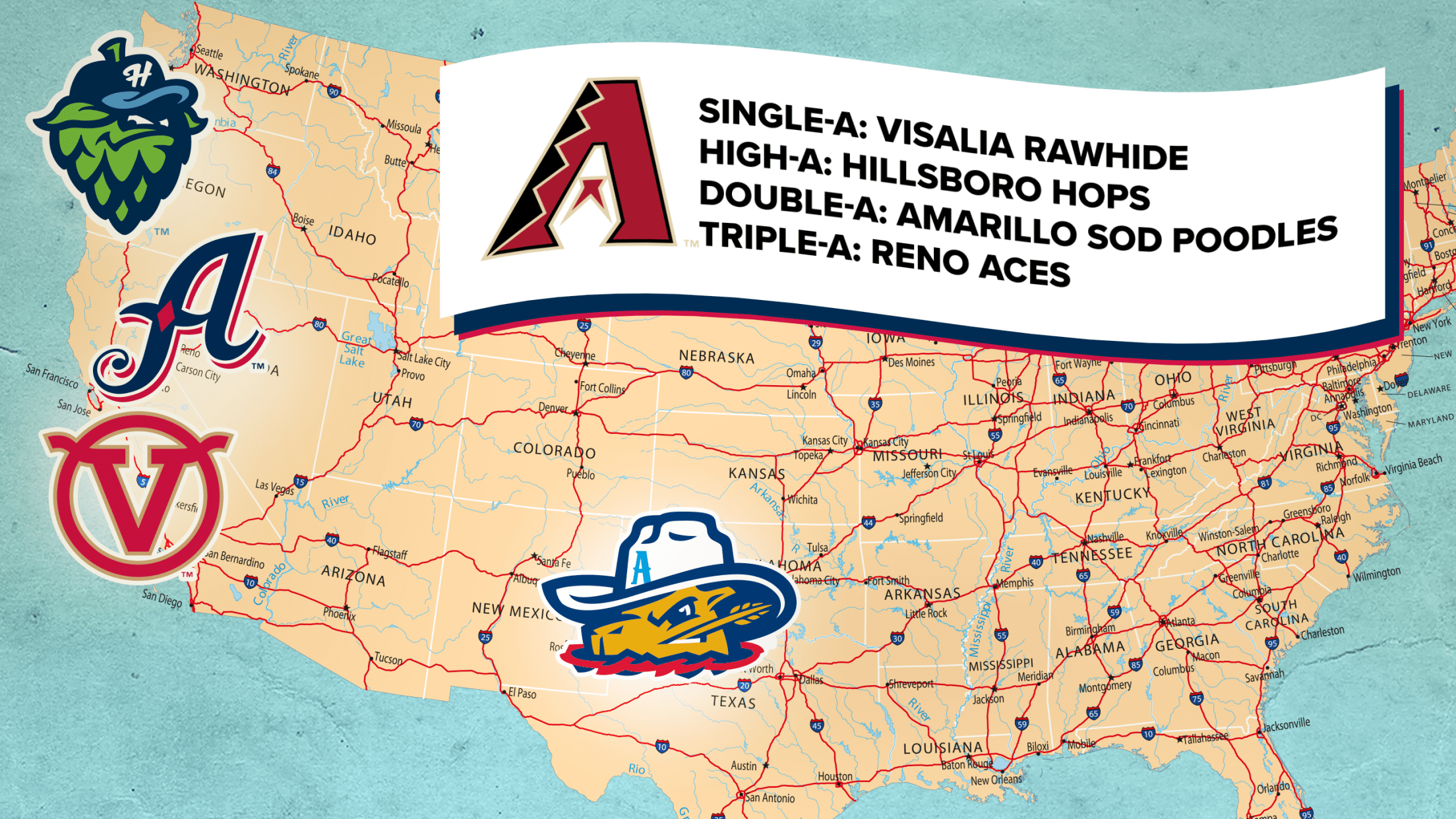 credits:
Benjamin Hill, who covers the business and culture of Minor League Baseball, has visited 177 Minor League ballparks.