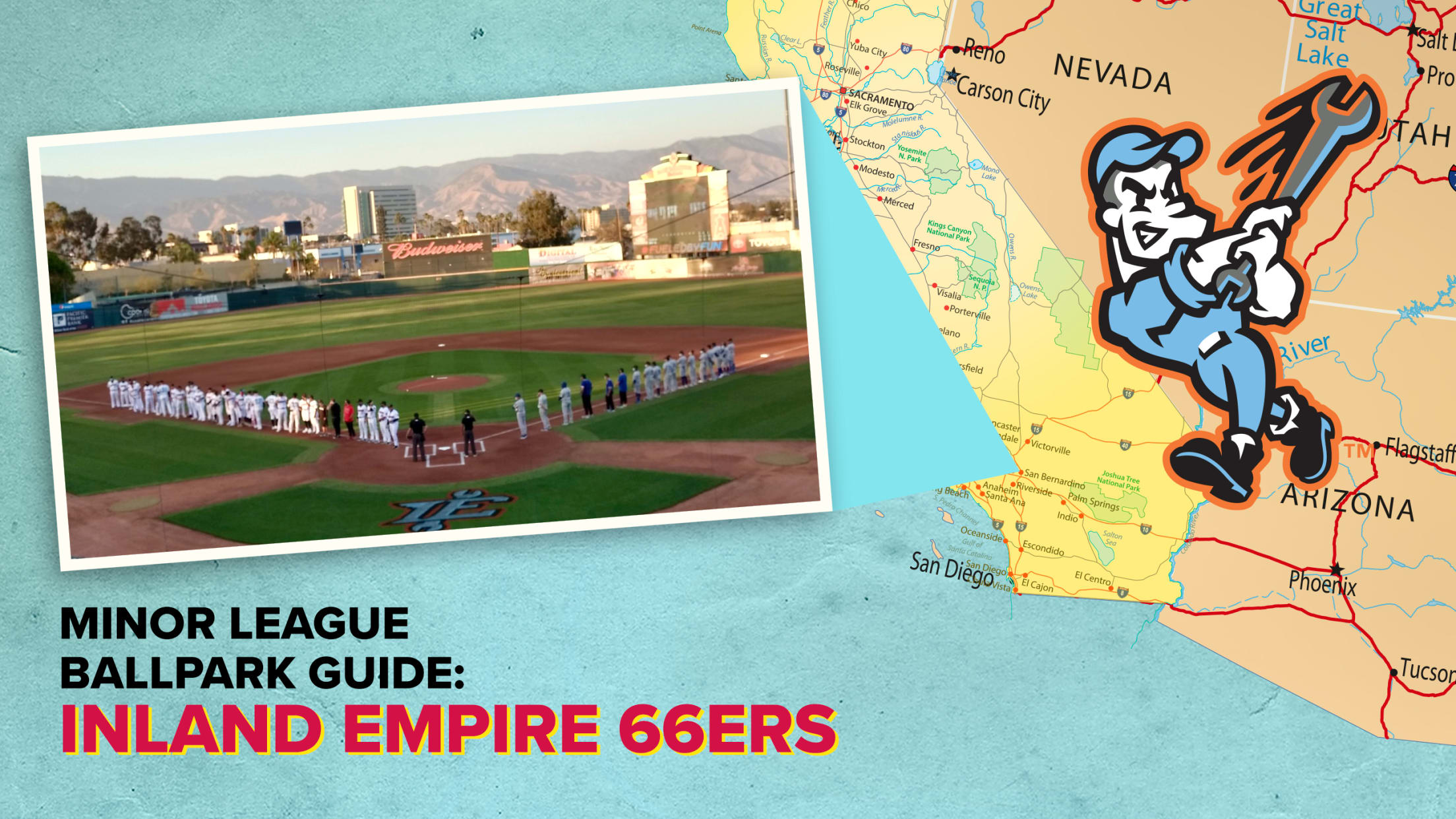 Scroll
Visit Inland Empire's San Manuel Stadium
Welcome to San Manuel Stadium, where mascot Bernie bobbles his belly in the Southern California sun, fans relish San Bernardino Mountains views and the Inland Empire 66ers race for the Low-A West title.
Inland Empire 66ers (Affiliate of the Los Angeles Angels since 2011)
Established: 1987 (in the Class A California League)
Ballpark: San Manuel Stadium (opened 1996, as The Ranch)
League: Low-A West
Notable Alumni: Ken Griffey Jr., Paul Konerko, Felix Hernandez, Adrian Beltre, Ted Lilly, Ramon Martinez, Eric Karros, Rafael Soriano, Nathan Eovaldi, Kenley Jansen, Brandon Marsh
Championships: 1995, 1999, 2000, 2003, 2006, 2013
It may be possible to achieve a complete understanding of the great American pastime without taking in a baseball game along historic Route 66 hosted by a Minor League team named after historic Route 66, but who wants to find out? The wiser course is to get your kicks at an Inland Empire 66ers game.
Contemporary Minor League Baseball came to the hub of California's San Bernardino and Riverside Counties with the arrival of the San Bernardino Spirit in 1987. The Spirit were a Seattle Mariners affiliate at the time of their arrival and played as such through 1992. The next year, the Spirit technically relocated to Rancho Cucamonga to become the Quakes, but, in a corresponding move, the Salinas Spurs relocated to San Bernardino to pick up the Spirit mantle. They became a Dodgers affiliate in 1995.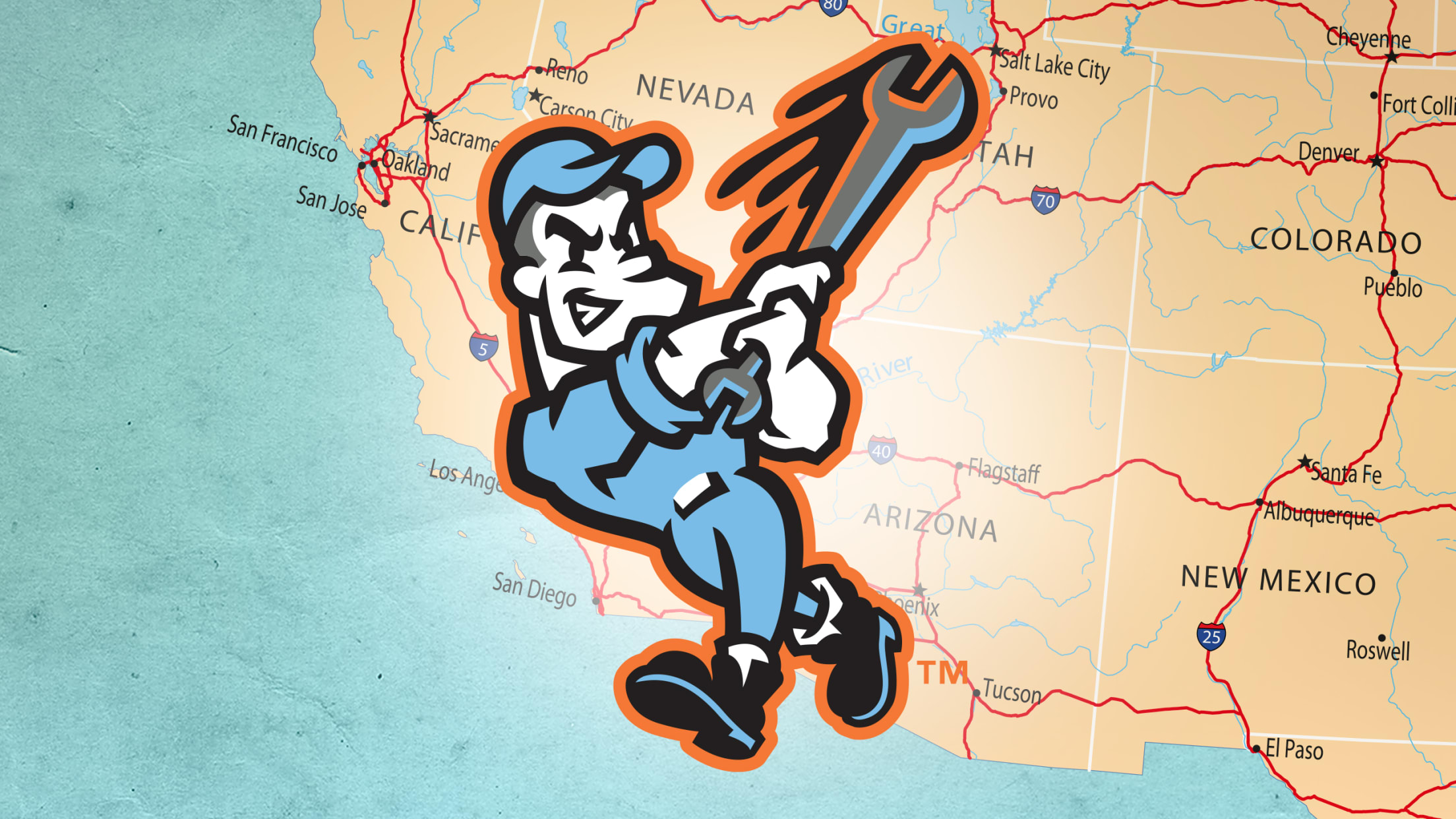 From a fan's perspective, the biggest change came with the opening of the park now known as San Manuel Stadium in 1996, which coincided with the Spirit being rebranded as the Stampede.
When the team rebranded again in 2002, it was as though the franchise had found its true self, embracing the entire two-county community while paying homage to the area's car culture and the region's historical standing as the gateway from the American Southwest to the big cities and growing suburbs of Southern California. There they were: the Inland Empire 66ers.
From 2007-10, the 66ers were a Dodgers affiliate, and they've been an Angels affiliate since 2011, so Inland Empire has affixed itself prominently and firmly to the baseball landscape of the area.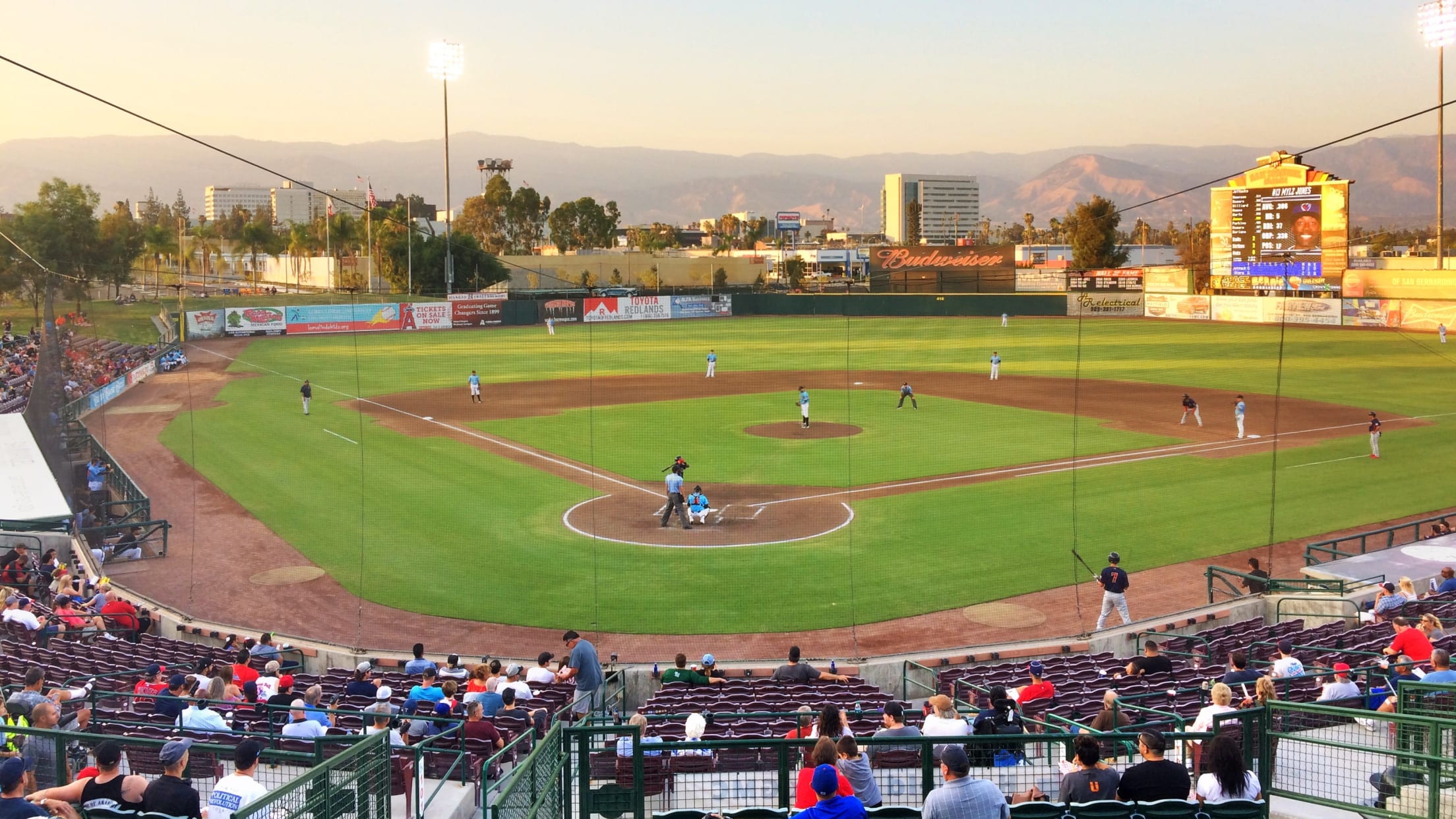 San Manuel Stadium
Google Maps
66ers schedule
66ers roster
280 South E Street,
San Bernardino, CA 92401
909-888-9922
Capacity: 8,000
Dimensions: left field, 330 feet; center field, 410 feet; right field, 330 feet
Designed by HOK -- the same architecture firm responsible for Camden Yards, Coors Field and, more recently, the Triple-A Aviators' Las Vegas Ballpark -- San Manuel Stadium has a classic feel that takes full advantage of its geographical setting. Views of the city's skyline (modest but not without charm) beyond parts of the outfield wall give way to the majesty of the San Bernardino Mountains in the distance. Looking in a northerly direction beyond left field, the mountains, foregrounded by a variety of stately trees, feel especially near.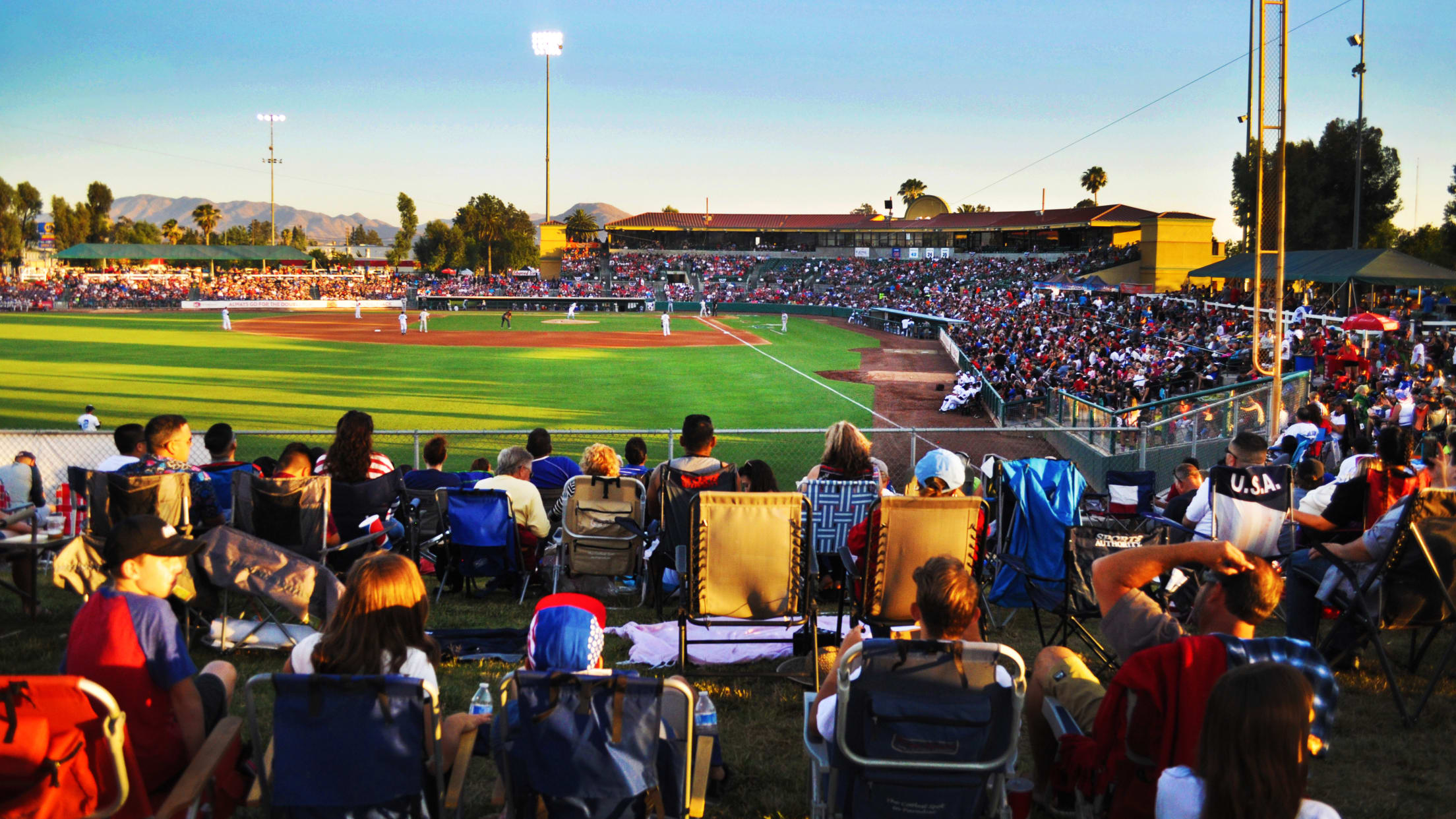 The ballpark is situated a few blocks from the 215 freeway (take the 5th Street exit if you want to stop at In-n-Out), which connects to the 210 to the north and the 10 to the South. San Bernardino International Airport is within four miles to the east, and Ontario International Airport is about a 40-minute drive west on the 10. The San Bernardino Santa Fe Depot, with Amtrak service via the Southwest Chief and Metrolink connections on two lines, is a mile and a half away.
Features
The views beyond the outfield wall distinguish San Manuel Stadium more -- and more favorably -- than any in-park add-on ever could. That doesn't mean the interior of the ballpark wants for character. The distinctly designed videoboard in right somehow complements both the action on the field and the mountain backdrop, and it's a pleasure to walk around the concourse -- an arched entryway and concession stands nestled into bright stucco walls leave no doubt that a visitor is in Southern California.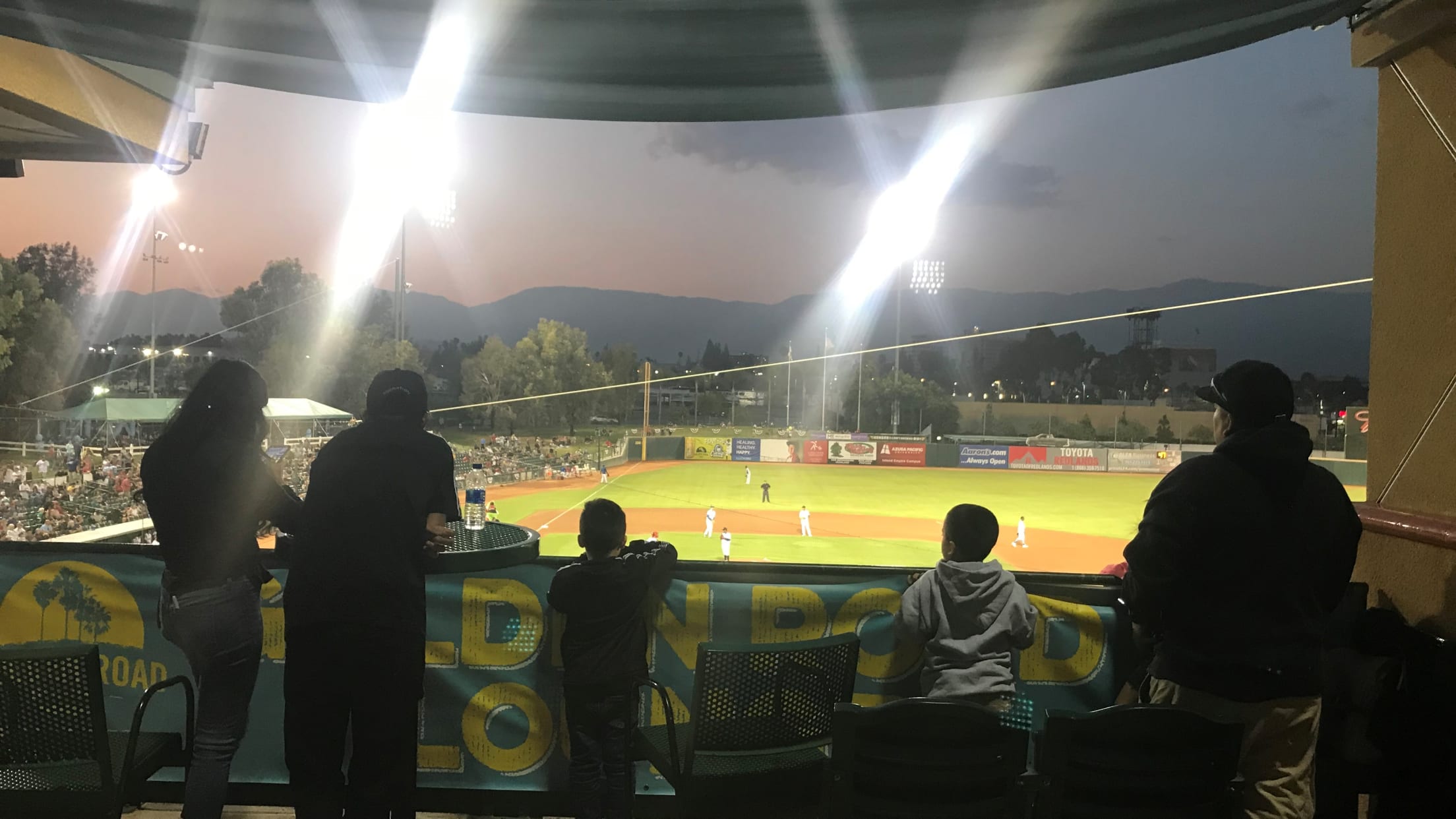 Those looking for seating options beyond field-level boxes and club seating can check out a dozen luxury suites, an outdoor suite with a full-service bar and all-you-can drink beer, two party patios and ample and affordable lawn seating along the left-field line.
Mascot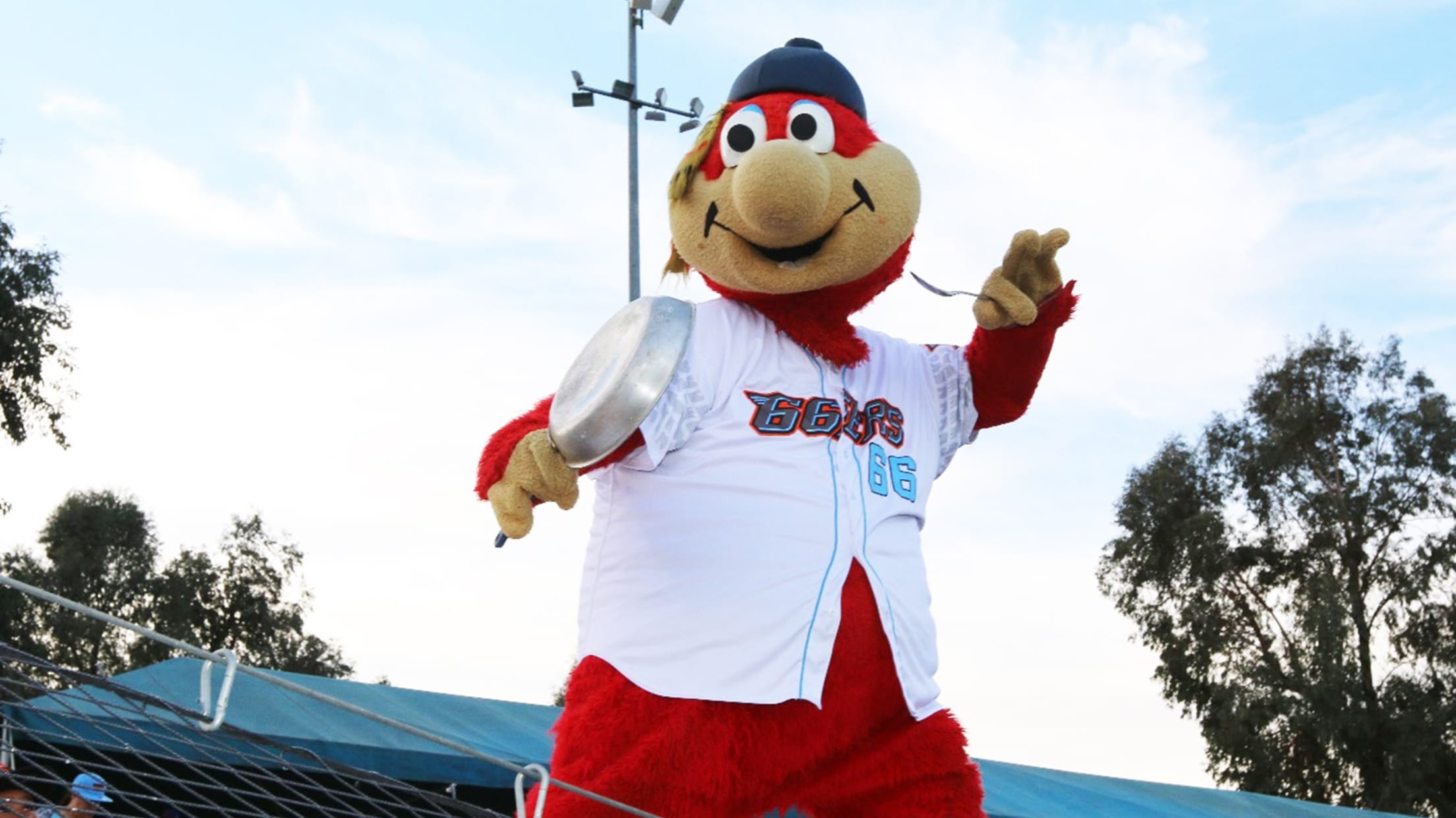 Bernie -- a pan-smacking, belly-rattling, butt-boogeying something or other -- predates the 66ers identity itself, having debuted during the reign of the Stampede.
A mascot doesn't end up with that kind of staying power unless he's truly special -- and a little enigmatic.
Concessions
Locals love Friday games for the 50-cent hot dog special, but those who want to bite into something quintessentially SoCal would do well to schedule a trip to San Manuel around a game when the 66ers are playing as the California Burritos -- an alternate identity that honors the local practice of adding french fries to burritos.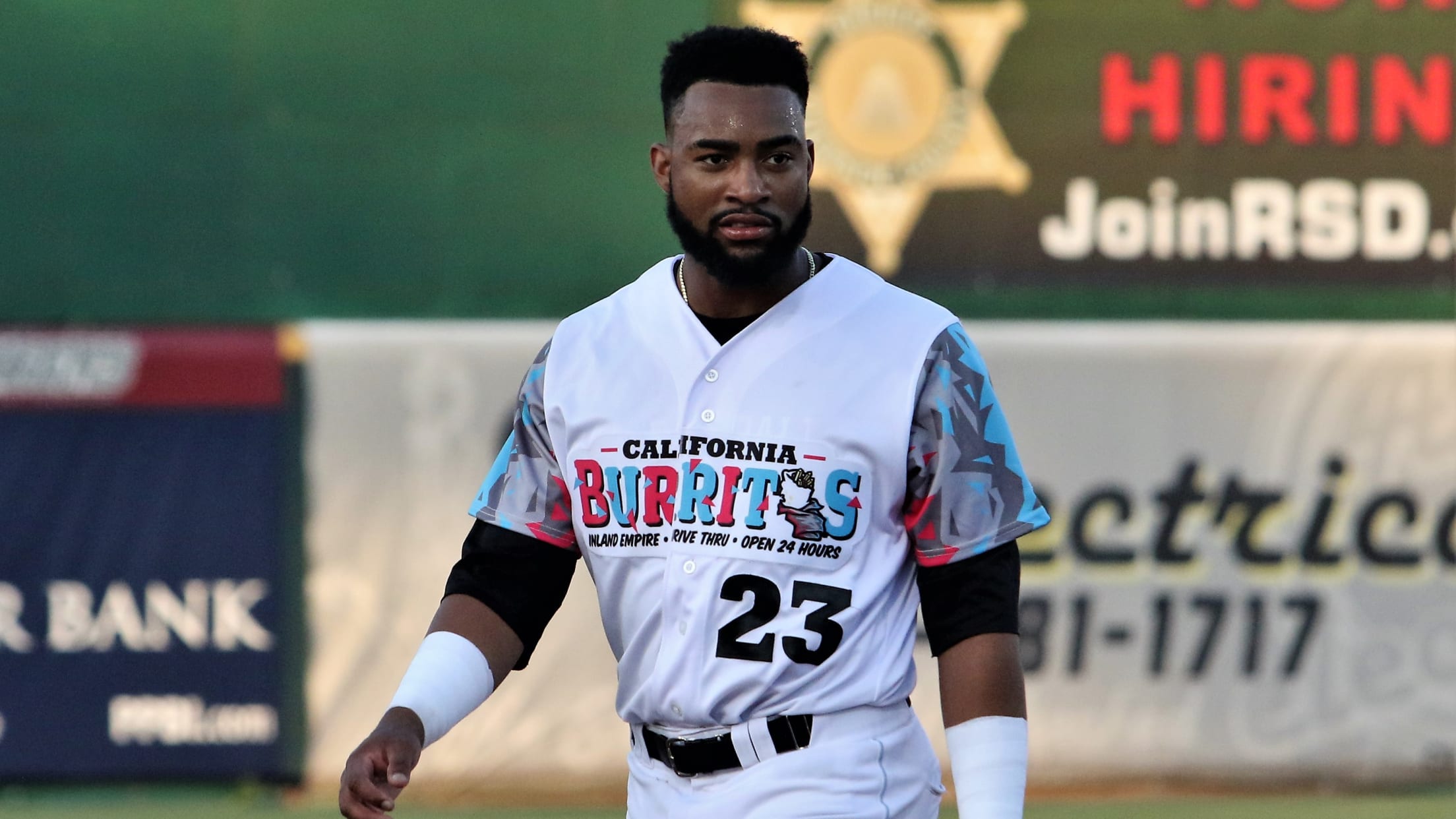 In the past, California Burritos games have rolled up such epicurean and entertaining delights as competitions between local vendors with fan voting to determine the best California burrito, a burrito-eating contest involving specimens weighing five pounds and the free-spirited distribution of mini-burritos to fans in the stands.
Local favorite Rosa Maria's has been a sponsor and has a pronounced presence on California Burritos nights.
Sophia's Mexican Food has also been active during California Burritos games, but the good news is that Sophia's is the 66ers' in-stadium taco specialty stand -- meaning a fan doesn't need to do any special planning to be able to scarf some classic California-style Mexican dishes during a game.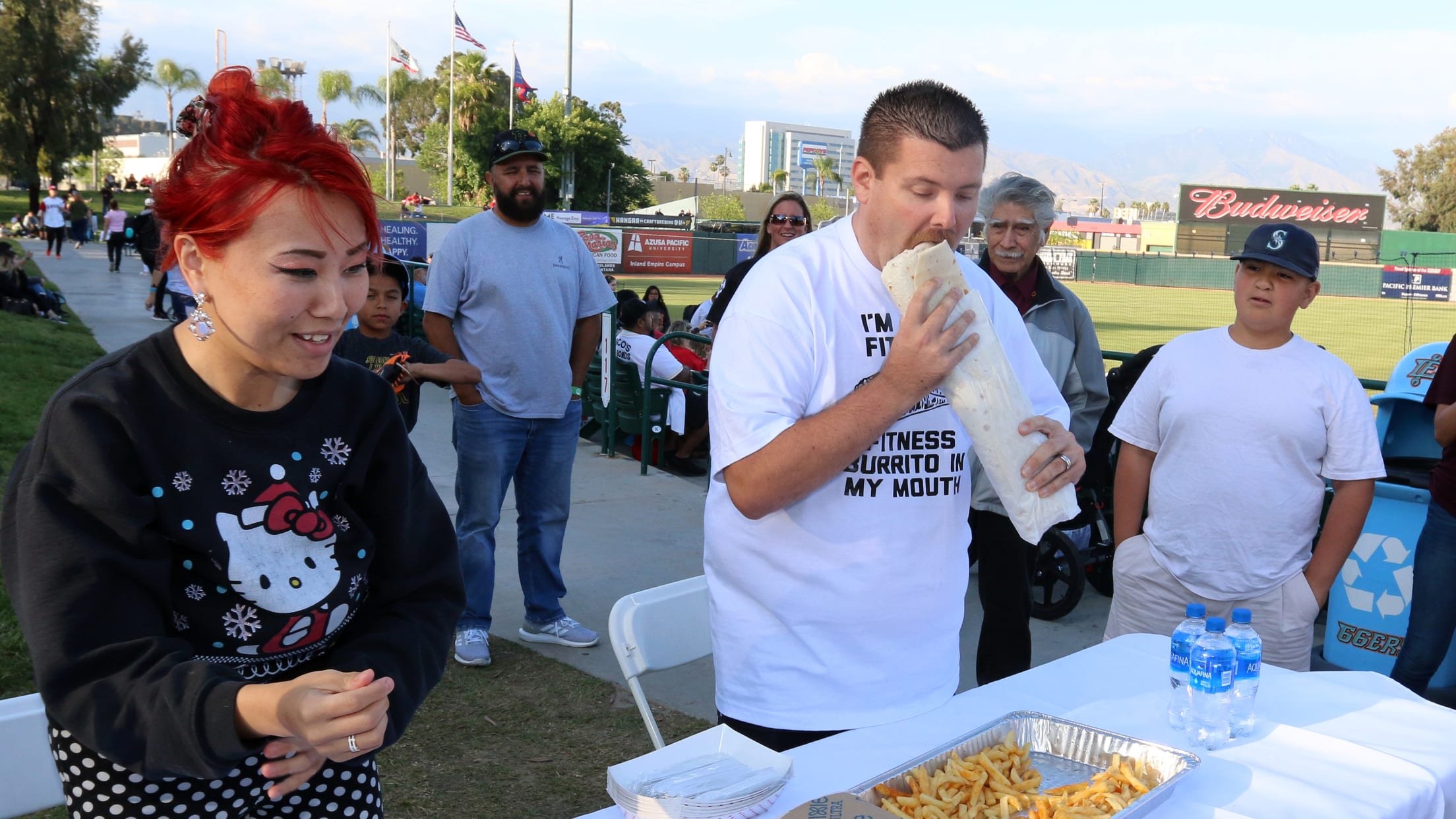 Local attractions
The road from which the 66ers get their name can also take a visitor all the way to the beaches under Santa Monica Pier in less than 80 miles, meaning all of the attractions of Los Angeles are within reach for pregame tourism action. Head east instead of west, and so is Joshua Tree National Park.
But a wayfaring gentleperson who wants to minimize time spent in traffic can take heart. There's plenty to see and do without venturing out of the IE.
Outdoors enthusiasts can find some of the region's best hikes in the mountains visible from the ballpark.
Right in San Bernardino, the Mitla Cafe, said to be the inspiration for Taco Bell, is as of as much socio-political importance as culinary renown; it was a key gathering place for Mexican-American families, activists and organizers, and a favorite of Cesar Chavez.
Visitors looking to make a theme out of popular food history can swing by the original McDonald's -- now a museum -- two miles across town.
Those who prefer their museums a little more arts-focused can check out Cal State San Bernardino's Robert and Frances Fullerton Museum of Art, then, maybe for some balance, head over to the Glen Helen Raceway to take in some motocross action.
The enormous Yaamava' Resort & Casino at San Manuel (owned and operated by the San Manuel Band of Mission Indians), replete with several restaurants and live-performance venues, is within a half-hour drive.
Food and drink
If you haven't gotten your fill at Rosa Maria's or the Mitla Cafe, you can stop by Molly's Cafe within shouting distance of the ballpark, or take a quick drive across town for a Peruvian feast at El Rico Polo or Chinese cuisine at Happy Family Vegetarian.
Serious foodies who want some of the region's most acclaimed grub but don't want to drive all the way into L.A. may already know that the San Gabriel Valley, about an hour west by automobile, is loaded with world-class Chinese and Taiwanese restaurants.
Lodging
Some readers will likely have already begun searching for rental cabins in the San Bernardino Mountains or in the desert to the east.
Others may have started checking rates at the Yaamava' Resort.
A number of hotels and motels are in the city of San Bernardino. Those who are planning to travel to LA on the day of or morning after a game may want to check out Casa 424, a boutique hotel in Claremont. The Mission Inn, a striking, upscale hotel and restaurant in Riverside, is about a 15-minute drive from the ballyard.
Moving on
Southern California was practically built for the baseball-seeking roadtripper. Blink, and you're in Rancho Cucamonga to check out the rival Quakes -- the Dodgers' Low-A affiliate. Obviously, both Dodger Stadium and Angel Stadium are within an easy jaunt, too. After an Angels game, why not scoot over the Santa Ana Mountains for a trip down the 15 freeway to catch the Lake Elsinore Storm, then carry on southward to catch the Padres in San Diego?
If it's early enough in the year, you may want to check out elite college ball at UC Riverside, UCLA, USC, UC Irvine, UC San Diego, Cal State Fullerton, Cal State Long Beach and so on and so forth.
The Road to Anaheim
Literally speaking, all a 66er needs to do get to The Big A is hop on the 91 freeway southbound and make a turn in Orange County. To crack the Angels roster, though, he'll likely need to first advance to High-A Tri-City (in Pasco, Washington), Double-A Rocket City (Madison, Alabama) and Triple-A Salt Lake (Utah).
Low-A: Inland Empire 66ers (Ballpark Guide)
High-A: Tri-City Dust Devils
Double-A: Rocket City Trash Pandas (Ballpark Guide)
Triple-A: Salt Lake Bees (Ballpark Guide)