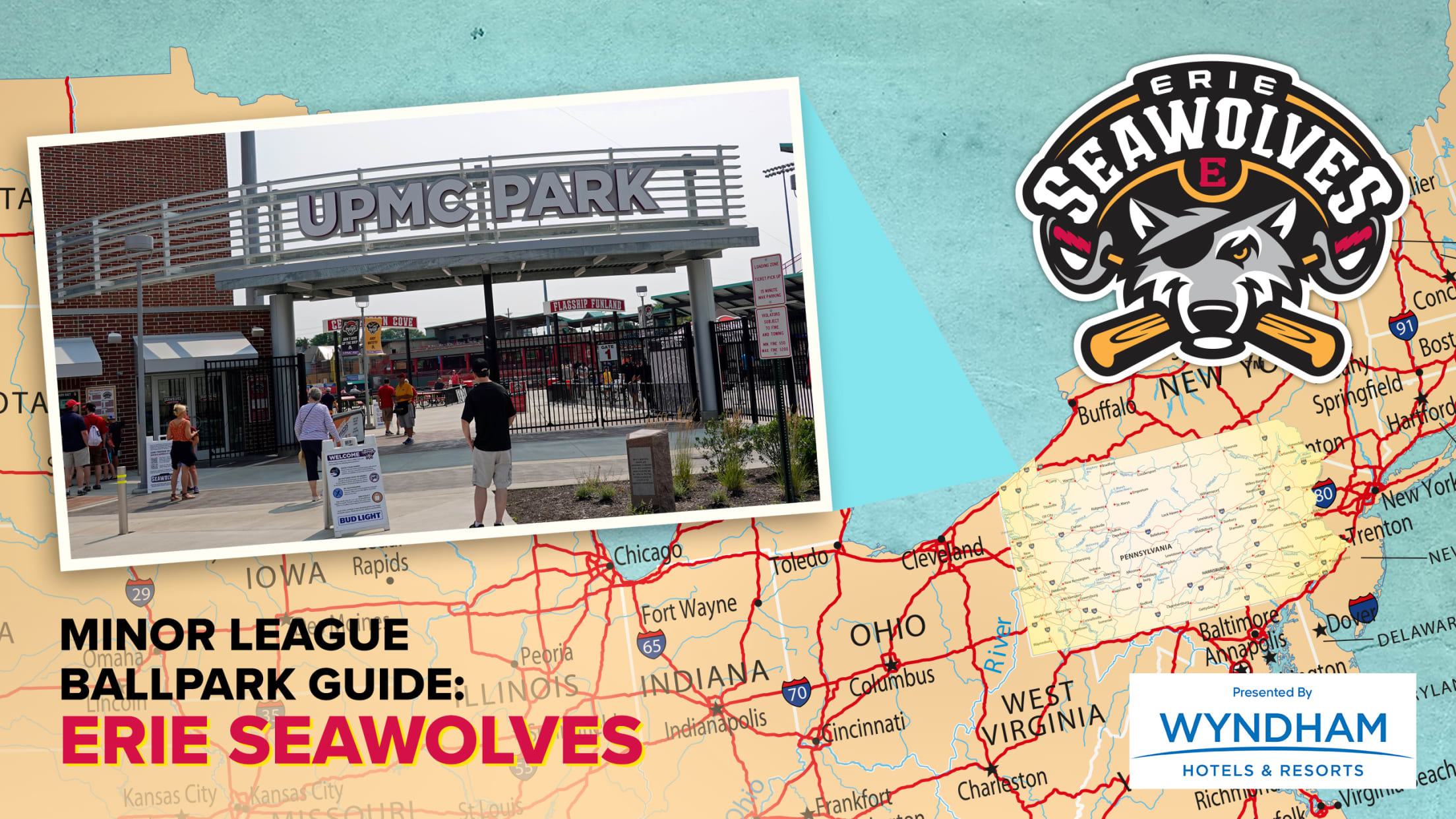 Scroll
Explore Erie's UPMC Park
Welcome to UPMC Park, home of the SeaWolves and situated less than a mile from picturesque Lake Erie. Nestled in northwest Pennsylvania, the Tiger faithful flock here to enjoy some seriously sweet hot dogs and cheer on Detroit's future with Erie's swashbuckling wolf mascot.
Erie SeaWolves (Double-A affiliate of the Detroit Tigers since 2001)
Established: 1995 (in the short-season Class A New York-Penn League)
Ballpark: UPMC Park (opened 1995)
League: Eastern LeagueNotable Alumni: Alex Avila, Nick Castellanos, Curtis Granderson, José Guillén, Cameron Maybin, Andrew Miller, Casey Mize, Aramis Ramirez, Fernando Rodney, Tarik Skubal, Justin Verlander, Joel Zumaya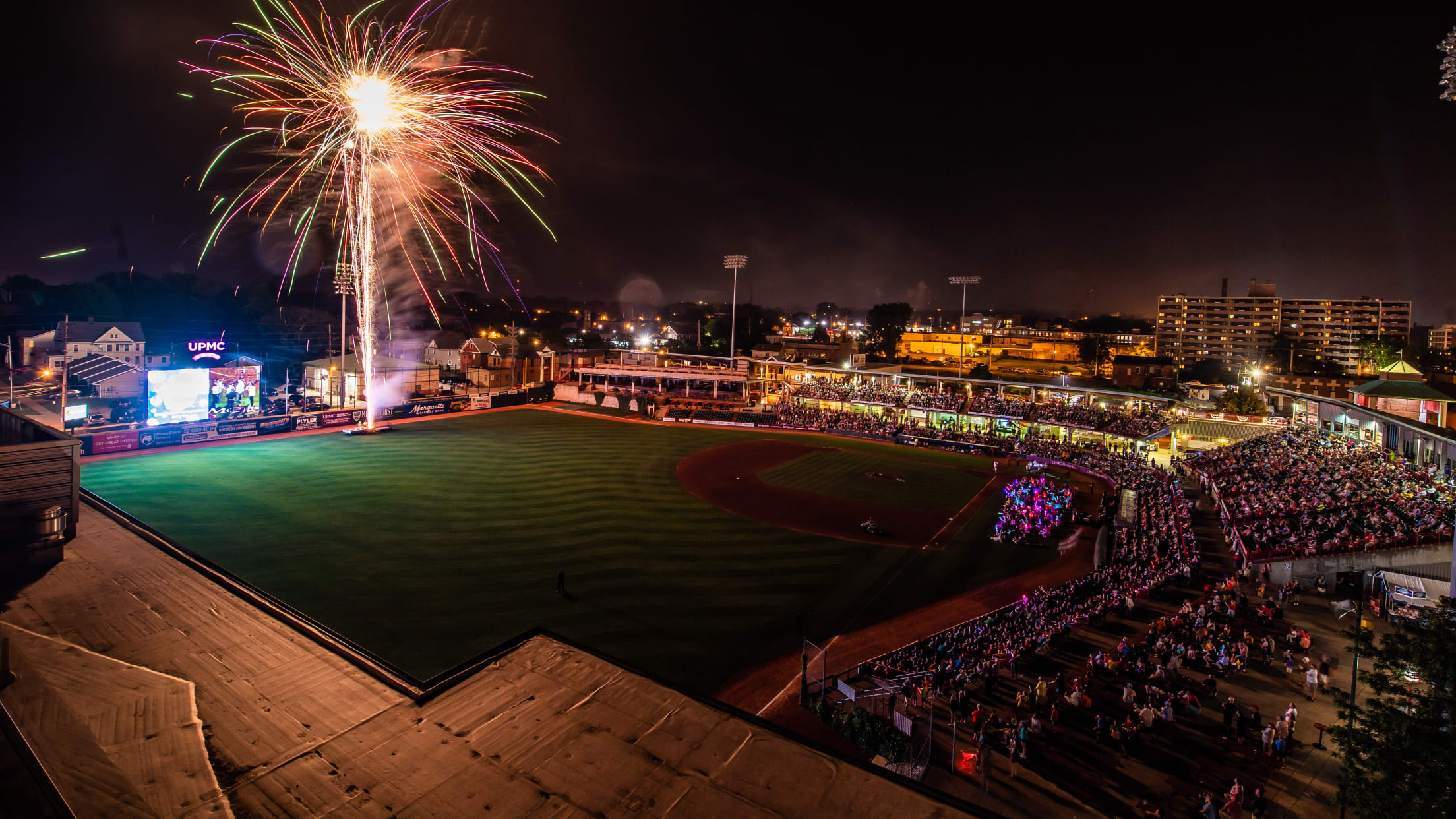 Minor League baseball in Erie dates back to the Erie Sailors in the early 1900s, with stops and restarts in between. The city had a short-season New York-Penn League team under various organizations in the 1980s and 1990s. For decades, those teams made their home at Ainsworth Field, a small park in southwest Erie where Babe Ruth once played.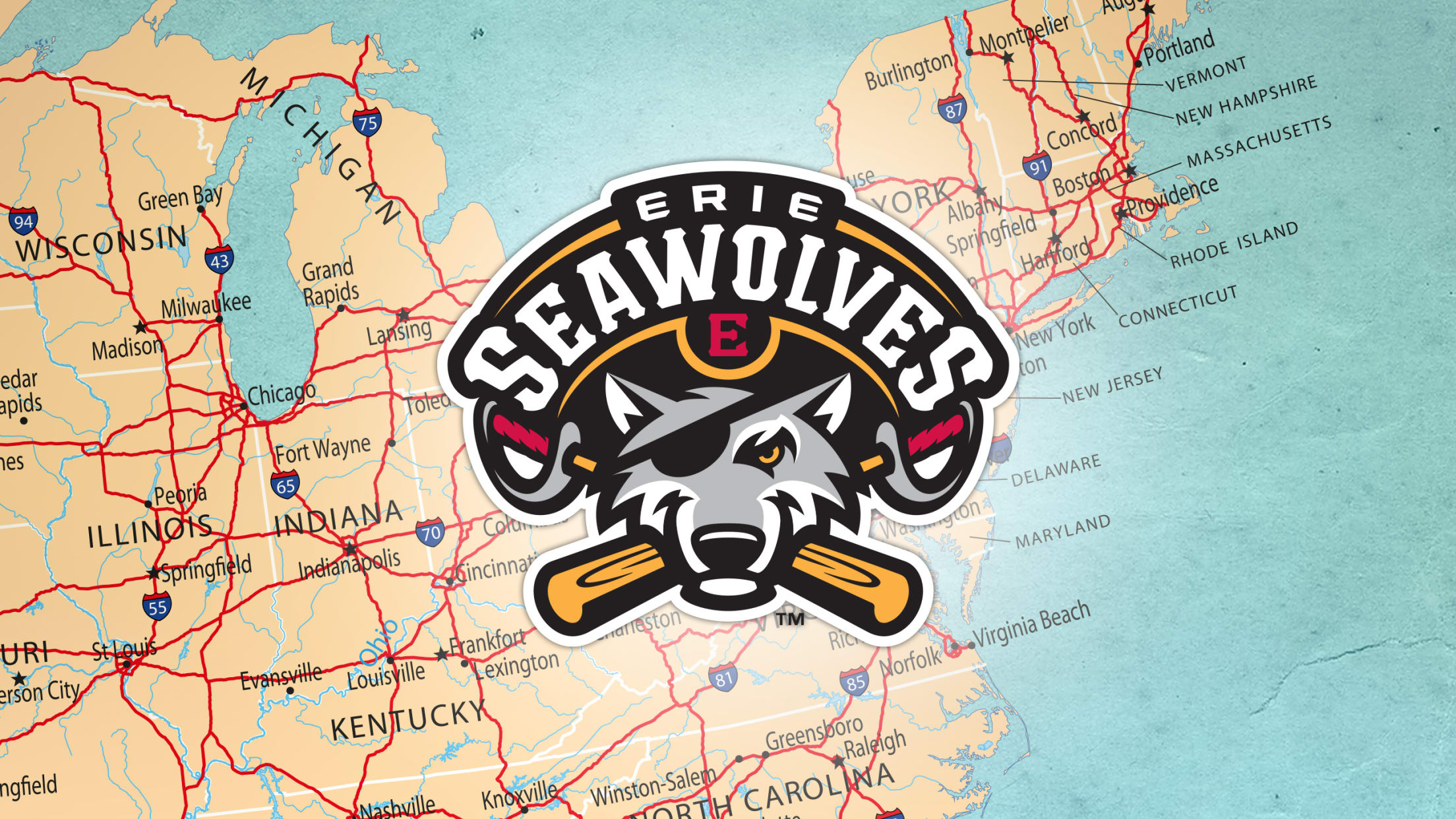 After the Sailors spent 1994 in the independent Frontier League for a year, a new ballpark in downtown Erie brought the New York-Penn League back to town with the SeaWolves, then a Pirates affiliate. The SeaWolves were promoted to the expanded Eastern League in 1999, giving Erie its first full-season team since 1963. The SeaWolves were the Angels' Double-A affiliate in 1999 and 2000 before the Tigers moved their Double-A affiliation from Jacksonville, Florida to bring their Double-A prospects closer to Triple-A Toledo and Detroit. Erie has been a Tigers affiliate ever since.
UPMC Park
831 French St
Erie, PA 16501
(814) 456-1300
Capacity: 6,000 (not including standing room)
Dimensions: left field, 317 feet; center field, 400 feet; right field, 328 feet
Park factors (2021-22)
100 = league average
Runs: 97 | Homers: 87 | Hits: 104
Eastern League environment: 4.69 runs per team per game (10th-highest of 11 full-season leagues)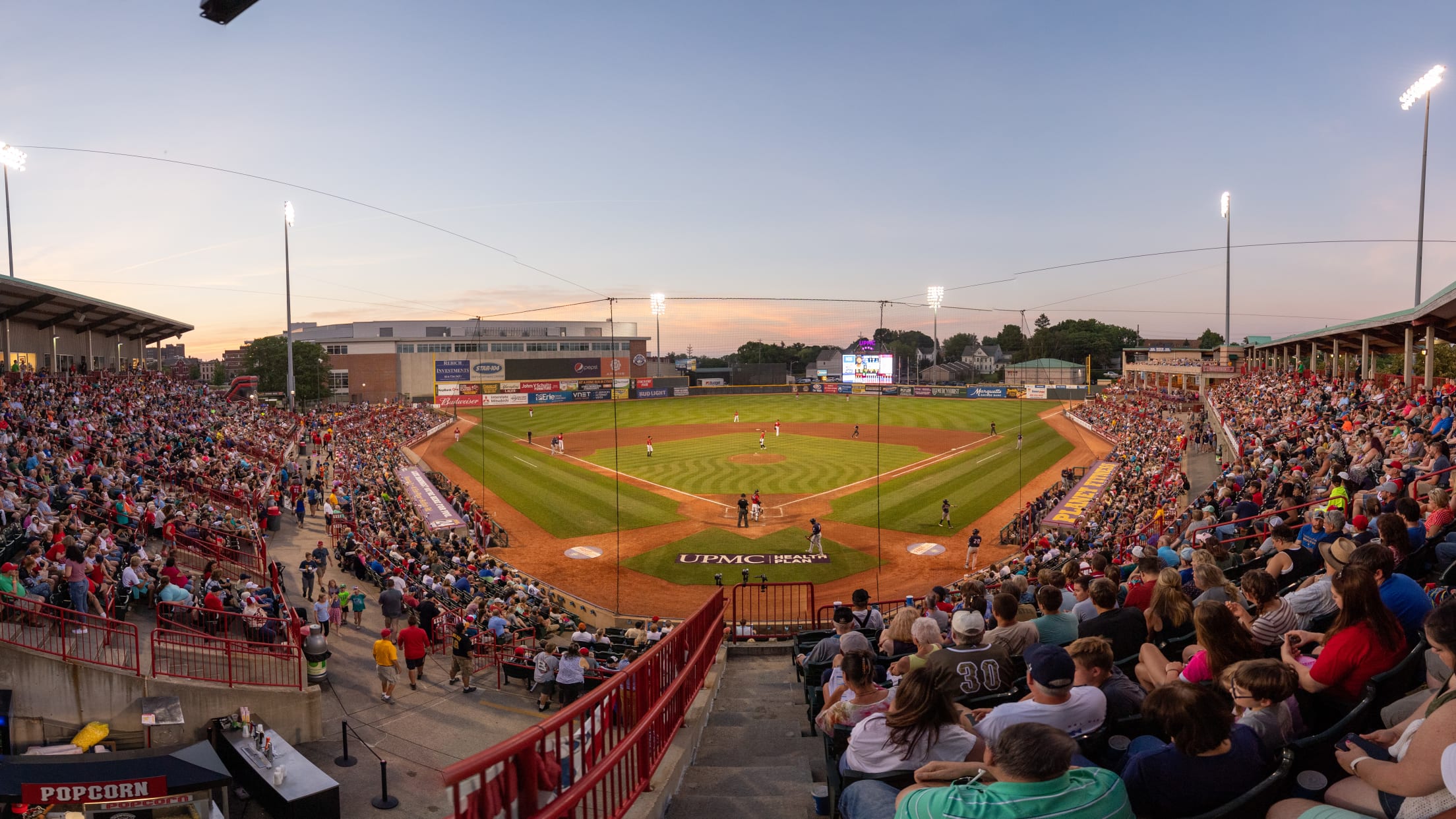 Home run highlights from UPMC Park are easy to recognize by the outfield backdrop, from the towering façade of Erie Insurance Arena beyond the left-field fence to the residential houses across the street from right field. But the ballpark has a lot of unique features besides the view, including seats that are all close to the action.
The arena next door, home to the Ontario Hockey League's Erie Otters, was built in 1983. The ballpark was built later on what was once the site of a department store, fulfilling a goal for downtown site and a more modern facility. It was initially known as Jerry Uht Park, named for a local high school star who played Minor League ball in the Cleveland farm system and later founded a semi-pro team in Erie. As a businessman, Uht played a pivotal role in bringing the SeaWolves to town.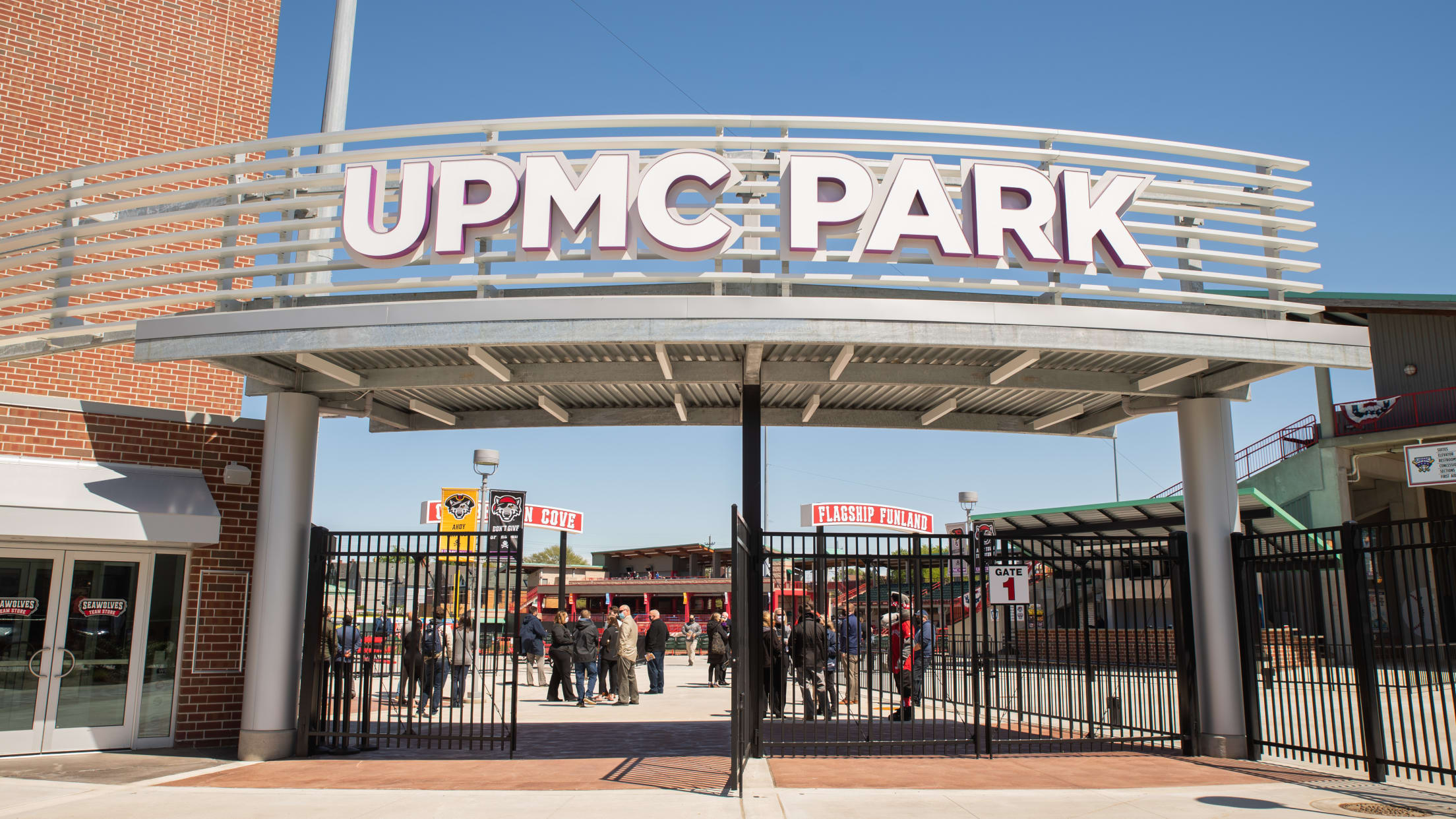 The SeaWolves played their first game at Jerry Uht Park on June 20, 1995, and won on a homer from future Pirates slugger Jose Guillen -- over the arena in left, fittingly. Double-A baseball arrived four years later. Since the park was initially built for short-season ball with limited land for expansion, its growth as a Double-A facility has been in stages. A 2006 renovation added a picnic garden and upper deck along the first-base and right-field line. The latest renovation in 2020-21 included updated suites and concessions down the third-base line, a new team shop, and a stadium club hospitality area overlooking the left-field corner with an impressive view of the field and a connection to the neighboring arena.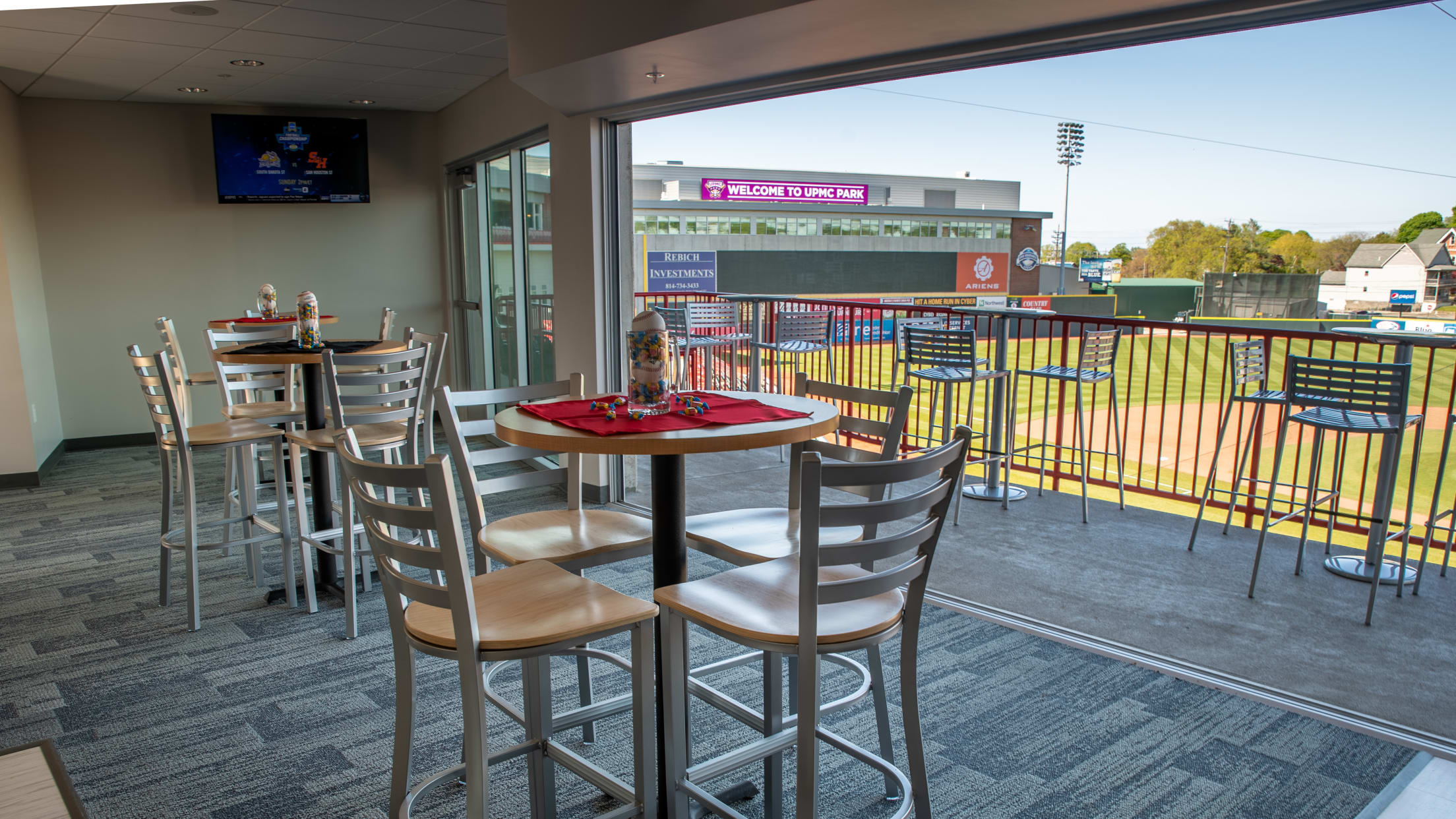 Concessions
The SeaWolves aren't shy about getting creative with their foods. The "Rocket Dog" at Smith's Sausage Shack topped a hot dog with macaroni and cheese, pulled pork, bacon and barbecue sauce, and won the Bush's Beans Home Run Recipe contest in 2017. A year later, the SeaWolves wrapped a hot dog in cotton candy and covered it with Nerds candy for a Sugar Rush Night promotion, and ended up keeping it for the season. Later that summer, the team debuted the Candy Cane Hot Dog. Smith's Sausage Shack, located down the left-field line, also sells more traditional hot dogs and sausages. Behind home plate are concession stands for burgers, nachos, tacos and popcorn, with a beer garden located down the right-field line.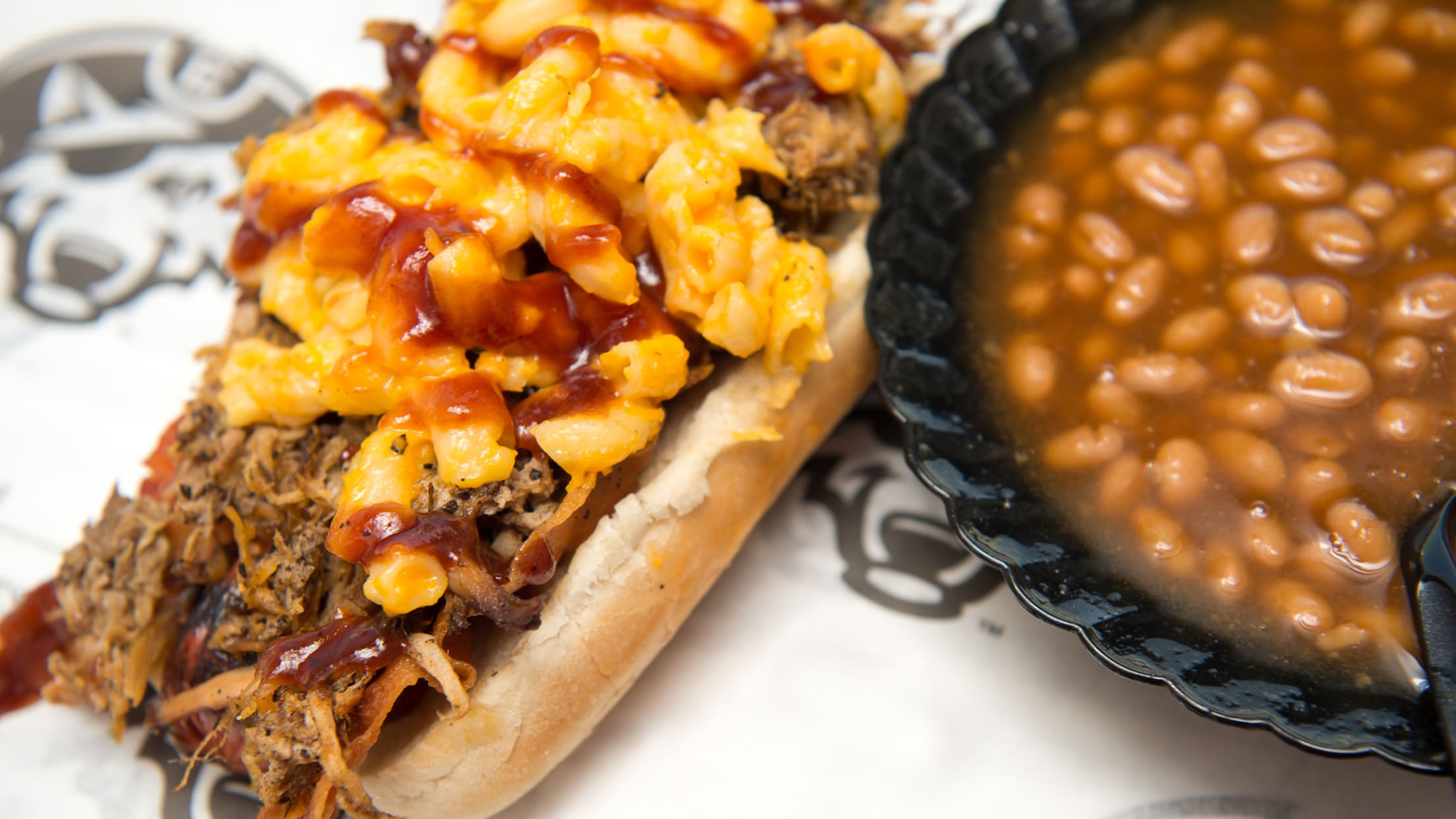 Mascot
Since sea wolf is a term that refers to a pirate, it only makes sense that the SeaWolves' mascot combines buccaneering ways with his canine tendencies. C. Wolf is a swashbuckling animal with an eye patch, a pirate's cap and a polka-dot bandana. He prowls around the ballpark, hangs out on the dugout and puts on some good dance moves. He was voted Eastern League's top mascot in Minor League Baseball's Mascot Mania contest in 2013. C. Wolf cannot talk, so he can't tell you what the first-name initial stands for.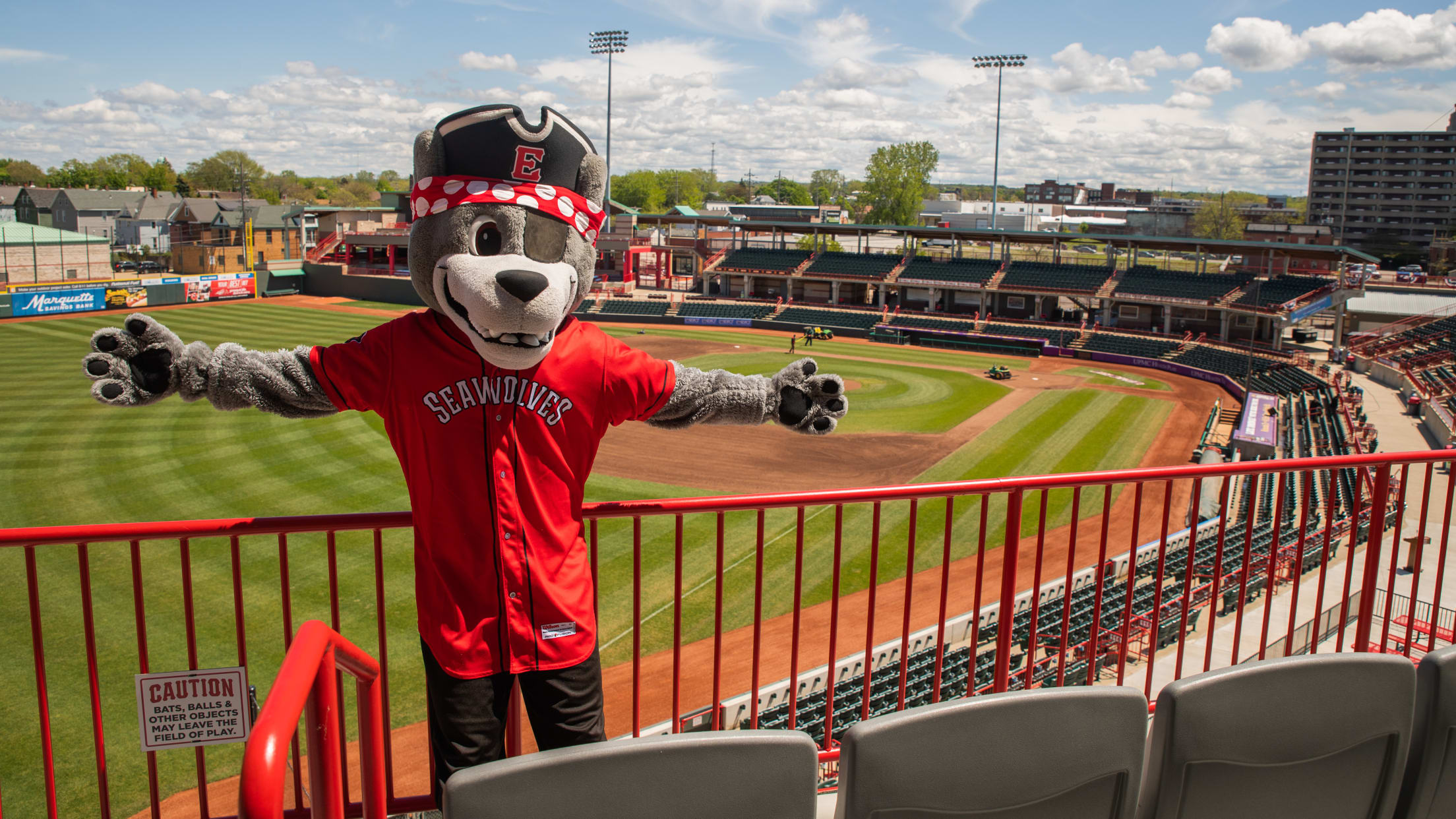 Local Attractions
Few cities compare to Erie in the summer, making it a perfect place to pair a ballgame with a vacation or a weekend getaway. Not only is UPMC Park right in downtown Erie, it's also down the street from the gorgeous lakefront. Presque Isle State Park is a peninsula just west of downtown that stretches out into Lake Erie and arches back towards the city, with a historic lighthouse from the 1870s. The park offers everything from beaches to boat tours, fishing, bird watching and hiking and biking trails.
On the way to Presque Isle is Waldameer and Water World, an amusement park featuring more than 100 rides, slides and attractions, including the Ravine Flyer II, ranked annually as one of the top wooden roller coasters in the world. Another park, Splash Lagoon Indoor Water Park Resort, features nine water slides, a rope course, laser tag and an arcade.
Right along the waterfront downtown is the Erie Maritime Museum, which chronicles the city and region's maritime heritage, with a prominent history of the Battle of Lake Erie during the War of 1812. The US Brig Niagara, which played a critical role in the U.S. winning the battle, was reconstructed 30 years ago and is located next to the museum.
Erie is also a gateway to many of the natural wonders that northwest Pennsylvania has to offer, including Conneaut Lake, Pymatuning State Park and the Erie National Wildlife Refuge.
Food and Drink
UPMC Park's location puts it just around the corner from several hot spots on State Street in Erie's redeveloped downtown. Plymouth Tavern and Restaurant on State Street has been hosting downtown-goers for dinner and drinks for nearly 50 years. U Pick 6 Tap House features wood-fired brick oven dining and craft beer. Calamari's Squid Row has a wide-ranging menu, seafood and beyond, to go with cocktails and craft beer.
Looking for waterfront dining? Bay House Oyster Bar and Restaurant offers seafood and an Argentinian grill with an unbeatable view of Lake Erie. Upstairs from Bay House is Pier 6, a rooftop restaurant with an outdoor bar. Oliver's is a new rooftop restaurant named after Commander Oliver Hazard Perry, offering open-air dining with a view of Presque Isle Bay and the US Brig Niagara.
Between downtown and I-79, The Cork 1794 offers fine dining, live music and an outdoor patio.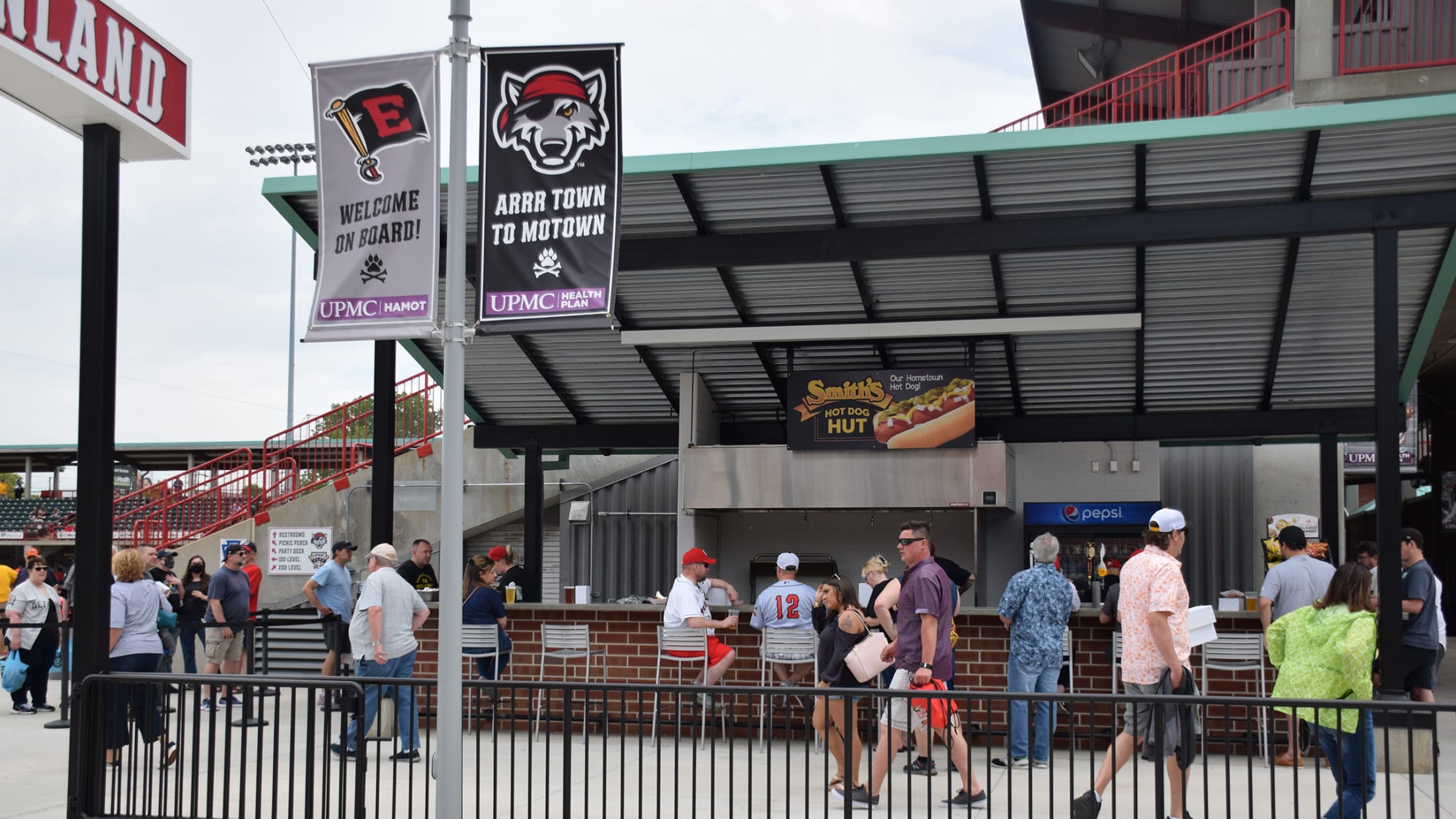 Moving On
The SeaWolves are ideally located for a summer ballpark tour along the lake. The Triple-A Buffalo Bisons are about an hour and a half drive north and east on Interstate 90, with the Toronto Blue Jays a similar drive across the border from there. Go the other direction from Erie, and the Cleveland Guardians are about the same distance away driving west on I-90, just past the High-A Lake County Captains. The Triple-A Toledo Mud Hens are another hour and a half west from Cleveland. The Pittsburgh Pirates and PNC Park are about a two-hour drive south from Erie on I-79. Whichever direction you choose, there's a great excuse for a road trip.
The Road to Detroit
Minor League Baseball's realignment before the 2021 season put the Tigers' top three Minor League affiliates all within driving distance of each other and Detroit. It's a great setup for the Tigers and even better for fans.
Low-A: Lakeland Flying Tigers
High-A: West Michigan Whitecaps
Double-A: Erie SeaWolves
Triple-A: Toledo Mud Hens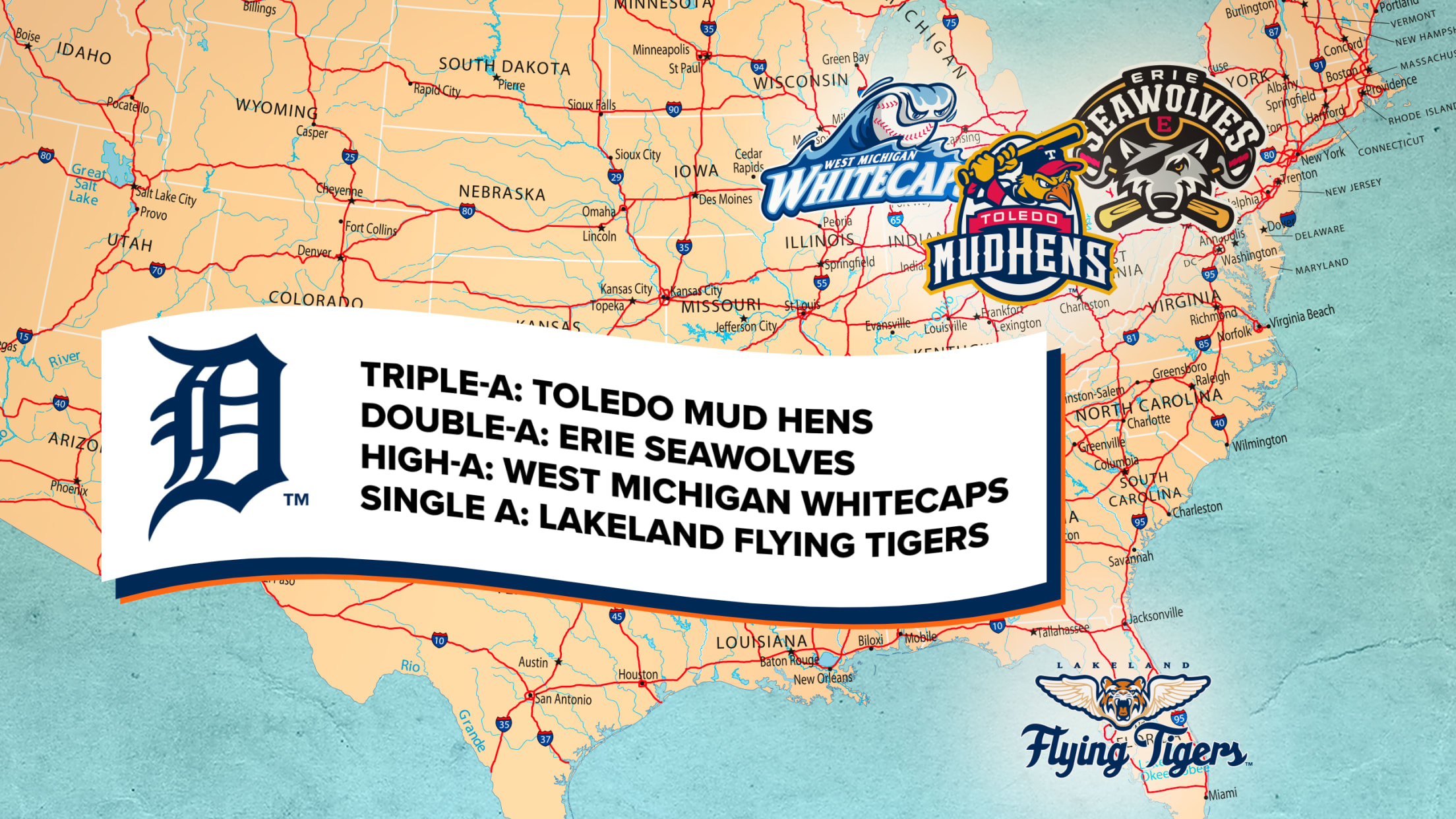 credits:
Jason Beck is a Tigers beat reporter for MLB.com.