Rangers fans are the best in baseball. The best fans deserve the best experience, and that's what Globe Life Field will provide.
Frequently Asked Questions
When will Globe Life Field open?
Globe Life Field is expected to open in March of 2020 - don't wait to place your deposit today!
When can I buy season tickets for Globe Life Field?
Current season ticket holders will be given priority to select their seating location at Globe Life Field. If you are not a current season ticket holder, place a deposit today to secure your spot.
If I already have season tickets, will I have priority at Globe Life Field?
Yes. Season ticket holders at the current ballpark will have first priority in transitioning to Globe Life Field. The relocation process for all plan holders will be communicated by the Rangers in the near future.
What will the roof look like?
The roof at Globe Life Field will be the first of its kind in baseball. With portions made of a transparent material, Rangers fans will enjoy outdoor ambience in air-conditioned comfort. The roof will retract in a matter of minutes, bringing the great outdoors to the ballpark experience.
What other events could Globe Life Field host?
Because of the venue size, design, central location, and state-of-the-art technology, Globe Life Field will host a multitude of events like collegiate sports, concerts, festivals, and other professional sporting events.
How can I follow the progress of Globe Life Field?
Stay posted to our website, texasrangers.com/GlobeLifeField. Also follow all the latest news and development on our social channels: Twitter @GlobeLifeField, Instagram @GlobeLifeField, and facebook.com/GlobeLifeField.
Globe Life Field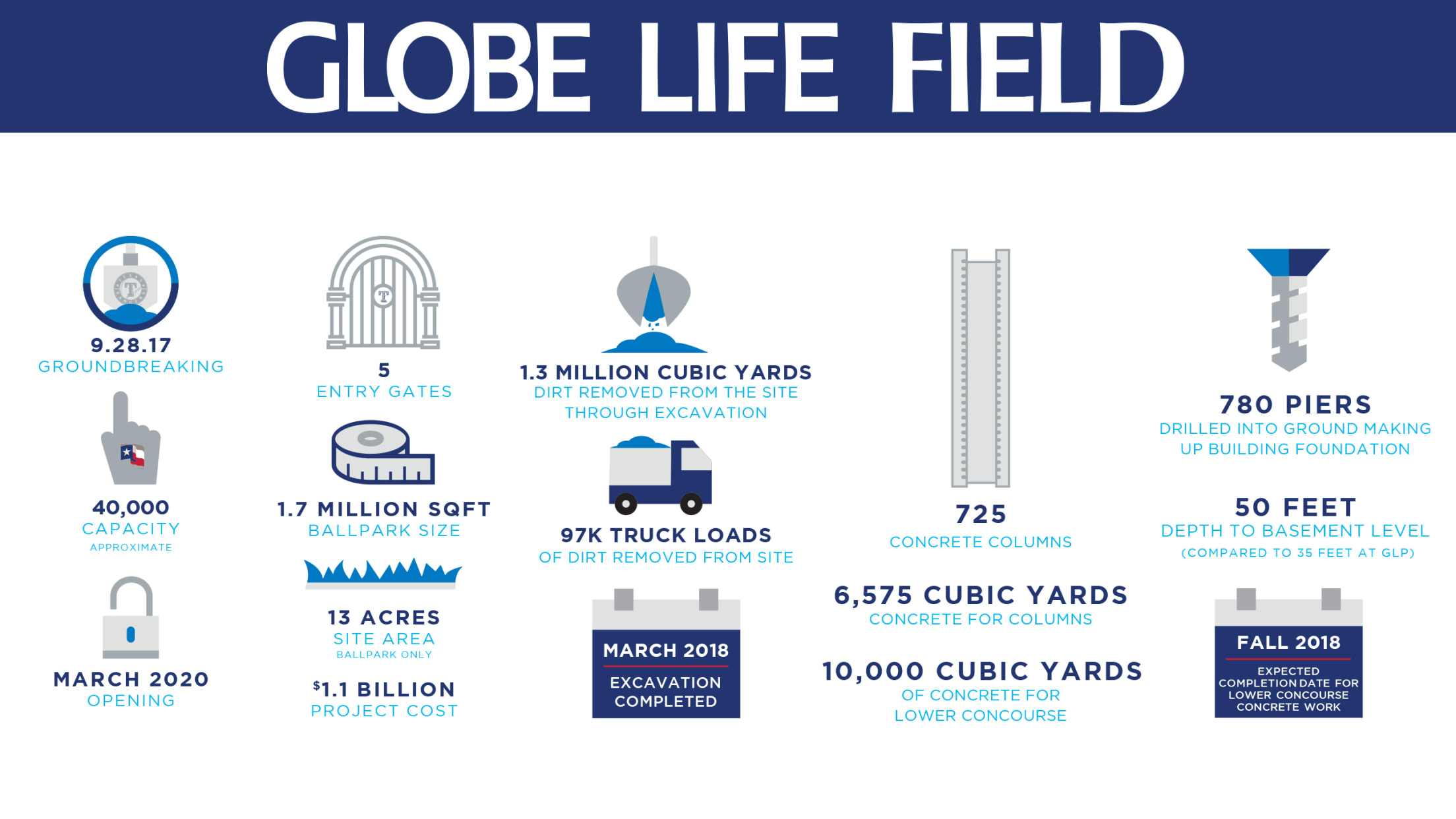 ---