AL OF: Final starting spot remains up for grabs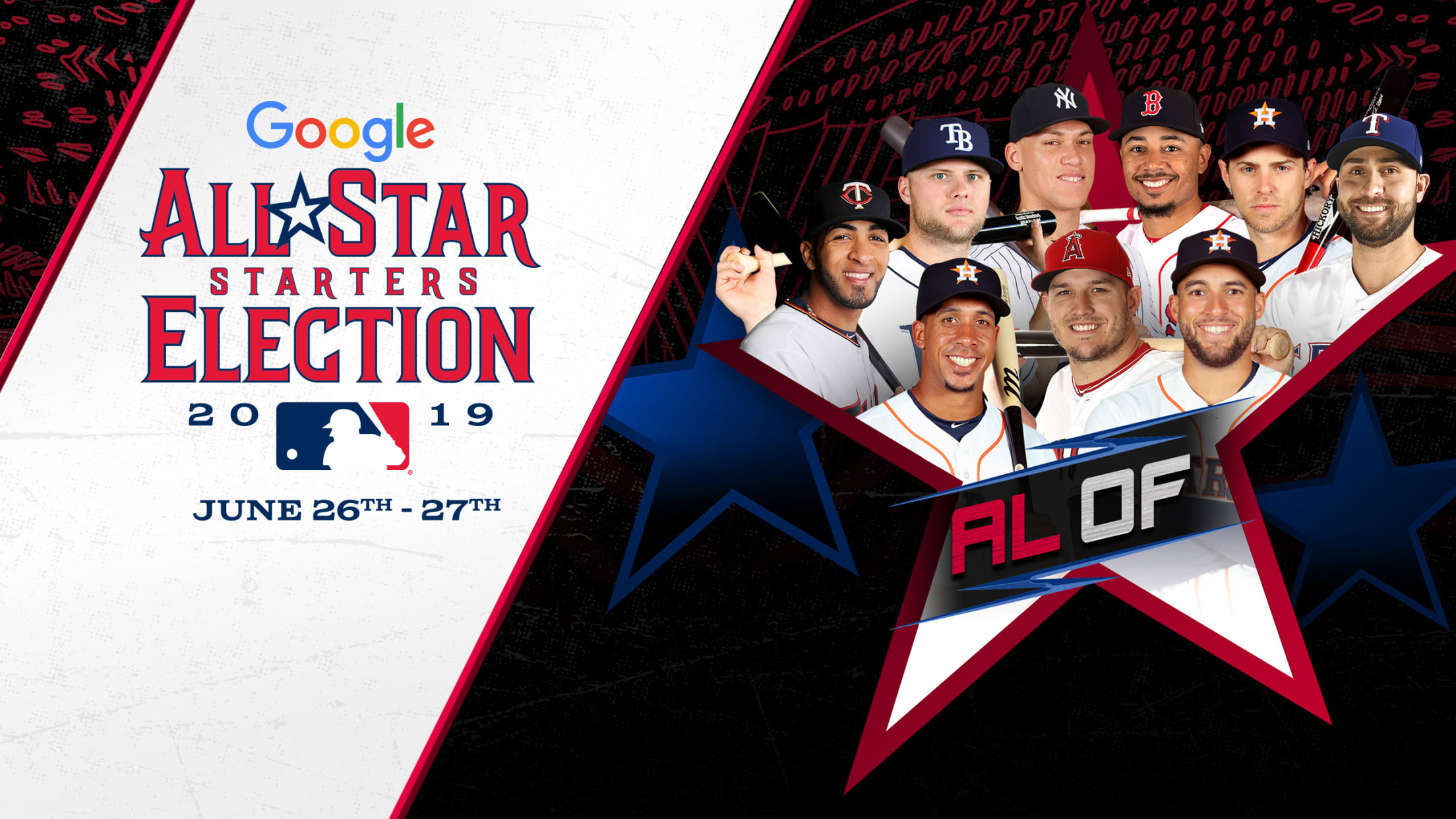 With less than an hour to go as the 4 p.m. ET deadline nears, many races are still too close to call. Your votes will have a huge impact, as most position battles have yet to be decided. As of 2:30 p.m. ET Thursday, the AL outfield has one of
With less than an hour to go as the 4 p.m. ET deadline nears, many races are still too close to call. Your votes will have a huge impact, as most position battles have yet to be decided.
As of 2:30 p.m. ET Thursday, the AL outfield has one of the most competitive races in the Starters Election.
Aaron Judge, Mookie Betts and Eddie Rosario are all closing in on Michael Brantley's hold on third place. Judge trails Brantley by 1.0%, with Betts 0.8% behind Judge. Rosario, currently in sixth, stands just 0.1% behind Betts.
Below are the complete AL outfield standings. Winners will be announced tonight at 7 ET on ESPN.
1) Mike Trout (Angels): 25.8%
2) George Springer (Astros): 15.7%
3) Michael Brantley (Astros): 10.8%
4) Aaron Judge (Yankees): 9.8%
5) Mookie Betts (Red Sox): 9.0%
6) Eddie Rosario (Twins): 8.9%
7) Joey Gallo (Rangers): 7.7%
8) Austin Meadows (Rays): 6.5%
9) Josh Reddick (Astros): 5.8%
• VOTE NOW: Google All-Star Starters Election ballot
Learn more about the AL All-Star candidates in the outfield:
Mookie Betts (BOS): 3-time All-Star (3 starts)
Betts is looking to start his fourth straight Midsummer Classic. The reigning AL MVP hasn't been able to repeat his eye-popping numbers for the 2018 World Series champions, but he has still provided stellar all-around production, including more walks than strikeouts and double-digit homers.
Michael Brantley (HOU): 3-time All-Star (0 starts)
Brantley, who spent his first 10 MLB seasons with the Indians, could make his return to Progressive Field as an All-Star starter. After signing with the Astros this past offseason, Brantley has put up his best numbers since 2014, when he finished third in the AL MVP race. The left-handed batter has hit for average and power in Houston, while walking nearly as much as he's struck out.
Joey Gallo (TEX): Has not been named to an All-Star team
Before an oblique strain sent him to the IL at the beginning of June, Gallo had pushed himself into the AL MVP race with his prodigious slugging. While still racking up plenty of strikeouts, Gallo was tied for the AL lead in homers (17) and was first in slugging (.653), plus second in OBP (.421), walk rate (19.6 percent) and WAR (3.2) when he went on the shelf.
Aaron Judge (NYY): 2-time All-Star (2 starts)
Judge is only just returning from the IL, where he'd been stuck since April 21 due to an oblique strain. The fearsome slugger was off to a strong start before then, batting .288/.404/.521 with five home runs in his first 20 games.
Austin Meadows (TB): Has not been named to an All-Star team
The ninth overall pick in the 2013 Draft and a top Pirates prospect for years, Meadows came to the Rays in last year's Chris Archer trade and has broken out in 2019. The 24-year-old has played a similar number of MLB games as in '18 (split between Pittsburgh and Tampa Bay), but he has already doubled his homer total, while terrorizing right-handed pitching. He could log just the fourth All-Star Game start for a Rays position player, after Corey Dickerson (2017), Carl Crawford ('10) and Evan Longoria ('10).
Josh Reddick (HOU): Has not been named to an All-Star team
The 11-year veteran has played in more than 1,100 career games -- ranking in the top 10 among active players who have never been All-Stars. Reddick has been a solid presence in the Houston lineup, batting over or near .300 for most of the season, including .352 through the end of April.
Eddie Rosario (MIN): Has not been named to an All-Star team
A key piece of the powerful lineup driving the first-place Twins, Rosario ranks among the AL leaders in home runs and is on pace to shatter his career high of 27 set in 2017. Rosario has a chance to be the first Twins outfielder to start an All-Star Game since Torii Hunter in 2002.
George Springer (HOU): 2-time All-Star (1 start)
Before a left hamstring strain sent him to the IL in late May, Springer was on his way to a career year, batting .308/.389/.643 with 17 home runs and 43 RBIs. At the time, he led the AL in homers and ranked second in slugging, third in OPS and third in FanGraphs WAR (2.7).
Mike Trout (LAA): 7-time All-Star (5 starts)
He's been the best player in baseball for years now, and somehow, he just keeps getting better. Trout is firmly in contention for his third AL MVP Award and should easily finish in the top four -- just as he's done in each of his seven previous full seasons. The 27-year-old has won All-Star fan voting six times, which leads all active players (he missed one of those starts due to injury).
The 2019 All-Star Game presented by Mastercard will be played on Tuesday, July 9, at Progressive Field in Cleveland. It will be televised nationally by FOX Sports; in Canada by Rogers Sportsnet and RDS; and worldwide by partners in more than 180 countries. FOX Deportes will provide Spanish-language coverage in the United States, while ESPN Radio and ESPN Radio Deportes will provide exclusive national radio coverage. MLB Network, MLB.com and SiriusXM also will provide comprehensive All-Star Week coverage. During the game, fans may visit MLB.com and the 30 club sites to submit their choices for the Ted Williams Most Valuable Player Award presented by Chevrolet. For more information about MLB All-Star Week and to purchase tickets, please visit AllStarGame.com and follow @MLB and @AllStarGame on social media.