UCHealth Hit the Mitt - Home Run Sign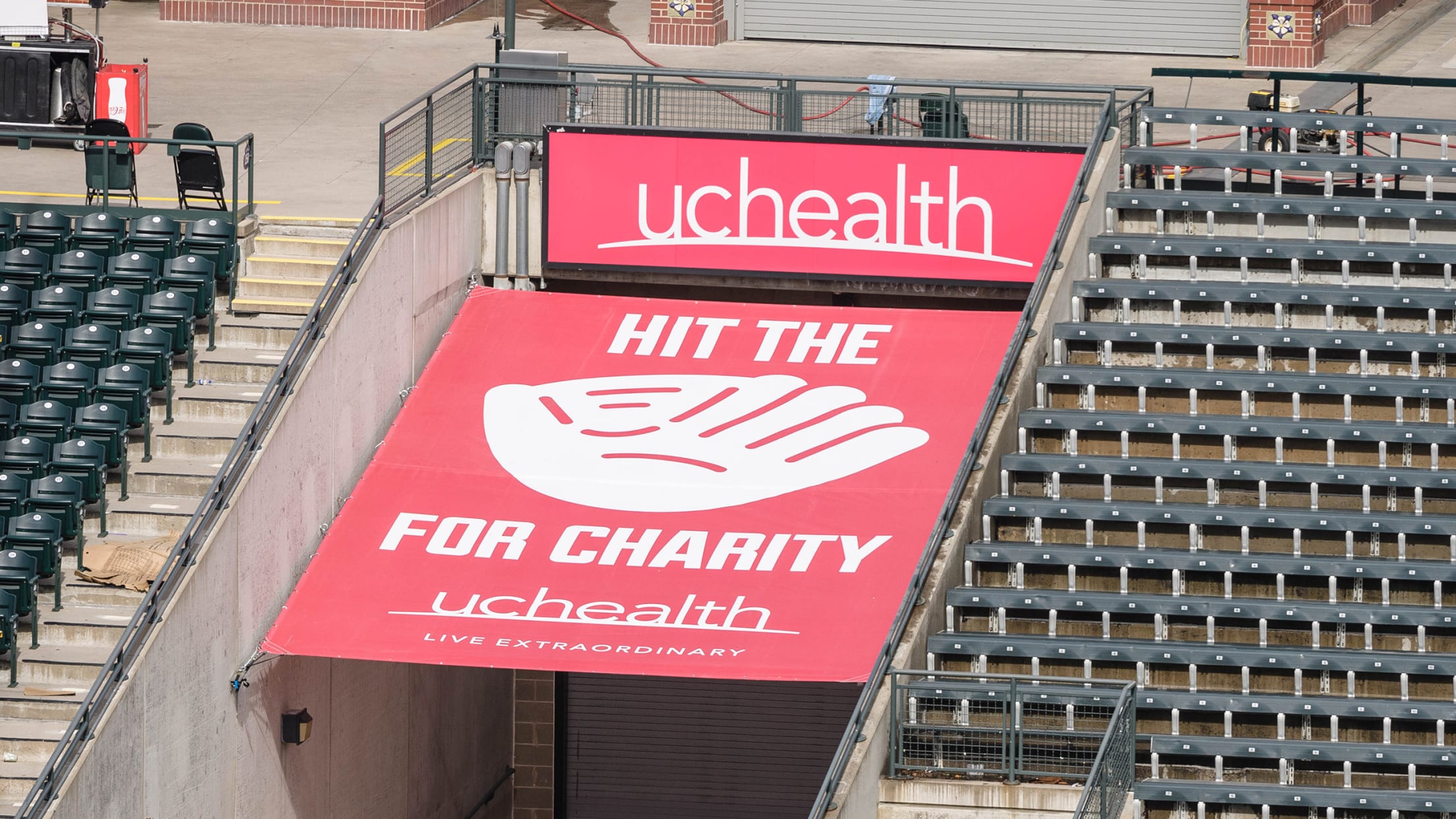 UCHealth to donate $5K to American Cancer Society every time a Colorado Rockies player scores a 'Hit the Mitt' home run this season
Players who hit the 18-by-30-foot sign trigger an automatic donation to support cancer research and resources
Aurora, Colo. (April 13, 2022) - As Rockies fans return to Coors Field this year, they'll see players swinging for UCHealth's large red and white "Hit the Mitt" sign in the outfield.
Now in its 4th year, UCHealth selects a new beneficiary each baseball season for the left field home run challenge. This year, UCHealth is proud to partner with American Cancer Society, supporting their work in furthering lifesaving research and providing resources to communities for cancer prevention, detection and support.
Each time a Rockies home run ball hits any part of the UCHealth "Hit the Mitt" sign in left field during the 2022 season, a $5,000 donation will be made to the American Cancer Society through the Colorado Rockies Foundation.
"The American Cancer Society is so grateful to be a beneficiary of this year's Hit the Mitt campaign," said Kelly Moran, executive director of the Colorado region. "As we all know, when cancer strikes, it hits from all sides. That's why we're committed to attacking cancer from every angle and so grateful to partners like UCHealth and the Colorado Rockies, whose generous donations will help us in our mission to end cancer."
The mission of the American Cancer Society is to save lives, celebrate lives, and lead the fight for a world without cancer. With more than 100 years of experience and leadership, the American Cancer Society is a global force, fighting all cancers on all fronts, across the US and around the globe. With the help of millions of supporters, they support breakthrough research, create empowering resources for people to outsmart cancer, enable local communities to support those affected, and convene powerful activists to create awareness and impact.
"UCHealth appreciates all the ways the American Cancer Society supports patients and communities through information, research and equitable access to resources," said Manny Rodriguez, chief marketing and experience officer for UCHealth. "We're thrilled to partner with an organization doing so much good for cancer patients and their families and excited to see how many times the Colorado Rockies will 'Hit the Mitt' on their behalf."
John Gannon, a UCHealth oncology patient, experienced the generosity of the American Cancer Society firsthand when he was diagnosed with a cancerous tumor wrapped around his spine last July.
"Hit the Mitt" is one of many ways UCHealth partners with the Colorado Rockies throughout the baseball season to connect with our communities. A number of events and activities are programmed every season to encourage fans to "Rock Your Routine," inspiring all Rockies fans that healthy habits can pay off over time.
About UCHealth
UCHealth is an innovative, nonprofit health system that delivers the highest quality medical care with an excellent patient experience. UCHealth includes 25,000 employees, 12 acute-care full-service hospitals and hundreds of physicians across Colorado, southern Wyoming and western Nebraska. With University of Colorado Hospital on the CU Anschutz Medical Campus as its academic anchor and the only adult academic medical center in the region, UCHealth is dedicated to providing unmatched patient care in the Rocky Mountain West. Offering more than 150 clinic locations, UCHealth pushes the boundaries of medicine, providing advanced treatments and clinical trials and improving health through innovation
About American Cancer Society
The American Cancer Society is on a mission to free the world from cancer. We invest in lifesaving research, provide 24/7 information and support, and work to ensure that individuals in every community have access to cancer prevention, detection, and treatment. For more information, visit cancer.org.