UCHealth Hit the Mitt - Home Run Sign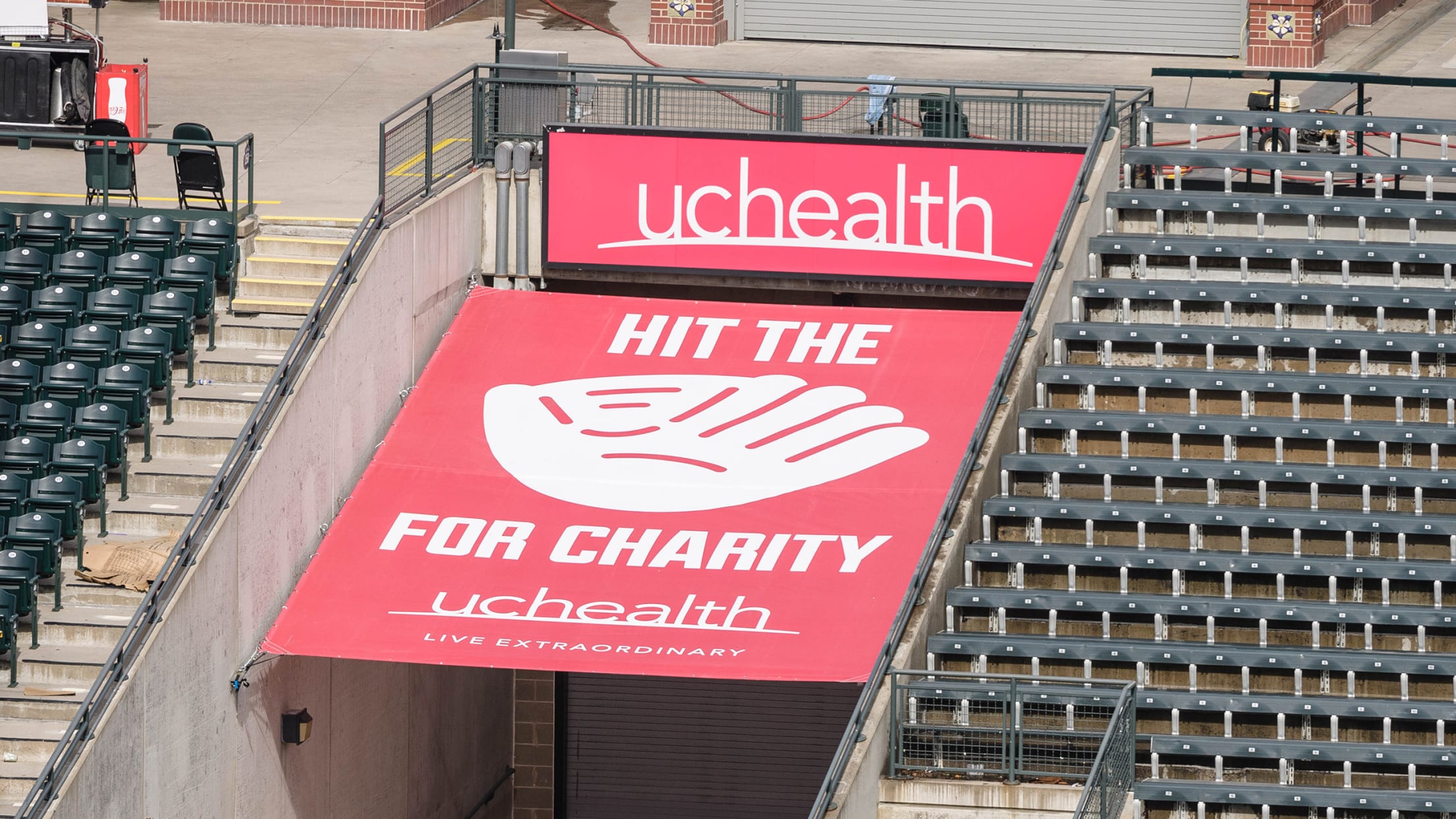 UCHealth to donate $5,000 to Food for Thought Denver every time a Colorado Rockies player lands a "Hit the Mitt" home run this season
Aurora, Colo. (April 6, 2023) – Colorado Rockies fans headed to Coors Field for Opening Day will see a familiar sign in the left outfield. The red and white, 18-by-30-foot "Hit the Mitt" banner acts a target for Rockies players who are swinging from home plate.
Each time a Rockies home run ball hits any part of the banner during the 2023 season, UCHealth will make a $5,000 donation to Food for Thought Denver through the Colorado Rockies Foundation. This is the fifth year of UCHealth and the Rockies' "Hit the Mitt" partnership.
"We're humbled to be this year's 'Hit the Mitt' beneficiary." Bob Bell, the founder of Food for Thought Denver said. "To be recognized by such a community-relevant organization that is on the forefront of health for Colorado residents gives us great hope that our outreach can be even wider through this partnership and visibility."
Food for Thought Denver's mission is to close the weekend hunger gap for students. The local nonprofit is 100% volunteer-driven and relies solely on donations to feed children facing food insecurity throughout the Denver metro area.
Each week, volunteers order food from local food banks, pack roughly 6,000 bags of food called "powersacks," and distribute them to 74 schools each Friday for students to take home. Each bag contains enough non-perishable food to feed a family of four for the weekend.
"Right now, we deliver bags of food to around 13,000 kids. We're really just scratching the surface of the issue and we can't and won't stop this train until every schoolkid in the area has something to eat over the weekend." Bell said.
Bell estimates that one in seven children across Colorado face food insecurity. In the Denver School District, 70% of students qualify for free and reduced lunches.
"We're thrilled to partner with a local organization doing so much to ensure children in our community have enough to eat," said Manny Rodriguez, Chief Marketing and Experience Officer for UCHealth. "'Hit the Mitt' is one of many ways UCHealth partners with the Colorado Rockies to connect with our communities, and we're excited to see how many times players can score a donation for Food for Thought Denver this season."
About UCHealth
UCHealth is an innovative, nonprofit health system that delivers the highest quality medical care with an excellent patient experience. UCHealth includes 30,000 employees, 12 acute-care hospitals and hundreds of physicians across Colorado, southern Wyoming and western Nebraska. With University of Colorado Hospital on the CU Anschutz Medical Campus as its academic anchor and the only adult academic medical center in the region, UCHealth is dedicated to providing unmatched patient care in the Rocky Mountain West. Offering more than 150 clinic locations, UCHealth provides extensive community benefits and pushes the boundaries of medicine through advanced treatments and clinical trials, improving health through innovation.