Hurry! All-MLB Team voting ends today, 4 CT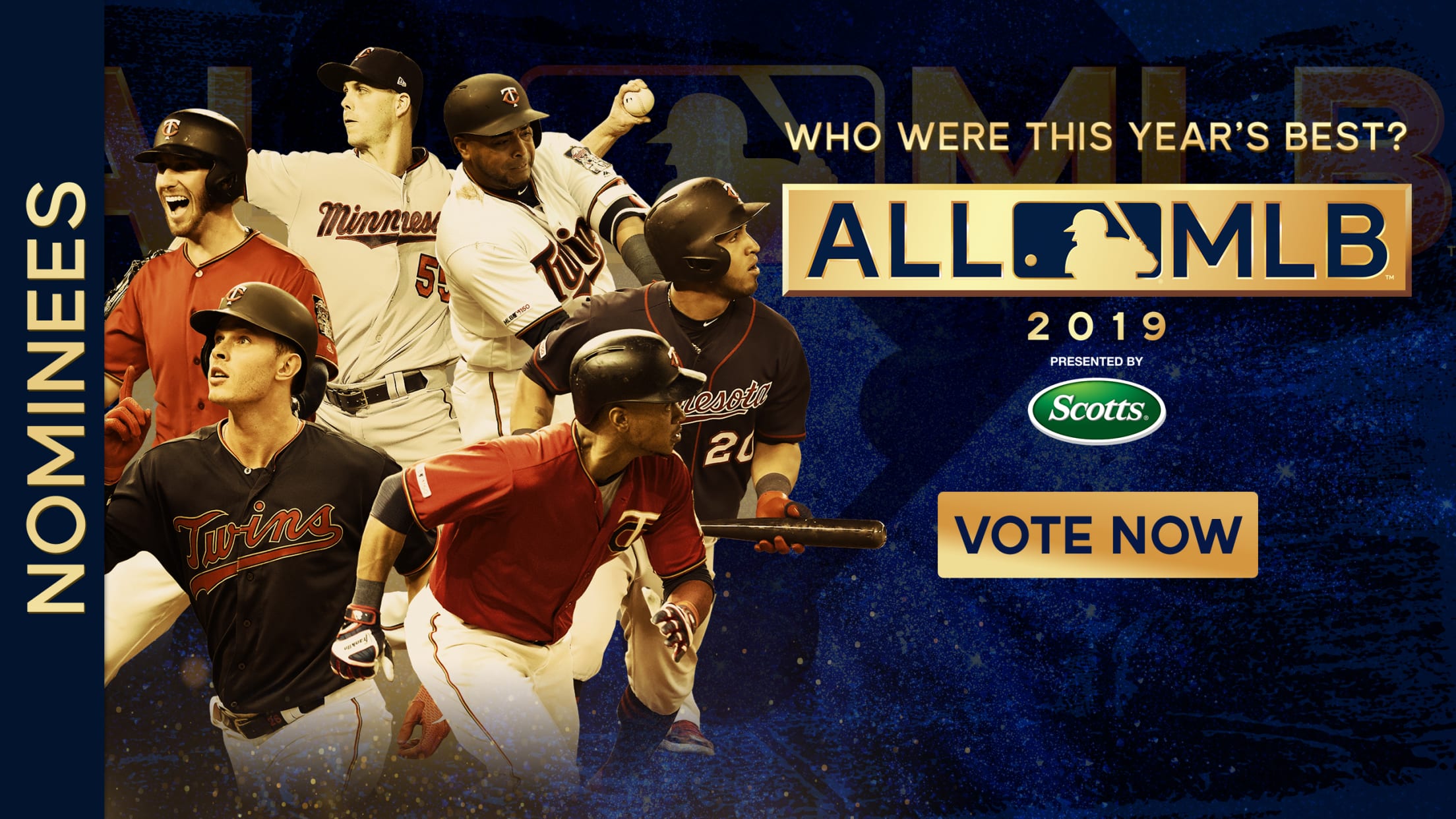 MINNEAPOLIS -- The Twins boasted the American League Manager of the Year and two Silver Slugger Award winners as part of their 101-win campaign and AL Central title in 2019. They now have a chance to add further individual accolades for that success, as six Twins players were named as
MINNEAPOLIS -- The Twins boasted the American League Manager of the Year and two Silver Slugger Award winners as part of their 101-win campaign and AL Central title in 2019. They now have a chance to add further individual accolades for that success, as six Twins players were named as candidates for the 2019 All-MLB Team, as announced by Major League Baseball on Monday.
Nelson Cruz (designated hitter), Mitch Garver (catcher), Max Kepler (outfield), Jorge Polanco (shortstop), Taylor Rogers (relief pitcher) and Eddie Rosario (outfield) are the Twins' six candidates. Only the Astros (10) and Red Sox (seven) have more players on the ballot.
The selection process for the 2019 All-MLB Team began Monday and runs through 4 p.m. CT on Dec. 3, with 50% of the vote coming from fans and 50% coming from a panel of experts.
You can vote right here, and may do so once every 24 hours between now and when voting ends next Tuesday. The inaugural All-MLB Team will be announced on Dec. 10 at baseball's annual Winter Meetings in San Diego.
• All-MLB Team nominees, club-by-club
There will be a first team and second team, and voters are asked only to consider performance during the regular season when casting their ballots. Each team will include one selection at each position (including designated hitter and three outfielders, regardless of specific outfield position), five starting pitchers and two relievers.
Cruz and Garver both won Silver Slugger Awards in 2019 after posting the two highest single-season slugging percentages in Twins history among players with at least 350 plate appearances since the franchise moved to Minnesota in 1961. Cruz's .639 slugging percentage and 1.031 OPS ranked second in the AL, while his 41 homers led the Bomba Squad and set a new Twins record among designated hitters.
Garver clubbed 31 homers despite appearing in only 93 games, the most homers ever by a Twins backstop, and he led the Major Leagues in homers hit as a catcher. His .630 slugging percentage would have placed him fifth in the Majors if he'd received enough plate appearances to qualify, behind only Christian Yelich, Yordan Alvarez, Mike Trout and Cruz.
Kepler experienced an anticipated breakout campaign in 2019 after signing a five-year extension during Spring Training. He set career-best marks in average (.252), on-base percentage (.336), slugging percentage (.519), homers (36) and RBIs (90) while playing solid defense in both right field and center field. He finished fourth among AL outfielders and 11th overall in the Junior Circuit with 4.4 WAR, according to FanGraphs.
Polanco also posted career numbers after also signing a five-year extension of his own and was named the AL's starting shortstop in the All-Star Game at Progressive Field in recognition of his strong first-half numbers. He also set career bests in average (.295), OBP (.356), slugging (.485), homers (22) and doubles (40) and was even more valuable for his durability, playing 153 games as the Twins struggled with injuries throughout the second half.
Rosario once again provided the consistent -- and energetic -- production that has made him a fan favorite in Minnesota, hitting a career-high 32 homers while eclipsing 150 hits for the third straight season as the cleanup hitter in the Twins' power-packed lineup. He showed off his flair for the dramatic on Sept. 5, when he threw out Rafael Devers at home plate to secure a 2-1 Twins win over the Red Sox at Fenway Park.
Rogers settled in as the Twins' primary closer for the first time in his career and notched 30 saves as he anchored a bullpen that was among the best in the Majors in the second half. He set career highs in innings (69) and strikeouts (90) and was one of the most valuable relief pitchers in the game, finishing fifth among Major League relievers with 2.1 WAR in 2019.