Polanco leads AL SS in latest update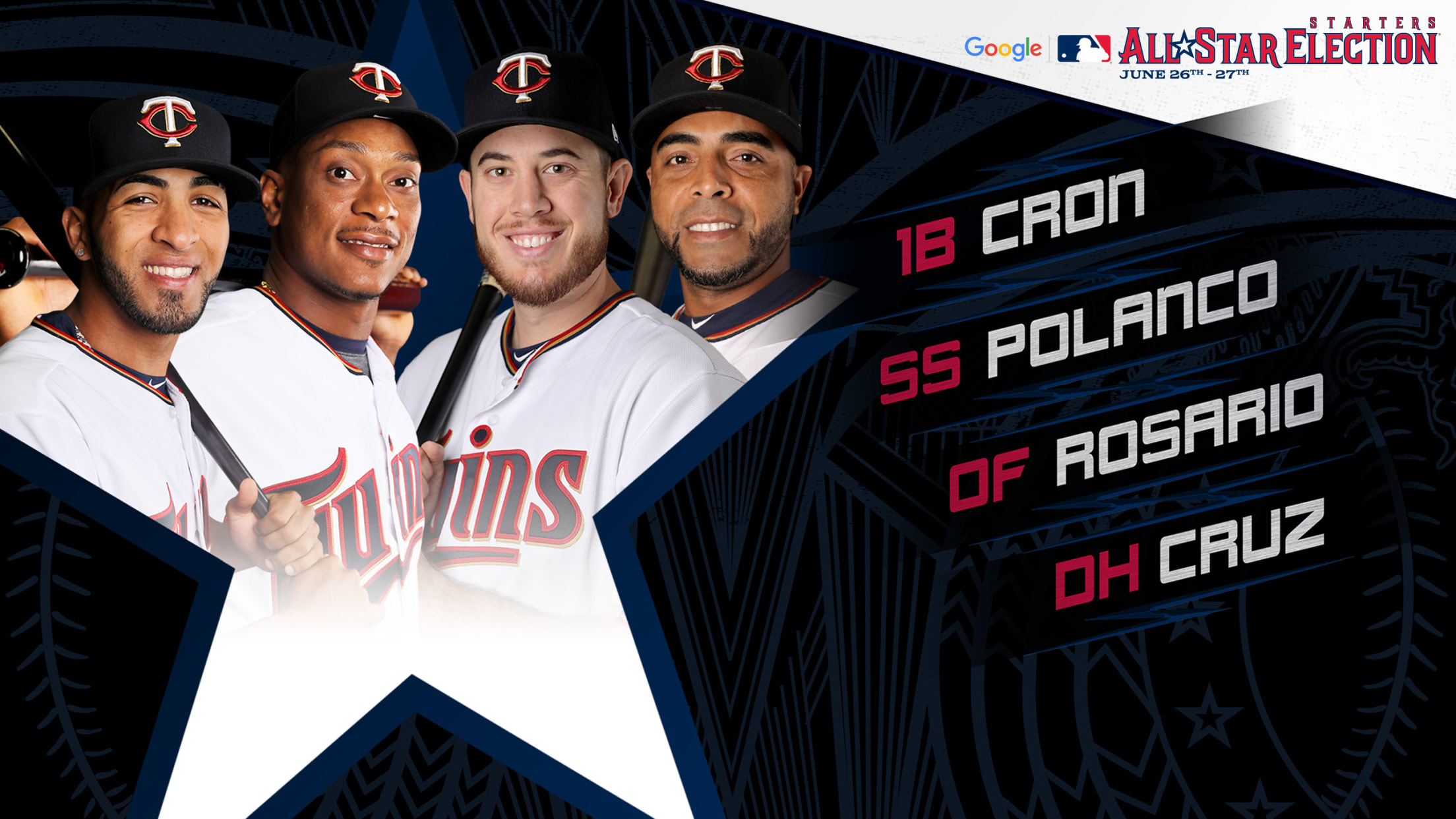 Here's a look at who's leading the All-Star Starters Election as of 1:30 p.m. CT Thursday:
Here's a look at who's leading the All-Star Starters Election as of 1:30 p.m. CT Thursday:
FIRST BASE
1) Carlos Santana (Indians): 49.3%
2) Luke Voit (Yankees): 26.0%
3) C.J. Cron (Twins): 24.7%
SHORTSTOP
1) Jorge Polanco (Twins): 42.2%
2) Gleyber Torres (Yankees): 31.4%
3) Carlos Correa (Astros): 26.4%
OUTFIELD
1) Mike Trout (Angels): 25.8%
2) George Springer (Astros): 15.7%
3) Michael Brantley (Astros): 10.8%
4) Aaron Judge (Yankees): 9.8%
5) Mookie Betts (Red Sox): 9.0%
6) Eddie Rosario (Twins): 8.9%
7) Joey Gallo (Rangers): 7.7%
8) Austin Meadows (Rays): 6.5%
9) Josh Reddick (Astros): 5.8%
DESIGNATED HITTER
1) Hunter Pence (Rangers): 46.8%
2) J.D. Martinez (Red Sox): 31.4%
3) Nelson Cruz (Twins): 21.8%
MINNEAPOLIS -- Armed with the best record in the American League and the most productive lineup in baseball, the Twins are poised for their best chance in a decade to have multiple starters named to the All-Star Game -- and the race to the finish is on.
Jorge Polanco, C.J. Cron, Nelson Cruz and Eddie Rosario have all moved on to The Starters Election following qualifying finishes in The Primary round of voting for the 2019 All-Star Game presented by Mastercard. The Twins' four finalists announced on Friday night are the third-most among AL teams behind the Astros (seven) and Yankees (six). Pitchers and reserves are being named on Sunday at 5:30 p.m. ET on ESPN.
• Twins launch voting initiative for All-Star finalists
Polanco, Cron, Cruz and Rosario were all in qualifying positions throughout the entire voting process, and Max Kepler was nearly able to make up ground in the outfield race following a week full of clutch hits, but he fell only 138 votes short of the ninth outfield spot. Catcher Jason Castro had originally been in position, but he dropped out of contention, while Jonathan Schoop (fourth place) and the injured Marwin Gonzalez (fifth place) narrowly missed the cutoff at second and third base.
The last time the Twins had multiple position players selected to start the All-Star Game was in 2009, when Joe Mauer and Justin Morneau both won the fan vote, but Morneau was unable to participate due to injury.
Here's a look at the cases for each of the Twins' finalists in the final round of voting for the Midsummer Classic:
Jorge Polanco, SS
With a final vote tally of 1,450,513, Polanco was the leading vote-getter at his position from start to finish thanks to a sustained breakout campaign during which he has emerged as a candidate for the AL Most Valuable Player Award. Following a quietly productive second half in 2018, Polanco enters today second in the AL in batting average (.326), while he's second among AL shortstops in slugging percentage (.539) and on-base percentage (.383).
__
The 25-year-old shortstop will likely face Yankees shortstop Gleyber Torres as his primary competition, as the third finalist, Carlos Correa of the Astros, has been on the injured list since May 29 and he is not expected to return to action until after the All-Star break. Polanco leads Torres in almost every offensive category except for homers (11, against Torres' 19) and RBIs (39, against Torres' 46).
C.J. Cron, 1B
Cron has positioned himself well to make his first career appearance in the All-Star Game with a well-rounded and productive campaign, featuring a .280/.342/.534 line with 17 homers and a fantastic glove at first base. His .534 slugging percentage is second among AL first basemen on the ballot behind Carlos Santana.
The Twins' first baseman fell to third in the primary with 1,045,120 votes and will face a tough field of finalists, including Luke Voit, who will likely have the full force of the New York market and voting block behind him, and Cleveland's Santana, who will be looking to start the All-Star Game in front of his home fans at Progressive Field. Cron's statistics compare favorably to those of Voit, who gets on base more, but Santana has the most well-rounded numbers around the board and he leads the trio with 2.6 fWAR.
Nelson Cruz, DH
Despite missing 19 games with a left wrist injury at the end of May, the 38-year-old Cruz could be on his way to his seventh career All-Star Game selection after posting 13 homers and an .877 OPS, ranking him third among AL designated hitters on the ballot behind Hunter Pence and Daniel Vogelbach. The ageless Cruz has a .523 slugging percentage.
Cruz, who finished third in primary voting with 974,788 votes, will be pitted against Boston's J.D. Martinez and the resurgent Pence in the next round. Pence's .962 OPS leads all designated hitters on the ballot as he is currently sidelined with a strained right quadriceps muscle, while Martinez leads the trio with 16 homers, but he has the lowest OPS.
Eddie Rosario, OF
With Kepler falling 138 votes shy of Joey Gallo for the final qualifying spot, the Twins' starting hopes in the outfield will be staked on Rosario, who rocketed out to a fast start with 11 homers in March and April, and he leads the team with 20 homers. The 27-year-old Rosario, who lost the Final Vote in the AL last season, is well on his way to besting his previous career high of 27 homers.
Rosario will face a tough finalist field for one of the three starting outfield spots, which also includes Mike Trout (Angels), George Springer (Astros), Michael Brantley (Astros), Austin Meadows (Rays), Mookie Betts (Red Sox), Aaron Judge (Yankees), Josh Reddick (Astros) and Gallo (Rangers).
The 2019 All-Star Game presented by Mastercard will be played on Tuesday, July 9, at Progressive Field in Cleveland. It will be televised nationally by FOX Sports; in Canada by Rogers Sportsnet and RDS; and worldwide by partners in more than 180 countries. FOX Deportes will provide Spanish-language coverage in the United States, while ESPN Radio and ESPN Radio Deportes will provide exclusive national radio coverage. MLB Network, MLB.com and SiriusXM also will provide comprehensive All-Star Week coverage. During the game, fans may visit MLB.com and the 30 club sites to submit their choices for the Ted Williams Most Valuable Player Award presented by Chevrolet. For more information about MLB All-Star Week and to purchase tickets, please visit AllStarGame.com and follow @MLB and @AllStarGame on social media.