The reigning national champion South Dakota State University Jackrabbits will host Drake University at Target Field on September 16, 2023. The contest between the two Football Championship Subdivision (FCS) programs will be an SDSU home game; it also marks the third college football game in the 14-year history of Target Field and the second NCAA Division I contest.
Ticket Information
Thomson Reuters Champions Club Tickets
Tickets purchased in Sections 7 - 10 will have exclusive access to the Thomson Reuters Champions Club which includes complimentary food and beverage (soda, draft beer and wine) service in the club lounge area. One (1) complimentary valet parking pass will be provided for purchases of four (4) Champions Club tickets or more.
Hospitality/Suite Tickets
There is a limited number of suites available for the SDSU vs. Drake football game. If you are interested in hosting your group in a suite for the game, please contact PJ Williams at [email protected] or 612-659-3571.
Group Ticket Purchases
To purchase group tickets of 20 or more, please contact the Minnesota Twins Ticket Office at 1-800-33-TWINS.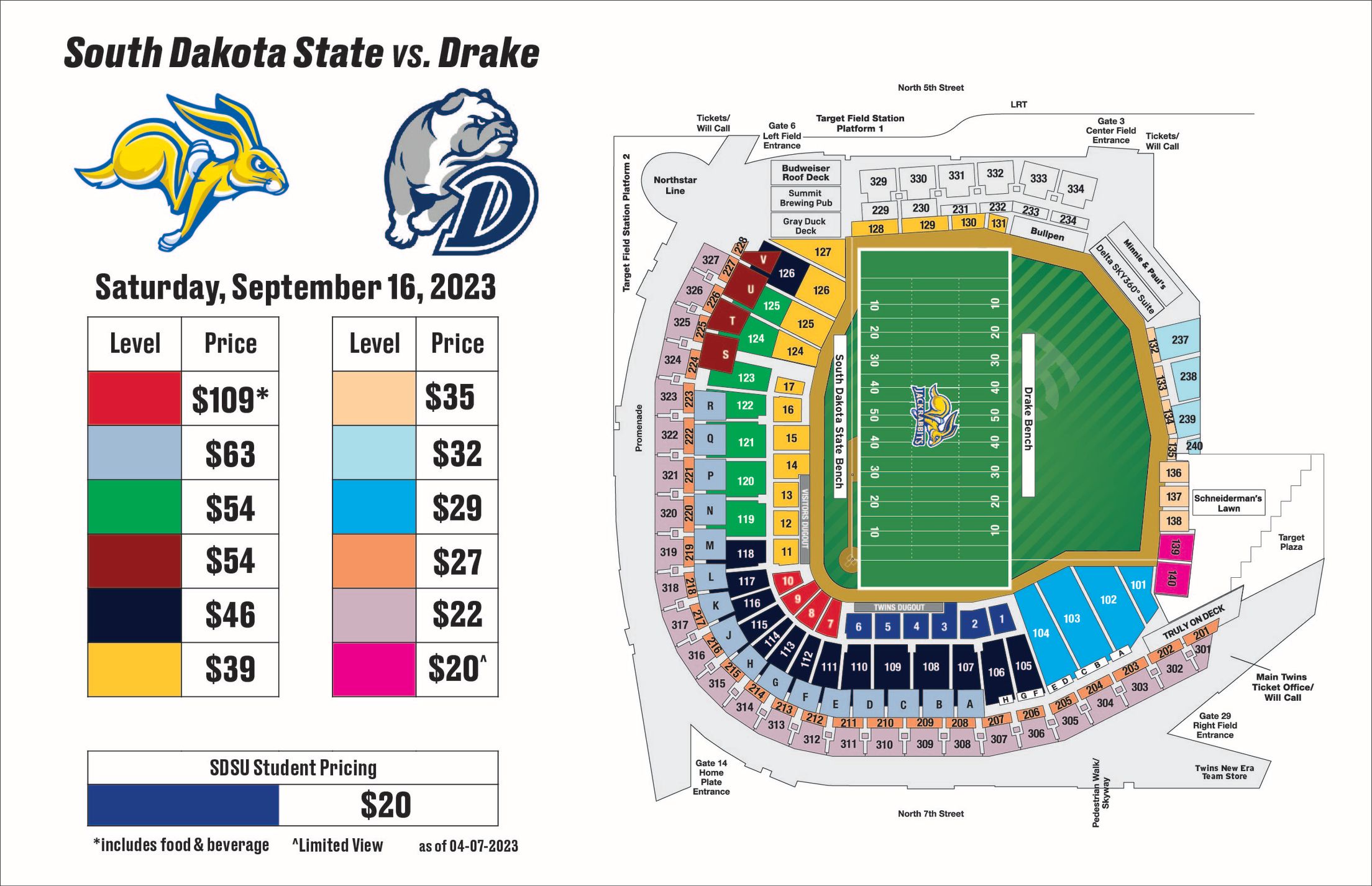 What to Know Before You Go
Gates Open: 12:30 PM
Kickoff: 2:30 PM
Please arrive early to minimize wait times at entry gates. All guests are required to go through entry screening, including metal detection. There will be no re-entry upon leaving the event.
Access Tickets: Access your tickets via the MLB Ballpark app before arriving at Target Field.
Bag Policy: Single-compartment bags (maximum size of 16" x 16" x 8") are allowed into Target Field. These include purses, clutch purses, single-compartment tote bags, clear bags, drawstring bags, diaper bags, single-compartment soft-sided coolers, fanny packs and bags containing medically necessary items. All other bags are prohibited.
Cashless Venue: Target Field is a cashless venue accepting only credit, debit, or digital wallet payments at most retail locations for all concessions. Reverse ATMs are available.
Parking: There are several options for parking in downtown Minneapolis including 7,000 parking spaces conveniently adjacent to Target Field in the ABC and Hawthorne ramps and nearly 25,000 parking spaces in parking lots/ramps throughout downtown. We recommend booking convenient and affordable parking in advance through SpotHero. To reserve your parking spot, visit the Target Field Parking Page.
Transit: The METRO Blue Line and METRO Green Line offer fast, quiet light-rail service near Target Field from Minneapolis, St. Paul and Bloomington.
Lost & Found: Fans looking for Lost & Found should go to the Guest Services Center at Section 113.
Food & Beverage: Outside food is allowed into Target Field. Hard-sided containers (Tupperware, hard-sided coolers, Thermos') are not allowed into Target Field. No outside food may be brought into any bar, restaurant, or suite areas at Target Field. Sealed, bottled-water of 32 oz or less is permitted into Target Field. Flavored water, performance beverages (Gatorade, Powerade, etc) are NOT permitted into Target Field. Guests may also bring empty, plastic sport-type water bottles and fill them at any water fountain throughout the ballpark.
Prohibited Items: For the general safety of all guests the following items are not allowed into Target Field:
Balloons
Bats
Beach Balls
Boom Boxes
Fireworks
Flasks
Frisbees
Coolers
Inflatables
Laser Pointers
Lawn Chairs
Noise-Making Devices
Weapons
Wooden Sticks
Rods