Vlad joins Angels camp as special instructor
Hall of Famer addresses club's young Latin American players; Hermosillo not expected to be ready for season opener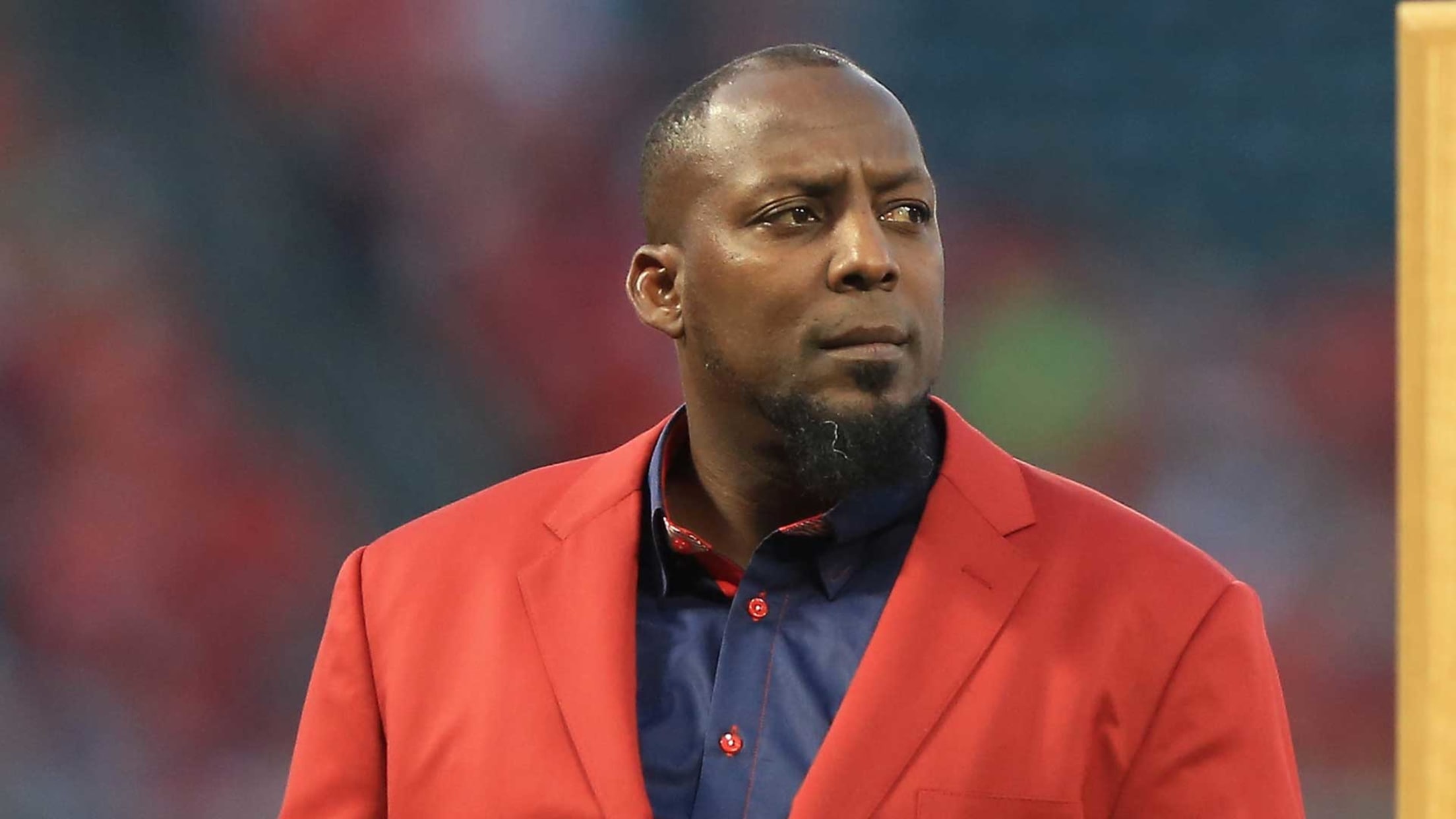 TEMPE, Ariz. -- Vladimir Guerrero, who became the first player to be inducted into the Baseball Hall of Fame as an Angel last year, has been helping out at Angels camp this week as a special instructor. Guerrero, who won the AL MVP in his first season with the Angels
TEMPE, Ariz. -- Vladimir Guerrero, who became the first player to be inducted into the Baseball Hall of Fame as an Angel last year, has been helping out at Angels camp this week as a special instructor.
Guerrero, who won the AL MVP in his first season with the Angels in 2004 and played with the club for six years, addressed the organization's young Latin players in a meeting on Tuesday and has been dispensing advice to players all week.
"For a lot of these Latin players, it's their first time here," said Guerrero, who hails from the Dominican Republic city of Nizao. "I feel happy to be able to tell them a little bit about what happens in the Minor Leagues and hopefully in a few years in the big leagues."
Guerrero, 44, explained the message he gave to the young players in camp, as he told them about the importance of hard work even with the adversity that foreign players go through in a new country.
"You have to work hard and always have the internal motivation to work," Guerrero said. "You're working for your family in another country, but you can't forget your education and continue to work hard."
Guerrero, a nine-time All-Star during his 16-year playing career from 1996-2011, has remained close with the Angels' organization and owner Arte Moreno. He played with the Expos for his first eight seasons, but the club left Montreal in 2004 to become the Washington Nationals, so he considers the Angels to be his main club.
Manager Brad Ausmus, who played in the Majors from 1993-2010, said he was happy to have Guerrero in camp.
"I played against Vlad for years and I don't know how many of those guys watched him play, but if they haven't, they might want to YouTube him because he was unbelievable," Ausmus said. "Vlad is great. I think he's especially helpful with some of the Latin players. He was a tremendous talent and had a lot of years under his belt and has a lot of information to share. So it's great having him here."
Guerrero's son, Vladimir Jr., is universally considered the game's No. 1 prospect but is out with a strained oblique sustained on March 10. There was speculation the Blue Jays would keep him down to open the season for service-time reasons, but now he won't be ready for the start of the season.
"Now he's hurt," Guerrero said. "I think they gave him about three weeks. We'll see what happens after the injury, where he will go."
Hermosillo not close to return
Outfielder Michael Hermosillo has yet to play in a Cactus League game this spring, as he's been dealing with scar tissue after undergoing surgery this offseason to repair a sports hernia. Ausmus said Hermosillo's return isn't imminent, which means he's not expected to be ready for the start of the regular season.
Hermosillo, the club's No. 16 prospect per MLB Pipeline, was expected to compete for a job as the club's fourth outfielder. But non-roster invitee Peter Bourjos is now the favorite for that role, with fellow veteran non-roster invitee Jarrett Parker also in the mix. Bourjos and Parker are both having strong springs, but Bourjos has the advantage because he's an above-average defender at all three outfield spots.
Pujols, Smith homer
Albert Pujols crushed a two-run homer in the Angels' 2-1 win over the D-backs at Tempe Diablo Stadium, while catcher Kevan Smith also connected on a two-run shot in their 5-5 tie against the Giants in Scottsdale. Pujols is hitting .423 with two homers this spring.
"Albert hit that one hard," Ausmus said. "He's been barreling up quite a few balls. Hopefully, he carries that into the season."
Angels make roster moves
The Angels trimmed their Spring Training roster by five, as they optioned relievers John Curtiss and Williams Jerez to Triple-A Salt Lake and reassigned outfielder Jo Adell and right-handers Alex Meyer and Forrest Snow to Minor League camp.
Adell, the club's No. 1 prospect per MLB Pipeline, is out for roughly 10-12 weeks after suffering both a left hamstring strain and a right ankle sprain on Saturday. Meyer has also been out this spring after undergoing offseason arthroscopic surgery on his right shoulder. Curtiss and Jerez give the club relief depth at Triple-A while Snow was a non-roster invitee who has experience as both a starter and a reliever.
Up next
Right-hander Trevor Cahill starts for the Angels on Saturday, when they host the Indians at Tempe Diablo Stadium at 1:10 p.m. PT. Cahill, who has been working on a cutter this spring, gave up two runs over 3 1/3 innings against the Brewers last time out. Former Angels Minor Leaguer Mike Clevinger starts for Cleveland.