Inbox: Will lighter Vlad Jr. break out in '21?
Beat reporter Keegan Matheson answers fans' questions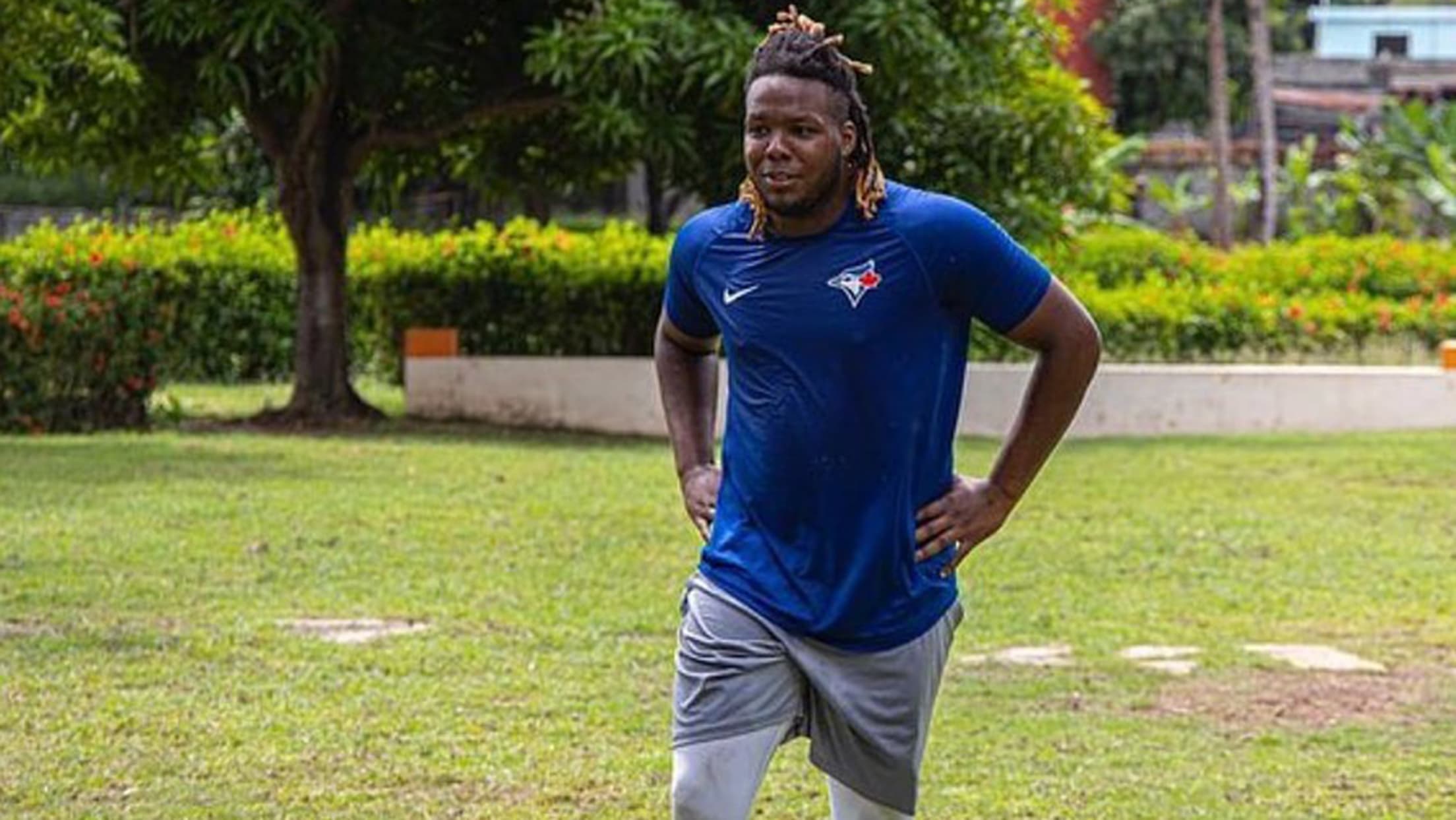 Photo credit: @hgomez27
TORONTO -- It's been a quiet week for the Blue Jays since they kickstarted free agency by bringing back left-hander Robbie Ray, but the club is expected to be aggressive in a market that could develop later than usual. Beyond trades and free agency, the Blue Jays also have some
TORONTO -- It's been a quiet week for the Blue Jays since they kickstarted free agency by bringing back left-hander Robbie Ray, but the club is expected to be aggressive in a market that could develop later than usual.
Beyond trades and free agency, the Blue Jays also have some in-house development to focus on that could take them to the next level in 2021 and beyond.
Here are your questions for the latest Blue Jays Inbox:
What do you make of Vladimir Guerrero's reported offseason weight loss, and will 2021 be his breakout season because of it?
-- Everyone
This week's most common Inbox question will be one of the biggest storylines next Spring Training. For years now, the Blue Jays have wanted Guerrero to improve his conditioning, but the public discourse around this has focused entirely -- and unfairly -- on weight. This is about much more than the number on the scale, so while reports of Guerrero dropping weight and Instagram pictures of him looking trimmer are encouraging, there's so much more to this equation.
When the Blue Jays discuss Guerrero, they say they'd like him to "improve his routines," and "routines" is the key word in all of this. The Blue Jays will need to see these changes carried from season to season, which the High Performance Staff and Guerrero's own team are working on.
Beyond weight, much of the focus is on flexibility, which could help keep Guerrero on the field long term. Working on that flexibility alongside overall muscle health and strength will be easier for Guerrero when he's developed these routines and is working at a more consistent weight from year to year, but these all need to be considered together in a larger conversation.
Updated:

Vladimir Guerrero Jr. has lost 40 pounds already this off-season: 20 since the end of the season, 40 since July. His goal is to lose 10 more pounds and be at 235.@z101digital @ZDeportes pic.twitter.com/3VOqcxHA4p

— Héctor Gómez (@hgomez27) November 21, 2020
Right now, the Blue Jays are happy with how Guerrero is approaching this. This is a multiyear plan that goes well beyond turning heads on Day 1 of Spring Training in February, but credit is due to Guerrero for an impressive start to the process.
Could the Jays handle trading for Lindor AND sign a Trevor Bauer this off-season? How much wiggle room do they have to both trade for players and sign free agents?

— Art Spray (@art_spray) November 17, 2020
Adding both Francisco Lindor and Trevor Bauer in the same offseason would be a stretch, but this highlights an important piece of the Lindor conversation.
If the Blue Jays were to pursue Lindor, Cleveland's star shortstop who is expected to be available this offseason, it would take a significant package. Using the Mookie Betts deal from last offseason as a loose framework isn't a bad place to start. The Blue Jays aren't looking for a superstar rental, though, and Lindor is entering the last year of his contract at 27. Any potential Lindor acquisition would need to lead to an extension, meaning there would be a massive financial commitment on top of the player acquisition cost.
Which catcher is most likely to be traded? And what would a realistic return look like?

— Anne Campbell (@filmgatereviews) November 17, 2020
The Blue Jays have five catchers on their 40-man roster in Danny Jansen, Alejandro Kirk, Gabriel Moreno, Riley Adams and Reese McGuire. There are tiers here, of course. Jansen and Kirk look likely to open the season with the Blue Jays, but Moreno will be an intriguing name to clubs seeking young talent behind the plate. As the club's No. 8 prospect, Moreno could be used to aim high in a deal if the Blue Jays were to chase a big arm, while Adams (No. 22) could be a complimentary piece in a deal. McGuire, coming off a poor 2020 but still young and talented defensively, would still have some level of appeal, too. Major League clubs need catching depth more than most other positions, and the Blue Jays are in a position of strength.
Hi Keegan

Wondering who are some prospects you see possibly making large jumps up the organizational ladder next year if there is Milb play?

or

With the success of Devin Williams in 2020 who do you think prospect/Bluejays wise possesses the most potential changeup wise?

— selwyn (@selwyn42550990) November 17, 2020
When you look for quick climbers, it's as much about their maturity and ability to handle new challenges as it is about raw talent. Austin Martin, the club's No. 2 prospect, should burn through the Minor Leagues once he gets the chance. Simeon Woods Richardson (No. 4) should do the same, and it's telling that the Blue Jays brought him to Summer Camp in Toronto at just 19. Infielder Orelvis Martinez (No. 7) is about to make the jump from "young prospect" to a name that Blue Jays fans are buzzing about, and it could happen fast.
If the Blue Jays don't add to the rotation, who do you see filling out the rotation and is Simeon Woods-Richardson at all a possibility in 2021?

— Jamie Miles (@BatFlipManiac) November 17, 2020
The 2022 season might be likelier for Woods Richardson, depending on which opportunities are available in '21, but the Blue Jays have plenty of depth beyond their starting five. Another addition is expected, but as injuries pop up through the season, the Blue Jays should have some combination of Anthony Kay, Thomas Hatch, Trent Thornton, Julian Merryweather and TJ Zeuch ready to jump in. That's a much better depth group -- with far more upside -- than the Blue Jays have had in recent years.
Hey Keegan,
This might be a tough one with no minor league season in 2020, but any idea when the Jays think Austin Martin will be MLB ready? Are they leaning more toward using him in the infield or outfield?

— Karen Blue Jays fan (@KarenSoutar1) November 17, 2020
Martin's timeline and his defensive position are tied together. He's too important to this organization to run into a roadblock positionally, though, so I expect the Blue Jays to have him ready at multiple spots on the diamond. Third is where he took his first official grounders at Summer Camp, but this really gets interesting if the Blue Jays try him in center. Frankly, that long-term plan could depend on what the Blue Jays accomplish this offseason. As it stands, a 2022 debut is on the table.