Buchholz: 'I feel like I'm a better pitcher now'
Right-hander will make Blue Jays debut Saturday vs. Rays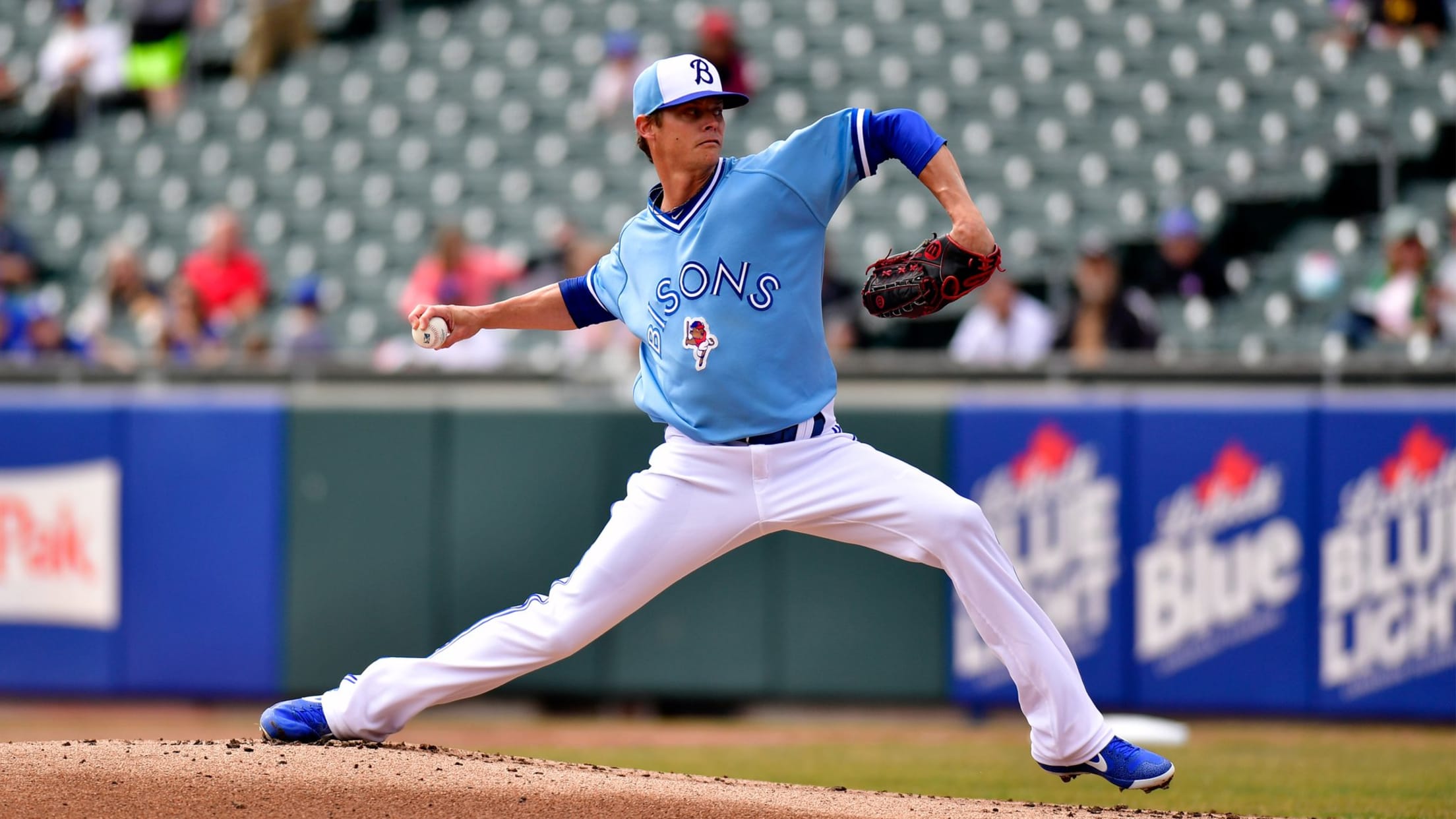 BOSTON -- Clay Buchholz walked into the visitors' clubhouse at Fenway Park on Tuesday and quickly was flanked by familiar faces who had gotten to know him since he began his Major League career at the ballpark in 2007. Buchholz had good reason to be smiling besides the reception. The
BOSTON -- Clay Buchholz walked into the visitors' clubhouse at Fenway Park on Tuesday and quickly was flanked by familiar faces who had gotten to know him since he began his Major League career at the ballpark in 2007.
Buchholz had good reason to be smiling besides the reception. The right-handed pitcher is slated to make his first start of the season on Saturday against the Rays after being sidelined by a right flexor strain. He threw a rehab assignment on Sunday and was pleased with his strike delivery.
"Everything's feeling good," Buchholz said. "Excited to get back out there."
The 34-year-old signed a one-year, $3 million deal with the Blue Jays in March. He is a veteran addition who can bring know-how to the mound. He encourages pitching to the information in the scouting report while staying on point with execution.
"As far as my pitching mind, I feel like I'm a better pitcher now," Buchholz said.
As he looks ahead to his season debut on Saturday, Tuesday's game has a tone of nostalgia for Buchholz. He was a member of the 2007 and '13 championship Red Sox teams. The memories of commemorating a World Series victory haven't left him.
"This is where I grew up," Buchholz said of Fenway Park. "It's exciting. I know the experience of getting to walk on the field and get a ring. I've done it a couple times. It's a really cool experience. Looking out from the other side makes you want to do it again."
Proud managing matchup for Montoyo
Blue Jays manager Charlie Montoyo wants to win the series against the Red Sox, but he has a deeper appreciation for the matchup beyond the final score. Montoyo is managing against Alex Cora, who, like himself, is a native of Puerto Rico. He described the day as "special."
"I don't want to take that for granted," Montoyo said. "It's a big deal in Puerto Rico right now."
An occasion to remember! 🇵🇷

Today's game between the #BlueJays and Red Sox is the first-ever @MLB matchup featuring two Puerto Rican Managers. pic.twitter.com/iuKpAgsQH6

— Toronto Blue Jays (@BlueJays) April 9, 2019
Montoyo got to know Cora during the 2009 Puerto Rican Olympic Classic, where he was a third-base coach and Cora was a player. Fast forward 10 years. Cora won a World Series last season as a rookie manager and Montoyo is in first season in his role with the Blue Jays.
"I'm very proud of Charlie," Cora said. "His path to the big leagues is a lot different than mine. He paid his dues in the Minor Leagues. I think he's a Hall of Famer in Triple-A. … Looking forward to competing against him."
Montoyo can take some inspiration from Cora's managerial success, too, as his team observed the Red Sox's pregame ceremony.
"Why not us?" Montoyo said. "Why not us?"
Injury updates
• Danny Jansen was the Blue Jays' starting catcher in place of Luke Maile, who is dealing with a neck issue. Justin Smoak (neck) remains out as well.
• Montoyo encouraged Vladimir Guerrero Jr. to continue his rehab work in Dunedin, Fla.
"I talked to him and I said, 'Just stay down there with that nice weather until you get good at the plate, you feel comfortable and then you go to Buffalo,'" Montoyo said. "It could be any time."