Inbox: How can Blue Jays maximize best bats?
Beat reporter Gregor Chisholm answers questions from Toronto fans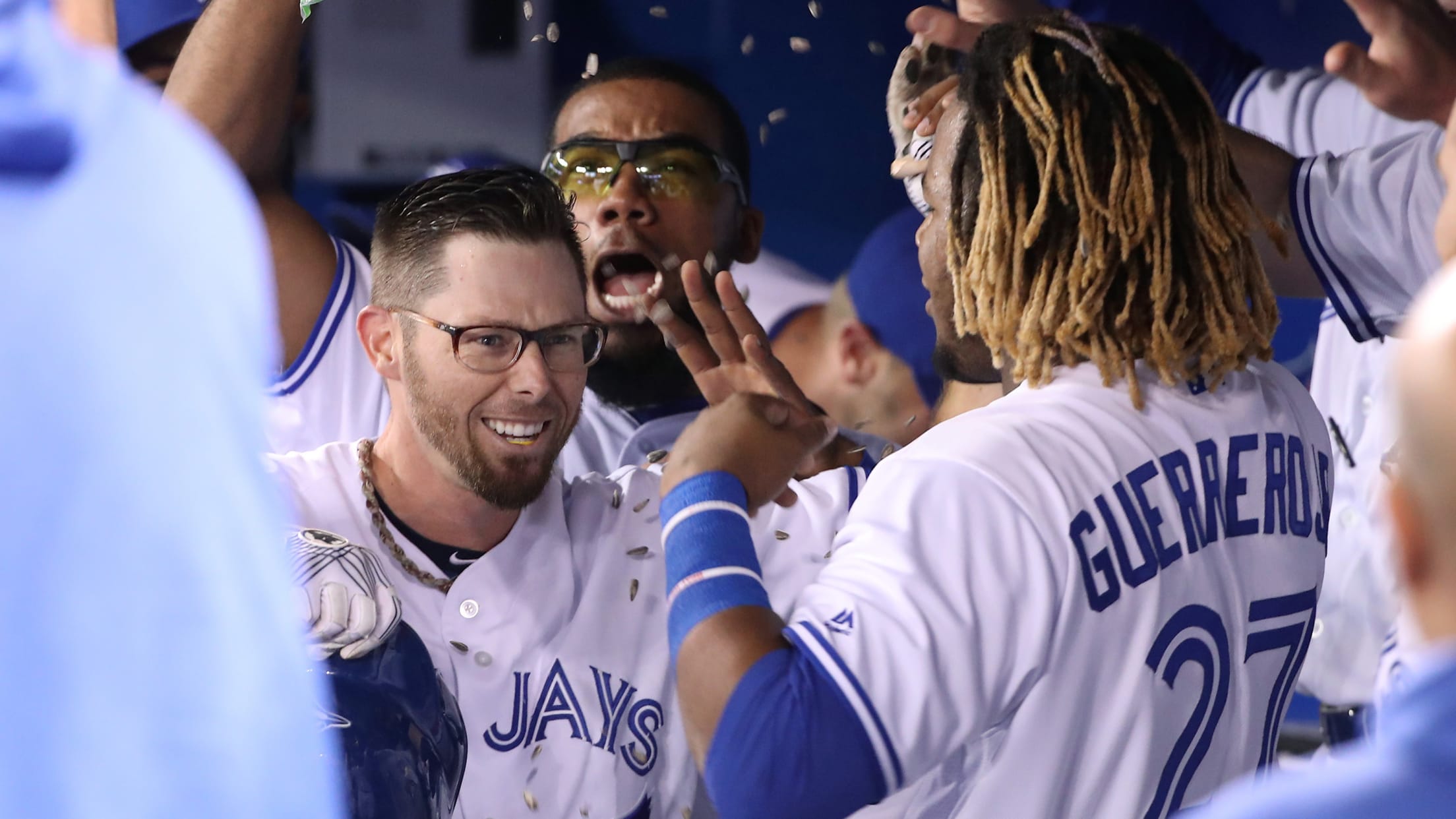 Is there a way of getting Vladimir Guerrero Jr., Eric Sogard and Brandon Drury all in starting lineup together, perhaps with more creative use of the designated-hitter spot? It seems like these options might strengthen the Blue Jays' batting. -- Chris S., London, England There is a way to keep
Is there a way of getting Vladimir Guerrero Jr., Eric Sogard and Brandon Drury all in starting lineup together, perhaps with more creative use of the designated-hitter spot? It seems like these options might strengthen the Blue Jays' batting.
-- Chris S., London, England
There is a way to keep all three bats in the lineup, and the Blue Jays have already started experimenting with it by putting Brandon Drury in right field, Eric Sogard at second and Vladimir Guerrero Jr. at third. Rowdy Tellez is going to receive the bulk of the at-bats at DH, but when there's a tough lefty or he requires a day off, that spot gives manager Charlie Montoyo even more flexibility to be creative with his lineup.
Players producing with the bat are going to stay in the lineup for a team that has been struggling to score runs all year. Sogard was expected to be a temporary solution at second, and he has since won a full-time job because there's no way you can justify sitting a guy who is slashing .310/.402/.563 until his bat cools off. It seems unlikely that the Blue Jays will ever have a true set lineup in 2019, and instead, Montoyo will have to continue to mix and match all year, so these type of creative ideas will continue.
How much longer do you think Lourdes Gurriel Jr. will be with Triple-A Buffalo, and when he comes back, will he play more in the outfield or infield?
-- Chris B.
When Lourdes Gurriel Jr. returns, there's a good chance it will be as a super-utility player. He's unlikely to lock down one position, and instead, he should become a candidate to start at all four infield spots and in left field, with the possibility of eventually adding right field into the mix. Gurriel has drawn comparisons to Marwin Gonzalez, who played all of those positions in 145 games for the Astros last season, and it's that type of versatility that the Blue Jays are hoping to develop.
There's a good chance that Gurriel's defense will always be a bit of a liability. The thinking is that moving him around the field, instead of forcing a full-time move to one position, will create fewer mental hurdles and he won't be exposed as much. Gurriel has made five starts in the outfield for Buffalo so far, but he's going to need more than that. The best guess here is that Cavan Biggio will make his debut before Gurriel returns.
Do you see a possible scenario where Nate Pearson could be a September callup if he continues to put up great numbers?
-- Felix, Bayview Woods-Steeles, Toronto
The idea has been floated by some members of the organization, but I still find it a little hard to believe. Nate Pearson only recently joined Double-A New Hampshire, and the Blue Jays have been taking a very cautious approach with the 22-year-old's development. Is a promotion by the end of the year possible? Sure, but this is also a guy who, prior to this season, had never tossed more than 20 1/3 innings in one year for this organization. At some point, workload and innings will become a concern, and it seems to make the most sense for his development to continue in the Minors with an eye toward 2020 for a debut.
We all know that Marcus Stroman and Aaron Sanchez are on the market and will attract a lot of attention. Which position players do you think hold the most trade value for the Blue Jays, other than Justin Smoak?
-- Hugh K., St. John's, Newfoundland
I know you asked about position players, but hands down, the answer is Ken Giles. The 28-year-old's trade value hit an all-time low last year before he was included in the deal for Roberto Osuna, but since then, his stock has been rising quite rapidly. Giles converted all 14 save opportunities for the Blue Jays last season, and so far this year, he has allowed just three runs over 17 1/3 innings. He remains under club control through the end of next season, so there is added value in dealing him soon because teams will be forced to give up more talent.
Rebuilding teams almost always trade away their big-name closers, and it seems pretty logical to expect the Blue Jays to follow suit. Ryan Tepera, Joe Biagini or the rehabbing David Phelps could eventually take over ninth-inning duties while Toronto maximizes the return in prospects to further boost its system.
Is there any update on Devon Travis? If and when he does come back this season, are his days with the Blue Jays numbered, considering Sogard and Drury are here and it may only be a matter of time before Gurriel is ready to return?
-- Jacob A., Toronto
Devon Travis has been hitting and going through baseball activities, but the Blue Jays have yet to provide any indication on when he might actually be ready for games. Regardless of when Travis returns, you're right, his days with the organization appear numbered. It's inevitable that Travis will be optioned to Buffalo once he's ready to come off the injured list, and the timing of his next opportunity might have more to do with the performances of the people above him rather than his own.
Gurriel, Drury, Sogard and Biggio are four names ahead of Travis on the depth chart at the moment, and in the lower levels of the Minors, there is more talent on the way. It's not a good time to be a middle infielder for the Blue Jays because there are a glut of options, and Travis seems to be the obvious pick for odd man out.