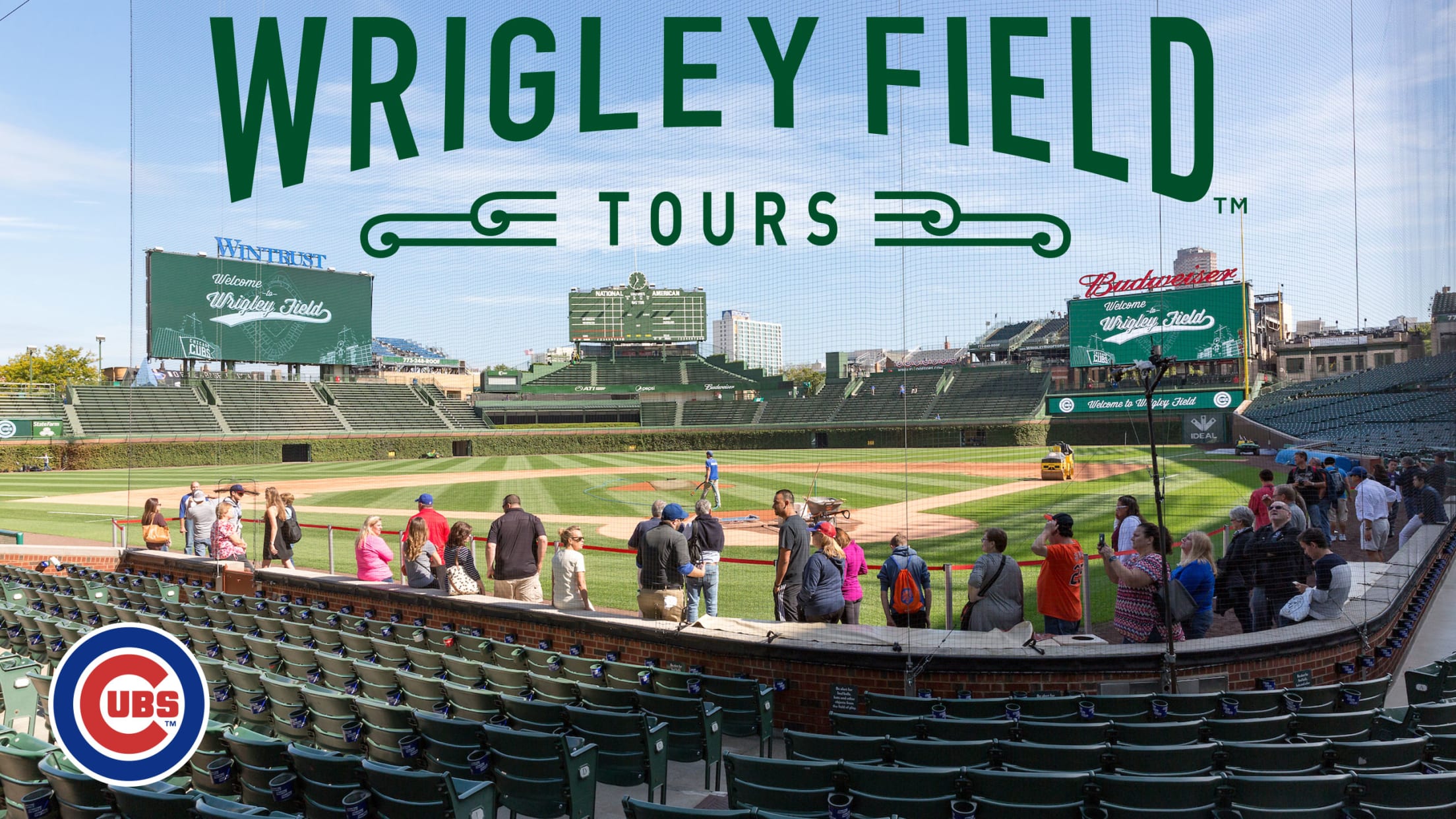 2023 Wrigley Field Tours are on sale now!
Get a behind-the-scenes look at the legendary home of the Chicago Cubs with Wrigley Field Tours!
In just 90 minutes, you can experience the beauty, charm and historic features fans have come to know and love, all while learning about our majestic ballpark that has captivated baseball fans for more than 100 years.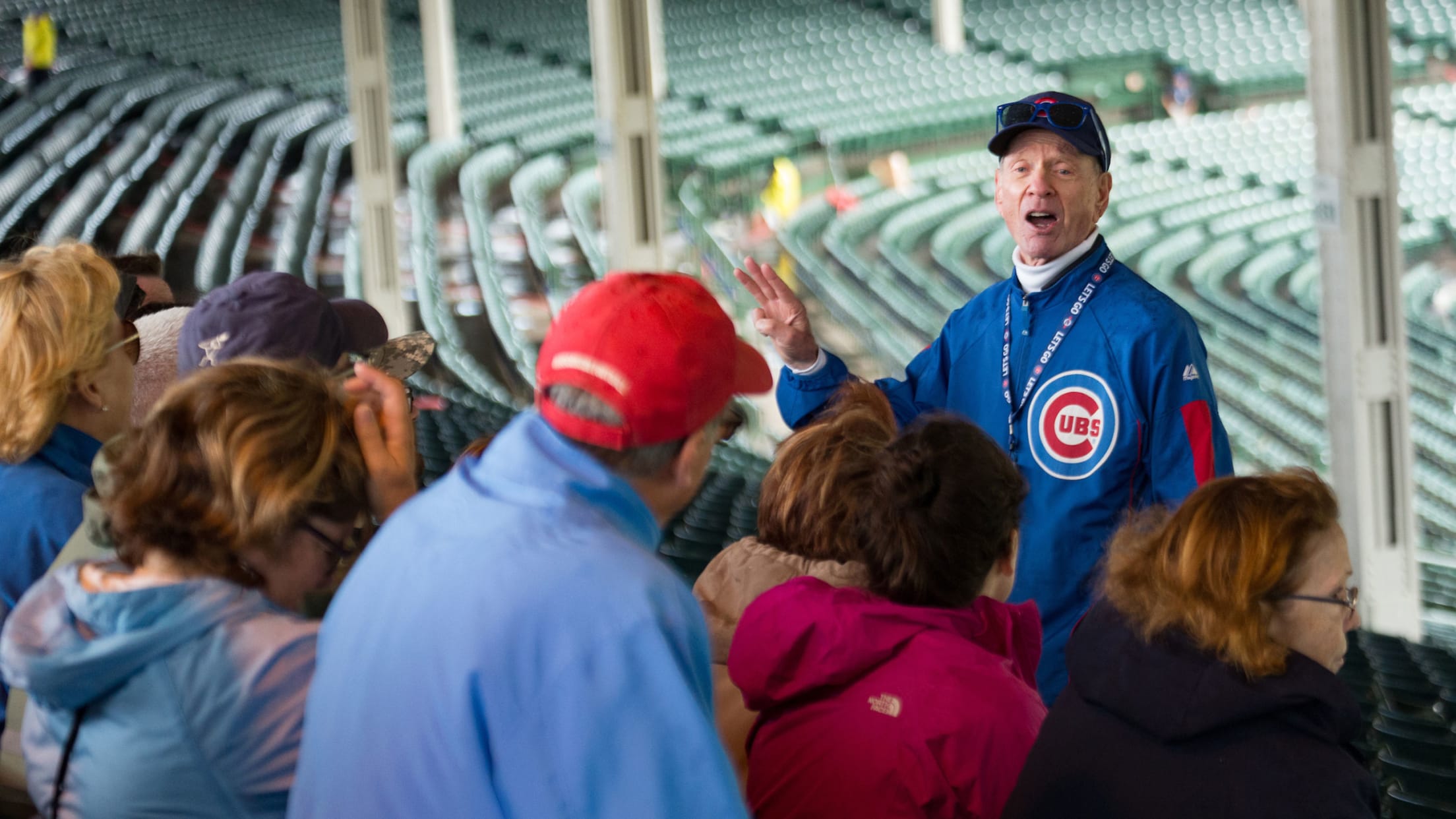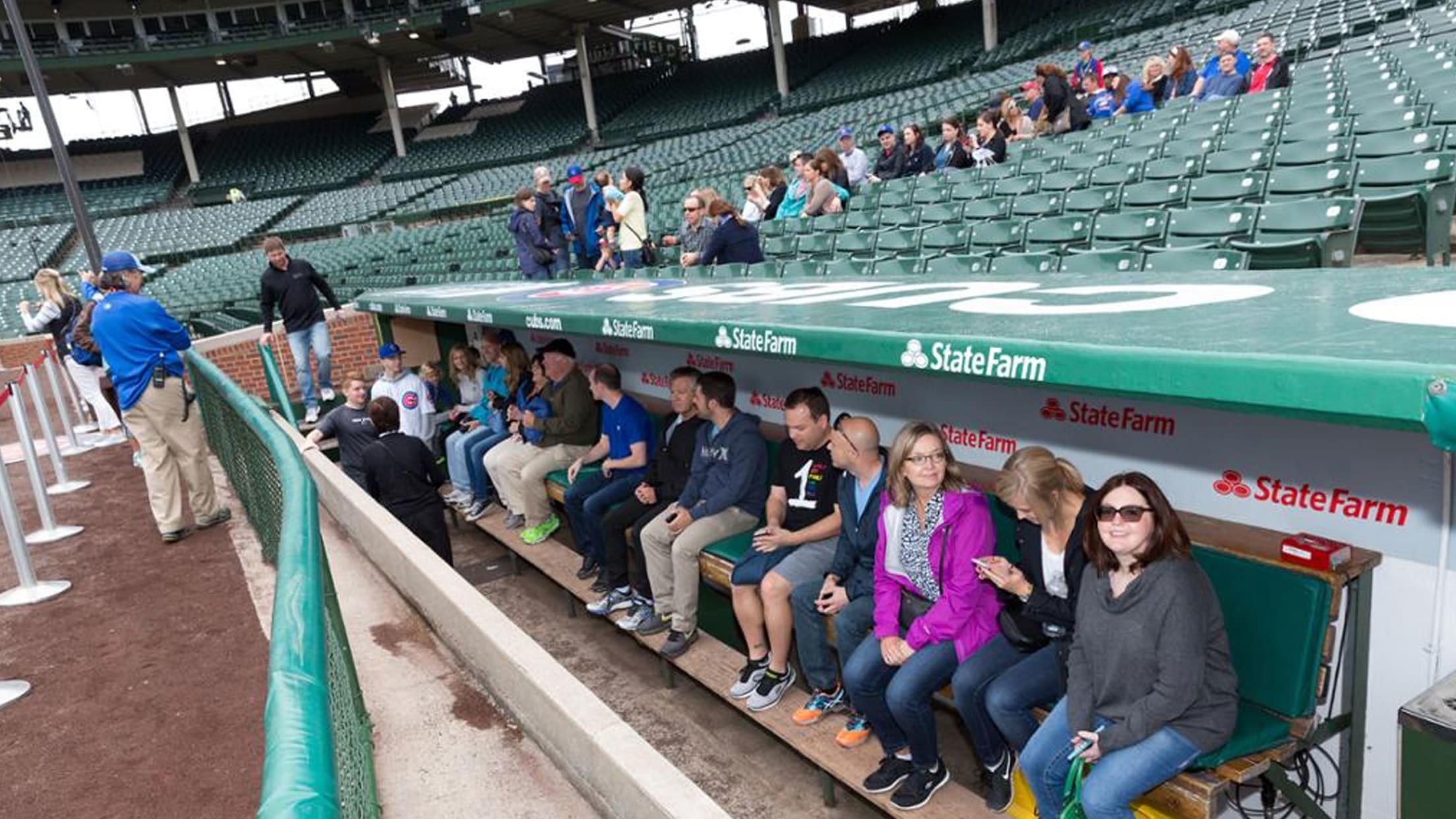 Public Tours
What you will see on a public tour
NON-GAMEDAY TOURS:
Seating Bowl
Bleachers
Outfield Ivy
Press Box
Visiting Clubhouse
Dugout
Field
GAMEDAY TOURS:
Seating bowl
Bleachers
Upper Deck
Field
Length of an public tour
The guided tour lasts 75-90 minutes. Tours include outdoor stops and are conducted in rain or shine. Please dress accordingly.
Pricing
Individuals: $30 (plus tax)
Children under 2 years old: FREE
Please note all tour stops and locations are subject to availability.
VIP Tours
Private Tour
Take an exclusive tour through the Friendly Confines with your own personal tour guide.
Ticket Information:
Groups up to 50: $1,500 (plus tax)
Larger groups can be accommodated, but may be split up depending on size.
Call 773-388-8270 or email [email protected] to inquire about booking a private tour.
Educational Tour
We invite schools and camps to join us on our discounted Educational Tours at Wrigley Field.
Ticket Information:
The cost for groups of 30 or more is $15 per person (plus tax).
Discounted group rates are applicable for weekday tour dates only. These rates are unavailable on Saturday or Sunday.
Call 773-388-8270 or email [email protected] to inquire about booking an educational tour.
Testimonials
"I think every baseball fan must go see Wrigley. The stories I learned while on the tour, I've been telling friends and family since I came back."
"The BEST all-around baseball game experience I have EVER had … and I am a Dodger fan by the way!"
"To walk on the grounds and sit in the dugout where Ron Santo and Ernie Banks sat ... surreal!!"
"It gave the iconic ballpark even more depth than just attending a game."
"It's such an iconic place, synonymous with Chicago. A visit to the city would be incomplete without a visit to Wrigley Field."
"(Our tour guide) was a wonderful guide. He was friendly, funny and very knowledgeable. I thought going into the dugout and being on the field was very special. I thought that the visitors' locker room was fun despite its humble appearance based on the historical significance of everyone who had been there. Really great tour. I have told everybody about it."
Frequently Asked Questions
Tour Schedule:
If I can't find a specific tour date on the tour schedule, does that mean it is sold out or there are no tours being offered on that specific date?
If the date is not on the tour schedule then we are not offering tours on that date at this time. If the date is available but says "sold out" or "error" when you try to purchase tickets, that means we are having tours that day but the time you have selected is sold out and you must select another time to take the tour. If you are still having trouble, please feel free to contact us at 773-388-8270.
Will there be additional dates added throughout the season?
It is possible additional dates will be added throughout the tour season. Please visit Cubs.com/Tours for the most up-to-date tour schedule.
What happens to my tickets if my tour is rescheduled?
If your tour is rescheduled, your tickets will be redeemable for the new tour time and date. If you are unable to attend the rescheduled tour, you will be refunded for the face-value of your ticket. You will be personally contacted if this occurs.
Purchasing Tickets:
Can I purchase tickets on the day of my tour?
You may purchase tickets on the day of your tour; however, tour sizes are limited so we recommend you purchase tickets in advance.
Do children 2 years old or younger need a ticket even though they are free?
Children 2 years old or younger are free and do not require a ticket to enter the ballpark.
What does the seat number on my ticket mean?
The only purpose of the seat number on your ticket is to help keep track of the number of tour guests on each tour. As a guest, you do not have to worry about the seat number.
How do I receive my tickets once I have purchased them?
Wrigley Field Tour tickets will be delivered exclusively as mobile tickets via the free MLB Ballpark app. Please note you must have the latest version of the free MLB Ballpark app downloaded on your mobile device to access and use Wrigley Field Tour tickets. For more information on mobile ticketing and the MLB Ballpark app, visit Cubs.com/Ballparkapp.
Group Tour Info:
What is the maximum size group that Wrigley Field Tours can accommodate?
We can accommodate groups of all sizes. If you are interested in a private tour for your group, please call 773-388-8270.
General Questions:
When should I arrive for my tour?
We suggest that you arrive approximately 10-15 minutes before the scheduled start time of your tour.
Where do I check in for my tour?
Public tours will begin and end at the Gallagher Way gate, located on the west side of the ballpark.
What if it rains on the day of my tour?
Tours are conducted in rain or shine so please dress accordingly.
Are cameras or video cameras allowed on the tour?
Yes, we encourage the use of cameras and video cameras during tours for personal, non-commercial use only.
How long is the tour?
Tours are approximately 75-90 minutes long.
Directions/Parking:
How do I get to Wrigley Field?
Please select the following link for driving directions: Click here for driving directions
Where is bus parking?
Bus drivers can drop off tour guests at the corner of Clark and Addison streets. After unloading, buses should proceed north on Clark Street and take a right on Irving Park Road. Bus drivers can idle on Irving Park Road for the duration of the tour before picking tour guests back up on the corner of Clark and Addison streets.
How far is Wrigley Field from downtown Chicago?
Wrigley Field is approximately 5 miles from downtown Chicago. The time it takes to get here can vary depending on method of transportation, traffic and exactly where you are coming from.
ADA:
What should I do if I am in a wheelchair or I am coming with someone in a wheelchair?
Wrigley Field Tours are wheelchair accessible; however, certain areas may have limited or no access to tour guests in wheelchairs, including the Cubs dugout.
What if I need a wheelchair or I am coming with someone who may need a wheelchair?
Wheelchairs are available for use upon request. Please inform your tour guide you are in need of one upon arriving for your tour.
What if I am hearing impaired and need an ASL interpreter for the tour?
Please call us at least 48 hours prior to your tour at 773-388-8270 and we will be happy to provide an ASL interpreter for you during your tour.