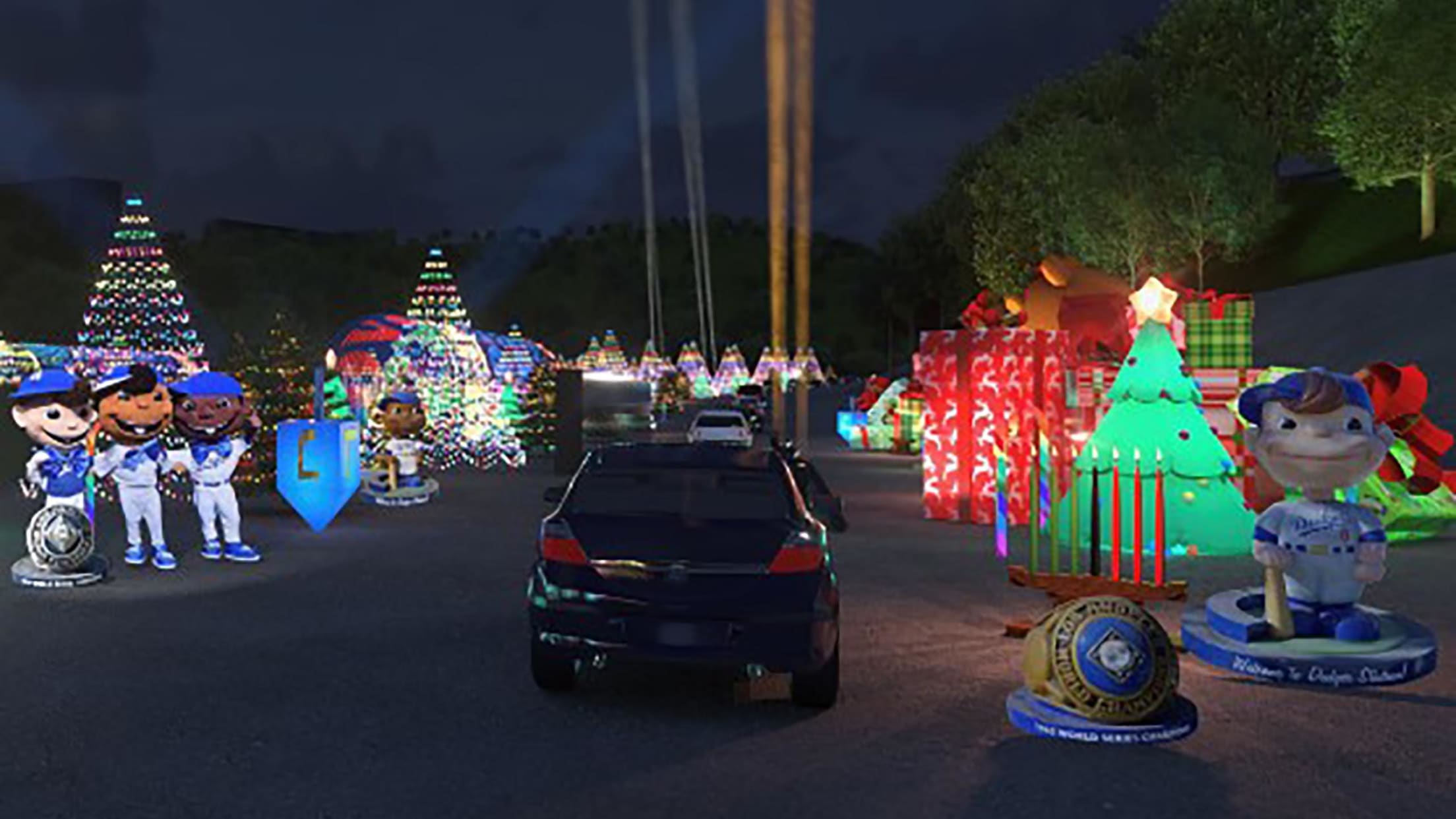 'TIS THE SEASON FOR CELEBRATION AT DODGER STADIUM!
The 2020 World Champion Los Angeles Dodgers are hosting a drive-thru Holiday Festival, complete with a light show, LED video displays, fake snow and interactive displays honoring the Dodgers World Championship and celebrating the holidays!
Open Nightly*
November 27th-December 24th
5-10PM
Pricing Overview
Admission starts at $55 per vehicle/ticket.
Sales are final. Prices are subject to change at any time. No refunds or exchanges.
Dodgers Holiday Festival
Please observe our rules which are designed to protect you and your neighbors during this time when your health is most important.
If you attend the Dodgers Holiday Festival, please be advised that:
• You must purchase a ticket online in advance. No on-site sales will be available.
• You must stay within your vehicle at all times.
• No public restrooms will be available.
• You must adhere to staff directions at all times, including with respect to the enforcement of wearing face coverings.
• You must wear a face covering if your vehicle's windows are rolled down.
• You will not have any access to Dodger Stadium.
• The driver of your vehicle must not exceed a driving speed of 5 MPH.
• The driver of your vehicle must obey all traffic laws and may only drive on designated pathways or as guided by our staff.
• The driver of your vehicle must maintain a safe driving distance from all surrounding vehicles at all times.
• While your vehicle is in motion, the driver of your vehicle may not use a handheld cellphone for any purpose, including, without limitation, for calling, texting, and/or taking pictures or videos. Non-driving passengers may take pictures and videos.
If you do not follow all rules, guidelines, and directions, you will be asked to leave without refund. In addition to the rules set forth above, the following guidelines will apply:
Vehicle Ingress and Egress
You are encouraged to arrive beginning 30 minutes in advance of your designated time slot. All vehicles will enter the premises through Stadium Way Downtown Gate E, and admission tickets will be scanned at the auto gates. You will then be directed to the queuing line corresponding to your time slot.
Please be aware that during peak days and times, your wait time in the queuing line may exceed 45 minutes. Once ready, you will be directed to the start of the experience.
Once you have completed the experience, you will be required to exit the premises. No re-entry will be permitted.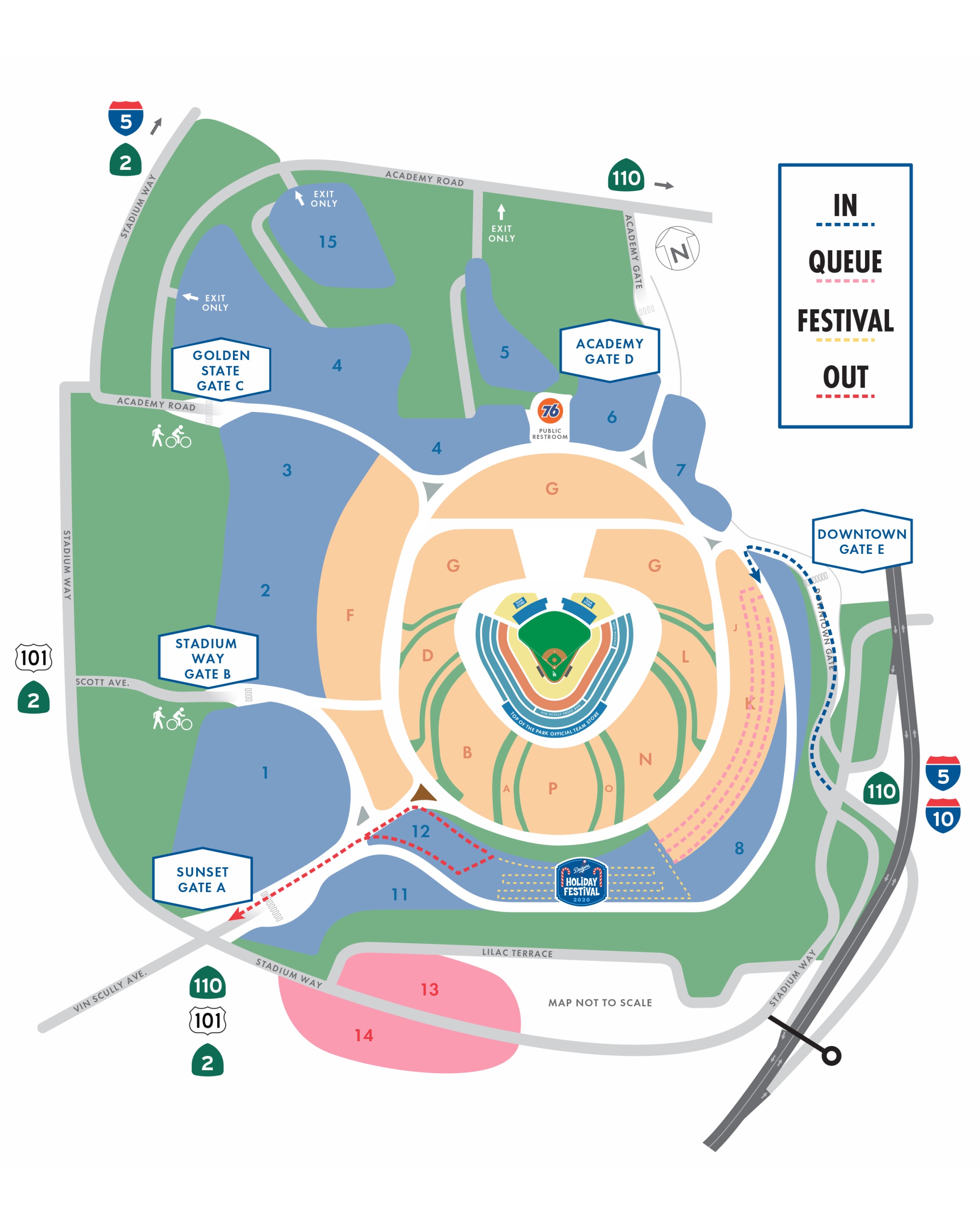 Concessions
No food will be available for purchase on the premises. Visitors are encouraged to bring their own food and non-alcoholic beverages to consume within their vehicles. Alcohol beverages will not be allowed on the premises and consumption of alcoholic beverages on-site is strictly prohibited.
Restrooms
Since guests will not be allowed outside of their vehicles, public restrooms will not be available.
Audio
Certain audio is broadcast through an FM transmitter (radio), so please be sure that you have a good sound system in your vehicle. If you do not have an FM receiver in your vehicle, you can bring a battery-operated stereo with speakers to hear the sound. Any external stereos or portable speakers or sound devices are not allowed.
Windows And Face Coverings
Unless there is a pet in your vehicle, you are allowed to keep your windows down throughout for enjoyment of the full experience. However, please be advised that (i) windows are not allowed to be rolled down if you have a pet in your vehicle, and (ii) face masks covering the nose and mouth are required to be worn by all passengers in any vehicle that has its windows rolled down. Additionally, staff will always be required to wear masks.
Entry Wellness Screening
By entering the premises, each individual in the vehicle is certifying that they, and any minor under their custody: (i) do not have flu-like symptoms and have not been in contact with anyone else who has flu-like symptoms in the past fourteen (14) days, and (ii) have not traveled internationally within the past fourteen (14) days. Any individual in a customer's party exhibiting or acknowledging any sign(s) of illness shall be denied entry.
Charitable Items and Donations
The Los Angeles Dodgers Foundation (LADF) is tackling the most pressing problems facing Los Angeles with a mission to improve education, health care, homelessness, and social justice for all Angelenos. As part of the Dodgers Holiday Festival, LADF will be accepting the following donations in a contactless manner: new or gently-used baseball or softball equipment that will benefit Dodgers RBI, new toys that will benefit RaiseAChild, and new pairs of socks that will benefit LA Family Housing.
Making a donation is entirely optional, but if you would like to make a donation, please follow these guidelines:
All donations must be unwrapped
Donations must be accessible without leaving your vehicle, i.e. NOT placed inside your trunk
Please place your donation into a bin monitored by a Dodgers elf in the queuing area after the auto gates
Other Information
One admission ticket is required for each vehicle. Only cars/SUVs up to eight (8) feet high will be permitted to enter. No limos, bicycles, motorcycles, scooters, vehicles with trailers attached, buses, RVs, HGV's, minibuses, cars with trailers attached, or any vehicles that exceed eight (8) feet in height will be permitted to enter. Guests will also NOT be permitted to sit in the bed of a pick-up truck.
There is a maximum of eight (8) persons allowed in any one vehicle, and every passenger must wear a seatbelt at all times.
Consistent with Dodger Stadium policy, no banners, posters, signs, flags, or similar displays will be permitted. You may be asked to remove any vehicle appendages that obstruct the view of others or contain potentially offensive or controversial language, symbols, marks, or logos, which shall be determined by the Dodgers in their sole discretion.
Consuming of alcoholic beverages is strictly prohibited.
Smoking of cannabis and the use of any drug is prohibited.
No firearms, weapons, or explosives of any kind are permitted.
Fireworks, lasers, drones, and all noise making devices are strictly prohibited.
Speed limit is 5 MPH.
Dodger Stadium assumes no responsibility of any kind for injury or property damage.
PLEASE BE ADVISED: The Dodgers Holiday Festival contains various displays with flashing lights that may affect guests who are susceptible to photosensitive epilepsy or other photo sensitivities.
The Dodgers will consider any requests from fans with disabilities who seek reasonable modifications of our policies, practices, and procedures or auxiliary aids and services to help them enjoy the Holiday Festival. We encourage fans who would like to make such requests to call 866-DODGERS extension 6 or email [email protected] as soon as possible so that the Dodgers will best be able to address your needs.
*Closed 11/30, 12/1, 12/7, 12/8