Who has World Series edge at each position?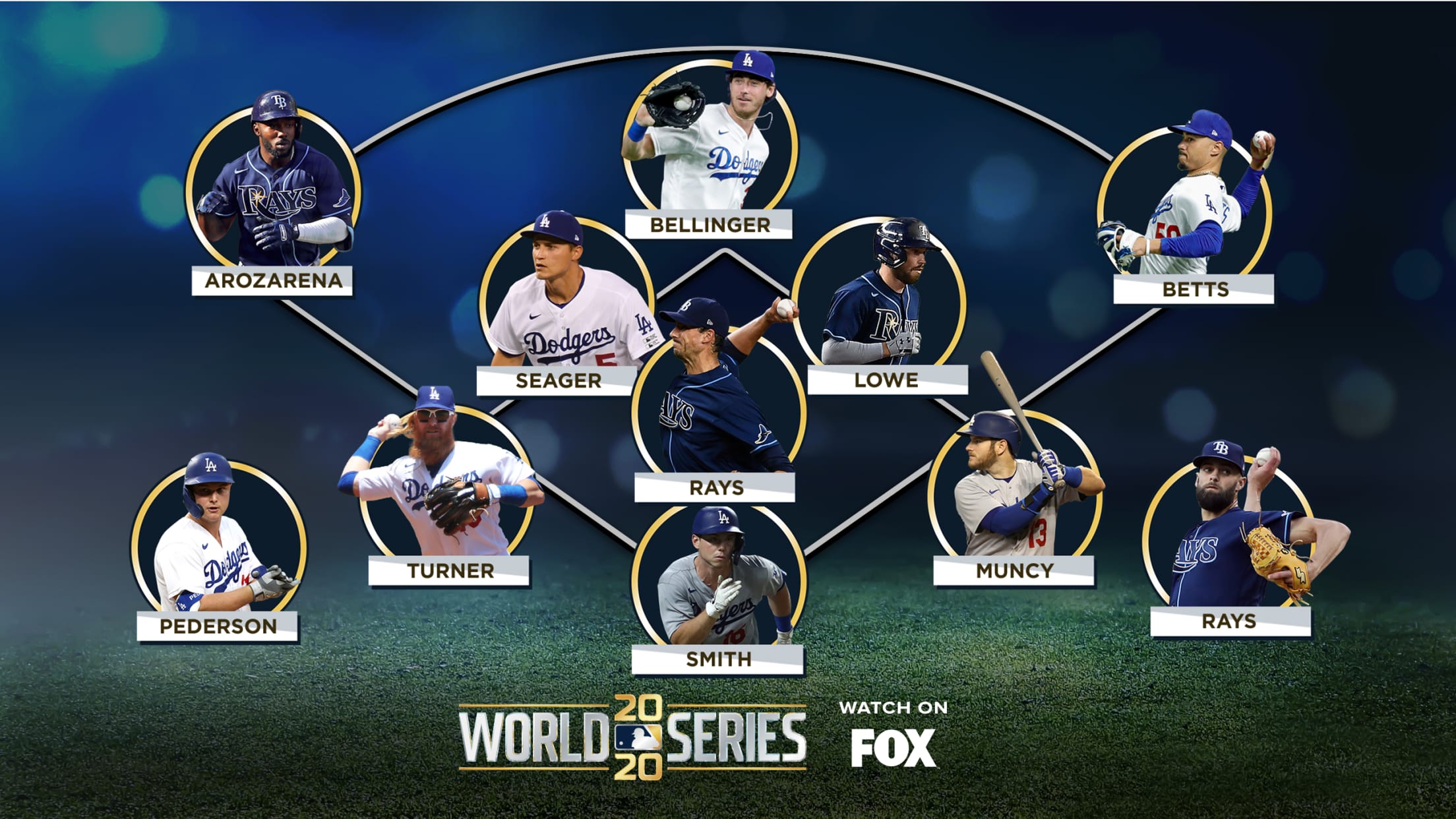 Sometimes, we do get the right teams in the World Series. The Rays were the American League's No. 1 seed, and they survived three rounds of playoff series to get to the Fall Classic. The Dodgers were the National League's top seed, and they're here, too. The two best teams
Sometimes, we do get the right teams in the World Series. The Rays were the American League's No. 1 seed, and they survived three rounds of playoff series to get to the Fall Classic. The Dodgers were the National League's top seed, and they're here, too. The two best teams in baseball, the top seed in each league, facing off. Just what we expected from a 60-game season and expanded playoffs, right?
Despite the obvious made-for-drama narratives over differences in market size, payroll size, franchise history and so on, there's a lot of similarities between these teams. That starts with Dodger boss Andrew Friedman, who ran the Rays from 2005 through 2014, including building the 2008 edition -- the only previous Tampa Bay World Series team. Both clubs can pitch, ranking first and third in ERA; both managers own Red Sox World Series rings as players. (Dave Roberts in 2004, Kevin Cash in 2007.)
If there's a differentiator, it's on offense. The Dodgers had baseball's best bats, while the Rays were ninth-best -- not, of course, that this has stopped Tampa Bay from getting this far. Who has the edge? Let's look position by position.
(An important note: We'll take a look at who's been hot in the playoffs, because, you know, Randy Arozarena. But we're also not going to overlook regular-season numbers and track record, either.)

Catcher
Neither Mike Zunino (65 OPS+) nor Michael Perez (34 OPS+) had good hitting seasons, and Rays catchers as a whole were one of the weakest backstop groups in baseball. That said, while Zunino strikes out a ton (46% in the playoffs, after 44% in the regular season), he's still dangerous enough that he's homered four times in the 2020 postseason, including a big one in Game 7 of the ALCS.
It's sort of the opposite for the Dodgers, who had one of baseball's best-hitting catching groups, thanks in large part to Will Smith, who in parts of two big league seasons has an outstanding 146 OPS+. He's a great example of how hard it is to worry about postseason numbers: Half of his 11 postseason hits came in a 5-for-6 performance in Game 3 of the NLDS, but he also had a massive go-ahead three-run homer (off his sort-of-doppelganger) in Game 5 of the NLCS.
Always bet on talent. Smith is easily the best of the four catchers in this series.
Big advantage: Dodgers
First Base
This is mostly going to be a platoon of lefty Ji-Man Choi (106 OPS+) and righty Yandy Díaz (131 OPS+), which is entertaining, because Díaz has played the position more in the postseason (25 innings) than he did in the regular season (14 innings). Choi has hit well in the postseason; Díaz has not at all, though he's still drawing a ton of walks.
Meanwhile, what to make of Max Muncy? After two outstanding seasons with Los Angeles, he didn't do that much this year (97 OPS+), but came alive in the NLCS, walking nine times and adding four extra-base hits, including two homers. Did we say bet on talent above? We did.
Small advantage: Dodgers
Second Base
Speaking of which, Brandon Lowe had a fantastic season (152 OPS+), though the postseason has been something more of a slog for him (.115/.193/.173), aside from a game-tying home run in Game 6 of the ALCS. Michael Brosseau may see some time here as well, which gives the Rays a nice lefty/righty platoon option.
Meanwhile, Chris Taylor (128 OPS+) had a pretty nice year of his own, though not as good as Lowe's, and his postseason (.200/.282/.286) hasn't exactly been standout either. When Taylor moves around, you might see Enrique Hernández here, or occasionally even Muncy.
There's not much separation here, given both sides have starters with great regular seasons and quiet Octobers; since Hernández and Taylor are each righty, we'll go with the one that has slightly more platoon flexibility.
Tiny advantage: Rays
Shortstop
If it seemed like Willy Adames was absolutely everywhere in the field in the ALCS, that's because he was. When we broke down the spectacular-looking Tampa Bay defense, it was notable that Adames was making play after play after play. While he hasn't hit at all in October (.132/.365/.184) he did in the regular season (124 OPS+), and that might be enough to give the Rays the edge here, if not for ...
... the fact that Corey Seager just pounded five homers in the NLCS, after posting a .947 OPS in the first two rounds, after hitting .307/.358/.585 in the regular season. Adames is a good player who just had a nice defensive week; Seager is playing like a superstar.
Big advantage: Dodgers
Third Base
With Joey Wendle, Brosseau, and Díaz, the Rays have options here, and this trio hit a strong .296/.379/.448 (.827 OPS) combined in the regular season. Each of the three had standout defensive moments, and, of course, Brosseau hit the deciding home run in the ALDS against Aroldis Chapman. Cash can mix and match this group in a variety of different ways.
It's very different on the Los Angeles side, where Justin Turner continues to keep on mashing for the Dodgers, just like he always does. (He had an .860 OPS this year, has an .886 in seven years for the Dodgers, and an .881 career postseason mark. Like clockwork.) Though he's taken a bit of a step back defensively as he's aged, don't forget that he was the focal point of the pivotal double play in the fourth inning of Game 7.
Advantage: Dodgers
Left field
Both teams will mix and match here, but the Rays will often have Arozarena in left, and ... you have witnessed the Randy Arozarena Experience, right? Seven postseason homers? 1.288 postseason OPS? After posting a 1.022 OPS in 76 regular-season plate appearances? Still, somehow, going to be rookie-eligible in 2021? He's not this good, because no one is, but he only has to keep it going for a few more days. You might see Lowe and/or Austin Meadows out here, too, but: Randy.
Not that the Dodgers are lacking in left field, of course. AJ Pollock (134 OPS+) had a strong season, though he's got just one extra-base hit this month; Taylor and Joc Pederson are options here as well.
Advantage: Rays
Center field
Kevin Kiermaier is very possibly the best defensive outfielder in baseball, and we're about to see him in a very favorable setting. Remember, the Rays have spent the entire postseason in California, and they're about to come to Globe Life Field, which certainly seems like it is sized perfectly for outstanding defensive catches. (Remember Mookie Betts' great catch, or his other great catches, or Cristian Pache's, or Cody Bellinger in the NLCS. It's almost a disappointment when we don't get a stellar catch here.) Kiermaier won't hit much, but his glove is so spectacular that he might not need to.
Thing is, Bellinger is a very good defensive outfielder himself -- not Kiermaier, perhaps, but who is? -- and his bat is far, far superior. (We think, anyway, assuming that the shoulder he apparently popped out of a socket during a Game 7 post-homer celebration doesn't limit him in the World Series.) Kiermaier is a superstar defender; Bellinger is just a superstar.
Advantage: Dodgers
Right field
Manuel Margot has a reputation as something of a mini-Kiermaier, in that he's a plus defender without a great bat, though he turned that on its head a little by slugging 3 homers in the ALCS. Meadows will show up here, too, and he's a far more dangerous hitter, or at least he usually is, since he never got untracked this year (86 OPS+).
The Dodgers have Mookie Betts. That's it. Full stop. A team that had won six straight division titles and reached the World Series twice in the previous three years then went out and added Mookie Betts. You might say it's paying off.
Advantage: Dodgers, obviously.
Designated hitter
Neither team has a regular at this spot, so the Rays will usually go with Arozarena against lefties (like Game 1 starter Clayton Kershaw) and Meadows against righties. If you could get the 2020 version of Arozarena and 2019 Meadows, you'd really have something here, but Meadows was less than impressive this season, and followed it up with just four hits and two walks in 37 postseason plate appearances. Kershaw may be the only lefty starter, so this could be mostly Meadows (or, perhaps, Díaz).
The Dodgers mix around here too, usually Pederson, sometimes Edwin Ríos, but also slotting in Smith when Austin Barnes catches Kershaw, meaning that we might see Smith there in Game 1. That's a nice bat to have, and while Pederson is similar to Meadows in the sense of "a powerful lefty bat who didn't have a good season," at least he's showing up in October.
Advantage: Dodgers
Starting pitchers
Blake Snell won the AL Cy Young Award just two years ago, and yet it's become pretty clear that he's the third-best pitcher the Rays have. That's partially due to Snell's inconsistency over the last two years, and partially it's a credit to how good Tyler Glasnow and Charlie Morton are. (They even have a credible fourth starter in Ryan Yarbrough, though with days off after Games 2 and 5, he may not get a start.)
We're extremely not interested in dissecting Kershaw's postseason history here, other than to say that among his failures, he did strike out 11 Astros across seven one-run innings in Game 1 of the 2017 World Series, so it's not like he can't or hasn't had October success. Walker Buehler might actually be the better pitcher right now, but he won't pitch until Game 3 and there are a lot of questions marks. Who will start Game 2? Does any Dodger fan want to see Dustin May open again? Will it be Tony Gonsolin? So much talent. SO many questions.
Advantage: Rays
Relief pitchers
The Rays had the third-best regular season bullpen ERA (3.37, though the Dodgers were second best), but that's hard to apply to the postseason, given how much turnover they've had due to injuries. What the Rays do have is an endless assortment of looks and arm angles for Cash to decide from, allowing him to match for any situation or matchup.
Meanwhile, how do you even approach the Dodgers' bullpen? They had a strong regular season, then spent the first four games of the NLCS looking like they'd completely forgotten how to pitch. (In 15 2/3 innings, they allowed 15 runs, a huge part of how the Dodgers fell into that 3-1 hole in the first place.) Then, over the final three games, they allowed four runs in 18 innings, and most notably, Kenley Jansen emerged from bullpen purgatory to look like Classic Jansen again. If they're all still that, this is pretty close. What works in their favor is that the Rays lineup is much weaker than the Braves was, though with the uncertainty after the first two starters, they might be asked to do more than the Rays relievers, too.
Advantage: Rays
Prediction
Dodgers in 7. The Rays have the pitching advantage, but the gap isn't as large as the edge Los Angeles has at the plate.