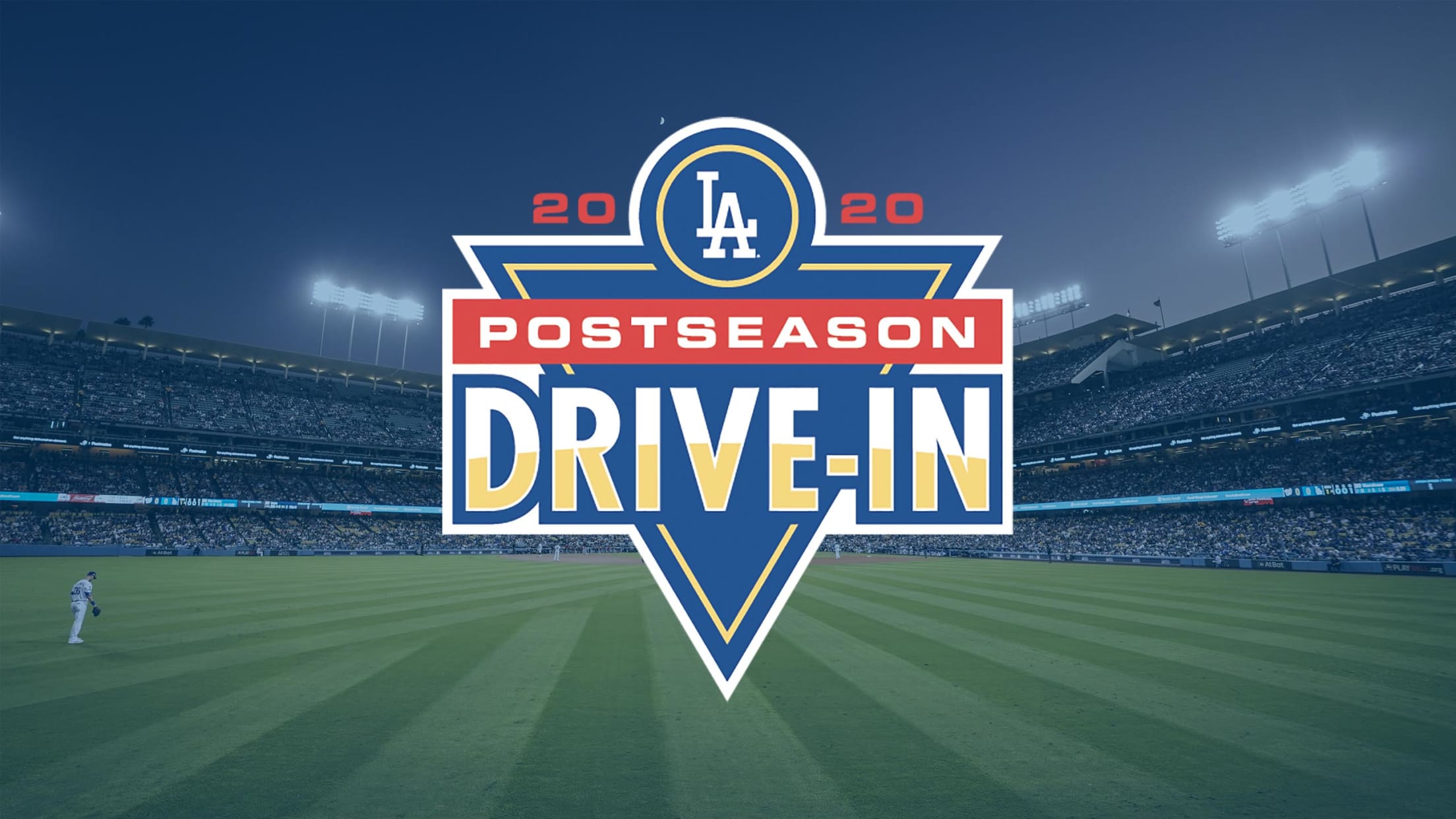 The Los Angeles Dodgers are pleased to offer you an opportunity to watch the World Series at Dodger Stadium in the comfort and safety of your car. The Dodger Stadium Drive-In is operated in accordance with LA County's Reopening Protocol for Drive-In Movie Theaters.
Dodgers Postseason Drive-In Event
Please observe our rules which are designed to protect you and your neighbors during this time when your health is most important.
If you attend the Dodger Stadium Drive-In, be advised that:
• You must purchase a ticket online in advance. No on-site sales will be available.
• You must view the game from within your vehicle.
• You may only leave your vehicle to use the restroom or in the event of an emergency.
• You must wear a mask when outside your vehicle to use the restroom.
• You must practice social distancing at all times.
• You must adhere to staff directions at all times, including with respect to the enforcement of wearing face coverings and maintaining social distance.
• You will not have any access to Dodger Stadium.
If you do not follow all rules, guidelines, and directions, you will be asked to leave without refund. In addition to the rules set forth above, the following guidelines will apply:
Pricing Overview
The event is $75.00 per car/ticket.
Limit of one ticket per car.
*The World Series is a best-of-seven series. Ticket purchases for unplayed games will be automatically refunded to the credit card used at checkout within 10 business days. All game times are subject to change. Sales are final. No refunds or exchanges.
Join the Dodgers Postseason Drive-In Event Waitlist to be the first to hear about future opportunities to participate in drive-in events.
Vehicle Ingress, Parking and Egress
All vehicles will enter the stadium parking lots through Sunset Gate A, and admission tickets will be scanned at the auto gates. Vehicles will be parked on a first-come basis. You will be directed to park in a specific spot to expedite loading. You will not be able to choose your parking spot. Please park your vehicle at least six feet away from the next car in your row to observe social distancing. Vehicles must stay in their assigned parking spaces for the entirety of the event until egress. No re-entry will be permitted. Once the game and/or programming is completed, all vehicles will be required to exit the premises.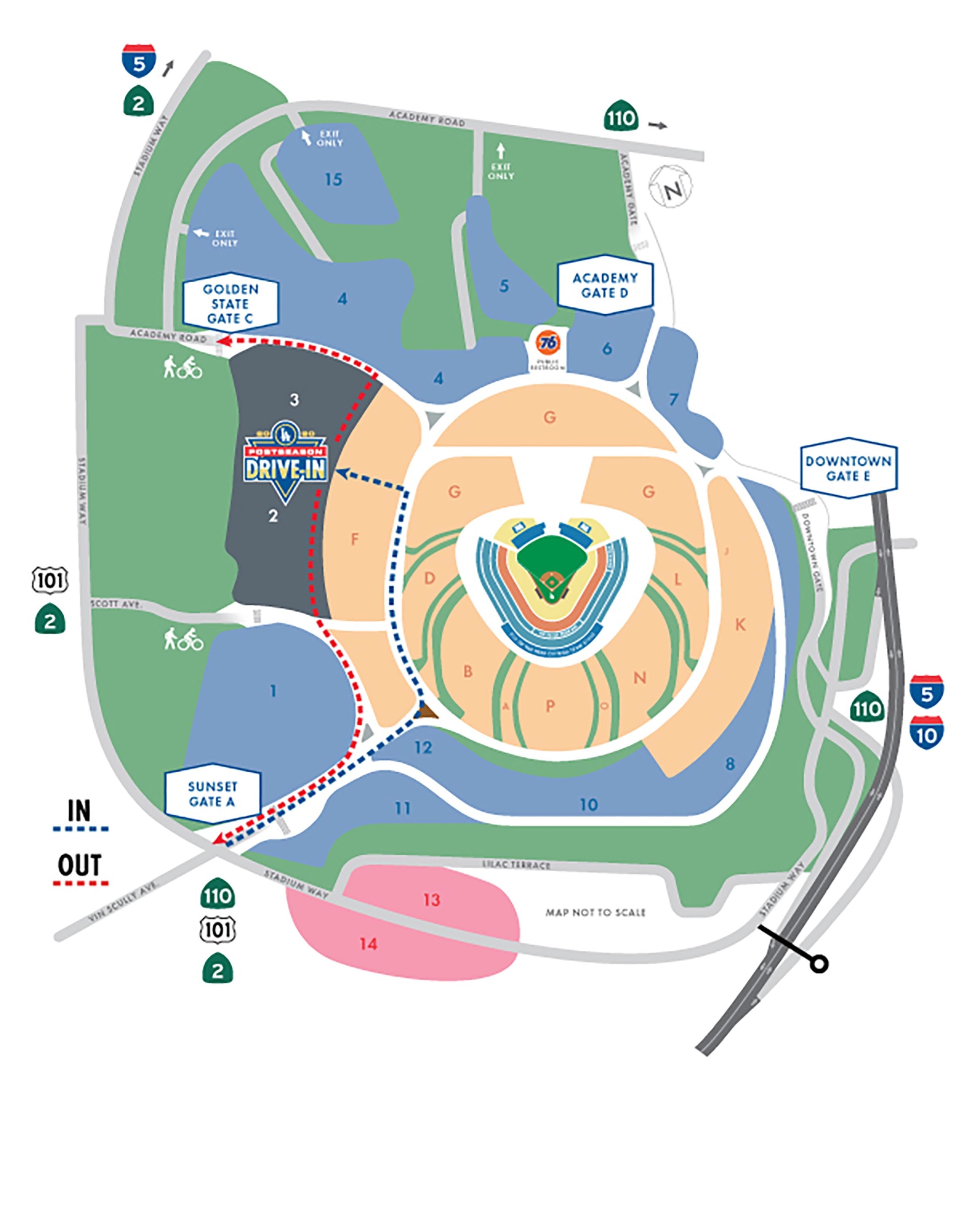 Parking Map
For game showings, parking ushers will direct cars to their designated parking spots on a first come, first serve basis.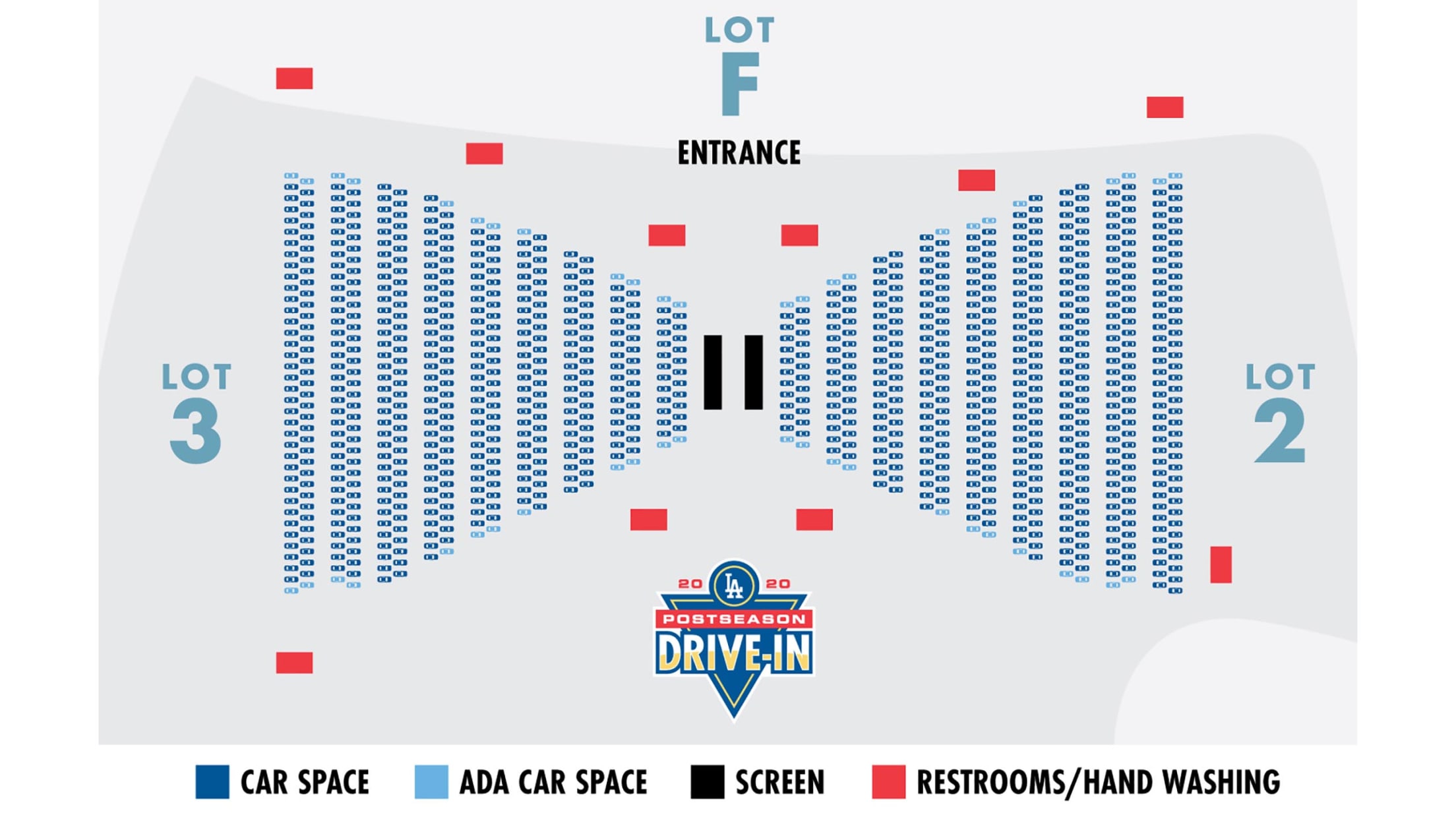 Concessions
No food will be available for purchase on site. Fans are encouraged to bring their own food and non-alcoholic beverages. Alcohol beverages will not be allowed on site and consumption of alcoholic beverages on-site is strictly prohibited.
Audio
The audio is broadcast through an FM transmitter (radio), so please be sure you have a good sound system in your vehicle. If you do not have an FM receiver in your car, you can bring a battery-operated stereo with speakers to hear the sound. Any external stereos or portable speakers or sound devices are not allowed.
Restrooms
Restrooms will be sanitized at least once hourly. A maximum of five persons will be permitted to line up for each restroom at any one time, if social distancing can be maintained. If social distancing cannot be maintained, a maximum of two persons will be permitted to line up for each restroom at any time.
Face Coverings
Except when interacting with employees of Dodger Stadium, persons inside vehicles are not required to wear face coverings; however, persons outside of vehicles are required to wear face coverings at all times, including persons going to and using restrooms. Employees, vendors, and customers shall wear face coverings at all times when on the property and outside of vehicles, including when in the restrooms.
Entry Wellness Screening
By entering the property, each individual is certifying that they, and any minor under their custody: (i) do not have flu-like symptoms and have not been in contact with anyone else who has flu-like symptoms in the past 14 days, and (ii) have not traveled internationally within the past 14 days. Any customer or person in a customer's party exhibiting or acknowledging any sign(s) of illness shall be denied entry.
Other Information
• Pricing may vary for each event and is subject to change at any time.
• Entry will be allowed beginning one hour prior to first pitch.
• One admission ticket is required for each vehicle. There is a limit of one person per seatbelt in the vehicle, and no vehicle may carry more than six passengers. Buses, campers, trailers, and any other vehicles that can occupy more than one parking space are not permitted. At staff discretion, large vehicles that fit within one space may be parked in the back so they do not block the view of other patrons.
• ADA spaces will be available upon request and based on availability for vehicles needing closest access to restrooms. Please ask an attendant on-site if you need special accommodations.
• Hatchbacks that extend beyond the roof of the car must remain closed.
• Game screenings will take place rain or shine.
• WiFi will not be available.
• The setting up of lawn chairs, portable chairs, blankets, or seats outside of a vehicle is strictly prohibited.
• Consistent with Dodger Stadium policy, no banners, posters, signs, flags, or similar displays will be permitted. You may be asked to remove any vehicle appendages that obstruct the view of others or contain potentially offensive or controversial language, symbols, marks, or logos.
• The gathering of persons who did not enter the premises in the same vehicle is strictly prohibited.
• Consuming of alcoholic beverages is strictly prohibited.
• No animals are allowed, with the exception of service animals.
• Smoking of cannabis and the use of any drug is prohibited.
• No firearms, weapons, or explosives of any kind are permitted.
• Fireworks, lasers, drones, and all noisemaking devices are strictly prohibited.
• Speed limit is 5 MPH.
• Dodger Stadium assumes no responsibility of any kind for injury or property damage.