Mr. and Mrs. Met's Kids Club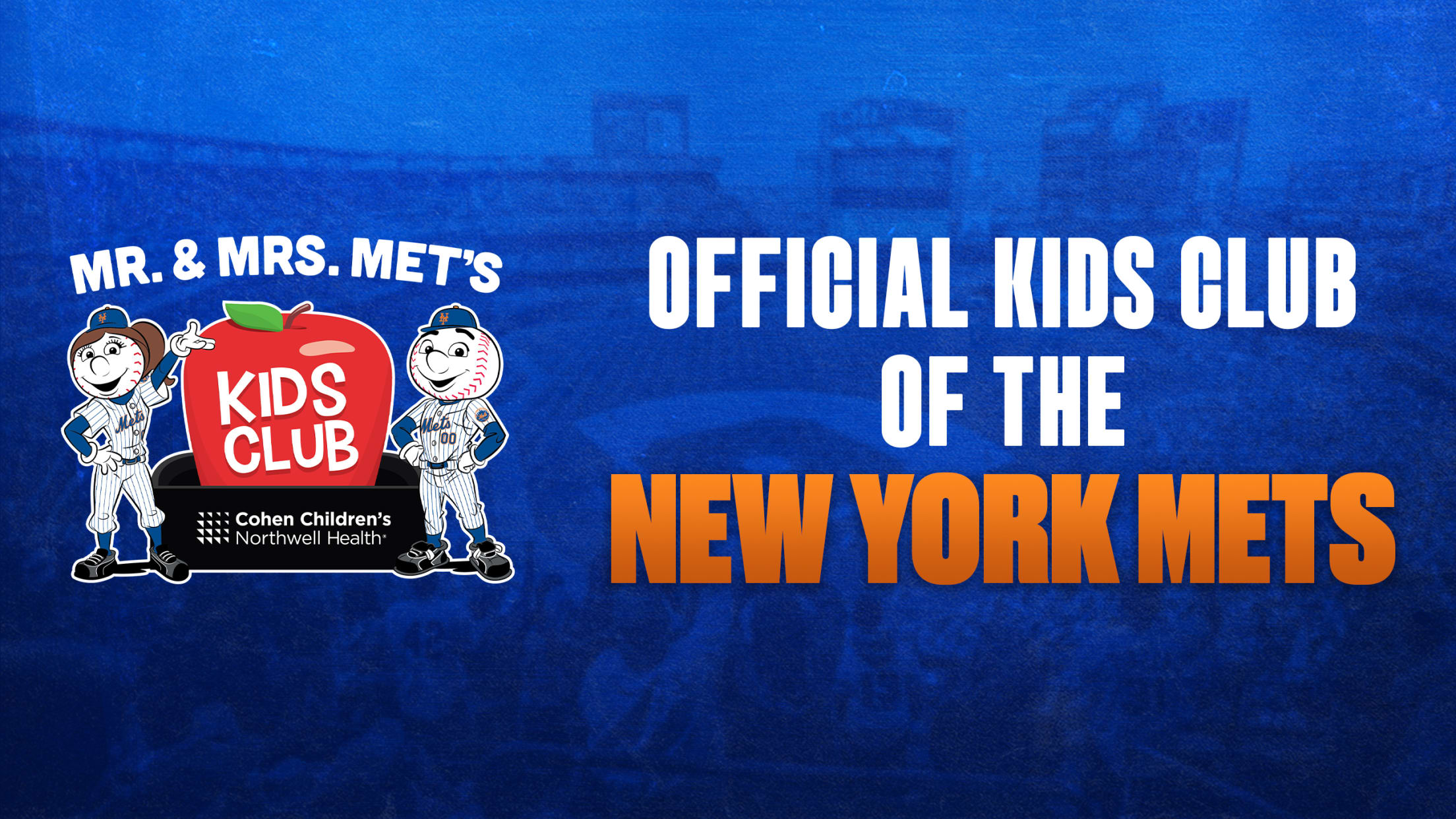 Welcome to the 2023 Mr. and Mrs. Met's Kids Club!
Mr. and Mrs. Met's Kids Club presented by Northwell Health's Cohen Children's Medical Center is the official youth fan club of the New York Mets. Packages for the 2023 season are now available - Check out all the special benefits club members receive below. Subject to availability. Terms & conditions apply.
2023 Membership Welcome Kit Package Includes:
Membership ID with lanyard
Keychain
Kids Activity Book
Temporary Tattoos
(2) Kids Club Pencils
Please note that you will have the option to pick up at the ballpark during any 2023 regular season home game, or have it shipped directly to you (subject to a $3 shipping fee.)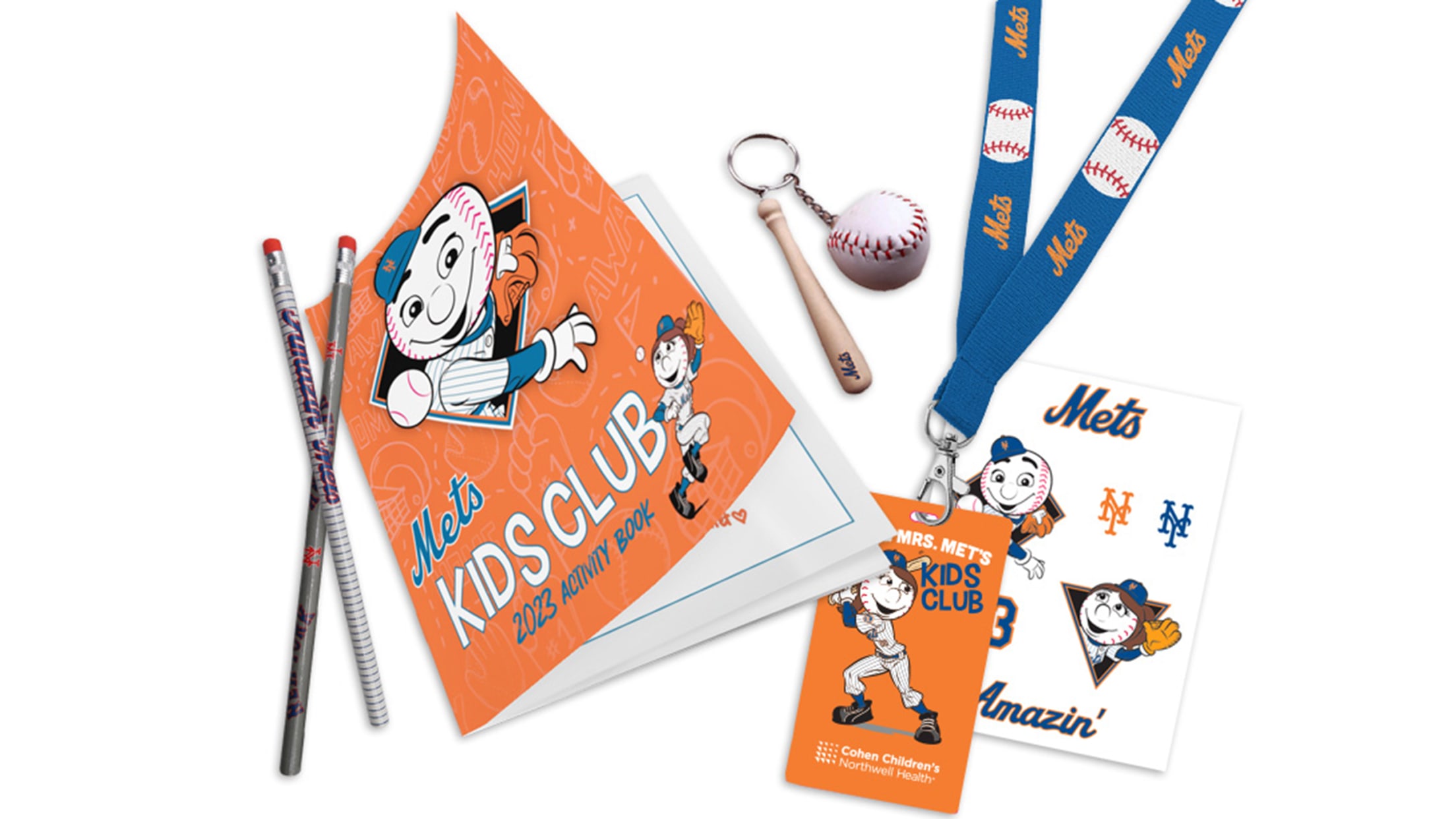 Special Perks and Benefits for Kids Club Membership:
50% off Tickets (Up to 10 total) certain exclusions may apply, limited to certain seating sections in the ballpark
One (1) complimentary scoreboard message - redemption code will be emailed to you in March. (Please Note to input your scoreboard message 48 hours prior to the game you are attending)
Four (4) complimentary Brooklyn Cyclones tickets that can be used at a select game: Sunday, May 28 | Sunday, June 11 | Sunday, August 20 | Sunday, September 10
Access to Mr. and Mrs. Met's Kids Club Ticket Offers
Exclusive Kids Club Content
Fast Pass access to the Mr. and Mrs. Met Dash by showing your membership ID. Kids 12 and under, weather permitting, for select games: Sunday, June 18, 2023 | Sunday, July 30, 2023 | Sunday, August 27, 2023 | Sunday, September 17, 2023 | Sunday, October 1, 2023.
Kids Club Monthly Items (6):
All items are available while supplies last. Items are available on a first-come, first-served basis. Limit one (1) item per kids club member, per month. New items will typically begin the first home game of every month.

2023 Mr. and Mrs. Met's Kids Club Membership Program Terms & Conditions:
Participation and Eligibility. Participation in the 2023 Mr. and Mrs. Met's Kids Club membership program (the "Program") is subject to the rules, regulations, policies, and procedures set forth in these terms and conditions or otherwise communicated to participants (collectively, the "Terms"). The New York Mets (the "Club") has the right to change, limit, or otherwise amend the Terms at any time in its discretion, and reserves the right to cancel the Program at any time without notice. The Program is only open to children who are 12 years old or younger. Membership will continue until your child's 12th birthday, at which time the membership will automatically terminate. We reserve the right to request proof of eligibility at any time.
Enrollment. To sign up, an eligible child's parent or legal guardian must enroll in the Program by visiting Mets.com/KidsClub and clicking the Sign Up Today Button. By enrolling in the Program, each eligible child's parent or legal guardian, on behalf of themselves and their children, agree to be bound by the Terms.
Limits; Membership Revocation. There is a limit of one membership ID per child. Membership IDs are not transferable. If we suspect that you have failed to comply with these Terms, no longer meet the eligibility requirements, have engaged in fraudulent or inappropriate activity, as we determine, in our sole discretion, we reserve the right to terminate the membership.
Waiver of Liability; Publicity Release. By enrolling in the Program, parents and legal guardians, on behalf of themselves and their children, agree to waive any and all claims against Sterling Mets, L.P., Queens Ballpark Company, L.L.C., Major League Baseball, and each of their respective parent, subsidiary, or affiliated companies, shareholders, owners, partners, employees, officers, directors, and agents, and the City of New York, the New York City Department of Parks and Recreation, the New York City Economic Development Corporation and the New York City Industrial Development Agency arising out of or related to their participation in the Program or any travel or activity related to the Program. By enrolling in the Program, parents and legal guardians, on behalf of themselves and their children, grant the Club the right to use and/or publicize such parent/legal guardian's or eligible child's name, city and state of residence, photograph, voice, statements, and/or other likeness, and/or prize information in any media or format now known or hereafter devised, throughout the world, in perpetuity, without limitation and without further compensation, consideration, permission or notification, except to the extent prohibited by law.
Governing Law. In the case of violation of applicable laws, regulations, or the Terms, or fraud or abuse involving the Program, the Club will have the right to take appropriate administrative and/or legal action, including, but not limited to, revocation of the membership and violators will be liable for payment of all fines, penalties, costs, fees, and any other monies owed pursuant to applicable law. If any term of these Terms is held to be unlawful or unenforceable, such decision shall not affect the validity of any remaining provisions of these Terms, which shall be enforced to the fullest extent permitted by law. The Program is governed by the laws of the State of New York. The parties agree that any legal action, suit, or proceeding arising out of or in connection with these Terms or the Program shall be exclusively brought in the state or federal courts in New York County and each party hereby accepts and submits to the exclusive jurisdiction and venue of such state or federal courts.