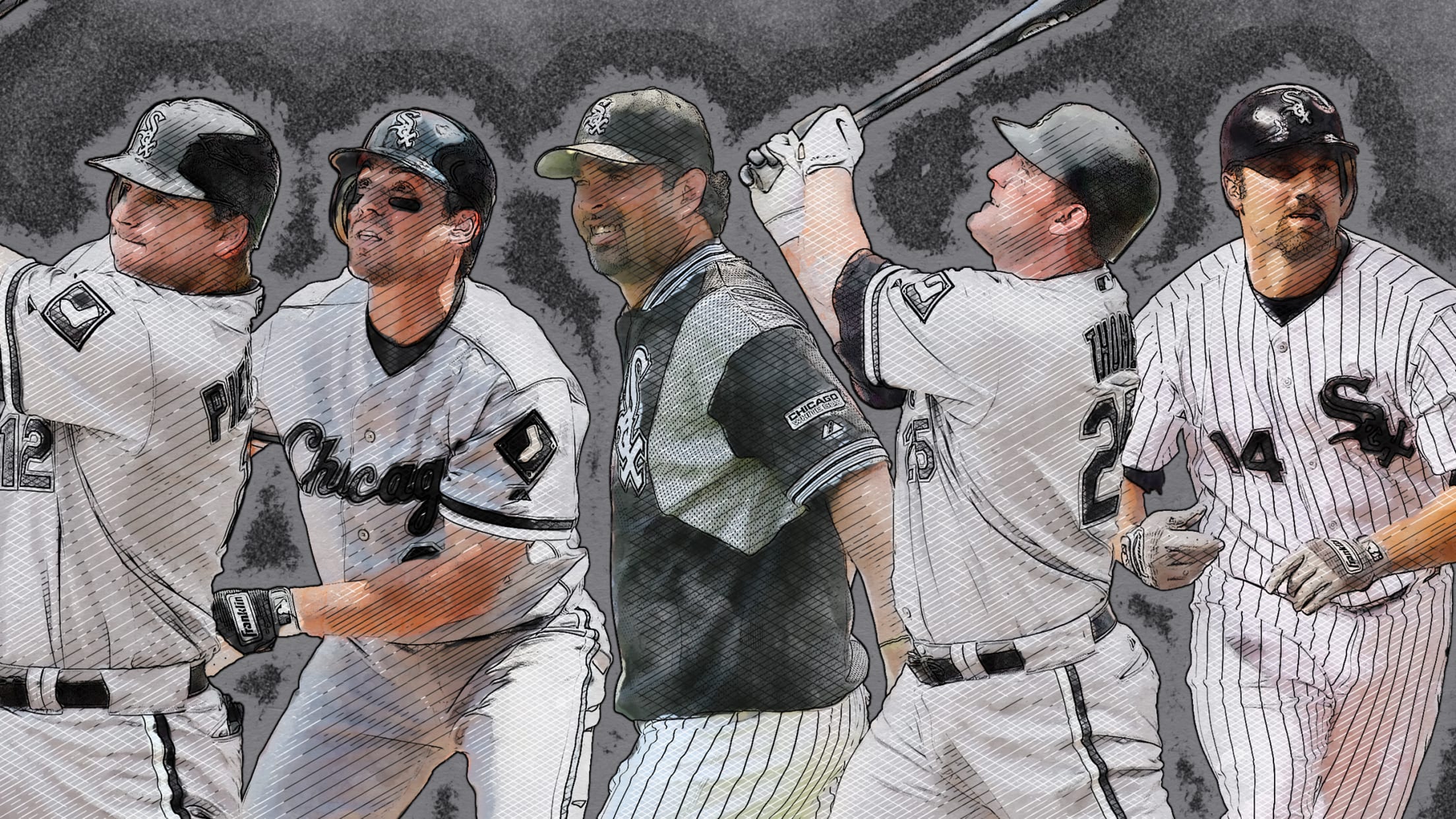 Scroll
'06 White Sox: Year that could have been
The story of the 2005 Chicago White Sox and their magical run to a World Series title doesn't end after the parade down Chicago's Magnificent Mile. What often gets lost while reminiscing about that storybook season is reflecting on the year that followed.
That 2005 team was one for the ages, as it featured excellent starting pitching, timely offense and sound defense. The club was one of five teams in MLB history to lead its division wire-to-wire, and the White Sox followed that up with an 11-1 postseason run. Their successors in '06 were built as an offensive juggernaut, yet they came extremely close to duplicating similar success.
There's a reason, however, that the 2006 club is more easily forgotten.
Despite plenty of buzz and a strong start, that 2006 season didn't end in similar grand fashion. And even now, nearly 14 years later, members of that team look back wondering where it all went wrong and what could have been.
"It just breezed by," longtime White Sox first baseman Paul Konerko told MLB.com. "It was as easy as it could be ... until it wasn't. Then it was over."
After 88 years, what's next?
Breaking an 88-year drought and bringing a World Series title to Chicago's South Side for the first time since 1917 lifted a proverbial weight off the franchise. Celebration, though, eventually turned to a new reality as Spring Training began: Could the White Sox repeat as World Series champs?
Up to that point, only seven teams in MLB history had repeated as champions. Furthermore, the White Sox, in their 105-year history, had never made the playoffs in back-to-back seasons.
"After we won the World Series, I remember walking to the bus and [White Sox former general manager] Kenny [Williams] is sitting next to me, and after we say our congratulations, he says, 'What do we need for 2006?'" former White Sox manager Ozzie Guillen recalled. "And I look at him like, 'Come on, man. Really?' But he was already trying to build another winning team."
Though much of the White Sox championship core was to remain on the roster in 2006, Williams entered the offseason intending to be aggressive. He made a few shrewd signings to fortify the club's bench and added another workhorse starter by signing Javier Vasquez.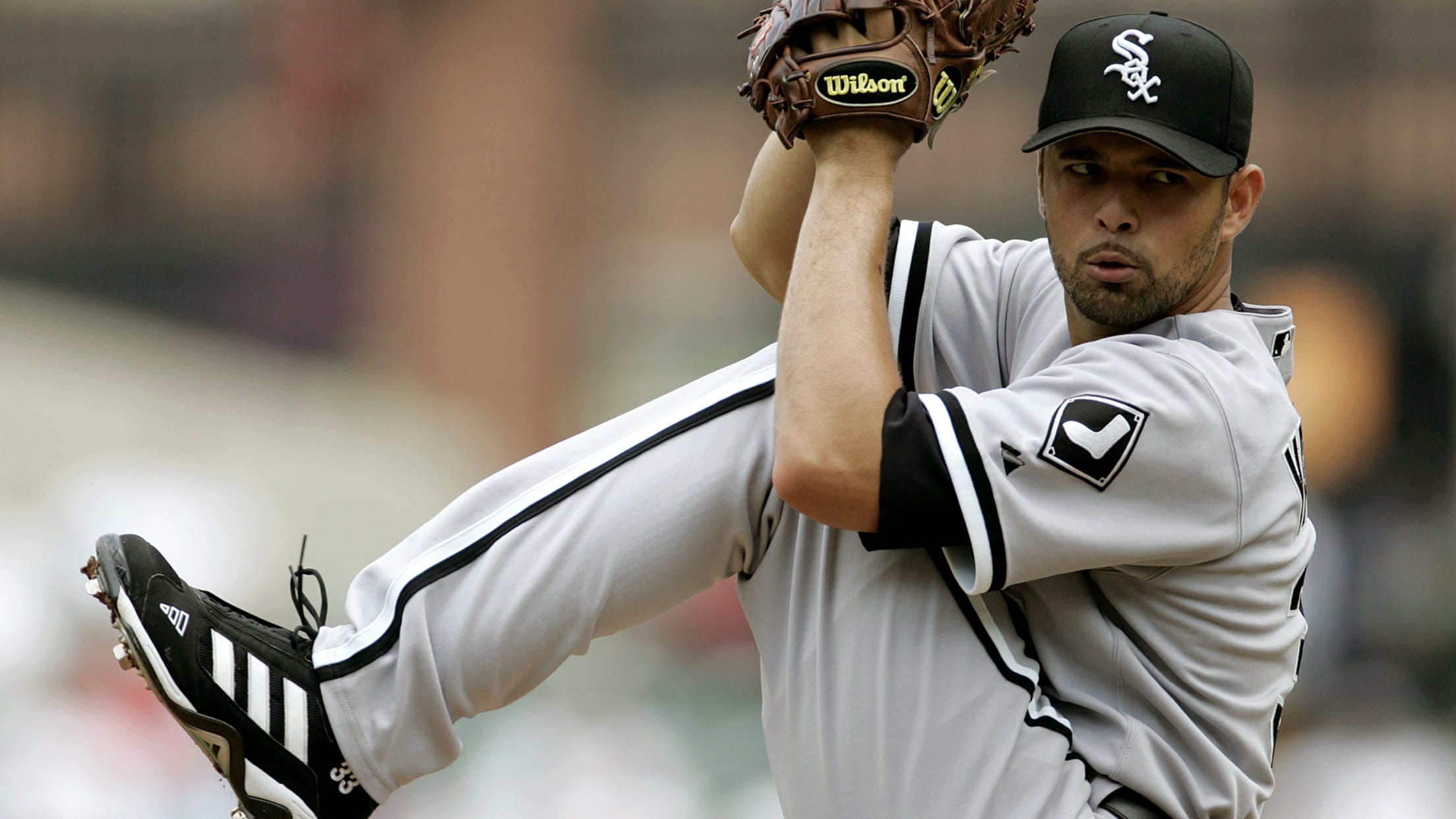 Williams' biggest move, however, was adding Hall of Fame slugger Jim Thome, who would slot in as the team's designated hitter and provide additional thump in the lineup.
Despite Thome's glowing reputation as one of the game's most feared power hitters, an injury-plagued 2005 season left many wondering what he would have left in his age-35 season.
"I was so excited to come to Chicago and get a chance to play at home," said Thome, a Peoria, Ill., native. "I left Philadelphia and had surgery on my right elbow. And I think when I was inserted into the DH role, it helped my body. It helped me in so many aspects. We knew what each of our roles were. Those guys [from 2005] pushed us new guys, like, 'Hey, we're coming off a World Series. We're ready to go back.'"
In a spring where there was a lot more to handle besides just baseball -- more cameras, more interview requests, more attention -- Guillen sought to set the tone.
"I was driving into Tucson, Ariz., that spring, and at the complex outside the ballpark, there was a big plaque that said, 'Home of the 2005 World Series Champion Chicago White Sox,'" Guillen said. "I remember starting our first meeting and saying, 'That plaque outside says 2005, not 2006.' I wanted everybody to concentrate on the job at hand. Don't carry that over and don't feel satisfied."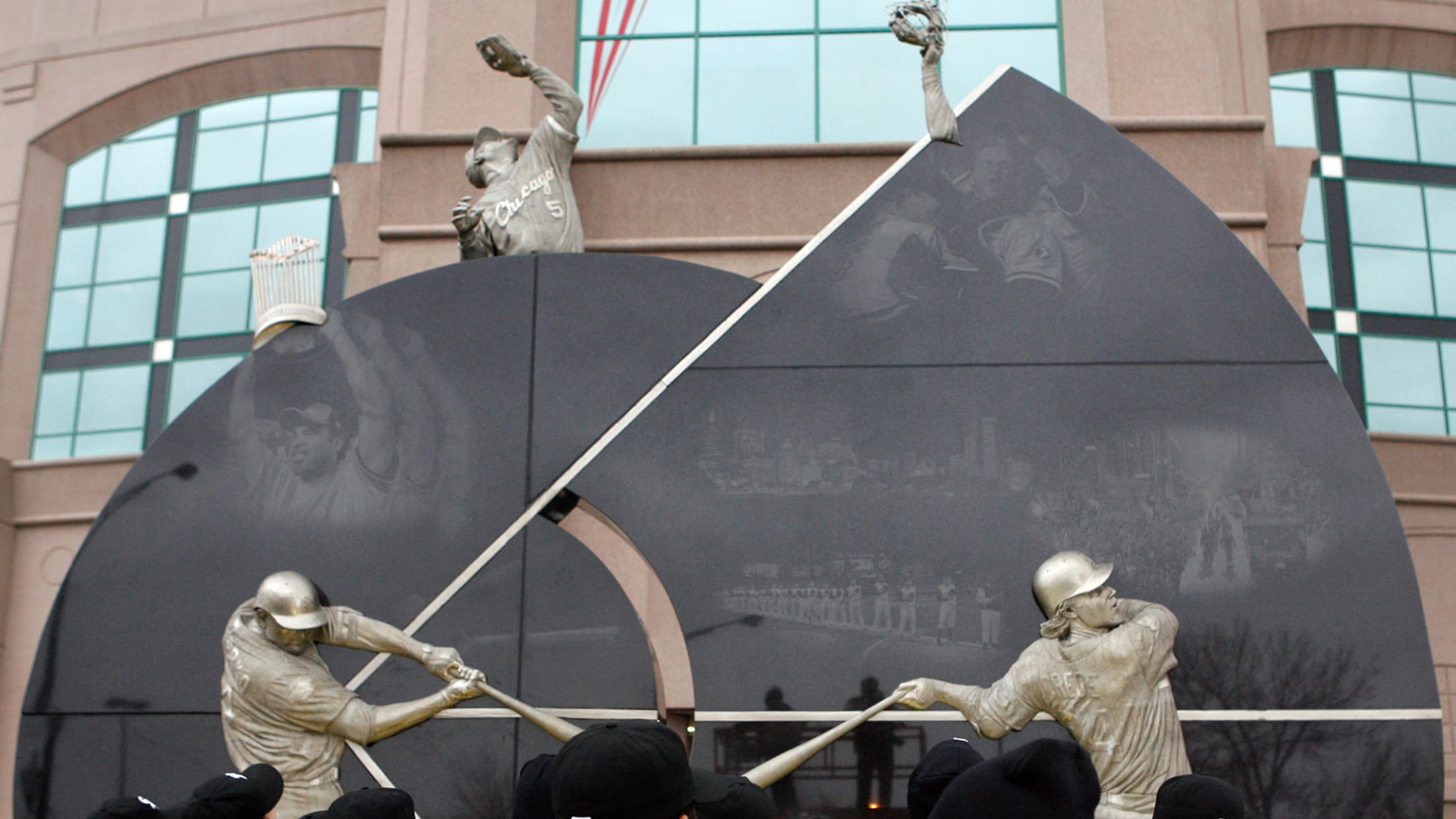 What hangover?
Record on May 1
2005: 17-7, +1.5 GB in AL Central
2006: 17-7, +1.5 GB in AL Central
Once camp broke, the goal was simple: Start strong.
"I think it was just more small thoughts of, 'Let's not get off to a bad start and have everyone saying we're hungover because we won last year,'" Konerko said. "And then we did the opposite. Like we [started] so well, it was like nothing had ever stopped."
The White Sox quickly asserted themselves as contenders once again, and before some of their division opponents knew it, they were again looking up at Chicago in the standings.
While the team was off to a fast start, the White Sox were also inadvertently chasing their own ghost. The 17-7 record mirrored the one they had posted the previous April.
Harbinger for what was to come? Maybe. Or maybe not.
"I remember saying, 'We're not going to be any worse than 2005.' If anything, we've upgraded in some areas," former outfielder Scott Podsednik said. "I remember having that feeling."
The early success also reaffirmed the benefits of keeping a loose and carefree environment. That was perhaps best evidenced by Joe Crede and A.J. Pierzynski sporting matching mullets during the team's hot start.
"I can't speak for Joe. Joe is just this farmer from the middle of Missouri that I don't think got his hair cut because he didn't live close to a barber," Pierzynski said, laughing. "I didn't cut my hair because I was lazy, and I didn't want to cut my hair until we got to Spring Training.
"So Joe was like, 'Let's just keep growing these [mullets].' Mine looked terrible. Joe had much better hair than I did. Then finally [owner Jerry] Reinsdorf made us cut 'em. He was like, 'You guys [have to] cut your hair,' which I thought was pretty funny. But yeah, Joe had better hair; mine looked like Lego hair."
Yet unlike 2005, when they led the AL Central wire-to-wire, this time around the White Sox had major competition from the Twins and Tigers. Detroit started the season nearly as hot, finishing April with a 16-9 record. And though Minnesota stumbled to a 9-15 record, it wouldn't go away quietly either.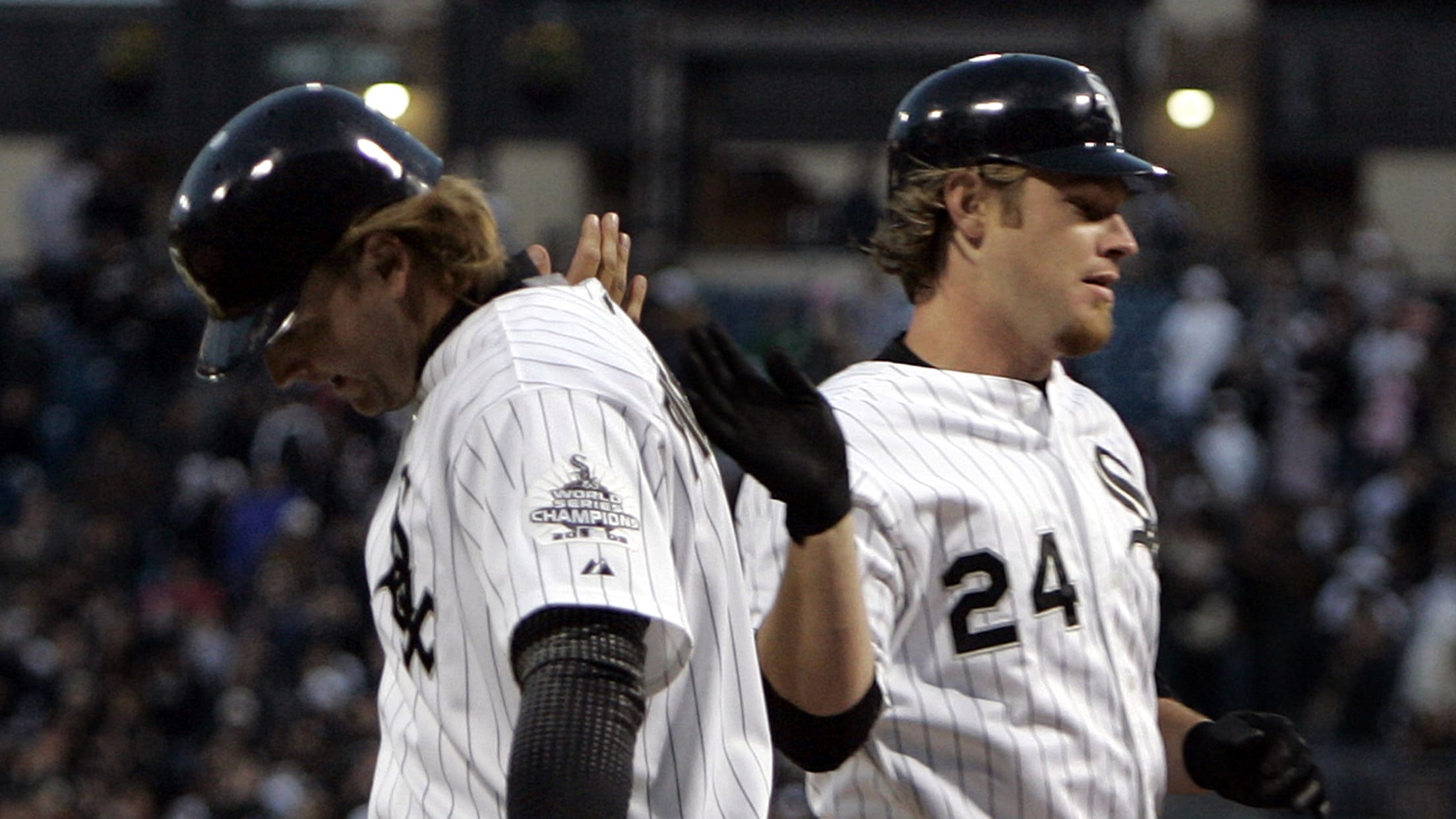 The South Side Hitmen
Record through June 30
2005: 53-24, +10.5 GB in AL Central
2006: 52-27, -2.5 GB in AL Central
The White Sox developed a specific offensive identity during their World Series run in 2005. Sure, they could hit a homer when they needed to, but their calling card was their ability to play small ball. Nicknamed "Ozzie Ball" at the time, the White Sox were a throwback to the 1970s and '80s.
That unique style, combined with strong starting pitching and defense, helped the White Sox win a run of close, low-scoring games. But something changed in 2006.
After the addition of Thome, there was a reasonable assumption that Chicago would likely get an uptick in offense. But not only did that offensive production skyrocket, the club developed an entirely new offensive profile: The White Sox began to bash their way to wins -- and they did it well.
"It reminded me a lot of those 1990s teams we had in Cleveland. It really did," Thome said. "We knew that we had a chance to score between four and seven runs per game."
Chicago began to score runs in bunches, and once the weather warmed, there was nothing that seemed to slow down the White Sox. They scored 868 runs -- which ranked third in baseball that season -- hit an MLB-leading 236 home runs and finished the season with the second-most homers in franchise history.
"I tell people, I feel like that was a better team talent-wise than it was in '05," Pierzynski said. "It was better if you look at the lineup construction and you look at the way that team was set up."
Here are a few of the White Sox 2006 accomplishments
• 6 AL All-Stars: Dye, Konerko, Thome, Pierzynski, Mark Buerhle, Jose Contreras
• 4 players received MVP votes -- Dye, Thome, Konerko, Pierzynski
• AL Comeback Player of the Year -- Thome
• 2 AL Silver Slugger Award winners -- Crede, Dye
• 3 position players with wRC+ over 130 -- Dye, Konerko, Thome
• 9 position players with .750 OPS or better (min. 150 plate appearances)
Not even the infamous Pierzysnki-Michael Barrett dust-up, which took place against the Cubs on May 20, 2006, caused the White Sox to stumble.
A moment that could have been a distraction was merely a blip on the radar. It even became a way to rally fan support for Piersynski's All-Star candidacy, which proved to be successful with the "Punch A.J." campaign.
Even as the All-Star break approached and the team trailed the red-hot Tigers by two games, there was no panic.
But while Chicago's offense looked ready for another run to October, the starting pitching and bullpen that had carried the team through an historic postseason began showing signs of fatigue.
Veteran stalwarts like Buehrle, Jon Garland and Jose Contreras, the latter of whom went 9-0 with a 3.38 ERA in the first half, remained relatively steady, but the group as a whole began to fade. The White Sox stumbled out of the break, losing 10 of their first 12 games. Opponents averaged 6.4 runs against them in those 10 losses.
"We knew we could score runs," Pierzynski said. "Runs were never the problem. It just seemed like we would score five runs, and we'd give up six. We'd score two runs and give up three."
Four of the White Sox five starters carried sub-4.00 ERAs in 2005; no starter had an ERA below 4.25 in '06. The team's bullpen also struggled to find its footing entering the stretch run with two division rivals on the rise.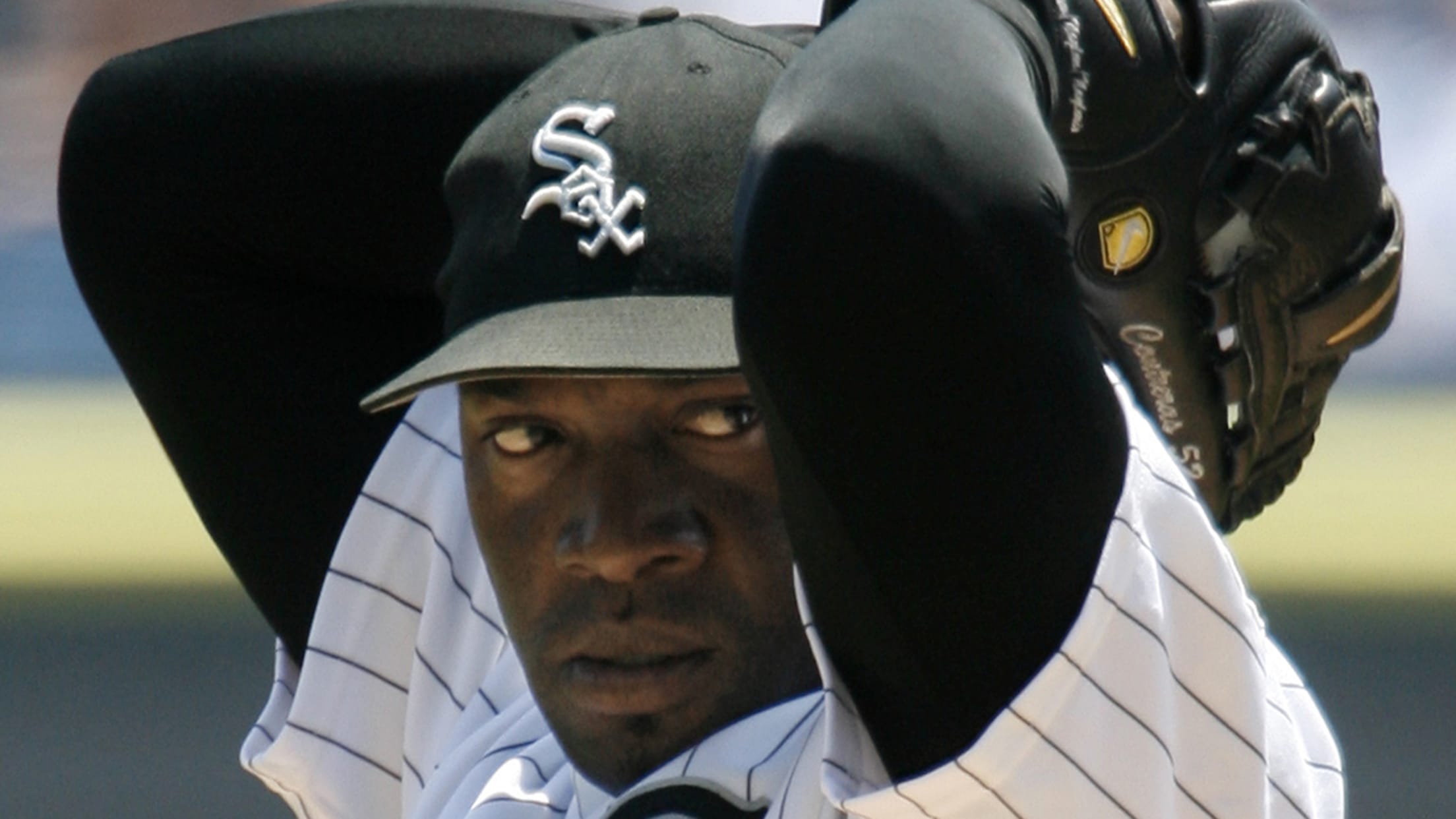 September to remember
Record on Sept. 1
2005: 80-51, +7.5 GB in AL Central
2006: 78-55, -5.5 GB in AL Central
As Chicago's season began to point one way, Detroit and Minnesota's went in another. The latter two teams played their best baseball in the second half and slowly pulled away, leaving the White Sox 5 1/2 games behind in the division when September arrived.
"I remember at one point thinking, 'How the heck is Detroit in first place?' Because, I mean, they were so bad for so many years," Pierzynski said. "They added Justin Verlander the year before, and they had some good players, but you just didn't see it coming from them."
The month began with the White Sox in desperate need of a hot streak, which they had always seemed to be able to find when they needed it over the previous year and a half. Instead, a 2-5 start to the month put Chicago on the precipice of falling out of the division race entirely.
With so much success in one-run games the previous season (35-19 in 2005), the White Sox created a cushion for themselves that came in handy down the stretch. The inability to close out those games in '06 (24-21) proved costly, especially fighting for the division late in September.
I remember at one point thinking, 'How the heck is Detroit in first place?' ... They had some good players, but you just didn't see it coming from them.

A.J. Pierzynski
"I remember trying to do the same [as the 2005 team] and carry that over into that 2006 season, and I felt like, if we were able to accomplish this one year, we should be able to do the same or even more the next year," Podsednik said. "But sometimes that mindset doesn't always work out for you. You [have to] just let it happen at times."
Everything that could go wrong did. The team's high-powered offense struggled to score runs and hit .232 during September. It was the White Sox lowest team batting average in a month since July 2004. The pitching staff's second-half swoon also continued, finishing the final month of the season with a 4.79 ERA.
"We weren't very clutch down the stretch, hitting-wise," Konerko said. "I remember around early September having bad games, and we just didn't hit against guys we should have hit."
Chicago finished its final 29 games with a 12-17 record, the inverse of its record over the same stretch one year prior.
"Maybe a week or two could have been the factor of us maybe going back [to the playoffs]. You just don't know," Thome said. "You roll the dice and you put yourself in position to win. That's all you can do at the end of the day. We gave it everything we had that year. We really did."
The Tigers and Twins punched tickets to the postseason, with Minnesota (96-66) claiming the division title and the Tigers (95-67) clinching the AL Wild Card. Detroit represented the AL in the World Series, where the Tigers lost in five games to the Cardinals.
"I don't believe we ever thought we weren't going to make the playoffs until it happened," Pierzynski said. "We always thought, 'Oh, we'll figure out a way to get in, and if we get in, we're dangerous.' And we just couldn't get over that hump to get in."
Despite an impressive 90-72 record, the White Sox turbulent second half was the difference between a chance to defend their title and a long ride home.
"When you have three teams in a division winning over 90 games -- and we had the sixth-most wins in the big leagues that year -- and you finish third, that's like, 'Wow.' Nothing we can do about it," Guillen said. "I cannot take anything away from them. They just overmatched us.
"You tell me I'm going to win 90 games every year, I'll take it. If you win, you just beat me. You know?"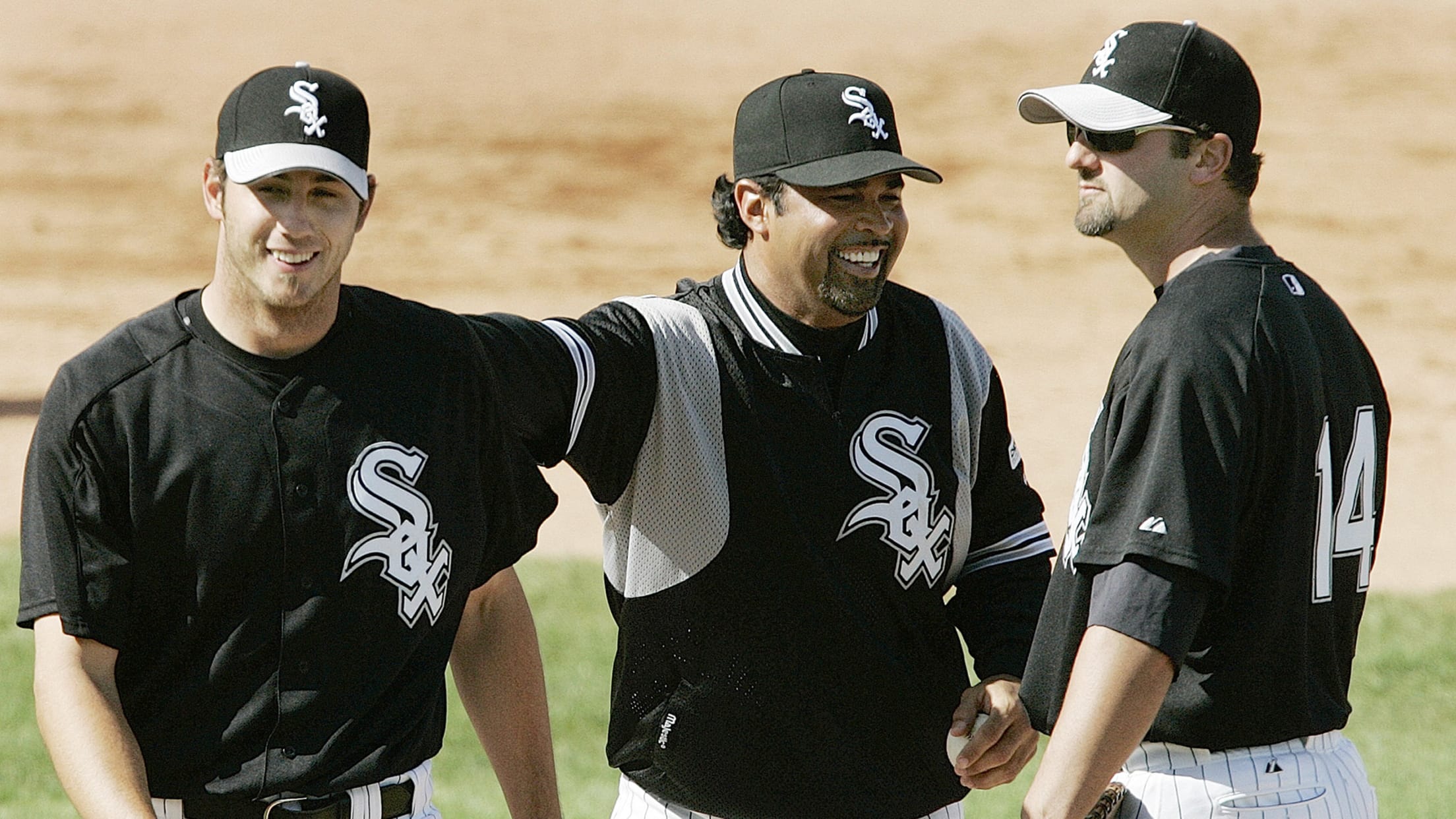 What could have been …
2005: 99-63, 1st place in AL Central, World Series champions
2006: 90-72, 3rd place in AL Central, missed postseason
One of the most difficult parts of any defeat is the unknown and the thought of what could have been. Had things lined up differently in 2006 or had the second Wild Card already been introduced, the Sox would have been in the playoffs for the third time in four years. Who knows what might have happened after that?
"Dude, it's hard. It's really hard," Pierzynski said. "It's really hard to get into the playoffs, and sometimes there just is no explanation other than it's just baseball and we weren't meant to go back. There's a reason no one has done it in a long time."
"We had a really great run," Guillen added.
We gave it everything we had that year. We really did.

Jim Thome
The 189 victories the White Sox compiled from 2005-06 are tied for the second most over a two-year span in franchise history. Since then, however, the club has failed to reach the 90-win threshold or win another postseason series.
"[It] just goes to show that so many things have to come together to win a championship," Podsednik said. "You have to have a talented team, but also have the timing of guys having career years, having an identity as a club, understanding yourself and people understanding their roles."
"What winning always does is it brings electricity. It brings positivity from fans. Ownership gets excited," Thome added. "Who knows? If we would have won in '06 after they won it in '05, it could have been so fun. And to see what the next few years could have been like would have been really exciting to be around. I know that."