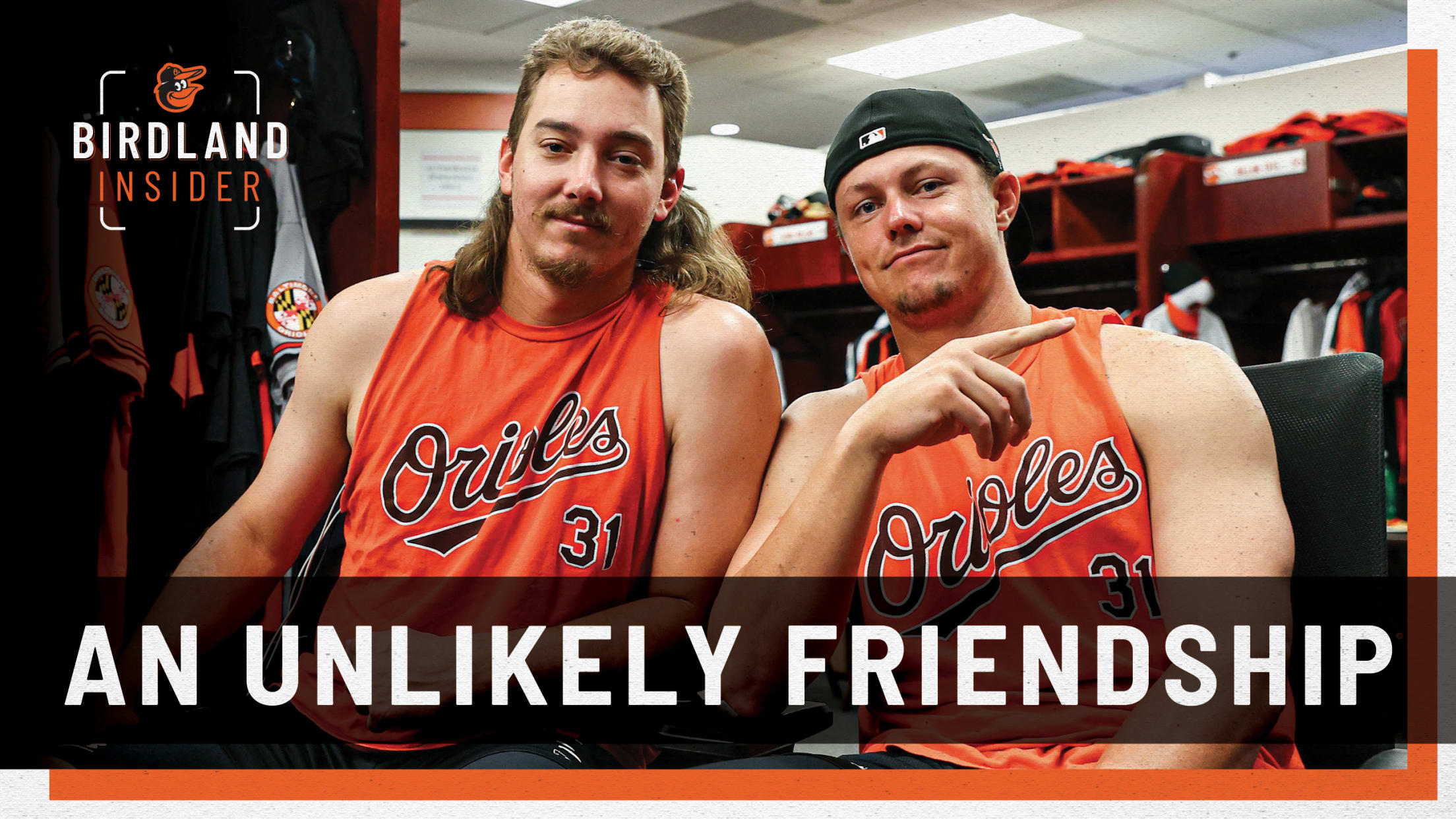 Scroll
An Unlikely Friendship
Right-handed pitcher Hunter Harvey was selected by the Baltimore Orioles in the first round (No. 22 overall) of the 2013 First-Year Player Draft out of Bandys High School in North Carolina, while infielder Ryan Mountcastle was selected two years later in the first round (No. 36 overall) of the 2015 First-Year Player Draft out of Paul J. Hagerty High School in Florida.
Although the pair cannot officially agree on the details of their first meeting, it is believed to be during Spring Training of 2017.
"I knew him obviously when we drafted him, and then I faced him a couple of times in Spring Training, but he never got a hit," Harvey explained.
"No, I got a triple. I faced him one time," Mountcastle interjected.
It was not friendship at first sight, though.
"When I first saw him, I was scared to even talk to Hunter," said Mountcastle. "I'm like man, this guy is scary looking, and I knew he was a legit high pick, so I thought 'I'm probably never going to talk to this guy in my life, no chance'. Then I finally got to meet him, and the rest is history," he continued.
The duo really hit it off during Spring Training of 2018, when they roomed together and continued as roommates while playing for the Bowie Baysox throughout the 2018 season.
That season, they bonded over their shared passion for video games.
"That's really how it all got started. It started with a game called Fortnite that we played all the time. Then we got too old to play Fortnite so we started playing Call of Duty, and we've been playing that ever since," explained Mountcastle.
Harvey added, "It's our routine, we did it every day for a couple of years. We play a lot, but we slowed down quite a bit."
When it comes to others joining the two in video games, that's a tough bond to crack.
"Cedric (Mullins) will play with us too. You've got to be pretty good to get in our Call of Duty squad," said Mountcastle.
"He's not bad. He's good enough, he carries his own weight," Harvey chimed in.
Not everyone is a fan of their video game habit they say, as Hunter's fiancée Summer, and Ryan's girlfriend, Taylor, don't like video games at all.
The ladies also had a significant say on the boy's living arrangements for this season, their second full year together in Baltimore, putting an end to their history as roommates.
"We got separated, unfortunately," Mountcastle stated.
"It wasn't my choice," added Harvey. "We were going to live together again but his girlfriend and my fiancée are here all year, so they felt like we should get our own places."
Harvey and Mountcastle compromised by renting apartments in the same building, strategically chosen so they can still play video games together on an off day. Summer and Taylor don't always agree with that.
"I think they get annoyed at us. They tell us all the time that we act happier with each other than with them," Harvey joked.
"They're jealous of our friendship," Mountcastle laughed.
Though the four of them are very close and would love to all take a trip together now that it is safer to do so, but according to Mountcastle, there is no time because Harvey is always going hunting.
"I've tried to get him to come hunting with me but he's not a big morning guy," Harvey explained. "I don't think I could ever (go hunting)," said Mountcastle.
Mountcastle is a night owl, which made for an interesting exchange when he got the phone call that he would be called up to the Major League roster for the first time.
Living together at the time, Mountcastle received the most important phone call of his career on August 21, 2020, almost one year to the day that Harvey received that same call (August 17, 2019).
"He was the first person to know. I walked into his room freaking out," Mountcastle recalled excitedly.
"He woke me up," Harvey complained.
Mountcastle laughed, "Yeah, I woke him up and I said, 'Dude I'm going to the big leagues!'"
But Harvey thought it was a joke. "It was like eight o'clock in the morning. He is never up that early, this dude sleeps until noon every day."
It took a few minutes, but once Harvey woke up and realized what was happening, he finally believed it. Harvey grew up with an older brother who played baseball, so it was nice for him to have that proud older brother feeling, himself.
But when it comes to baseball overall, the two really don't converse much.
Harvey said, "We really don't ever talk about baseball, we never have baseball conversations."
"Only if we're in desperate need of advice if we're going through some stuff," Mountcastle responded.
"Well, I can't hit and he can't pitch so there's not a whole lot of advice I can give him," added Harvey.
"I don't take advice from him either," Mountcastle explained.
"I like to just do stuff on my own, figure it out by myself and go day-by-day." Harvey interrupted, "I don't listen to him a whole lot. When he talks, it just goes in one ear and out the other."
In the clubhouse, Harvey and Mountcastle's lockers are conveniently located right next to each other. "It keeps him from walking around the locker room to find me now," Harvey laughed.
"We have this dart game on our phones, so we like to sit in our lockers and play darts against each other," he continued.
They might be inseparable before and after games, but on the field, they keep their distance from one another.
"During the game, he's dead serious and I'm sort of the opposite. I'm always loose and joking around," Mountcastle explained.
Due to COVID-19 protocols, Harvey and Mountcastle are not able to ride on the same bus together during road trips, but Mountcastle made sure to move his seat on the airplane to sit with his best friend.
Mountcastle explained, "I was in the back of the plane, and he was towards the middle, so I switched seats with somebody."
Unbeknownst to Harvey, there may have been an ulterior motive, as it is also well known that Harvey is afraid of flying.
"It's not fun for me," Harvey said. "Every time we take off Ryan sits there and video tapes me, so when I get off the plane everybody is texting me that Ryan sent them a video of me freaking out on the plane."
"The last flight we were on, Hunter researched how long it takes for the plane to get off the runway. He said, 'there's no way we get off, we're going right in the water'," Mountcastle exclaimed.
"It was a shorter runway! I was just getting my facts right," responded Harvey.
Though they both have brothers by blood, they certainly act like brothers in their own way. "He makes me proud," Harvey said of Mountcastle's success during his rookie year.
Outside of baseball, the duo enjoy their Starbucks runs together and their endless casual banter over random topics.
"Hunter actually likes my rap music that I play. He won't admit it, but he'll listen to it in the car when I'm not around," Mountcastle explained. "Well, everybody likes country music except him," Harvey complained.
It's never a dull moment between the two friends.
"You're not really funny," said Harvey.
Mountcastle continued, "I'm really funny."
"Debatable," Harvey responded. "He thinks he's funny."
Despite their differences, the two share one of the greatest friendships – no matter how unlikely it might seem.
"To an extent we're like exact opposites, but somehow it clicks," said Harvey.