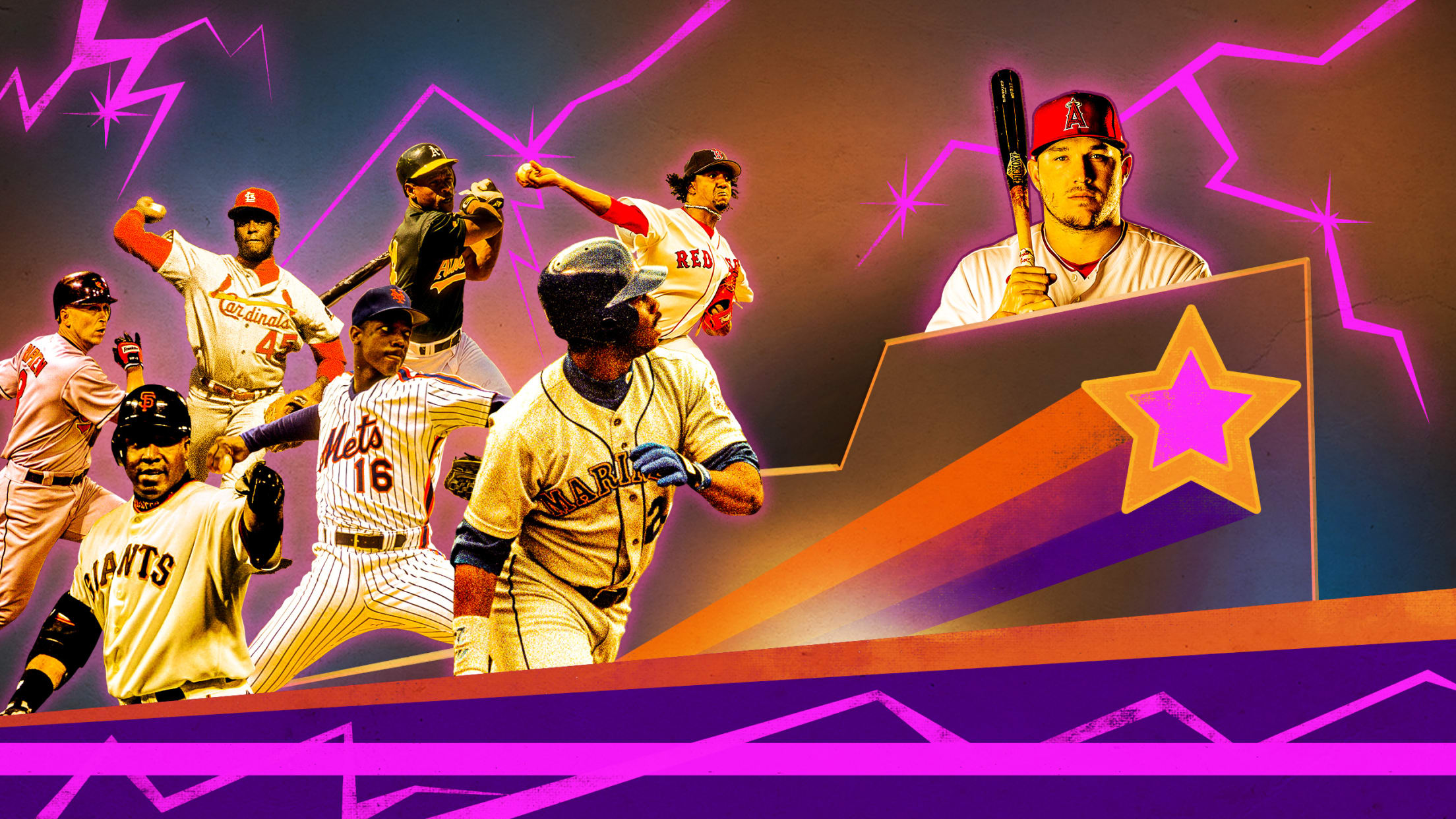 Scroll
The best player in baseball every year since 1969
A few weeks ago, the great baseball writer Joe Sheehan, in his must-read baseball newsletter, made the argument that Fernando Tatis Jr., with his transcendent season, limitless future and the unfortunate injury to Mike Trout, had passed Trout as the holder of the (mythical, for now anyway) Best Player In Baseball belt. I'm not necessarily sure I quite agree with Sheehan on that—Trout was a monster until he got hurt, and Tatis has only played the equivalent of a season and a half his whole career — but I love the idea of a Best Player in Baseball belt. We should have one. We should totally have one.
So, as an experiment today, I thought we'd come up with a theoretical holder of the mythical belt every year since 1969 — when the mound was lowered. The thing about the belt is, of course, like an actual championship belt, someone has to come take it from you. You can be the best player in baseball for a moment and not necessarily hold the belt; there have been a couple of players who have had better individual years (Mookie Betts, even Tatis or Shohei Ohtani this year) during Trout's last decade, but none of them (so far) have been consistent enough to take it from him. That's not to say there haven't been one-year wonders who broke through. But on the whole: You have to forcibly take the belt, not have it handed to you.
Here's our look at the Best Player In Baseball belt holders and the years of their reign. Your mileage may vary.
1969-70: Bob Gibson
Gibson firmly established himself as one of the most overwhelming pitchers in baseball history right as the Age of the Pitcher kicked off, but he was still incredible for a few years after that, including winning another Cy Young in 1970. (And he may have actually been better in 1969.) Gibson would pitch all the way to 1975 — it is funny that he was briefly teammates with Keith Hernandez — but this was the prime of his reign.
Honorable mentions: Carl Yastrzemski, Tom Seaver
1971-75: Tom Seaver
Seaver took over for Gibson in 1971 with a 1.76 ERA in 262 innings that should have won him the Cy Young. He went ahead and won it in 1972 with 21 wins for a Mets team that had Yogi Berra as a manager and Whitey Herzog as the team president. 1973 was another Cy Young year, the second of his three. He had a down year, for him, in 1974, but not enough to cost him the belt, and he secured it the next season with his third Cy Young in six seasons.
Honorable mentions: Johnny Bench, Pete Rose
1976-77: Joe Morgan
There is a mindset now, because Morgan was so good at so many things (on-base percentage, stolen-base percentage) that we value more now than we did then, that he was underappreciated in his time. But, you know, the guy did win two straight MVP awards. His second win in 1976 grabs him the belt, and while 1977 was the first sign of decline, he was still a slam-dunk All-Star and obvious future Hall of Famer. Sometimes you really can see the genius in your midst.
Honorable mentions: Rod Carew, Dave Parker
1978: Ron Guidry
One of only four one-year wonders on this list, Guidry earns the spot because Morgan only hit .236 in 1978 and because, of course, Guidry's 1978 was one of the best pitching seasons of the last 50 years. He went 25-3 with a 1.78 ERA in 273 2/3 innings, including nine shutouts. He somehow finished second to Jim Rice in MVP voting, but those voters were totally wrong. He was good again in 1979, but not good enough to hold off the looming charge in Philadelphia.
Honorable mentions: Dave Parker, Jim Rice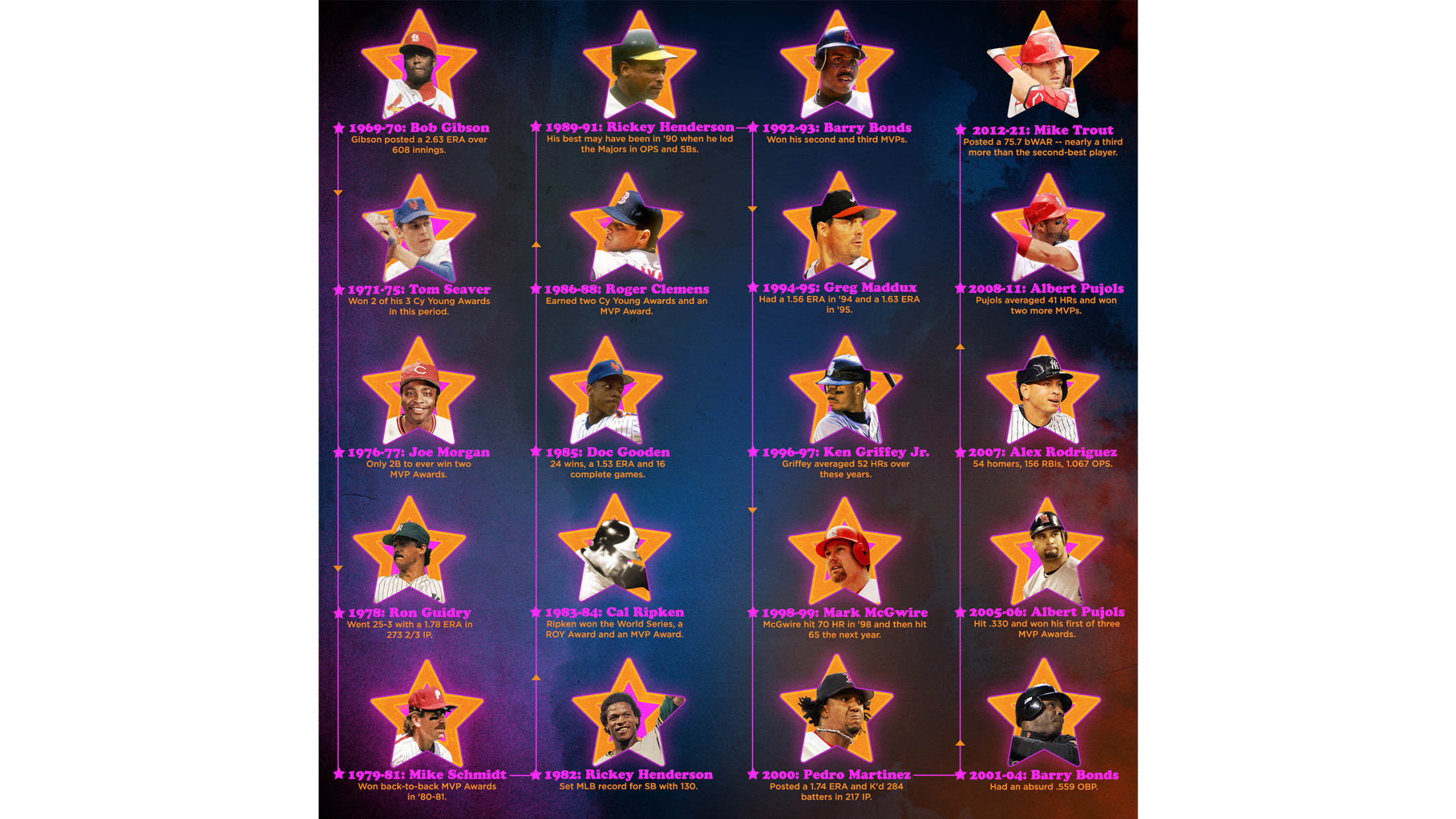 1979-81: Mike Schmidt
Schmidt had already won three Gold Gloves by 1979, but that was the year he started hitting like Mickey Mantle. He had 45 homers that year, and he followed it up with two straight MVP awards, including one in the strike-shortened 1981 season. He probably would have kept the belt through 1982 — he was great that year too — but someone was about to strip it from him in the most entertaining way possible.
Honorable mentions: George Brett, Rickey Henderson
1982: Rickey Henderson
Can you believe Rickey Henderson finished 10th in MVP voting the year he had 130 steals? He stole 130 bases!!! Henderson would have "better" seasons — this is not the last time he will show up on this list — but 130 steals is 130 freaking steals.
Honorable mentions: Dale Murphy, Robin Yount, Mike Schmidt
1983-84: Cal Ripken
1983 was the first year Ripken played 162 games, which he'd make a bit of a habit out of, and it was also the season he emerged not just as the best player in baseball, but the sort of icon we'll be talking about 100 years from now. Also: How about winning a World Series at the age of 23?
Honorable mentions: Dale Murphy, Gary Carter, Ryne Sandberg, Rickey Henderson
1985: Dwight Gooden
The second one-year wonder on this list, and how could it be anyone else? I was 9 years old when Gooden had his otherworldly 1985 season, and it was legitimately surprising anyone ever got a hit off him: Any hitter who even made contact with a pitch had their bat splintered into dust. Forget what happened after with Gooden. It's possible no one can pitch better than he did in 1985.
Honorable mentions: Rickey Henderson, Ozzie Smith, Don Mattingly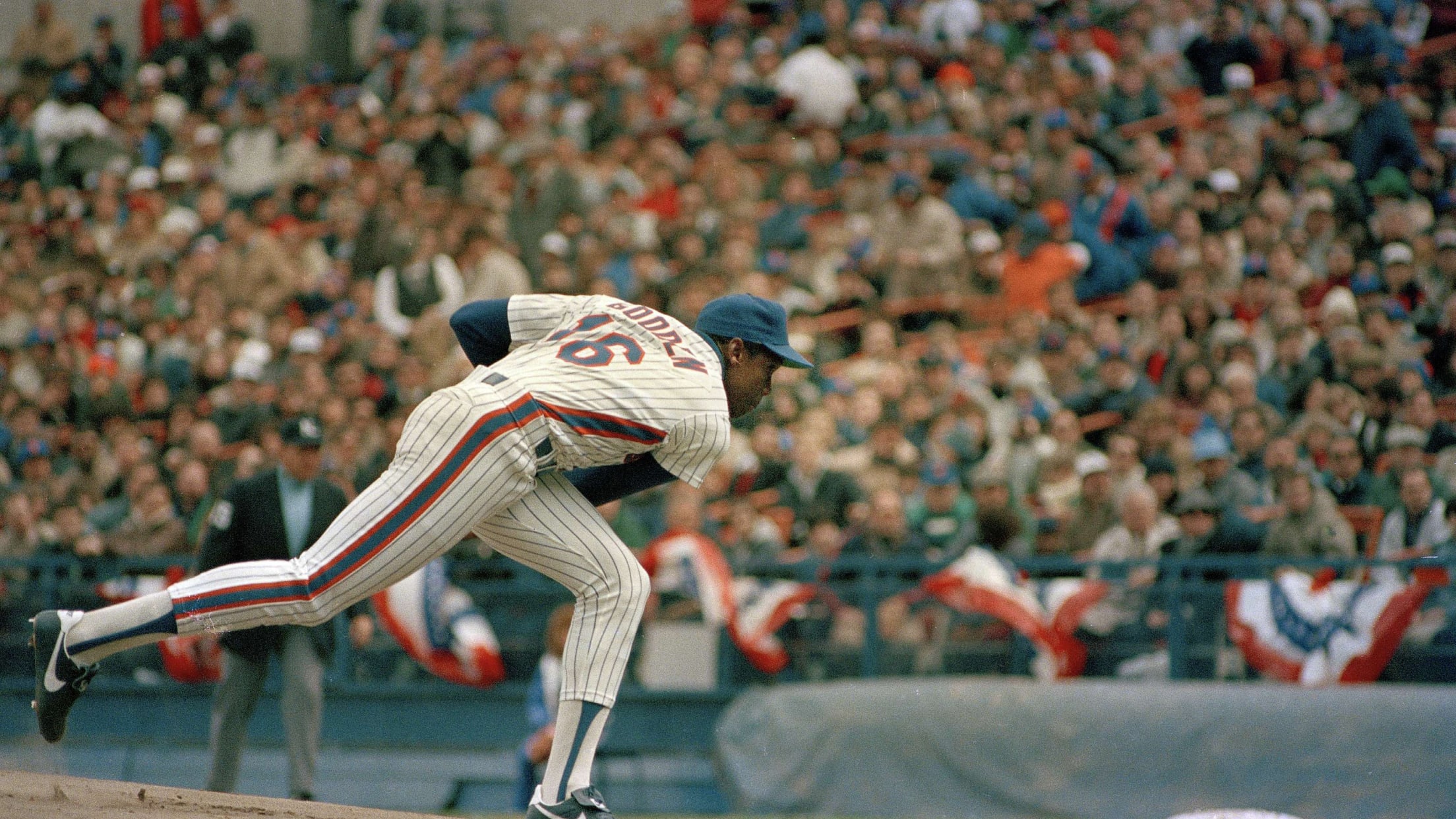 1986-88: Roger Clemens
Clemens would prove (considerably) more durable than Gooden with his breakthrough season, in which he won the AL Cy Young and MVP awards and almost got himself his first World Series ring. This was his first Cy Young; his final, seventh one would come 18 years later.
Honorable mentions: Tony Gwynn, Wade Boggs
1989-91: Rickey Henderson
Look who's back. For all the Bash Brothers fun, Rickey was the best player on this team, and his 1990 season has to be seen to be believed: He led the Majors in OPS and stolen bases.
Honorable mentions: Wade Boggs, Barry Bonds, Cal Ripken Jr.
1992-93: Barry Bonds
The first run for Barry, the younger, skinnier Barry (it's OK to talk about him like Elvis), won him his second and third NL MVPs. What's wild when one looks at Bonds' numbers from this time is that he was obviously the best player in the Majors, yet they pale in comparison in every way to what he'd do a decade later.
Honorable mentions: Frank Thomas, Greg Maddux
1994-95: Greg Maddux
It's tough to pick a specific time frame for Maddux, since his dominance was so consistent over his entire career, but the third and fourth of his four straight Cy Youngs is a good place to land. He had a 1.56 ERA in 1994 and a 1.63 ERA in 1995, a year in which he went 19-2 and won his lone World Series ring. He walked 23 batters in 209 innings that year. (He struck out 181.)
Honorable mentions: Randy Johnson, Barry Bonds, Jeff Bagwell
1996-97: Ken Griffey Jr.
Griffey's numbers were always great, but his power and influence always came from how much pure fun it was to watch him play. He had an ineffable joy and bounce to his play: Still, 25 years later, it never felt cooler to like baseball than it did when Griffey ruled.
Honorable mentions: Juan Gonzalez, Larry Walker, Barry Bonds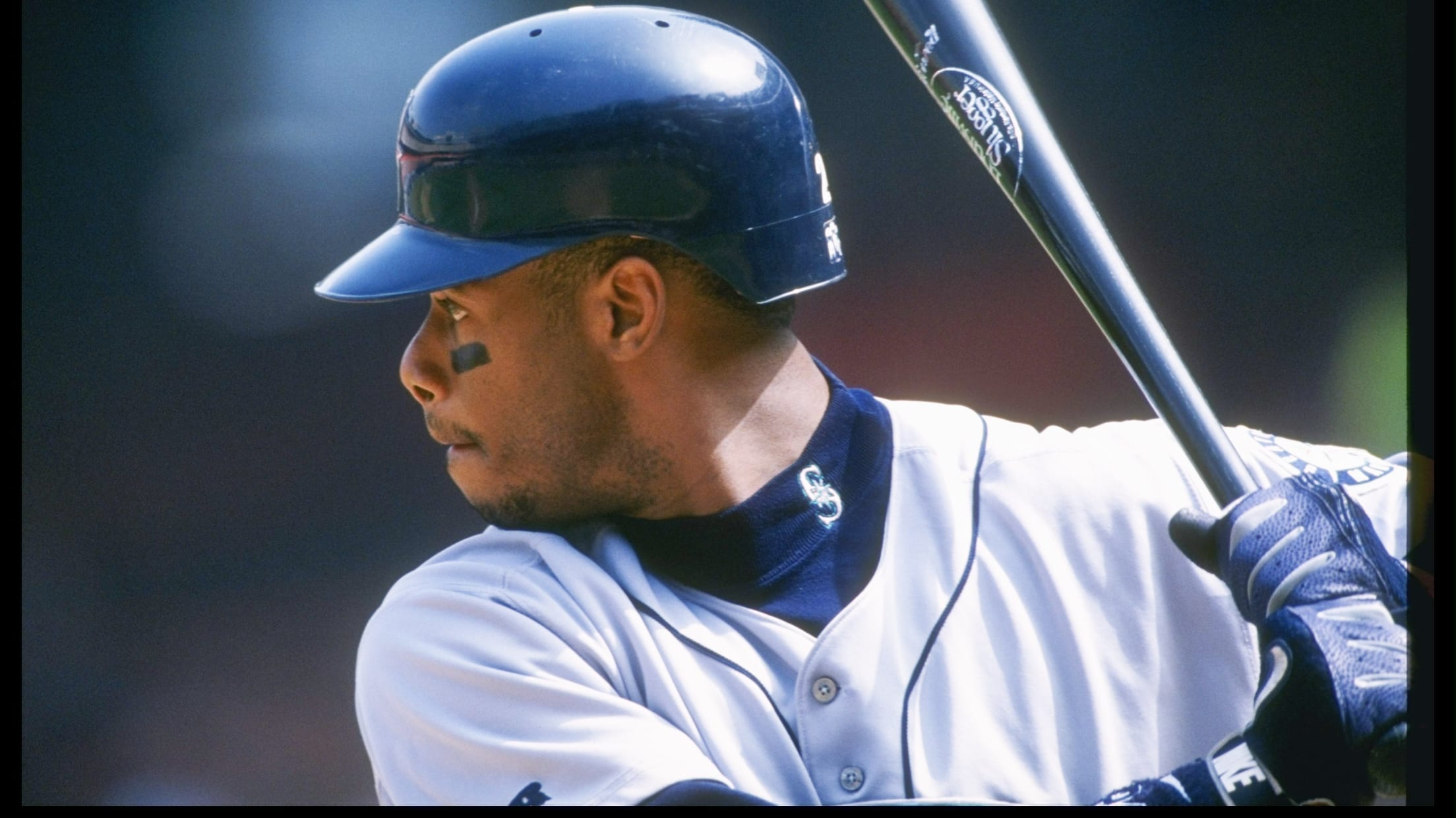 1998-99: Mark McGwire
Sorry Sammy Sosa, but when you hit 70 homers and capture every aspect of the American culture, you get to hold the belt. He was nearly as good in 1999, by the way: He hit 65 homers that year, no big deal, just 65.
Honorable mentions: Sammy Sosa, Pedro Martinez, Barry Bonds, Ken Griffey Jr., Alex Rodriguez
2000: Pedro Martinez
1999 was the year of the All-Star brilliance at Fenway Park which led Pedro into a run of dominance that felt magical at the time: This small, wiry guy completely ruling baseball during the time of extreme offense and monster home runs. He could have run for a while, except for …
Honorable mentions: Todd Helton, Chipper Jones, Barry Bonds
2001-04: Barry Bonds
You can make a legitimate argument—and you won't get much pushback—that Bonds could be the guy from 1990-2004. His 2001-04 seasons were so good he seemed to have solved the game itself: I am not sure it is physically possible to be better than he was those four seasons. If you are wondering what it was like to witness those seasons in person, know that nearly everybody hated him and was rooting against him. Which, in retrospect, is weird.
Honorable mentions: Ichiro Suzuki, Albert Pujols, Alex Rodriguez, Vladimir Guerrero, Derek Jeter
2005-06: Albert Pujols
Pujols was the second-best player for a half decade until Bonds finally aged, and then he took over. He could have had a Trout-esque run, except someone got in the way for one season ...
Honorable mentions: Alex Rodriguez, Derek Jeter
2007: Alex Rodriguez
I know that there are few players in baseball who are more polarizing than Alex Rodriguez was (and sort of is still), but his 2007 was the culmination of an already fantastic career: 54 homers, 156 RBIs, 1.067 OPS and … yeah, still no one ever cut him a break until the Yankees won the World Series two years later. And then only briefly.
Honorable mentions: Albert Pujols, Derek Jeter
2008-11: Albert Pujols
Pujols took the belt back and held it for the rest of his time in St. Louis, which of course ended with his second World Series title in 2011. He then left for the Angels, who thought they would have the best player in baseball for the next decade. And they did! It just wasn't the guy they thought it would be.
Honorable mentions: Justin Verlander, Miguel Cabrera, Josh Hamilton, Alex Rodriguez
2012-21: Mike Trout
We could have had Pujols physically hand the belt to Trout in 2012. Tatis is probably one year away from taking it from him—and if you want to give it to Ohtani this year and Tatis next year, you can—but Trout's run has been monumental. And all told: If he's healthy in 2022, he's still my pick.
Honorable mentions: Fernando Tatis Jr., Mookie Betts, Clayton Kershaw, Shohei Ohtani