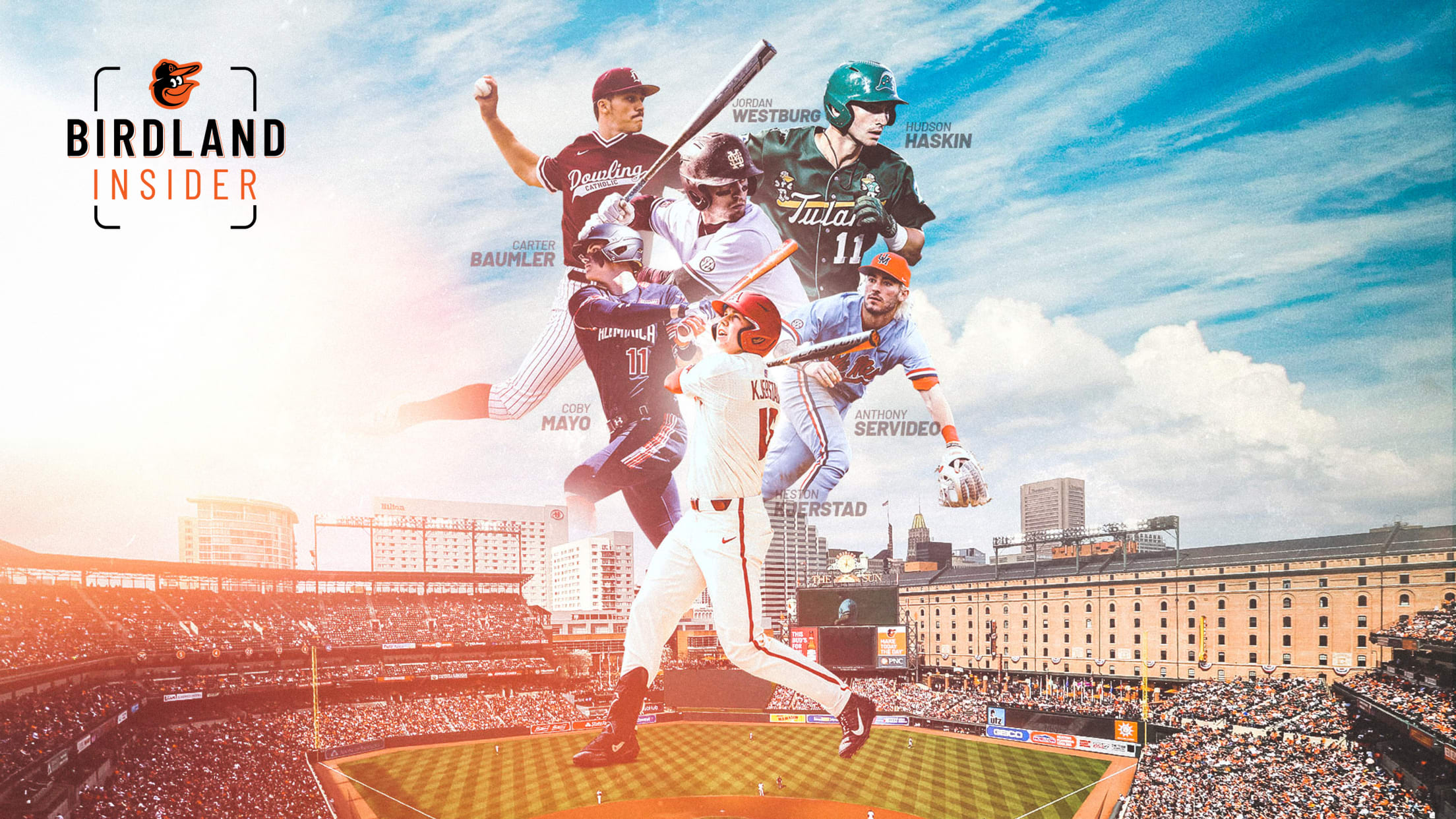 Scroll
Getting to Know the 2020 Draft Class
In what has been an unprecedented year for Major League Baseball, the 2020 First-Year Player Draft proved to be a thrilling night for the fans and the prospects who saw their childhood dreams come true. Among the 160 players chosen, six of them went to the Baltimore Orioles; another injection of young talent into a farm system that has climbed the rankings over the last couple years under the leadership of Executive Vice President and General Manager Mike Elias.
We took a closer look at the Orioles 2020 Draft Class so fans can get to know the newest names in Birdland.
***
HESTON KJERSTAD | OF
With the second overall pick in the 2020 First-Year Player Draft, the Orioles selected outfielder Heston Kjerstad from the University of Arkansas.
"I wasn't really trying to get my hopes up for any pick," Kjerstad shared. "I was just waiting for the phone to ring and see what [happens]. Sure enough, after the Detroit Tigers turned in their pick, the phone rang and it was the Orioles and they wanted to pick me with their second pick. Man, I couldn't say yes quick enough."
Kjerstad may not have been the player some fans and analysts expected to go to the Orioles at No. 2 overall, but a quick look at his college numbers tells you all you need to know. In his shortened junior season, the 21-year-old got off to a blistering start, hitting .448/.513/.791 (30-for-67) with five doubles, six home runs, 19 runs, and 20 RBI in 16 games. His performance certainly caught the eye of Elias, who referred to him as "the best left-handed hitter in the country this year." Ranked as the No. 10 overall draft prospect by MLB.com and No. 13 by Baseball America, the Orioles' brass projected that Kjerstad would have continued to put up big numbers for the Razorbacks had the season not been cancelled.
"Based upon our research that our analytics team did, and the fact that he got off to such a torrid start at Arkansas, we were convinced that if the season had continued to progress, Heston would have been a candidate not only for the Golden Spikes Award, but also a potential top-five selection in the draft," shared Brad Ciolek, Supervisor, Domestic Scouting Operations."
"Heston's been a proven performer at the SEC," Ciolek continued. "We've always liked him. He also has the makeup, the drive, the motivation that we're looking for. Brandon Hyde, when he came and talked to our scouts in November, basically told us he wanted to keep one thing in mind when we were looking at guys in addition to working hard and being dedicated. The three words were, 'Nice don't play.'"
As Ciolek mentioned, Kjerstad had been making a name for himself long before his junior year. As a sophomore in 2019, he helped lead the Razorbacks to their second straight College World Series. For the season, Kjerstad hit .327/.400/.575 (87-for-266) with 13 doubles, one triple, 17 home runs, 53 runs, and 51 RBI in 65 games, and was named to the All-SEC Second Team.
As a true freshman in 2018, Kjerstad was named the SEC Freshman of the Year, along with being named to the SEC All-Freshman Team and the All-SEC Second Team, after helping lead Arkansas to the College World Series Finals.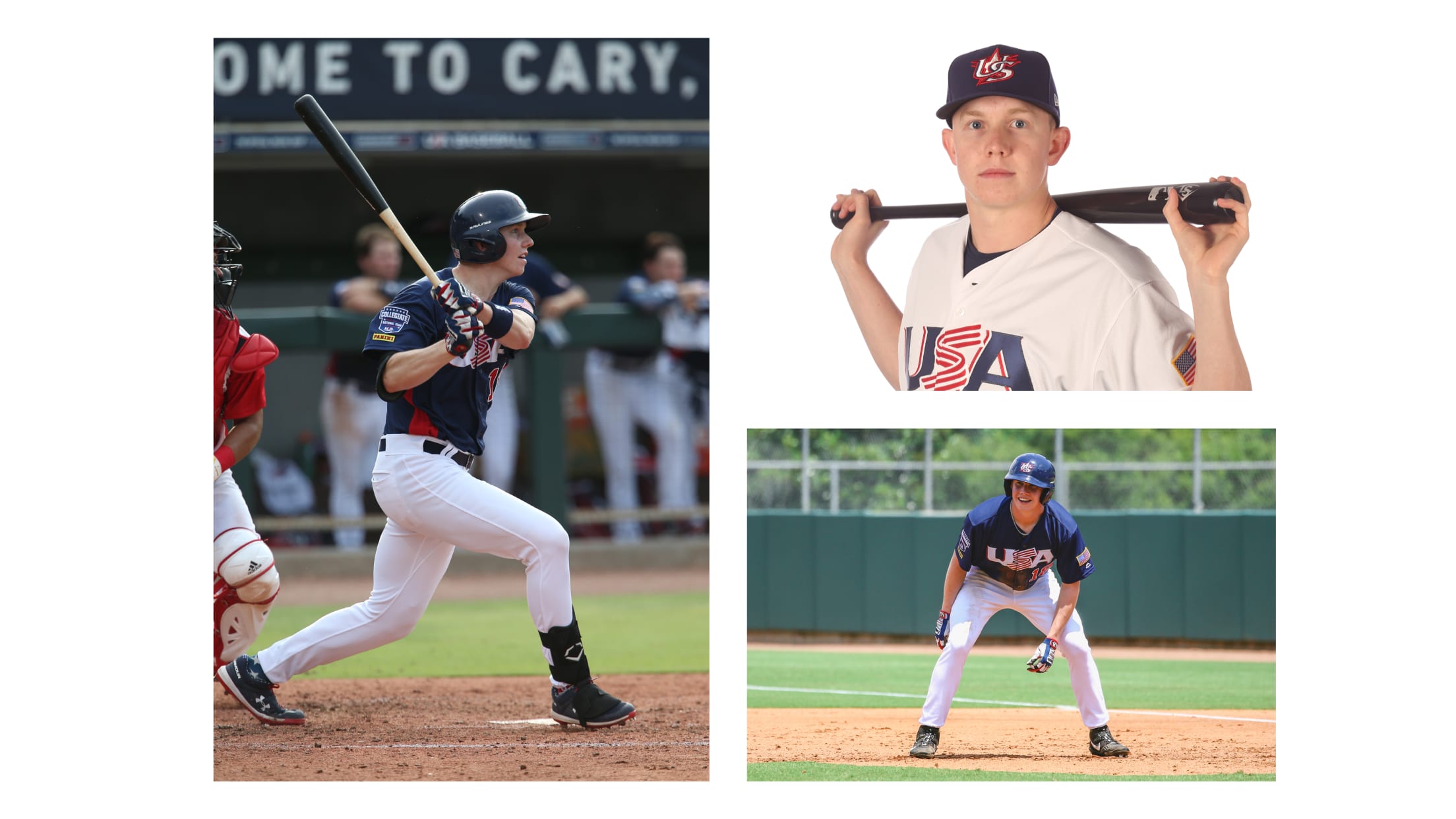 A native of Amarillo, Texas, Kjerstad attended Canyon Randall High School, where he was named District 3-5A MVP and First Team 5A All-State player in 2016. He was selected by the Seattle Mariners in the 36th round of the 2017 MLB First-Year Player Draft following his senior year of high school but did not sign in order to attend the University of Arkansas, a decision that has since paid off.
"He's had a tremendous career at Arkansas, and he was having a ridiculous season before the shutdown happened, and he's been flying up boards ever since. We're so excited about him," Elias shared. "We think he's a middle-of-the-order bat. Great kid. Blue-collar kid. Hardworking kid from a good family, and a tremendous addition to our farm system."
JORDAN WESTBURG | SS
With their second Day One selection, the Orioles took shortstop Jordan Westburg from Mississippi State University at No. 30 overall.
"I'd just like to take this time to say how excited I am and how pumped I am to be a part of the Orioles organization," Westburg said in a post-draft conference call with media. "I know that I'm still just high on life right now with this opportunity, and whenever baseball starts back up I can't wait to get it going."
A toolsy infielder with a large frame, Westburg's athleticism makes him a legitimate candidate to stick at shortstop. He immediately adds valuable middle infield depth to the Orioles' farm system and strengthens the up-the-middle talent that Elias and his scouts have emphasized in the last two draft classes.
"You look at the history of the draft, and middle infielders – especially shortstops – from the SEC, they're the smartest pick you can make when you get a chance, and you should grab as many as you can. We really like Westburg," Elias explained.
In his abbreviated junior season at Mississippi State, Westburg provided a glimpse of the raw power potential that makes him such an intriguing prospect. The 21-year-old slashed .317/.432/.517 (19-for-60) with six doubles, two home runs, 17 runs, and 11 RBI in 16 games, while leading the Bulldogs in doubles and slugging percentage, and ranking tied for the team lead in runs, home runs, and total bases (31).
As a sophomore in 2019, Westburg made 66 starts at shortstop for the Bulldogs. He hit .294/.402/.457 (78-for-265) with 21 doubles, two triples, six home runs, 68 runs, and 61 RBI, and was sixth in the SEC in runs scored, and finished seventh in doubles and RBI. He followed up his impressive sophomore campaign with a standout performance in the Cape Cod League with the Hyannis Harbor Hawks.
A graduate of New Braunfels High School in New Braunfels, Texas, Westburg was a three-year letterwinner in baseball, and also lettered in football and basketball. As a senior, he was named the District 27-6A Most Valuable Player and earned honorable mention All-American honors from Perfect Game.
HUDSON HASKIN | OF
The Orioles began Day Two of the 2020 First-Year Player Draft by departing from the SEC to select sophomore outfielder Hudson Haskin from Tulane University in the second round (No. 39 overall).
Despite his relatively small sample size in college, Haskin is a potential five-tool player at a premium defensive position in center field. The 21-year-old raked his way through his freshman and sophomore seasons for the Green Wave baseball team, while playing stellar defense in the outfield; he did not make an error in 73 career games at Tulane.
Haskin batted .333/.452/.500 (22-for-66) with six doubles, one triple, one home run, 18 runs, and 14 RBI in 17 games during his sophomore season, which was shortened due to COVID-19. As a freshman, he took the AAC by storm, hitting .372/.459/.647 (77-for-207) with 19 doubles, four triples, 10 home runs, 54 runs scored, and 52 RBI in 56 games for Tulane, with 50 starts in the outfield. He led all NCAA Division I freshmen in batting average, and ranked third in slugging percentage, fifth in total bases (134), and sixth in doubles and on-base percentage.
"The first thing that stands out about him is the overall athleticism that he has," explained Ciolek. "He is a double-plus runner. We believe that he is going to stay in center field, and he also has a knack for barreling up the ball consistently. He also has sneaky power. He hit double-digit home runs last year in his freshman year at Tulane. We think if the [2020] season had continued we would have seen a power spike with those numbers. All around, he's a very tooled-up athlete."
A native of New York, N.Y., Haskin was a four-year letterwinner at Avon Old Farms School in Avon, Conn.; the same school that produced three-time All-Star and two-time Silver Slugger George Springer.
As a draft-eligible sophomore, Haskin is in a unique position since college players are typically not drafted until their junior year. If he does sign with the Orioles, he'll be joining an organization that he's familiar with from his childhood, when he cheered for their AL East rivals.
"I grew up in New York City as a pretty big Yankees fan," he shared. "The Orioles were always on TV. That was right when they had Adam Jones, Brian Roberts, and Wieters. I can remember, like it was yesterday, watching all those games, and they were such an exciting team. To have the opportunity to potentially join that organization and kind of continue that legacy is something that I'm really looking forward to."
ANTHONY SERVIDEO | SS
Perhaps no other player in this year's draft class was destined to wear the orange and black more than University of Mississippi's Anthony Servideo, who the Orioles selected in the third round at No. 74 overall.
Servideo's grandfather, Curt Blefary, spent four seasons in Baltimore, where he won the American League Rookie of the Year Award in 1965 and was a member of the 1966 World Series champion Orioles team.
"I was too young, unfortunately, to know him. I was about two years old when he passed," Servideo said. "My mom and my uncle and my grandma all told me stories. I would ask about him almost every time I saw them. It's cool, we have a lot of pictures of him and memorabilia, and growing up he's been my idol. I want to follow in his footsteps."
Servideo's Baltimore connections do not end with his grandfather. The athletic, left-handed hitting shortstop played in the Cal Ripken Collegiate Baseball League the summer after his freshman year.
"I loved it. I had the time of my life out there. I had a great host family, great teammates, and I was actually playing for Tom Eller at the time, who is a hitting coach with the organization now. I love him, he's a great guy and he knows what he's talking about," shared Servideo. "That summer, I played the best baseball of my life. I feel pretty good playing out there and hopefully I'll continue the success coming up."
Touted by Baseball America's Carlos Collazo as "one of the best defensive shortstops in college baseball," Servideo's bat was beginning to come around this spring, which helped him move up the Orioles' draft board. The 21-year-old hit .390/.575/.695 (23-for-59) with three doubles, five home runs, 24 runs, and 17 RBI in 17 games during his shortened junior season. Servideo's plate vision also continued to improve. After drawing 48 walks in 66 games as a sophomore in 2019, he drew 24 free passes in 17 games as a junior, which led the SEC and ranked second in the nation. His five home runs in 59 at-bats were also a marked improvement over his sophomore season, which saw him hit only three home runs in 209 at-bats.
"We've kind of been following [him] ever since he was in high school. He really popped up on our radar this spring. He got off to a blistering start with Ole Miss and kind of ran into some power," Ciolek explained. "We were intrigued by his athleticism in the dirt; how well he moved laterally and how well the hands worked. He has more than enough arm strength to stay at shortstop and stay in the dirt."
COBY MAYO | 3B
In the fourth round, the Orioles selected their first high school athlete when they picked third baseman Coby Mayo at No. 103 overall out of Marjory Stoneman Douglas High School in Parkland, Fla.
A University of Florida commit, Mayo was ranked as the No. 79 overall draft prospect by Baseball America, so the Orioles got good value out of their 103rd selection. The 18-year-old stands 6-foot-5 and weighs in at 215 pounds, a projectable frame for a third baseman, and according to Baseball America's Carlos Collazo, he "has the raw power and arm strength to match it."
During his shortened senior year, Mayo hit .455/.613/.772 with one double, two home runs, nine runs, and six RBI in eight games. He was also named a Rawlings-Perfect Game First Team Senior Preseason All-American and to the Florida Region All-High School Senior First Team. In 2019, he played in the Perfect Game All-American Classic at Petco Park in San Diego. In his career at Marjory Stoneman Douglas, Mayo hit .387/.539/.706 with 13 home runs, 62 runs, and 48 RBI.
"Coby Mayo is extremely interesting. He is a strong, athletic kid with a double-plus arm at third base," said Ciolek. "He moves well for a bigger guy and he also shows 70 raw power in batting practice, and we think that we'll be able to tap into that down the road. He has an extremely high ceiling."
"I'm very excited to be a part of the Orioles organization. It's been a lot of excitement with my family and friends, and the whole Baltimore Orioles fan base contacting me," Mayo shared. "It's been great hearing from a Hall of Famer like Jim Palmer and talking to him a little bit, and just looking up Hall of Famers like Mr. Robinson, Mr. Murray, and Mr. Ripken. Hopefully one day I get to sit down with them and pick their brain a little bit about the game and take some of their accomplishments and try to put them into my game a little bit to make myself a better ballplayer."
As a sophomore at Stoneman Douglas, Mayo was at the school on February 14, 2018, when a gunman killed 17 people.
"That day was obviously a day that I'll never forget. My community will always hurt from that and it'll always be a recovery," he shared. "That day was a very emotional day. Valentine's Day is supposed to be a day of love and caring for one another. At 2:21 in my last period class, that all changed when a former classmate opened up fire into our school and killed 17 students and staff and injured 17 more and hurt the whole world."
"I look back on it and I think to myself, 'I'm so lucky to be here today.' If it wasn't for my coaches, my family, and my friends, I wouldn't be here where I'm at today without them to push me," Mayo continued. "Every single day, doing it for those ones that were lost. I play for those because they can't play, and they don't have voices. They couldn't live what they wanted to do, and I can. Ever since I was a little kid, I knew that I wanted to be a Major League Baseball Player. Those people had dreams, too. I want to fulfill their dreams by fulfilling mine."
CARTER BAUMLER | RHP
Last but certainly not least, the Orioles landed a pitcher in the fifth round when they selected right-hander Carter Baumler at No. 133 overall out of Dowling Catholic High School in West Des Moines, Iowa.
"Carter Baumler is another excellent athlete. He has a quick arm. His velo over the summer was 90-92 MPH and now it's ticked up to 92-94 MPH," shared Ciolek. "He's got a curveball that has 11-5 shape and we think it's going to profile as a plus offering for him, and his changeup has made tremendous strides as well over the past few months."
A native of Grimes, Iowa, Baumler was named to the Rawlings-Perfect Game Central Region All-High School Senior First Team in 2020. In 2019, he played in the Perfect Game All-American Classic at Petco Park in San Diego, striking out two batters in a scoreless inning.
Baumler was rated as the No. 102 overall draft prospect by MLB.com.
***
While these players won't be taking the field at Camden Yards this season, the Orioles' baseball operations team is confident that they added six high-caliber athletes to a farm system that is now bursting with talent. Fans will be able to follow these players from the very beginnings of their careers as they progress through the minor leagues, teaming up with top prospects like Adley Rutschman, Grayson Rodriguez, and DL Hall along the way. And one thing is certain: with two solid draft classes over the last two years, the Orioles are on the rise.