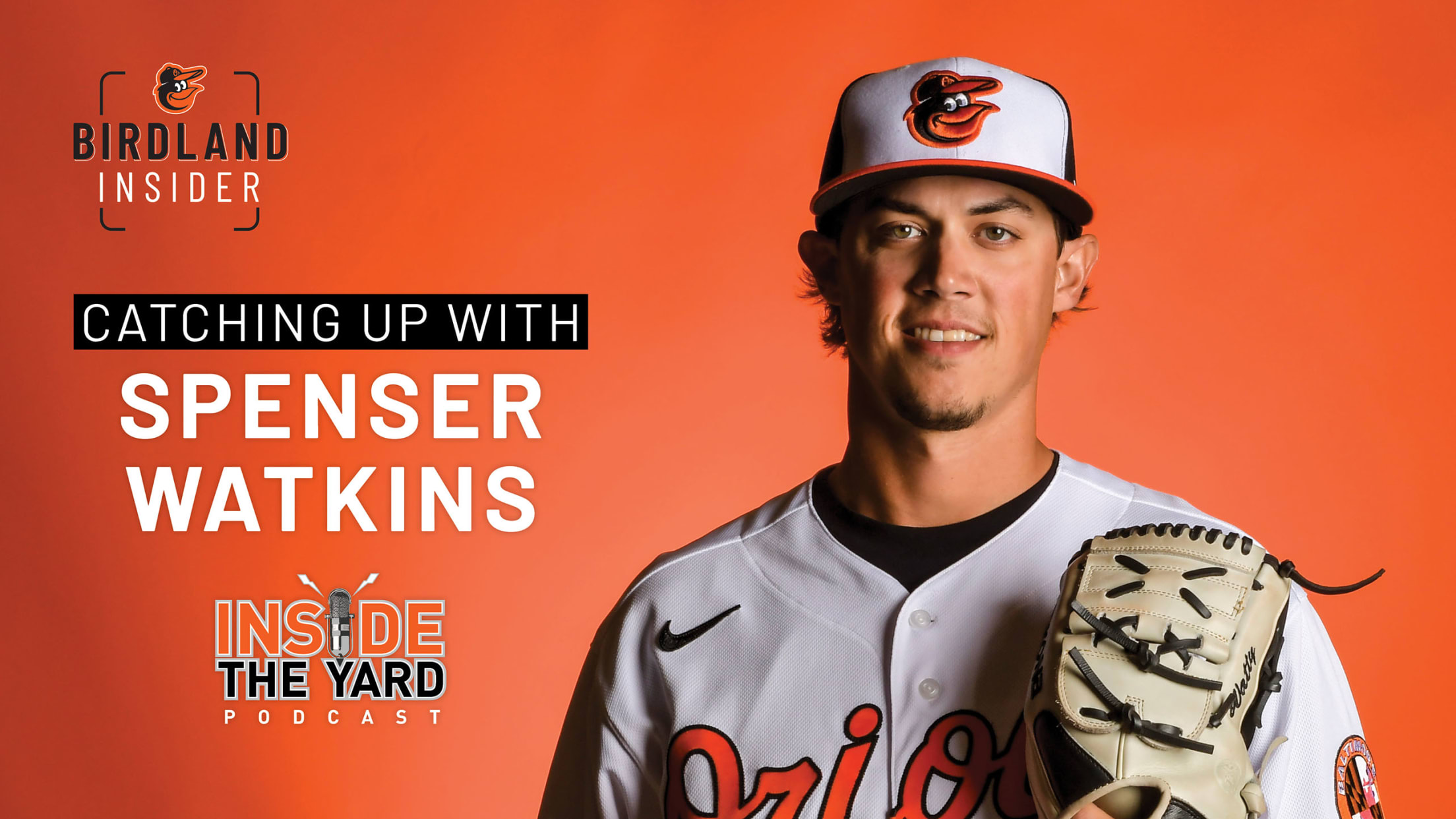 Scroll
Catching Up with Spenser Watkins
When Spenser Watkins made his Major League debut in relief on July 2 at Los Angeles-AL, he became the only player taken in the 30th round of the 2014 First-Year Player Draft to make it to the big leagues. He then became the second pitcher in Orioles history (since 1954) to allow one-or-fewer earned runs in each of his first three career starts.
Watkins recently stepped off the mound to chat with Orioles broadcasters Brett Hollander and Geoff Arnold about his path to the majors, how he overcame moments of uncertainty in his career, and how he became a Major League pitcher.
"It's been a whirlwind," said Watkins. "Just to go from that call to a quick taste out of the bullpen and now all of a sudden I'm getting the ball every fifth day. It's been very surreal. But as we are getting more and more into this thing, it's becoming more real to me. The honeymoon phase kind of wears off and now it's 'let's put up good numbers and give the team a chance to win.'"
Watkins' call-up story is a little different from the usual ones. He made the trip to Charlotte with Triple-A Norfolk, and when he got off the bus, his manager, Gary Kendall, told him he would be meeting the Orioles in Houston as part of the taxi squad.
"We were actually in Houston, this was the last game, because I was packing up my room, and I get a phone call from a Baltimore number I didn't have," said Watkins. "It ended up being Kevin Buck [Director of Baseball Administration]. He was all nonchalant, 'Hey, how are you doing? Just checking in, making sure you have everything you need.' And then he goes, 'Oh, and by the way, we are going to select your contract today.' I truly thought it was a dream in a sense. I didn't really believe it at first. I don't know what I said at that point. But it was an incredible feeling."
Watkins called his parents and wife to tell them that news, and later that night, he made his Major League debut, tossing 1.0 scoreless inning in relief. After the game, Watkins had to run back to the hotel to pick up his suitcase, which he forgot to pack in the excitement earlier that day. Even if he would have forgotten it, it wouldn't have been too big of a deal.
"When we drove into Charlotte it was a six day road trip, it wasn't a normal two-week road trip," said Watkins. "So I only had a handful of shirts and luckily I had a dress shirt on hand. But I had to get a couple more things on the road, because I only had five days' worth of clothes. Tyler Wells being the great guy he is drove me down to Norfolk over the All-Star Break and we got a chance to eat some good food and get the rest of my clothes."
Watkins also gives an inside look at what life on the taxi squad, a new addition to MLB over the past two seasons, entails.
"You're there for all the pregame stuff, batting practice, you go through your normal game stuff," Watkins explained. "And as soon as the game starts, the taxi squad is bussed back to the hotel and you stay in the hotel for the rest of the evening for protocol purposes. But you go through the whole day with the team until game time hits. And when game time started you get dressed and head back to the hotel."
Even though he was not getting in-game work on the taxi squad, Watkins was still working hard to develop his pitches, especially his cutter.
"It's been huge for me," said Watkins. "It's what some would call my bread and butter. I was working on it I always thought, 'Ok this is a good pitch.' But a good pitch is a good pitch, and when you can locate it, that's what makes it even better. And that was something that Holmes and Holtzy have been really great with. And we've made a ton of strides. The cutter has been huge for me and has given me an opportunity to expand my horizons as a pitcher. It opens up everything for me."
They finish up with their "Fun Five" where the trio discusses Watkins' favorite baseball movie, his high school senior year stats, the most influential baseball person in his life, and his hobbies outside of baseball. Watkins shares that he actually started his baseball career as a catcher and outfielder.
"I was a catcher and outfield all the way until my senior year. They said they didn't have much room for me as a catcher or outfielder, but they liked my arm as a pitcher," said Watkins. "And I had just never pitched so they rarely used me. So I pitched three innings and walked on to a junior college after that. The pitching coach at Glendale Community College, he was great and huge in my development. He definitely set a great foundation and even more at Western Oregon. I was lucky enough to have great coaches."
You can listen to the episode above, or wherever you stream podcasts.