Explore Sugar Land's Constellation Field 
Welcome to Sugar Land's Constellation Field, home of the Texas-sized scoreboard. The Triple-A Space Cowboys play here, just 23 miles away from their parent club in Houston.
Sugar Land Space Cowboys (Triple-A affiliate of the Houston Astros since 2021)
Established: 2012 (as the Skeeters)
League: Pacific Coast League (Atlantic League from 2012-20)
Ballpark: Constellation Field (opened 2012)
Championships: 2016, 2018, 2020
Notable Alumni: Roger Clemens, Tracy McGrady, Rafael Palmeiro, Jason Lane, Scott Kazmir, Jose Siri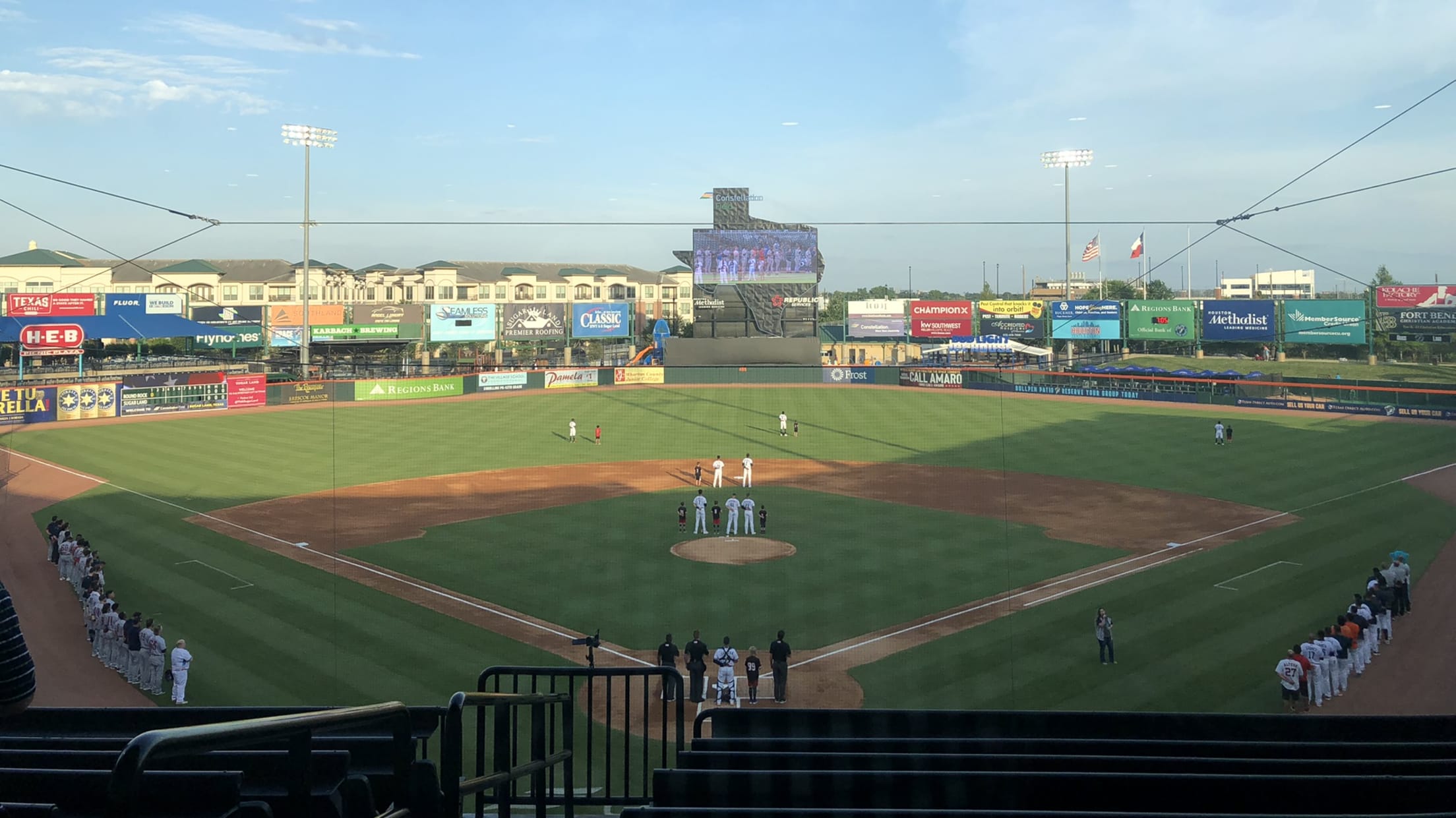 Sugar Land professional baseball, and the city of Sugar Land itself, has evolved rapidly in a short amount of time. The following excerpt is from an MiLB.com article detailing this evolution:
"Located approximately 20 miles to the southwest of Houston, Sugar Land was originally established as Imperial Sugar's company town. First incorporated as a city in 1959, it has evolved over the decades into a master-planned community of over 110,000 people.
Sugar Land's recent growth -- in 1980 its population was still under 10,000 -- is exemplified by the 2012 arrival of the city's first professional baseball stadium. For the first nine years of its existence, Constellation Field hosted the Sugar Land Skeeters of the independent Atlantic League. 2021 marked the start of a new era, as the Skeeters were bought by the Houston Astros and named the organization's Triple-A affiliate. Sugar Land, now operating in the Pacific Coast League, took another significant step away from its indy roots prior to the 2022 campaign. The mosquito-inspired Skeeters' identity was swatted away, in favor of the frontier/cosmos mash-up that are the Space Cowboys."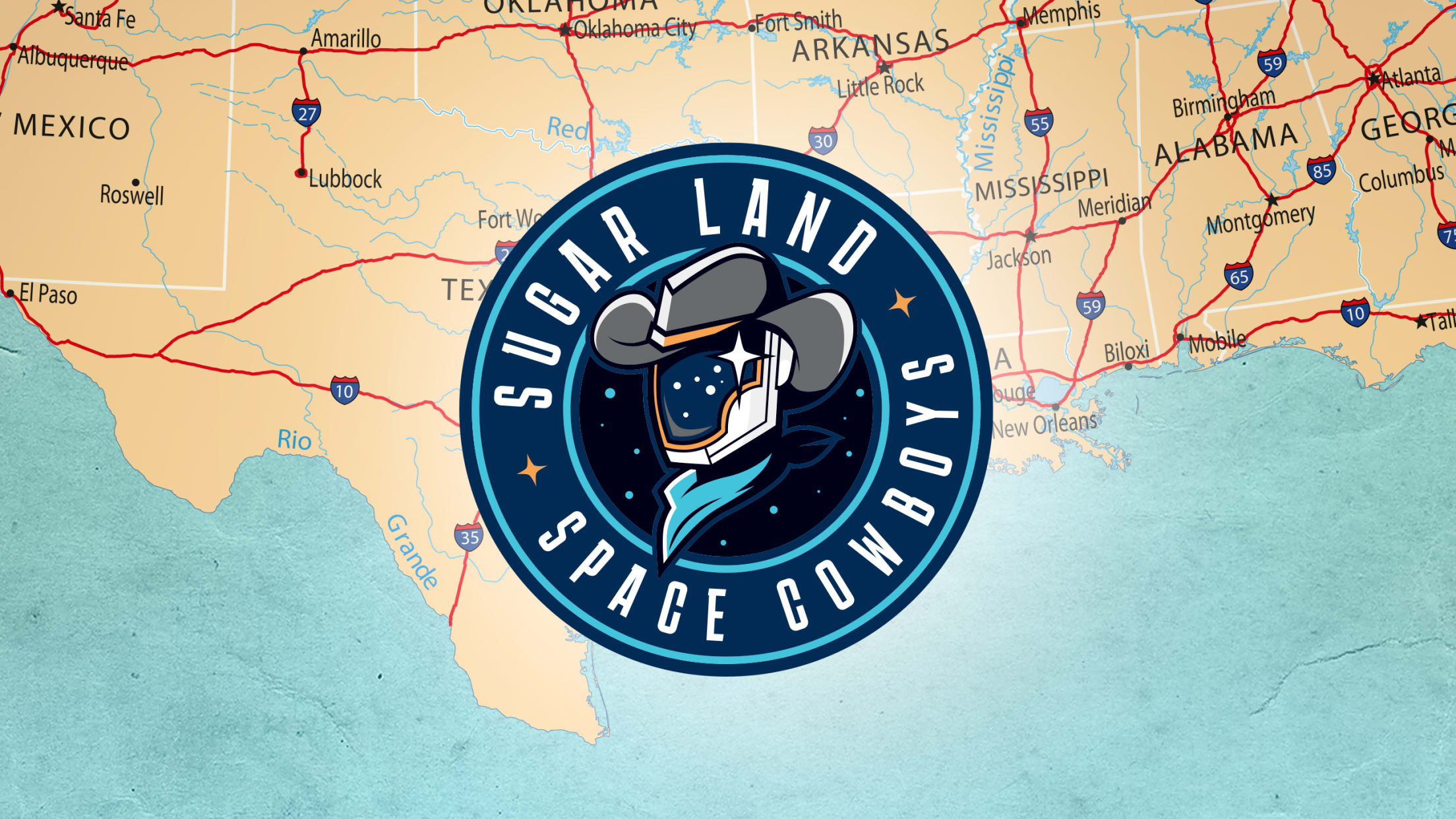 Constellation Field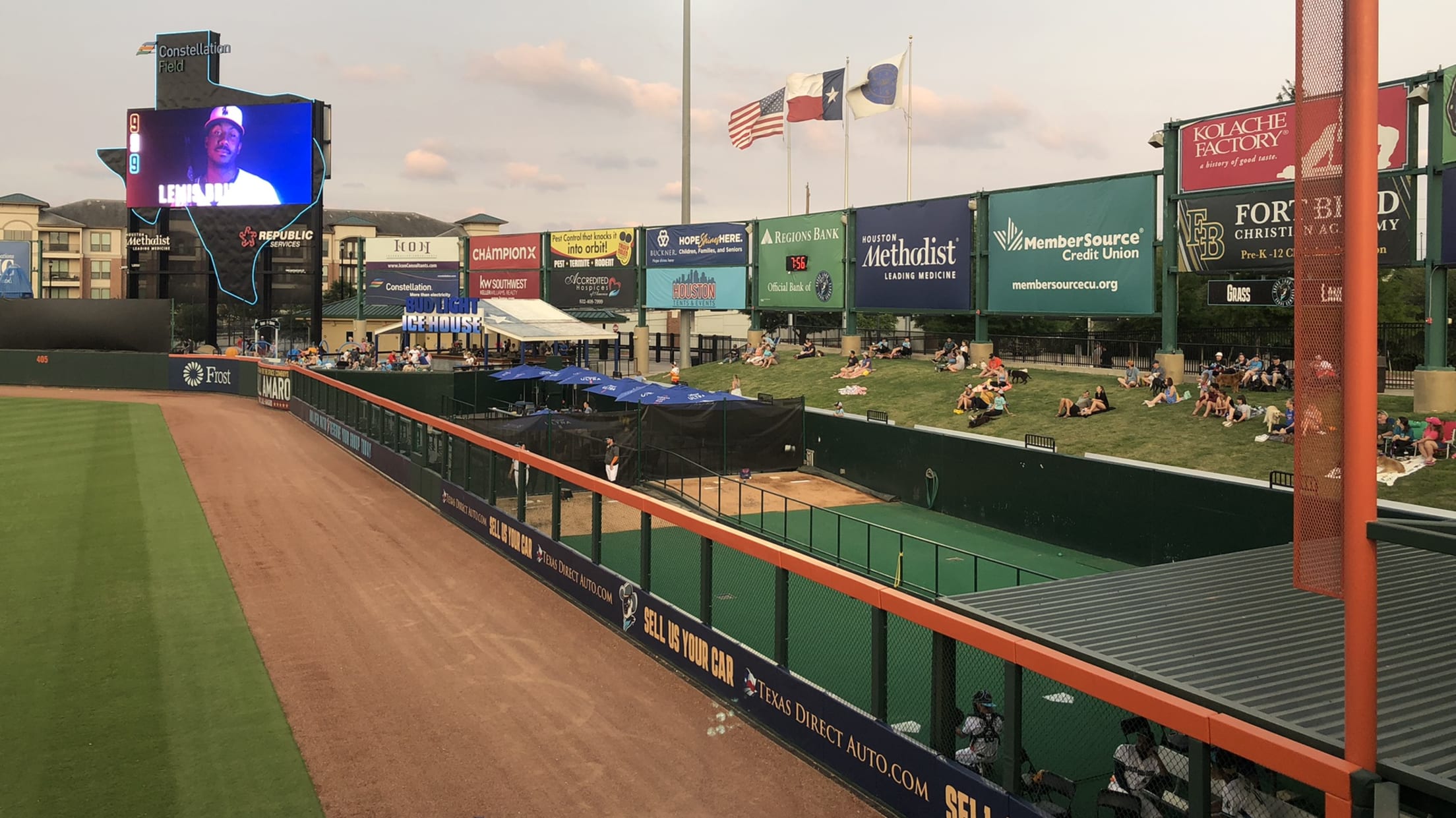 Constellation Field is a comparatively new ballpark, but the Astros' purchase of Sugar Land's team has resulted in a bevy of recent improvements. On the fan-facing side of the equation, this includes a new ballpark concessionaire, revamped group areas and a significantly expanded playground. This latter amenity, the splash pad-enhanced Kiddie Corral, is part of a sprawling outfield concourse area anchored by a scoreboard shaped like the state of Texas. It also includes the Grassland berm right field seating area, which overlooks the bullpens, as well as a pair of social gathering areas: the Bud Light Ice House and the Karbach Cantina. An in-ground pool is situated on the left-field side of the concourse, available for use as a group area.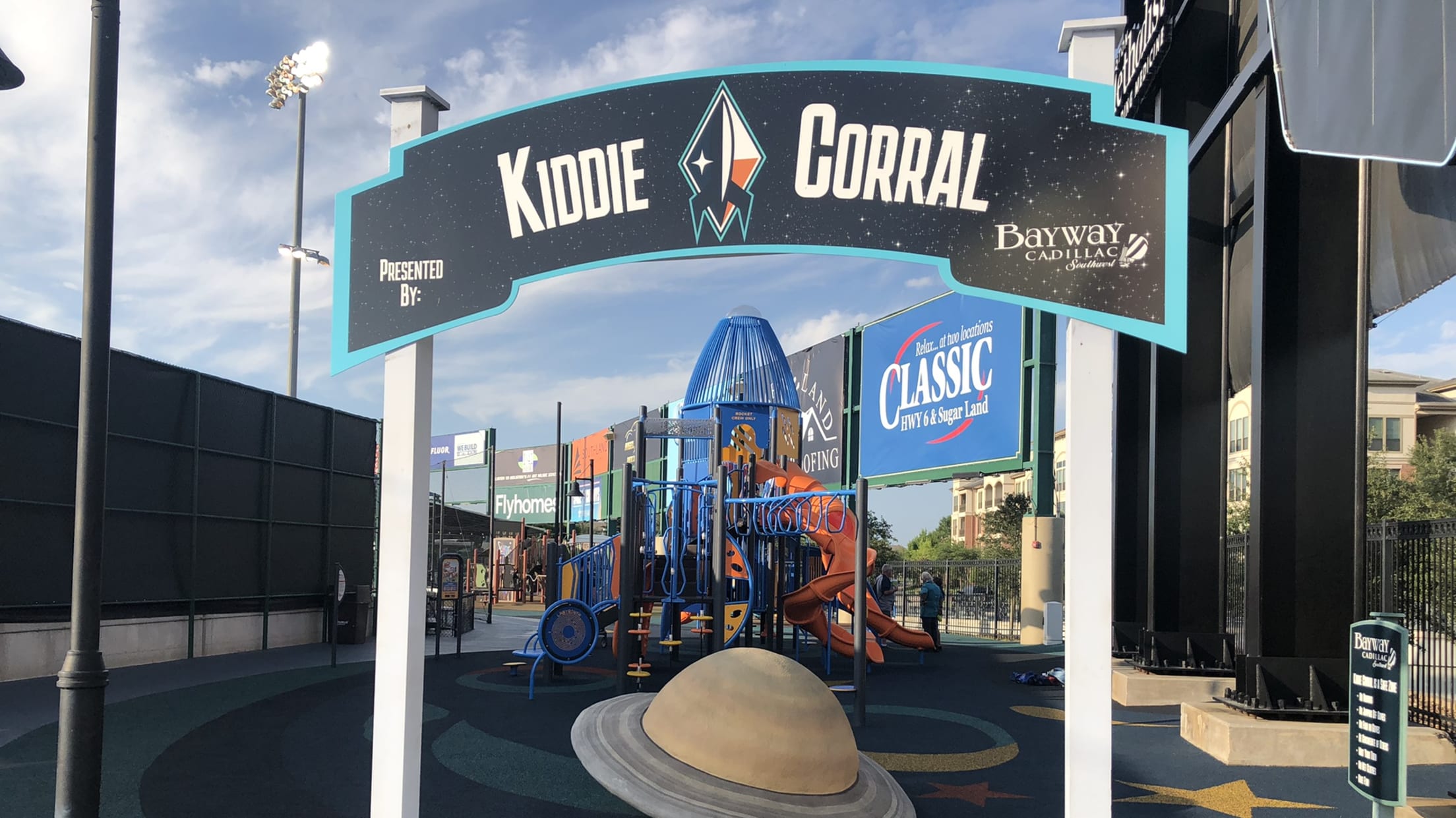 Constellation Field's seating bowl, comparatively small by Triple-A standards, extends about halfway down each outfield foul line. The majority of the concourse area behind the seating bowl is covered, offering respite from the Texas heat as well as numerous concession and entertainment options. Moonshot Alley, free to all fans, features two hitting bays with simulated MLB stadium backdrops. The nearby Galaxy Gifts is named after the Astrodome's original team store.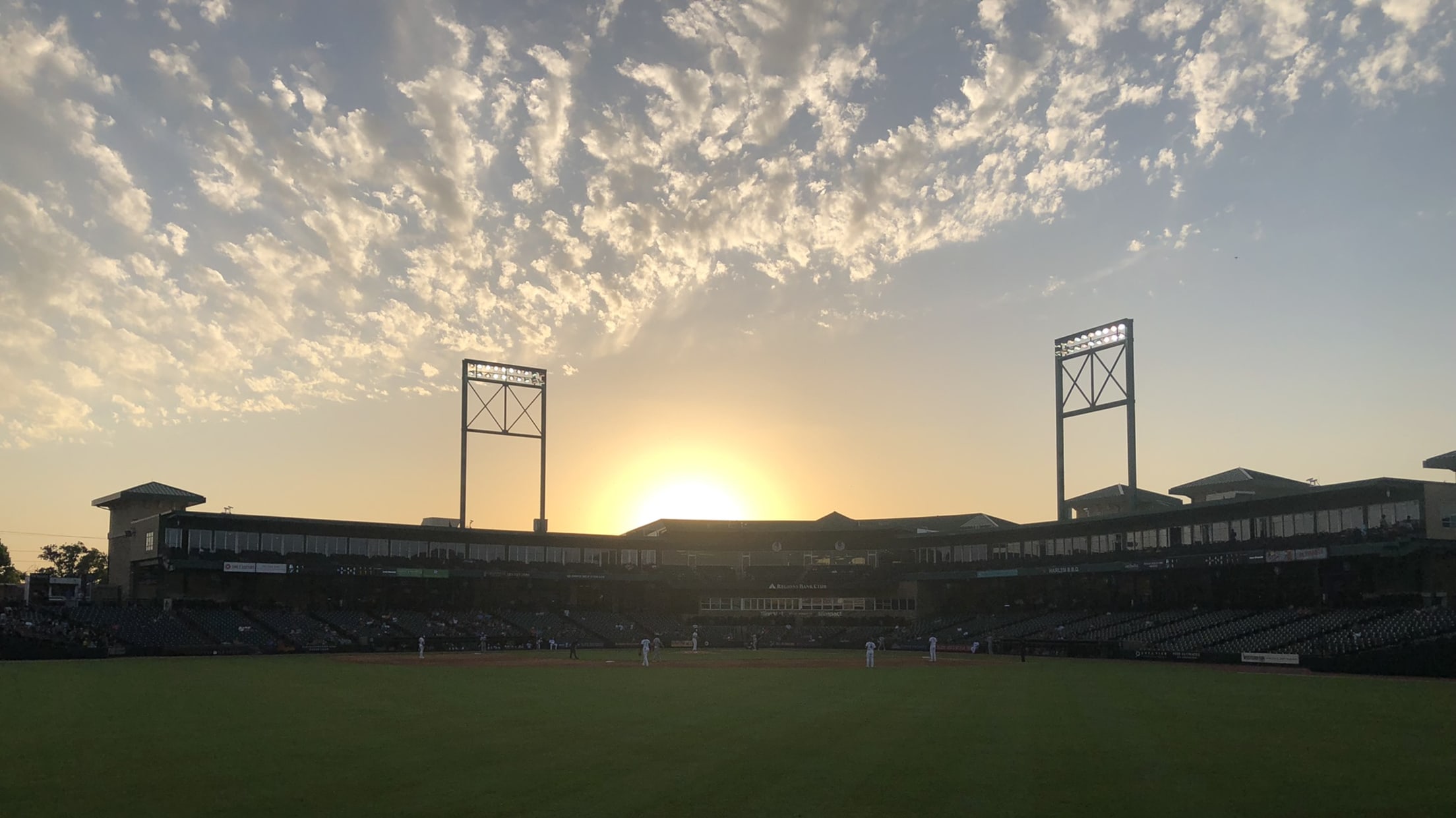 Concessions
Constellation Field's concession menu was overhauled prior to the 2022 season, in conjunction with rebranded concession areas reflective of the new Space Cowboys identity (the Galactic Grill, for example). Specialty items include the Howdy Dog, a brisket sausage dog cooked in Crawford Bock beer, finished on the grill and topped with Dr Pepper barbecue sauce, pico de gallo, crispy jalapeños and onion strings. Also keep an eye out for the exemplary brisket-topped barbecue nachos.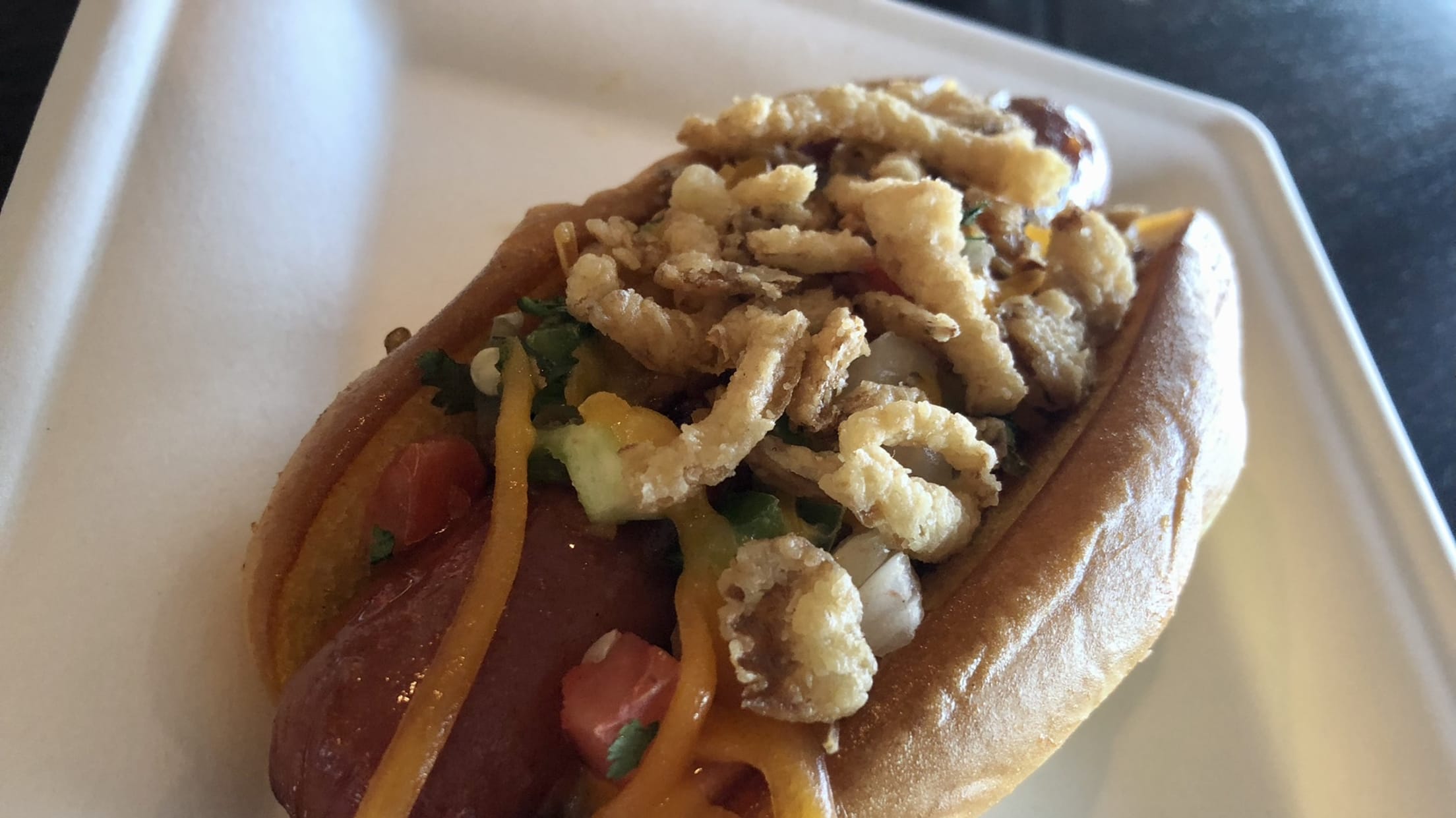 Mascot
Orion, a cosmic canine rescued from the meteor-battered Saturn moon of Mimas by a benevolent Space Cowboy, is clearly a mascot like no other. He still embarks on interstellar missions during the offseason, and perhaps during road trips, but if Sugar Land's team is home then you can be sure to find him at Constellation Field. Just look for the blue dog with orange paws, wearing a baseball cap between his antennae. He doesn't wear pants, so there's no need for Orion's belt.
Where to Stay
Headed to the stadium and looking for a hotel nearby? Your Wyndham is waiting. As the Official Hotel of Minor League Baseball, Wyndham Hotels & Resorts welcomes baseball fans with a portfolio of 24 trusted brands. Find Hotels by Wyndham closest to the ballpark below and book now at wyndhamhotels.com.
• Super 8 by Wyndham Stafford Sugarland Area
• La Quinta Inn & Suites by Wyndham Houston - Westchase
• La Quinta Inn & Suites by Wyndham Houston Stafford Sugarland
• La Quinta Inn & Suites by Wyndham Richmond-Sugarland
• Days Inn & Suites by Wyndham Houston / West Energy Corridor
Local Attractions
As befits a master-planned community whose population has exploded in recent years, Sugar Land's downtown "Town Square" is sleek and modern. Shops and restaurants abound, many operating on the higher-end of the price point continuum. It's anchored by a stately City Hall building, which was built in 2004 but looks much older (as regards to architectural style, not decrepitude). Sugar Land's Town Square is located less than three miles from the ballpark, making it a convenient stop before or after a game.
The Imperial Sugar Refinery closed in 2003, and the Sugar Land Heritage Foundation was established in response. Visit the foundation's museum, filled with artifacts from the refinery and surrounding area, to learn about what life was like in a company town. Sugar Land is also home to a branch of the Houston Museum of Natural Science. Of course, one could choose to visit Houston itself. The city is located 23 miles away; how long it takes there is, as is so often the case, dependent on traffic.
Food and Drink
Sugar Land's growth has occurred in tandem with a major demographic shift, as approximately 35% of its population is of Asian descent. This is reflected in the city's food scene, where options include (but are far from limited to) Chinese, Indian, Japanese, Korean, Vietnamese and Singaporean. Choose your favorite or, better yet, expand your palette. The Town Square area is home to approximately two dozen restaurants, including Escalante's Fine Tex-Mex, GURU Burger's and Bowls and Mahesh's Kitchen (Indian). For post-game beers and bar food, check out the Baker Street Pub and Grill.
Moving On
Of course, a visit to see the Space Cowboys can easily be paired with a visit to the parent Houston Astros. Head in the opposite direction (southwest) in order to see the organization's Double-A affiliate, the Corpus Christi Hooks. Other comparatively nearby Minor League teams include the San Antonio Missions, Round Rock Express and, further to the north, the Frisco RoughRiders.
The Road to Houston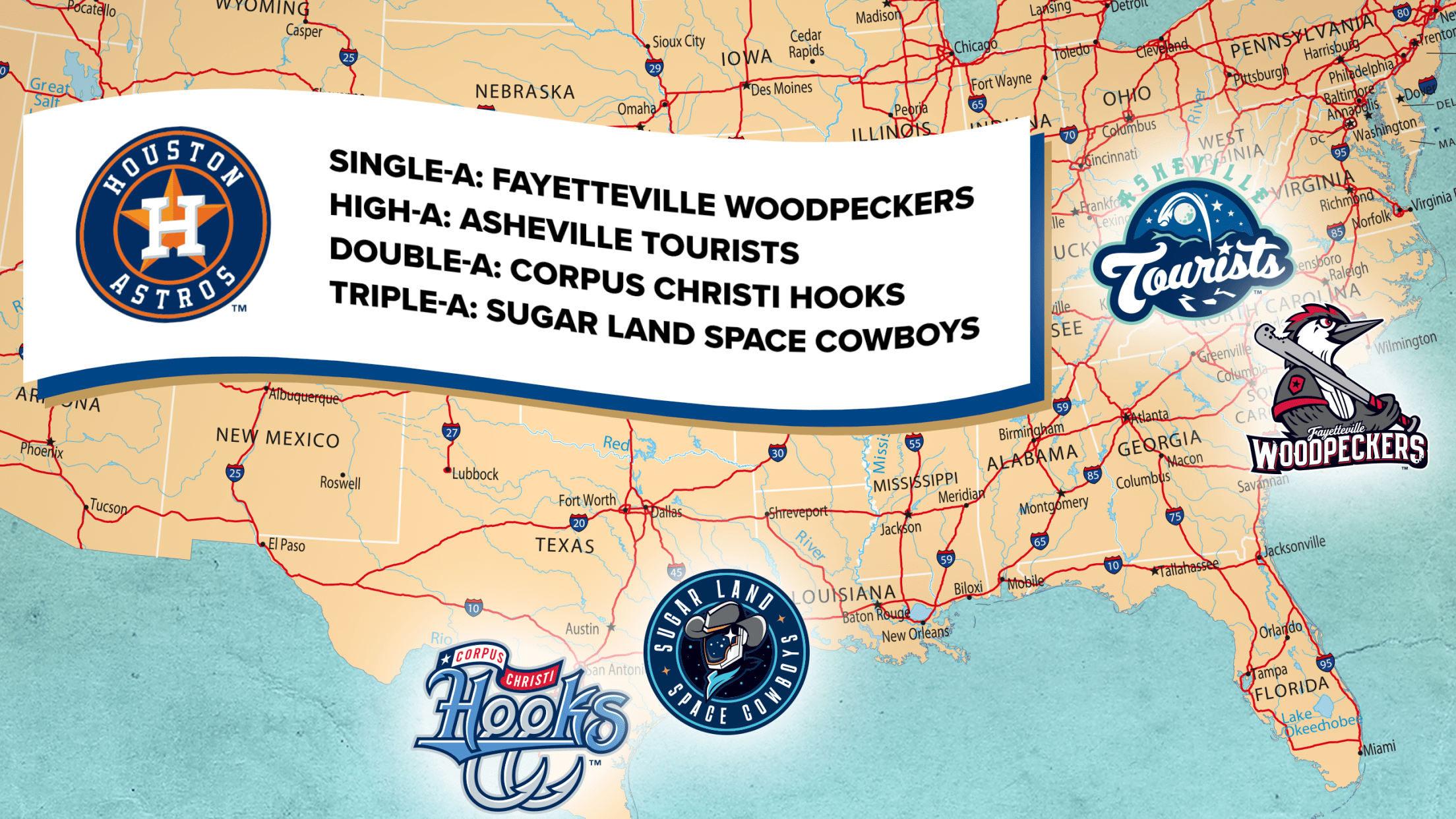 credits:
Benjamin Hill, who covers the business and culture of Minor League Baseball, has visited 183 Minor League ballparks.