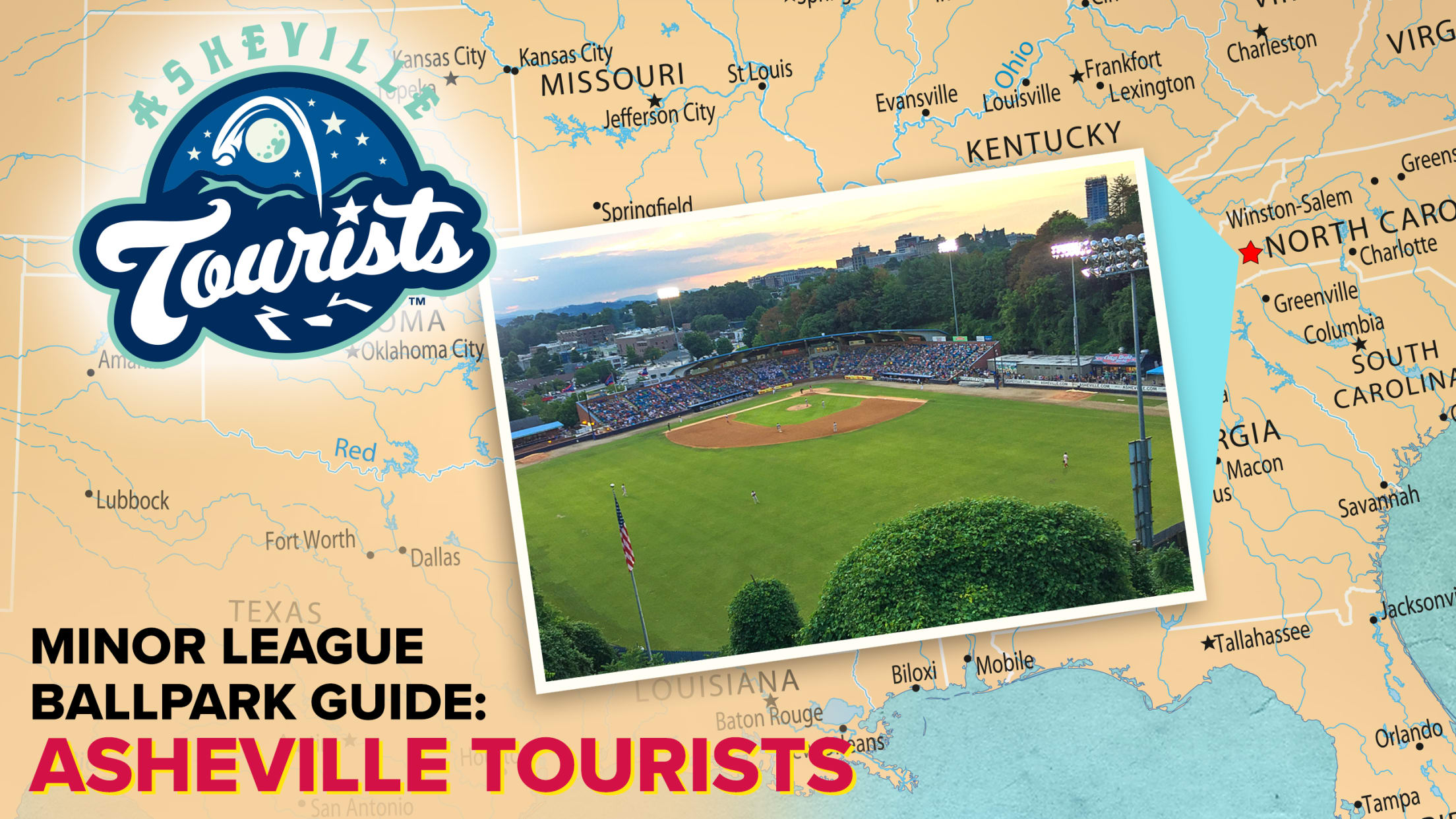 Scroll
Explore Asheville's McCormick Field 
By
Benjamin Hill and Matthew Leach
February 24, 2022
Welcome to McCormick Field, longtime home of the Asheville Tourists and the original home of Thirsty Thursday. Babe Ruth played here, Bull Durham was filmed here and goats do the landscaping here. It's one of America's most unique and historic ballparks, and there's no other place quite like it.
Asheville Tourists (affiliate of the Houston Astros since 2021)
Established: 1959
League: South Atlantic League
Ballpark: McCormick Field (opened 1924)
Championships: 1961, 1968, 1984, 2012, 2014
Notable Alumni: Willie Stargell, Eddie Murray, Craig Biggio, Dock Ellis, Kenny Lofton, Bobby Abreu, Nolan Arenado, Russell Wilson, Sparky Anderson (manager)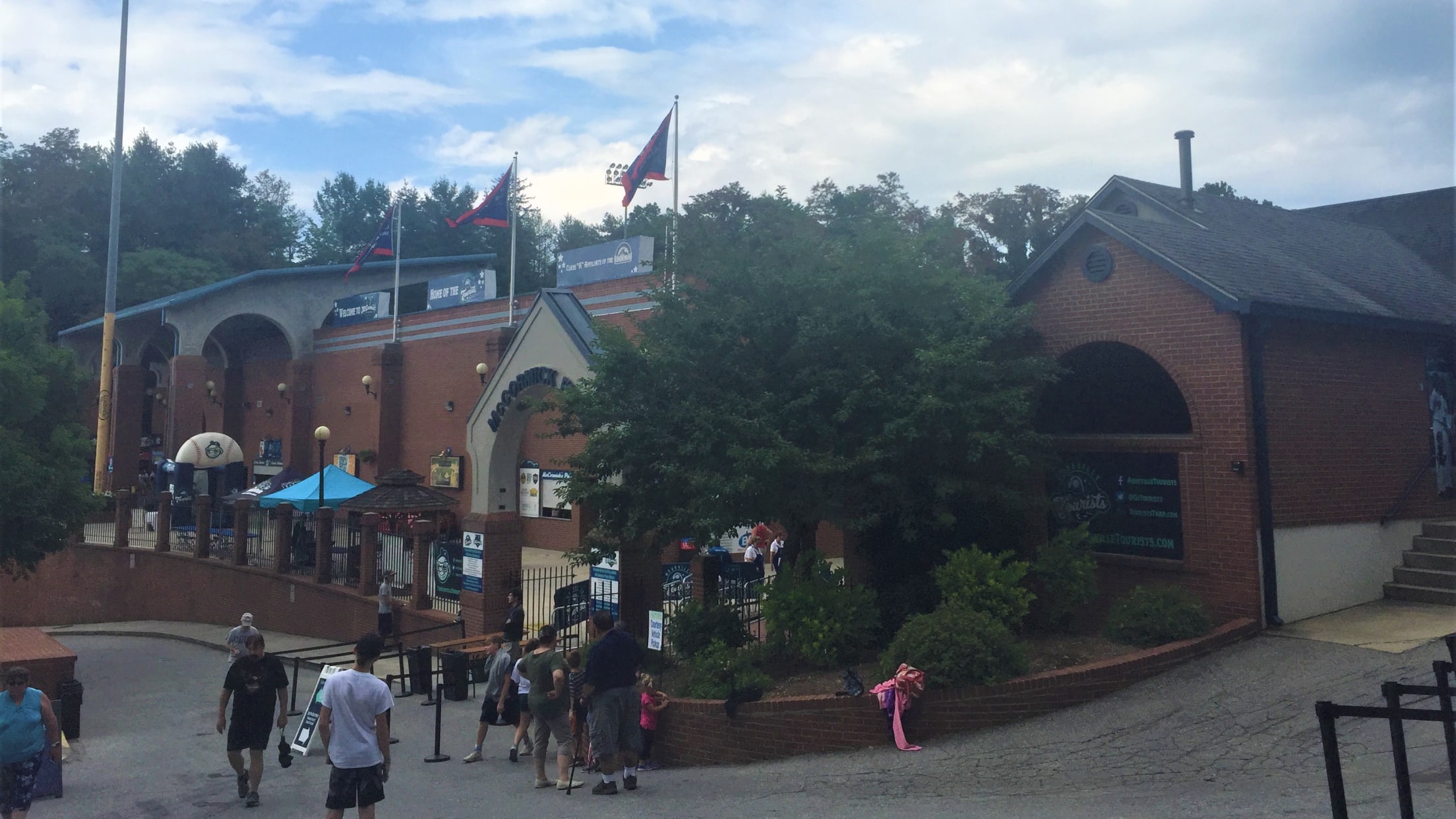 Tourists are transient by nature, and yet Asheville's team are one of the most enduring franchises in all of Minor League Baseball. Tourists was initially an informal moniker, used by sportswriters to describe an Asheville Mountaineers squad that was largely comprised of non-local players. It was officially adopted in 1915, marking the first of several iterations of the Tourists that have existed over the past 100-plus years.
Asheville has fielded a Minor League team in every season since 1959. In that span, the only team not named the Tourists was the Asheville Orioles of 1972-75. That Double-A franchise relocated to Charlotte in 1976, and was immediately replaced by an expansion team in the Western Carolinas League. That circuit became the Class A South Atlantic League in 1980, and there the Tourists remain.
In 2021 the Tourists also began a new affiliation with the Houston Astros, resuming a partnership that had previously existed from 1982-93. A lengthy Colorado Rockies affiliation was sandwiched in between, lasting from 1994-2020.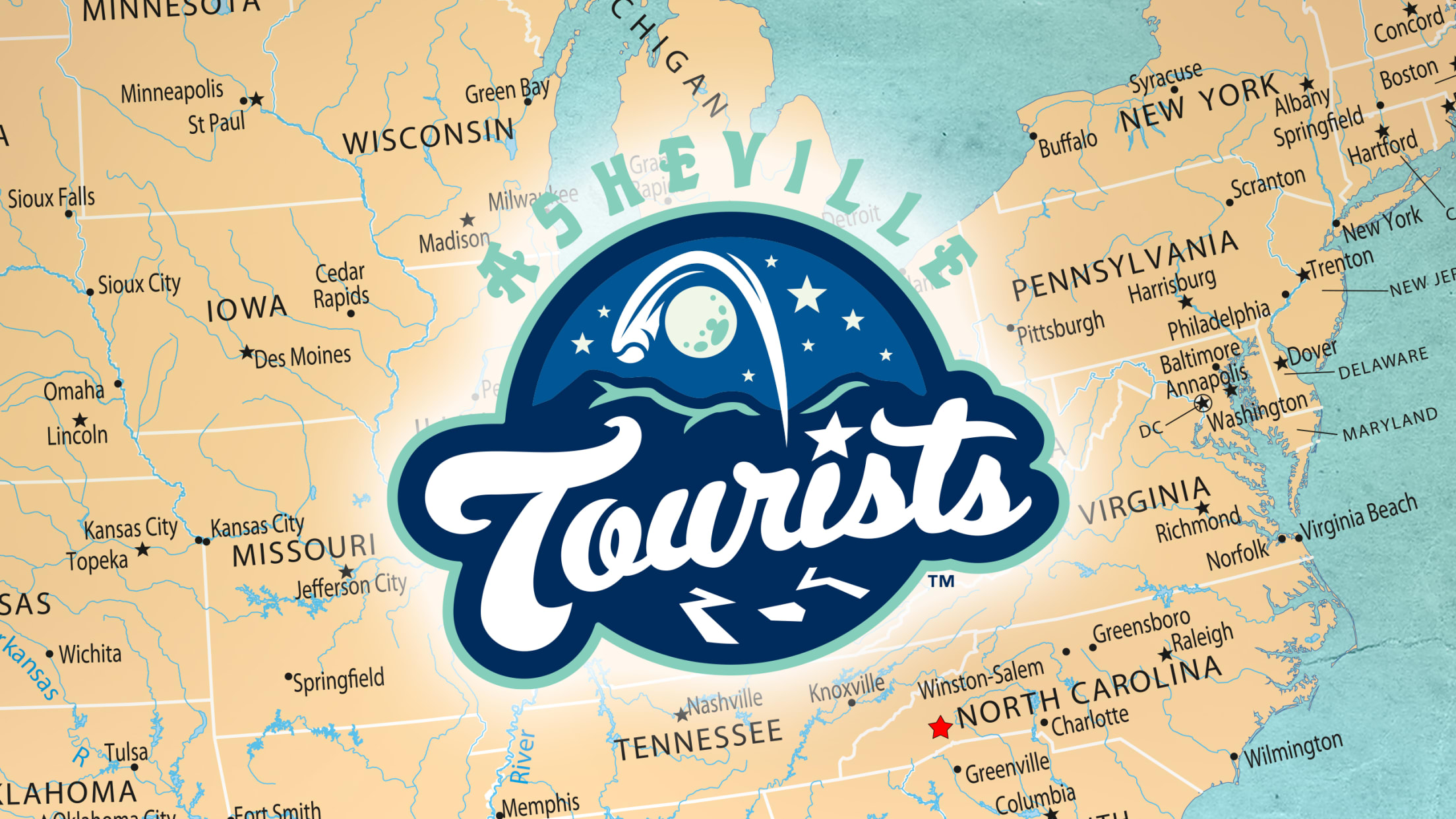 McCormick Field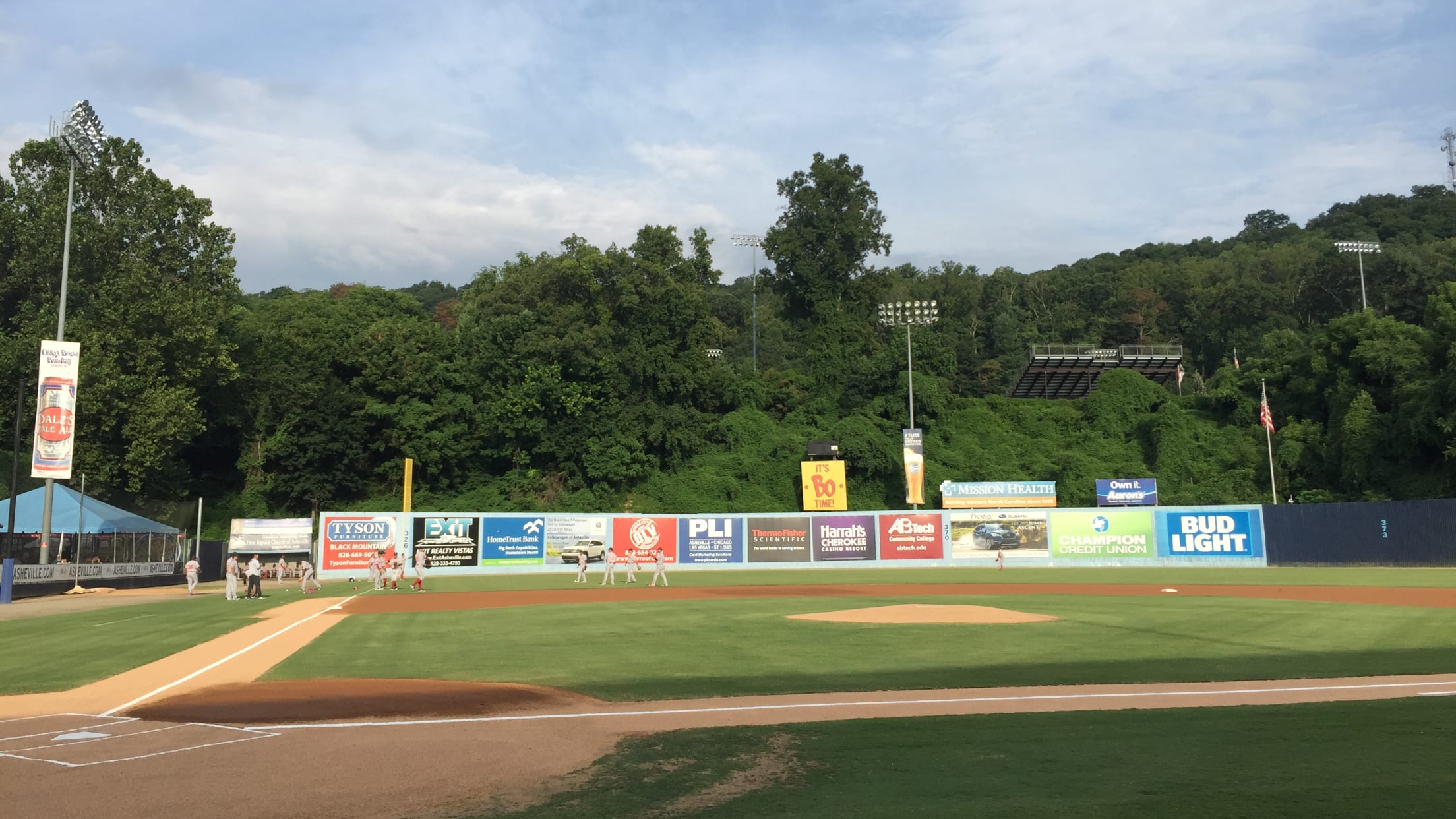 "My, my, what a beautiful place to play. Delightful. Damned delightful place to play."
The above accolades were bestowed on McCormick Field by no less a baseball authority than Babe Ruth, who roamed the outfield during an exhibition game in 1926. There aren't many ballparks remaining that can lay claim to a Babe Ruth appearance, of course, but McCormick Field can lay claim to lots of unique distinctions. The ballpark opened in 1924, and is now the third-oldest in all of Minor League Baseball and the oldest not located in the state of Florida. (Jackie Robinson Ballpark in Daytona Beach and LECOM Park in Bradenton occupy the top two spots on the list).
Please note that the Babe isn't the only legendary home run champion to have played at McCormick Field -- in the 1988 cinematic classic Bull Durham, Kevin Costner's Crash Davis finishes his career as a member of the Tourists.
Suffice to say, McCormick Field exists in a location that wouldn't be considered for the large footprint needs of a modern-day ballpark. It is situated on a small patch of level ground amid one of Asheville's many hills, within a largely residential area. This location results in the unique, hitter-friendly dimensions that likely contributed to the Babe's "damned delightful" assessment: The right field foul pole is just 297 feet from home plate, while dead-center (the deepest part of the ballpark) is just 373 feet from the dish.
Lush vegetation arises on an upward slope just beyond the outfield, resulting in an idyllic backdrop and, for the Tourists' front office, a challenging landscaping task. In recent years the team has hired goats -- yes, literal goats -- to keep the area from becoming overgrown.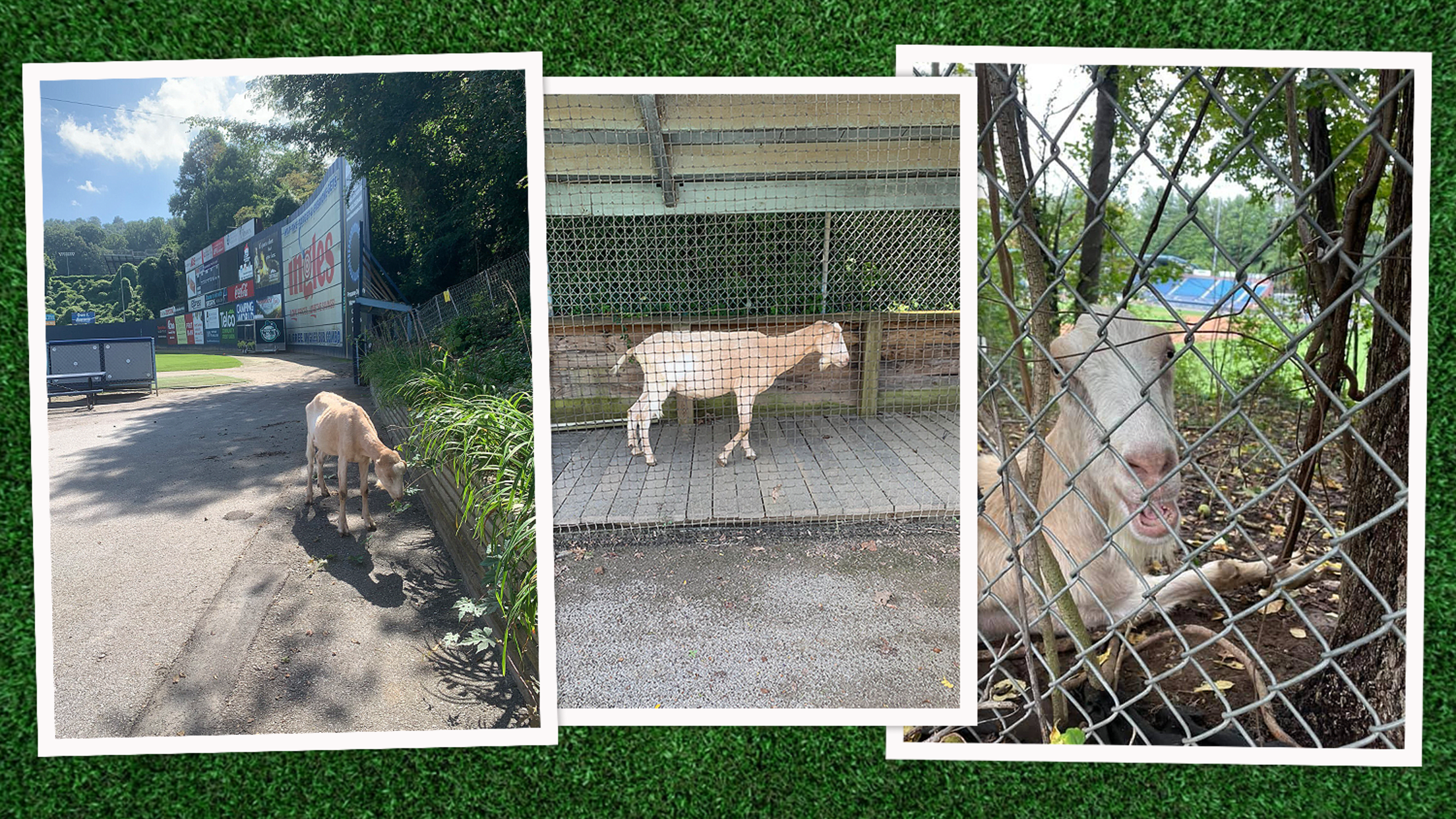 As one would expect from a nearly 100-year-old facility, McCormick Field is relatively lacking in amenities. The slightly asymmetrical seating bowl, bisected by a narrow concourse, extends from shallow right field to the edge of the infield on the third-base side. A blue, sloping roof covers the seating bowl from first base to third. As befits a classic ballpark, solid red brick is a dominant architectural motif both outside and within.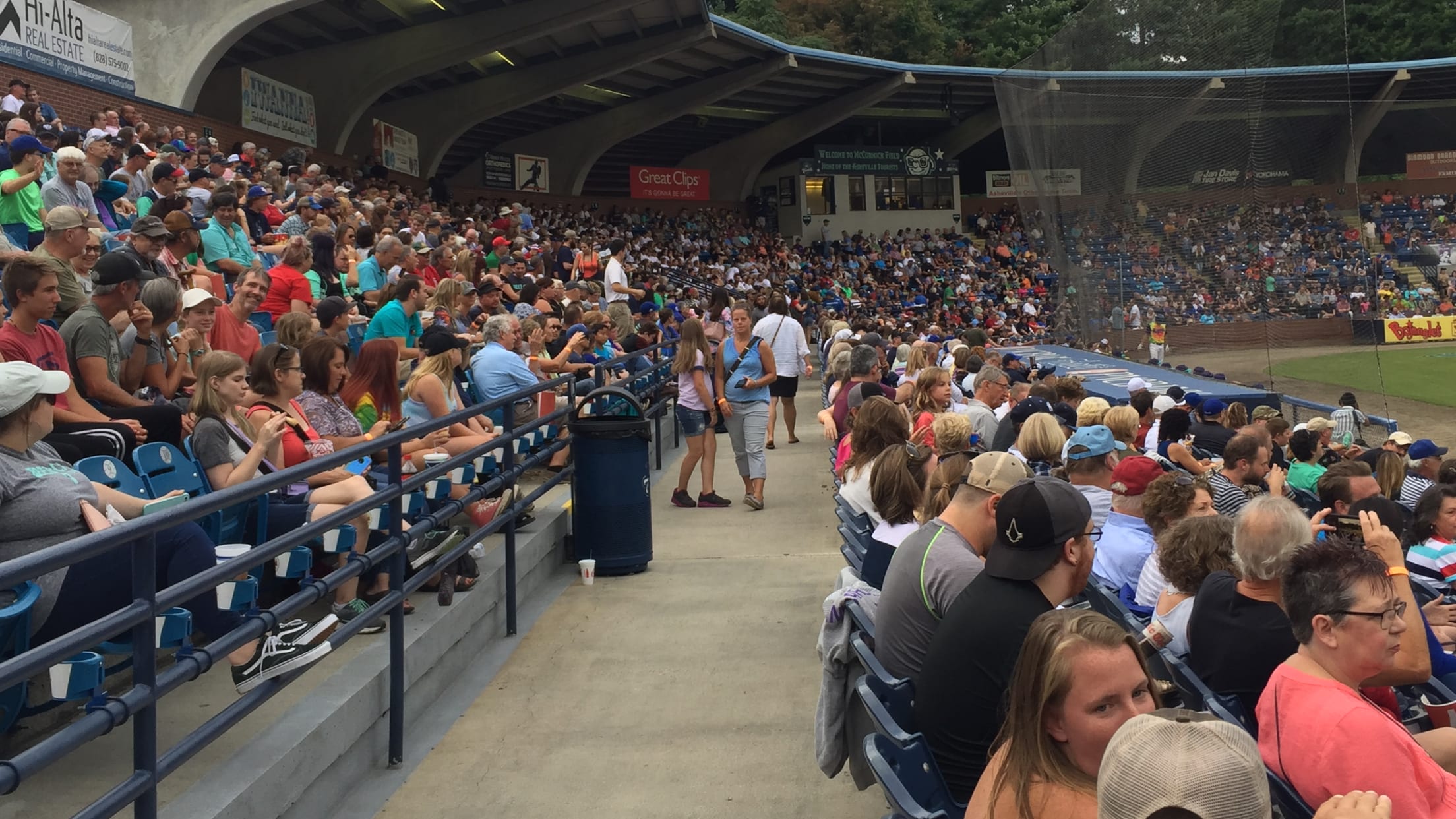 Despite its inherent age and space-based limitations, the Tourists have done an excellent job adding new elements to the ballpark. The right-field area is home to a picnic pavilion, party deck and, sandwiched in-between, a suite. The Wicked Weed Party Pavilion, a partnership with a local brewery, is located down the left-field line.
One of the best in-game views isn't even located in the ballpark itself, however. Asheville Memorial Stadium, a public multi-sport facility, is located beyond the ballpark in left-center field. A section of that stadium's bleacher seating looms above McCormick Field. Climb to the top in order to enjoy a beautiful and wholly unique vantage point.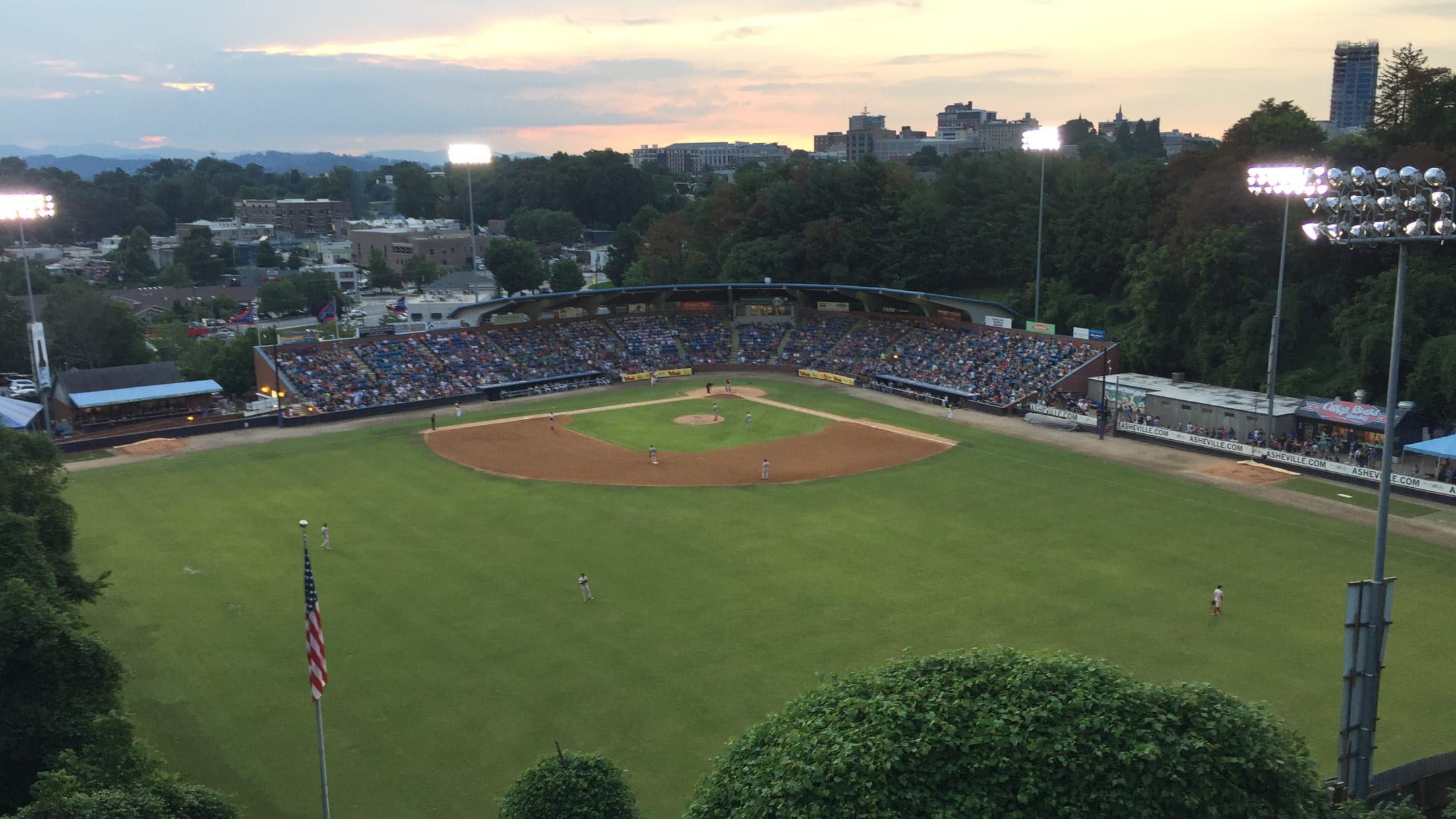 Concessions
Once again, the Tourists do an exemplary job maximizing the space they have. McCormick Field's external concourse is chock-a-block with a riotous array of concession stands and kiosks, resulting in a setup reminiscent of a state fair. In addition to standard ballpark staples, the Tourists lean into the state fair vibe via items such as pretzel cheese curds and deep-fried Moon Pies (a s'more-esque dessert popular throughout the South).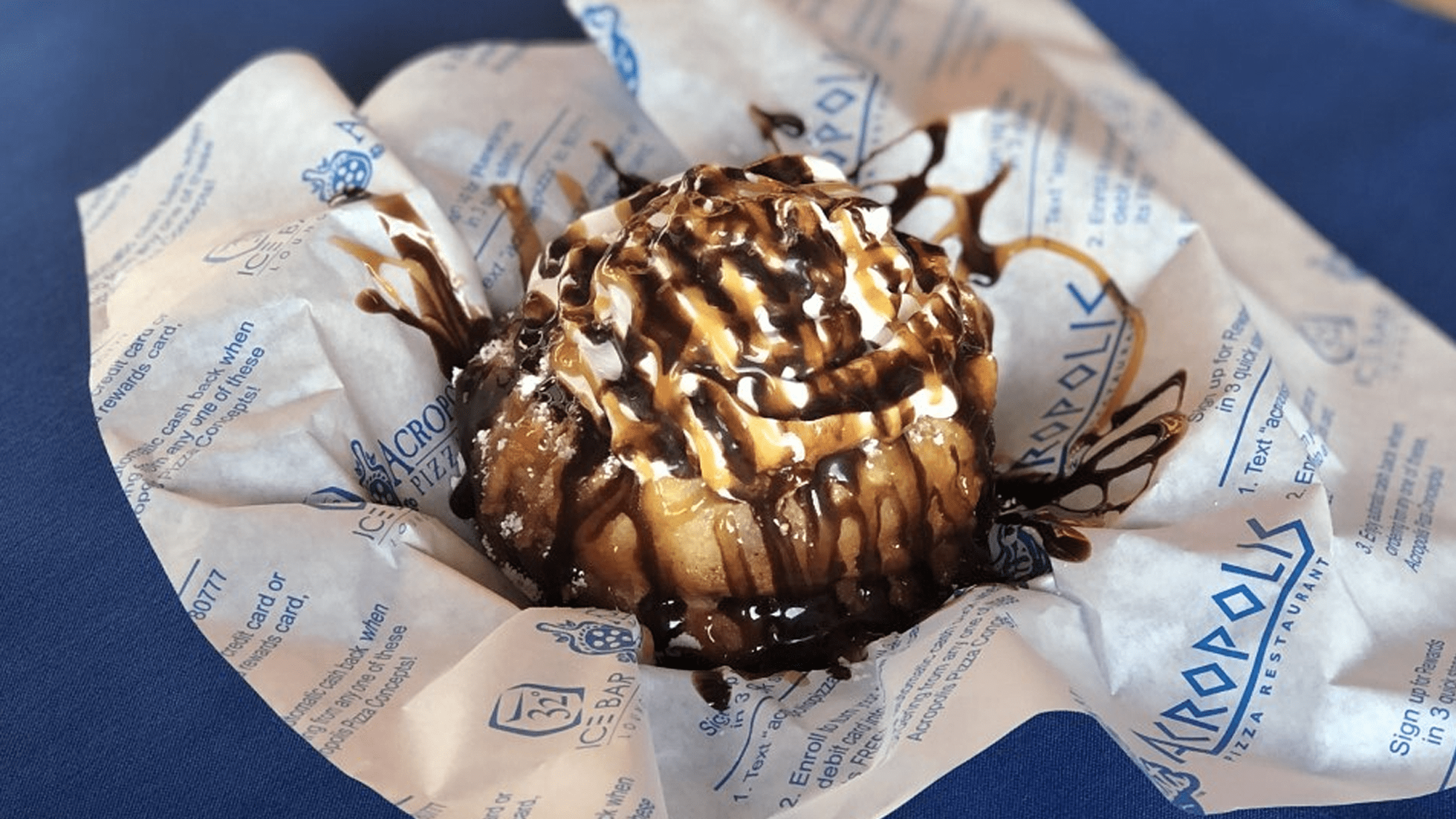 And did you know? McCormick Field is the original home of Thirsty Thursday, now a staple of promotional schedules across Minor League Baseball. Former owner Ron McKee, a respected front office innovator who passed away in 2021, came up with the term in 1983 and trademarked it in 1995. It's a fitting claim to fame for Asheville's baseball team, as the city is now home to numerous craft breweries. The team's "Beer City Tourists" alternate identity commemorates Asheville's love of sudsy alcoholic beverages. You'll find a wide variety of such at McCormick Field, regardless of whether or not it's Thirsty Thursday. (Keep reading for more information on Asheville's vaunted beer scene.)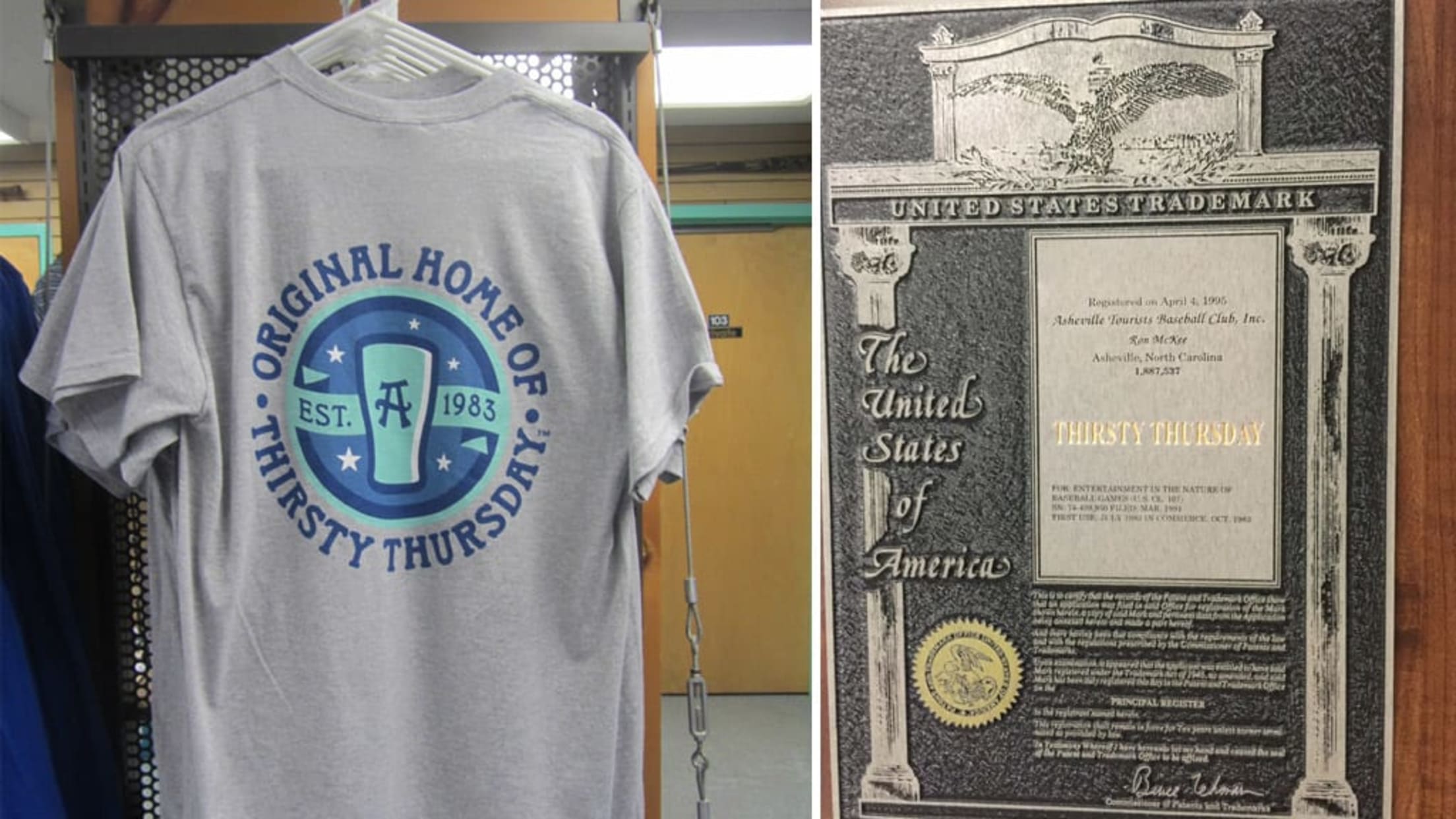 Mascots
The Tourists have two mascots, representing land and space. Ted E. Tourist, a lovable brown bear, has been a McCormick Field fixture for decades. Relatively new to the scene is Mr. Moon, who debuted in 2011 (in conjunction with a set of new moon-themed Tourists' logos). Mr. Moon has a first name, but Ted E. is the only one who knows what it is and he's not telling.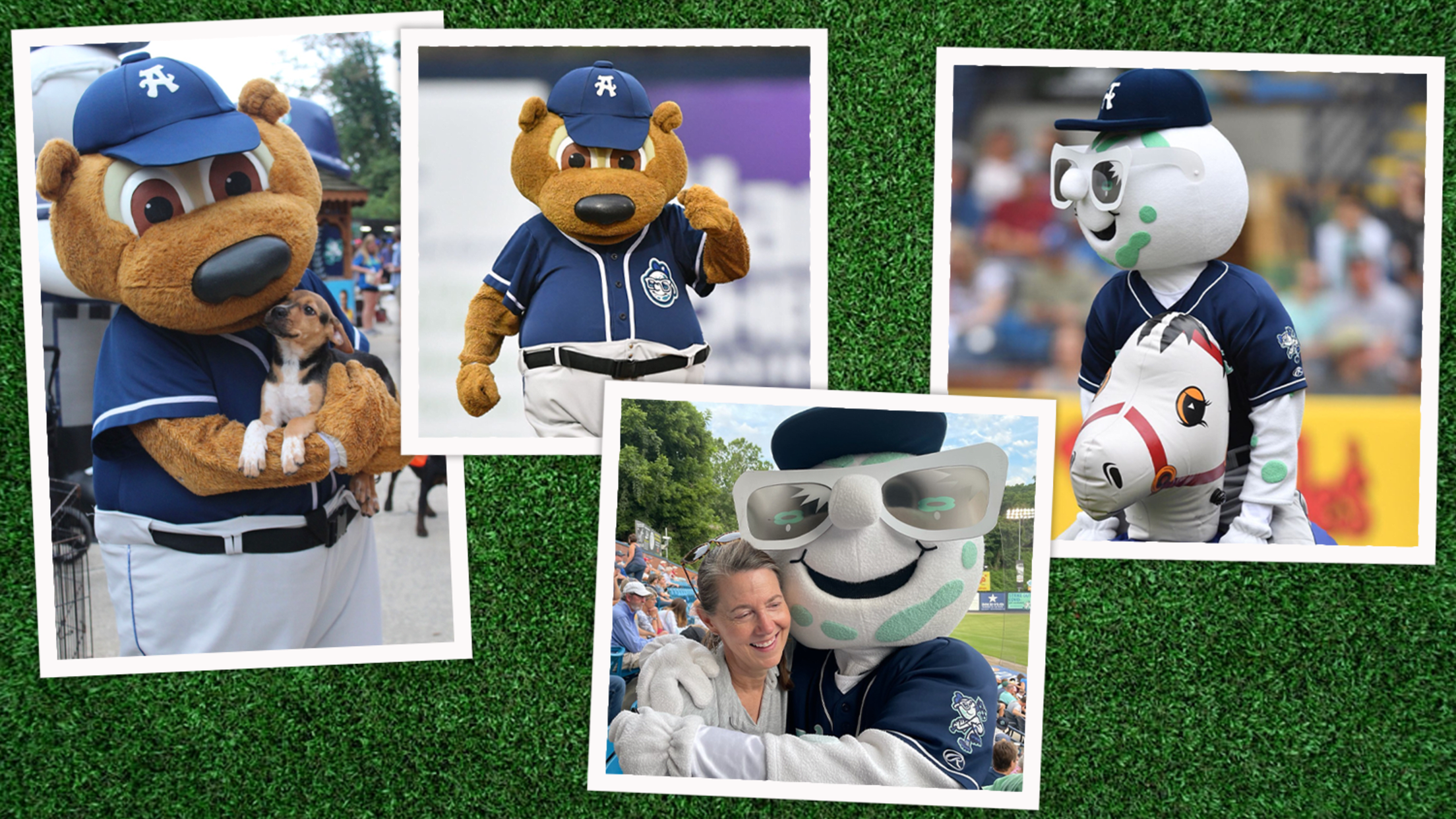 Local Attractions
Western North Carolina is a gorgeous part of the country, and the range of activities is really limited only by your interests. You may want to start with something as simple as going for a drive, with the iconic Blue Ridge Parkway passing through town. A friendly reminder: the speed limits tend to be very conservative on this twisty, scenic road, but you'll want to take time to see the sights anyway.
The most famous attraction in town is the Biltmore, "America's Largest Home." The house and grounds are available to tour if you'd like a taste of what might be called American royalty.
Asheville is one of the country's great outdoors hubs, and there's plenty of hiking, biking, and camping in the nearby mountains. Another outdoor attraction is the Western NC Nature Center, which features animals and plants of the region, including bears, river otters, wolves, birds of prey and big cats. There's even a petting area with plenty of friendly livestock.
And if you just want to walk around town, that's a great way to spend a day, too. West Asheville is funky and artsy, with breweries, restaurants and cafes (more on all of those to come). The River Arts District features a slew of studios and galleries. And downtown brings plenty of shopping and dining, as well as the Asheville Pinball Museum if you want to duck inside and play some classic video games or pinball machines.
Food and Drink
The Asheville Tourists sometimes play as the Beer City Tourists, and that's your first clue as to what's in store if you want some refreshment. The city is home to dozens of breweries – it claims more per capita than any other city in the United States – and there's not just quantity, there's quality.
The brewing scene is centered on the South Slope, on the edge of downtown, where you can find standouts Burial, Green Man, and Hi-Wire. Try Burial in particular, where the New England IPAs are as good as you'll find anywhere in the country. Zillicoah, which specializes in lagers and sours, sits on a beautiful space alongside the French Broad River.
For a perfect Asheville food day, start in the morning at Hole Donuts in West Asheville, where they literally fry the doughnuts to your order as you wait. Only four varieties per day – just get one of each. TacoBilly, featuring local and organic produce, offers up sensational tacos of both a traditional and breakfast variety in the morning and afternoon.
With breakfast and lunch in the rearview, perhaps you'll want some less casual dining for dinner. Cúrate is an extremely well regarded Spanish restaurant. For more traditional southern fare, Tupelo Honey offers specialties like fried chicken and shrimp and grits, and for some very good barbecue in a variety of styles, check out Buxton Hall.
Lodging
Downtown includes boutique hotels as well as more conventional options, with an Aloft and The Foundry both within walking distance of the ballpark. A little farther away in downtown, but still walkable on a nice day, are a Renaissance, a Four Points, and an AC.
Moving On
You have plenty of options at plenty of levels if you want to hit a couple of other parks while you're in the area. The closest as the crow flies is the home of the High-A Greenville (S.C.) Drive, Fluor Field -- just a little more than an hour south. If you like Asheville, you're likely to enjoy Greenville as well. Downtown has a somewhat similar vibe, with no shortage of good food or good beer.
The High-A Hickory Crawdads play at L.P. Frans Stadium in Hickory, N.C. That's a straight shot, just hop on I-40 east and go for about 75 miles. Take a right at Hickory, and before long you'll be in Charlotte, home of the Triple-A Knights. Truist Field is a little more than two hours from Asheville.
And if you drive about two hours to the west, not only will you find some breathtaking scenery along the way, but before long you'll find yourself in Sevierville, Tenn. There, you can go see the Double-A Tennessee Smokies.
The Road to Houston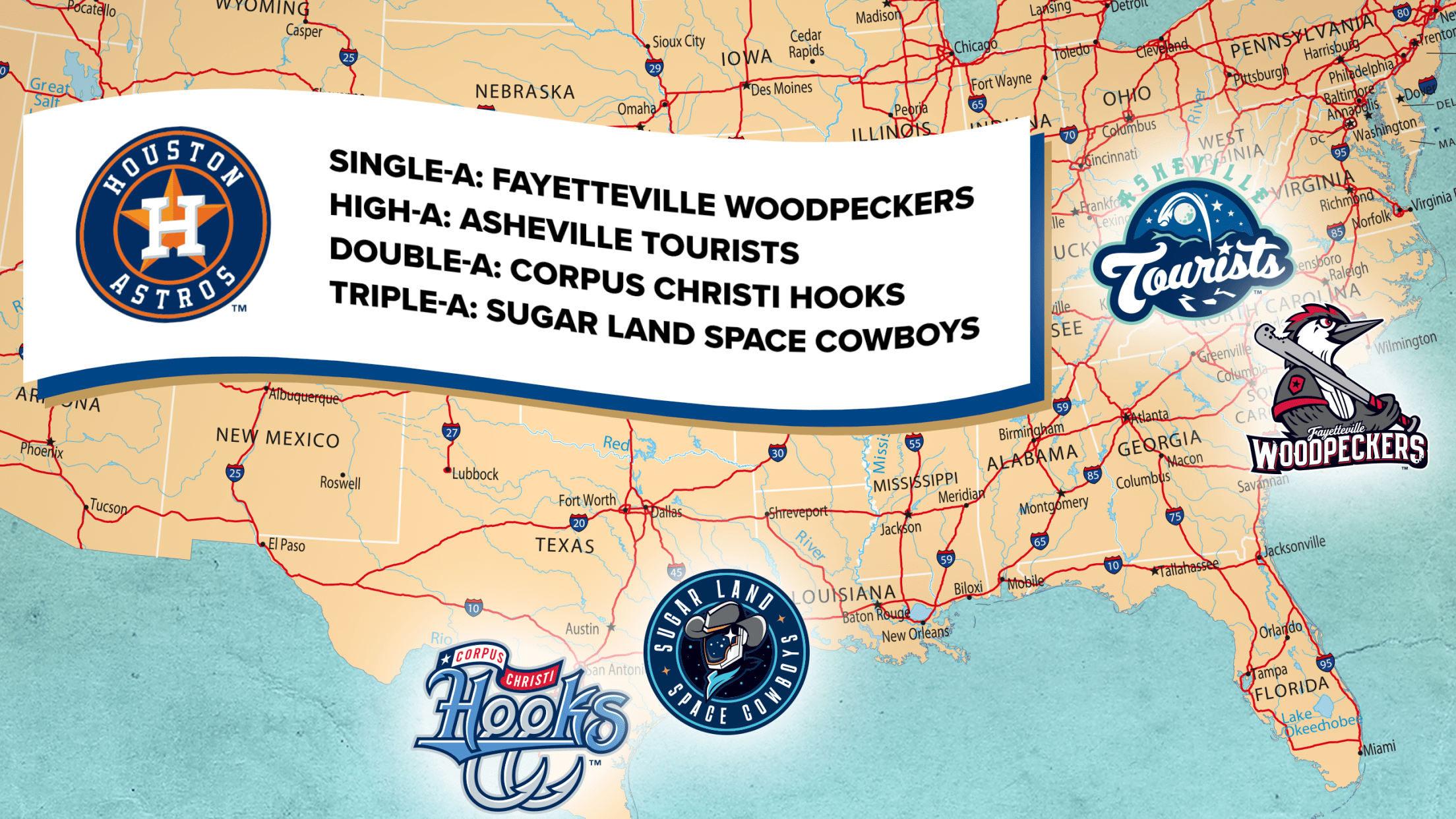 credits:
Benjamin Hill, who covers the business and culture of Minor League Baseball, has visited 182 Minor League ballparks. Matthew Leach, an editor and reporter for MLB.com since 2000, has visited 11 Asheville breweries.