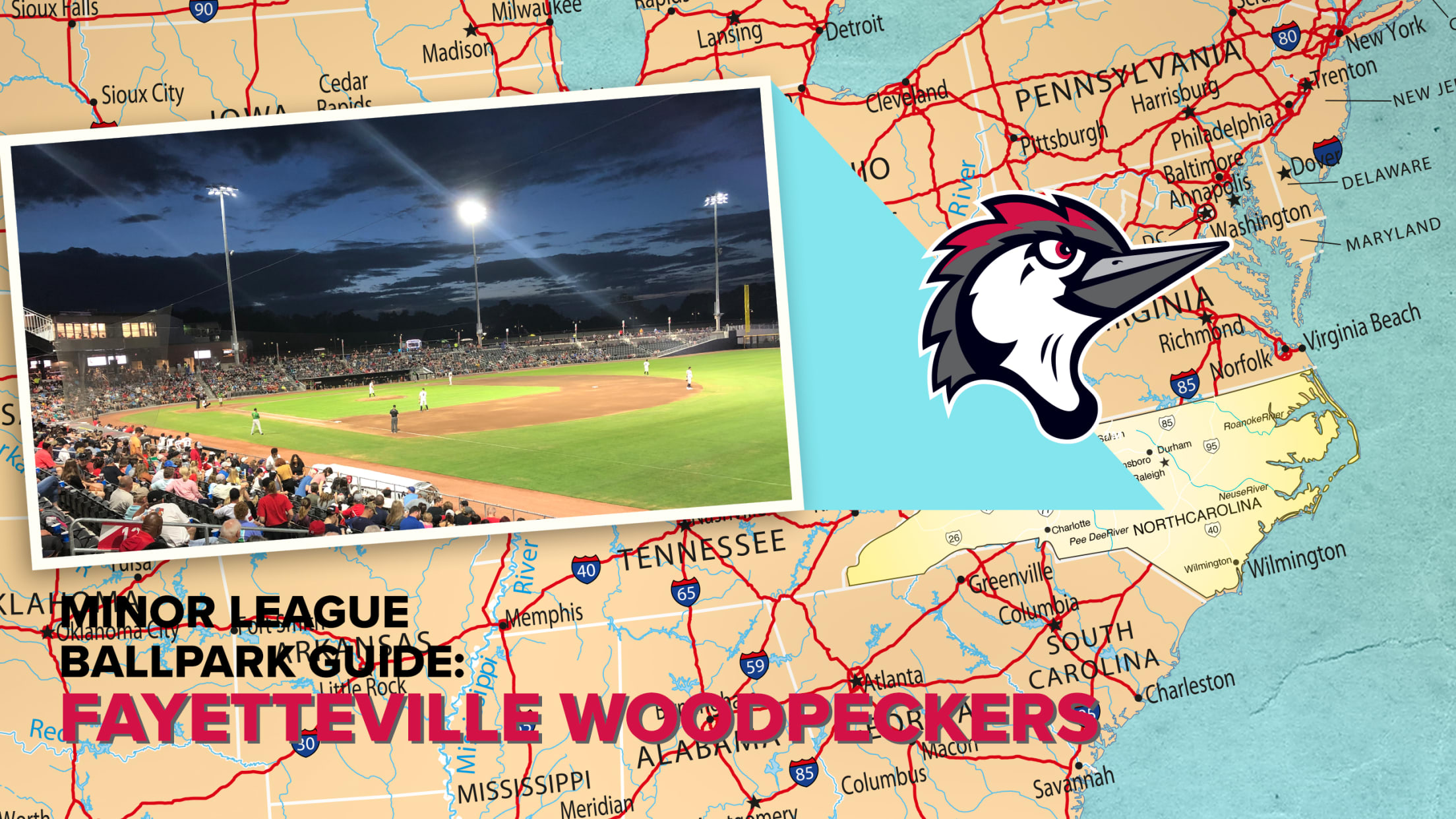 Scroll
Visit Fayetteville's Segra Stadium 
Welcome to Segra Stadium, where black and red is the preferred color scheme and nods to the military are legion. Take in a ballgame, watch the passing trains and hobnob with the world's largest red-cockaded woodpecker.
Fayetteville Woodpeckers (Affiliate of the Houston Astros since 2019)
Established: 2019
Ballpark: Segra Stadium (opened in 2019)
League: Carolina League
Notable Alumni: Seth Beer, Jake Meyers, Jonathan Araúz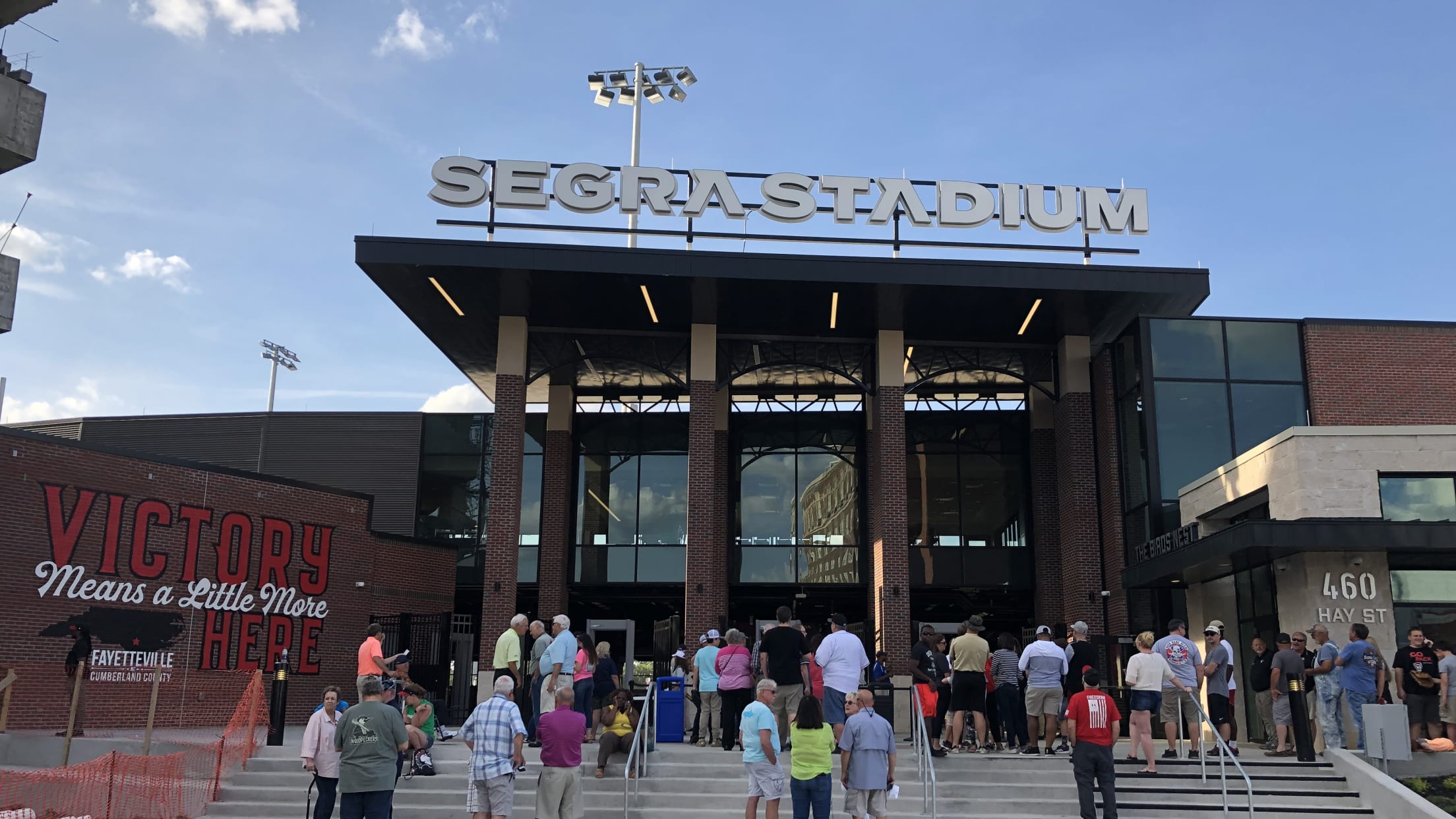 Fayetteville, North Carolina's sixth-largest city, is best known as the home of Fort Bragg (the world's largest military installation). Professional baseball in the region dates back to the early 20th century, even predating the 1918 establishment of what was then known as Camp Bragg. The Woodpeckers debuted in 2019, becoming the first Minor League team to play in Fayetteville since the Cape Fear Crocs departed for Lakewood, N.J., following the 2000 season.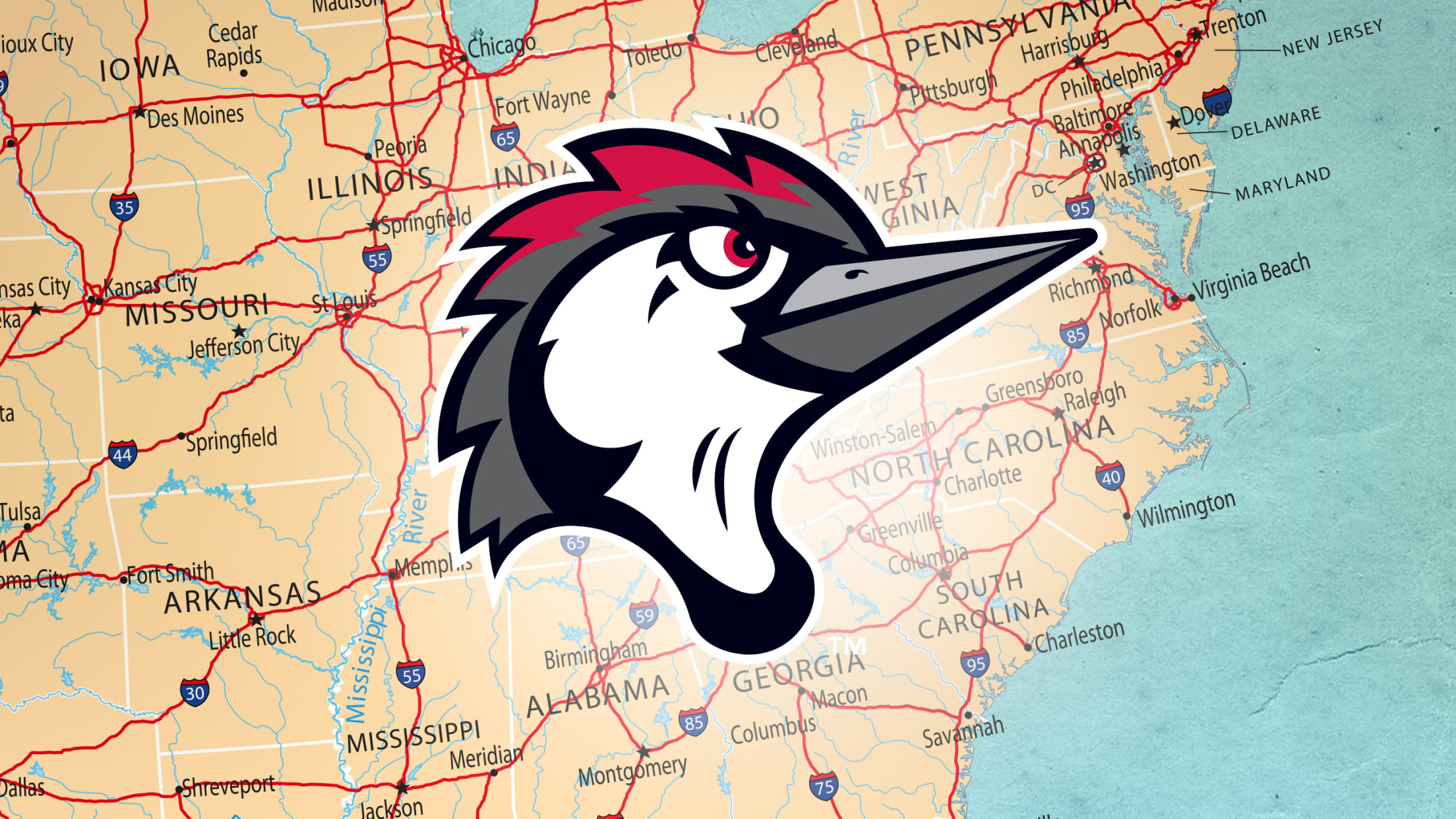 The Woodpeckers are owned by their Major League affiliate, the Houston Astros. They play in the Carolina League, which shifted from High-A to Single-A in 2021 as part of a larger restructuring of Minor League Baseball. The team's red and black color scheme, incorporated throughout Segra Stadium, is a nod to the Fort Bragg-based U.S. Army Special Operations Command. Red and black are also the colors of the red-cockaded woodpecker. As a result of dedicated conservation efforts, Fort Bragg is now home to the second-largest red-cockaded woodpecker habitat in the world.
Segra Stadium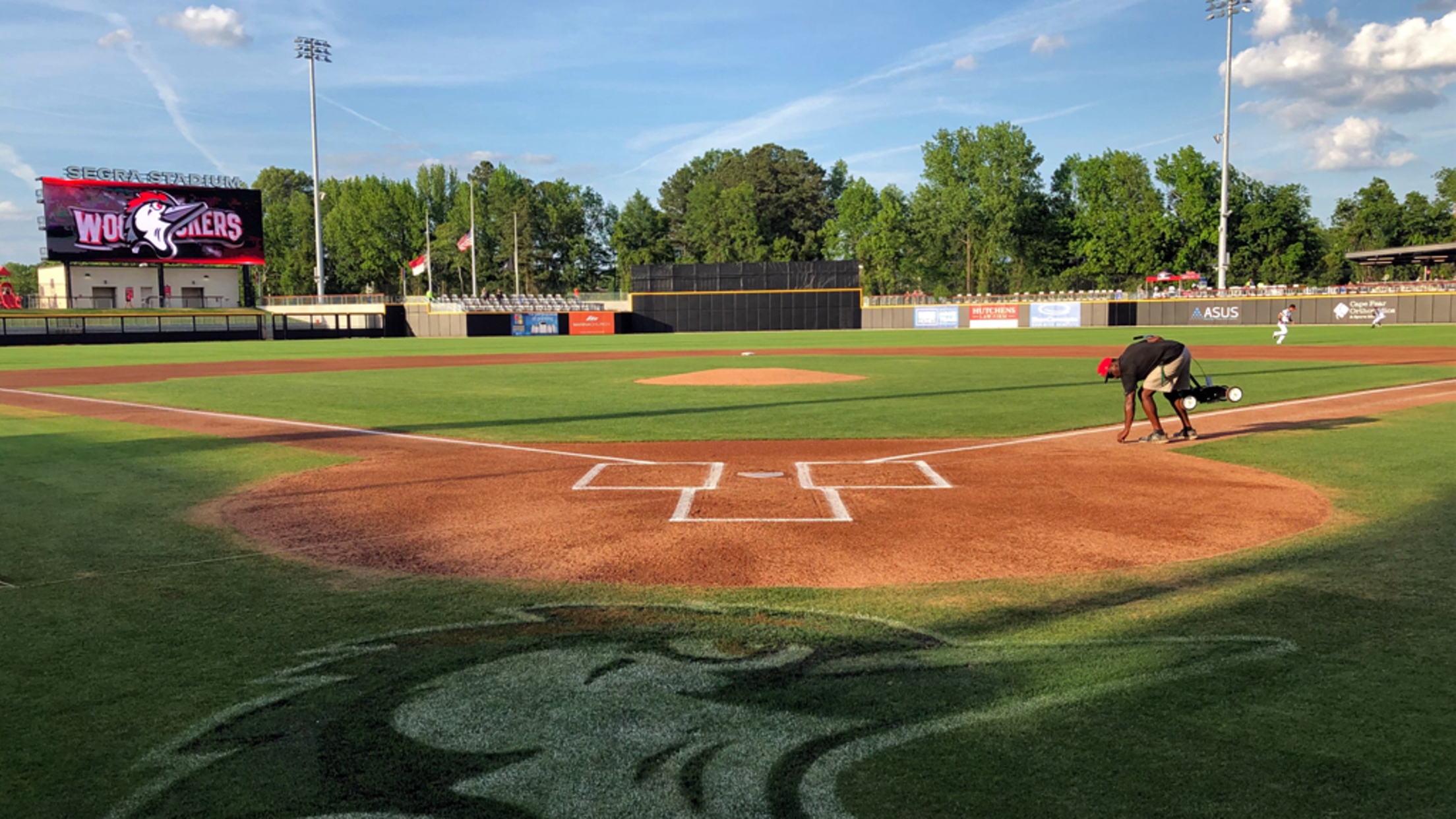 Segra Stadium is nestled into a tight location in downtown Fayetteville, surrounded by office buildings, a parking garage and apartment complexes. An Amtrak train station is located along the facility's third-base side, with the platform just beyond the ballpark's boundaries. Another train track runs runs between the concourse and a wooded area that comprises the ballpark's outfield backdrop. Many of the trains that use this track transport troops and military cargo to Fort Bragg.
Despite its tight downtown footprint, there is plenty to explore within Segra Stadium's confines. The Birds' Nest team store is located on the first-base side of the 360-degree concourse, attached to the team offices. These structures are accessible from the outside of the ballpark as well. Healy's Bar is beyond right field, the heart of a sprawling social area that also includes the elevated Landing Deck.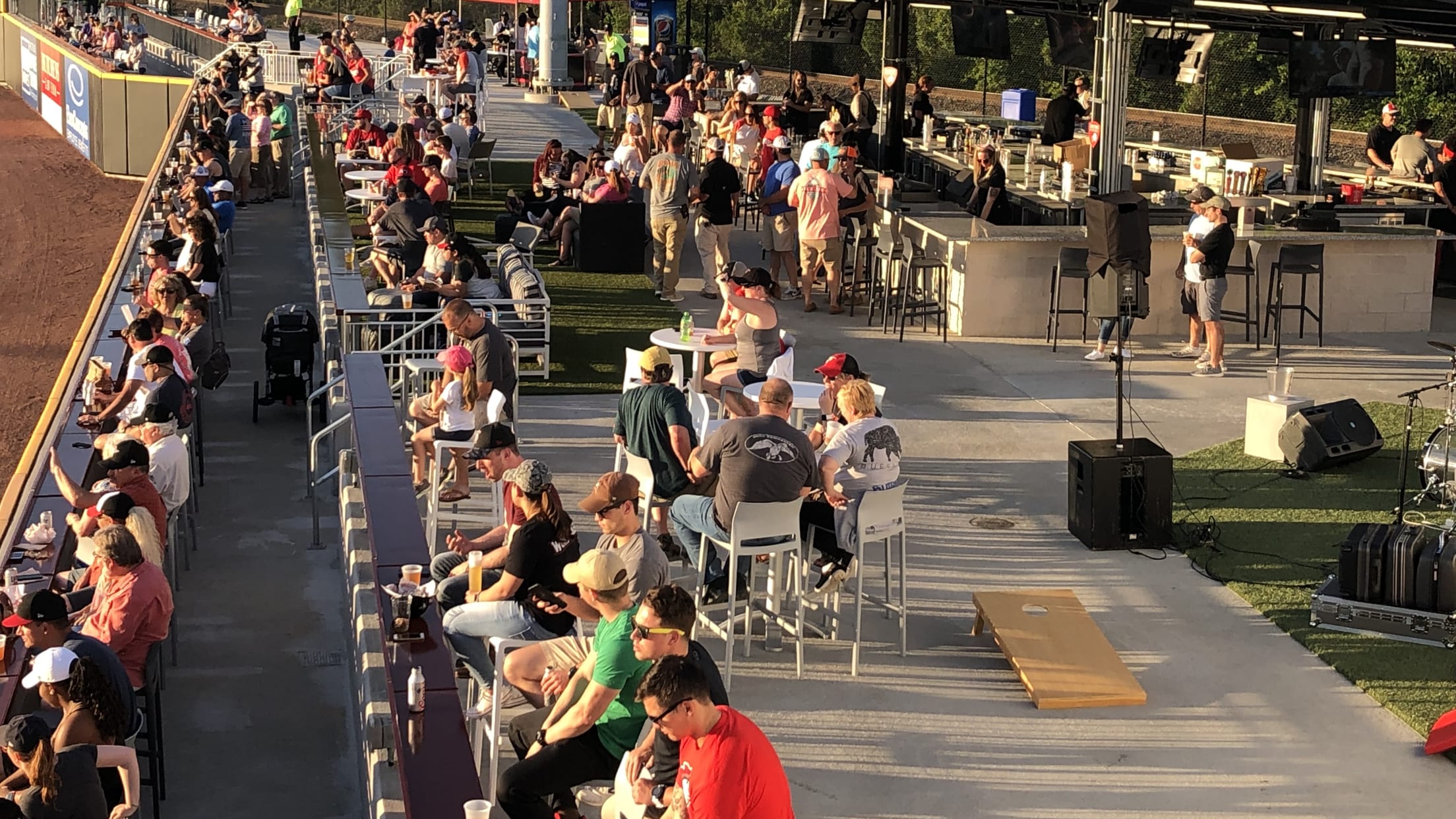 Both bullpens are located on the left-field side of the ballpark, in full view of the fans looming above them on the concourse. This area includes a sizable patch of berm seating, with a playground situated adjacent to the berm in the left-field corner. The left-field concourse is also home to a row of rocking chair seating. The rocking chairs in question -- plastic, sleek and spacious -- offer one of the ballpark's most unique and comfortable vantage points.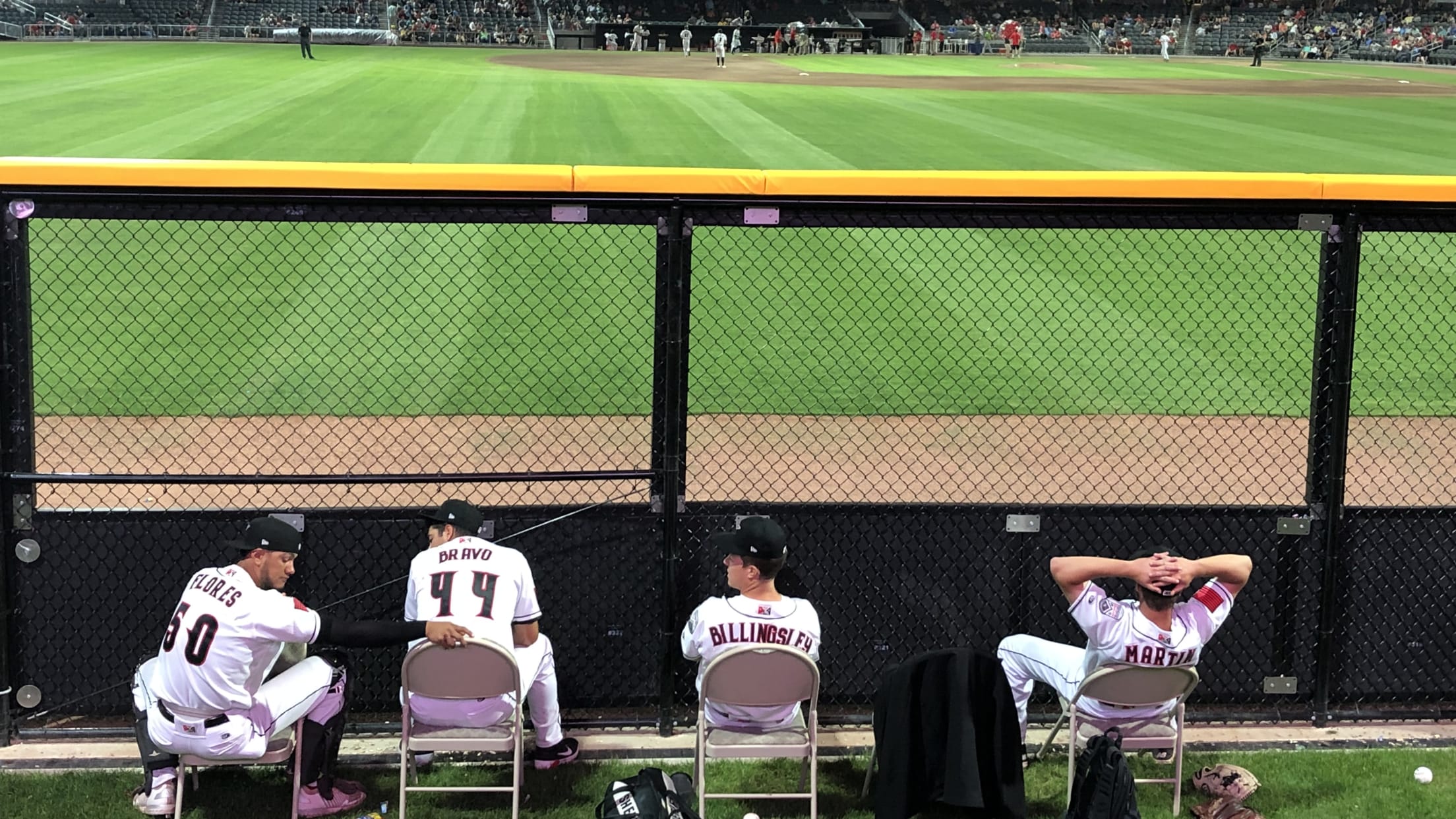 Concessions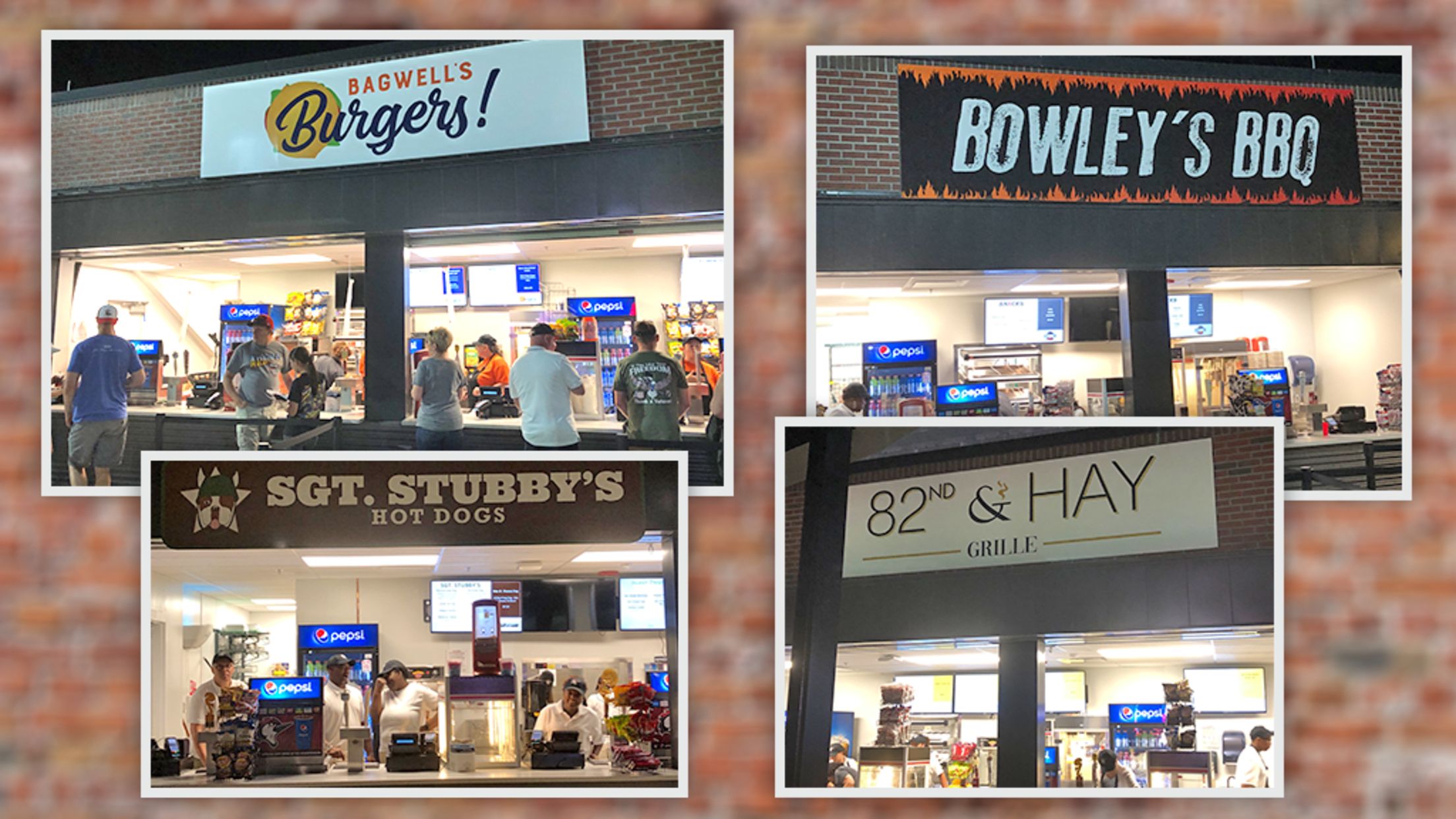 Segra Stadium's concourse concession stands, several of them featuring a military theme, cover the ballpark basics and then some. Highlights include pulled pork nachos from Bowley's BBQ (named for the general who commanded Fort Brag from 1921-'28), as well as carne asada fries from the Home Plate Bar. You also can't go wrong with the hot dog selection at Sgt. Stubby's, which was named for an actual dog. (Stubby, a very brave canine, took part in 17 battles on the Western Front during World War I). Sgt. Stubby's offerings include a mac and cheese hot dog, topped with crisp morsels of bacon.
Mascot
The Woodpeckers' mascot is, of course, a woodpecker. Specifically, he is a red-cockaded woodpecker who goes by the name of Bunker. Like so much else at the ballpark, this moniker is militarily-inspired. Bunker is named for Matthew "Bunker" Ridgway, commanding general of the 82nd Airborne during World War II and, later, the U.S. Army's Chief of Staff.
Local Attractions
Segra Stadium is located on Hay Street, one of downtown Fayetteville's primary thoroughfares and home to many stores and restaurants. A good way to learn about the region is by visiting the Fayetteville Area Transportation Museum, located in a restored railroad depot. The Airborne and Special Operations Museum, meanwhile, is dedicated to preserving Army Airborne and Special Operations history while honoring past, present and future soldiers. Speaking of going airborne, Paraclete XP Indoor Skydiving offers visitors the opportunity to take a "flight" inside a giant vertical wind tunnel.
A more off-the-beaten path suggestion? Visit the Department of Transportation's Division of Highways Division 6 office in order to see a plaque commemorating Babe Ruth's first professional home run. This historic blast was hit in March of 1914 and traveled 135 yards; the plaque also notes that, in Fayetteville, "George Herman Ruth acquired the nickname 'Babe.'"
Food and Drink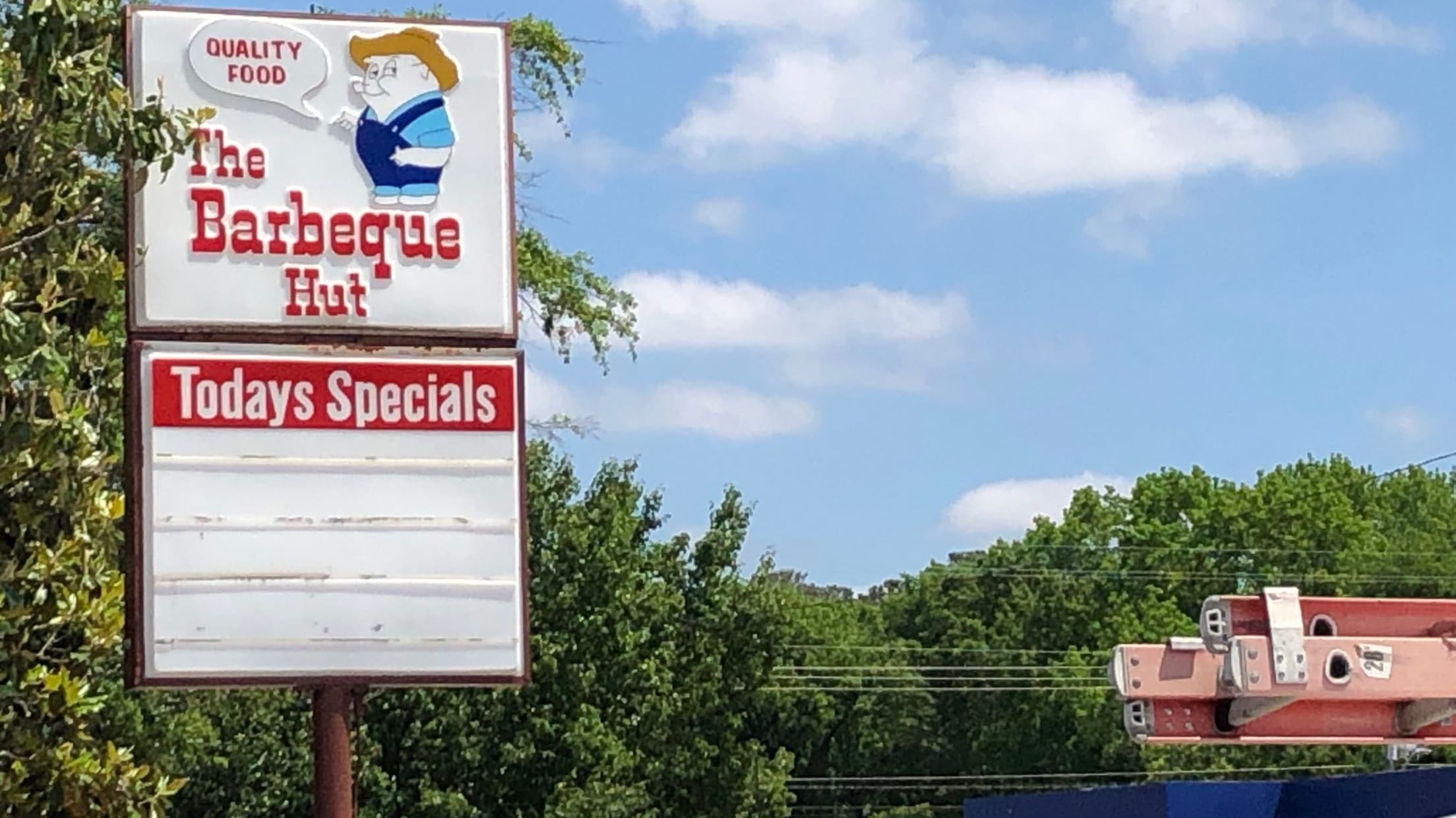 If you go looking for barbecue in Fayetteville, you'll find it. The Barbeque Hut is a no-frills favorite specializing in pulled pork and fried chicken. Fowler's, a higher-end establishment, is known for sweet and delectable burnt ends. Bigger picture, the diverse population of the military has resulted in a diverse selection of restaurants throughout the city. International options are plentiful, representing cuisines from all over the globe. Cumberland County, of which Fayetteville is a part, is home to six breweries. This includes Dirtbag Ales Brewery and Taproom, who explain that being a dirtbag means "shattering the mold, not playing by a set of rules and questioning life at every turn."
Lodging
Most people arrive at Fayetteville via the north-south behemoth that is I-95. There are plentiful hotels on and around this well-traveled area, not surprising given the huge number of visitors the city receives due to the presence of Fort Bragg. Bed and Breakfasts are also an option, as is camping.
Moving On
North Carolina is the best state in America for a baseball road trip, home to 10 Minor League teams as well as a multitude of independent and summer-collegiate entities. Road trip options abound; choose your own adventure. One itinerary would be to incorporate the teams of the Low-A East's Central Division, which in addition to Fayetteville includes the Kannapolis Cannon Ballers, Carolina Mudcats and Down East Wood Ducks. The Woodpeckers are the southern-most team in North Carolina, putting them in relatively close proximity to South Carolina Minor League teams such as the Columbia Fireflies, Myrtle Beach Pelicans and Charleston RiverDogs. In the Carolinas, you just can't go wrong.
The Road to Houston
The Houston Astros' system, like that of the Texas Rangers, has two Minor League teams in North Carolina and two in its home state of Texas. It begins in Fayetteville and then proceeds to the High-A Asheville Tourists, whose home of McCormick Field is nearly 100 years older than Segra Stadium. From Fayetteville, players progress to the Double-A Corpus Christi Hooks and then Triple-A Sugar Land Skeeters before reaching Houston.
Single-A: Fayetteville Woodpeckers
High-A: Asheville Tourists
Double-A: Corpus Christi Hooks
Triple-A: Sugar Land Space Cowboys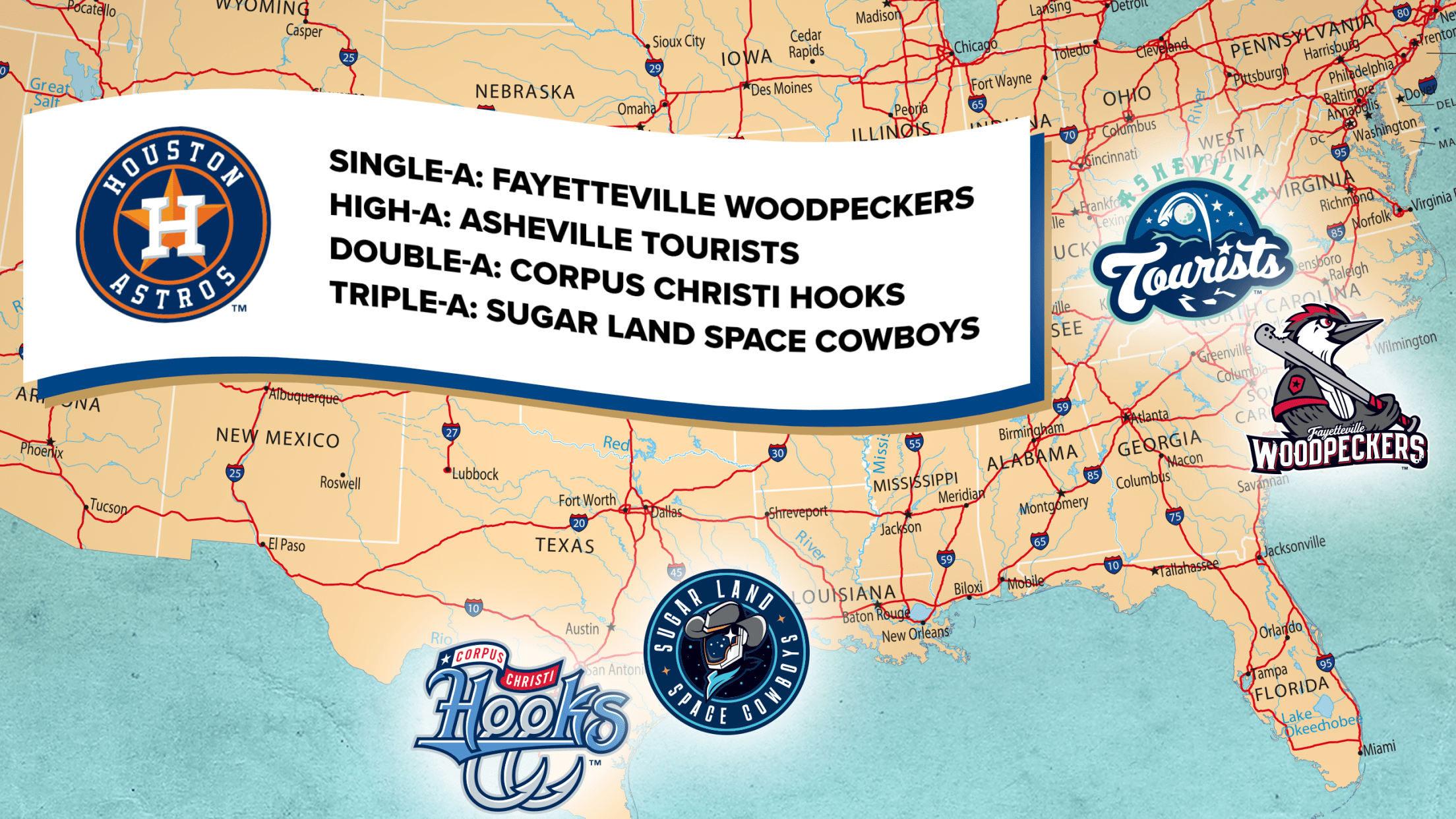 credits:
Benjamin Hill, who covers the business and culture of Minor League Baseball, has visited 182 Minor League ballparks.