Explore Jacksonville's 121 Financial Ballpark
Welcome to 121 Financial Ballpark, one of the boldest environments in the Bold City. This is the land of the Jumbo Shrimp, where Miami prospects go before blossoming into Marlins.
Jacksonville Jumbo Shrimp (affiliate of the Miami Marlins since 2009)
Established: 1970 (as the Jacksonville Suns)
League: Triple-A East (Double-A Southern League from 1970-2020)
Ballpark: 121 Financial Ballpark (opened 2003 as The Baseball Grounds of Jacksonville)
Championships: 1996, 2001, 2005, 2009, 2010, 2014
Notable Alumni: Randy Johnson, Larry Walker, Nathan Eovaldi, Matt Kemp, Clayton Kershaw, J.T. Realmuto, Giancarlo Stanton, Christian Yelich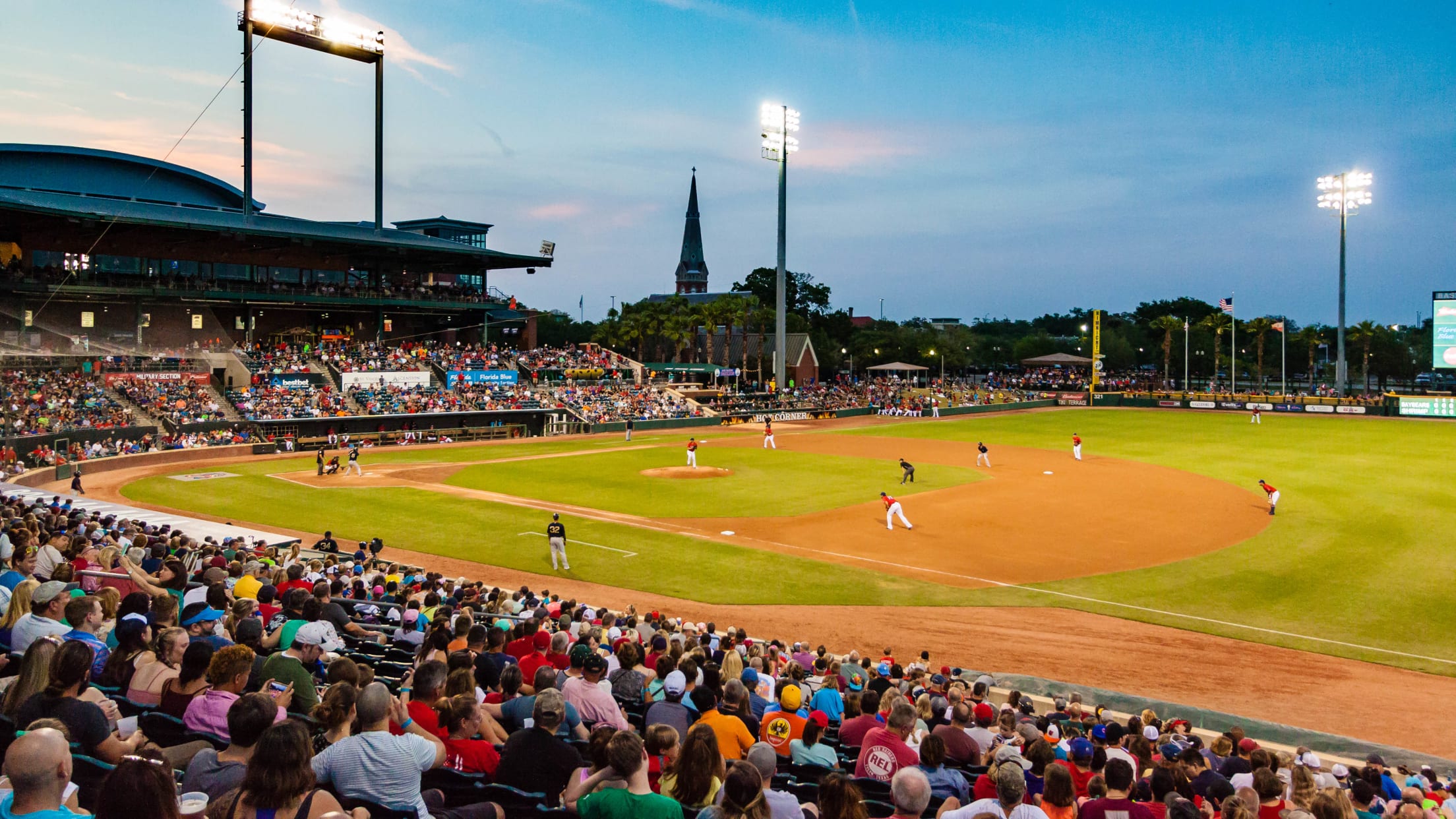 Jacksonville, Fla., known as the Bold City in reference to a long-ago city marketing campaign, has several distinct claims to fame. Comprised of 840 square miles, it is the largest city by landmass in the continental United States and also boasts the largest urban park system. It is also the youngest city in Florida, with an average age of 36. Jacksonville's professional baseball history, by contrast, goes back further than nearly any other Sunshine State locale. Teams playing within the Southern League of Colored Base Ballists, a Negro League, took the field in 1886. Subsequent professional baseball teams included those within the South Atlantic and Southeastern Leagues, carrying names such as the Jays, Tarpons, Tars, Braves and Jets.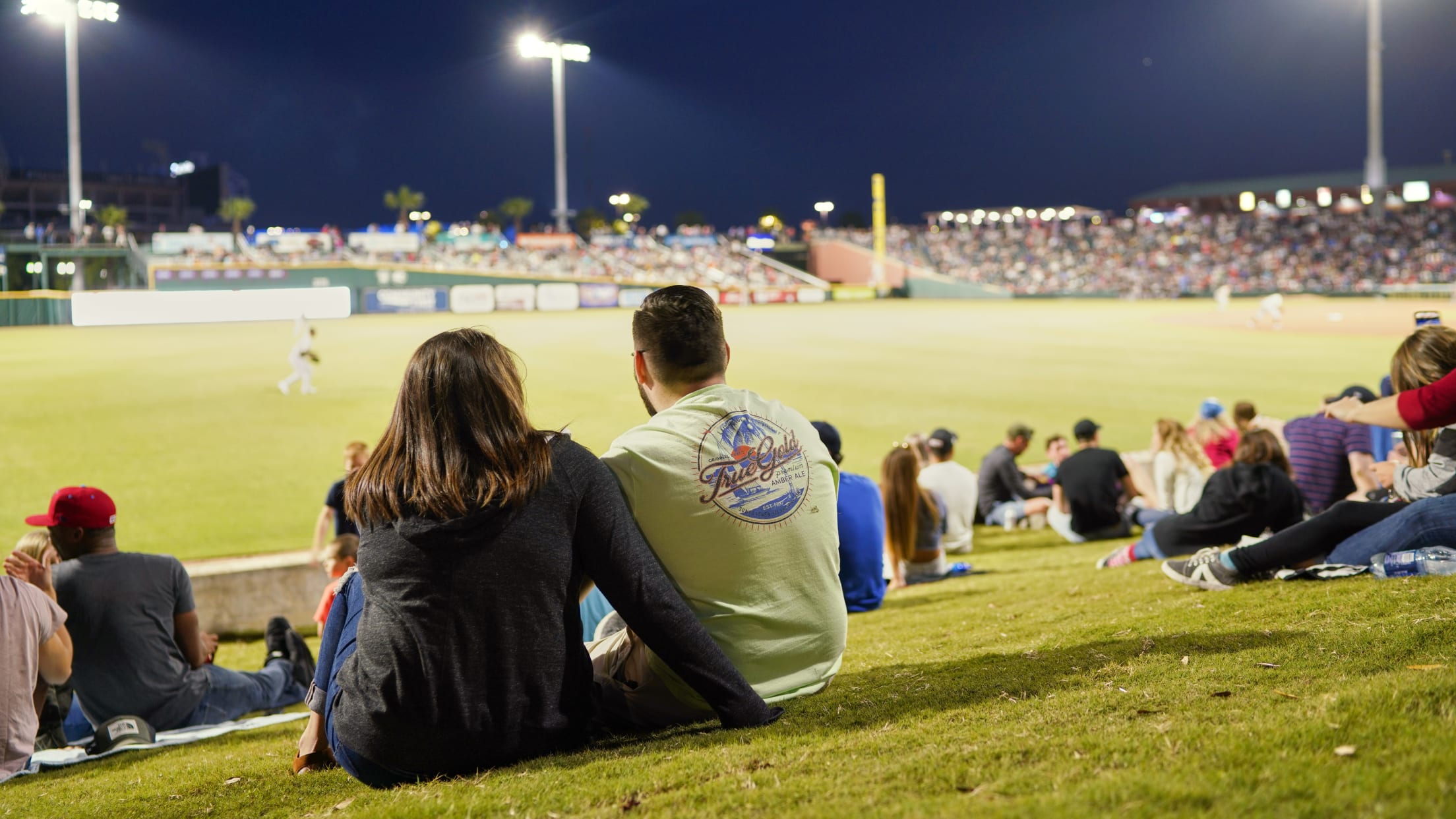 Jacksonville was home to a Triple-A International League team, the Jacksonville Suns, from 1962 through 1968. This team then relocated prior to the 1969 season, but the Suns returned one year later in the form of an expansion franchise in the Double-A Southern League. This marks the beginning of a franchise history that continues to this day. The Suns, initially a joint affiliate of Milwaukee and Montreal, went on to affiliations with Cleveland, Kansas City, Montreal (again), Seattle, Detroit and the Los Angeles Dodgers. They aligned with the Miami Marlins in 2009, a partnership that continues to this day. In 2021, as part of a larger reorganization of Minor League Baseball, the Jumbo Shrimp shifted from the Double-A Southern League to the Triple-A East.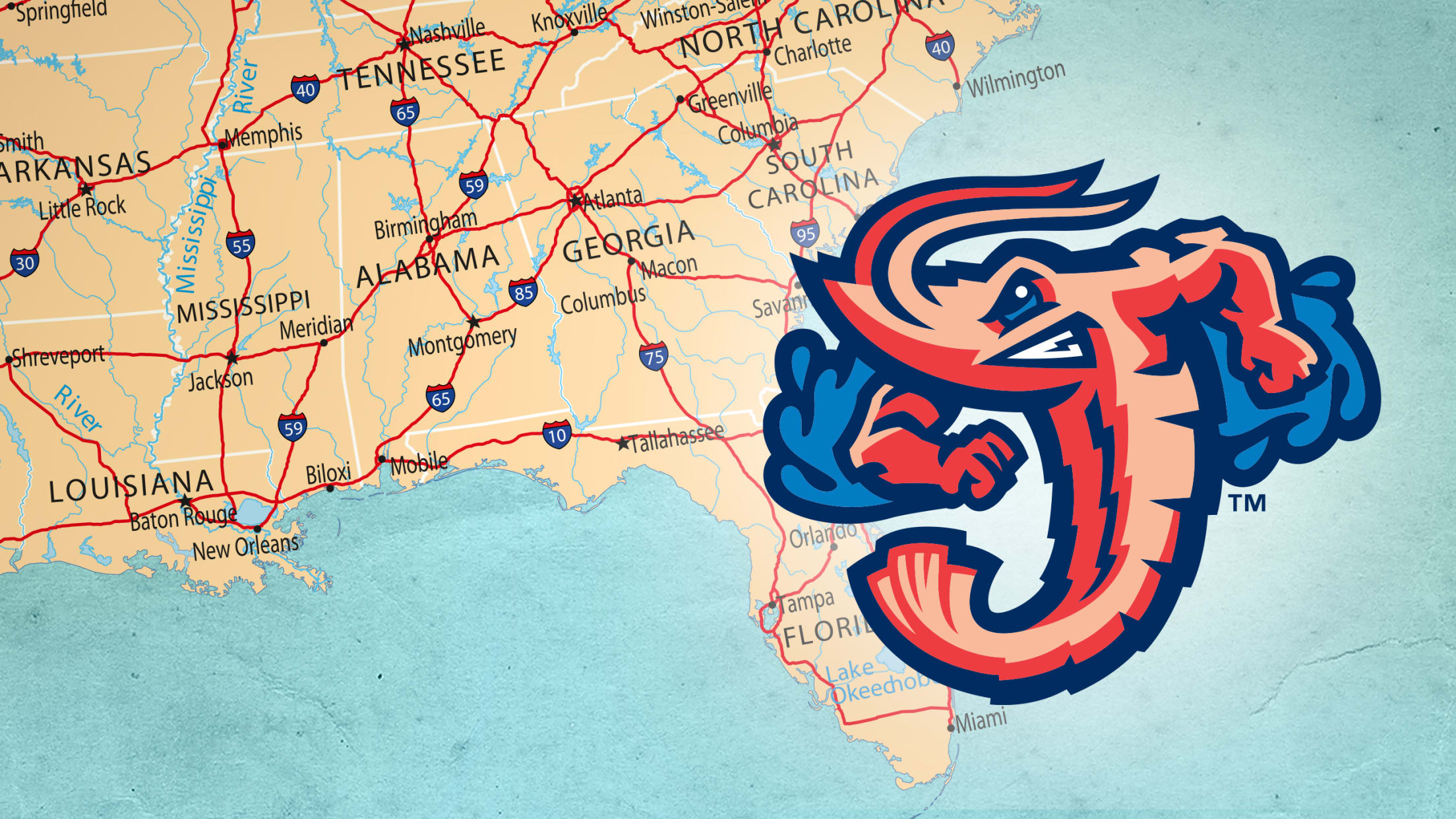 The Suns were bought by Peter Bragan, Sr. in 1985; 30 years later his son, Pedro, sold it to a group led by Akron RubberDucks owner Ken Babby. In 2016 the team rebranded in RubberDuck-ian fashion, becoming the Jumbo Shrimp. This quirky moniker is in large part an homage to local aquaculture. In addition to being the Bold City, Jacksonville is also known as the River City. The river in question is the St. Johns, which is a comparative rarity in that it flows north.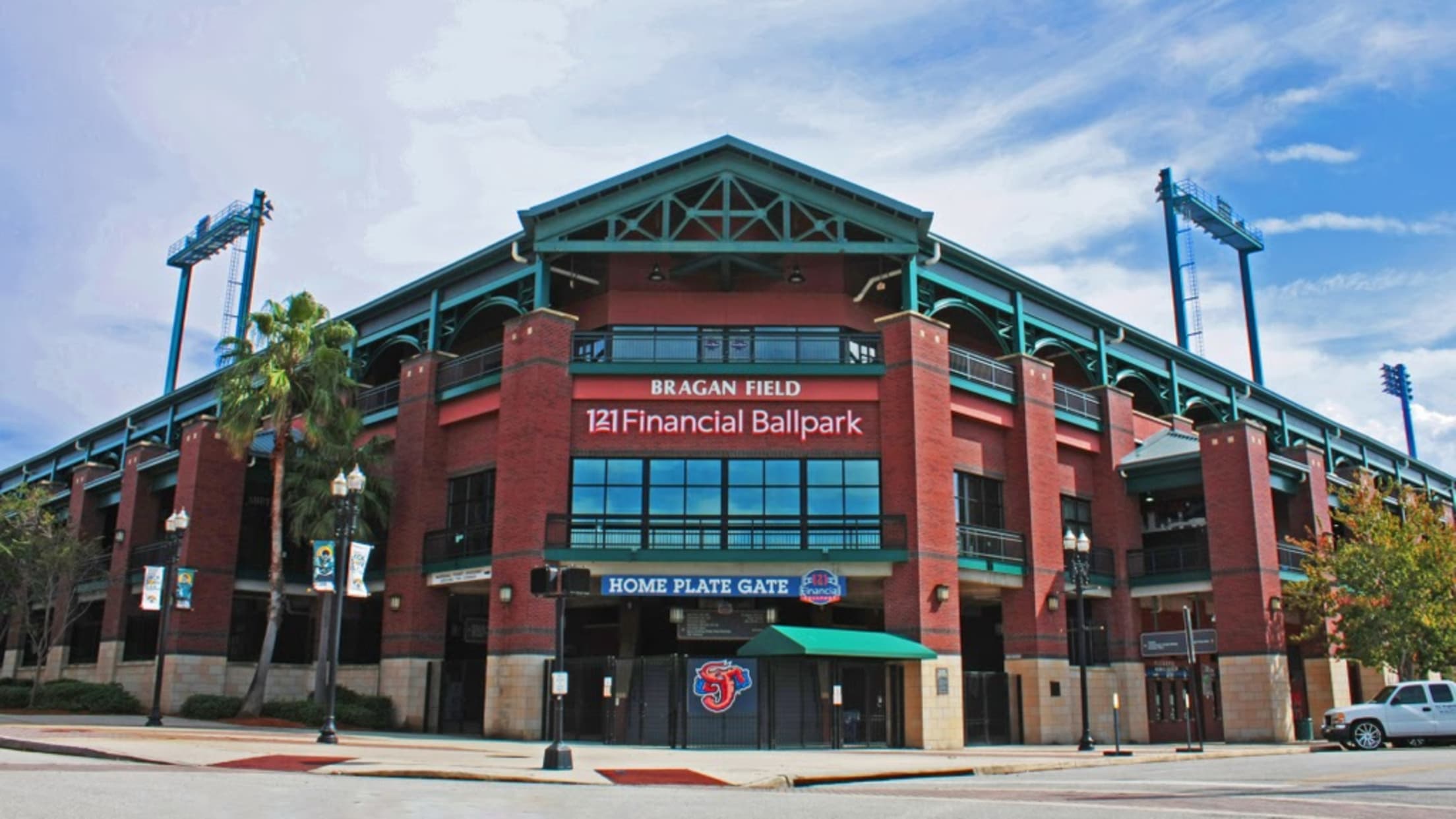 121 Financial Ballpark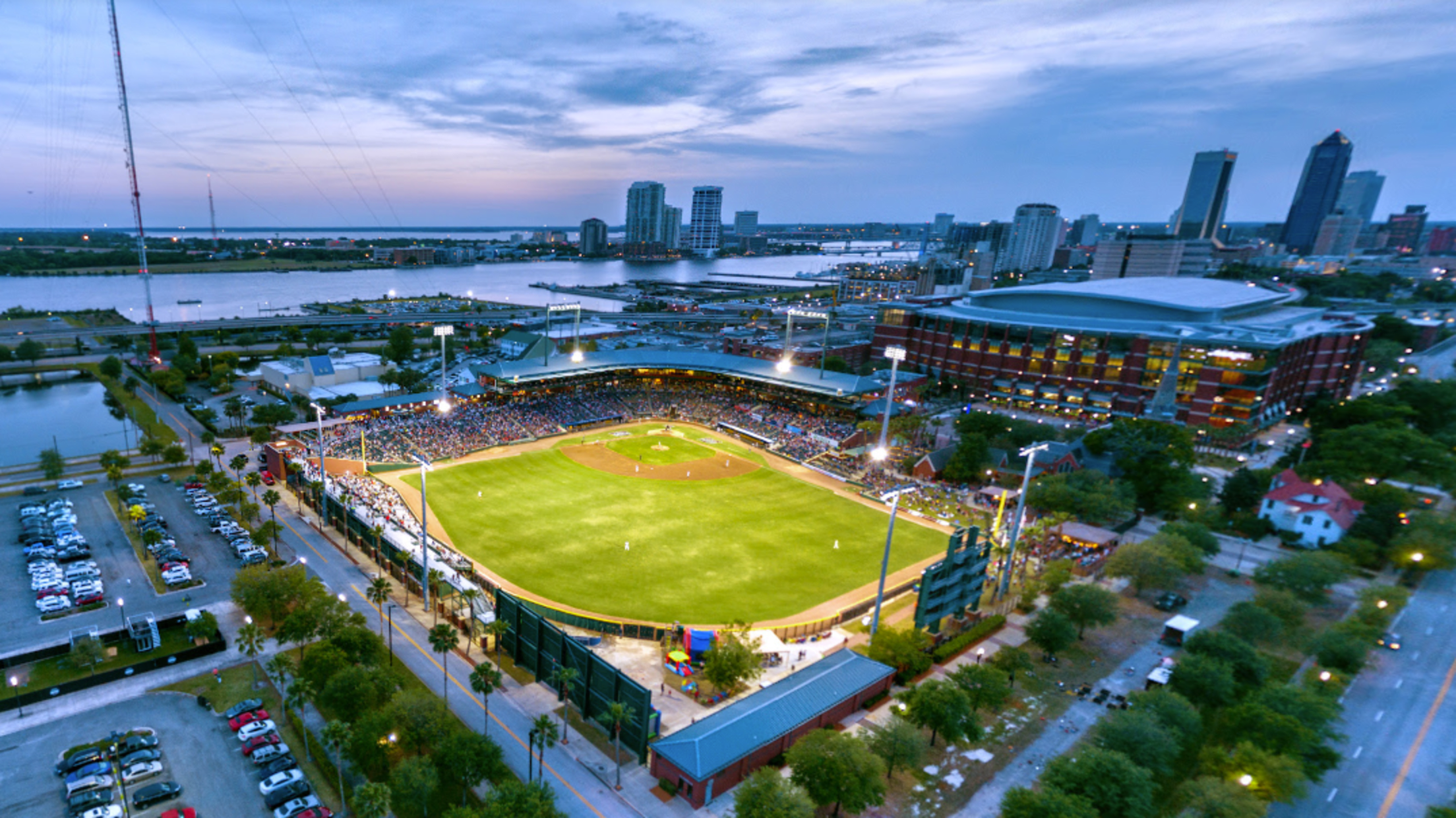 Jacksonville's ascension to the Triple-A ranks in 2021 felt appropriate, as the Jumbo Shrimp are a large-market team playing in a ballpark that was built to meet such standards. Nonetheless, 121 Financial Ballpark is dwarfed by its neighbor to the east: TIAA Bank Field, home of the NFL's Jacksonville Jaguars. To the west is VyStar Veterans Memorial Arena, home of the Icemen (ECHL) and Sharks (National Arena League football). These three facilities comprise the heart of downtown Jacksonville's Stadium District. Needless to say, there is ample parking, with some of the lots extending to the banks of the St. Johns River. Virtually all ballpark guests will have arrived after traveling via I-95, which runs north-south just to the west of the Stadium District. Upon arriving at the ballpark, keep your nose attuned for the smell of coffee. A Maxwell House roasting plant, the only one of its kind in the United States, is located on nearby Bay Street.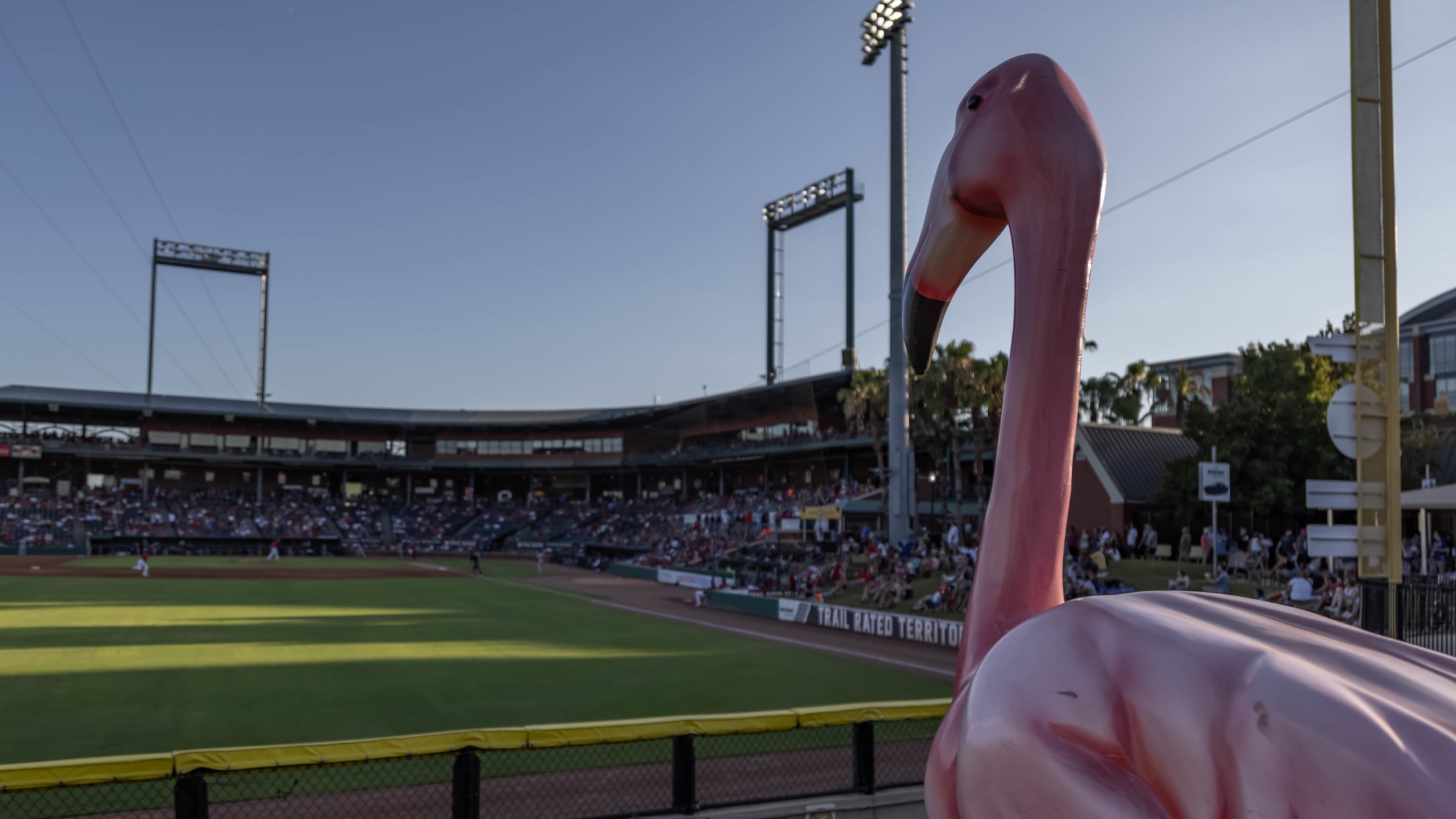 121 Financial Ballpark, originally known as the Baseball Grounds of Jacksonville, opened in 2003. It replaced Wolfson Park, which hosted Jacksonville professional baseball from 1955-2002. The ballpark boasts a brick façade, a wide wrap-around concourse and numerous group seating areas. The seating bowl stretches from the right-field foul pole to third base. A bleacher seating area looms beyond right field, while the left-field area is comprised of grass berm seating and social gathering spots. These include the Tiki Terrace, one of many improvements funded by Ken Babby after he assumed ownership of the team in 2015. At the far left-field corner of the concourse one finds a building that, like the ballpark itself, boasts a brick façade: St. Andrew's Church, which serves as the headquarters of the Jacksonville Historical Society.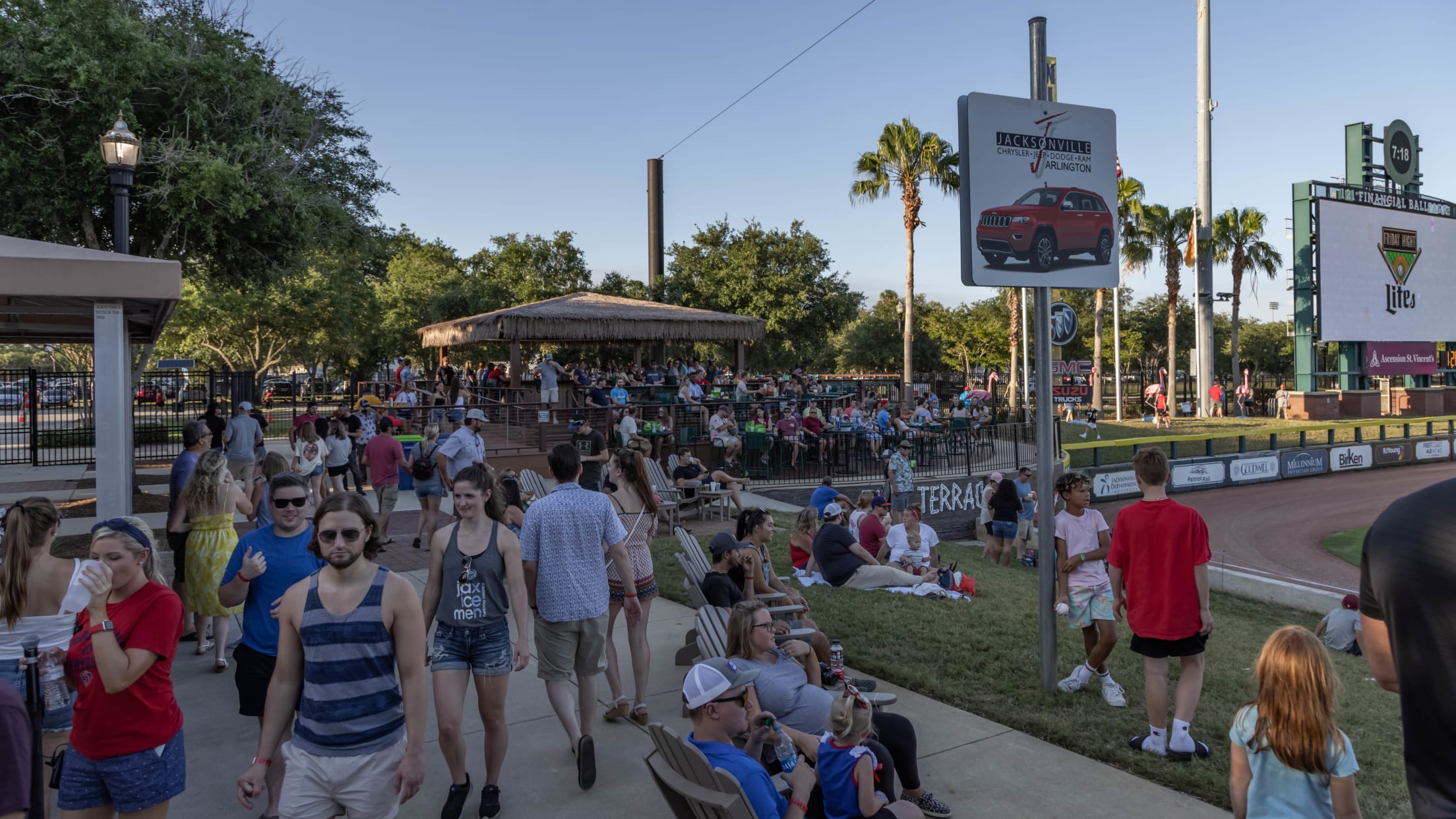 Throughout the ballpark, an exuberant and irreverent spirit is likely to prevail. In conjunction with their 2016 rebranding as the Jumbo Shrimp, the team has made attention-getting promotions a top priority. Highlights in recent seasons include a tribute to Cozy Coupes (the best-selling car of all time), a shrimp-themed George Costanza bobblehead, Bold City theme jerseys and the annual tribute to '80s aesthetic that is Vice Night.
Concessions
When your team is named the Jumbo Shrimp, it follows that shrimp are a big part of the concession menu. At 121 Financial Ballpark, fans can visit regionally-named concession stands such as Southern Fried Freebird and Sweet Tea-bows for delicacies including but not limited to Boom Boom Shrimp (popcorn shrimp), Torpedo Shrimp (fried jumbo shrimp), Shrimp and Grits and yes, Shrimp and Pulled Pork Nachos.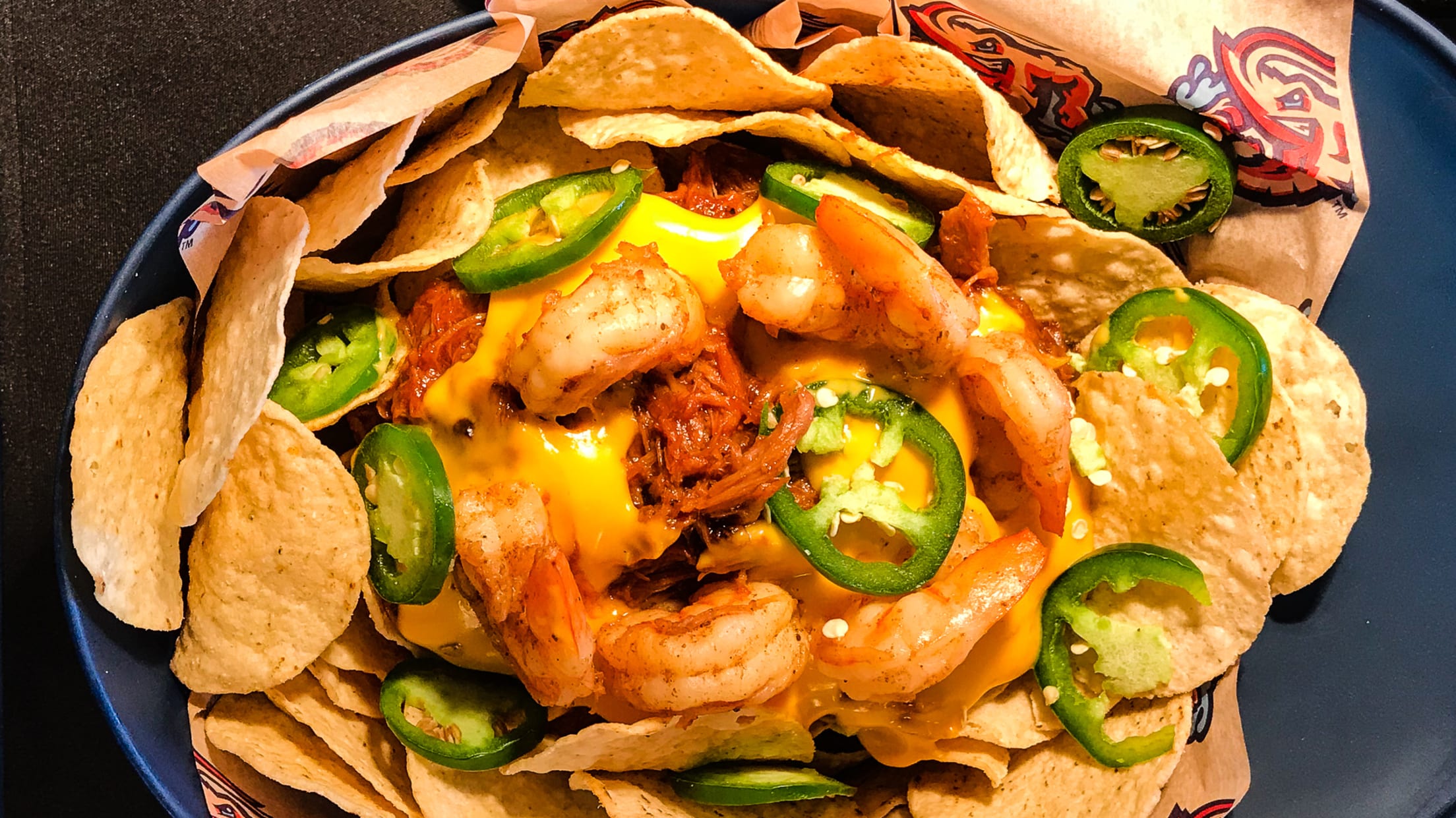 On the non-shrimp front, keep an eye out for the Bold City Burger Pie. It's a literal pizza burger, featuring an enormous one pound burger patty wedged in between two personal pan pizzas. It's enough food to feed a family of four, or, alternatively, one very hungry adult with poor impulse control.
Mascots
The Jumbo Shrimp have two mascots. Southpaw, a droopy-eared canine, is a holdover from the team's days as the Jacksonville Suns. His hobbies include chasing foul balls and long walks after a full count. Scampi, a furry pink shrimp, joined the scene in 2017. His favorite food his plankton, and when he's not at the ballpark you can find him searching for such sustenance throughout the local waterways.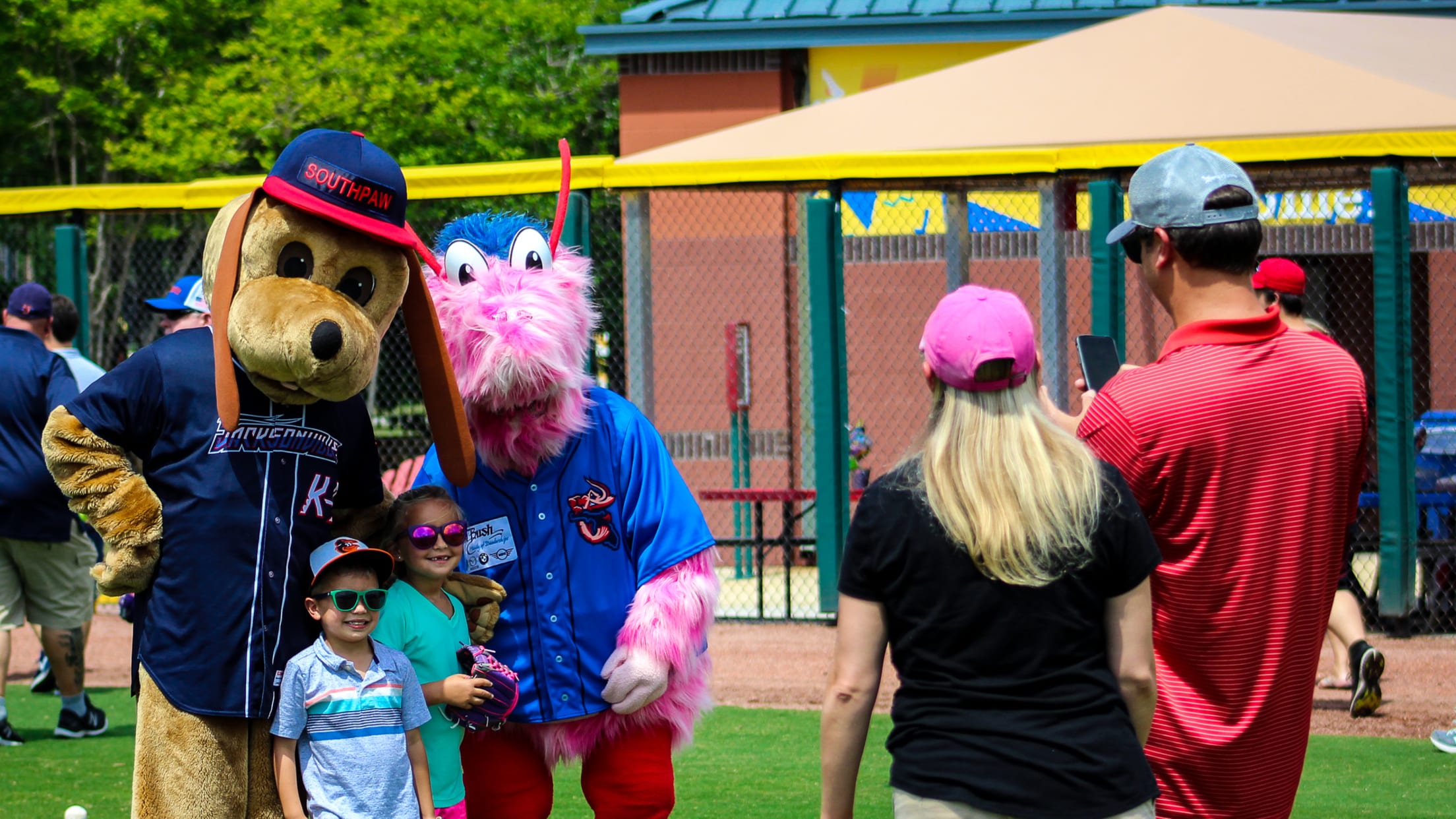 Where to Stay
Headed to the stadium and looking for a hotel nearby? Your Wyndham is waiting. As the Official Hotel of Minor League Baseball, Wyndham Hotels & Resorts welcomes baseball fans with a portfolio of 24 trusted brands. Find Hotels by Wyndham closest to the ballpark below and book now at wyndhamhotels.com.
• Ramada by Wyndham Jacksonville Hotel & Conference Center
• Baymont by Wyndham Jacksonville/Butler Blvd
• Wyndham Garden Jacksonville
• La Quinta Inn & Suites by Wyndham Jacksonville Mandarin
• Marble Waters Hotel, Trademark Collection by Wyndham
Local Attractions
Jacksonville is home to the country's largest urban park system, comprising over 80,000 acres. One highlight among many is the Timucuan Ecological and Historic Preserve, designated as a National Park. Some of the city's parks are also beach areas. Jacksonville boasts over 1,100 miles of shoreline, the most of any American city. This includes 22 miles of white sand beaches. From fishing to kayaking to surfing to wildlife spotting, the city offers a huge array of aquatic activities.
Jacksonville's Five Points neighborhood, named for an intersection with five different turning points, is an epicenter of art, culture and eclectic independent business. One of its flagship establishments is the Sun-Ray Cinema, an historic movie theater.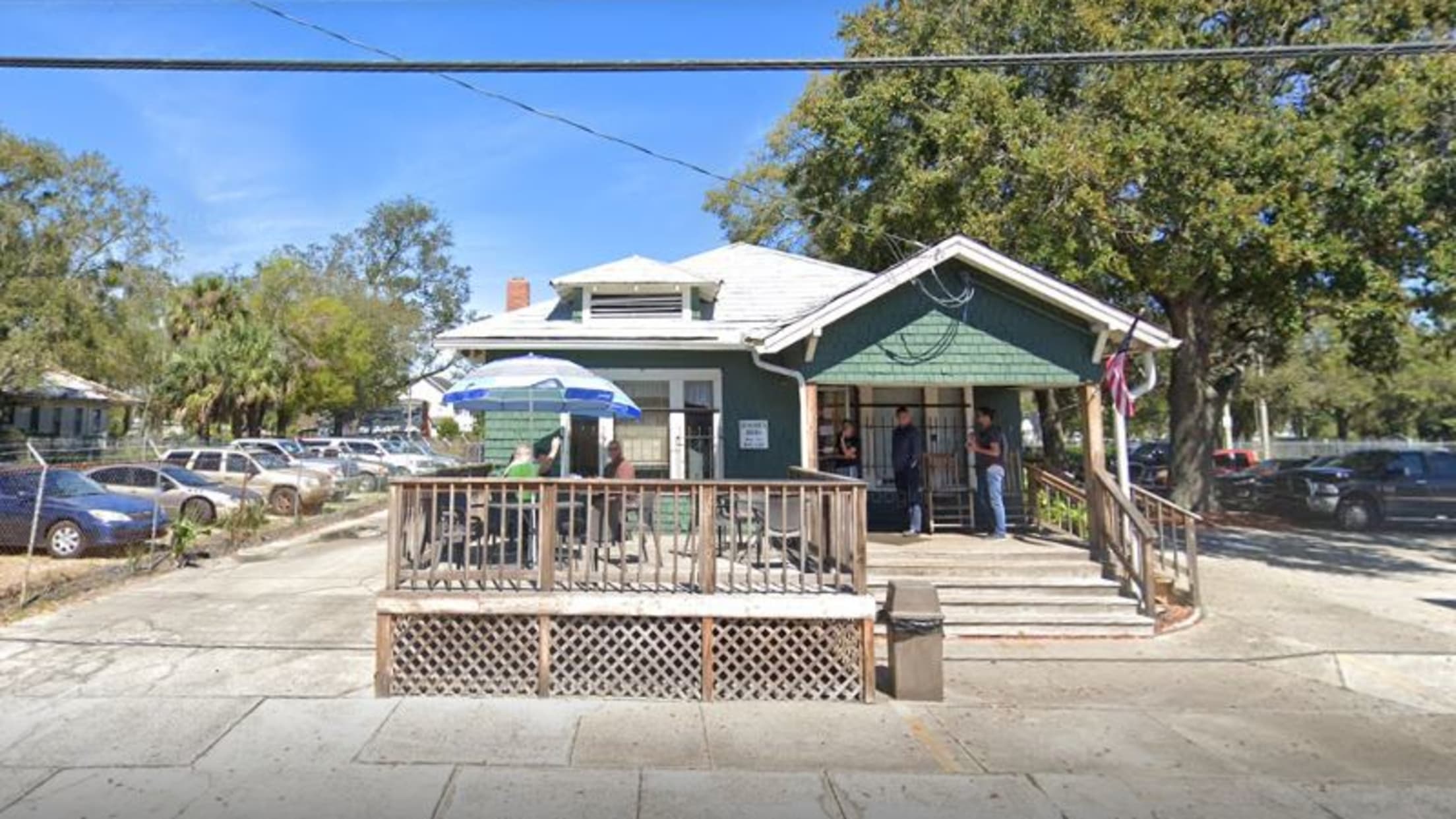 Food and Drink
The Five Points neighborhood is home to a vast array of restaurants and bars. Closer to the ballpark, keep an eye out for Russ Doe's Sandwich Shop. It's an old-school, no-frills joint in an industrial area, serving up breakfast and lunch sandwiches to a loyal clientele. They don't have a website, and they only take cash. Intuition Ale Works, creators of Shrimp Boat Kolsch team beer, is located across the street from the ballpark. Aardwolf Brewing Company, situated just across the river, is a favorite of fans and players alike. These are just two of over 30 breweries and distilleries in the area. Hit the Jax Ale Trail for much more.
And as for the best pizza in Jacksonville? Carmine's Pie House is always in the conversation.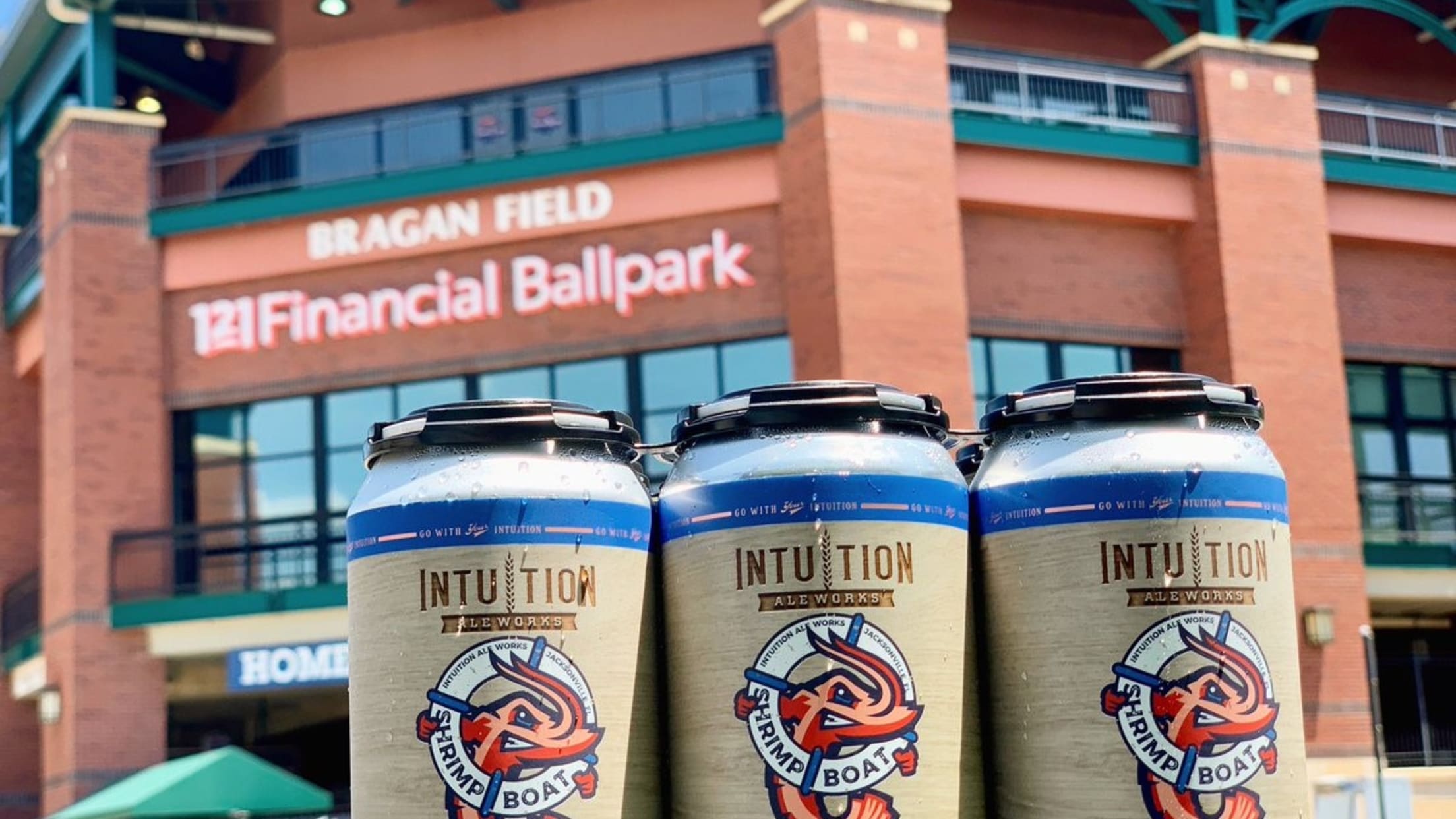 Moving On
The closest Minor League team from Jacksonville is the Daytona Tortugas, located approximately 90 miles to the south. From Daytona one could plan a jaunt to any number of the seven other teams in the Low-A West. Another option is to stay close to the coast, traveling northeast and visiting teams such as the summer collegiate Savannah Bananas, Charleston RiverDogs and Myrtle Beach Pelicans. The Pensacola Blue Wahoos, located one rung below the Jumbo Shrimp in Miami's system, are a straight shot five hours to the west. To get to the closest team within the Triple-A East, head north to the Atlanta-area Gwinnett Stripers.
The Road to Miami
Miami's system is composed of a suitably aquatic quartet, largely based in Florida. The Jupiter Hammerheads play at the Marlins' Spring Training home of Roger Dean Chevrolet Stadium. From there it's a long detour to the Beloit Sky Carp, before returning to the Sunshine State for stops in Pensacola and, of course, Jacksonville.
Single-A: Jupiter Hammerheads
High-A: Beloit Sky Carp
Double-A: Pensacola Blue Wahoos
Triple-A: Jacksonville Jumbo Shrimp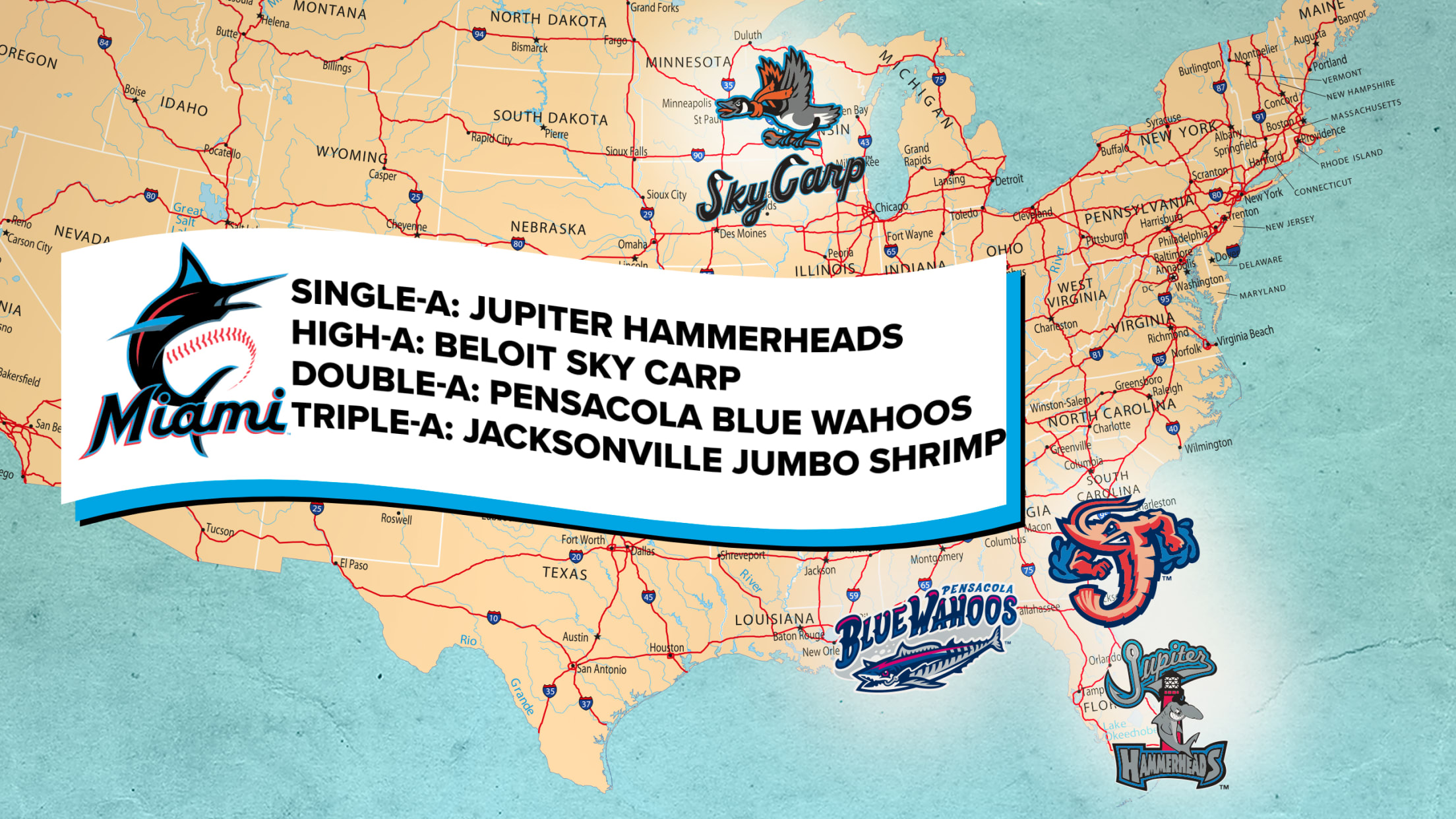 credits:
Benjamin Hill, who covers the business and culture of Minor League Baseball, has visited 182 Minor League ballparks.