Explore Beloit's ABC Supply Stadium
Welcome to ABC Supply Stadium, a southern Wisconsin locale situated a foul ball away from the state of Illinois. This is the land of the Sky Carp, where Miami prospects go before blossoming into Marlins.
Beloit Sky Carp (affiliate of the Miami Marlins since 2021)
Established: 1982 (as the Beloit Brewers)
League: Midwest League
Ballpark: ABC Supply Stadium (opened Aug. 3, 2021, replacing Harry C. Pohlman Field)
Championships: 1995
Notable Alumni: Prince Fielder, Rickie Weeks, Tony Gwynn Jr., Matt Olson, Matt Chapman, Miguel Sano, Matt Garza, Geoff Jenkins, Bill Hall, Greg Vaughn, Ben Revere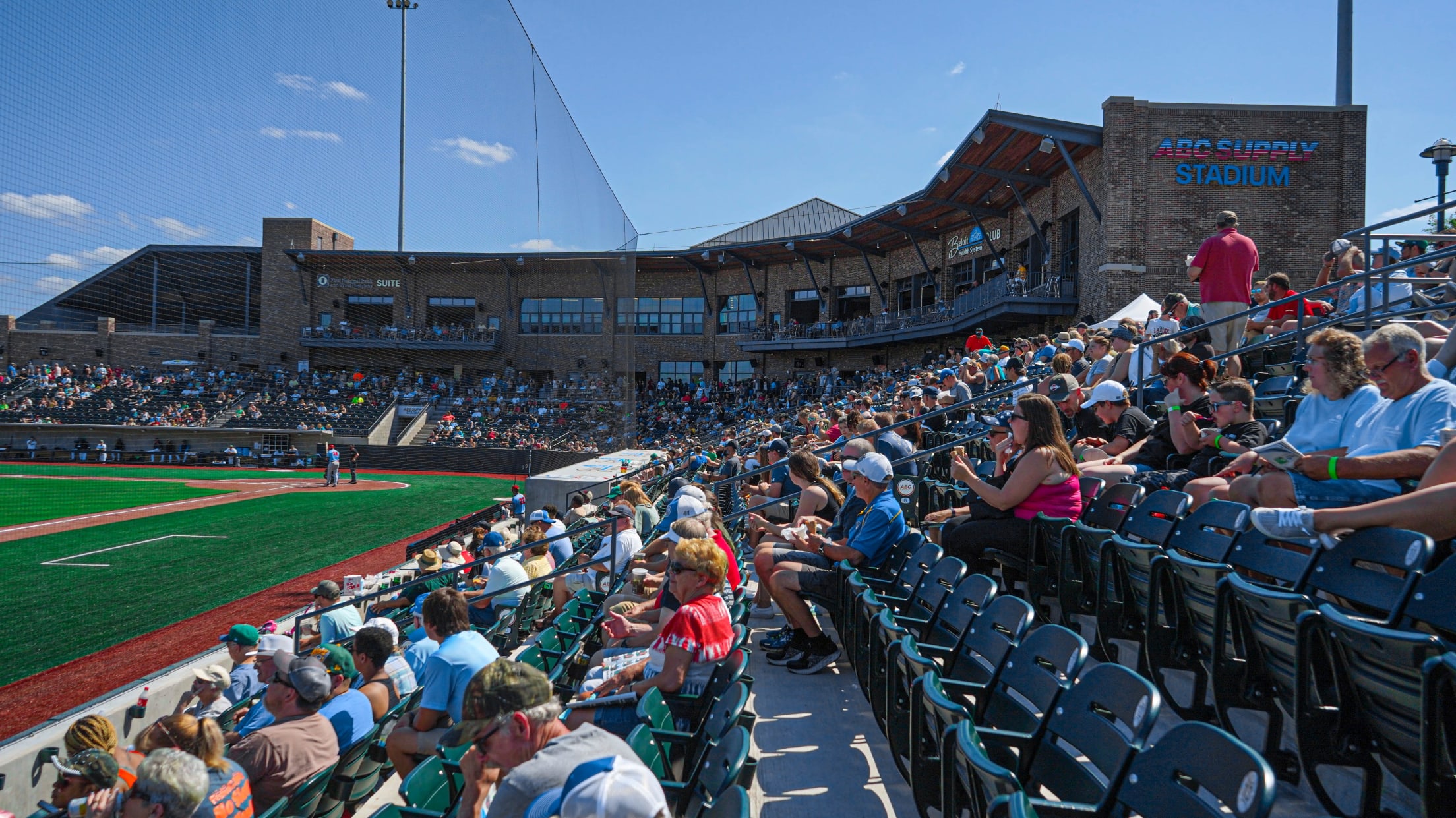 Beloit, known as the "Gateway to Wisconsin," is a proud industrial town of nearly 37,000 residents located in the Rock River Valley, just north of the Wisconsin/Illinois border. In 1832, Ho-Chunk Native Americans abandoned the area after the Black Hawk War, and Caleb Blodgett purchased the land four years later from a French trapper named Joseph Thiebault for three "looks" -- a standard Native American unit of measure. The New England Immigrating Company arrived and bought the land from Blodgett, inviting family and friends to move to the area. Settlers found that the region reminded them of home in New Hampshire, and they planned the village to follow that model, with wide streets as well as mills and businesses to run along the river. Originally named New Albany (after Albany, Vermont), it was coined Beloit from a French word meaning "handsome ground."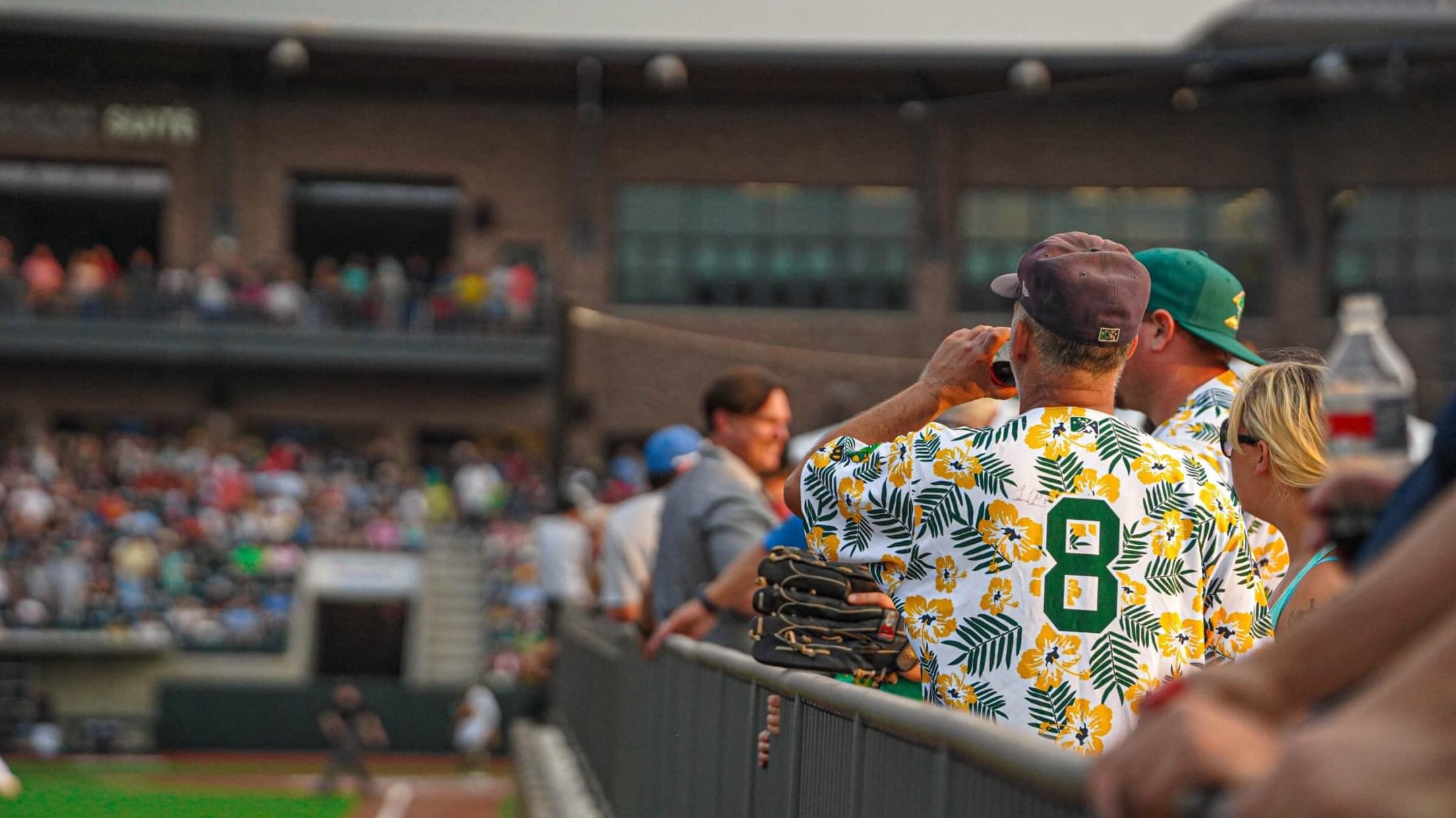 Over the last 186 years, Beloit has played an important role in American history -- from serving as a way station on the Underground Railroad to manufacturing during the Industrial Revolution to meeting production demands during World War II. Bessica Raiche, the first woman to fly an airplane solo in the United States, hailed from Beloit. Roy Chapman Andrews, known for expeditions through China in the early 20th century that led to discoveries such as the first-known nests of fossilized dinosaur eggs, may very well be the inspiration for the character Indiana Jones. The city also lays claim to inventions like the speedometer and Korn Kurls, the original puffed cheese snack.
Baseball came to Beloit in 1982 as an expansion franchise originally known as the Brewers, competing in the Class A Midwest League until 2020. A Brewers farm team through 2004, Beloit switched to the Twins organization in '05. They were known as the Beloit Snappers from 1995-2021, a nickname derived from the city's "Turtle Village" nickname. There is even a turtle-shaped Indian mound on the campus of Beloit College.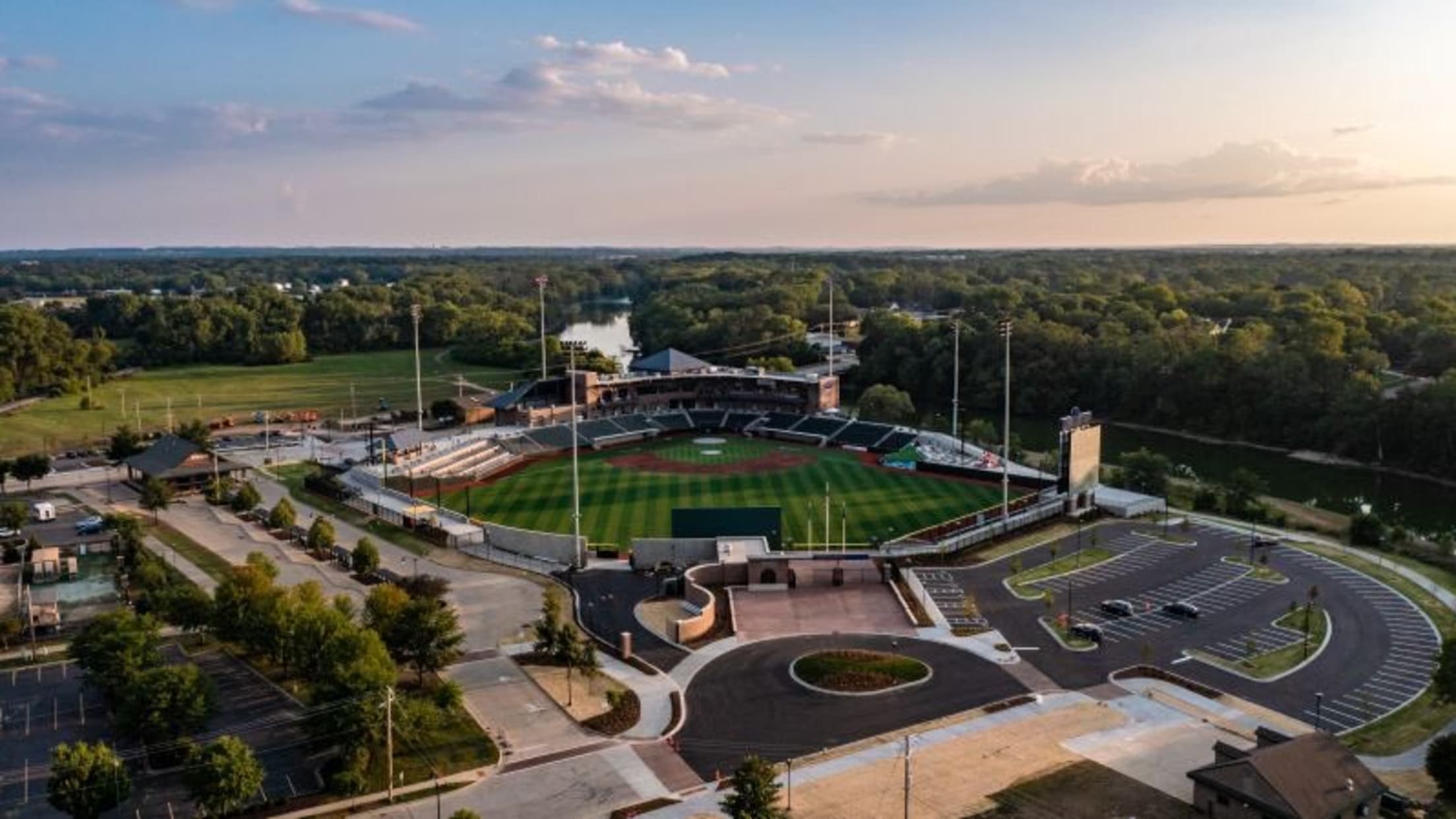 ABC Supply Stadium
Google Maps
Beloit Sky Carp Roster
Beloit Sky Carp Schedule
217 Shirland Avenue
Beloit, WI 53511
(608) 362-2272
Capacity: Approximately 3,850
Dimensions: left field, 345 feet; center field, 400 feet; right field, 325 feet
Park Factors (2022)
100 = league average
Runs: 84 | Homers: 64 | Hits: 90
Midwest League environment: 4.78 runs per team per game (eighth-highest among 11 full-season leagues)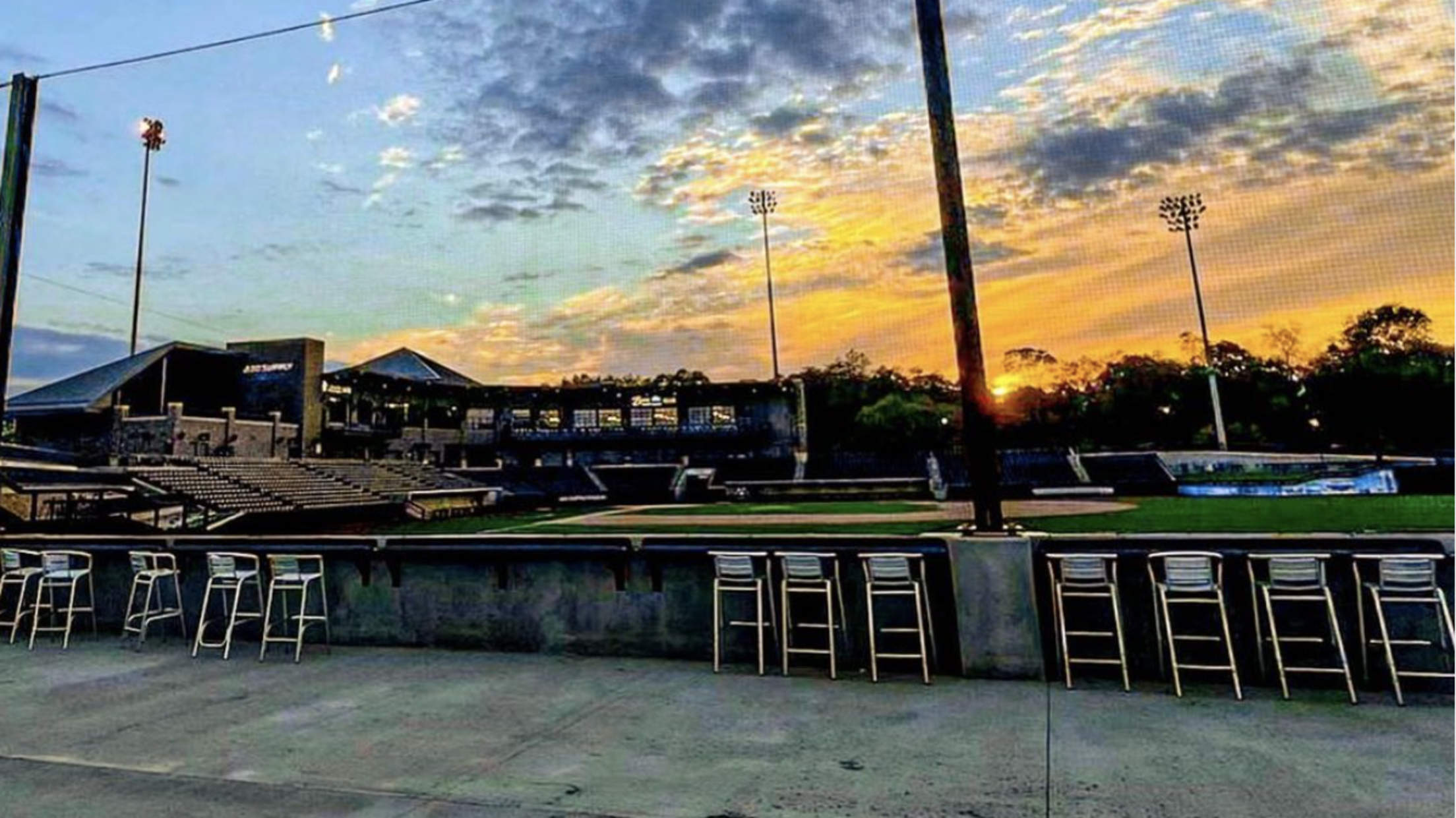 Features
In 2019, when there was talk that the number of Minor League teams would be trimmed, a group from Beloit sprang into action. The goal was to replace the Snappers' home of Harry Pohlman Field, a barebones ballyard that had long been in need of an upgrade.
Eventual team owner Quint Studer, who has roots in the Beloit area and also owns the Marlins' Double-A affiliate, the Pensacola Blue Wahoos, was part of that contingent. They designed and created a financing plan for a state-of-the-art, multi-purpose facility in downtown Beloit along the Rock River that was 100 percent in compliance with new facility guidelines and requirements for Minor League Baseball ballparks. Thus, Beloit was able to keep its team. After the COVID-19 pandemic cancelled the 2020 Minor League season, the club played the first three months of the 2021 season at Pohlman Field. These marked the team's first games within the Marlins organization.
It wasn't until Aug. 3, 2021, after 13 months of construction, that the privately funded, $37 million all-brick ballpark hosted its first game. ABC Supply Stadium is just off State Street, Grand Avenue and Broad Street, the three main roads running through downtown Beloit. Foul balls hit over the first base side can hop over Shirland Avenue and land in Illinois.
ABC Supply Stadium has an artificial playing surface as well as spacious clubhouses, player lounges, weight rooms, batting cages, video analysis rooms and more. For the fans, there are 900 free public parking spaces within a seven-minute walk of the ballpark, playground and games area for children, a 40x40 high-definition video board and an indoor suite level for year-round events. The three-level Deck Deck Goose party area, located in the right-field corner, is one of the ballpark's most unique and lively areas.
Months after the new ballpark debuted, so did a new name for the ballclub. Beloit rebranded as the Sky Carp ahead of the 2022 season, a name chosen after conducting fan polling. The moniker is a slang term for a goose that doesn't migrate in the winter (geese are considered the "carp of the sky" due to their abundance in the region). The goose is wearing a scarf in the logo, signifying that the animal is staying put rather than heading south. The hope is that, like the geese that don't want to leave their hometown, residents of Beloit will feel the same and continue to build up the city.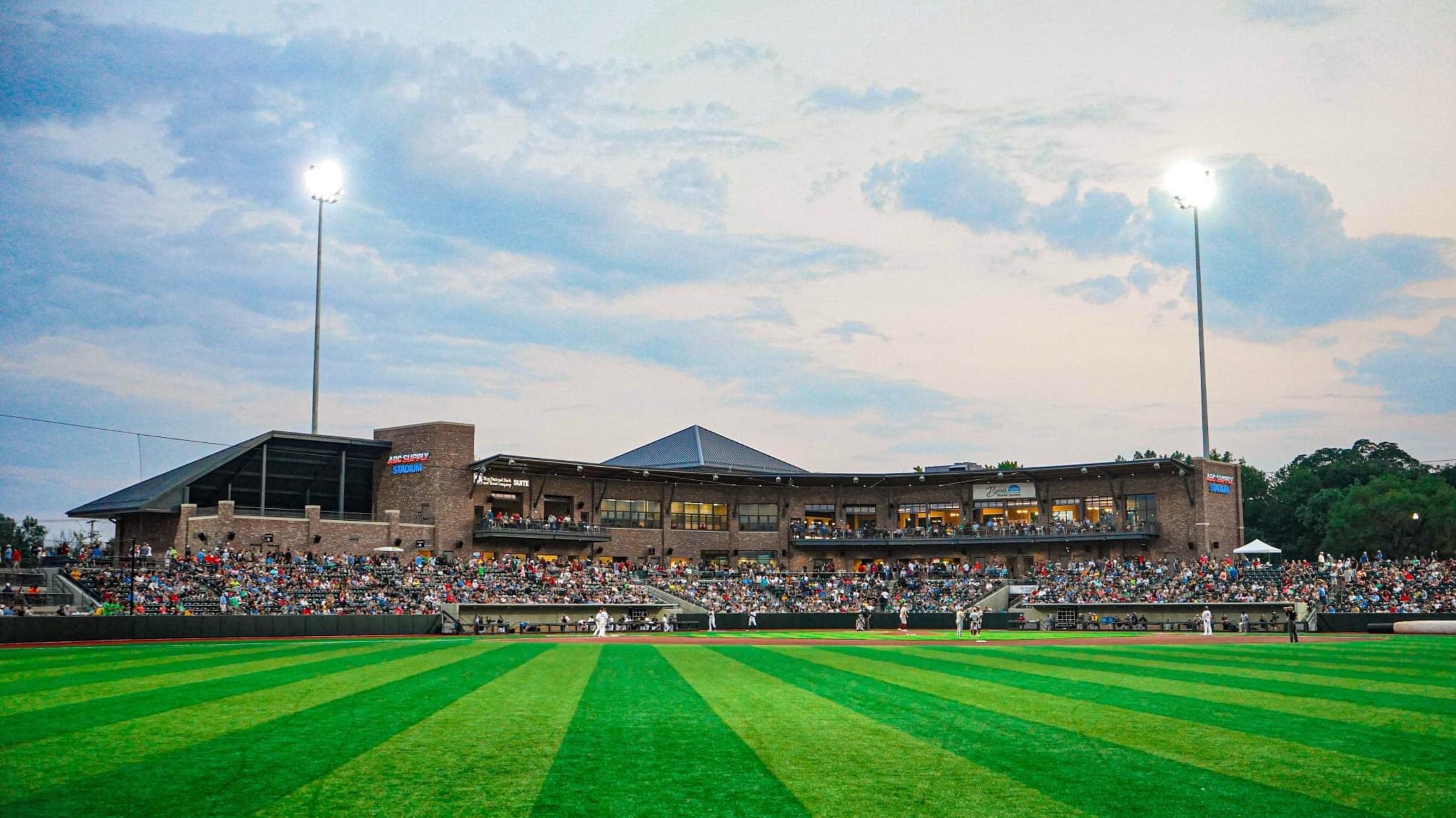 Concessions
Beloit ownership made it a point that ABC Supply Stadium would embrace its Wisconsin roots, and for proof of that look no further than the food and drink offered. The ballpark boasts a 360-degree walkable open concourse, which means fans never have to miss the action if hunger or thirst strike. Wisco on a Stick consists of Wisconsin fair food, including cheese curds, corn dogs, funnel cake fries and Bratchos: tortilla chips with a beer cheese sauce, grilled bratwurst, pickled red onion, sweet and sour cabbage with garlic aioli.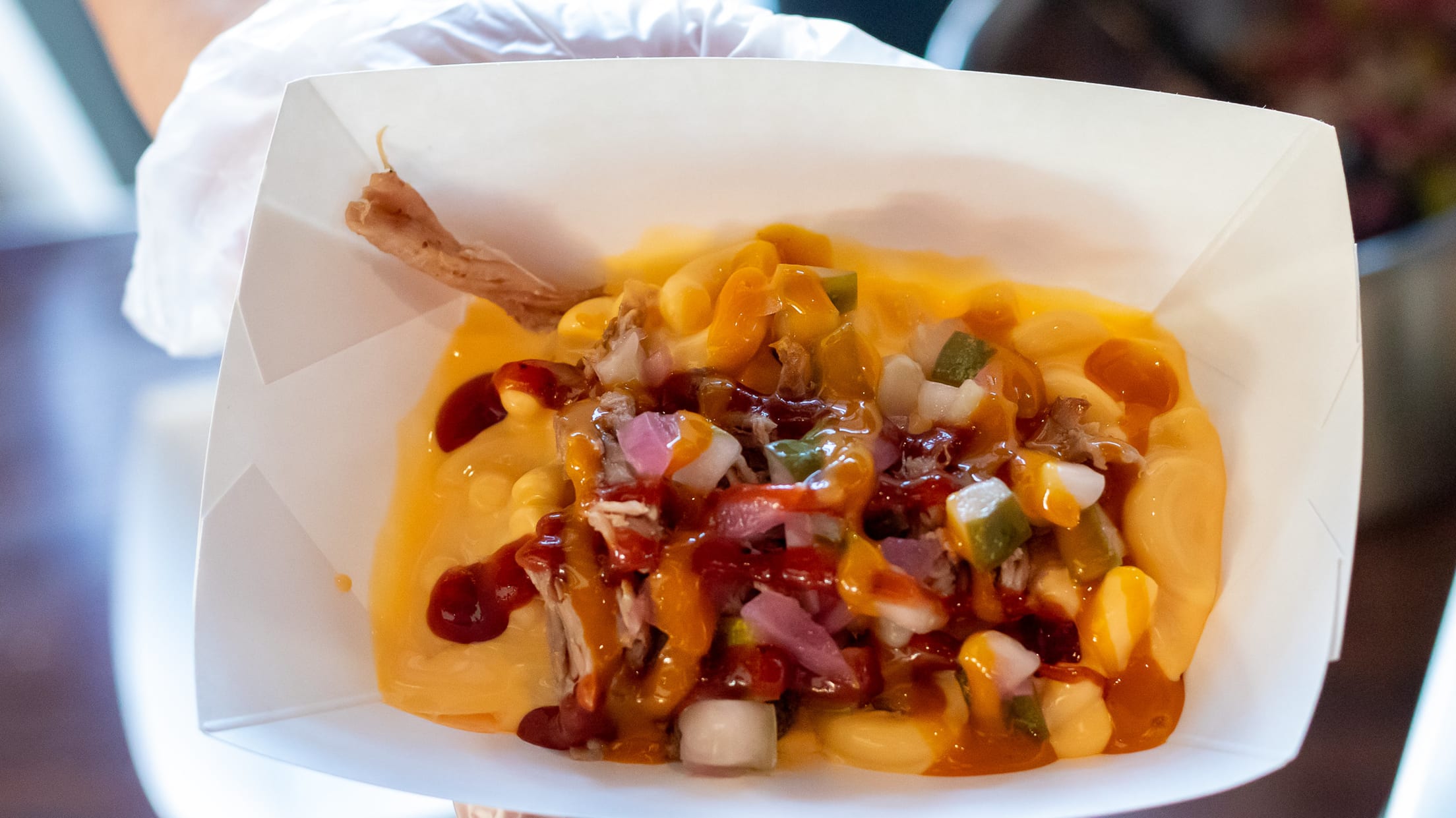 Then there is Sausage Haus, sourced from local Pinnon's Meats, and el Jefe's with street tacos and more. Big Philly's offers cheesesteaks, while The Meat Ball has meatball sandwiches. At the right field party deck one can find an Old-Fashioned slushie, and Food Truck Alley rotates local vendors. If more typical ballpark fare is your thing, Pohlman's -- a tribute to the team's former ballpark and the man it was named for – offers reliable standbys such as cheeseburgers, hot dogs and chicken tenders.
Mascots
A Sky Carp is a slang term for a goose, so it follows that Beloit's mascot is - you guessed it - a goose. Poopsie the goose, to be exact. This high-flying fowl debuted at the ballpark in July of 2022, wearing goggles modeled after those worn by Beloit aviation pioneer Bessie Raiche (the first woman to fly an airplane solo in the United States). As for the name, don't get it twisted. The team reports that Poopsie is simply "a term of endearment used toward a child or significant other."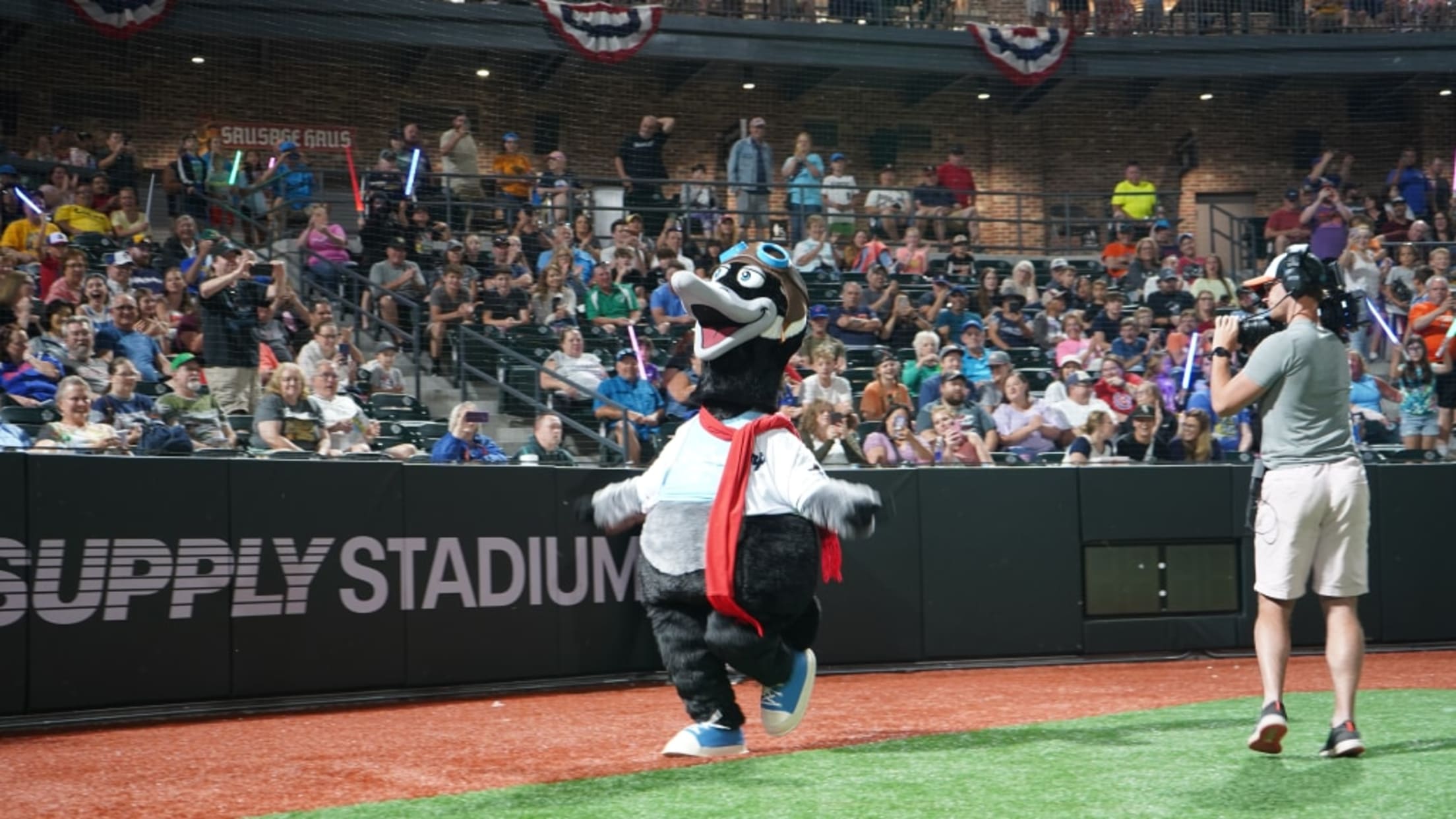 Where to Stay
Headed to the stadium and looking for a hotel nearby? Your Wyndham is waiting. As the Official Hotel of Minor League Baseball, Wyndham Hotels & Resorts welcomes baseball fans with a portfolio of 24 trusted brands. Find Hotels by Wyndham closest to the ballpark below and book now at wyndhamhotels.com.
• Baymont by Wyndham Janesville
• Microtel Inn & Suites by Wyndham Janesville
• Baymont by Wyndham Beloit
• Super 8 by Wyndham Beloit WI
• La Quinta Inn & Suites by Wyndham Rockford
Local attractions
Riverside Park, located on the banks of the Rock River, is the crown jewel of Beloit. Various events are held there during the summer, including the Music and More outdoor concert series held almost every Friday night, starting in June. The 23-acre park includes the Turtle Island Playground, fishing, paddling, ice skating on the lagoon, picnic shelters, play equipment, lighted tennis courts and a 3.5-mile paved walk-bike path along the river. Other outdoor options include Big Hill Park, a 190-acre park with nature and hiking trails on the bluffs of the Rock River. Krueger-Haskell Golf Course and Beloit Club are the two main golf courses.
For a bit of history, there is Beloit College, the oldest continuously operated college in Wisconsin that called Beloit home before Wisconsin became a state. It is situated on Native American effigy mounds that date back to 700 AD. New England heritage from the mid-1800s also has been preserved through historic neighborhoods and museums, while the historic downtown district has renovated structures with specialty retail, food and living accommodations.
Food and drink
Speaking of, there are many food options before and after games at ABC Supply Stadium. The best bars, restaurants and hotels in the area can be found here, with the ballpark being just the latest development investment made on the riverfront in the last decade. The expectation is that many fans will park downtown, then stroll to a game and enter via the center-field gate that overlooks the Wisconsin/Illinois border.
The same company that runs food and beverage in the ballpark also runs nearby Truk't (443 E Grand Ave.) and Lucy's (430 E Grand Ave.). The former serves street tacos, tequila and whiskey, while the latter is a burger joint. Bushel & Peck's Local Market (328 State St.) features local and regionally produced organic foods and products. If you've got a sweet tooth, Northwoods Premium Confections (314 State St.) has confections, fine chocolates, gourmet popcorn and other treats. The Flying Pig (431 E Grand Ave.) is known for its 85-100 shaved ice flavors and toppings. Both shops are within walking distance of the ballpark. Old Fashion Bakery (1255 Park Ave.), the oldest bakery in Beloit, is a short drive away -- offering traditional and fresh-baked delicacies.
Want a great view of Beloit while eating and drinking? The Rock Bar and Grill (101 Maple Ave.), further north on the Rock River, has a scenic waterfront with an outdoor patio and tiki bar, music stage, sand volleyball courts, beanbag boards, a pavilion and pontoon boat. Then there's The 615 Club, a Beloit landmark since 1936 located at 615 Broad Street. This supper club is located three blocks from the Beloit College campus and resides in an early 20th-century home. And in true Wisconsin fashion, there are two breweries (CheezHead and G5) and a winery (DC Estate) in the town limits. State and Broad Streets are home to the best farmers market in Wisconsin during the summer months.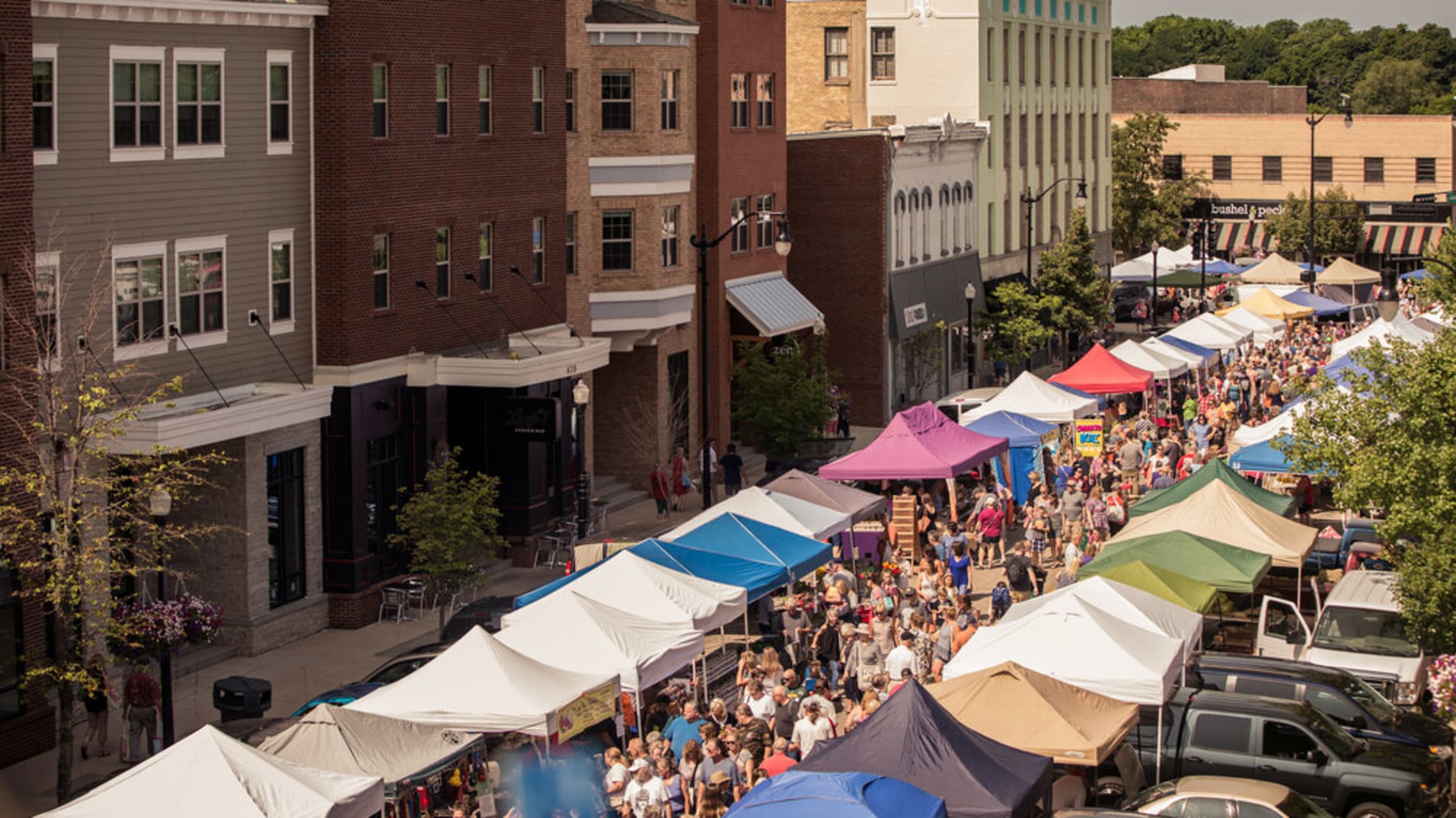 Moving On
The Beloit Sky Carp and Timber Rattlers, located in Appleton (171 miles away), are the two Minor League teams in Wisconsin. The other clubs in the Midwest League West Division are a bit closer, with Quad Cities (145 miles), Peoria (152 miles) and Cedar Rapids (167 miles). South Bend is furthest at 189 miles. Beyer Stadium, home of the Rockford Peaches of the All-American Girls Professional Baseball League, is located 20 miles away over the border in Illinois.
The Road to Miami
Miami's system is composed of a suitably aquatic quartet, with all but Beloit based in Florida. The Jupiter Hammerheads play at the Marlins' Spring Training home of Roger Dean Chevrolet Stadium. From there, it's a long detour to the Beloit Sky Carp -- 1,401 miles from South Florida to be exact -- before returning to the Sunshine State for stops in Pensacola and Jacksonville.
Single-A: Jupiter Hammerheads (Jupiter, Fla.)
High-A: Beloit Sky Carp
Double-A: Pensacola Blue Wahoos (Pensacola, Fla.)
Triple-A: Jacksonville Jumbo Shrimp (Jacksonville, Fla.)