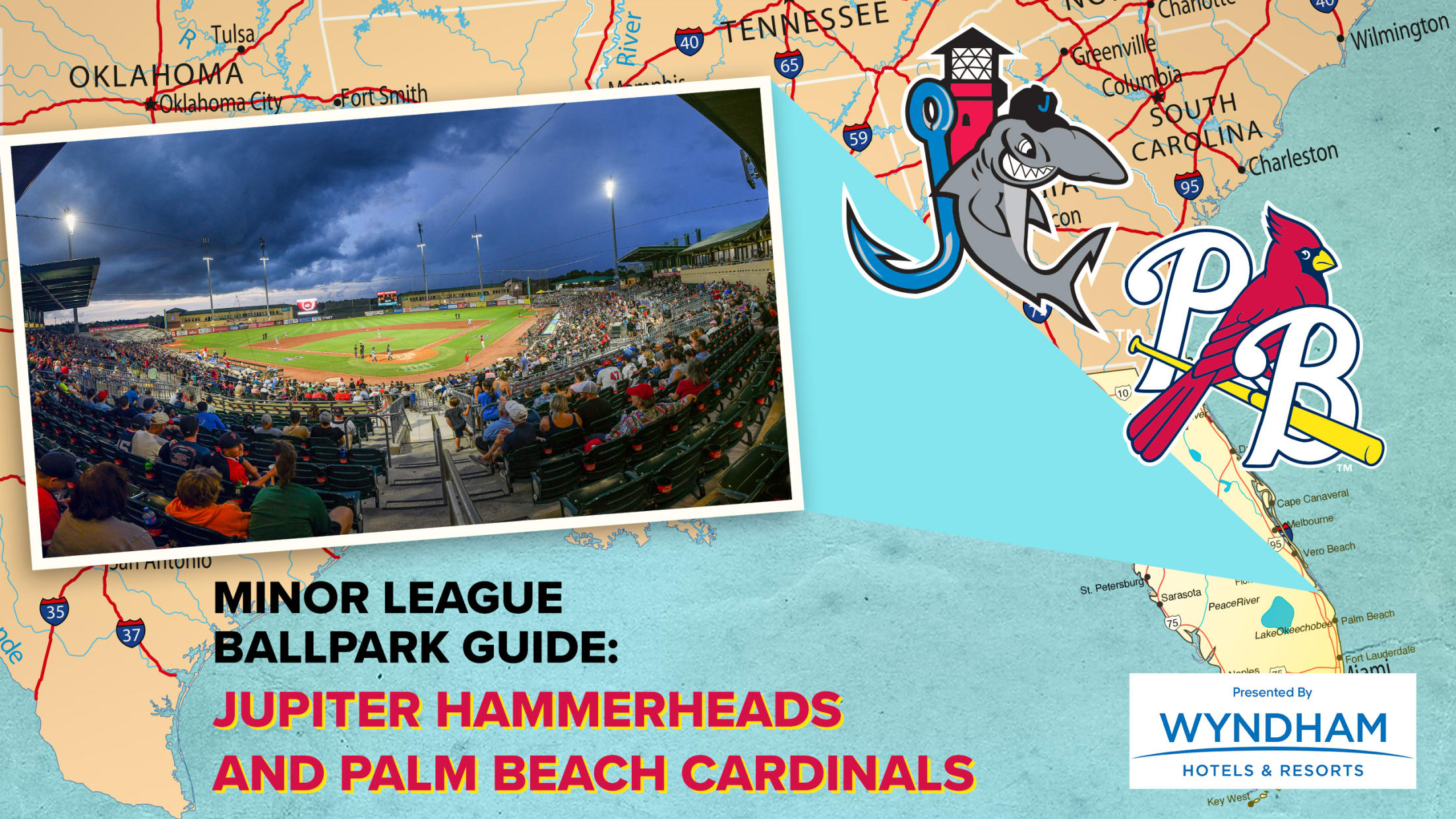 Scroll
Explore Jupiter's Roger Dean Chevrolet Stadium
Welcome to Roger Dean Chevrolet Stadium, the only ballpark in Minor League Baseball that hosts two teams. Located in South Florida's northernmost city, this is the place to see Miami and St. Louis prospects in the early stages of their professional careers.
Jupiter Hammerheads (affiliate of the Miami Marlins since 2002)
Established: 1998 (affiliate of the Montreal Expos)
League: Florida State League
Ballpark: Roger Dean Chevrolet Stadium (opened in 1998)
Notable Alumni: Miguel Cabrera, Dontrelle Willis, José Fernández, Giancarlo Stanton, Christian Yelich, Josh Johnson, Chris Coghlan
Palm Beach Cardinals (affiliate of the St. Louis Cardinals since 2003)
Established: 2003
League: Florida State League
Ballpark: Roger Dean Chevrolet Stadium
Notable Alumni: Jack Flaherty, Randy Arozarena, Tommy Pham, Stephen Piscotty, Alex Reyes, Jon Jay, Matt Carpenter
Championships: 2005, 2017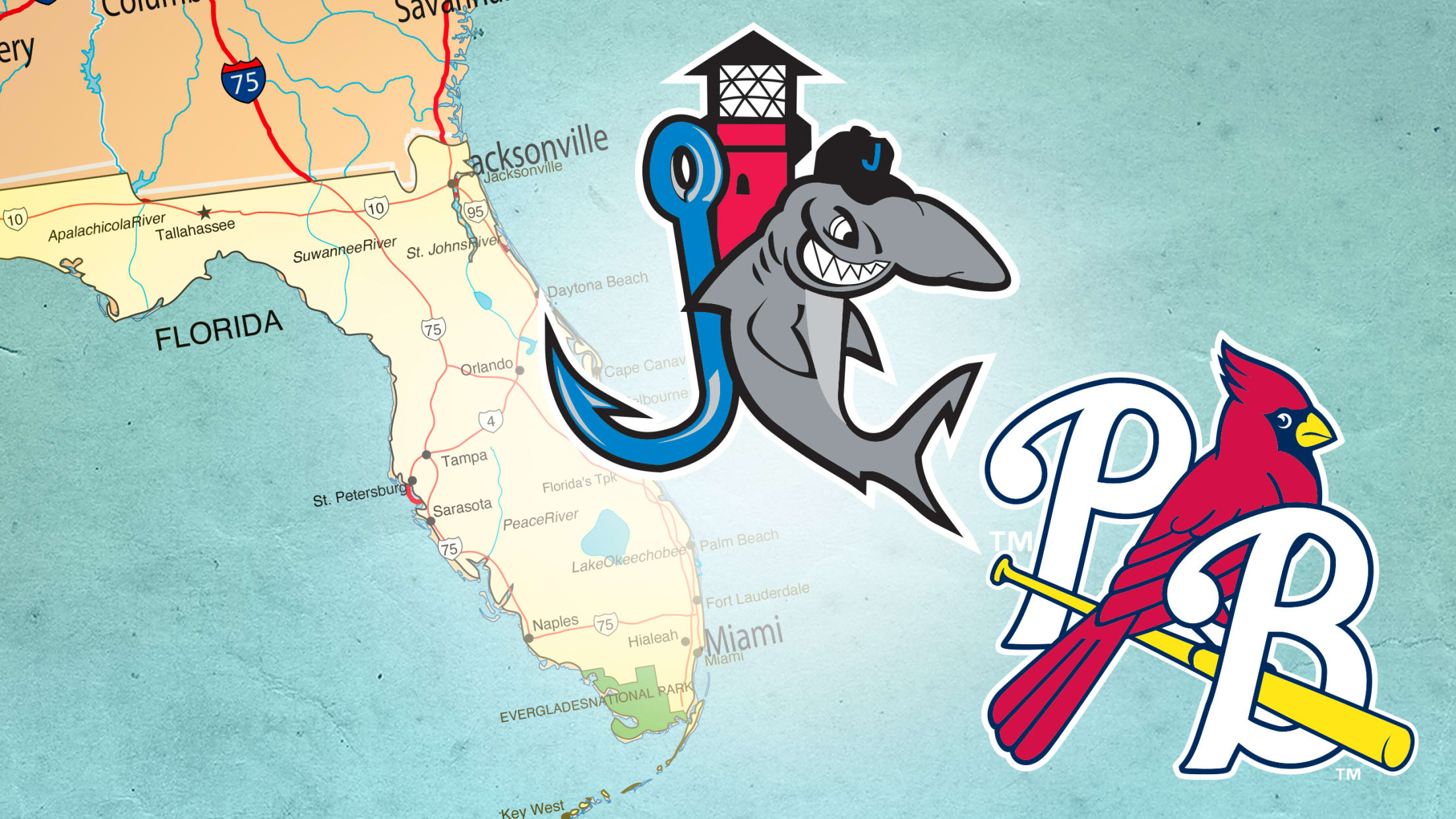 Roger Dean Chevrolet Stadium is situated in Jupiter, not the planet but the city in Florida. Jupiter is a picturesque community with natural landscapes, beach areas and an iconic lighthouse. Located 87 miles north of Miami, it is home to approximately 60,000 people. The area was originally named for the Hobe Native American tribe that lived at the mouth of the Loxahatchee River, because a mapmaker misunderstood the Spanish spelling "Jobe" of the natives and recorded it as Jove. Subsequent mapmakers furthered that misunderstanding to be the name of the Roman god (Jupiter) and adopted that name.
The town, which sticks out into the Atlantic Ocean further than any other point on the Florida coast, has a total area of 21.1 square miles -- 20 by land and 1.1 via water. Since 1550, ships have considered it an important stop when sailing to Central and South America.
Roger Dean Chevrolet Stadium
Roger Dean Chevrolet Stadium may just be the world's busiest ballpark. The facility serves as the Spring Training home for the St. Louis Cardinals and Miami Marlins and then goes on to host the Florida State League affiliates of both teams -- the Palm Beach Cardinals and Jupiter Hammerheads. As if that weren't enough, the stadium also hosts the Cardinals and Marlins' Rookie-level Gulf Coast League affiliates on its surrounding back fields -- admission is not charged for these games -- as well as a wide variety of tournaments and community events.
The ballpark's first official game took place on Feb. 28, 1998, with an attendance of 6,899. Hall of Famer Stan Musial played "Take Me Out To The Ball Game" on his harmonica, while St. Louis pitcher Cliff Politte threw out the first pitch and Mark McGwire hit the first home run. The Cardinals originally shared the stadium with the Montreal Expos, with Marlins joining the fold in 2003 (following Jeffrey Loria's sale of the Expos and subsequent purchase of the Marlins).
Roger Dean Chevrolet Stadium is one of only two stadiums in Florida to host two Major League Baseball teams annually for Spring Training, the other being The Ballpark of the Palm Beaches (Washington Nationals and Houston Astros). At these venues, the teams share the main stadium where the games are played, but they have their own practice fields, outdoor batting cages, pitching mounds and state-of-the-art conditioning rooms.
Features
Besides seats and bleachers along the foul territory in both outfields, Roger Dean Chevrolet Stadium has VIP luxury suites with both indoor and outdoor seating. The Cassidy Cool Zone is a popular destination in the ballpark, especially on hot days, with a covered party deck along right field. In staying with the tropical theme, the Chido Beach Club features four-top tables and drink rail seating directly behind the Cardinals bullpen in right field. The Guanabanas Tiki Hut, a covered party area for large groups trying to escape the Florida sun, is in left field. It's also a great location from which to secure player autographs.
Roger Dean Chevrolet Stadium has hosted a range of theme nights, with its flagship event being the annual Mega Bash celebration from July 3-4. Other popular events have been Baseball & Brews and an Easter celebration. In 2022, the ballpark will add a Space Night, Tacos & Tequila and All-You-Can Eat Night.
Concessions
Typical ballpark fare like hot dogs, burgers, chicken tenders and fries can be found at Roger Dean Chevrolet Stadium. A stand along the third-base line sells BBQ, while a kiosk near the home-plate entrance offers all types of tacos.
Mascots
Hamilton R. Head is the mascot of the Jupiter Hammerheads. A land shark, "Hammy" loves watching his favorite film "Finding Nemo" and eating Cardinals, Blue Jays and other exotic birds of Florida. Robbie the Redbird is the mascot of the Palm Beach Cardinals. His favorite show is "Sesame Street," and he calls Big Bird his hero.
Local Attractions
Jupiter offers plenty of recreational options to locals and visitors alike, with an emphasis on embracing the great outdoors. The most notable landmark is the Jupiter Inlet Lighthouse, which was completed in 1860 and is often used as a symbol for the area. The museum and grounds exhibits feature over 5,000 years of regional history, and you can climb all 105 feet to the top for a view of the coast. Afterwards, stop by Square Grouper Tiki Bar for fresh seafood and tropical drinks.
Thought Florida beaches were all flat? Think again. Drive up to Jupiter Island to see the spectacle of Blowing Rocks Preserve. It contains the largest Anastasia limestone outcropping on the state's east coast, where breaking waves spray plumes of water to heights of 50 feet through erosion holes. There also are maritime hammocks, mangrove wetlands and beach dunes. The preserve includes an educational center, native plant nursery, boardwalk, oceanside path and a butterfly garden. If you'd like a more traditional beach setting, Juno Beach Park has designated surfing areas, saltwater fishing from the pier and picnic shelters from sunrise to sunset.
At Jonathan Dickinson State Park, activities range from guided horseback riding to camping to kayaking that explore the Loxahatchee River as well as coastal sand hills, upland lakes and scrub forests. Historical interests include a secret World War II training camp. And the Jupiter Waterway Trail, which encompasses nearly 40 miles and multiple rivers, connects the Loxahatchee River, Intracoastal Waterway and Jupiter Inlet. Eco-tourism activities include stand-up paddleboarding to snorkeling to bird watching and hiking.
Food and drink
Downtown Abacoa offers plenty of indoor and outdoor dining options near Roger Dean Chevrolet Stadium. Whether it be Hawaiian (Poke N Go), Cuban (Copacabana), Mexican (Duke's Tacos and Margs), Italian (Tavern Pi) or Japanese (Hokkaido Hibachi & Sushi), there is something for everyone heading toward the ballpark along Main Street. In need of caffeine? Crux Coffee Roasters is a favorite. Before turning right on Town Center Drive, Bahama Buck's offerings of shaved ice cream and smoothies will cool you down under the hot Florida sun. There are even more options like JJ Muggs Stadium Grill, DAS Beer Garden, Jumby Bay Island Grill and Brick & Barrel Gastropub down the road. Want a pregame or postgame drink? Stop by Island Root Abacoa Kava Bar and Civil Society Brewing Company. And to cap the night, try a round of mini golf at Lighthouse Cove Adventure Golf at Abacoa.
Lodging
Want to stumble out of bed and catch a game? The Courtyard by Marriott Palm Beach Jupiter is located across the street from the ballpark's main entrance. If it's already sold out, there are other hotel chains in the area to choose from. Perhaps you would like to splurge. PGA National Resort (400 Ave of the Champions) is a six-mile drive from the ballpark. With five championship courses designed by golf's most legendary names, it is home to the Honda Classic every March. If you'd like a waterfront view to wake up to, upscale options include Wyndham Grand Jupiter At Harbourside Place (122 Soundings Avenue) and Jupiter Beach Resort & Spa (5 North Highway A1A).
Moving On
Though the Nationals and Astros have Spring Training facilities in nearby West Palm Beach, Fla., neither organization has a Florida State League team playing at The Ballpark of the Palm Beaches. The closest Minor League team to Jupiter is the St. Lucie Mets, located approximately 41 miles to the north in Port St. Lucie. The Daytona Tortugas are another two-and-a-half-hours along I-95. Of the six teams in the Low-A Southeast's west division, which are located on the Gulf Coast of Florida, the closest is the Fort Myers Mighty Mussels by taking Florida State Road 80 west for 143 miles.
The Road to Miami
Jupiter represents the beginning of pro ball for stateside Marlins prospects at either the Florida Complex League or Low-A Southeast. After that is a trip to the Midwest to play for Beloit before a return to the Sunshine State for stops in Pensacola and Jacksonville.
Single-A: Jupiter Hammerheads
High-A: Beloit Sky Carp
Double-A: Pensacola Blue Wahoos
Triple-A: Jacksonville Jumbo Shrimp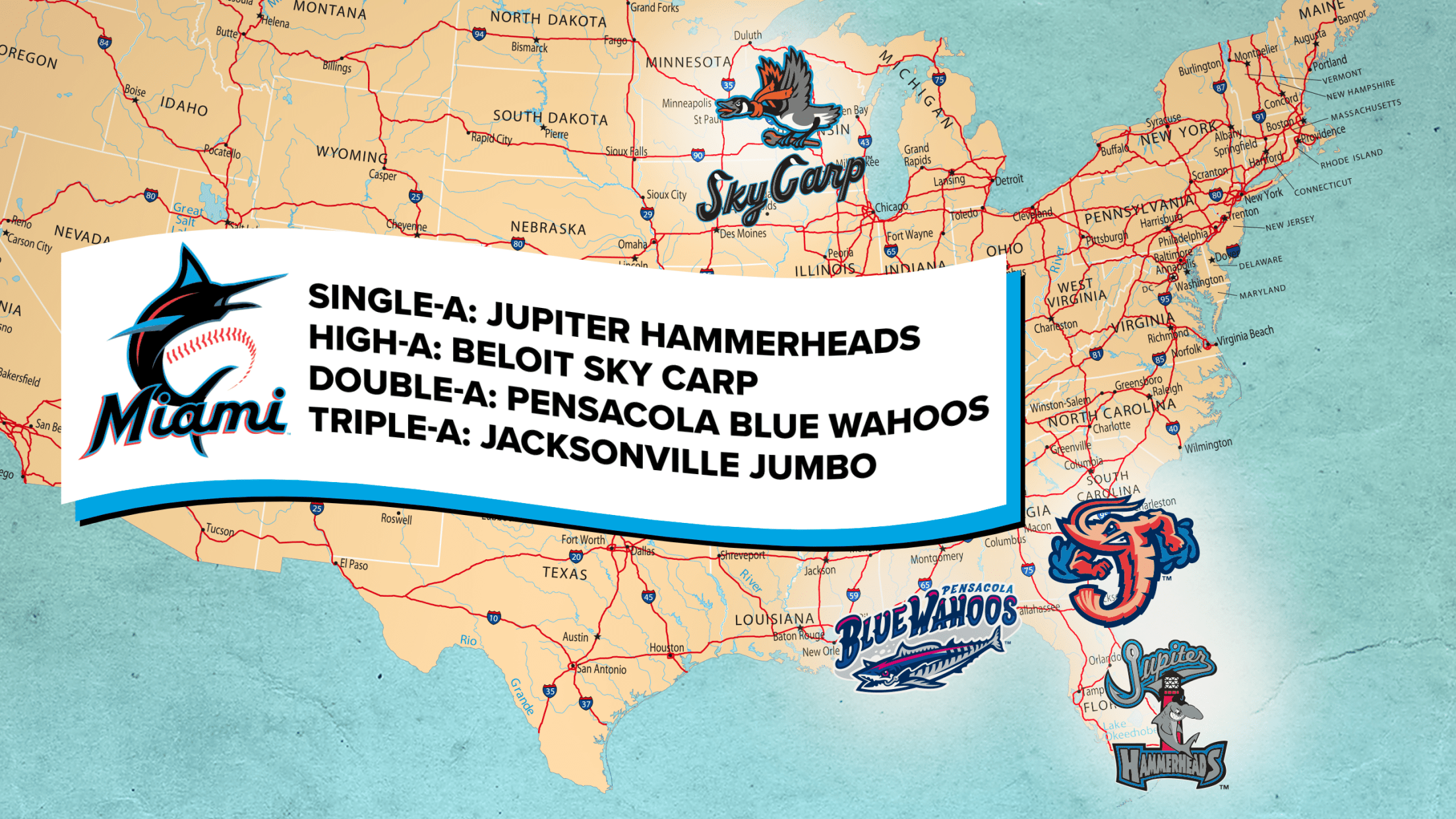 The Road to St. Louis
Stateside Minor Leaguers for the storied franchise begin their careers at Roger Dean Chevrolet Stadium in the Florida Complex League or Florida State League. They then fly north, where the next two affiliates -- Peoria and Springfield -- are closer to home in Illinois. Memphis, which is the final stop before The Show, is 284 miles from Busch Stadium.
Single-A: Palm Beach Cardinals
High-A: Peoria Chiefs
Double-A: Springfield Cardinals
Triple-A: Memphis Redbirds