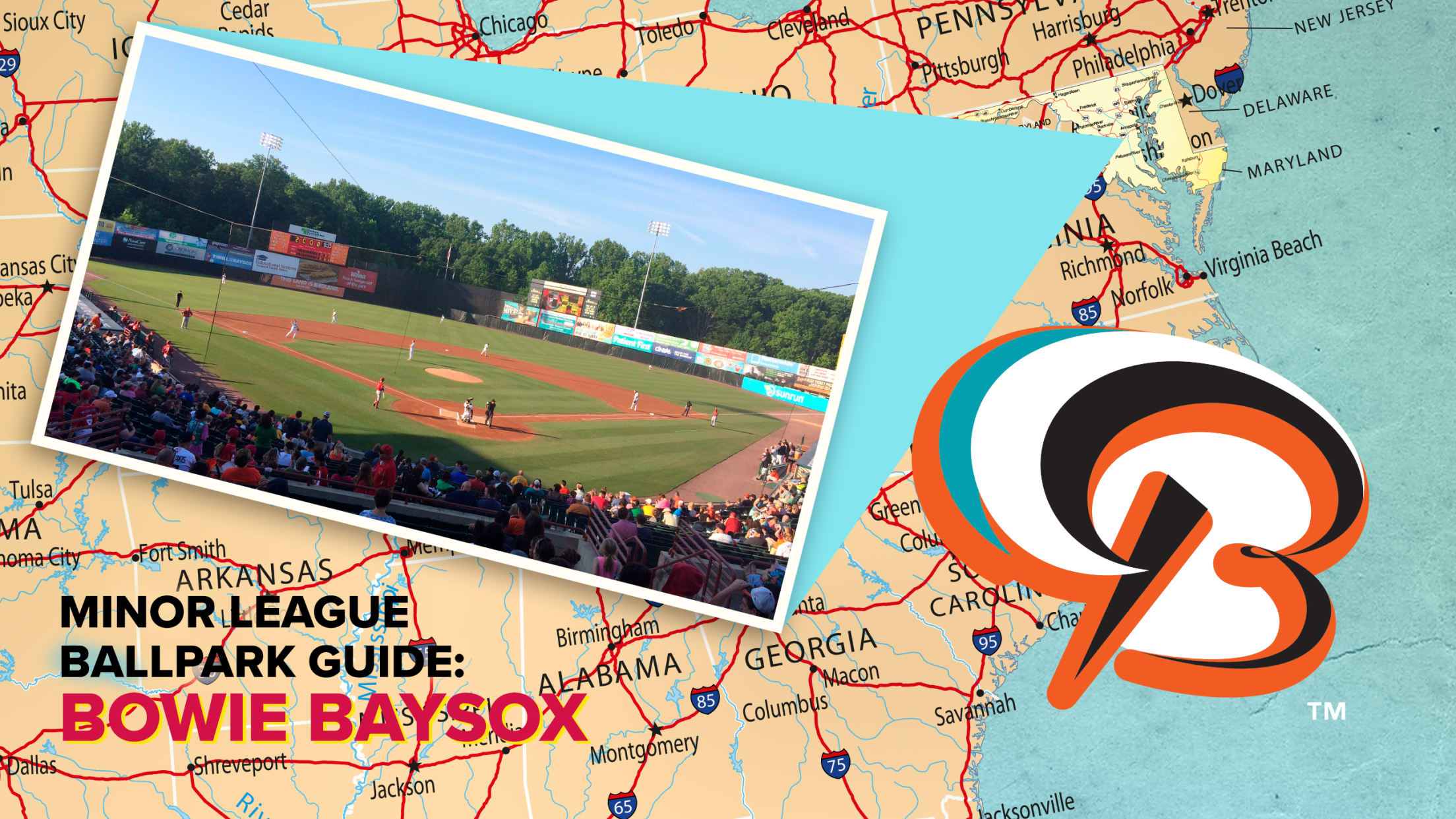 Scroll
Explore Bowie's Prince George's Stadium
Welcome to Prince George's Stadium, an Oriole oasis located at the back end of a shopping complex. Watch Baltimore's top prospects, dance in the aisles with Louie, ride the carousel and look out for the lighthouse.
Bowie Baysox (Double-A affiliate of the Baltimore Orioles since 1993)
Established: 1993
League: Double-A Northeast (Eastern League from 1993-2020)
Ballpark: Prince George's Stadium (since 1994)
Championships: 2015
Notable Alumni: Manny Machado, Trey Mancini, Nick Markakis, John Means, Cedric Mullins, Jake Arrieta, Chris Davis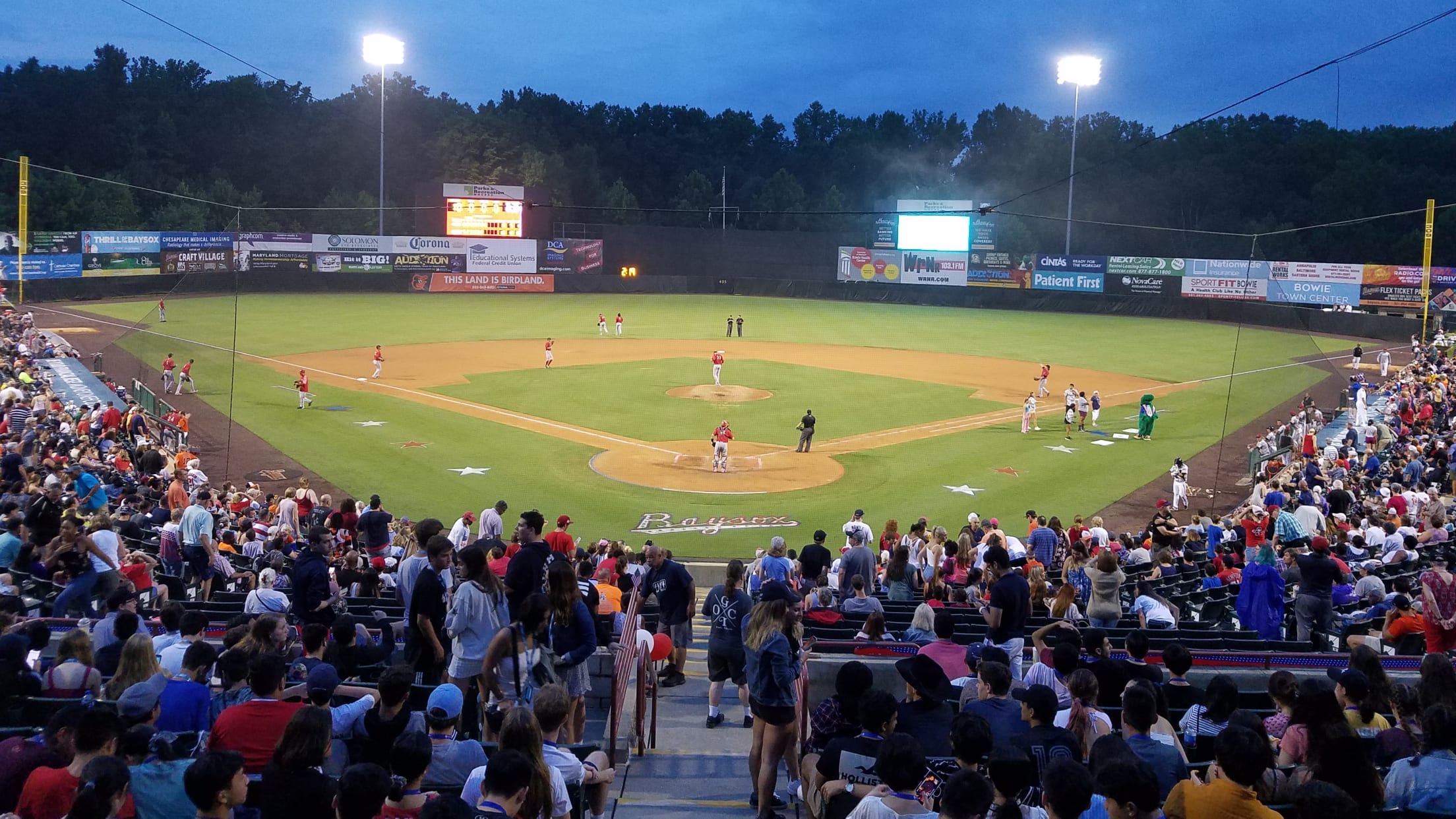 100 years ago, Bowie, Md., was a small town with a population of less than 1,000 people. Today, it's the fifth-largest city in Maryland, boasting nearly 60,000 residents. The town's growth, aided in part by its proximity to Baltimore and Washington D.C., made it an attractive market for Minor League Baseball. Enter the Bowie Baysox, whose name references the nearby Chesapeake Bay.
Since their 1993 inception, the Baysox have served as the Double-A affiliate of the Baltimore Orioles. This connection was never more explicit than during their inaugural season, which the team spent at the Orioles' former home of Memorial Stadium. Prince George's Stadium opened its doors the following season, and there the Baysox remain. When players get promoted from Bowie directly to the Orioles, they don't have far to travel. Camden Yards is just 27 miles away.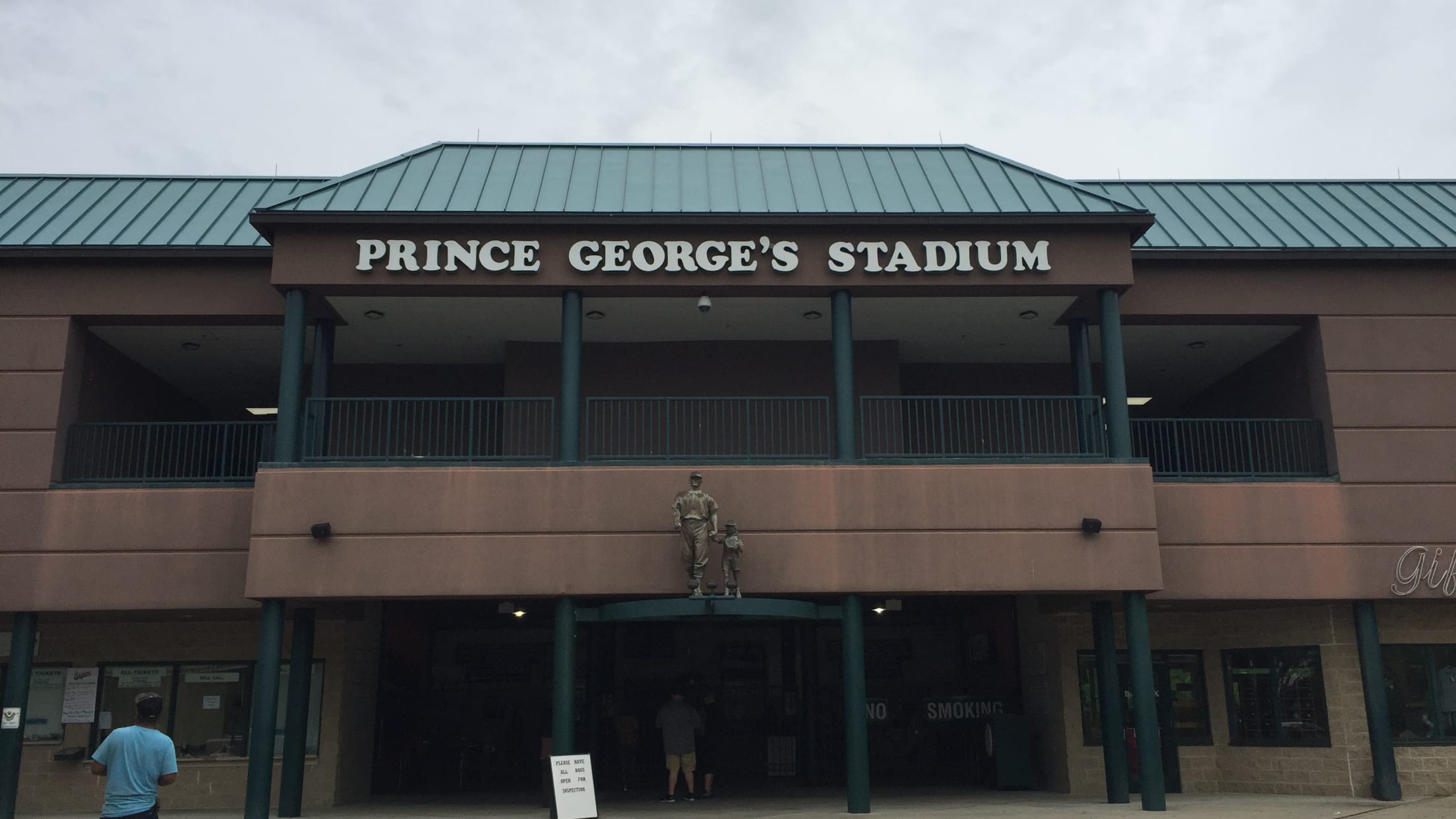 Prince George's Stadium
Prince George's Stadium is named for the county in which it is located, which is itself named for Prince George of Denmark (George's wife, Queen Anne, ruled Great Britain from 1702 through 1714). One will not find any signs of monarchical opulence as they approach the ballpark, which is located just off state route 301. After turning on to Ballpark Road you'll pass a Home Depot, a cell phone store, multiple gas stations and other such businesses peddling products pertinent to today's American lifestyle. Upon proceeding through this gauntlet of commerce, you'll reach the ballpark. It's not the most scenic location for a Minor League Baseball stadium, but the views get much better once you're inside. The area beyond the ballpark is mercifully undeveloped, providing a bucolic wooded backdrop for Double-A baseball.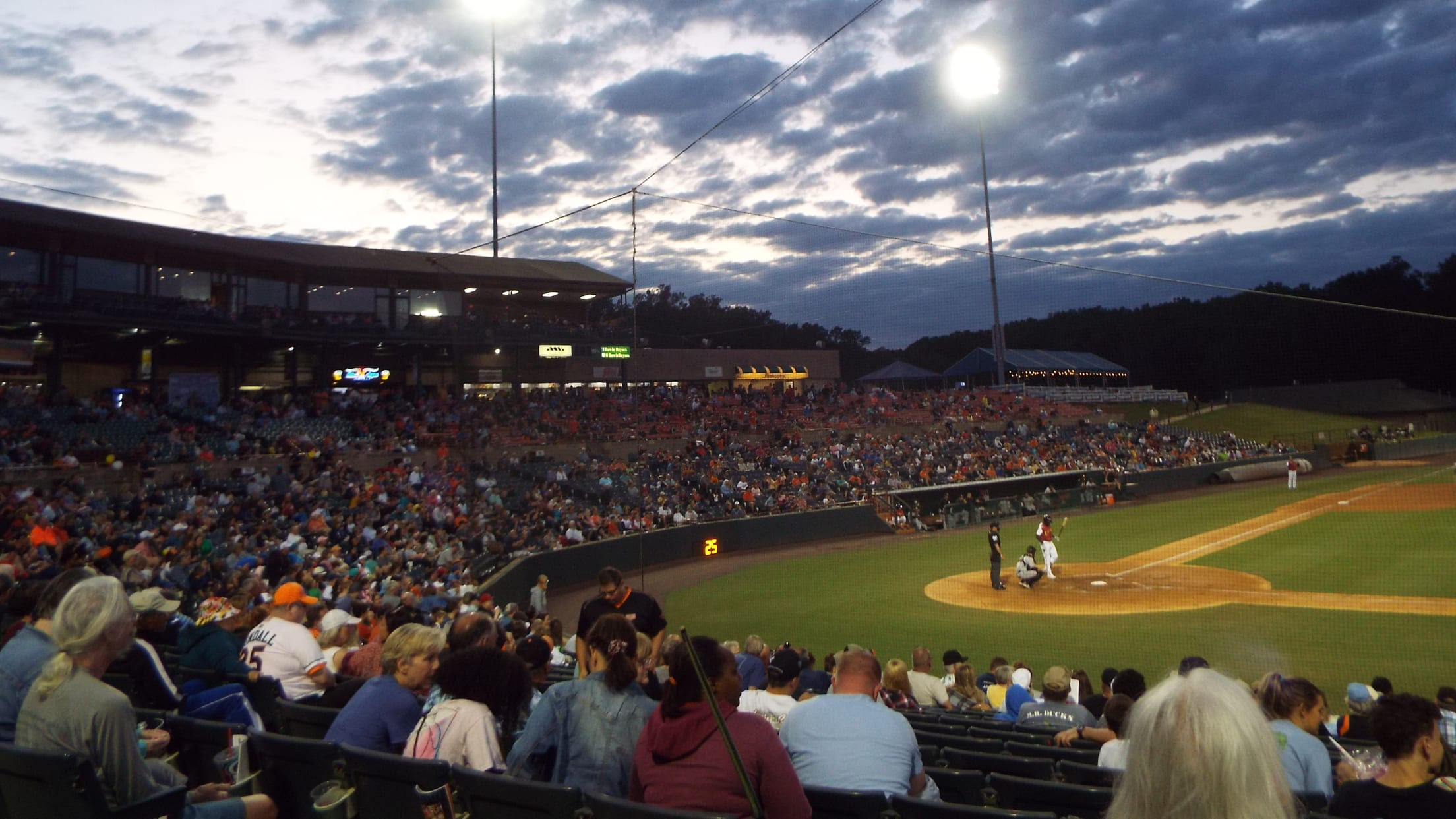 As it approaches its 30th birthday, Prince George's Stadium remains a lively and interesting place to see a Minor League game. The architecture is standard for a ballpark of its era. A small lower concourse splits the seating bowl into two sections, with general admission bleacher seating on the first- and third-base sides. The main concourse is often a riot of color and activity, featuring games and informational tables manned by community organizations and team sponsors.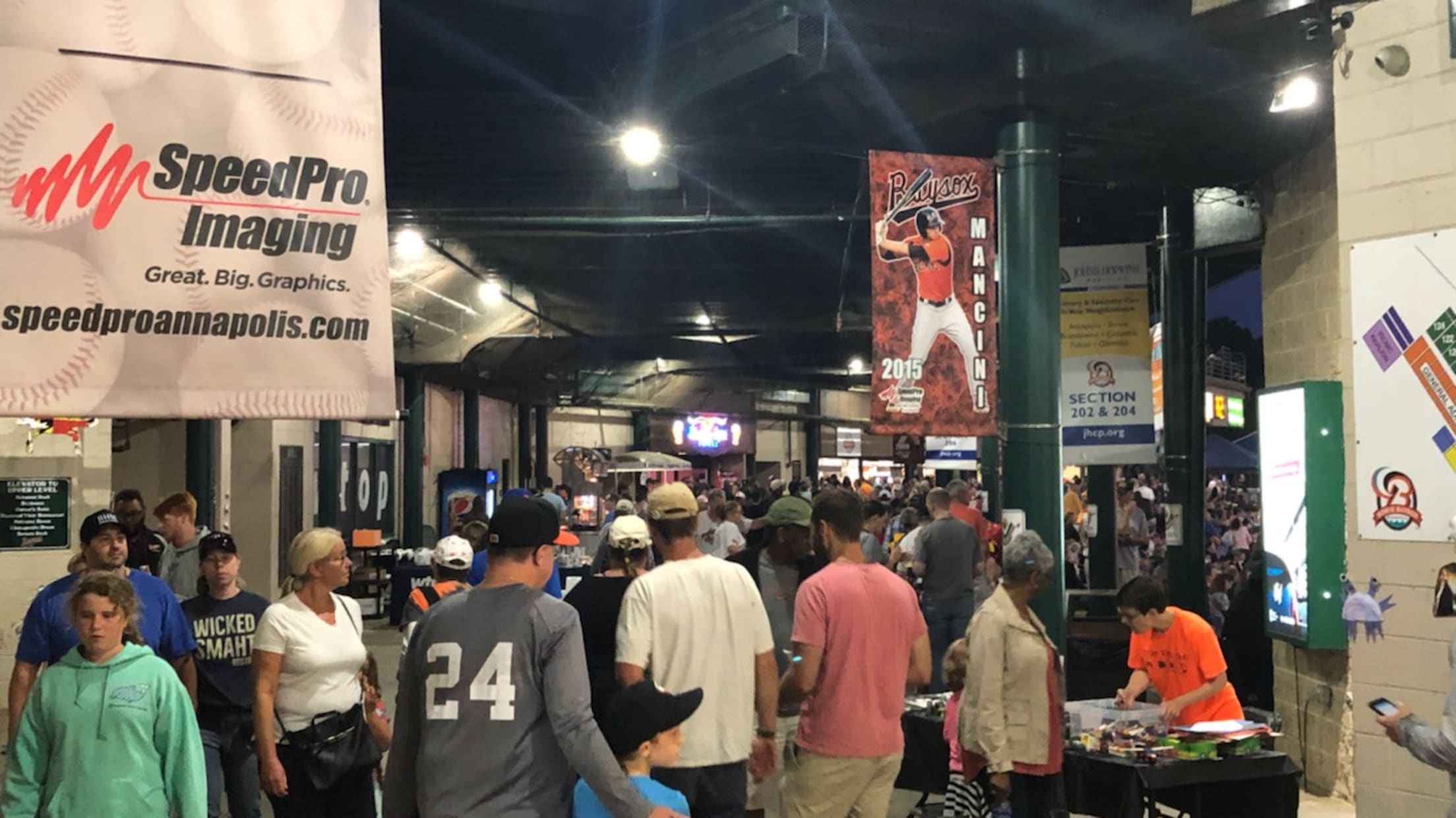 A patriotic spirit is likely to prevail at Prince George's Stadium. The county is home to the Air Force's Joint Base Andrews, and the Army's Fort Meade is nearby as well. The Baysox also host an annual Navy Night, attended by midshipmen from the U.S. Naval Academy in Annapolis.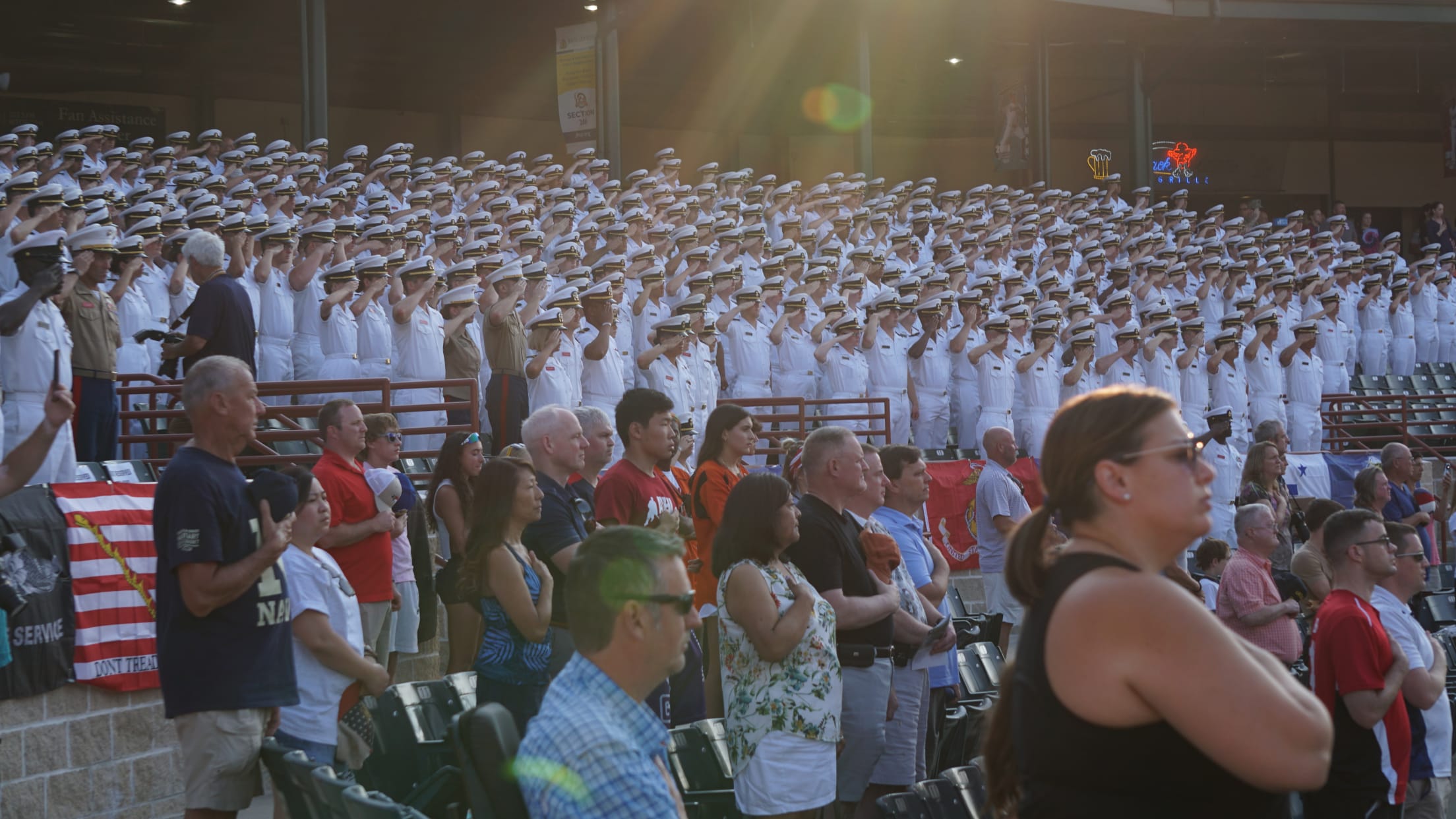 Finally, a Minor League Ballpark Guide writer would be remiss to not point out Prince George's Stadium's two most distinctive features, both located far down the first-base line. A carousel provides colorful revolving inanimate animal entertainment on a nightly basis, while an orange lighthouse near the foul pole highlights the Baysox's Baltimore affiliation as well as the team's affinity for the Chesapeake Bay (they are the Baysox, after all).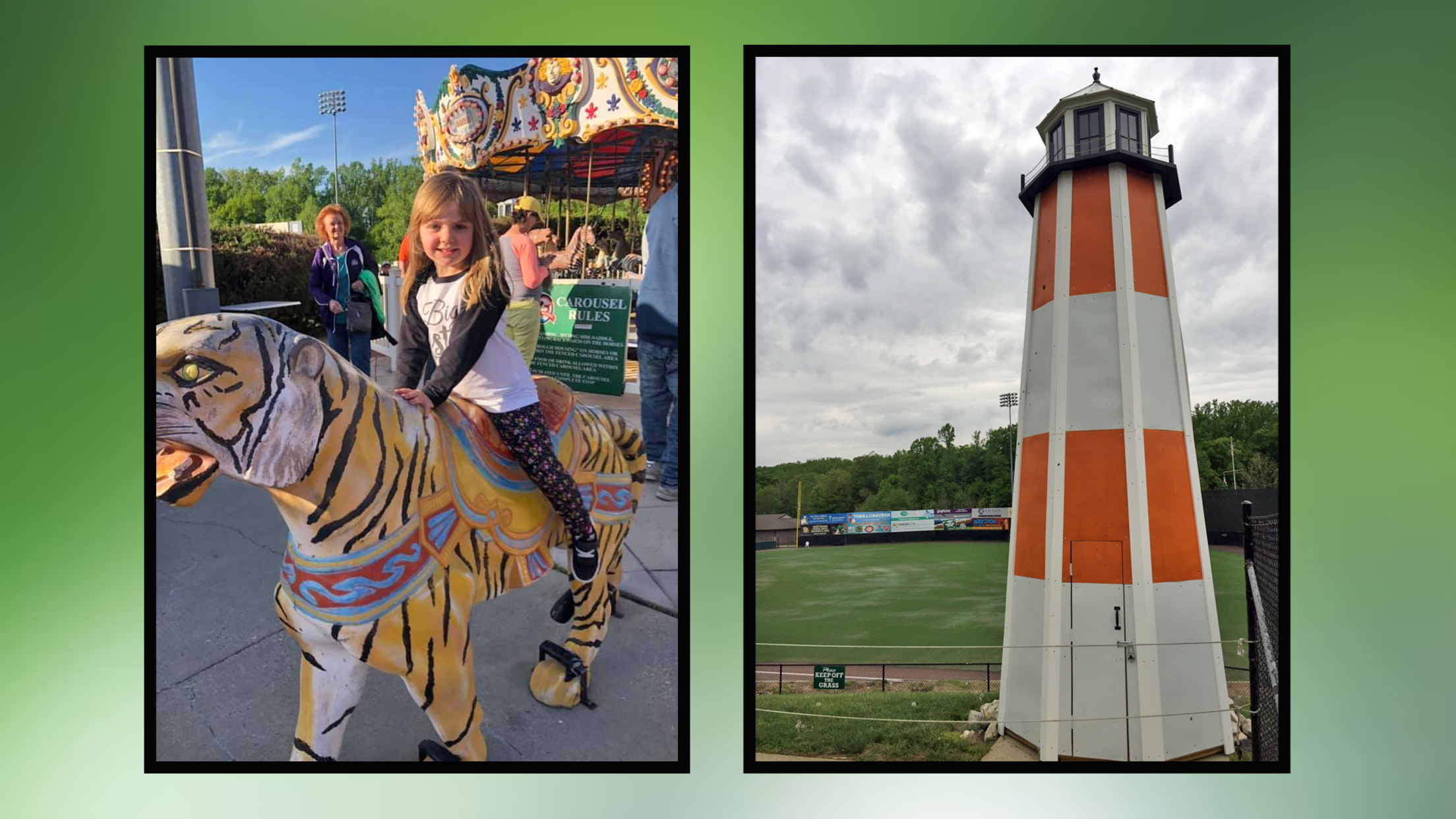 Concessions
Prince George's Stadium's concourse concession stands are well-stocked with an abundance of ballpark standards. Keep an eye out for regionally-inspired cuisine such as pit beef and, of course, crab cakes and other crab and Old Bay-inspired items. In 2019 the team even played a game as the Maryland Crab Cakes.
Mascot
Cue up The Kingsmen, because during a Baysox game you'll hear fans yell "Louie, Louie" all night long. The Louie in question is a gregarious furry green individual of indeterminate species. He's a popular fellow, to the extent that he was able to successfully win multiple uncontested elections as the "Mayor of Louieville."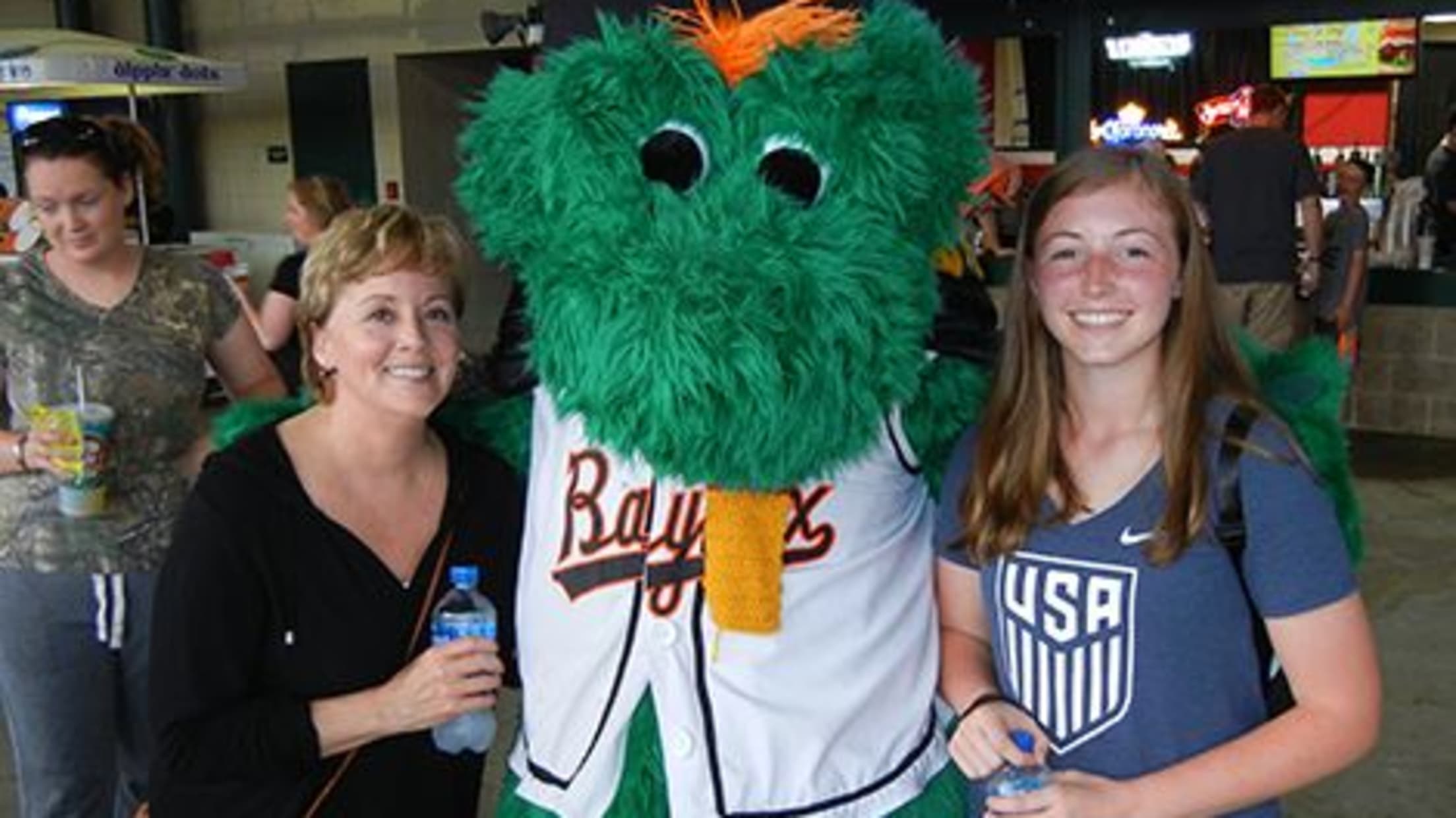 Local Attractions
Visitors to Bowie are well-positioned to visit a variety of big-ticket tourist destinations, as the city is located roughly midway between Baltimore and Washington D.C. Both can be reached via a short, albeit heavily congested, car ride. And, of course, the Chesapeake Bay and its various coastal attractions and aquatic pursuits are located nearby as well.
But before you leave Bowie, why not check out what it has to offer? Six Flags America is a huge attraction, but more off-the-beaten path excursions can be found as well. The National Capital Radio and Television Museum, located in a converted farmhouse, traces the origins of mass media in America. Vintage radio aficionados simply must visit. The Belair Stable Museum, once the home of the Belair stud farm, celebrates the stable's outsized role within the region's horse racing and breeding history. From a transportation perspective, horses gave way to trains. The Bowie Railroad Museum highlights the railroad's importance in literally putting the city on the map. The museum features a 1923-era caboose and is part of a recreated railroad village that shows what life was like in the area when the railroad was first established.
While the railroad museum looks to the past, the NASA Goddard Visitor Center in Greenbelt, Md., looks to the future. This high-flying facility offers a wide range of information and exploratory opportunities regarding mankind's current and upcoming interstellar pursuits. Maritime-themed explorations can be found in Annapolis, whether it's visiting the United States Naval Academy or taking a guided cruise featuring various Chesapeake Bay attractions.
Food and Drink
For a pre- or post-game meal, Rip's Country Inn is the ideal choice. Located next to the ballpark, the establishment includes a deli, bar and a restaurant with a wide-ranging menu that serves breakfast, lunch and dinner. Jerry's Seafood offers one of Bowie's most famous, and filling, platters. The Crab Bomb is "Ten ounces of jumbo lump crab, lightly seasoned with Old Bay and baked to a golden brown perfection." What more could you want when in Maryland? For more local seafood flavor and bar food favorites, try the Chesapeake Grille and Deli.
Lodging
Myriad chain hotel options can be found in the area, including (at least) four within a mile of Prince George's Stadium. If you have more time, and money, consider holing up for a night in one of the Chesapeake Bay area's many bed and breakfasts.
Moving On
Bowie is part of a highly-concentrated Baltimore system, making it possible to visit all four Oriole affiliates (and the Orioles themselves) over the course of a single road trip. The High-A Aberdeen IronBirds are located to the north of Bowie, with the Low-A Delmarva Shorebirds and Triple-A Norfolk Tides to the south. Other nearby Minor League entities include the Fredericksburg Nationals (to the southwest) and the Wilmington Blue Rocks (to the northeast).
The Road to Baltimore
It's a long road, metaphorically, to the Major Leagues. But for Orioles prospects, it's literally a short road. Bowie is the penultimate stop in a Maryland and Virginia-based system that also includes Delmarva, Aberdeen and Norfolk.
Single-A: Delmarva Shorebirds
High-A: Aberdeen IronBirds
Double-A: Bowie Baysox
Triple-A: Norfolk Tides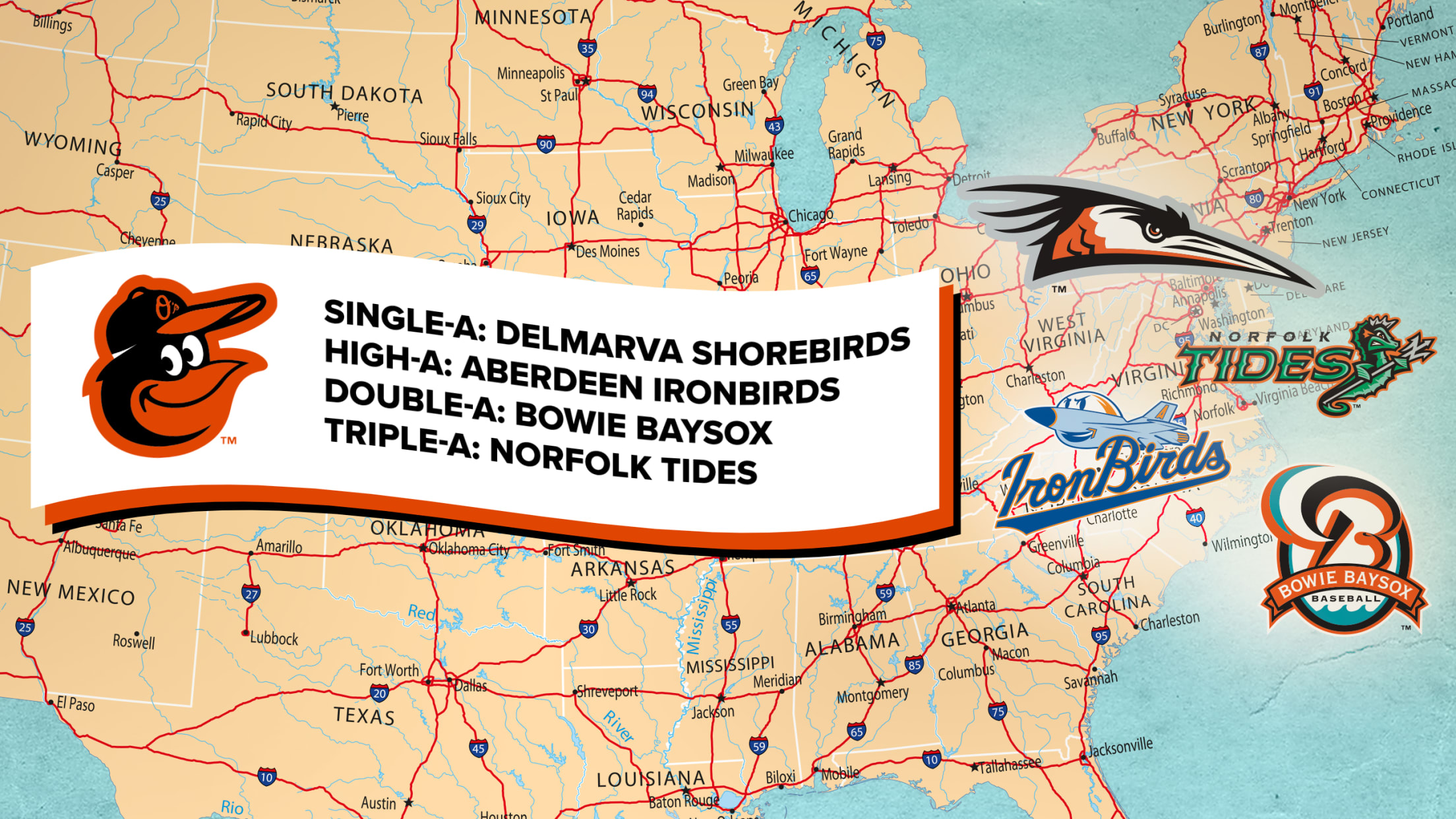 credits:
Benjamin Hill, who covers the business and culture of Minor League Baseball, has visited 182 Minor League ballparks.