Explore Buffalo's Sahlen Field 
Welcome to Buffalo's Sahlen Field, a trendsetting ballpark built with Major League expansion in mind. Grab a beer from Conehead, cheer on Buffalo Wing racers and watch the Toronto Blue Jays of tomorrow, today.
Buffalo Bisons (Triple-A affiliate of the Toronto Blue Jays since 2013)
Established: 1979
League: International League (since 1998)
Ballpark: Sahlen Field (opened 1988)
Championships: 1997 (in the American Association), 1998, 2004
Notable Alumni: Vlad Guerrero, Jr., Moises Alou, Jay Bell, Otis Nixon, Tony Pena, R.A. Dickey, Mike Hessman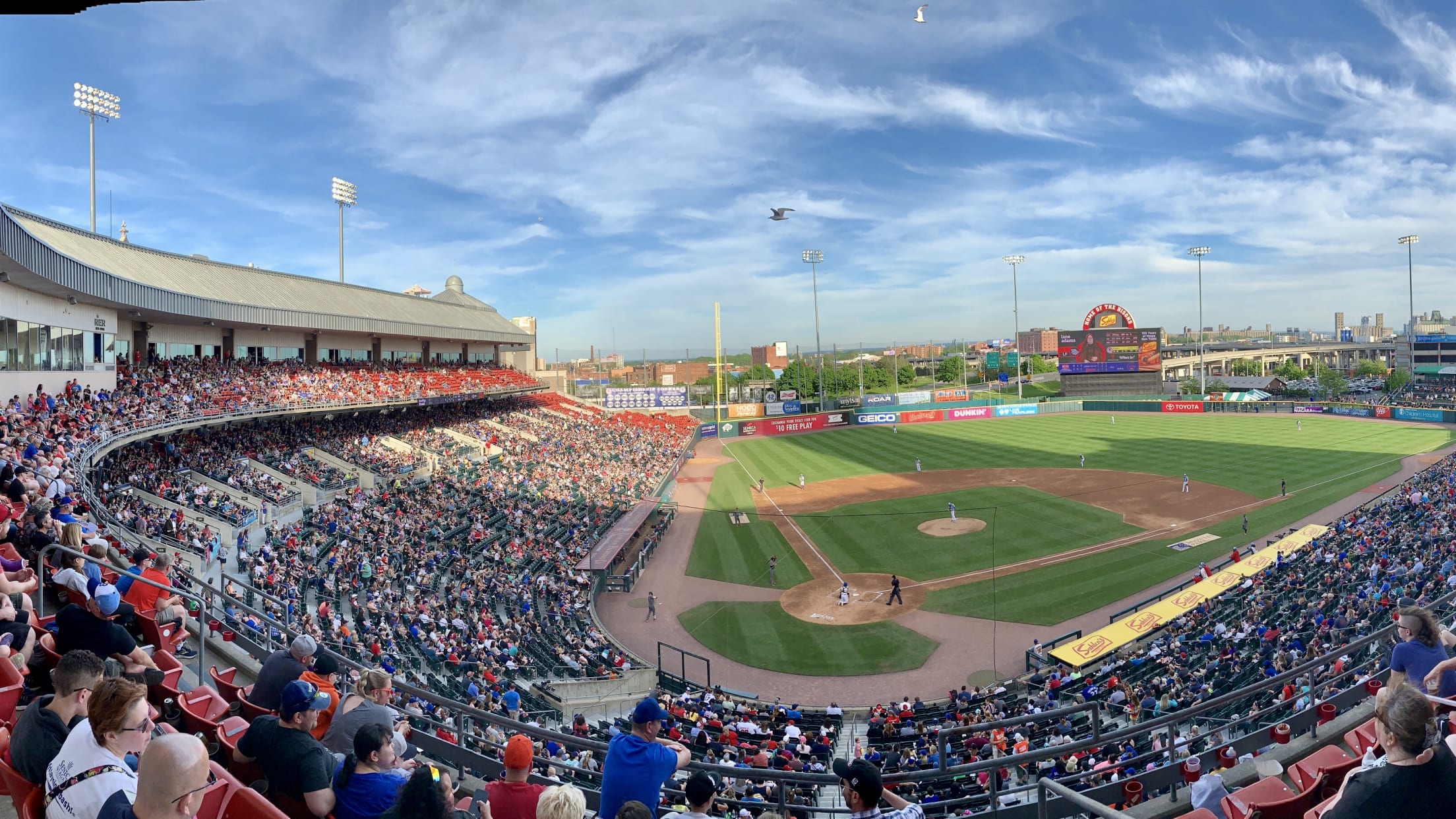 Today's Bisons are carrying on a long and rich Buffalo baseball tradition, one that stretches back to 1877. The Bisons of 1879-1885 were members of the National League, marking the first of three occasions in which Buffalo hosted a Major League team (or four occasions, considering the Toronto Blue Jays played there during the COVID-disrupted seasons of 2020-21). From 1912 through 1969 the Bisons played in the International League, the same circuit they operate out of today.
21 members of the Baseball Hall of Fame once played, managed or coached for the Bisons, including long-ago luminaries such as Dan Brouthers, Jim O'Rourke, Connie Mack and Charlie "Old Hoss" Radbourne.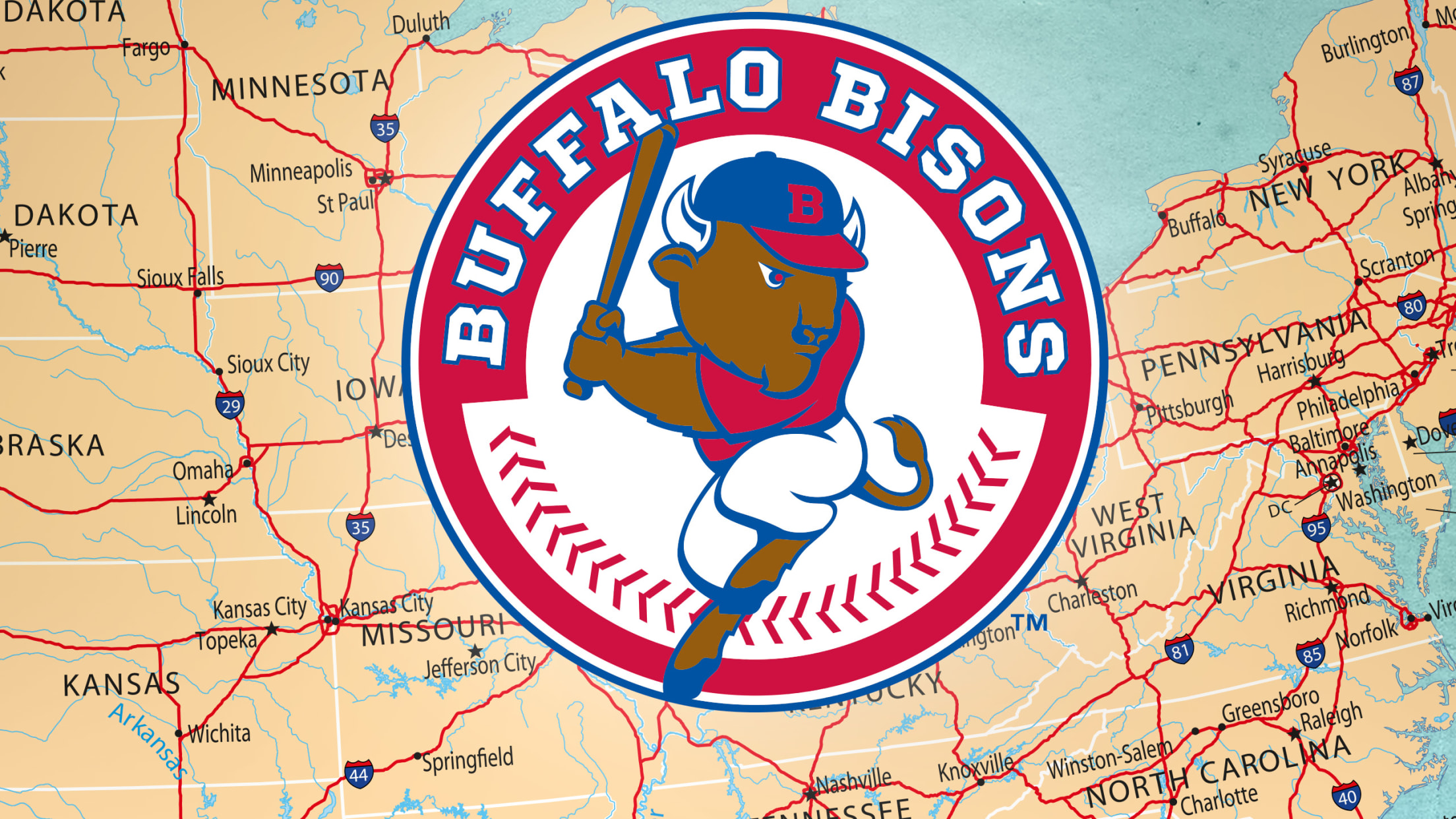 The current iteration of the Bisons dates back to 1979, when Buffalo landed a Double-A Eastern League franchise after nine seasons without professional baseball. The team shifted to the Triple-A American Association in 1985; in 1998, following the dissolution of the American Association, they began their current run in the International League.
The Bisons have been affiliated with the Toronto Blue Jays since 2013, a beneficial relationship given the proximity between the two cities (even if one has to cross an international border along the way). The Blue Jays partnership follows affiliations with the New York Mets, Cleveland, Pittsburgh and Chicago White Sox.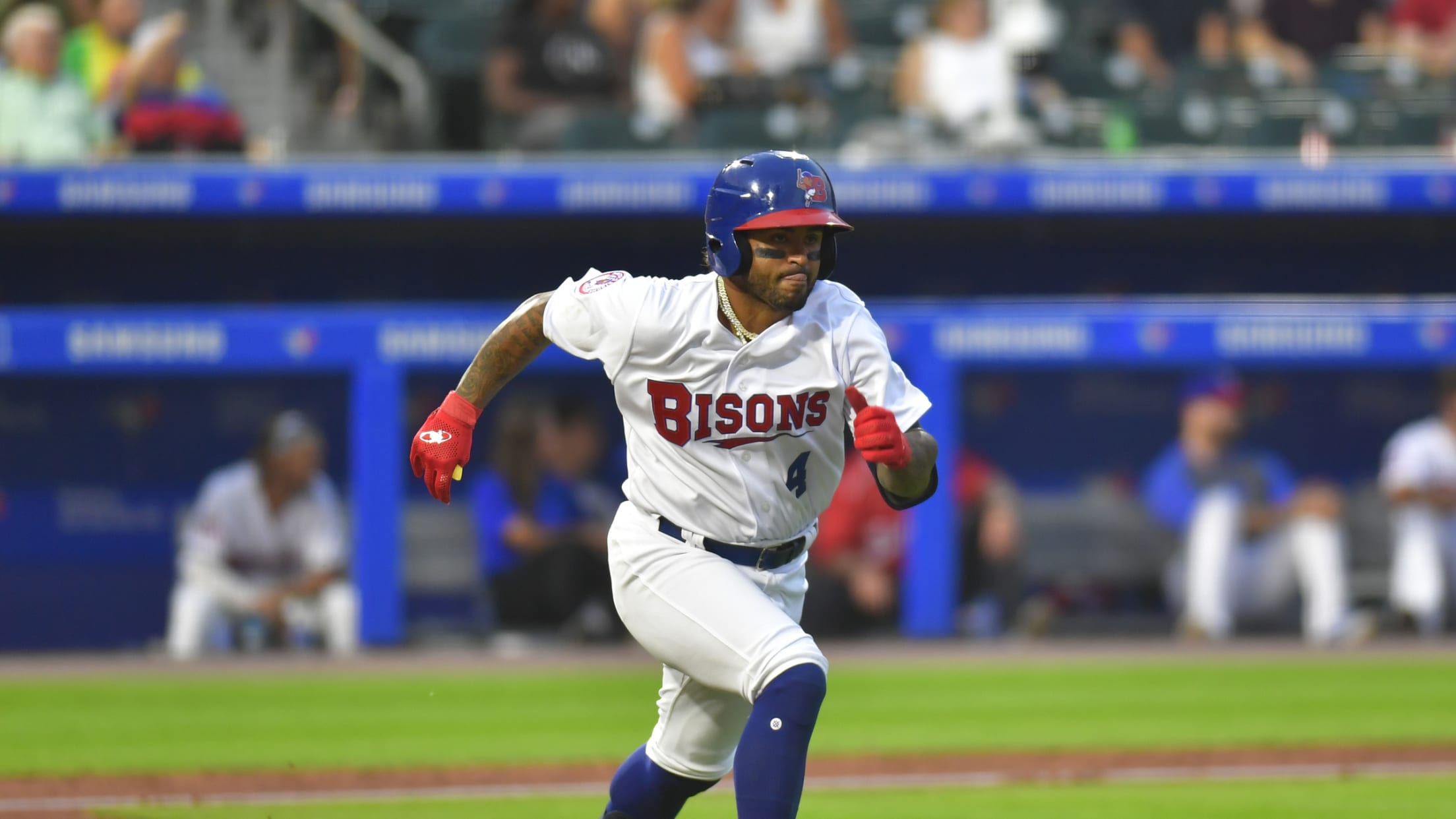 Sahlen Field
Ballpark Location (via Google Maps)
Buffalo Bisons Schedule
Buffalo Bisons Roster
1 James D. Griffin Plaza
Buffalo, NY 14203
716-846-2000
Capacity: 16,600
Dimensions: left field, 325 feet; center field, 404 feet; right field, 325 feet
Park Factors (2022)
100 = league average
Runs: 88 | Homers: 110 | Hits: 87
International League environment (2021-22): 4.89 runs per team per game (seventh-highest among 11 full-season leagues)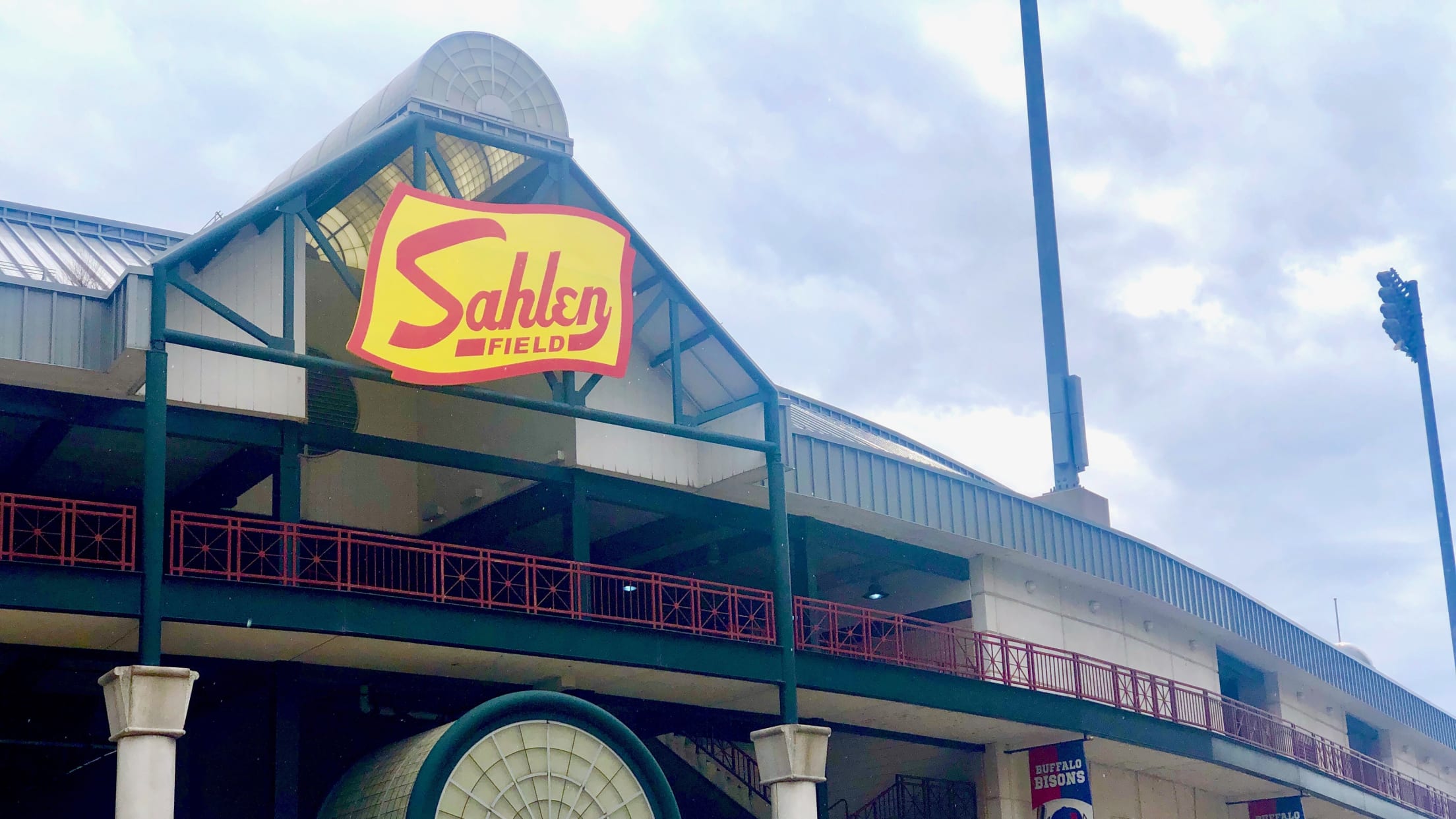 Sahlen Field hosted the Toronto Blue Jays for parts of the 2020 and '21 campaigns, a belated coronation for a facility that was built with Major League Baseball in mind. Originally named Pilot Field, this downtown ballpark opened in 1988 as a replacement for War Memorial Stadium. (That venue, affectionately known as "The Rockpile," was where the majority of the baseball scenes in "The Natural" were filmed.)
Sahlen Field could accommodate more than 20,000 fans in its early days, and accommodate them it did. Minor League Baseball's six highest single-season attendance marks were achieved at the ballpark, with the all-time record of 1,240,951 achieved in 1991. Buffalo was in the running to be a Major League expansion city at the time; if this had come to pass, a third deck would have been added to the ballpark.
Even if Buffalo hadn't been auditioning for a Major League team, fans likely still would have flocked to Sahlen Field. It served as a precursor to the ballpark boom of the 1990s, in which so-called cookie cutter multi-use stadiums were replaced by "classic retro" baseball-only facilities. It possesses a grandeur rarely associated with today's Minor League ballparks, with stately columns and arched windows ringing the exterior.
Fans enter Sahlen Field into a large, echoing multi-level external concourse filled with concession stands, souvenir kiosks, and restrooms. Walkways from the concourse lead to the seating bowl, which spans from foul pole to foul pole. There is a party deck in right field, but no outfield seats. I-190 runs behind the ballpark, leading south to Albany and Erie and north to Niagara Falls and Ontario, Canada.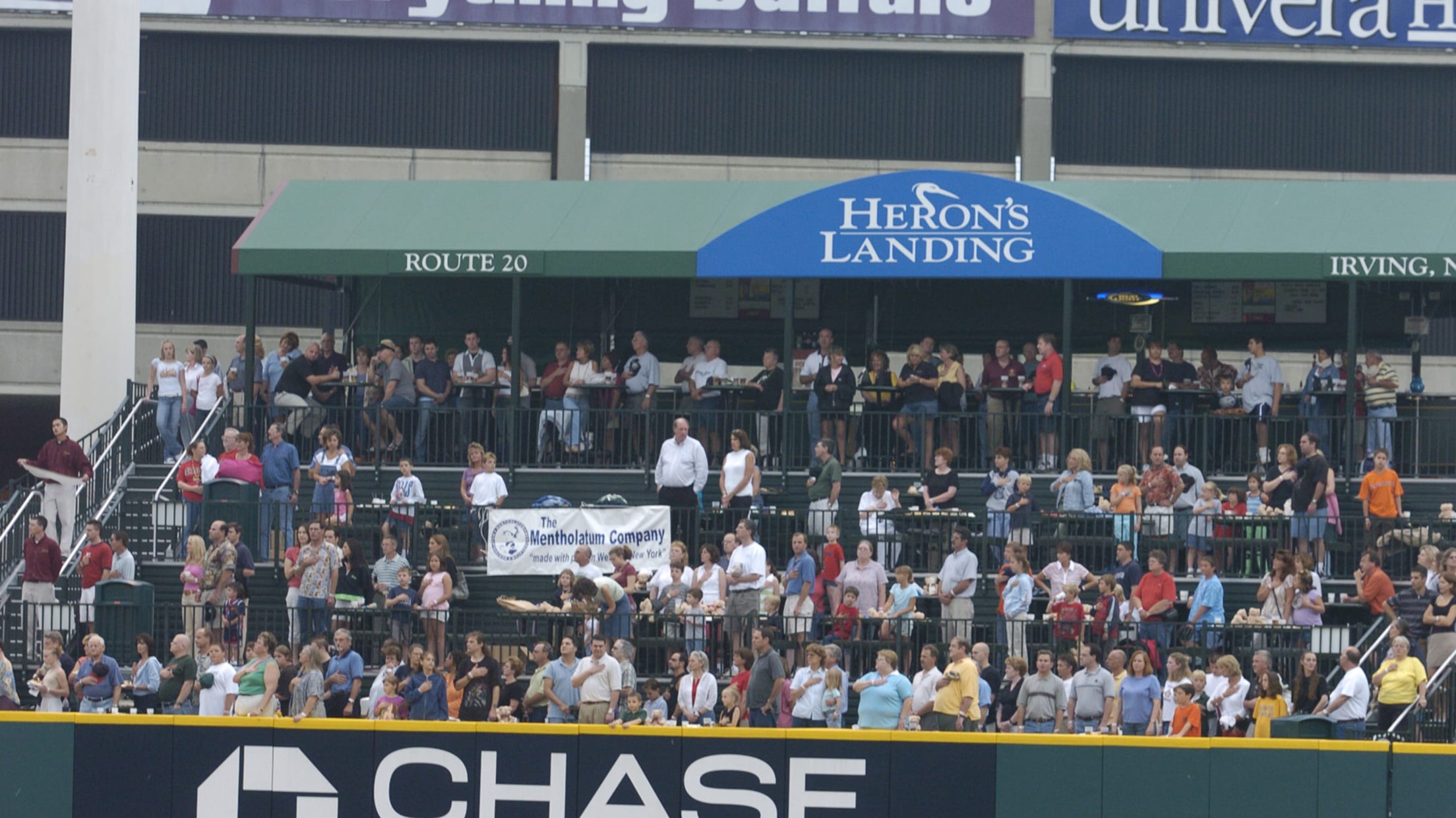 The Party Deck replaced a set of bleachers, one of several instances in which Sahlen Field's capacity has been reduced over the years. It now stands (or, more accurately, sits) at 16,600.
The Blue Jays two-season residency necessitated a rapid-fire ballpark renovation, resulting in an expanded home clubhouse, new batting cages and practice mounds, rebuilt and relocated bullpens, a new lighting system and a re-sodded outfield (complementing an infield that had been replaced prior to the 2020 season).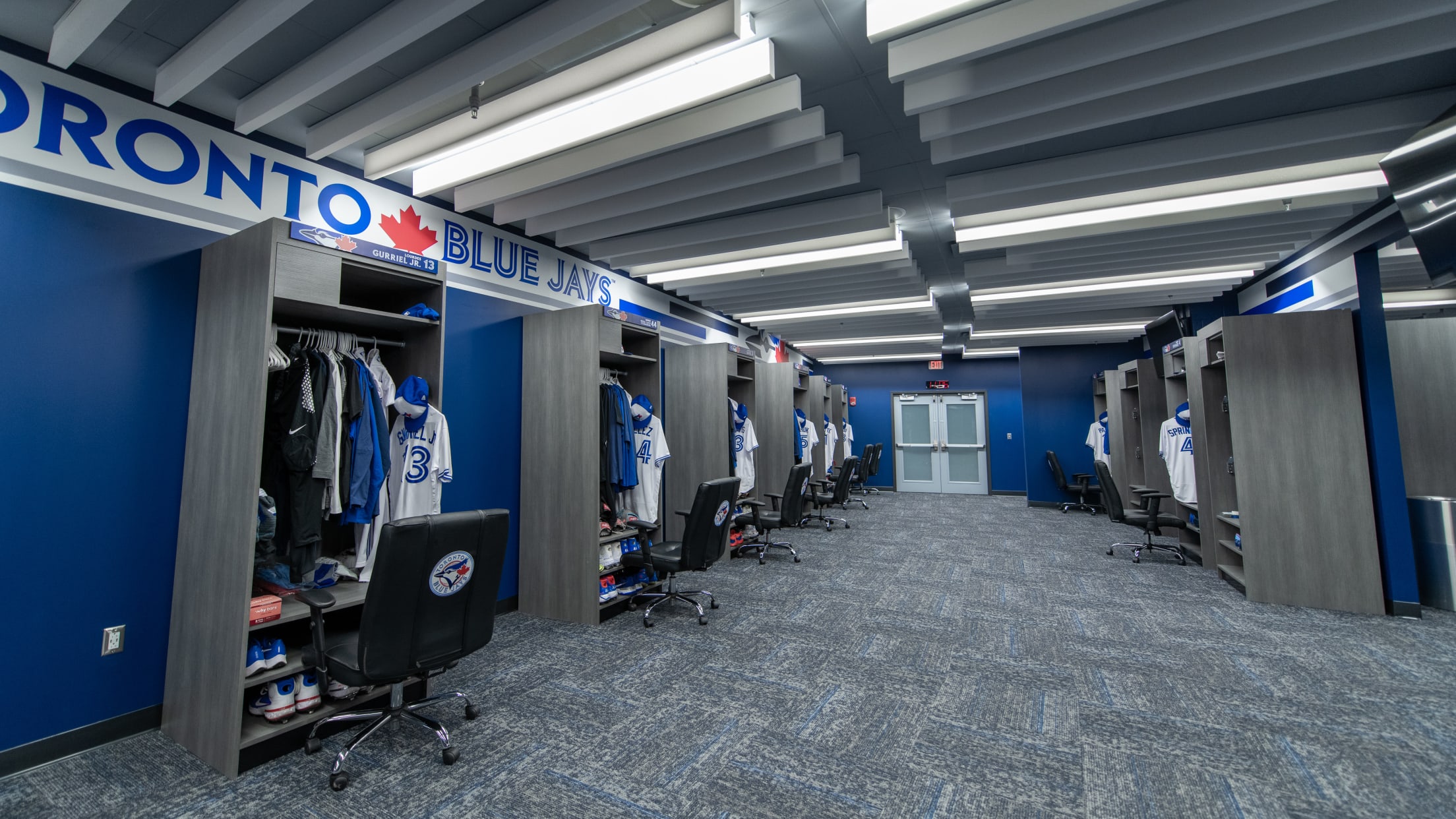 Concessions
"Cold Labatt's! Blue light! Peanuts! Who needs a beer!"
If you hear those words at Sahlen Field, then vendor Tom "Conehead" Girot, the beloved beer vendor of Buffalo, is nearby. He wears a Conehead hat while on the job, a fashion choice inspired by the 1970s "Saturday Night Live" sketches featuring Dan Ackroyd and Jane Curtin as natives of the planet Remulak.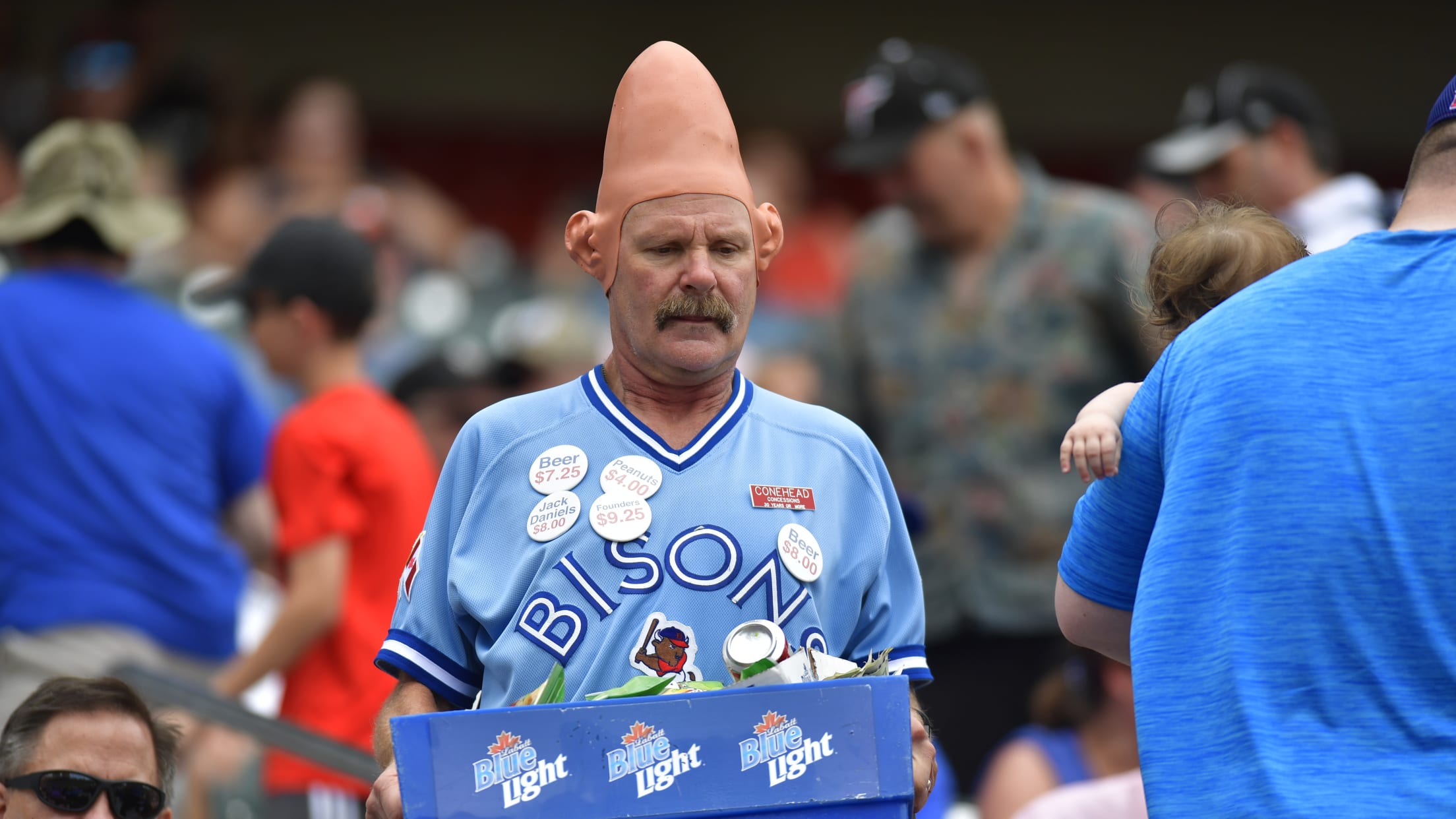 Sahlen, the Bisons' ballpark naming rights sponsor, is a Buffalo-based hot dog company. In addition to Sahlen franks, other local items that can be obtained include beef on weck from Charlie the Butcher's, pizza from La Nova and Nick Charlap's ice cream. Though it's not something particularly associated with Buffalo, one of the Bisons' most popular concession items is fried bologna, served on a roll and topped with peppers and onions.
For those who want a little bit of everything: Consumer's Pub, an onsite restaurant, features an all-you-can-eat buffet.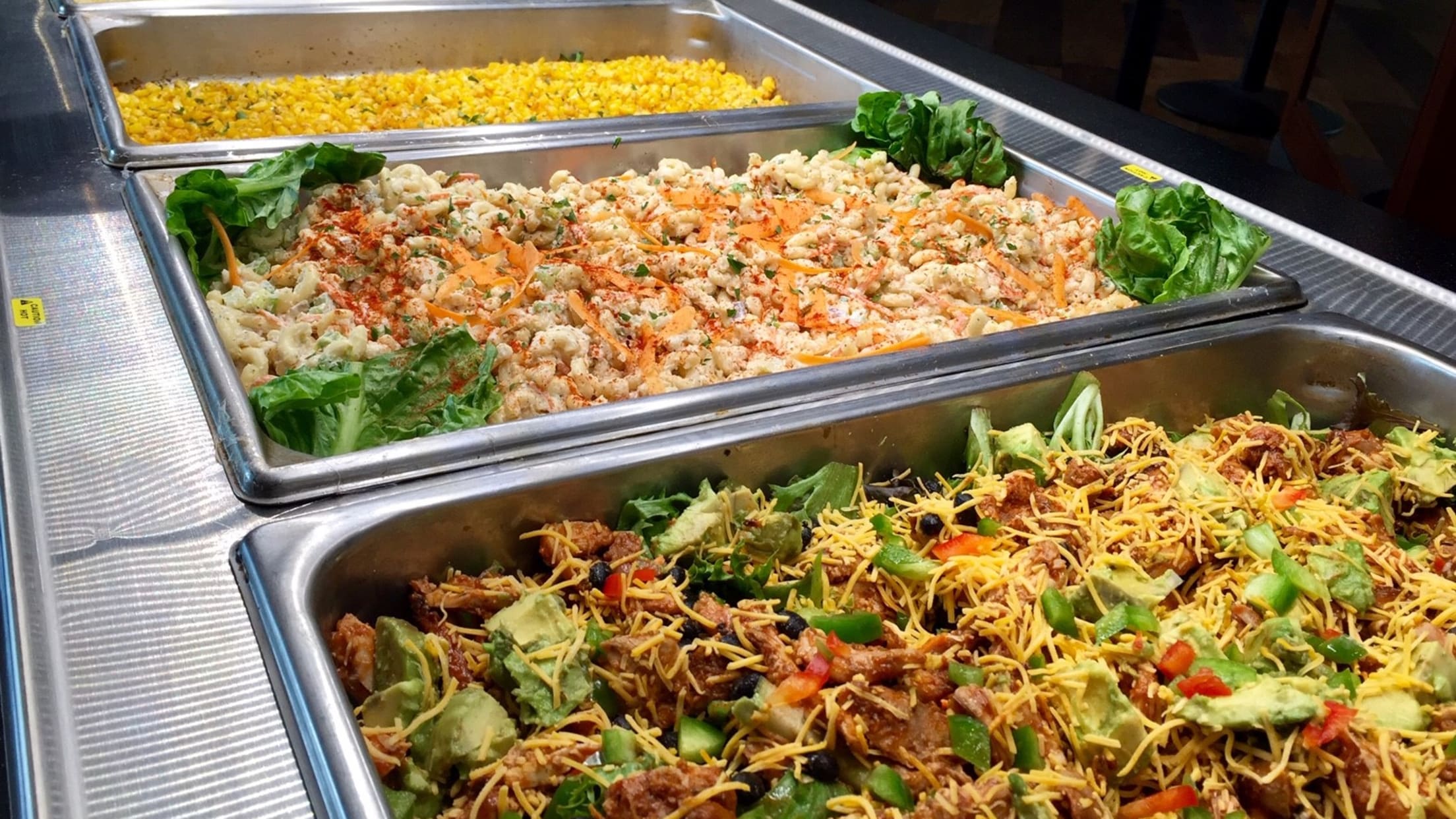 Mascot
Perhaps you've "herd": Buster T. Bison is a Sahlen Field staple. He roams the stands throughout the game, sometimes joined by the Bisons' WCC Racers. WCC stands for Wing, Cheese and Carrot, who engage in a nightly between-inning race around the warning track. Celery used to be a part of this crew, but he retired in 2017 after winning his first race. It only took him 450 attempts.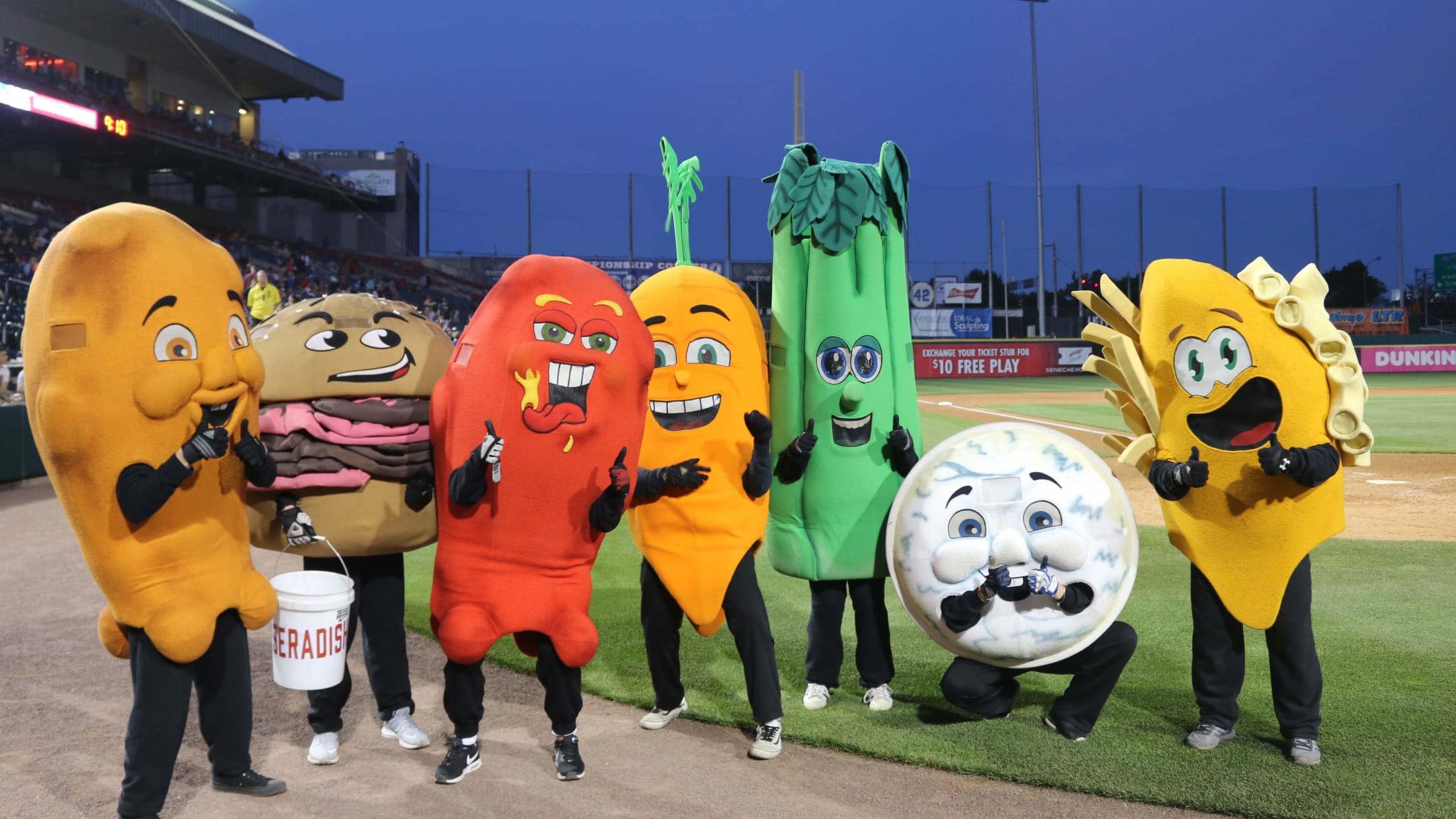 Where to Stay
Headed to the stadium and looking for a hotel nearby? Your Wyndham is waiting. As the Official Hotel of Minor League Baseball, Wyndham Hotels & Resorts welcomes baseball fans with a portfolio of 24 trusted brands. Find Hotels by Wyndham closest to the ballpark below and book now at wyndhamhotels.com.
• Wyndham Garden Buffalo Downtown
• Baymont by Wyndham Buffalo
• Hotel at the Lafayette, Trademark Collection by Wyndham
• La Quinta Inn & Suites by Wyndham Lackawanna
• Ramada by Wyndham Buffalo Downtown
Local Attractions
Buffalo's Canalside, walking distance from Sahlen Field, is located at the original (1825) western terminus of the Erie Canal. It's now a bustling tourist and recreation area, with a boardwalk, carousel and attractions such as the USS The Sullivans. This, a decommissioned WWII Destroyer, is part of the Naval and Military Park.
Head south to Orchard Park to see the Buffalo Bills' home of Highmark Stadium, or head north to Niagara Falls. The Rainbow Bridge connects Niagara Falls, N.Y., with its Canadian counterpart. Bring your passport and take a walk to another country.
Two of Frank Lloyd Wright's major works can be found in the Buffalo area. The Darwin Martin House is in the city proper, while Graycliff is located in the town of Derby.
And did you know? President William McKinley was assassinated in Buffalo during the Pan American Exposition in 1903. His successor, Teddy Roosevelt, was sworn in at the Wilcox Mansion (on Delaware Avenue, about half a mile away from Sahlen Field).
(Thanks to Paul Synor of the Buffalo Bisons Booster Club for providing much of the above information.)
Food and Drink
When thinking about Buffalo food, it's pretty much impossible not to think about Buffalo wings. The best-known establishment is Anchor Bar, "home of the original Buffalo wing," which claims to have invented them in 1964. Anchor Bar wings are great, no question, but locals tend to view it in a "nobody goes there, it's too crowded" sort of way.
As for what wing spot the locals recommend? Ask 10 people and you're apt to get 10 different answers; wings are everywhere. Spots that have been recommended to this writer include Bar-Bill Tavern (in the suburbs), Hot Mama's Canteen (northwest Buffalo), Washington Square (near the ballpark) and La Nova.
The aforementioned Washington Square is a great spot for the Buffalo staple that is Beef on Weck (a rare roast beef sandwich on a kummelweck roll, dipped in au jus). La Nova, meanwhile, is also acclaimed for its pizza. Experience the grease-pool filled goodness that is Buffalo-style "cup and char" pepperoni.
Thirsty? Sahlen Field is located in close proximity to the Southern Tier Brewing Company as well as Labatt Brew House.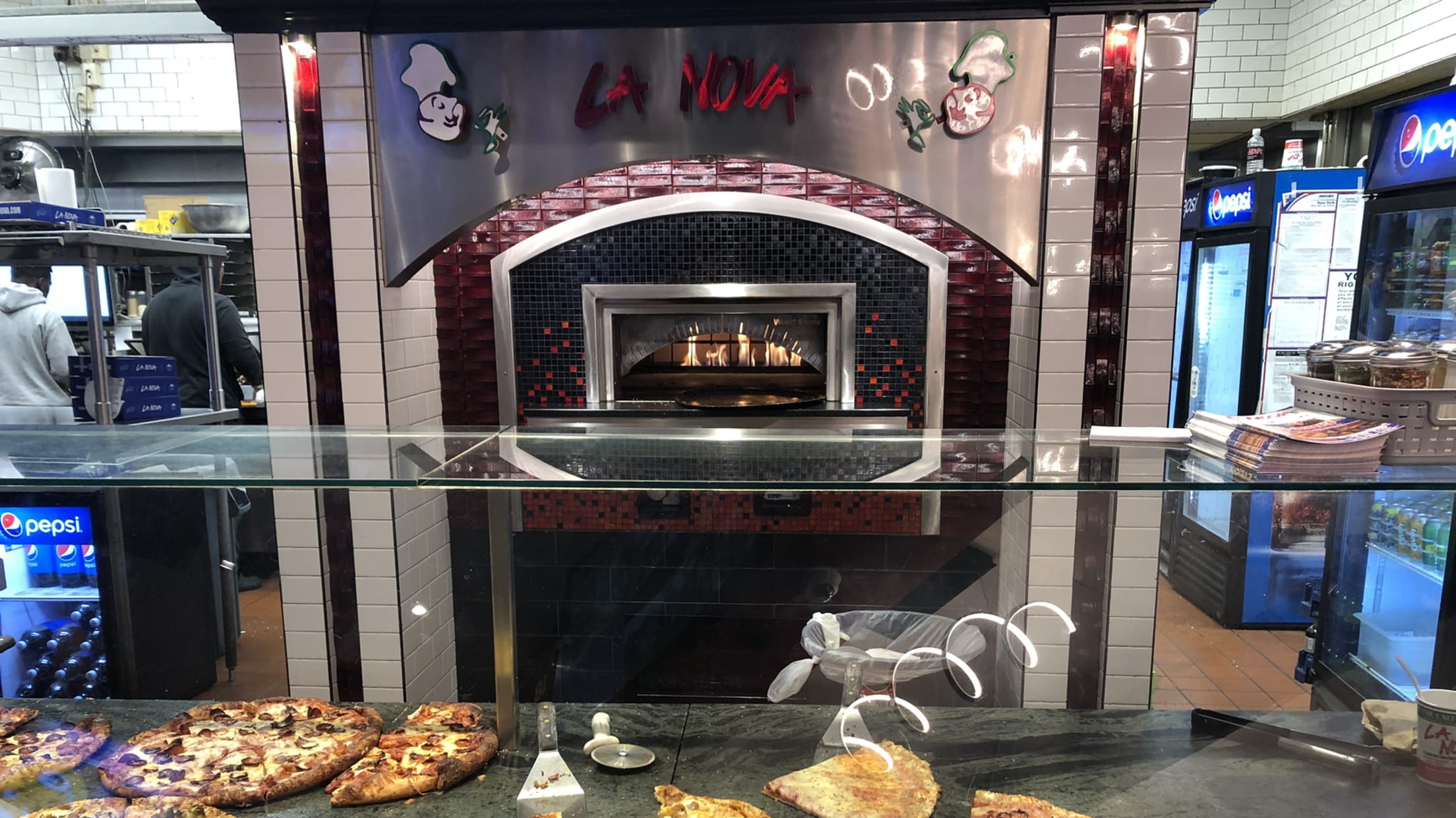 Moving On
Before or after a Bisons game, check out the parent Blue Jays in Toronto. If your focus is domestic and/or Minor League-centric, there are still plenty of options. Head west to see the Erie SeaWolves and Lake County (Ohio) Captains. Or keep things in the Empire State and travel east to see the Rochester Red Wings, Syracuse Mets and Binghamton Rumble Ponies.
The Road to Toronto
The sprawling Blue Jays' system begins at their Spring Training home in Dunedin, Florida, and from there it's only 3,250 miles or so to Vancouver (the only Minor League city in Canada). A promotion from Vancouver results in another long journey, to Manchester, New Hampshire. Buffalo is next on the docket, followed by the ultimate destination of Toronto.
Single-A: Dunedin Blue Jays
High-A: Vancouver Canadians
Double-A: New Hampshire Fisher Cats
Triple-A: Buffalo Bisons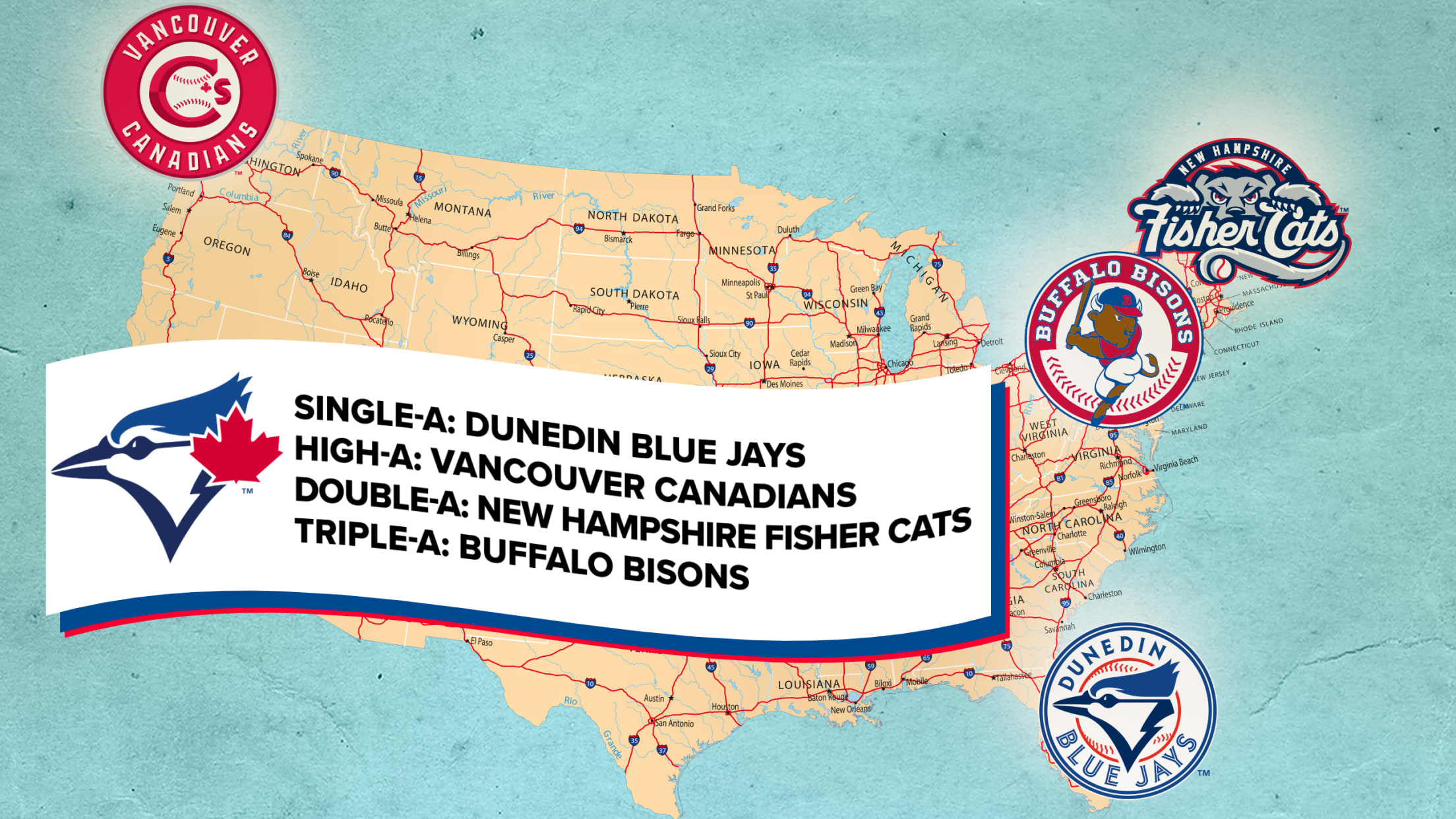 credits:
Benjamin Hill, who covers the business and culture of Minor League Baseball, has visited 186 Minor League ballparks.