Explore Salt Lake City's Smith's Ballpark
Welcome to Smith's Ballpark, right in the heart of Salt Lake City and a staple of the Beehive State.
Salt Lake Bees (Triple-A affiliate of the Los Angeles Angels since 2001)
Established: 1994
Ballpark: Smith's Ballpark (opened 1994)
League: Pacific Coast League, West Division
Notable Alumni: Mike Trout, Torii Hunter, John Lackey, David Ortiz, Tim Lincecum, Jered Weaver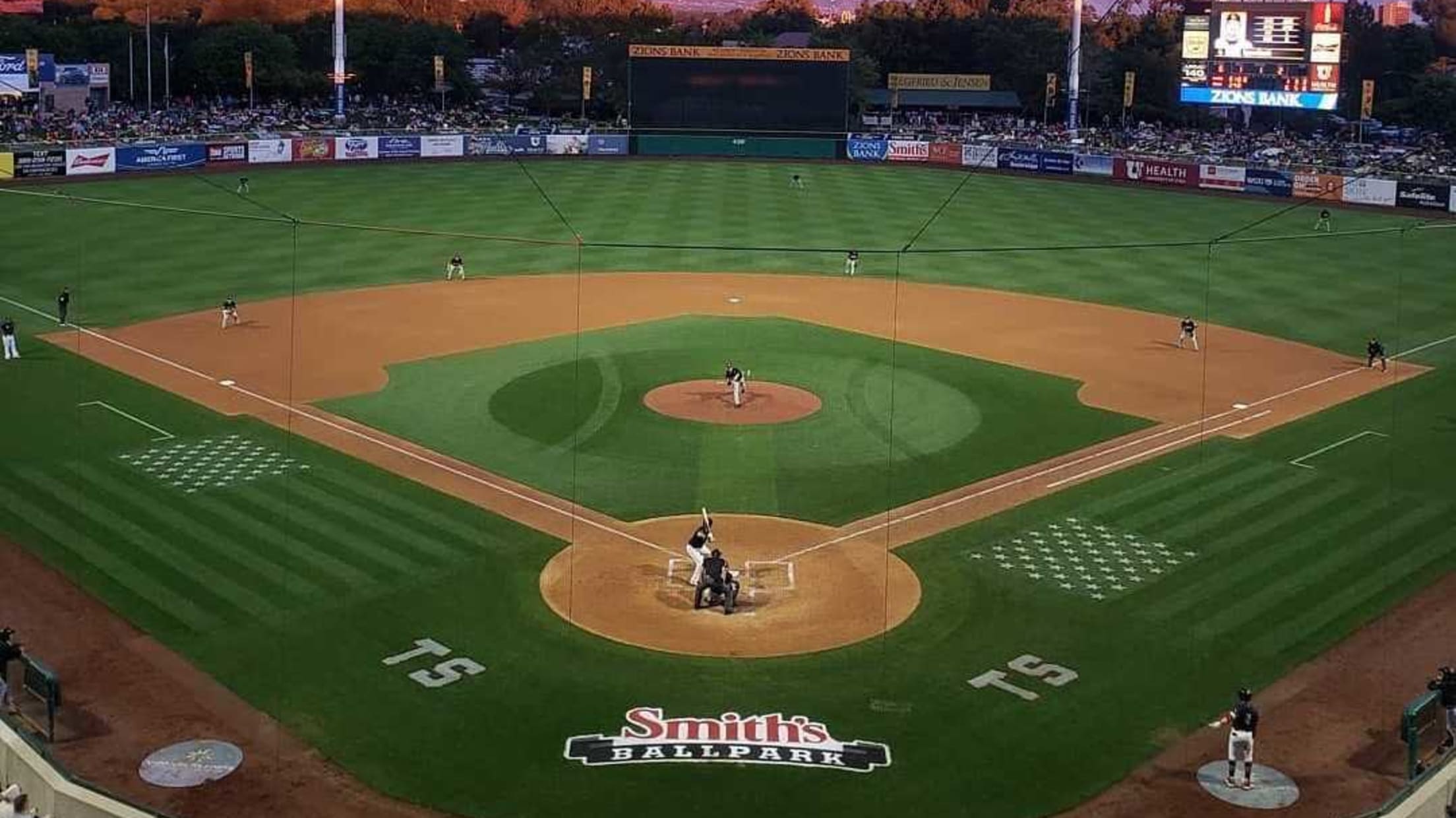 The Salt Lake Bees are located in Salt Lake City, Utah. The club is named after the Salt Lake Bees, which was the original Pacific Coast League franchise in Salt Lake City from 1915-26 and 1958-65. The Bees were originally known as the Salt Lake Buzz from 1994-2000 and changed their name to the Stingers from 2001-2005 before being renamed the Bees before the 2006 season.
The state of Utah has long been affiliated with Bees, as a beehive appears on the Utah state flag and the state's official nickname is the "Beehive State." Salt Lake's uniforms and color scheme are also similar to the original Bees franchise.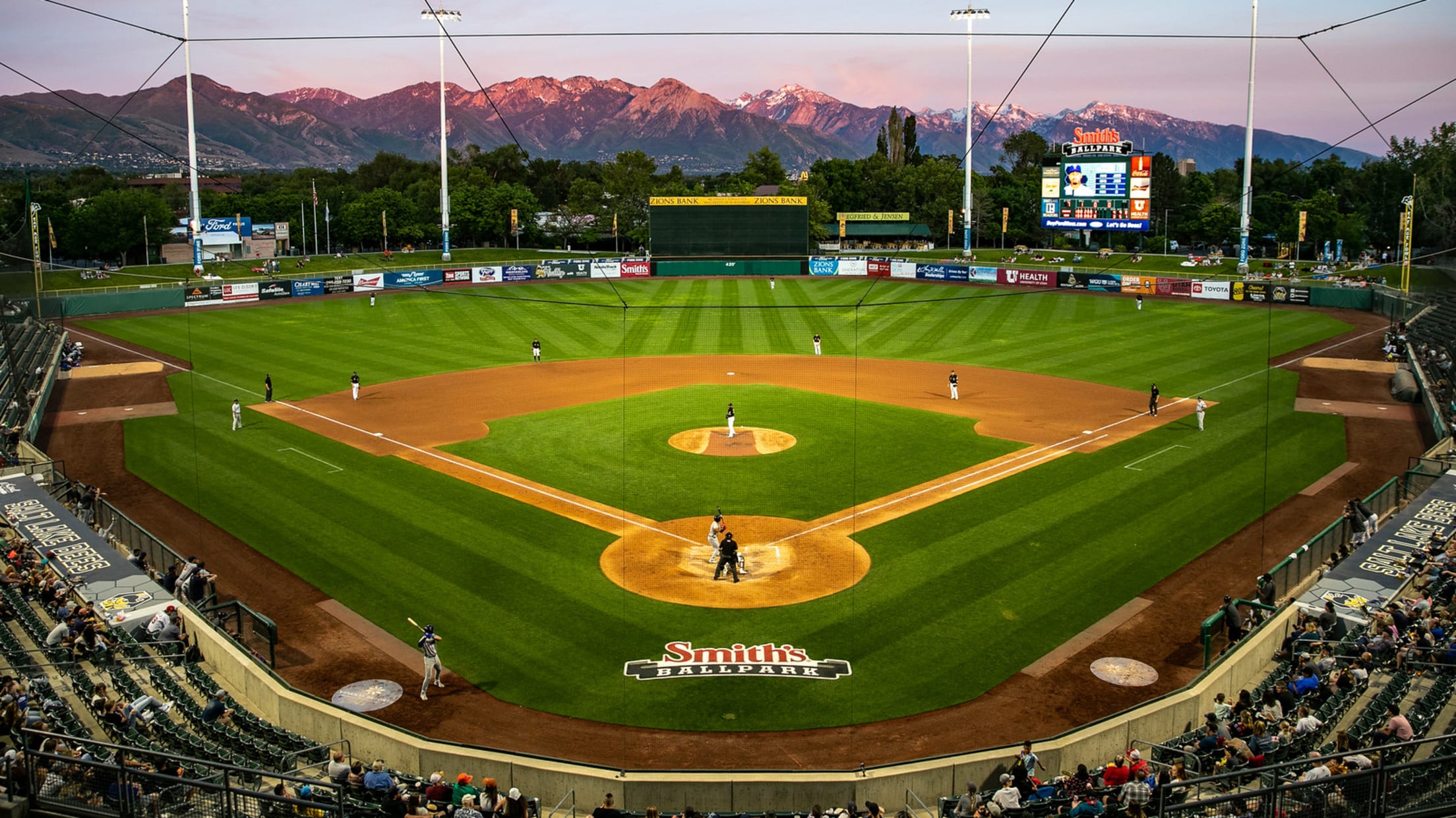 Smith's Ballpark
Google Maps
Bees Roster
Bees Schedule
77 West 1300 S
Salt Lake City, UT 84115
801-350-6900
Capacity: 14,511
Dimensions: left field, 345 feet, center field, 420 feet, right field, 315 feet
Park Factors (2021-22)
100 = league average
Runs: 111 | Homers: 104 | Hits: 113
Pacific Coast League environment: 5.77 runs per team per game (second-highest of 11 full-season leagues)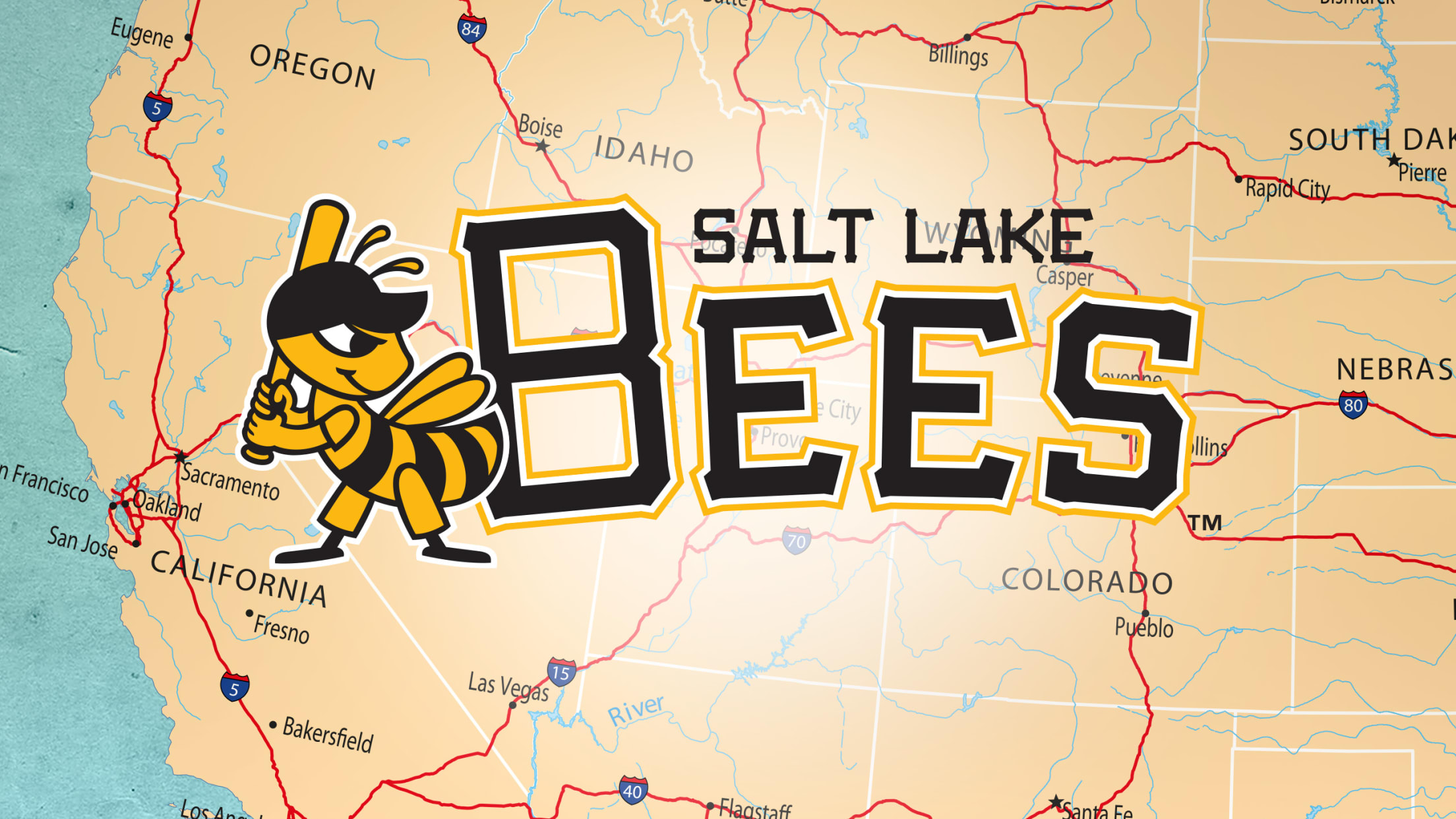 Smith's Ballpark, formerly known as Franklin Quest Field, Franklin Covey Field and Spring Mobile Ballpark, is named for Smith's Food and Drug, which is based in Salt Lake City. It was renamed in 2014. It also plays host to the Utah Utes in the Pac-12 conference. The ballpark is accessible from I-15 with fans taking Exit 305C (1300 South). Fans can also use the TRAX light rail, exiting the ballpark station at 1300 South, which is located one block from the field.
In January of 2023 the Bees announced that the team will play in a new ballpark in 2025, located in the master-planned community of Daybreak. Daybreak is located in South Jordan, Utah, approximately 17 miles south of Salt Lake.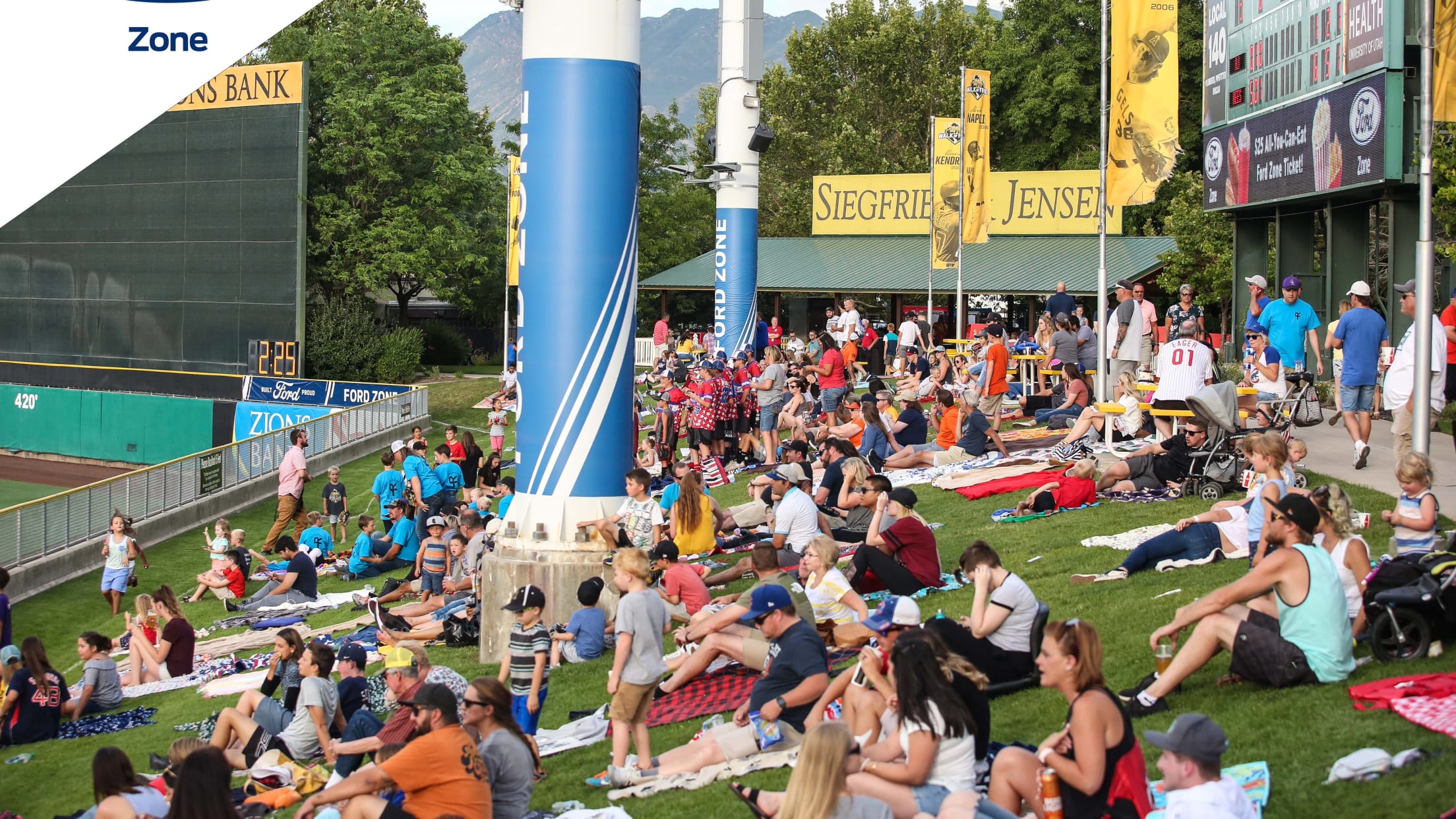 Features
Smith's Ballpark is known for southeast alignment, which allows for stunning views of the Wasatch Mountains over the left- and center-field walls. The ballpark has an elevation of 4,230 feet and the Wasatch Mountain Range features peaks as high as 11,000 feet. The home-plate entrance is located at the corner of West Temple and 1300 South. The parking lot is located between West Temple and Richards St. with both a north lot and a VIP lot located closer to the home-plate entrance.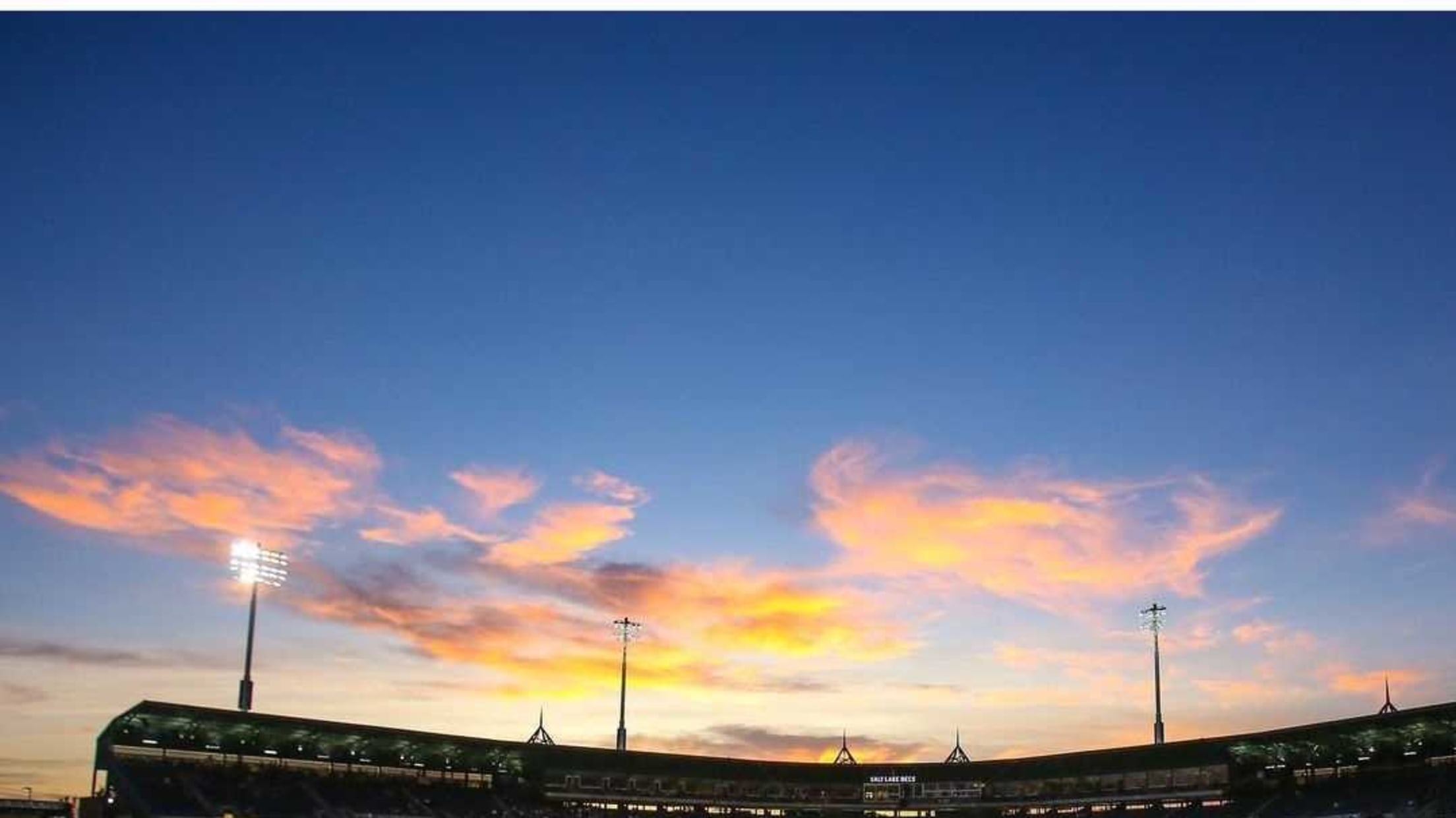 The ballpark has two levels, including a large second deck. A suite level, which includes the press box, is located atop the second deck. The ballpark also has 13 private picnic areas of various sizes, including Main Street Gardens, the Siegfried & Jensen Pavilion, the Diamond Patio, the First Base Vista Deck and the Third Base Party Patio. The picnic packages include a ticket to the game and complimentary food and soft drinks.
The bullpens are located down the foul lines, allowing fans close access to the pitchers warming up. There's also a fun zone for children located beyond the right-field fence that has a playground and a miniature baseball field.
Concessions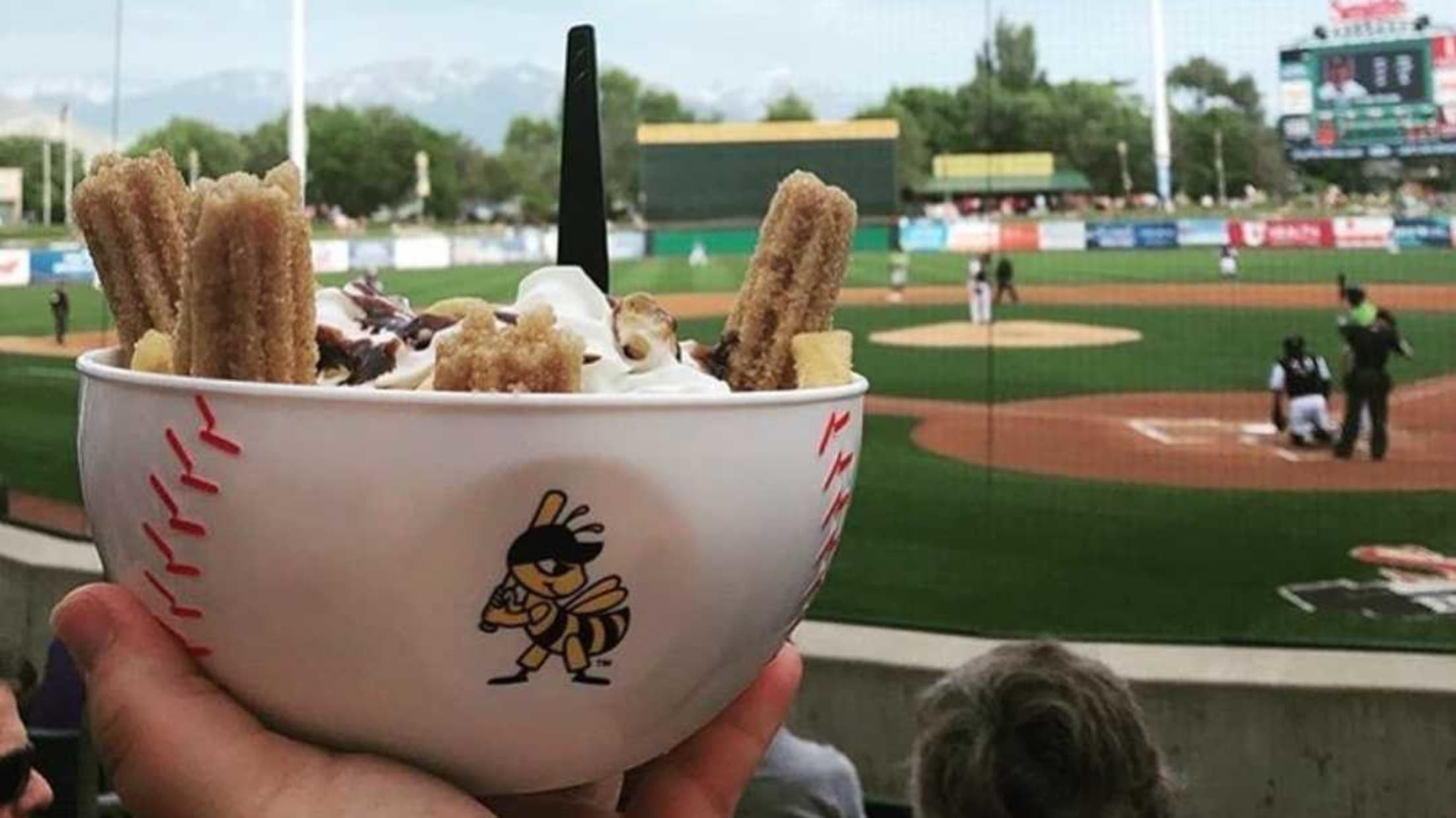 Smith's Ballpark features 26 different concession areas, with some offering mobile ordering only and others offering only walk ups. Food options include Bumble's BBQ, Chile Verde, Franx, Derks Classics, Steakadelphia, while drink options include Bohemian Brewery, Good Hops and Dugout Drafts. There are also several dessert options such as Snowie, Farr Ice Cream and Dippin Dots.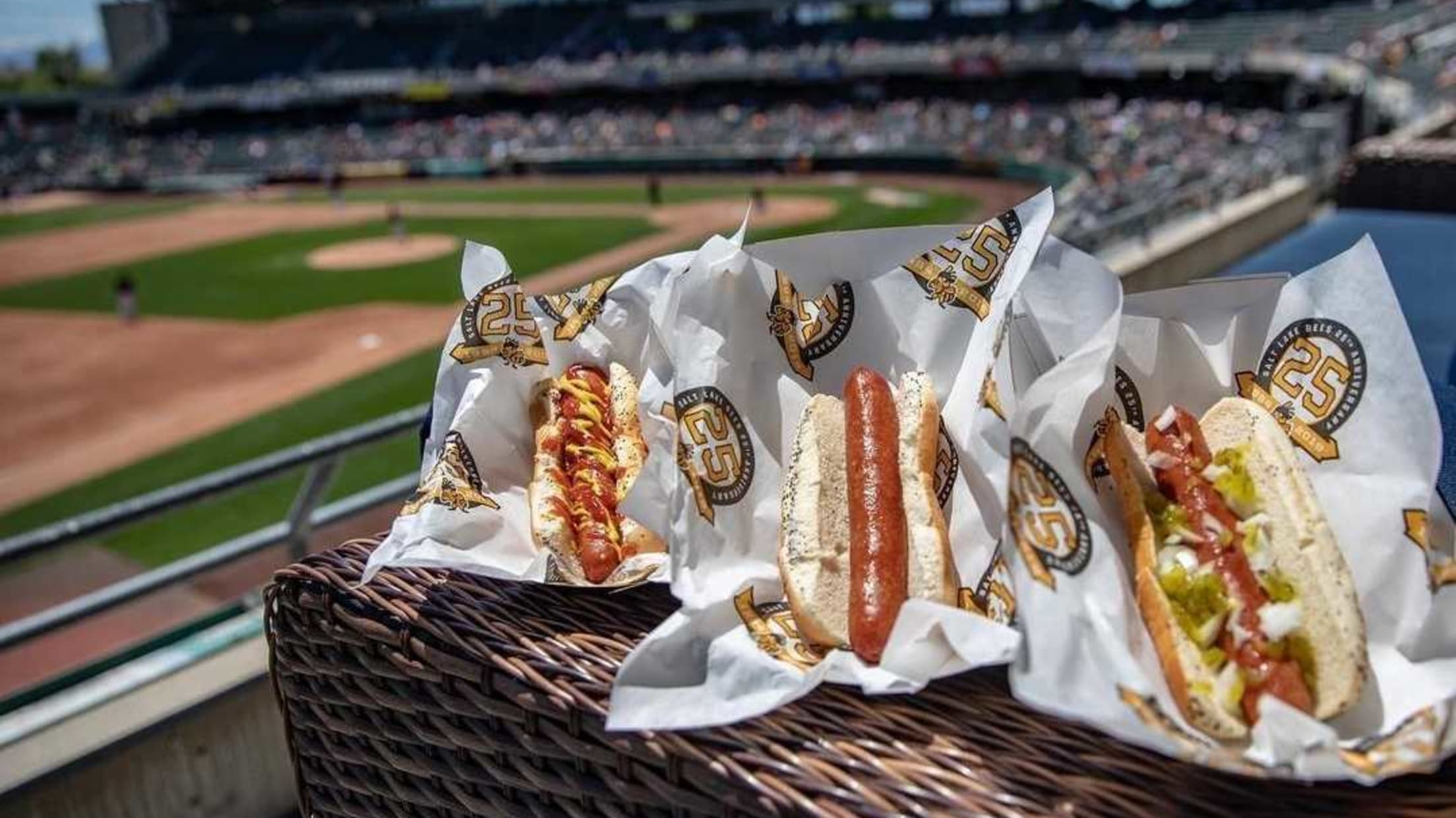 The ballpark also features a team store behind home plate on the third-base side. The ballpark is cashless, starting during the 2022 season.
Mascot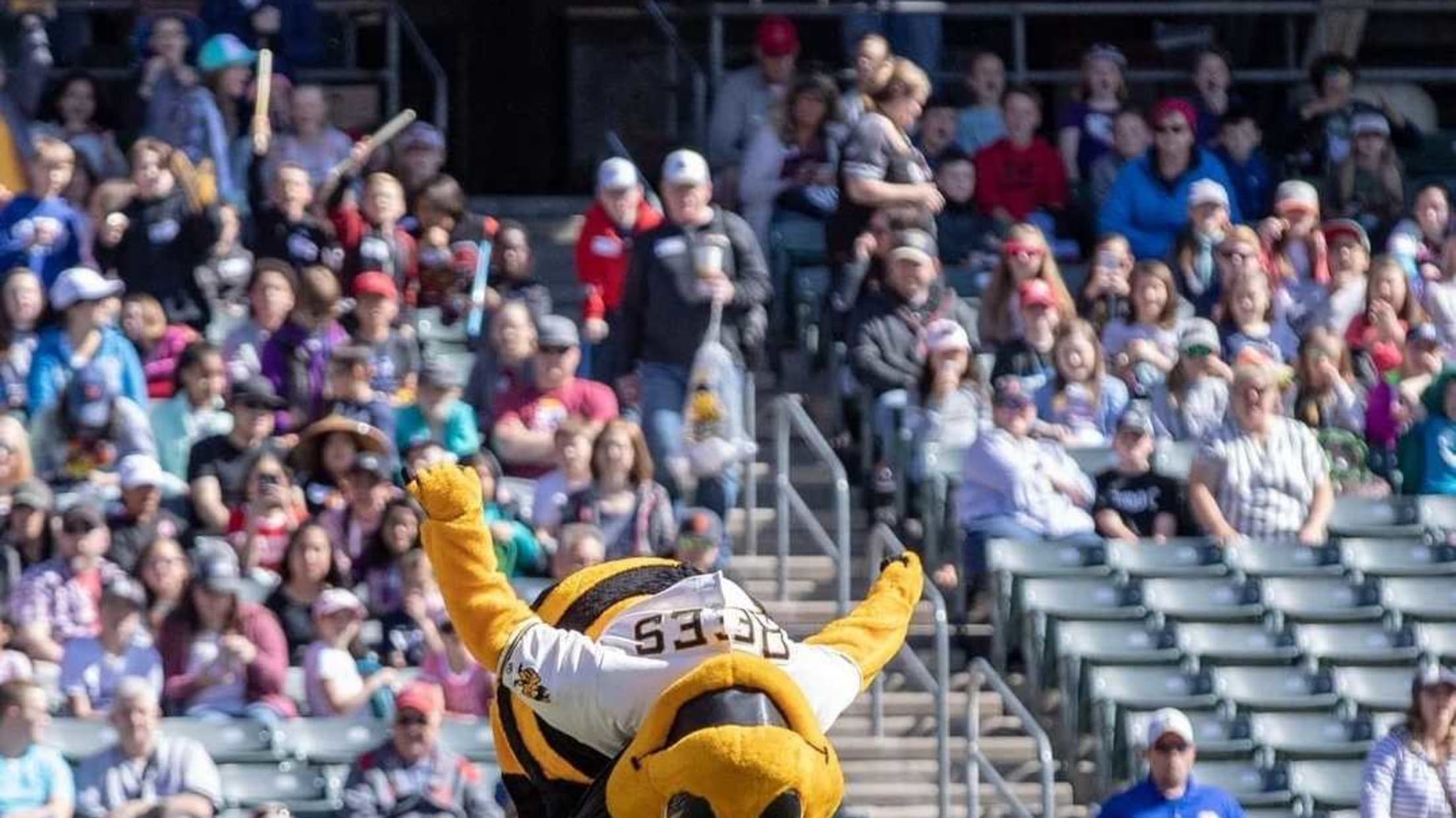 It's only fitting that the Salt Lake Bees' mascot is a bee named Bumble. Bumble, who wears a Bees jersey and a black hat, is a fan favorite and entertains the crowd every home game.
Where to Stay
Headed to the stadium and looking for a hotel nearby? Your Wyndham is waiting. As the Official Hotel of Minor League Baseball, Wyndham Hotels & Resorts welcomes baseball fans with a portfolio of 24 trusted brands. Find Hotels by Wyndham closest to the ballpark below and book now at wyndhamhotels.com.
• Microtel Inn & Suites by Wyndham Salt Lake City Airport
• La Quinta Inn by Wyndham Salt Lake City Midvale
• La Quinta Inn & Suites by Wyndham Salt Lake City Airport
• La Quinta Inn & Suites by Wyndham South Jordan
• Park Plaza Resort Park City a Ramada by Wyndham
Local Attractions
Salt Lake City is the capital of Utah and features a gorgeous capital building that's a replica of the U.S. capital and sits on a hill that overlooks downtown Salt Lake City. Temple Square is located downtown and is the headquarters of the Church of Jesus Christ of Latter-day Saints. Salt Lake Temple, Salt Lake Assembly Hall and the Seagull Monument are located within Temple Square.
Food and Drink
Red Iguana is known for its delicious Mexican food. Other well-regarded restaurants in the area include The Copper Onion, Lucky 13, Takashi and R&R BBQ. Those looking for breakfast can try Pig & a Jelly Jar, Sweet Lake Biscuits & Limeade or The Park Cafe.
Moving Along
The Salt Lake Bees aren't exactly close to any other Minor League clubs after the Orem Owlz and Odgen Raptors weren't included in Minor League Baseball's reorganization after the 2020 season. The nearest club is Triple-A Las Vegas, located 430 miles away, which is more than a six-hour drive.
The Road to Los Angeles
Smith's Ballpark is located 680 miles from Angel Stadium, with roughly 650 of those miles coming on I-15. The Angels have affiliates spread out across the country in Southern California (Single-A Inland Empire), Washington (High-A Tri-City) and Alabama (Double-A Rocket City).
Single-A: Inland Empire 66ers (San Bernadino, California)
High-A: Tri-City Dust Devils (Pasco, Washington)
Double-A: Rocket City Trash Pandas (Madison, Alabama)
Triple-A: Salt Lake Bees (Salt Lake City, Utah)