Scroll
J-Hey and friends help a community heal
Jason Heyward picked up an orange plastic basket and began to look around. He browsed the tables, filled with fresh vegetables, looking for a few items to take home.
Picking up some food was not the only thing on Heyward's mind. As he navigated through Austin Harvest, wearing a black hoodie under a jacket and with a mask and winter hat obscuring his face on this December day, Heyward wanted to see how a conversation created real change.
"They brought it to life," Heyward said.
Sitting outside the Cubs' complex this spring, Heyward was referring to the group of youth who work at the market in the Austin neighborhood on Chicago's West Side. In a time of grief and fear last summer, it was the kids who shared a dream and vision for their community and then worked to make it a reality.
At 423 North Laramie Avenue, the lively open-air market -- filled with food and flowers and music and laughter -- came alive where a liquor store once stood.
Heyward decided to put the basket of food down, and he and his wife began helping in the day's work. He took out the trash. He unloaded boxes. There were no photographers or camera crews. Heyward did not advertise his trip on social media. This was not about that.
"I have a responsibility here," said Heyward, who helped fund the creation of Austin Harvest. "And I want to keep my word."
'The neighborhood was hurting'
Donnita Travis received a phone call in the wake of the killing of George Floyd last summer. Travis, who is the founder and executive director of By the Hand Club for Kids, answered. It was Sam Acho, the former Bears linebacker.
"He said, 'Donnita, I have some friends,'" Travis recalled. "'We want to do something. We don't know what to do. What should we do?'"
Chicago, as was the case around the country, was the scene of large protests in the aftermath of Floyd's killing on May 25 last summer while being detained by Minneapolis police officers. That national wound followed the shooting of Breonna Taylor in Kentucky in March.
Those were two on a long and growing list of killings that ignited national protests in the name of racial injustice and police brutality. The recent trial over Floyd's murder resulted in former officer Derek Chauvin being found guilty on multiple charges, but the process also reopened the wounds of last summer. Protests also erupted again recently in Chicago, where Adam Toledo (a 13-year-old Mexican-American boy) was shot and killed at the hands of police on March 29. That shooting took place in the West Side neighborhood of Little Village -- roughly six miles from the heart of Austin.
"In 2020, when you saw a lot of people bringing more awareness, bringing more unity on these topics," Heyward said last week, "everyone in our culture, being African American, knew that that wasn't the end. We knew there would be more bodies. We knew there would be more casualties, more heartache. It was just the beginning. We weren't planning on seeing it stop right then."
And the Austin neighborhood -- already dealing with daily struggles of its own -- was not immune to looting and rioting last summer.
"The neighborhood was hurting," Travis said.
Travis works with teens in the neighborhood and felt that, above anything else, they needed to talk through the issues happening all around them. Acho was already a familiar face for many of those same kids, given his previous work with By the Hand.
"They were really hurting, they were scared, they were confused," Travis said. "They were just really emotionally drained and distraught. And so, I said to Sam, 'You know what? You guys just need to come and just listen to our kids. Let them have a voice.'"
Acho loved the idea and began to organize an event.
From the Cubs, Heyward and Jason Kipnis agreed to participate. Jonathan Toews and Malcolm Subban of the Blackhawks were also on board, along with former Bears quarterback Mitch Trubisky and a handful of other Chicago athletes.
On June 4, they all met outside on the playground at the By the Hand facility in Austin. They all broke into small groups, or "healing circles," as Travis described it. A handful of teens stood with at least one professional athlete, along with Chicago police officers.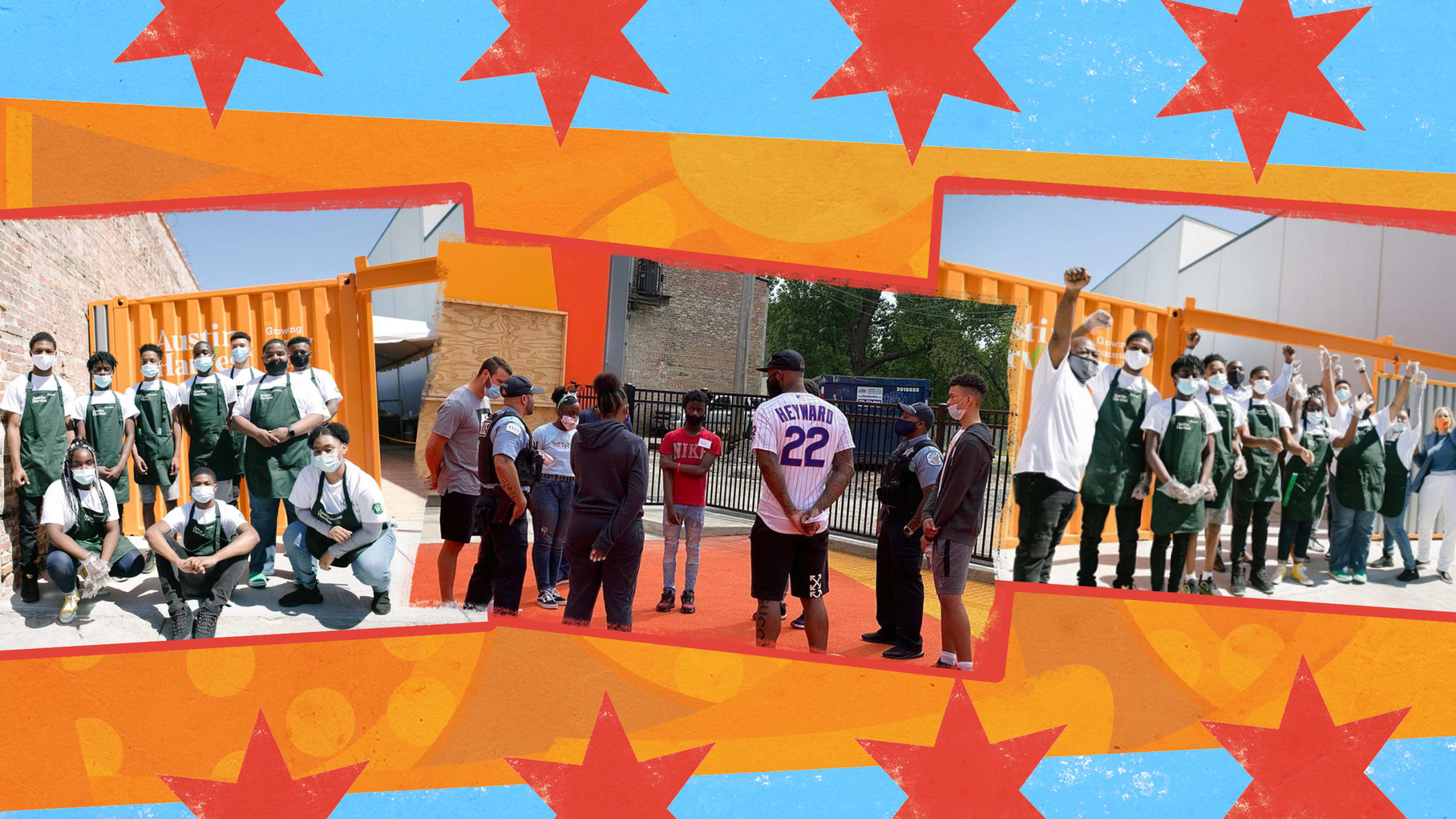 Adding to the emotions of the event was the fact that this was, for many of the kids, the first time in a long time they gathered with their friends in person due to the COVID-19 pandemic. That meant weeks and months of isolation and frustration had been building to this day.
The kids spoke with raw honesty, expressing their emotions amid the pandemic and national unrest. They were able to look officers in the eyes and ask them hard questions.
"These kids don't have anything to gain from coming out here and talking to us," Heyward said. "They're there, literally, because they are afraid, because they are being affected and because we do need to listen to them."
The kids were asked for their ideas on how they could help change things in their own neighborhood. One thought was creating a small community market.
"They didn't want to wait," Travis said. "They wanted to do something right away to bring hope and healing to the neighborhood."
'How can you dream bigger than what you see?'
Rodney Williams Sr. grew up in the Austin neighborhood. He knows the widespread reputation of his community as a place people should avoid. Between the homes and businesses, there are overgrown lots and abandoned buildings.
"The only thing Austin is known for is homicides and drugs and things of that nature," said Williams, who added that plenty of kids in the neighborhood rarely make it to downtown Chicago, even though it is only about a 15-minute drive.
"They didn't know much about outside that little community that they lived in," Williams said. "So how can you dream bigger than what you see?"
Williams' title is the director of entrepreneurship and economic development for By the Hand Club for Kids. He has worked with the organization for six years, and is now also the manager of the Austin Harvest market.
During the past several months, which have been filled with stress and angst and struggles across the country, that second job has brought Williams so much joy.
"The one thing that sticks out to me all the time," Williams said, "is, 'Man, I didn't have this growing up as a young, Black, African American kid on the West Side, in one of the toughest neighborhoods.'"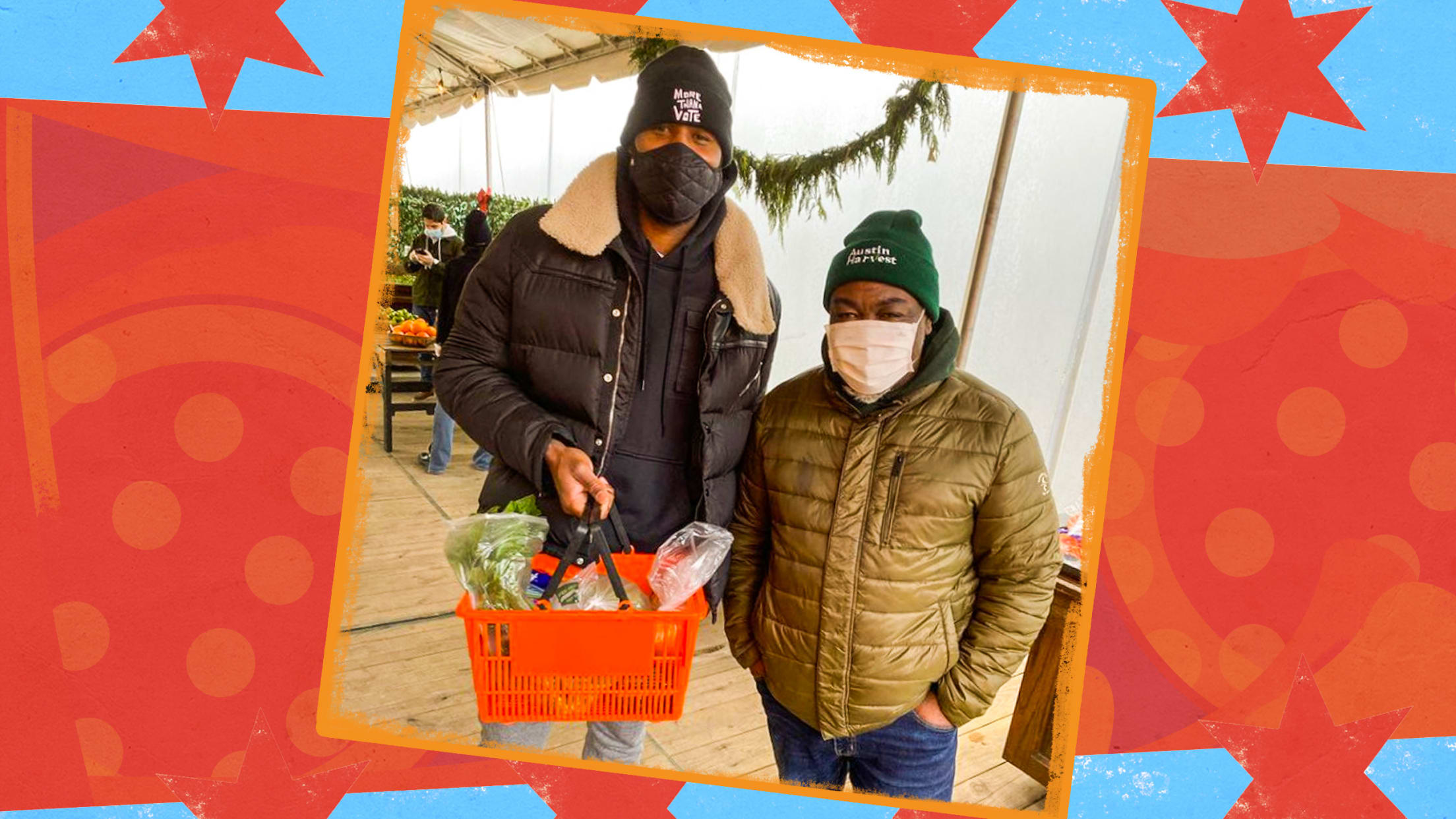 According to a 2014-18 community data snapshot put together by the Chicago Metropolitan Agency for Planning, the Austin neighborhood has a population of nearly 95,000. Roughly 80% of the community is African American and nearly 40% of the households have an income of $25,000 or less.
Located on the far West Side, Austin is the second largest of Chicago's 77 community areas. According to the CMAP data, about 33% of households have no vehicle available, and close to 39% have only one.
The area is also considered a kind of food desert, making it challenging for families to have easy access to groceries. After their discussion with the kids in June, the group of Chicago athletes boarded a bus and took a tour of the community and saw that situation for themselves.
"We've had the privilege to look away," Kipnis said last summer. "This was a good day to learn what you could do from here and kind of put yourself in someone else's shoes for the day. It was eye-opening."
That made the arrival of Austin Harvest an important addition to its neighborhood.
It was just an amazing beautiful day and the market was packed. This parent looked out of their window and said, 'Man, you never would've made me believe I ever would've seen this in my day prior to me dying.'

Rodney Williams Sr.
"One of the things that inspired us to open up in the first place," Williams said, "is there were three grocery stores to about 18 liquor stores in our community. And since then, another grocery store closed down."
Travis noted that By the Hand had been trying for more than a decade to purchase the liquor store that stood next door to the organization's Austin complex. At dismissal time for the kids, it was not uncommon for a crowd to be outside the store, making for an uncomfortable and potentially unsafe situation for the young students as they headed home.
Then, the Belmonte Cut Rate Liquors building was among the stores vandalized during the looting last summer.
Within days of the "healing circles" event, Travis approached the owner of the store as he swept up broken glass outside. She felt it was an opportunity to find a "win-win" solution for By the Hand and the owner.
"It was a hot day," Travis said. "He was there with a broom, sweeping out broken bottles. You could smell the liquor. I just said, 'Hey, can we please talk?'"
'These kids chose to build'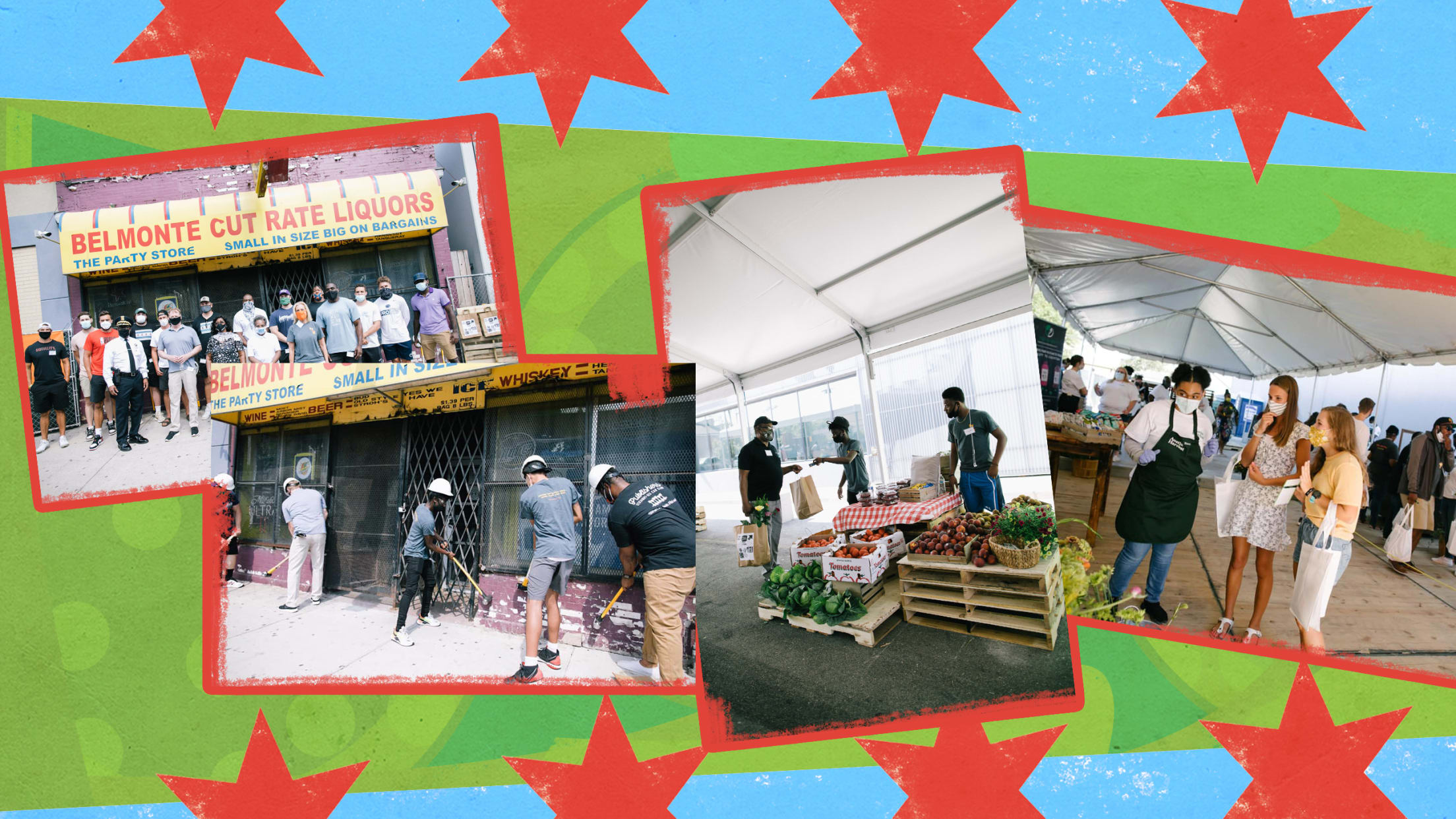 Once the idea for Austin Harvest was born, it was the kids who led the way.
The kids came up with the name. They designed the logo. They thought up the tagline: "Building community through fresh food." And Williams let out a chuckle when noting that it was the boys involved in the project who asked for aprons with the names on the front.
"I remember when I was a kid and working in a restaurant," Williams said with a laugh. "I hated to wear an apron. I was embarrassed for anybody to see me in this apron."
The kids working at Austin Harvest are not embarrassed. Williams said they are bursting with pride. The liquor store was demolished in July, and the market was up and running by the end of August. The teens saw change in real time, and they played a crucial role in making it all happen.
"These kids chose to build," Williams said.
The entrance to Austin Harvest has a bright orange beam and trailer, which functions as the checkout station. Once inside, there are tables filled with all kinds of fresh veggies and fruits, plus healthy snacks and drinks. There is a stage for live music or other events for the community.
And there are locally sourced flowers. When the market was open last summer, those sold at a swift rate. Williams said husbands would swing by regularly to pick up flowers to bring home. Local businesses would purchase some for events or for their stores.
"It blew my mind that flowers was our No. 1 seller," Williams said. "You find out just how much people want to smile, need to be encouraged."
One of the things that inspired us to open up in the first place is, there were three grocery stores to about 18 liquor stores in our community. And since then, another grocery store closed down.

Rodney Williams Sr.
The market closed for the winter, but it is working toward reopening in June. By the Hand is currently trying to raise funds to help convert the space into a year-round market, so access to food is not limited to the summer months.
Williams said he has hired five more kids for when the store does open again, bringing the total up to 15 for next season. They have been learning entrepreneur skills and earning $15 per hour in the process.
"The kids, you can see their morale going to another level," Williams said. "But at the end of the day, we're still sitting right in the middle of the Austin community, surrounded by abandoned buildings."
There is more on the way
As the athletes stood and listened to those teenagers on that June morning last summer, the question on their mind was how they could help. They had the collective means to try to make something a reality.
Williams said sometimes dreams stay buried when kids do not see a way to make it happen.
"We'll just figure, 'They're not dreamers,'" he said. "Now, you take people saying, 'We can help raise the money. We just don't have the vision.'"
Heyward was among the athletes who helped financially support the Austin Harvest initiative, along with Lucas Giolito of the White Sox, Paul Goldschmidt of the Cardinals and players from each Chicago professional sports team.
That was one among many contributions made in the past year by Heyward, who was the Cubs' Roberto Clemente Award nominee for 2020. He also donated to the Chicago Food Depository, University of Chicago Medical Center and MASK (Mothers/Men Against Senseless Killings), and he has been deeply involved with The Players Alliance programs.
Another big message is that, 'You're all changing my community.' I now call Chicago home, so I appreciate you making it a better place.

Jason Heyward
Heyward is looking forward to doing more down the road, too.
"As far as leading to other things," Heyward said of Austin Harvest, "there is more on the way with By the Hand, and things that I'm going to be involved with."
One project includes a massive, multisport facility to help kids in the under-resourced neighborhoods on the West Side. There will be facilities and resources for athletic training, education and mental health. Heyward is giving his input for the baseball-related elements.
Travis said By the Hand is planning on breaking ground on the project in June or July this summer, with the goal of opening in August 2022. She said the project will include another By the Hand club, serving 400 kids from the surrounding neighborhood, and the facility could reach as many as 25,000 kids per year.
"It's just really exciting," Travis said. "It keeps the kids focused on something positive. It gets them active. They can even learn how to be a coach or a referee. So lots of life skills and character building related to the sports."
Heyward knows that kind of project can put kids on a college track who might not have had the opportunity in their current circumstances.
"Talk about changing the face of a community," Heyward said. "To have things that bridge the gap of what you can achieve if you put this time in, if you put this work in, if you persevere through some struggles, some down times, if you look at that, 'No' answer -- a door closing in your face -- in the eye and say, 'Well, I'm going to show you,' it's huge."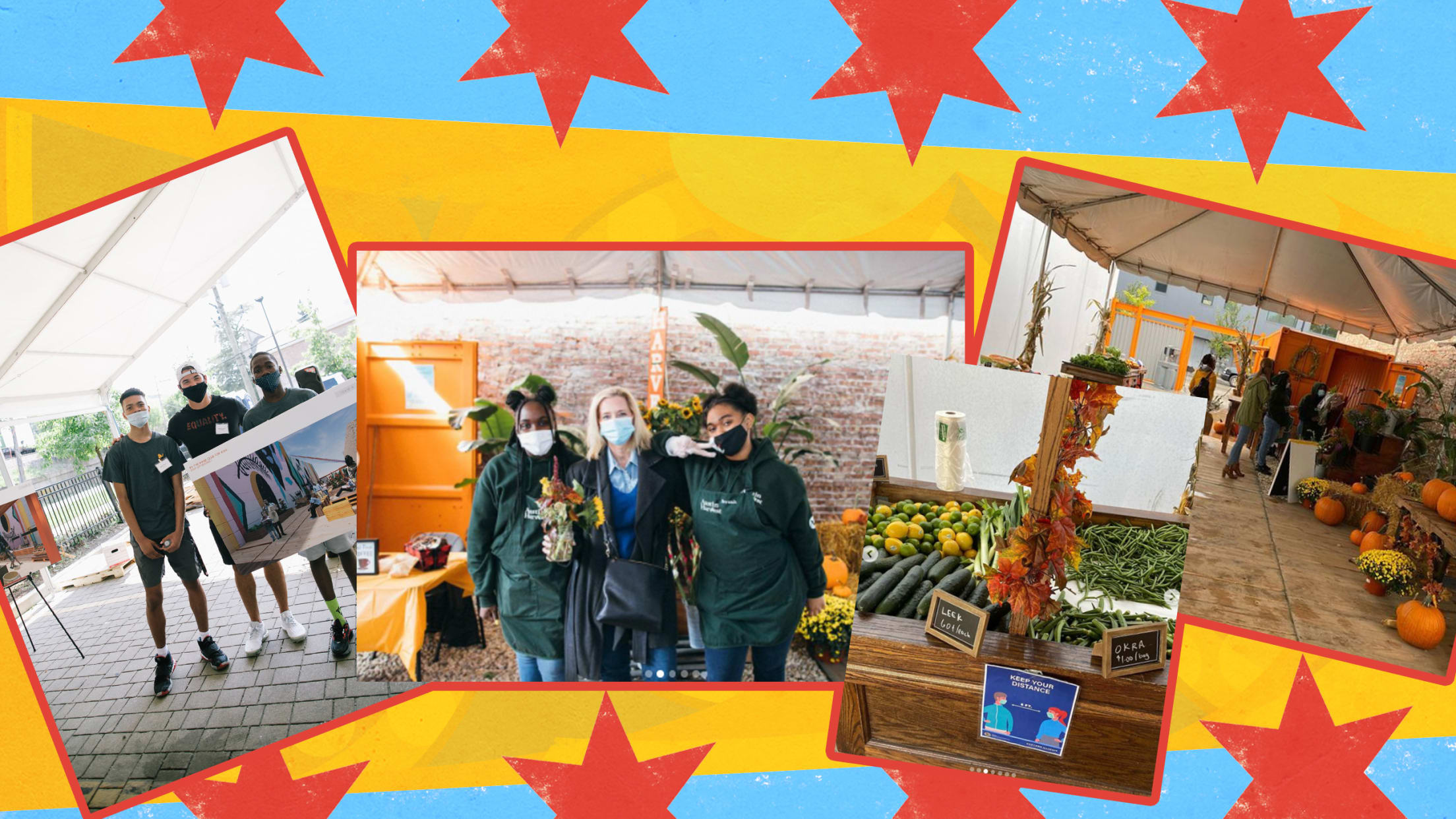 'They already see the future'
There was a day last year when the live music happening inside Austin Harvest was carrying out into the neighborhood.
It was one of those perfect Chicago summer days, and people from the neighborhood were outside enjoying the moment. A parent of one of the teens who worked at the market ventured down from their nearby home just to soak in the atmosphere.
"It was just an amazing beautiful day and the market was packed," Williams said. "This parent looked out of their window and said, 'Man, you never would've made me believe I ever would've seen this in my day prior to me dying.'
"And they literally walked around and came and just sat and enjoyed the vibe of the market. They didn't buy anything. It was like, they just sat there with this proud look like, 'My kid is a part of this. This is amazing.'"
Like those best-selling flowers, Austin Harvest is a bright spot in the community. And it grew from hard conversations about awful, emotional events that impacted the neighborhood and country.
It blew my mind that flowers was our No. 1 seller. You find out just how much people want to smile, need to be encouraged.

Rodney Williams Sr.
The fact that the teens powered the change gives Williams hope that they will dare to dream even more.
"It's almost like they dreamed themselves out of what we see every day," he said. "And they already see the future. They're already realizing, they're the future and it's not just limited to fresh produce, but whatever it is that they want to be individually."
Heyward got to see that for himself when he headed to the market in December, and he is not the only Chicago athlete who has made return trips. Those visits -- beyond the photo opportunities and ground-breaking ceremonies and news conferences -- mean the most.
"Some of the kids have these athletes' phone numbers in their phones," Williams said. "That's huge. And really, for me, as a mentor to these kids, it's like, 'Man, our accountability circle is growing with strength,' because now we have a great level of accountability and they don't want to let people down.
"They've had nobody in the past that they feared of letting down. But now it's like, 'Man, when Jason comes back, when Sam comes back, this is what we want to have done. This is how we want to grow in the meantime.'"
And Heyward plans on going back, and maybe he'll help out in the market alongside the teens. He wants them to see him as one of them, and not just a baseball player or celebrity who throws money at a project, smiles for the cameras and leaves.
After all, these kids have improved Heyward's city, too.
"Another big message is that, 'You're all changing my community,'" Heyward said. "I now call Chicago home, so I appreciate you making it a better place."
credits:
Jordan Bastian covers the Cubs for MLB.com. He previously covered the Indians from 2011-18 and the Blue Jays from 2006-10. Photos courtesy Austin Harvest market. Design by Tom Forget.