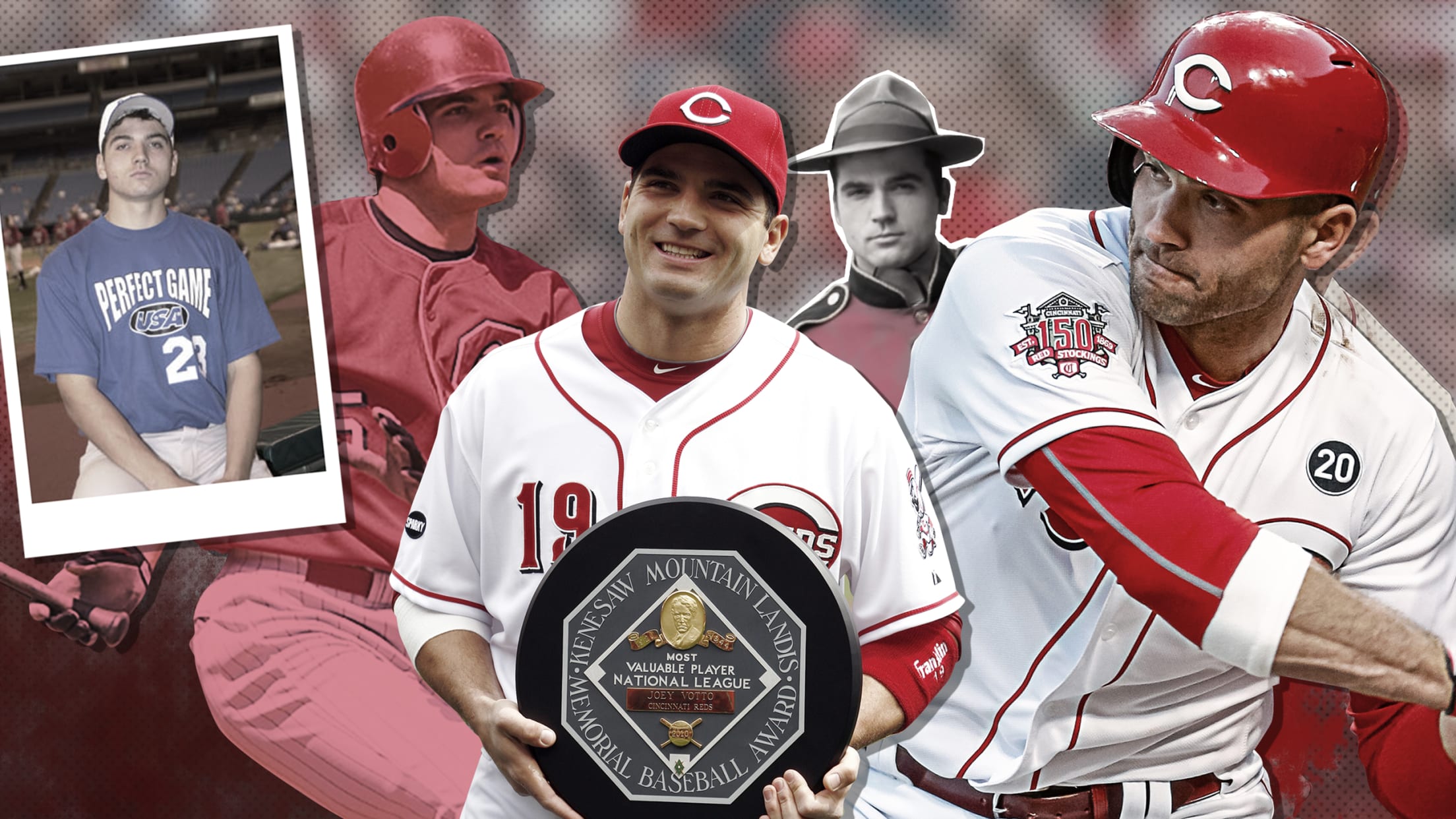 Scroll
The crazy story of how the Reds found Votto
My name is Joey, uh, Joey Votto, 6-2, Richview Collegiate High School in Toronto, Canada, third base.
That's how Joey Votto introduced himself in the opening seconds of a video featuring the future Reds superstar first baseman for a Draft showcase event at Fort Myers, Fla., in 2001. Votto was not yet a can't-miss prospect. In fact, there weren't many teams following the Canadian teenager as he prepared himself for the 2002 MLB Draft. The Yankees were one of the interested organizations, but the Reds ultimately selected Votto with their second-round pick, 44th overall.
What follows is the story of how the Reds discovered, drafted and signed Votto. It's one that includes extraordinary levels of effort, luck, intrigue and subterfuge that ultimately cost some people their jobs.
(Note: All people are listed with their job title at the time.)
LOVE AT FIRST SIGHT
It's the World Wood Bat Association Championship in Jupiter, Fla., a showcase tournament that helps many get seen by professional scouts and college coaches. Played on the fields of the Marlins' and Cardinals' shared Spring Training complex, hundreds of scouts and players are there -- including Votto.
Kasey McKeon, Reds scouting director (son of Jack McKeon, now with the Nationals): My nephew was playing in [the showcase]. I wanted to see him play a couple of games, so one morning -- I think they played the 7:30 or 8 a.m. game -- I went over to watch him play. I saw Joey playing third base for this team. I'm watching my nephew but at a game, you're always watching everybody. I kept watching him each time he came up to bat. I said, "This is interesting."
Paul Pierson, Reds scouting assistant (now assistant scouting director): I was a very young scout at the time when I first saw him at the tournament. He had a very good feel to hit. For a young kid, he already knew the strike zone. What you see in the big leagues is almost how he hit as a youngster. That's very rare in the young high school hitters we see.
McKeon, scouting director: Later that afternoon, I think they played again so I kind of snuck over to watch him for a couple of more at-bats. Then the next day, I went to see my nephew play again and I called [Reds national scout] John Castleberry. I said, "I want you to come see this kid with me." At that time, when we brought John in, he was doing a little bit of everything. He didn't particularly have a national title. But he was a floater. We didn't have a Canadian guy. I figured if anyone would have a chance to crosscheck this guy, I'd let John do it.
What you see in the big leagues is almost how he hit as a youngster. That's very rare in the young high school hitters we see.

Paul Pierson, Reds scouting assistant
John Castleberry, Reds national scout (now a Giants crosschecker): So I'm jogging down there as fast as I can get there. Joey gets up and just smokes a ball to right field. It was just a great swing. I'm looking at Kasey and Kasey stares back at me. He says, "Let's go." I said, "Dude, I've got to stay and watch this guy for a little bit and get a feel." He looks at me and goes, "No, we're going to get this kid." Obviously, he saw a couple of more swings than I did. I said, "Don't you think I should see a couple of more swings from the kid since I've got Canada?" He says, "No, don't worry about it. We're on it." So, we turned around and walked away because he didn't want to tip his hand to anybody that he was on this kid.
McKeon, scouting director: Nobody was there watching him. You never heard the kid's name. So, I knew I'd take him. I just didn't know where, when or how.
Joey Votto: I was never really a highly-touted prospect. I didn't get to face enough [top] guys to get an idea of where I stood. I remember thinking I was probably going to somewhere in the 10th or 20th round a month or two weeks before the Draft [and thought], "OK, that's pretty good." If they had offered me $100,000 or $150,000, I would have been in shock and would have accepted that for sure.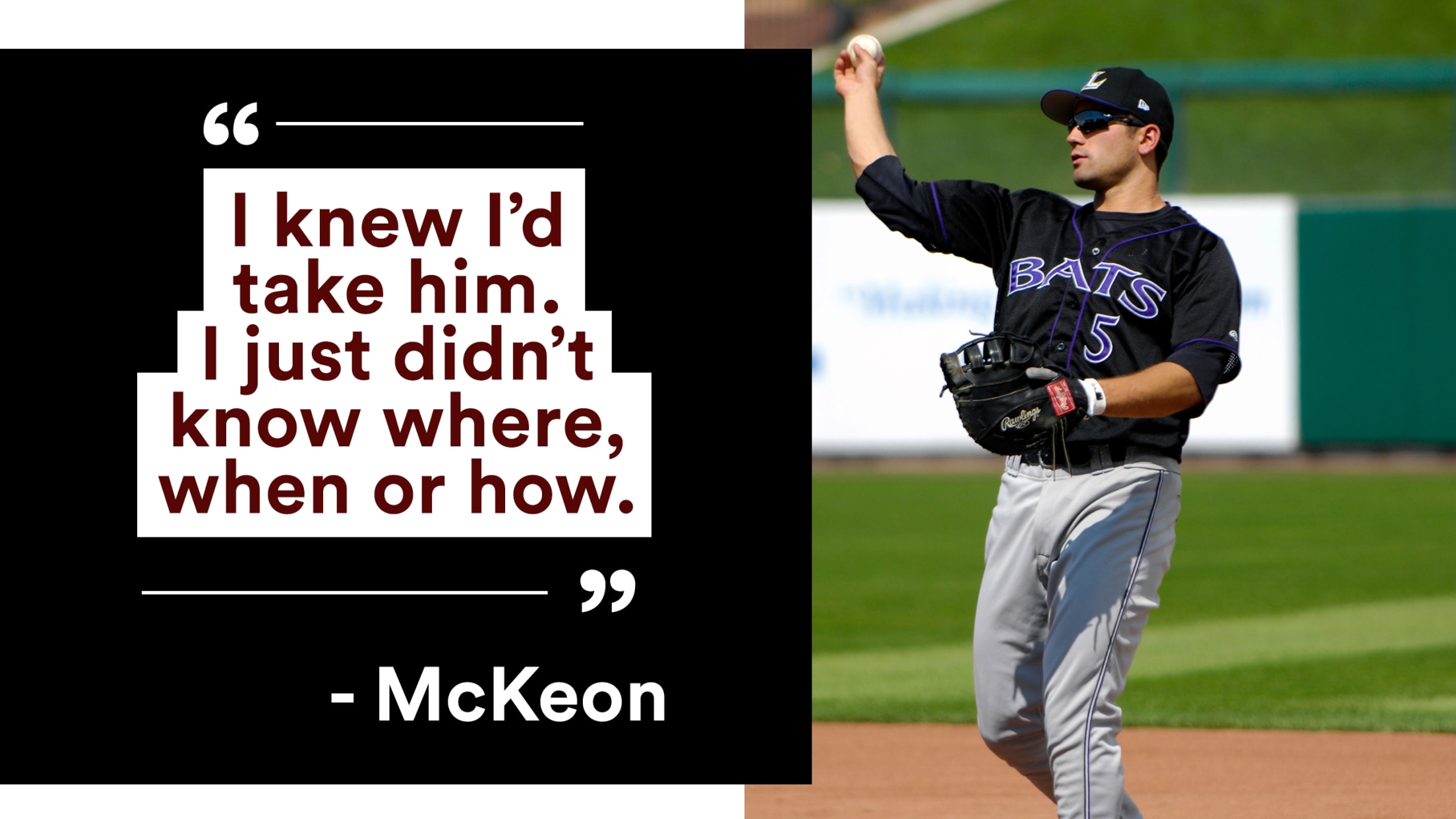 THE PROCESS GETS … UNCONVENTIONAL
Most teams have a usual structure to how they go about scouting players. An area scout sees a player and relays it to a crosschecker, who covers a larger region. The crosschecker decides if the player is worth going to see, and if the player is worthy, they will tell the scouting director or another front office executive if they need to come see him. But in Votto's case, the scouting director was the first among the Reds to get eyes on him. And McKeon wasn't just worried about other teams getting wise to Votto. He was worried about his own team's executives.
McKeon, scouting director: There had been rumors of people on the staff who had leaked stuff or at least told their buddies who eventually told someone else and someone else. In our industry, these guys get on airplanes and start talking, whether it's on purpose or not. If they say, "Hey, I'm going to Toronto to see this kid." Then people start thinking, "Why are they going to Toronto?" I had our guys just kind of keep everything under the radar.
Castleberry, national scout: We didn't have a lot of money [to spend on Draft bonuses]. And every time we had a name, the Milwaukee Brewers would be on the same guy. We had a guy in the administration who was tight with Milwaukee. He would give the names of who we were looking at, all the time. That guy is no longer in the game.
Pierson, scouting assistant: Kasey put me in charge of organizing -- making sure we had medical information, psychological tests and the things we need to do on top of the evaluation. Being young, I didn't think anything of it. I didn't think my role was significant, but it was nice to get some communication with the players and actually see them, too.
Castleberry, national scout: I kept bringing up Votto's name. "When do you want me to see Joey?" [McKeon] just kept telling me to wait. I got a little nervous. We've got to get him in. I've got Canada and need to see this guy.
McKeon, scouting director: Finally, in late April or early May, I decided we would have John [Castleberry] run up there and go see him in Canada. John went up and got rained out and maybe watched him hit in the cages and that was it and talked to him.
There was so much anger and violence in the swing -- I mean that in a good way, not a bad way. He was ripping the net, literally, off the wires.

John Castleberry, Reds national scout
Castleberry, national scout: It rained that day and they had kind of a warehouse with two cages and just had the workout there. At the time, a lot of the guys there didn't know me. I had Canada, but I didn't know many of the Canadian scouts. As I get there, I'm kind of in the back and he's hitting in the far cage. I'm standing in the back and watching him hit in the cage. I literally put my hand over my mouth and went, "Oh my God." There was so much anger and violence in the swing -- I mean that in a good way, not a bad way. He was ripping the net, literally, off the wires. I was in awe and shock of how good the swing was and how hard it was and how the ball came off the bat. I had a great talk with him. I loved him. I thought he was a great kid. It still amazes me of how much history he knew about the game. It was mind-boggling to me how brilliant he was about the game.
I call Kasey and said, "I'm going to write a report on this and I'm just letting you know it's off cage work, but it was unbelievable." Now as the year kind of progresses, we're getting near the end and I said, "Kasey, we've got to see this guy in a game."
Votto: I didn't think very much of me as a player. The idea of people even talking about me, let alone having some sort of secrecy to it, even now to this day I am pretty honored by that.
Jim Bowden, Reds general manager (now an analyst for The Athletic): There were not necessarily leaks in the front office that were a problem on specific issues like this. But certainly, the scouting industry was well known for sharing information while scouting amateur players with each other, even when working for different teams. So often times if a scout discovered a player, there was a "fraternity" of sharing the information. However, in a case like this, the scouts have to alert the front office of a player of Votto's magnitude, so the player can be crosschecked properly against other first-round talents. So for an employee to go against club policy, it's definitely a fireable offense, as is sharing confidential information with other teams.
A SECRET TRIP TO TORONTO
High school baseball isn't prevalent in Canada, as it is in the United States, so Votto played for a town club called the Etobicoke Rangers. It was run by Bob Smyth, whom Votto credits for being a big help on his path toward professional baseball.
As the Draft neared, Castleberry finally got his wish to get himself and McKeon's most trusted Reds scouts -- Johnny Almaraz, Jeff Barton and Bill Scherrer -- to an Etobicoke game in Toronto. Still concerned about people getting a scent on Votto, both outside and inside the organization, McKeon hatched a plan as he and the others convened to scout the Mid-American Conference Tournament in Bowling Green, Ohio.
McKeon, scouting director: When we got there and watched [eventual No. 1 overall pick Bryan Bullington] in the morning, I already had John waiting in Toronto because I had already decided I was going to let these guys come with me to Toronto to watch Joey. They didn't know anything at the time and all of a sudden, I said, "Here's what we're going to do. We're going to Detroit and will jump on a plane. Castleberry has got a van and he's waiting for us, and then we'll go see this kid hit."
Castleberry, national scout: I grab a van and go to the Toronto airport, pick up the other yahoos and we go to watch him in a game.
Bill Scherrer, East Coast crosschecker (now a scout with the White Sox): When we all walked into that ballpark, there was a guy named Ridley who worked for Toronto. He was full time and smoked more than I did. The more he smoked, the more I laughed because he was behind a tree and must have been calling [his bosses].
Votto: It was a step above a house league or high school ball. And high school and local ball was very, very modest. Everyone was throwing from 70 mph and if you saw a guy throwing 78 mph, you'd think, "Aw man, he's throwing really hard." I hit really well, but against really poor competition.
McKeon, scouting director: We got there, and I didn't want us walking in at the same time, so we separated and walked in different directions. Somebody walked around right field, somebody came in from left field. I wanted to find out who was there seeing this guy. At the time, all we could figure out was one local guy from Toronto and that was it. We knew then it was kind of going to set some alarms off for some teams. We came to find out there were only a couple of teams that were even in on him.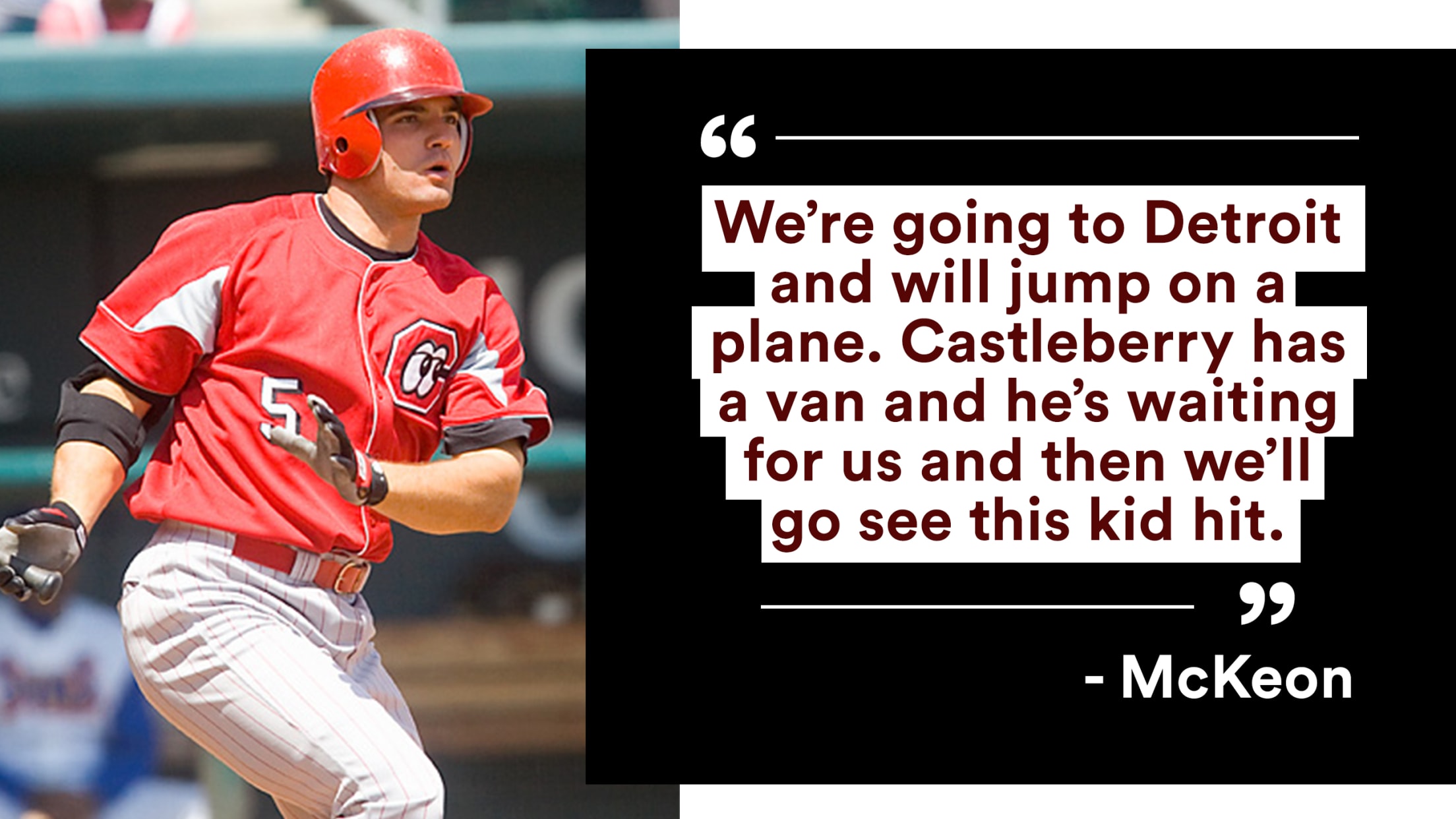 Castleberry, national scout: You can imagine an area scout looking at [Votto] and nobody is on his level. He is on his phone throughout the game and pacing. He doesn't know what to do. The Yankees' area scout was there. Before the game, this pitcher is warming up. [Reds scout] Jeff Barton goes, "We've got to decoy these guys somehow and act like we're looking at a pitcher." Jeff asked me if I had my radar gun and I did. The guy was warming up and looked real loose with good arm work and was 6-foot-2 or 3, [Barton said], "Let's act like we're watching this pitcher." We act like we're writing notes. We pull out the gun and the guy is throwing 77 mph. Jeff looks at me and I look at Jeff and we both start laughing. This isn't going to work.
Scherrer, East Coast crosschecker: Thank God the gun registered. Sometimes it won't register if you throw too slow. I'm sitting there watching this kid and see [Votto's coach, Smyth], who is a very intelligent baseball guy, and he said, "So you think they're going to buy that you're watching that kid pitch?"
You're taking a gamble on a one-dimensional guy in a cold-climate area with a lack of competition.

Bill Scherrer, East Coast crosschecker
We thought Votto was going to be a catcher, but I can attest there were really a lot of limited things. There were a lot of guys who didn't even have him on their Draft list. They had hard time putting paper on him. Let's put it into perspective. He can't run. He really isn't a very good defensive player, a Canadian kid who plays with an aluminum bat. You're taking a gamble on a one-dimensional guy in a cold-climate area with a lack of competition.
McKeon, scouting director: Almaraz was one of my most real good confidants at that point. I pulled Johnny off to the side and said, "Johnny, nobody is talking about this kid. Are we wrong here?" There's a lot of smart people in our industry and I said, "He's better than all of these guys." Johnny said, "Yup, he sure is. To me, he's right up there with [Adam] Dunn," and Johnny signed Dunn. I got that reassurance. Then I really knew I was going to take him, but I started thinking, "I need to take him a little higher."
Scherrer, East Coast crosschecker: Nobody thought he was going to be this true power-power bat. There is no way you could have watched that guy in Toronto and let Castleberry or Kasey see him only twice to determine that he goes in the second round. It's almost unfathomable. To be perfectly frank, if you asked me would I have taken him in the second round on what I saw? Absolutely not. I don't have enough cigarettes and Budweiser to take that Draft [pick]. There's no way.
VOTTO VISITS CINCY
McKeon and Castleberry wanted to have Votto come to Cincinnati a few weeks later to put him through a pre-Draft workout with other potential candidates. There were a couple of problems. Votto was going to Los Angeles to work out for the Angels and was scheduled to hit in front of the Yankees the day after McKeon wanted Reds executives to see him.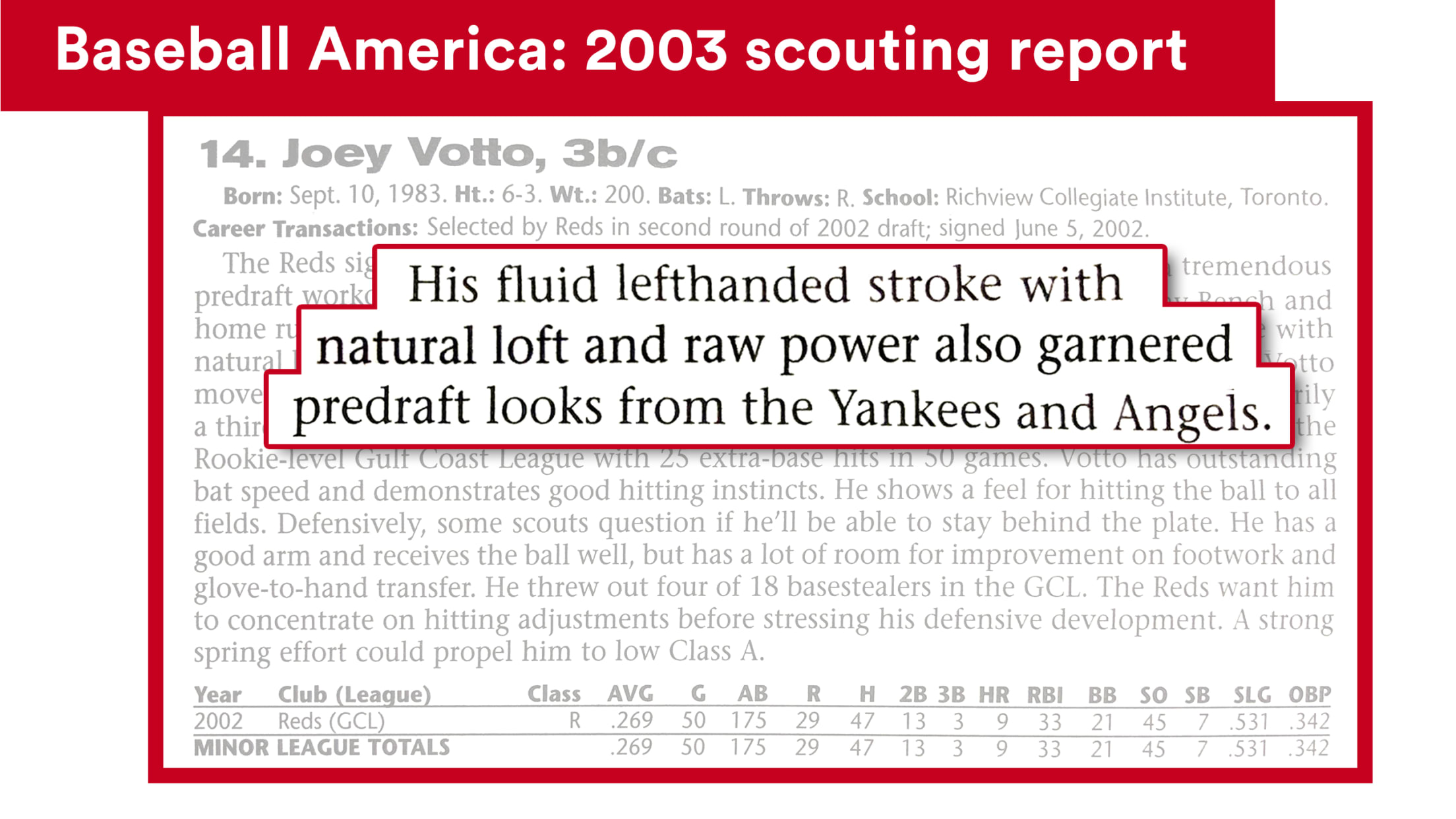 McKeon, scouting director: I was going to have a tough time drafting this kid if nobody had seen him. None of Bowden's guys had seen this guy. So, I invited him down to the stadium. He said, "I can't. New York is flying me to Columbus for a workout." I said, "When are you going?" He said, "Thursday." I said, "I'll tell you what. Why don't you just call them and tell them you're coming in Wednesday and they can pick you up at our stadium?" And he did it. He made a flight into Cincinnati and we worked him out on that Wednesday.
Castleberry, national scout: We get him in. We're in the stadium and Johnny Bench was there. Ken Griffey Jr. was there because he's on the DL. Even though I was a national guy and you have a guy like this and it's your territory, you really get nervous when they're working out. Number one, you wonder if they're not going to perform like they should. And number two, they might do something stupid. They're kids.
Votto: Johnny [Bench] was there, and I was throwing to bases. He was very supportive and gave me tips. I think, pretty clearly, I wasn't a catcher but I had an OK arm. I had a pretty accurate arm but was probably one of those guys you wouldn't be excited about, long-term. It was an honor to meet him. I knew he was a great player but only now do I realize how special he was, historically.
Scherrer, East Coast crosschecker: When he went to the workout, he was destroying the ball. He was hitting bullets into the right-field seats and obviously got the attention of everybody.
McKeon, scouting director: [Farm director] Tim Naehring had some relievers, they were working out some staff fillers to send out [to play for our Minor League affiliates]. So we had a couple of guys come in and throw live BP to him. He put on a show, or at least several of us there thought he put on a show.
Bowden, general manager: Great scouting by the Reds' amateur scouts finding him, but if he hadn't been brought to the workout, he would have never been drafted by us. Because we didn't know him until that weekend before the Draft, which was a clear failure of the system by a rogue scout.
Castleberry, national scout: He's taking BP and he's hitting rocket after rocket after rocket. Ken Griffey Jr. is standing there, looking at him. Johnny Bench was there. He said, "Mr. Bench, it's nice meeting you." Very, very polite and respectful. But in the middle of a swing, he says, "Hey Junior, who's this?" And he imitates Junior with the bat. "How does this look?" It's great, but I just think, "Oh my God, oh my God."
Votto: We were taking batting practice and I think I was pretty nervous. Sometimes when I get nervous, I'll get a little showboaty. [Griffey] was there and I'm like, "Oh my God, I've played his video game, he was a favorite player of mine." He's obviously an iconic player in baseball with an iconic baseball stance and swing. He walked up and I did the Griffey sort of bat waggle and I tried to start hitting home runs like him just to let people know, "Hey, here's how good I am. I can do what I want and when I want." I said, "Hey guys, who's this?" or something along those lines. And the very first ball I hit was a ground ball. A scout says, "Well, he sure as [expletive] doesn't do that!" Once you hit a ground ball, that's over and you can't keep it going. So, I started hitting regularly. I think Griffey may have laughed at me but in a friendly sort of way.
Castleberry, national scout: They bring in a Minor League guy who was released and trying to hook up. He threw one 90-91 and Votto smokes one. Paul [Pierson] says it was in the upper deck. I don't remember it going to the upper deck. But it sounded different and came off the bat different.
Votto: [Top Draft prospect] Chris Gruler threw -- and a couple of other guys -- and they were throwing 88-97 mph. I'm there hitting against these hard throwers. I remember walking against Chris Gruler. People thought, "Ooh, he's got a good eye." But really, I couldn't hit his fastball. I could not keep up with how fast he was throwing. He was throwing so hard and his breaking ball was so sharp. His changeup was good. He was showing off and I ended up getting a walk. There was a right-handed pitcher that came in and was pretty much throwing fastball-changeup, and he threw fastballs by me. Then he threw a changeup and I hit a ball into the second deck at Cinergy Field. And everything kind of went silent. I remember thinking to myself, "Yes, nice work! Wow, this is the best." Everyone else, maybe they were impressed. It was a nice, clean pull homer.
What's funny was I hit the home run, but it was a byproduct of playing in local ball and only hitting 78 mph fastballs and not being able to keep up with a true Major League fastball. So, I tricked them. I didn't intentionally trick them but my skill level at that time was not worthy. I feel pretty strongly that it gave me a pretty good chance of playing for the Reds. That was a big moment for me.
McKeon, scouting director: We had a meeting and people started asking Jim [Bowden], "Why we weren't told about this guy? How come we didn't see this guy?" That kind of led to my demise.
Bowden, general manager: He was by far the best bat we saw that day at the workout and looked like a first-round pick. I was upset because there was not a scouting report submitted on him as a top hitter. The scout who brought him into the stadium claimed that he was concerned our crosscheckers would leak to other teams how good he was or just their presence scouting him would bring too much attention.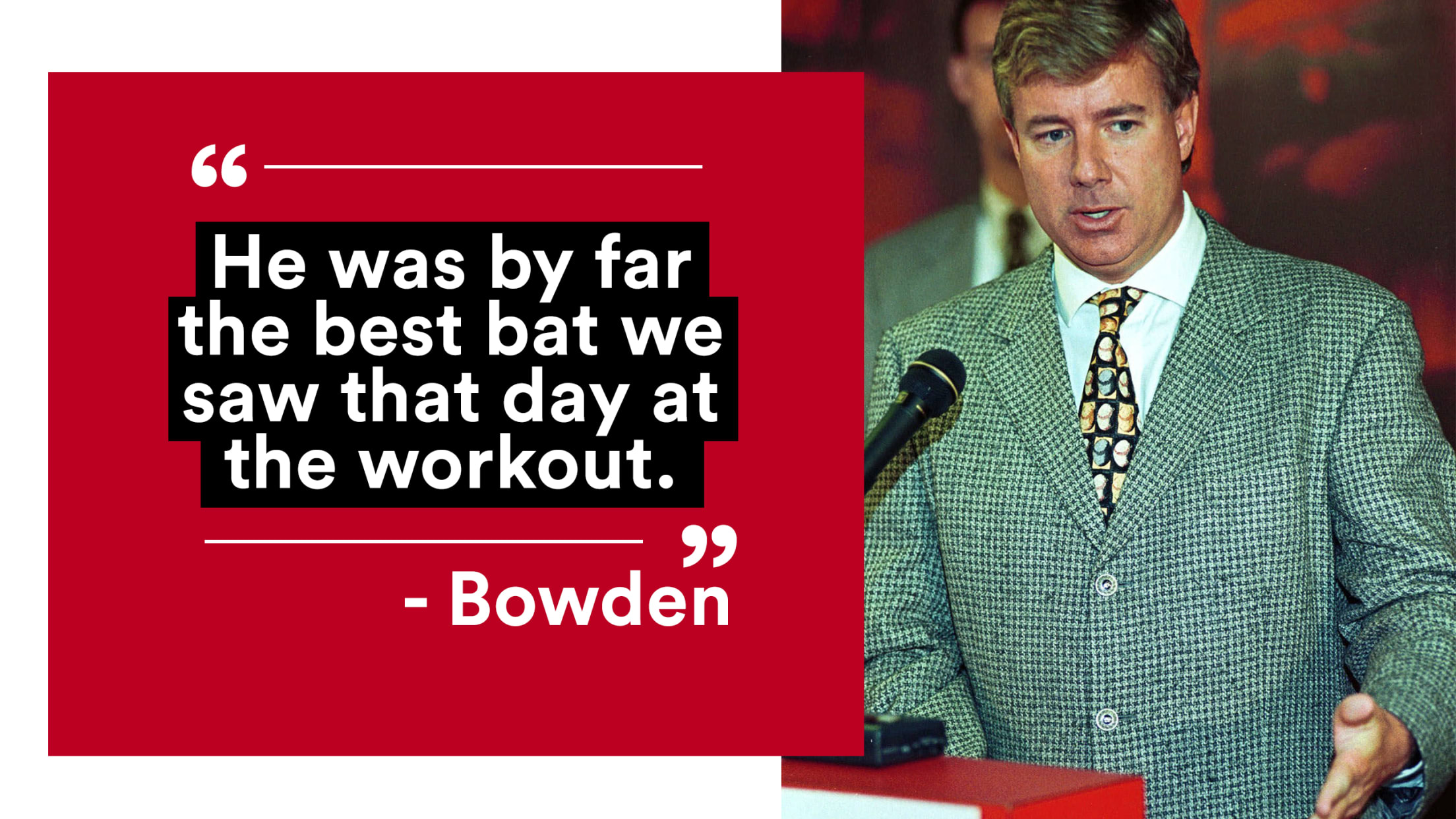 DRAFTING VOTTO
With its first-round pick, No. 3 overall, Cincinnati took Gruler out of Liberty HS in Brentwood, Calif., even though McKeon wanted to take lefty pitcher Scott Kazmir, who fell to the Mets with the 15th pick. He said he was overruled during the pre-Draft meetings. Because of injuries, Gruler would never get above the Class A level and was out of baseball four years later. The Mets infamously traded Kazmir, who had a 12-year Major League career, to the Devil Rays for Victor Zambrano at the 2004 Trade Deadline.
With a supplemental first-round pick, Cincinnati took third baseman Mark Schramek out of the University of Texas. McKeon says he wanted to take future All-Star catcher Brian McCann with the second-round pick. Unlike most organizations, the Reds' baseball operations annual budgets weren't separated between the big league club, player development and amateur scouting. If the Major League team spent money to acquire a player, funds were often taken from the amateur Draft budget. That's why McKeon got some news he didn't want to hear ahead of the 2002 Draft.
McKeon, scouting director: [Bowden] told us we were taking Gruler, which wasn't exactly our No. 1 guy if we had a choice. Fine. Then he told us he's taking $1 million out of the budget. All right, now we have to start working on some things. That's when we decided we're taking Joey and had to move him up. McCann was out and Votto was in because I knew I could move up and cut a better deal with him. At the time, nobody was talking about him. Nobody knew where he would go. I had to find a way to save some money, so I could pay anybody else in our Draft.
Bowden, general manager: During my tenure with the Reds under both Marge Schott and later John Allen, the budgets were always a moving target based on revenues, ticket sales, MLB shares, etc. Often times, Draft budgets were changed right up to Draft day.
McKeon, scouting director: So, I get on the phone and call Joey and say, "There's a chance we're going to take you. Do you think we could get something done for this number here?" He said, "Yeah." Then we went from there. Joey called back and said the Yankees came calling and wanted to take him with the 71st pick. And they were going to give him X amount of dollars. I said, "If we come in there with the same number, you'll get it done?" I could have held my ground. I said, "I'll do that, that's fair enough to you." We were already getting him for less than the value was. He knew that.
Votto: I thought there was a pretty strong chance I would get drafted by the New York Yankees. They were at almost all of my games and chatted with a lot of their scouts. I didn't really have much interaction with the Reds' scouts aside from the pro day. Then the Reds kind of snuck up and drafted me in the second round.
[Editor's note: The Yankees took Brandon Weeden with the 71st pick. He was traded a couple of times and peaked at Class A Advanced in 2006 with the Royals. He ended up going back to school at to be the quarterback at Oklahoma State and was a first-round pick of the Cleveland Browns in 2012. He would play in parts of five NFL seasons.]
Bowden, general manager: The strategy worked out because, like Adam Dunn, we got him in the second round despite him being a clear first-round bat talent.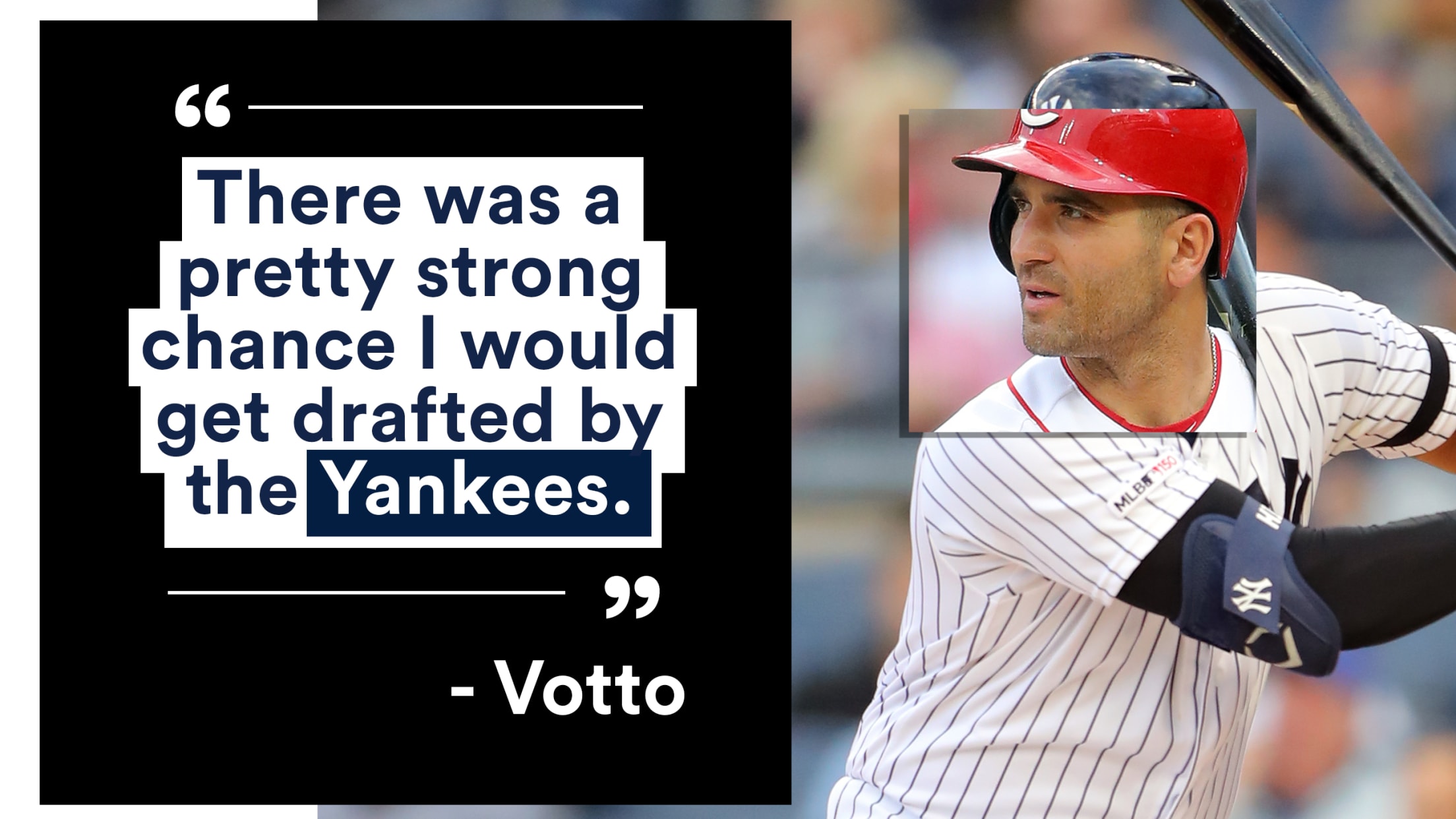 SIGNING VOTTO
With the second-round pick of Votto made, McKeon still wasn't feeling 100 percent comfortable because the deal still had to be closed with a signed contract. He found out the Yankees scout was in Votto's house waiting to sign him if he fell to that team. The Reds told the Votto family to show the scout the door. Votto didn't have a ton of leverage, but he had an oral commitment to play for Coastal Carolina University. He also didn't have an agent yet, but was being assisted by a family friend.
Votto: I had a modest upbringing. There was a massive difference between American and Canadian dollars. It would have made it very difficult for me to go to Coastal unless they give me nearly a 100 percent scholarship. They gave me about 99 percent of the money for a scholarship.
McKeon, scouting director: I took John [Castleberry] right after the Draft and sent him to Toronto because I knew if this agent showed up, it was going to ruin everything for us.
Castleberry, national scout: He says, "You've got to get up there, because once his name goes off, the agents start swarming." This guy was not projected to go anywhere in this range. He was predicted to go in the seventh round on the top end and maybe down to 12. Johnny [Almaraz] says, "You need to get up there and get him signed." I've never done it before. It's the first time, even for me. I literally fly up that night, land, check in at the hotel and try to call the Vottos.
Kasey gives me $500,000 and says, "See if you can get him for $500,000." We drafted him higher than he would've gone. We're still offering him more money than he would have gotten. So, I go in the house and use that approach.
I really, desperately wanted to play professional baseball. It felt right for me and what I always wanted to do.

Joey Votto
Votto: When they drafted me, they offered $525,000 and it was probably about $300,000-400,000-ish below the [recommended slot value]. They informed me that they would have not picked me if they thought I wouldn't sign for that number. And I held out a little bit. You can't really wait for three hours and really call it a holdout, right? So I signed for $600,000 and got a little bit more school money, which was good. At the time, the Canadian dollar was at like 60 cents on the American dollar. So, I was a millionaire from my perspective. My family, we were middle class and that was an incredible amount of money at that time and an amazing amount to get as an 18-year-old. It was impossible for me to say no. I really, desperately wanted to play professional baseball. It felt right for me and what I always wanted to do.
Castleberry, national scout: After we agree, it was a relief and all kind of smiling. I had to write the contract up and that takes time. It's about midnight and Joey is asleep on the couch. I'm talking to the parents and finishing the contract. We signed it around 1-1:30 in the morning. We have to wake Joey up. The parents sign the contract. They were all excited and happy. It was really cool.
THE AFTERMATH
After signing, Votto went to the Reds' Gulf Coast League Rookie-level affiliate, where he slashed .269/.342/.531 -- and continued to rake at every level along the way -- before establishing himself in the Majors for good in 2008, winning the NL MVP Award in 2010. But some of the people responsible for drafting him would not be around before his first pro season ended.
McKeon, scouting director: I was re-assigned, or promoted, according to Jim [Bowden], back to being a pro guy or special assistant or whatever you want to call it. I obviously at the time reluctantly accepted it but over the course of the next month or so, I chose to employ myself somewhere else.
Castleberry, national scout: I got fired in July.
Bowden, general manager: We knew Votto could really hit, knew he had a chance to win a batting title someday. We didn't know he'd be an MVP, but I'll never forget calling our development people and Minor League manager and telling them to scrap his catching and let him play first base to just hit, because I said he'd get to the big leagues a lot quicker at first base. It was too much work to make him an adequate defensive catcher, and we couldn't waste his impact bat in the Majors. I got a lot of pushback at the time, a lot of thank yous years later.
Votto lived up to expectations with the bat and surpassed them defensively at first base. I love Joey. I never thought when I left Cincinnati 16 years ago that he'd still be playing. Congrats to him on what has been a Hall of Fame-worthy consideration run.
Castleberry, national scout: You just don't get a chance to sign many players like Joey. Kasey [McKeon] gets the majority of the credit. I hope I get part of the credit for getting him signed and being part of the process. But Kasey was the first guy to identify him and I guess work the whole system the way he needed to with that crew. It's mind-boggling to look back on it how we did it.
I guess if you're going to lose your job, but get Joey Votto, you're going to feel OK.

Paul Pierson
Pierson, scouting assistant: That's not normal practice to do it the way Kasey wanted to do it. But I think he felt that in order to get the player, it was the route he had to take. Unfortunately, he knew there was going to be some fallout. But I guess if you're going to lose your job, but get Joey Votto, you're going to feel OK.
Scherrer, East Coast crosschecker: At least it gives us good satisfaction that in the last Draft we all had together, we got Joey Votto.
McKeon, scouting director: I'm unbelievably proud of him. What can you not say about the guy? He stayed out of trouble. I think he's represented the city unbelievably. He'll end up in the Reds Hall of Fame. Hopefully he puts together a couple of more good years and gets to the big Hall of Fame. I'm tickled to death for what Joey has done and for what he means to the organization and the leadership there.
Votto: It's funny. I've played here for a long time now and I still feel the very same -- as an 18-year-old and as a 35-year-old -- that I made the right decision. There really wasn't any other decision, to be honest with you.
credits:
Mark Sheldon has covered the Reds for MLB.com since 2006, and previously covered the Twins from 2001-05.